Murder with Orange Pekoe Tea
Book info
Sample
Audiobook
Media
Author updates
Lists
Synopsis
In Pennsylvania's Amish country, Daisy Swanson is serving hot tea at a fundraiser for a homeless shelter—but tempers are getting heated too . . .



Daisy's orange pekoe is flowing at a fundraiser—and she's also made a new friend, Piper, a young woman whose hopes for motherhood were dashed by a foul-up at a fertility clinic. But before they can settle into a long conversation, the event is disupted by masked protestors who object to building a shelter in Willow Creek. Among the angry crowd is Eli—who left his Amish community some time ago, with help from a lawyer named Hiram.



It just so happens that Hiram is also representing the fertility clinic in a class-action suit—and soon afterward, he turns up dead, felled by an insulin injection. Daisy can't help but get drawn in, especially since Piper's husband had been pretty steamed at the victim and didn't hide it. She'd love to spend some time with the dog she and her boyfriend have just adopted—but first she'll be straining to find a killer . . .
Release date: September 28, 2021
Publisher: Kensington Books
Print pages: 352
* BingeBooks earns revenue from qualifying purchases as an Amazon Associate as well as from other retail partners.
Listen to a sample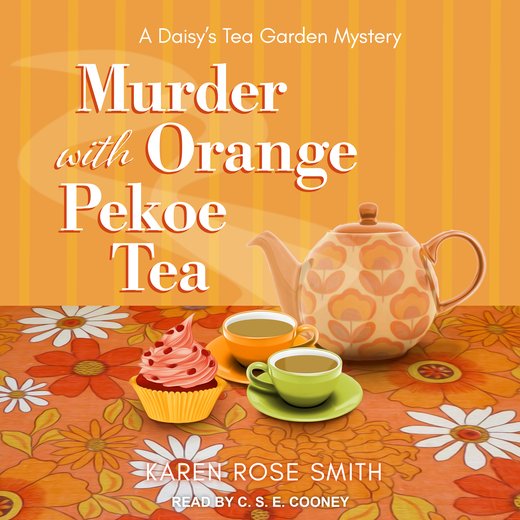 08:47:07
241.3 MB
August 31, 2021
Tantor Audio
2021
Murder with Orange Pekoe Tea
Karen Rose Smith
The wail of sirens blared. A police SUV jumped up over the curb, heading straight for the side of the canopies where the protestors stood in disarray. A second patrol car parked at the curb while doors swung open. Red, blue, and white strobe lights dotted the dirt, the canopies, the cookies, and the spilled tea.

Daisy Swanson viewed the scene in disbelief.

One Hour Earlier

The summer Sunday afternoon was peaceful and friendly. Daisy hoped that building a homeless shelter would be good for her Willow Creek, Pennsylvania community. A conversation between two men standing nearby the canopies set up in the middle of the field where the shelter would be built alerted her that all might not be as calm as she believed.

"I hope there isn't trouble," the first man, around fifty in a polo shirt and plaid shorts said.

About the same age though balder, the second gentleman who had been into Daisy's Tea Garden a few times assured him, "Willow Creek residents are too contained for overt confrontation."

Hoping that was the case, Daisy had scanned the stretch of land where dandelions, milkweed, and long green and yellow grass sprouted in no particular pattern. In the next second, she swiveled toward the two yellow-and-white-striped canopies that sheltered tables with iced as well as hot orange pekoe tea in tall silver urns. A red cooler with loose ice for scooping rested on the ground next to the table.

Daisy's Tea Garden's goodies spread in circles on vintage plates painted with roses, daisies, and hydrangeas. Daisy had layered snickerdoodles, chocolate espresso cookies and whoopie pies in an assortment of flavors from chocolate with peanut butter filling, to spice with cinnamon cream filling, to red velvet with vanilla cream filling on each platter. She'd set pots with pink, purple, and yellow petunias around the tables to create a festive atmosphere. The daytime temperature in June in Pennsylvania could easily climb to ninety. Fortunately this late afternoon was a balmy eighty.

Suddenly Daisy felt the tap on her shoulder. When she spun around, her blond ponytail whipped over her shoulder. She instantly recognized Lawrence Bishop, a science teacher at Willow Creek High School who also served on the town council. Lawrence was in his late forties. His hair was still thick, although gray laced the brown. He had a long face and thin lips that looked much more pleasant when he smiled.

He was smiling now. "It was so good of you to host this spread for the community. I hope the town council decided to pay you enough for it."

"Daniel can be greedy with the budget sometimes."

Daniel Copeland, also a member of the town council, was an assistant bank manager so she understood his reasoning in portioning out budgeted funds. "I told him I would do it at cost if he would pay the labor for Iris and Pam to help me serve."

Lawrence looked over the spread again. "I think we got a good deal. I like the idea that you're serving hot and iced tea. And the cooler with bottles of water for those who don't want tea are effective too."

In her dealings with Lawrence before, she'd realized he usually had a down-to-earth outlook. "I think we all have to contribute something to make the homeless shelter a reality," she responded.

"Having a benefactor donate the land certainly helped the project. Now if we can just raise the funds for the building . . ." His voice trailed off. After a moment, he continued, "If the fundraising doesn't get off the ground because of all those people who don't want the homeless shelter in Willow Creek, I'll be sorely disappointed. Unfortunately, they can be quite verbal."

Daisy caught a whiff of a man's strong cologne along with the scent of sun streaming down on the baked earth surrounding the tents. "I know there are people in Willow Creek against the shelter. But there are many passionate residents for the shelter to counteract their voices."

Without an explanation, Lawrence waved to somebody on the other side of the tent. Leaning toward Daisy, he asked, "Do you have a minute to talk to my daughter and her husband?"

Daisy glanced over her shoulder and spotted a couple making their way toward her . . . or toward Lawrence.

Keeping his voice low, Lawrence explained, "I convinced Piper and her husband to come to this social to divert her attention and his from their problems."

Anyone who had children knew there were always problems. Daisy's two daughters, Violet and Jazzi, brought her boundless joy but also daily complications.

Keeping his voice low, Lawrence asked, "Did you read about what happened at the Hope Clinic?"

The Hope Clinic had opened its doors in Willow Creek a few years ago. It was a fertility clinic. Last month, it had experienced a mechanical problem, losing eggs and embryos that had been frozen and crushing the dreams of many couples using the clinic.

She listened intently as Lawrence explained, "Piper and Emory are heartbroken. The clinic lost their frozen embryos. I want them to become involved in the fund-raising endeavor to move on from what happened. I thought you could explain your enthusiasm for it."

Daisy felt a wisp of a breeze on her neck and she was grateful for it. She'd been scurrying around all day, and taking a few minutes in conversation with Lawrence's daughter and her husband would be a welcome break. Her Aunt Iris, her partner in Daisy's Tea Garden that was located in an old Victorian in town, was walking toward the tent from their van with a fresh tray of whoopie pies. Daisy caught her eye. She gestured to Lawrence and the couple who had stopped to talk with them.

Iris nodded that she understood and she'd handle any of the serving decisions that had to be made. As Daisy quickly scanned the crowd, she saw that many residents were seated on folding chairs, a drink in their hand and a paper dish with a pastry on their lap. The buzz of chatter was everywhere. Anything that brought the community together was good. That's what Daisy's Tea Garden was all about.

Turning to the couple, she let Lawrence introduce them. Piper looked to be a little older than her daughter Vi, maybe around twenty-five. Her auburn hair curled over her shoulders and around her oval face. Her bangs were blunt-cut above very green eyes and freckles spread across her cheeks. She was wearing a pin-striped sundress. Her husband Emory was about five-ten, stocky, and looked as if he might lift weights. His peach-colored polo shirt stretched across his chest. With his khakis he wore sandals and looked quite comfortable. His dark brown hair was brushed up over a high forehead and cut short on both sides. His mustache was thin and well clipped.

After introductions, the conversation centered on the homeless shelter and the gathering. Piper admitted, "The folks who came out for this look as if they're interested. I've heard several conversations with women and men who want to volunteer any way they can."

Emory nodded. "I heard one man say this should be a shelter that the community is proud of, not a building where the community hides away people they don't want on their streets."

Lawrence grinned. "That's exactly why I want you and Piper to get involved in the fundraising. It will give you a purpose for a little while as you recover from your loss."

Piper shot her dad a questioning glance.

Lawrence admitted, "I told Daisy. She has two daughters. Her one daughter, Vi, had a baby not too long ago."

"And my other daughter, Jazzi," Daisy filled in, "is adopted." Since Lawrence seemed worried about Piper, Daisy decided to share a little. "After Vi, I couldn't have more children. I was devastated, but when my husband and I came to terms with it, we decided to adopt."

Shaking her head vehemently, Piper insisted, "It's too soon to think about that."

Just then Jonas Groft came up behind Daisy and settled his arm around her waist. "How's it going?"

"I think it's going well," she assured him.

When some people looked at Jonas, they first saw the scar on his cheek and looked the other way. But she saw the former detective who'd given years to an often-thankless profession. He was strong and not only physically strong. His stubbornness, reflected in the angle of his jaw, had sometimes created a bumpy road for their relationship. But his integrity, loyalty, and caring more than made up for that. After all, she could be stubborn too.

He'd shoved his black hair back over his brow, but a strand had fallen forward. He was six-feet tall, broad shouldered, and a ballast in her sometimes-tumultuous life. Today he wore a navy T-shirt with black denims. His low boots were dusty from crossing the field several times, helping her carry supplies to and fro. He'd put up the canopies this morning and carried the tables to them.

"You know Lawrence, don't you?" she asked Jonas.

"Oh, yes," Lawrence said before Jonas could and explained who Jonas was to Piper and Emory. "Jonas is a former Philadelphia detective. Now he owns Woods, the store downtown that sells handcrafted furniture."

"Really?" Emory said. "We've been looking for a cabinet for my den."

As Lawrence, Emory, and Jonas talked about the pieces in his shop, Daisy turned to Piper. "If you ever want to talk about adoption, I'd be glad to share my experiences."

Piper's face took on a melancholy quality, and Daisy realized this social event wasn't the type of solution that would help Piper move on from her experience with the Hope Clinic.

After glancing at the men, Piper took a step closer to Daisy. "We don't know what we want to do. We're thinking about joining a class action lawsuit with other couples against the clinic. It's a huge decision to make."

"Yes, it is," Daisy agreed. "How does Emory feel about it?"

"He's more positive about the idea than I am. I almost feel like our marriage, all our plans, and even our lives will be spoiled if we become embroiled in a lawsuit. We'd be wishing for what might have been, rather than what can be. Do you know what I mean?"

"I do understand. Losing the embryos . . . you both might need to go through a grieving period."

"And a class action lawsuit could just postpone what we have to feel and what we should feel. I simply don't know."

Piper looked so sad. She reminded Daisy of Vi when her daughter had gotten pregnant out of wedlock and had to make heavy decisions for a young woman her age.

Without hesitating, Daisy lightly clasped Piper's arm. "If you'd like to talk about adoption, lawsuits, or anything else, you're welcome to come by the tea garden. I'll serve you iced tea and a whoopie pie on the house."

That idea brought a smile across Piper's lips. The smile rapidly slipped away though as Piper looked toward the other side of the tent. Daisy saw the young woman's attention was suddenly captured by a man in white linen slacks, white shirt, and straw hat. He seemed to be enjoying a cup of hot orange pekoe tea.

Always curious, Daisy asked, "Do you know that man?"

"I sure do. His name is Hiram Hershberger. He's the lawyer representing the fertility clinic. He's the enemy in our eyes. A group of us that were affected by the mechanical failure has met several times. I'd better distract Emory. I don't want him to feel he has to have a discussion with the man. Nothing good can come of it."

Daisy watched as Piper moved away, threaded her arm through her husband's and guided him toward the trays of cookies. Lawrence gave a wave to Daisy, signaling that he'd talk to her later.

However, Jonas came toward Daisy and swung his arm around her shoulders. "Not long now before we can pack up and go back to your place for a while." The message in his eyes said he'd like to kiss her right here, right now, but that he'd wait.

Daisy and Jonas had come to an abiding understanding that they were a couple. They'd been through hard times together and apart and then back together again. Now they felt bonded in a deep way that had produced I love yous from them both. They hadn't talked much yet about the future, but in the present, they wanted to be together as much as they could . . . with family, without family, alone, or with friends.

Jonas motioned to the crowd and the location of the party. "When the chamber of commerce decided to have a celebration here to have the community socialize on the property where the shelter will be built and try to form a united front, I was skeptical. But I think it is working. I've seen the volunteer signup sheets for the many committees. Now we just need the fundraising to get started."

Strolling along the table, Daisy and Jonas picked up glasses of iced tea. "For plastic glasses, these are pretty spiffy," Jonas kidded.

"Spiffy? If you think flowers on plastic are spiffy for this social, wait until you see what I come up with for our Fourth of July tea garden event."

As Jonas laughed, Daisy heard someone calling her name. That was common at an event like this. Running Daisy's Tea Garden with her aunt, she'd met most of the residents of Willow Creek at one time or another. Some of them she'd gotten to know fairly well. She was glad to see the man approaching her this time was Gavin Cran-shaw. He wasn't just a friend, he was an in-law . . . her son-in-law's father.

Gavin was lean and tall with a square jaw that noted determination similar to his son's. His sandy brown hair was already blonding in the warm weather. A contractor, he was tan from working outdoors. Gavin had had wonderful news lately. He'd won the bid to build the homeless shelter.

After giving Daisy a hug, Gavin shook Jonas's hand. At one time, Jonas had been jealous of Gavin, but they'd settled all that.

Gavin blew out a breath. "I feel as if I've been glad-handing everyone since I got here. Daniel Copeland thinks I need to speak with anybody who could be influential in raising money for the shelter."

Jonas asked, "Do they still have plans to hire a professional fundraiser?"

Gavin slipped a hand into the pocket of his navy slacks. "As far as I can tell. I simply wonder if a town the size of Willow Creek can raise enough money to actually build the shelter. If they can't start building and complete the project quickly, prices will go up and we'll need to raise even more money."

Jonas suggested, "Is scaling back the plans and the cost a possibility?"

Gavin shook his head. "Only if we have to. We should know within the first two months of raising money how it's going to go. I'm simply concerned about who the mayor will hire to head the fundraising effort."

"There's a public relations blitz planned," Daisy reminded him.

Gavin looked directly at Daisy. "Do you think Arden Botterill really has the know-how that it takes to do the marketing for the shelter?"

Daisy shrugged. "She says she does. And she volunteered. The council won't have to pay her."

Arden owned the shop called Vinegar and Spice. Daisy wondered again what Arden's background was and if she'd submitted a résumé to the council. Then again, since she was volunteering, the men might not have looked any further.

Gavin said, "I see the mayor over there. I haven't connected with him yet today. I'd better do that before I leave. You two have a good evening."

After Gavin moved away, Jonas pointed to the TV truck and camera crew from the Lancaster TV station. A van with a satellite dish was also parked at the curb on the other side of the field. That one was from Harrisburg. "It looks like we've garnered some attention," Jonas noted. "You could be on the news tonight."

"I hope I'm not. I'm hoping they skip over the refreshments under the canopies and talk to pro and con residents about the shelter, not making it all one-sided."

Jonas nodded toward an interview with Daniel Copeland taking place nearby. "I would think this is community news that the general population would take an interest in."

Daisy studied Daniel and the camera crew. "I hope that's why they're here."

Suddenly Jonas nudged her arm and pointed in another direction to the field behind the canopies. Daisy saw he was focused on the two dogs playing there. One looked like a cocker spaniel and the other appeared to be a Scottie. The Scottie hunkered down, front paws forward and his back end up. The cocker in the position of power just stood staring at him. After a yip from the Scottie, they started chasing each other around the field.

Daisy swerved her attention from the dogs to Jonas and saw that he was watching them intently.

After a moment he asked, "What do you think about me adopting a dog?"

Daisy was aware that a friend of Jonas's had recommended that Jonas adopt one when he was going through a tough time. She didn't know if he'd taken his friend seriously, but maybe the idea had taken root.

She didn't want to sway him one way or the other. "What breed are you thinking of?"

He gave her a lopsided smile. "You know me too well. You believe I've been thinking about this ever since Detective Rappaport mentioned it."

"Maybe I do. Am I right about that?"

Jonas towered above her. Lean and muscled with a stern jaw, he could look fierce. That look had shadowed him since his job as a homicide detective in Philadelphia and his experiences with it. But she knew the man behind the rugged attempt to hold people at a distance. If he was uncertain about something, which wasn't often, he brushed his hair up over his forehead. The sunlight, beaming through the side of the tent, illuminated the silver strands at his temples as his green eyes grew darker. Recently he'd told her he secretly liked the idea that she could sometimes read his thoughts.

"When Rappaport first mentioned it," Jonas said, "I really did think he was joking. He was making a point that I wasn't getting along with anybody else so I might as well adopt a dog to have as a friend. But the more I thought about it, I realized how much I do like dogs. I even did shifts as a canine handler back in Philadelphia. I don't care about any particular breed. I'd like to adopt from the animal shelter at the edge of town. I want to feel as if I'm saving a life."

Daisy knew that sentiment was typical of Jonas too.

"The thing is . . ." He hesitated. "I haven't made a decision because I wanted to talk to you."

"You're the one who would have to walk a dog and care for it. This has to be what you want to do," she advised.

"I'm well aware of that," he agreed with a smile and a twinkle in his eyes. "But do you like dogs?"

"I do. Ryan and I talked about adopting one when the girls were small, but our lifestyle didn't seem to be a good one for caring for a dog. By the time Vi and Jazzi were both at school, we knew we would be away all day. It just didn't seem fair to the animal."

"I'd like to adopt a dog who's gentle enough to take to work with me," he confided. "My yard at the townhouse isn't huge but your property could be suitable for a dog to run and fetch."

Daisy considered the next few years, surprised that's where her thoughts were going. Her daughter Jazzi would be leaving for college in a year. Daisy liked the idea of a dog around the property, especially as her grandson Sammy grew older.

"It's plenty large for a dog to exercise, maybe with humans having fun too."

Jonas took her hand and she could see in his expression that he was happy they usually thought alike.

Although Daisy liked spending this time with Jonas, she knew she should check on the pastries. Did she still have enough in the van? She hadn't been sure what quantity to supply, but since the tea garden was five minutes away, she could fetch more if she needed to.

Nevertheless, she was enjoying standing here with Jonas, watching the dogs play in the field, thinking about the future.

The breeze lifted a stray strand of hair along her cheek and tossed it across her lips. She was about to brush it away when Jonas released her hand and did it for her. His finger was rough from woodworking and slightly callused.

The tingle she always felt around Jonas lifted the corners of her lips. He smiled back, his eyes dark with a desire to be alone with her later.

Conversations swirled around them. Friends and neighbors picked up a dish of cookies and whoopie pies, cups or glasses of tea. Daisy's elbow brushed again against Jonas's as the day seemed almost perfect. She had a business that she enjoyed, family and friends she loved . . . and Jonas.

Then like a sudden storm enveloping the gathering, everything changed. Daisy didn't see a black cloud moving overhead. However, she did hear a negative buzz begin to sweep over the crowd. It began from the field on the south side of the plot of land closest to Market Street, Willow Creek's main street.

Protest chants reached her ears from at least a dozen persons marching toward the canopies. At first glance, she couldn't tell if they were men or women. Even though the day was summer-like, the protestors were wearing hooded sweatshirts, boots, and camouflage-patterned inhalation masks.

She felt Jonas's arm shoot to his belt for his phone. She suspected he was calling the Willow Creek Police Department.

As the group drew closer, their shouts increased in volume. They shouted in unison—No homeless shelter in Willow Creek. No homeless shelter in Willow Creek. No homeless shelter in Willow Creek.

As much as their shouts coursed over the field and sent shivers up Daisy's spine, their boots on the ground sounded a. . .
We hope you are enjoying the book so far. To continue reading...
Murder with Orange Pekoe Tea
Karen Rose Smith
Copyright © 2023 All Rights Reserved
Also in this series
Also by this author