Murder with Earl Grey Tea
Book info
Sample
Audiobook
Media
Author updates
Lists
Synopsis
Karen Rose Smith returns with another serving of her irresistible Daisy's Tea Garden Mysteries set in Pennsylvania's Amish country.



Even though spring in Lancaster County is still a bit far off, Daisy Swanson has much to look forward to: setting a date with her fiancé Jonas, a whimsical Alice in Wonderland tea event, and an anniversary celebration for her parents at a farm-to-table restaurant in Willow Creek.



But a grim discovery turns her thoughts to the troubled present. Meeting up for a hike with her friend, Daisy and her fiancé's dog Felix find the woman dead on a trail, a victim of an apparent hit and run. The tire tracks clearly indicate this was no accident, and now Daisy must follow a twisted trail of clues to uncover what drove someone to murder . . .
Release date: May 23, 2023
Publisher: Kensington Books
Print pages: 320
* BingeBooks earns revenue from qualifying purchases as an Amazon Associate as well as from other retail partners.
Listen to a sample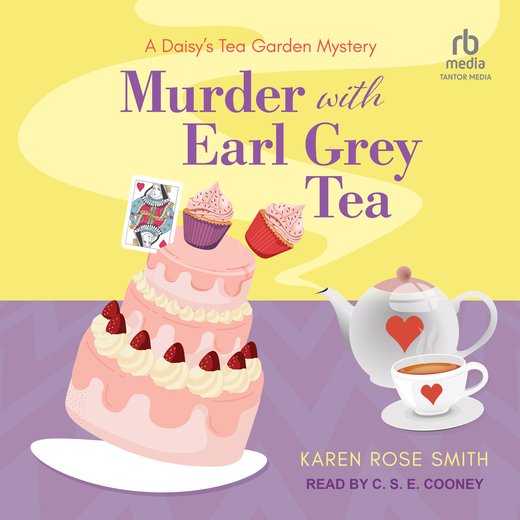 08:31:55
234.34 MB
May 23, 2023
Tantor Audio
2023
Murder with Earl Grey Tea
Karen Rose Smith
"Do rised?" you want your mom and dad to be surprised?"

Daisy Swanson glanced at her Aunt Iris and her mischievous expression. Her aunt's short, ash-brown curls practically bounced around her face with her enthusiasm for planning an anniversary dinner for Daisy's mom and dad.

"You know Mom doesn't like last-minute surprises," Daisy reminded her aunt, who had been a cherished confidante since her childhood.

Lydia Aldenkamp, manager of The Farm Barn, where Daisy and her aunt were planning the dinner, glanced at her notes with the menu they'd developed. She suggested, "I can easily print out the menu with The Farm Barn logo, the date, and the time. Then you can present it to Rose and Sean a few days before. It would be more of a present than an unexpected surprise."

"That's a fine idea," Iris agreed. "Rose shouldn't be too bent out of shape by that. And at that stage, she can't control the plans we've made."

Daisy pushed her blond shoulder-length hair away from her face as she smiled and swiveled her attention back to her aunt. Her Aunt Iris and her mom got along like many sisters—they were sometimes at odds and sometimes on the same page.

"I think Mom and Dad will be pleased," Daisy agreed. "This time of the year when winter business is slow, the garden center isn't open on a Sunday."

"I love Gallagher's Garden Corner," Lydia said with sincerity in her voice. "Your parents always give us the perfect landscaping advice. I'm pleased to plan this dinner for them."

Daisy studied Lydia as she expressed her appreciation for Daisy's parents. The woman's Amish upbringing often flavored the way she dressed and presented herself. On this Pennsylvania February day, she'd worn a high-neck blue gingham blouse with a navy skirt. She also wore her burnished brown hair in a bun as she would have under a kapp, a required head covering for plain women. Lydia had left her Amish community behind during her rumspringa—the teenage running-around period after which Amish youth decided if they would commit to their faith.

Now Lydia closed her notebook and focused on Daisy's hand on the table. She pointed to Daisy's ring finger. "Every time I see your engagement ring, I think about how Jonas chose the perfect one for you. I do love antique settings."

The ring was vintage with old European cut diamonds set in platinum. However, what had drawn Jonas to the ring for Daisy were the two sapphires, one on either side of the center round diamond. He said those sapphires were the color of Daisy's eyes.

While Daisy remembered how romantic Jonas's compliment had been, Lydia's gaze quickly swerved to the gold band on her own finger. "When Neil asked me to marry him, and I left my home, we didn't even consider an engagement. We just got married."

Daisy and Lydia had been friends since last fall, when Daisy had planned a surprise birthday party at The Farm Barn for the man she'd been seriously dating, Jonas Groft. The Farm Barn was a farm-to-table restaurant and reception venue that had been perfect for the celebration. For the past few months, she and Lydia had taken early morning hikes on the restaurant's property. Lydia had revealed to Daisy that she'd left her childhood home at nineteen to marry Neil Aldenkamp, an Englischer. They'd now been married for fifteen years. Lydia had also confided that after several miscarriages, she'd finally carried her baby to term. Little Frannie was now three and absolutely adorable.

Lydia said with a sigh, "You and Jonas have taken your time joining your lives. Sometimes I wish Neil and I had done that."

Daisy, Lydia, and Iris were sitting at a table to the rear of The Farm Barn's kitchen near the walk-in refrigerator and freezer. Suddenly the back door to the kitchen swung open, and a woman about Lydia's age, who resembled her so perfectly that a stranger could hardly tell them apart, rushed inside. She looked harried.

For a moment, Daisy wondered if Lydia's twin sister Leah had come to pick up Frannie so Lydia could continue with managerial plans of the restaurant for the rest of the day. However, Daisy recalled that earlier, Lydia had mentioned that her husband Neil had driven Frannie to preschool.

On one of their many hikes, Lydia had told Daisy that she and Leah had stayed connected over the years in spite of leaving her Amish life. Daisy surmised that their twinship was a huge factor in that connection. Lydia wasn't officially shunned by her district because she hadn't been baptized into the Amish faith before she left. Still, her parents had shunned her. That had to hurt immensely.

Leah was dressed in a royal blue Amish dress with a black apron. Her kapp was set on brown hair, a little lighter than Lydia's. She'd looked upset when she'd come in, but now she tried to smile at Iris and Daisy.

Lydia stood and crossed to Leah. In a low voice, she said, "I can't talk right now. I have an appointment."

Nevertheless, whatever Leah wanted to talk about seemed more important than Daisy's and Iris's consultation with Lydia. Leah motioned to the door, as if asking if they could go outside. There was definitely tension between the two women.

Lydia turned back to Iris and Daisy. "I'm sorry. I need to speak to my sister. I'll only be a few minutes."

"Do you want my coat?" Daisy asked, offering her the fleece cat-patterned jacket that hung on the back of her chair. "It's only thirty-two degrees out there." February in Pennsylvania was usually cold, below freezing at night.

Lydia shook her head. "This won't take long. I know what Leah wants."

After Lydia stepped outside, Iris noted, "Leah didn't have a coat on, either, and she probably traveled here in her horse and buggy."

Daisy considered her friend Rachel Fisher's buggy. "Some of the buggies do have gas heaters, and there's usually a blanket. Maybe Leah wrapped a blanket around herself while she drove."

"I wonder if this is an emergency," Iris mused. "She seemed upset."

Glancing toward the closed kitchen door, Daisy said, "I don't know much about Leah. I do know she and Titus Yoder have a working farm. They've tried to have children but no luck yet. Lydia feels for her and understands what she's going through. Their discussions could be about business. The Farm Barn buys produce and eggs from the Yoder farm. But Neil also purchases eggs from their chicken supplier. I don't think Leah can provide enough of them."

Iris thought about the situation and decided, "It has to be hard for the two of them. I've read about how close twins can be. With one dedicated to the Amish faith and the other part of the English world, just how connected can they stay?"

That was a question to consider. Daisy's family was so crucial to the way she looked at life. She depended on them and would do anything for them. "It's hard to believe Lydia's parents haven't spoken to her since she left the community. I could never do that to a member of my family, let alone a child."

Iris was nodding before Daisy finished her thought. "I feel the same way, but the restrictions of Amish faith make the situation what it is, I suppose."

The back door to the kitchen swooshed open again. Lydia was half in and half out, with her sister pulling on her arm.

"We have to talk about this more," Leah pleaded.

"There's no point, Sister." Lydia's voice was firm. "Now go home. Neil will bring Frannie to you after preschool. She will cheer you up, ya?"

Leah seemed to respond with a weak, teary smile. She let go of her sister's arm and stepped away from the door.

Lydia closed it, returned to the table, blew out a breath, and sank into the folding chair. She murmured, "Mixing business with family connections always creates problems."

She didn't go on, and Daisy didn't know what her friend meant.

Lydia didn't explain, but returned to the details of Daisy's parents' anniversary dinner, as if they hadn't been interrupted.

After Daisy and Iris parked in the back lot behind Daisy's Tea Garden and entered through the Victorian's rear door, Daisy immediately saw that their kitchen bustled with activity. Tessa Miller, Daisy's best friend and kitchen manager, was slipping a tray of cinnamon scones into the oven. Eva Conner, Daisy's girl Friday, was brewing Earl Grey tea, which was the special for the month.

"Many customers this morning?" Iris asked as she unzipped her down puffer coat. "There were a few snowflakes out there, so it's probably going to be slow."

Tessa and Eva exchanged a glance, and Daisy wondered what that was about. She soon found out.

"Foster was serving two interesting customers," Eva said, with an impish smile.

"There are a few others," Tessa told them, "but those two . . ." She shook her head and tried to suppress a grin.

Foster Cranshaw was Daisy's son-in-law and proficient in his duties at the tea garden.

"I'll check," Daisy said, "as soon as I hang my coat in my office and wash up."

Eva let out a small giggle. "I think Iris is going to want to visit these two. They're at separate tables."

Now Daisy suspected she and Iris both had their curiosity piqued. They went to the hall and peered into the tearoom.

Marshall Thompson, a lawyer who had helped Daisy in more than one of the murder investigations she'd become involved with, sat at a table for two near the front window of the main tearoom. He had an office a few streets north of downtown on Cherry Tree Road. He could walk to the tea garden and often did. He cut an impressive figure, at six feet two with thick snow-white hair, and was wearing a blue pinstriped suit with a crisp white shirt and navy striped tie. Since fall, he'd invited Daisy's Aunt Iris to accompany him to plays at Willow Creek's Little Theater and to expensive restaurants in York and Lancaster. He didn't look happy at the present moment, though, as he took a forkful of a cherry tart and glared at the man two tables away. Marshall continued to glower as he set down his fork, picked up his teacup, and took a sip of tea. Daisy knew Earl Grey was one of his favorites.

Foster was standing beside the table where the focus of Marshall's concentration sat. Detective Morris Rappaport took a bite of what Daisy suspected was an apple muffin. He'd lost about twenty pounds since he'd started a healthier diet and bought a fitness tracker to count his steps.

The detective was in his late fifties. The lines on his face spoke of a difficult profession and years of being on the front lines of law enforcement. He had blond-gray hair and often used reading glasses. The tea at his place setting was iced. It had taken a while for Daisy to convince him to try any tea at all. He was the type of man who didn't particularly want to drink from a teacup. This morning, he looked spiffier than usual, with a brown wool sports jacket, tan slacks, and a cream oxford shirt, no tie. Unlike Marshall, he didn't often make plans ahead of time with her aunt. He would stop in at the end of a day and ask if Iris wanted to go to dinner at Sarah Jane's, the town diner. He'd invited her to bowl with him, too, and they'd seemed to have fun.

Iris whispered into Daisy's ear, "I'd better shed my coat and get out there."

Tamlyn Pittenger, a full-time employee, was at the sales counter, and Foster seemed to have service under control.

Daisy produced a hair tie from her coat pocket. She kept them here, there, and everywhere in case she needed to pull her shoulder-length blond hair into a ponytail.

"I'll wash up and start the potato and leek soup," she said to her aunt. "I think our lunchtime customers will appreciate it on a cold day like this. You take your time with Morris and Marshall and do what you have to do to keep peace."

To Daisy's dismay, Iris looked more upset than happy that she had two suitors sitting in their tearoom. Willow Creek was a semi-busy tourist town set in the midst of Amish country near Lancaster, Pennsylvania. Daisy and her aunt owned and managed Daisy's Tea Garden together. Their guests, or customers, often knew each other, gossiped about town functions, and chatted about their personal lives. It was normally a happy, non-confrontational, cozy spot to have tea, baked goods, soups, and salads.

Before Daisy and Iris had bought the Victorian, a bakery had existed on the first floor. They'd renovated and rented the upstairs to Tessa. When they'd established Daisy's Tea Garden, they'd considered the fact that they wanted men to feel comfortable here as well as women. They had wanted to draw from professional offices in Willow Creek and Lancaster, too. The main tearoom, where customers could be served or buy goodies and go, was arranged with oak glass-topped tables and mismatched antique oak chairs. A yellow bud vase adorned each table and, in the winter, Daisy kept them supplied with dried herbs. The walls in the room where Morris and Marshall were seated had been painted the palest green to promote calm. Daisy didn't feel the room was promoting much calm between these two men today. She guessed one should have been seated where he was, and the other man should have been offered a table in the more private spillover tearoom. On specified days, she and Iris scheduled reservations there for afternoon tea, which included multiple courses.

As Daisy considered it now, she realized that the spillover space reflected unique qualities of the Victorian because of its bay window, window seat, crown molding, and diamond-cut glass. That room had walls of the palest yellow. The tables were white, and the chairs wore seat cushions in blue, green, and yellow pinstripes. But even that pleasant atmosphere might not have helped the present two disgruntled suitors' situation.

Iris straightened her shoulders and started to remove her jacket. "Maybe they'll finish eating and leave quickly."

"That's not the purpose of the tea garden," Daisy teased.

"Our tea and treats aren't going to calm those two. Morris always asks me when I've been out with Marshall."

"Does Marshall ask about Morris?" Daisy questioned.

"Sometimes," Iris said.

They walked to her office to hang up their coats and don their aprons. Daisy's women servers wore yellow aprons with the daisy emblem for Daisy's Tea Garden stamped on the front. Foster wore black slacks with a white oxford shirt.

After preparing for their morning tea garden duties, Iris headed for the tearoom and Daisy for the kitchen. When Tessa saw her, she gave her a bright smile and motioned to the peeled potatoes in the colander. "All ready for you."

Tessa was around Daisy's age. Today she wore her caramel-colored hair in a braid. In her spare time, she painted, and her kitchen wardrobe reflected her artistic streak. She liked to wear colorful smocks in lieu of the usual chef's coat. This morning, she wore a turquoise smock with little white snowflakes dancing all over it.

"I'm baking corn cake today," Tessa said. "I thought it would go well with the soup."

Daisy had devised a recipe unlike the usual cornbread. She used kernel corn in a light cake batter. It had been popular this winter with her soups.

"I soaked the leeks," Eva said. "They're all ready for you." Eva had celebrated her forty-eighth birthday. Sometimes she was the backbone of the kitchen, making sure the teapots were washed, the china sparkling clean, and ingredients measured and prepared for when Tessa, Iris, or Daisy needed them.

"Do you think we should have a talk with Iris when she finishes with those two in there?" Eva asked, concerned.

Tessa shrugged. "You mean like an intervention?"

"Those two men want the same thing," Eva reminded them. "They want Iris's undivided attention."

Daisy crossed to the walk-in, found the leeks, and pulled out the plastic container. She carried it to the counter where the potatoes were waiting. "Iris has been juggling them both pretty well up until now."

Eva had prepared all of the ingredients for the soup, so it was easy for Daisy to gather them, then add salt and pepper. She'd keep tasting the soup to make sure it was up to her standards. By the time the lunch crowd arrived, it would have been simmering for a while, mixing the flavors into a delicious blend.

Daisy had just finished washing up when Iris returned to the kitchen.

"You look a tad frazzled," Tessa noted honestly, never one to hold back.

"One wouldn't leave before the other." Exasperation was evident in Iris's voice. "It's ridiculous. They both asked me out for this weekend, Morris on Saturday and Marshall on Sunday."

"Did you accept their invitations?" Eva asked.

"No," Iris said with a bit of vehemence. "I need to think about this. I need to think about them both."

"Wise move," Tessa said. "You have to make a decision soon."

"Maybe you should make a pros and cons list," Eva suggested. "Two columns, one for Morris and one for Marshall. Wouldn't that make sense?"

Iris rubbed her hand across her forehead, ruffling her bangs. "I suppose it might. But then there are those indefinable qualities that each of them has that you can't put down on paper. Morris's sense of right and wrong is absolute. He has courage, but he hasn't opened up much about his past and why he came to Willow Creek."

Daisy assembled ingredients to make corn chowder while Iris talked. "Has Marshall spoken to you about his past?"

"Some. I know how much he loves his niece. I know after his wife died, he missed her terribly. Morris has a lot more question marks than Marshall does."

"You might not have an answer after this weekend," Tessa advised her. "But remember, rejection doesn't come easy to men. Once you make a decision, you might have lost the other one. So don't rush just because you want the situation resolved."

Daisy thought that was mighty good advice.

Daisy sat on the sofa with Jonas that evening in her home, a building that had been renovated from an old barn. He'd moved in with her shortly after they'd gotten engaged. Earlier this evening, Jonas had laid a fire in the floor-to-ceiling stone fireplace that was a focal point on the east wall in the dining area.

Pulling her bare feet from the braided blue and rust rug that had been woven by a local Amish woman, Daisy tucked them under her on the upholstered couch. Marjoram, her tortoiseshell feline with unmistakably unique markings—one side of her face was mottled like a tortoiseshell in tan, brown, and black, and the other side was completely dark brown—sat on the back of the sofa. Pepper, her black tuxedo cat, was tucked next to Jonas's leg on the sofa cushion, her head on her paws. Felix, the cream English golden retriever Jonas had adopted, lay along the coffee table, his liquid brown eyes focusing on them every once in a while, as if he were listening to their conversation. Daisy had been relating to Jonas what had happened with Iris at the tea garden.

"It was funny in a way," she said with a smile. "But Iris is torn, and I feel sorry for Morris and for Marshall."

"You can relate because you had to decide whether to date me or Cade Bankert?" Jonas asked with a playfulness in his expression.

She loved looking at Jonas . . . as well as loving him. He was in his early forties. A few strands of silver laced his thick black hair at his temples. A scar down the side of his cheek reminded her of his former profession as a Philadelphia police detective. His green eyes right now danced with teasing humor as he mentioned the man he'd once considered a rival.

"There wasn't any contest," Daisy said as she rested her head on his shoulder. "I just kept my attraction to you, both emotional and physical, under wraps, and I think you did the same with me."

"We lost time," Jonas added regretfully.

"But we have time now," she said lightly, her hand on his chest where she could feel the beat of his heart. Valentine's Day was next week, and she was looking forward to it this year in a way she hadn't for years.

Jonas leaned down and kissed her, the kind of kiss that spoke of dreams together.

After they'd pulled apart again and were staring into the fire, Daisy said, "I hope everything goes smoothly for Mom and Dad's dinner at The Farm Barn. Lydia was helpful this morning." She told Jonas about Lydia's idea for the invitation for her parents.

"That's a great idea. Your mom and dad will have time to prepare themselves and to look forward to it. Anticipation is part of the fun."

Thinking about her meeting at the venue this morning, she wondered again about Leah and Lydia's relationship.

"What's troubling you?" Jonas asked, brushing her hair away from her face.

He could read her so well. Sometimes he could read her so completely that his ability was uncanny. "After Leah visited Lydia this morning, Lydia seemed distracted. They didn't exactly argue, but something was upsetting both of them."

"At Woods I hear a different type of gossip than you hear at the tea garden."

Jonas's furniture store, Woods, attracted tourists as well as local folks. Everything in it was handcrafted. Some pieces Jonas made himself, and others were fashioned by local craftsmen in the area and sold on consignment.

"What sort of gossip have you heard?" Daisy asked.

"It's rumored that Leah and Titus Yoder are having hard times. There's a lot of talk about crops and cattle when men gather in my store. Titus's . . .
We hope you are enjoying the book so far. To continue reading...
Murder with Earl Grey Tea
Karen Rose Smith
Copyright © 2023 All Rights Reserved
Also in this series
Also by this author