Book info
Sample
Audiobook
Media
Author updates
Lists
Synopsis
In bestselling author Karen Rose Smith's sixth delightfully devious Daisy's Tea Garden Mystery, Pennsylvania Amish country's favorite tea house proprietor, Daisy Swanson, finds herself going back to school expecting to serve tea—only to get a crash course in criminal justice!



The faculty of Willow Creek High School are having a get-together after the spring concert with refreshments provided, courtesy of Daisy's Tea Garden. Oolong tea and chocolate biscuits are just what the staff needs to help them unwind from Althea Higgins's demanding curriculum. Her lessons on such controversial subjects as school uniforms and under qualified substitute teachers are earning her an F from her colleagues.



But a failing grade was preferable to Althea falling victim to foul play. Daisy was there when her body was discovered in the school swimming pool, murdered by strangulation. Althea was certainly a strict, opinionated taskmaster, unliked by both teachers and students, but would any of them actually want to kill her? As Daisy starts asking questions, she gets a real education in Althea's history, discovering more than enough enemies with more than enough motives to cancel her classes permanently . . .
Release date: December 29, 2020
Publisher: Kensington Books
Print pages: 352
* BingeBooks earns revenue from qualifying purchases as an Amazon Associate as well as from other retail partners.
Listen to a sample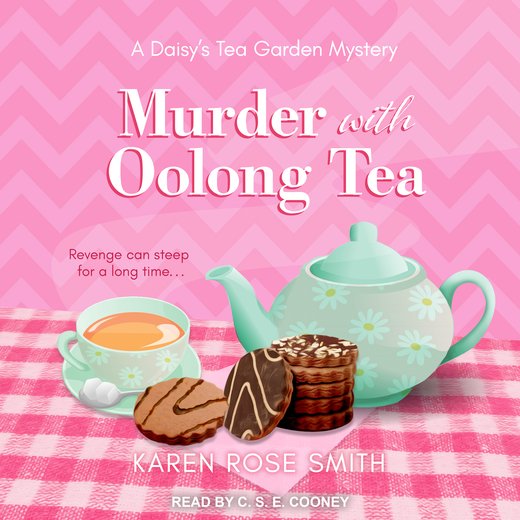 08:29:16
233.13 MB
April 27, 2021
Tantor Audio
2021
Murder with Oolong Tea
Karen Rose Smith
"Claudia never should have been hired," Althea Higgins proclaimed loudly enough for everyone in the teachers' lounge to hear.

Daisy Swanson, who was consulting with the principal of Willow Creek High School along with the guidance counselor, listened in spite of herself. Mrs. Higgins had been one of her English teachers when she'd been in high school. Daisy particularly remembered Mrs. Higgins's love of Shakespeare.

The older teacher, who Daisy gauged to be around sixty, wore her gray hair in a long ponytail that trailed down her back. With her high-necked white blouse and her midi-length tan skirt, she looked like a schoolmarm from olden days except . . . she more resembled an unhappy schoolmarm with her mouth pursed as if she'd tasted rhubarb and didn't like it.

Noticing Daisy glancing Althea's way, Megan Pratt, the principal, brushed her auburn shoulder-length hair back from her brow and murmured, "Althea campaigned for a woman she knows to fill the math department spot that became vacant when a teacher took early maternity leave. But Claudia Moore presented herself with so much more energy and fresh ideas."

Now Stella Cotton, the guidance counselor who Daisy had dealt with on many occasions prior to this, shook her head with disapproval.

As in any workforce, there were tensions. Daisy knew that Stella, in her late fifties, kept up-to-date for herself and the students she counseled. Her hair was coal black and angled forward from her nape to her chin. Both her eyeliner and mascara were heavily layered. Daisy had consulted with her several times, usually about her teenage daughter, Jazzi. Each time Stella had been wearing bold bright colors. Today, maybe trying to encourage spring to make an early appearance even though the calendar read the beginning of March, Stella wore a two-piece dress in lemon yellow with lime-green flowers.

Stella studied Megan, who was at least fifteen years younger, and frowned as if Megan shouldn't have shared inside school information with Daisy.

Althea Higgins suddenly pushed back her orange vinyl–seated chrome chair and stood, gathering her bagged lunch. "I have lesson plans to work on in my classroom."

As Althea left the teachers' lounge, one of the other women at the round table where she'd been sitting said with a bit of sarcasm, "As if we don't all have lesson plans to develop."

Daisy checked her watch. She'd allotted an hour for this meeting with Megan and Stella to create the menu for their spring tea event later this week. Megan, a new principal this year, had decided serving tea to the faculty after the spring concert would show the district's appreciation for their service. Stella had agreed.

As co-owner of Daisy's Tea Garden with her aunt Iris, Daisy catered outside events as well as oversaw day-to-day operations at the tea garden. Her tea garden, housed in a restored Victorian downtown, was gearing up for spring and summer Amish country tourist trade in Lancaster County. She and her aunt welcomed the opportunity to share teas, soups, salads, and baked goods with their customers.

Daisy's shoulder-length blond hair swept along her cheek as she raised her head to discuss the reason for the meeting. "With spring arriving soon, I'm already creating fresh recipes as well as buying and blending teas."

"What do you suggest for our tea?" Megan asked.

"I created a new tea blend called Daisy's Spring Garden. It's an oolong tea with lemon and vanilla notes."

"What is oolong tea?" Megan asked. "I don't know black from green from Earl Grey."

"Oolong is a traditional Chinese tea," Daisy explained. "It's produced in a certain way. The leaves go through a process of being withered in the sun and oxidized."

"Can you provide more than one tea?" Stella inquired.

"Sure, I can," Daisy agreed with a smile.

"We'll rely on your judgment for the teas," Megan decided. "It's not as if we know anything about them."

"My servers will be glad to explain whatever we serve," Daisy assured the women. "As far as the food courses are concerned, I was considering an avocado-cucumber soup to start and tomato aspic for a different type of salad course. For the savory course—egg and olive sandwiches, beef on rye squares, and cucumber-watercress triangles. The tea garden also offers blueberry coffee cake that we can serve along with mini shoofly pies and lemon tarts." Daisy handed each woman a printout of those menu possibilities along with alternatives.

"This looks wonderful," Stella decided. "I'll have to make a reservation for a full tea service once school is out for the summer."

"You're welcome anytime," Daisy said. "As far as this menu, just make sure you phone me with your selections by tomorrow night. Will we be serving in here . . . in the lounge?"

The teachers' lounge was a tight fit with a few round tables and many institutional chairs.

"Oh, no." Megan shook her head. "There's a room down the hall from the pool that we use for teacher functions when we want everyone at the same place at the same time. Teachers come and go here during lunch and free periods. We'd never fit everybody in this space at once. We'll show you the room before you leave."

They seemed to have discussed everything that needed to be discussed. Daisy checked her watch once more. She was about to push back her chair and excuse herself when Stella picked up the conversation again. Looking straight at Daisy, she asked, "Will you be attending the school board meeting mid-month?"

"Yes, I will. I want to hear the pros and cons about several items on the agenda."

"Has the gossip around town managed to announce the last item that's been added?" Megan asked.

Daisy gave the principal a questioning look. "The last I heard we were going to talk about after-school groups and how long they should stay at the school, whether service hours should be increased, especially on seniors, and what type of fundraising should be done for special trips and incorporating interactive whiteboards into classrooms. Did I miss anything?"

"Just the most important and probably the most controversial," Stella responded. "Megan and I are going to add to the agenda the idea of having a dress code in the high school."

That took Daisy aback. She hadn't had an inkling about that being added to the agenda. Controversial indeed. She imagined this discourse would be intense.

"We might even need security guards," Megan joked.

Stella jumped in. "This isn't any laughing matter."

Megan scrunched up her nose. "Someone has to have a good sense of humor about the subject or we'll end up in the swamp of Althea's complaints."

Daisy leaned forward and in a low voice asked, "Althea has a strong opinion?"

Daisy's question was met by the two women exchanging a knowing look. Finally, staring directly into Daisy's blue eyes, Stella answered, "I'm not talking out of school, so to speak, to tell you that Althea will be there with bells on. This is her bailiwick. She wants skirts, blouses, and vests ordered from the same company for girls as well as blazers, slacks, and ties for the boys."

"No room for options or alternatives?" Daisy wanted to know. She knew exactly how she felt about this idea.

"No, and it's not at all what I had in mind when I brought up a dress code," Stella explained. "I just wanted the school board, with the input of the parents, to make up general rules so the girls don't look provocative and the boys don't resemble gang members. I don't think that's too much to ask. Already we're seeing crop tops that are way too cropped, necklines with spaghetti straps that look like nightgowns, and even shorts that are as short as underwear! And the daytime temperature is still in the fifties."

Megan reached across and tapped Stella's hand. "Now don't exaggerate. Most of our kids have a sense of propriety."

Stella studied the principal. "Most?"

"All right," Megan acquiesced with a sigh. "Maybe half. It all depends on the latest fashions. I'd like to outlaw flip-flops too."

Daisy could suddenly see how complicated this discussion would be. "Who's leading the cause for no uniforms?" If Daisy's suspicions were correct, it would have to be someone with as much intensity and passion as Althea.

Megan answered this question. "To my surprise, Claudia Moore has stepped into that gap. Actually, there are several teachers who believe we shouldn't implement uniforms. I don't know if Claudia is specifically against it because of the way Althea has been spreading rumors saying her friend would be more competent teaching than Claudia. But I think Claudia really believes clothes are a matter of self-expression."

Daisy came down on that side of the debate too, though she did believe in propriety. She had to approve of what Jazzi wore to school, and she expected other parents to do the same. The tightrope between control and no control as a parent of a teenager was difficult to maneuver.

"I'm with you and the general rules, and I would think most parents would be. Or am I wrong about that?" Daisy looked from one professional to the other.

"We absolutely don't know," Megan responded. "If the school board is too divided, we might have to take a vote. But the first step is an open meeting and that's what we're having. We're asking the students not to come to this session. We'll have an assembly about dress for school after the parents discuss it. Whatever we decide, we can't just spring it on everyone when school starts in the fall. Including feedback from most parents and making sure we listen to it is the school board's biggest challenge."

Daisy was sure Megan was right about that. Listening became hard when two competing sides were shouting at each other.

After her meeting with Stella and Megan, Daisy had gone back to work at the tea garden. Regular customers often came through the door in the late afternoon to take goodies home for their suppers. Tessa Miller, Daisy's kitchen manager and best friend, came out of the kitchen and sidled up to Daisy at the sales counter where she'd just sent a few customers on their way with goodies. "So does our menu for the teachers' tea look like the menu we discussed?"

Tessa and Daisy had gone to school and skipped a grade together. After high school, Daisy had enrolled in college, met her husband, married, and moved to Florida. Tessa had taken culinary courses here and there, apprenticed with a chef, but couldn't seem to find her way. When Daisy returned to Willow Creek with her two daughters, renovated an old barn into a home, and with her aunt set up the old Victorian as a tea garden with an apartment on the second floor, Tessa seemed to find her niche. She enjoyed working as Daisy's kitchen manager and living above the tea garden. Daisy and Tessa had never had any secrets from each other—not when they were kids and not since they'd been involved in murder investigations together.

Daisy stopped counting the baked goods left in the case and turned to Tessa. "Stella and Megan really seemed to like the preliminary menu I presented. They even selected teas to try on my recommendation. They were very easy to plan with."

"Do I hear a 'but' lurking in there somewhere?" Tessa asked.

"We'll have an all-occasion room to set up near the pool."

"That wing of the high school is the newest," Tessa remembered.

"It is. The state-of-the-art pool was a real bone of contention before it was built. But now they see how good it is for the kids. Do you remember Althea Higgins, the English teacher?"

"I do. I was scared to death of her. She made us memorize poetry and stand up and recite it. I was always afraid I'd get a D or an F if I didn't get every word right. She was as sharp as her pointed nose."

Daisy worked hard to suppress a smile. Althea did have a pointed nose. "She was exacting but her vocabulary drills for the SATs were right on the mark. I took an after-school class of hers on how to make the most of the study guide for the SATs. She was good. But I have to admit, she wasn't one of the teachers I'd enjoy sitting down and having a conversation with. I can't believe she's still there. Stella told me she's thinking about retiring. My guess is she's probably sixty-two. Violet had her for an English class but Jazzi has had other English teachers. You can learn from a drill sergeant or from a teacher who uses the Socratic method. I'd prefer the Socratic method."

The front door of the tea garden opened and the bell rang. Jazzi, Daisy's sixteen-year-old, breezed in to help serve and clean up before Daisy closed the shop for the day. Daisy studied her, so proud of her daughter that sometimes she could burst. Jazzi's black hair was sleek, straight, and swept below her shoulders. She had an oval face, high cheekbones, and a cute nose. Her eyes were as brown as the richest chocolate. She was lithe, long-limbed, and learning to have confidence in herself. When she'd gone on a search for her birth mother, she'd found her. Now Jazzi was learning how to fit in to Portia Smith Harding's family as well as her own. There had been potholes on that road but Jazzi had navigated them with the help of everyone who loved her.

Today Jazzi wore a denim skirt with a bib overall top and a yellow T-shirt underneath. Her denim jacket suited the weather. Her shoes had a chunky heel and laced up to the ankles. She took her backpack everywhere. It was loaded with enough books and paraphernalia to weigh at least what any camper's backpack would weigh when they were hiking.

Jazzi motioned to her mom and pointed to the office. She obviously wanted a few minutes alone with Daisy. That always rang warning bells in Daisy's head.

Daisy glanced around the tea garden's main serving room with its pale green walls, glass-topped tables, and mismatched antique chairs. The spillover tearoom past the sales counter was pale yellow with a diamond-cut glass bay window. The tea garden was quiet since they hadn't served afternoon tea today. When they scheduled those days, tea was served with reservations.

Tessa must have seen Daisy assessing what was going on at that exact moment because she said, "Go on with Jazzi. Iris and I can handle anyone new who comes in."

Daisy went through the doorway that led to a hall with the kitchen on the right and her office on the left. Her office had Plexiglass windows that she could see into and out of. Jazzi was unloading her backpack onto Daisy's desk chair.

Her daughter didn't waste any time getting to the point. "Do you remember me talking about Brielle?"

Jazzi was involved in a peer counseling group and had met Brielle Horn in that group. From what Daisy remembered, Brielle's parents were lawyers and traveled a lot. Although Jazzi mentioned her now and then, Daisy had never met her. "I remember you discussing Brielle."

"I have a favor to ask."

Leaning against her desk, Daisy smiled. "That look on your face tells me it's a big one."

"Not so big, really," Jazzi promised. "I'd like Brielle to spend two weeks with us, spring break and then a week after that."

Whoa! Daisy hadn't expected that request. "I don't know, Jazzi. I'm over at Vi's a lot to help her with Sammy. With my tea garden hours, I don't know if I want to take on anything else."

"I thought it all out," Jazzi said calmly, as if her explanation would help. "Vi and Foster are doing better, don't you think? Vi's over her postpartum depression from what I can tell. She's even going into Pirated Treasures some days to help Otis."

Daisy's oldest daughter, Violet, had gotten pregnant her first year of college, married, and had a baby in November. Postpartum depression had hit her hard but with early intervention she was now doing well. She and her husband, Foster, and their four-month-old son Sammy had found a routine that worked for them.

"They are doing better," Daisy agreed. "Why does Brielle need someone to stay with?"

"Her parents are going to some international lawyers conference in Geneva. If Brielle went along, she said she'd be alone in the hotel because her parents would be in meetings during the day and going to cocktail parties in the evenings. They also visit with their friends. After the conference, they intend to go stay with a couple in Norway. Brielle has been there before. It wasn't fun and she doesn't want to go again."

"Not take a trip to Geneva and Norway, Jazzi?" Daisy studied her teenager carefully. "What's really going on?"

"All right," her daughter conceded. "The truth is that Brielle doesn't want to hear her parents bicker about everything. She thinks they're going to get a divorce. If they're alone on this trip, maybe they can mend things and come back better. Her grammy lives in the area but she doesn't get around well. She'd like to stay with her but Brielle's parents think Brielle needs more control than her grammy can provide. Brielle feels all alone so much of the time. I think it would be good for her to be with us."

Thinking about Jazzi's request, Daisy considered what having a guest would mean. Two weeks wasn't an eternity. Daisy had been looking forward to spring break, thinking she would take a few days off and she and Jazzi could do things together. After all, next year was Jazzi's senior year and it wouldn't be long until her daughter went to college. But . . . maybe all three of them could spend some time together. This seemed to mean a lot to Jazzi.

"Please, Mom? Won't you think about it?"

Gazing at Jazzi, who had been such a gift when Daisy and Ryan were married and couldn't have more children, Daisy saw flashes of the life they'd all had in Florida. Since moving back to Willow Creek three years ago, Jazzi had grown from an unsure teen to a maturing young woman. Jazzi and Vi had been very close until Vi left for college. Married now with a baby, Vi had her own life. Daisy was sure Jazzi missed the bonds they'd once had. Was that why she wanted Brielle to come stay . . . for her own sake as well as Brielle's?

"I will think about it, honey. If I do decide to consider it, I have to meet Brielle and her parents before I say yes."

"Oh, thank you, Mom! Can you call them tonight?" Jazzi came around the desk and gave Daisy a big hug. Daisy knew her daughter believed having a houseguest was already a done deal.

It was almost noon the following day when Jonas Groft entered the tea garden. A tourist bus crowd had just left, continuing on with their tour of Amish country. Daisy was arranging cookies in the sales case because their tray had been depleted.

Jonas's smile not only turned up the corners of his mouth but reached his green eyes as he approached the sales counter.

Daisy appreciated each and every one of those smiles. He'd been closed off more the past few months since a revelation by Detective Zeke Willet had rocked Jonas's life. Zeke had been emanating vibes of resentment toward Jonas ever since he'd come to Willow Creek to be a detective on the police force. Once a detective himself, Jonas now ran his own store—Woods—which carried handcrafted furniture that he and others in the area created.

Zeke's attitude had finally blown up in both of their faces. Back in Philadelphia, Jonas's partner, Brenda, had been killed in an ambush and Jonas had been injured. That night, before they'd gone out on their shift, Brenda had told him she was pregnant. She'd had her IUD removed without telling him because she'd wanted a family with him. When they'd gone to interview a murder suspect, the man's rifle had changed Jonas's world and taken Brenda's life. At the bonfire in Willow Creek before Christmas, Zeke—who had been drinking that night—revealed to Jonas that he also could have been the father of Brenda's child.

Daisy hurt for both men but mostly for Jonas. Zeke, who had been a friend, had betrayed Jonas. Brenda had also betrayed him. Now he was rethinking everything he thought he knew, everyone he thought he knew, maybe including Daisy.

Thank goodness today he must have had lighter thoughts on his mind. Maybe three months since the bonfire had given him perspective. She hoped so because she'd realized she loved him.

Jonas was one of those men who would stand out in any crowd, not only because of his handsome looks—black wavy hair that sometimes dipped over his brow, green, green eyes that could see into her heart, a physique any man would be proud of. But it was his calm demeanor, his confidence, his steady attention to every detail that assured her he was a man to be relied on.

"Those lemon tea cakes look good." He leaned closer to her and whispered, "As good as you."

She smiled back. "And what can I do for you today, kind sir? Taking a lunch break?"

"Do you have time for a cup of tea with me? How about some of that oolong that's a special this month."

Aunt Iris, who must have seen Jonas come in, crossed to the sales desk. "Go on," she said to Daisy with a sly wink. "Everything's ready for afternoon tea at two."

Daisy had seen the prosciutto and pear sandwiches in the kitchen's walk-in, as well as the tomato aspic and the mini chocolate tarts that Tessa had baked this morning. All last-minute preparations were ready. So was the spillover tearoom with its pristinely clothed tables and white wood chairs topped with green, blue, and yellow pinstriped chair pads.

Daisy said to Jonas, "How about a table at the window? Or do we need more privacy?"

A shadowed expression passed over his face as if he was thinking about all the things they could talk about. Instead he motioned to the window. "We don't need privacy unless I want to steal a long kiss."

She felt a blush creep up her face. They ha. . .
We hope you are enjoying the book so far. To continue reading...
Murder with Oolong Tea
Karen Rose Smith
Copyright © 2023 All Rights Reserved
Also in this series
Also by this author