Murder with Lemon Tea Cakes
Book info
Sample
Audiobook
Media
Author updates
Lists
Synopsis
Daisy, a widowed mom of two teenagers, is used to feeling protective—so when Iris started dating the wealthy and not-quite-divorced Harvey Fitz, she worried . . . especially after his bitter ex stormed in and caused a scene at the party Daisy's Tea Garden was catering. Then there was the gossip she overheard about Harvey's grown children being cut out of his will. Daisy didn't want her aunt to wind up with a broken heart—but she never expected Iris to wind up a suspect in Harvey's murder.
Now the apple bread and orange pekoe is on the back burner while the cops treat the shop like a crime scene—and Daisy hopes that Jonas Groft, a former detective from Philadelphia, can help her clear her aunt's name and bag the real killer before things boil over . . .
Release date: December 26, 2017
Publisher: Kensington Books
Print pages: 320
* BingeBooks earns revenue from qualifying purchases as an Amazon Associate as well as from other retail partners.
Listen to a sample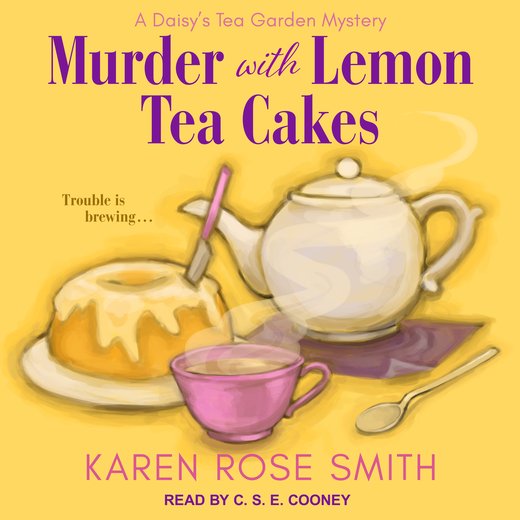 08:39:15
237.71 MB
December 26, 2017
Tantor Audio
2017
Murder with Lemon Tea Cakes
Karen Rose Smith
"Harvey, that's so kind of you to say." An almost giggle escaped from Daisy Swanson's Aunt Iris.

Daisy watched her aunt as she set a hand-painted porcelain teapot that was steeping blackberry black tea before a man Iris had dated merely a month. Yes, her aunt was acting like a teenager, and Daisy definitely knew teenagers. Her own daughters giggled like that around guys they deemed crush-worthy. Her aunt practically twittered like an adolescent when she was around Harvey Fitz, owner of Men's Trends in the small town of Willow Creek, Pennsylvania.

Business at Daisy's Tea Garden was slowing down for the day. Willow Creek was a semi-busy tourist town set in the midst of Amish country near Lancaster. It was a town where neighbors knew neighbors, talked about neighbors, and proved there might be less than six degrees of separation between everyone.

Her aunt's ash-blond, short curls bounced as she slid a bone china sugar bowl painted with a rose design near Harvey's cup.

"Half a teaspoon should be just right," he said, looking at the blushing older woman as if she was more important than any tea brew.

Harvey was tall and thin, with a shock of silver hair still thick and long enough to give him a distinguished look. It even turned up at his neck in the back.

Daisy had to wonder if he'd had hair plugs transplanted on the top of his head. That hair looked too good for a man of his age. He had to be seventy, about ten years older than her aunt.

She wanted to break into their conversation to find out how far into dating they'd gotten. She didn't want her aunt to get hurt. They hadn't known Harvey very long, and they didn't know him nearly well enough. As far as Daisy was concerned, Iris should stay far away from him because he was still married.

Separated, but married.

That was trouble, no matter how you looked at it.

Keeping her ear tilted toward the couple's conversation, Daisy glanced around the business she and Iris had grown from scratch. Well, not exactly from scratch. There had been a bakery on the first floor of an old Victorian before they'd bought it. Now they rented the upstairs to a high school friend of Daisy's, Tessa Miller, chef and kitchen manager of the tea garden. They'd developed the downstairs into a tea, baked goods, and soup business.

The interior wasn't froufrou like many tea rooms, though it did have a subtle flower theme. They'd considered the fact that they'd wanted men to feel comfortable here as well as women. Besides merely drawing from Willow Creek's tourist trade—Lancaster County Amish country was a popular get-away destination—they wanted to draw from the professional offices in Willow Creek and Lancaster too.

In keeping with that plan, they'd decorated the walk-in "be served or buy-it-and-go" room with oak, glass-topped tables and mismatched antique oak, hand-carved chairs. A yellow bud vase adorned each table. The walls had been painted the palest green in the walk-in tea-serving area because Daisy believed the color green promoted calming qualities, just as tea did.

In contrast, the more private room was a spillover area. On specified days, it was also the room where they scheduled reservations for afternoon tea which included multiple courses. The space reflected the best qualities of a Victorian with a bay window, window seats, crown molding, and diamond-cut glass. In that room, the walls were the palest yellow. The tables were white and the chairs wore seat cushions in blue, green, and yellow pinstripes.

Tessa emerged from the kitchen with a bright smile and a serving dish in her hand.

Tessa was Daisy's age—thirty-seven—with rich caramel-colored hair that she wore in a braid. She always dressed like the artiste she was with colorful and flowy tops and skirts. She wore smocks to work in lieu of the usual chef's coat. Today, in tribute to the fall weather, her smock was adorned with bright swirls of orange and rust. She set a cut-glass plate filled with cookies in front of Harvey. On the top of the plate perched a lemon tea cake fresh from the oven.

"My favorite," Harvey announced, picking it up and taking a large bite. "I don't know how you do it, but every one of your cookies is delicious, not to mention your scones. You are going to have the lemon tea cakes at my celebration this weekend, aren't you?"

One of the reasons Harvey had stopped in today was to consult with her and Iris about his store's twenty-fifth anniversary celebration. That would be a big to-do, with engraved invitations that the manager of Men's Trends had sent out. It was a large party for Daisy and her staff to cater. Besides the main event here at the tea garden on Sunday, tomorrow—on the store's actual anniversary date—Men's Trends would be serving tea and accompanying snacks to any of their customers who wandered in during the afternoon.

"We'll have lemon tea cakes at your store tomorrow too," Daisy assured him.

Harvey finished his cookie, wiped his fingers on his napkin, then gazed once more at Iris. "Will you be at Men's Trends tomorrow, or do you have to stay here to hold down the fort for Daisy?"

"I'll be holding down the fort here," Iris responded.

"But you will be here to celebrate with me on Sunday, won't you?" Harvey asked. "A celebration is only a celebration if you have the people around you who matter."

Iris's cheeks reddened. She said in a low voice, "I'll be here. You matter to me too."

Warning bells went off in Daisy's head. Harvey had not signed his final divorce papers. Trying to be realistic, she knew her Aunt Iris didn't run in Harvey's social set by any means. His friends played golf at Willow Creek Country Club. The women in his soon-to-be ex-wife's circle shopped in New York, Baltimore, and D.C. They might live in Willow Creek, but they were world travelers, food connoisseurs, and wine aficionados.

Her aunt was a tea aficionado.

Yet when Harvey and Iris gazed at each other, Daisy saw something genuine there. Maybe when one reached a certain age, all the rest didn't matter. Maybe when one reached a certain age, one could learn to live with loss and move on.

Daisy knew she hadn't moved on from her husband's death three years ago. Thank goodness, she had her girls and Aunt Iris, her mom and dad, and her sister. Thank goodness, she'd moved back to Willow Creek and started this new venture with her aunt. Come to think of it, in some ways she had moved on. In others—

One step at a time.

"I'll go over the list with Harvey for tomorrow and the weekend if you want to work in the kitchen with Tessa and Eva," Iris said to Daisy.

Eva Conner, who was nearing her forty-fifth birthday, was their dishwasher and girl Friday.

Studying her aunt, Daisy suspected Iris might be trying to get rid of her. Did this meeting of hers with Harvey really include business?

"Have a wonderful celebration tomorrow," Tessa said as she excused herself and crossed to the doorway that led to the kitchen. Daisy was about to do the same when the front door of the tea garden opened and her daughter Jazzi blew in with the end of September breeze. A few dried leaves did too.

Unlike herself and Daisy's oldest daughter, Violet, who both had honey-blond hair, Jazzi's hair was black, thick, glossy, and straight. Jazzi glanced at Harvey and her aunt and the few other customers in the tea room. Then she shifted her backpack from her shoulders and swung it into one hand. She was frowning, and that wasn't unusual these days. Daisy wasn't exactly sure what was going on with her fifteen-year-old.

There was a tradition in Daisy's family that all the women were given flower names. Her mother's name was Rose, her aunt's name was Iris, and Daisy's sister's name was Camellia. Daisy had named her daughters Violet and Jasmine. But Jazzi never used her full name. She preferred her nickname.

Now Daisy went toward her to greet her with a hug. Her daughter slipped out of her hold.

Daisy studied the sullen expression on her daughter's face and said, "Just in time to help Tessa with a batch of scones to refrigerate for tomorrow."

"Maybe I don't feel like making scones," Jazzi returned as she ducked her pretty face and didn't look at her mother.

"Do you have lots of homework?"

"The usual."

Daisy wrapped her arm around her daughter and guided her over to a quiet corner of the tea room. Jazzi had been unreliable and rebellious lately. There could be any number of reasons for that, but Daisy suspected the main one. Violet had gone off to college at the end of August, and Jazzi didn't seem to know how to deal with her sister's absence.

"I know you miss Vi."

Jazzi shrugged. "I don't. She's not around lording it over me."

"She's not around for you to talk to or borrow clothes from or ask for advice on makeup. When your Aunt Camellia moved to New York, I felt lost without her. Our lifestyles became very different, and I didn't know if we'd ever have common interests again. Your relationship with Vi will change, but you can still be close."

"Easy for you to say," Jazzi muttered.

Daisy gave her a long look. "If you don't want to help Tessa with the dough for scones, you can work on the cookbook."

Daisy's office was located beside the kitchen, and Jazzi was familiar with her computer. This was a family business, and Jazzi was supposed to be taking over collating recipes for this year's Daisy's Tea Garden cookbook. But she hadn't gotten very far.

"That's like doing schoolwork. I'll help Tessa with the scones."

With that announcement, Jazzi spun on her espadrilles and headed for the kitchen. With her slim-legged jeans, her long, tunic-style sweater, and her black hair flowing down her back, Jazzi looked older than fifteen. Daisy wished she could keep her from growing up altogether, but she couldn't. Just as she couldn't keep Violet tied to Willow Creek after college.

Daisy was about to ask Harvey if he'd like her to pour him a second type of tea. Okay, she was nosy and wanted to know what his conversation with Iris was about. But the glass door to the tea garden was suddenly pulled open. As the bell rang, Cade Bankert strode in.

Daisy stopped in mid-step to gaze at him a couple of seconds longer than she should. He too had been a high school classmate. When she'd moved back to Willow Creek and she and her aunt had decided to look for a place to buy for the tea garden, as well as a second property for her and her girls, she'd consulted Cade, who was a real estate agent. She'd always liked him. He'd taken her to their high school prom. But then she'd left for college, and they'd gone their separate ways. Whenever she saw him, sparks of male and female interest seemed to cross over between them. But neither of them had let a spark ignite, maybe because Cade had realized she hadn't been ready for that.

When Cade saw her, he smiled and headed for a table for two. She smiled back and approached him, noticing how well his charcoal suit fit his broad shoulders. His long legs stretched out under the table as if he could finally relax after a long day.

He often stopped in for a snack and a respite before going back to his agency's office for the night. She knew he worked long hours. What self-employed person didn't?

She could let Cora Sue Bauer, the middle-aged bottle redhead with a bubbly personality, serve him. However, she signaled to Cora Sue that she'd take care of their latest tea connoisseur. As she neared his table, his gaze swept over her royal blue sweater and slacks, and the yellow apron with the daisy emblem for Daisy's Tea Garden stamped on the front. Cade ran his hand through his dark brown hair, putting it in some order after the wind had disturbed it.

He glanced around, noticing tables with other customers sampling Daisy's baked goods. "You're busy. A cup of hot tea hits the spot at the end of a day."

"If I remember correctly," she teased, "when we first opened the tea garden, you didn't know black tea from white tea, or what a tisane was."

"And you've educated me," he responded. "I've become a tea lover. How about orange pekoe today."

"Coming right up. We have fresh baked lemon tea cakes too."

"Three of those," he said with a smile. "On second thought, make that six to go. For a change, I'm headed home at a reasonable hour."

"Satisfying day?"

"Yes, it was. House sales have picked up. I have two new listings and closed on another. How about you? Satisfying day?"

"Steadily busy with lots of tourists out on a drive enjoying the fall weather and the countryside. We do have beautiful scenery in Pennsylvania."

"Yes, we do. Did you miss it when you left?"

"I did. I didn't realize until I moved back here that Florida never really felt like home, not in the way Willow Creek does. Maybe it was the lizards and alligators. I prefer squirrels and fox and deer."

He laughed. "Or two feet of snow in the winter."

"Only some winters," she joked.

She heard her aunt laugh again. Harvey did that for Iris, and maybe Daisy was being too protective of her aunt. The same way she was protective of Violet and Jazzi?

As she thought of her older daughter, her heart hurt a little. Vi was making her way through the maze of classes and friendships at Lehigh University. Daisy missed her. And Jazzi—she was growing up too. It was hard to believe three years had passed since Ryan had died. Maybe there was a more substantial way for Daisy to move on besides checking her daily balance sheets at the tea garden.

She could fetch Cade that pot of orange pekoe tea and his lemon tea cakes or . . .

"If you have the evening free," she began and then stopped. Her mouth suddenly went dry. Still she plunged ahead. "I started stew in the slow cooker this morning before I left. How would you like to come home with Jazzi and me and have a home-cooked meal?"

Cade's brown eyes didn't waver from her blue ones. "You've just made my day."

His expression told her there could be more than friendship on his mind. Had she just made a mistake?

Daisy's house was different than most. It once had been a barn!

She parked on the gravel in front of the building that had once been an equipment shed. Now it served as a detached two-car garage. Cade pulled up beside her. They'd agreed to meet here at seven-fifteen, and he was right on time.

"How come you asked him to dinner?" Jazzi asked from the passenger seat, curiosity in her voice.

Daisy switched off the ignition of her purple PT Cruiser and gave her daughter her full attention. "I've known Cade for years. He went out of his way to negotiate the best deal for the barn and for the tea garden property. Asking him tonight was just an impulsive decision. Do you mind?"

Jazzi gave her a one-shouldered teenage shrug. "I guess not. I have friends over. You can have friends over. I just wondered if you're . . . forgetting about Dad."

Daisy reached out and put her hand on Jazzi's arm. "I will never forget about your dad. I promise." This particular subject had never come up between her and her daughters. She was glad Jazzi felt so deeply about her father. Where Violet had been born from Daisy's womb, Jazzi had been adopted. She and Ryan had worked hard to make sure Jazzi knew she was a child of their hearts as much as Violet was.

Jazzi pulled away, unfastened her seat belt and opened her car door. "I'm not going to hang with you guys anyway. I have a paper due in a few days."

She was out of the car before Daisy could take another breath. Just what was going on with her? Fifteen-year-old angst? Or something else?

As Cade joined Daisy and walked with her up the path leading to the house, he glanced up at the multi-paned window that had once been a hay hatch where hay bales had been hauled into the barn and out. A smaller window above that one let light into the attic space. A floodlight at the peak of the roof had gone on with dusk, and Daisy could catch a glimpse of the blue plaid curtain that draped the window in Jazzi's room. The second floor had been divided into two bedrooms with a bath and had suited her daughters perfectly. Jazzi had chosen white-washed furniture as well as a spread that was blue trimmed in white. Violet's room, however, was less country and more contemporary, with sleek-lined walnut furniture. The drapes and spread were hues of green.

"You know," Cade said, "I couldn't envision this the way you did. I can't wait to see the inside."

Cade had witnessed the outside makeover with its barn-red siding and repointed and cleaned stone base. White trimmed the windows as well as the dormers. But he hadn't seen the structural changes inside. Ryan's insurance money had made this new life in Willow Creek possible. She'd always be grateful for that.

"You can have the five-cent tour. Anyone who comes to dinner gets it."

Jazzi had her own key. She'd already unlocked the wide white front door and punched in the code to switch off the security alarm.

As soon as Cade stepped inside the barn house, he whistled. "Wow! You should do this for a living."

"Decorate barns?" she asked with some amusement.

"No, buy them and redesign them."

He was staring at the open stairway to the rear of the living room. A huge wagon wheel chandelier lit up the area which was open to a dining area and kitchen. A floor-to-ceiling stone fireplace was a focal point on the east wall.

"Come on," Daisy said. Leading Cade into the kitchen area, she motioned down a short hall. "My room's down here."

Cade went down the hall, and Daisy knew he could see the sleigh bed.

"A Sunshine and Shadow quilt," he said when he returned to the kitchen.

"It's my mom's favorite design. When I saw it in a shop in Bird in Hand, I couldn't resist it. I put one of those bowl sinks in the powder room and my bathroom to add a country touch."

"The antique pine furniture does that too." Cade admiringly shook his head again. "You did this all yourself?"

"I did it with the help of Mom and Iris and the girls. It was a joint project. I especially wanted Vi and Jazzi involved so it would feel like home to them."

In the living room once more, Daisy tried to see the entire space through Cade's eyes. The furniture was all upholstered in blue, green, and cream. The braided blue and rust rugs had been woven by a local Amish woman.

Jazzi had run upstairs to her bedroom to drop her backpack. Daisy smiled when she noticed her two cats, who had started down the stairs. Was Cade an animal person?

"Are you going to introduce me to the rest of the family?" he asked Daisy, pointing to the stairway.

The cats apparently sensed another friendly human because they descended the rest of the stairs. Daisy motioned to Marjoram, who was a tortoiseshell with unmistakably unique markings. One side of her face was mottled like a tortoiseshell in tan, brown, and black. The other side was completely dark brown. Various colors including orange to cream spotted her back and flanks, while her chest was a creamy tan and rust.

"This is Marjoram," Daisy said as she scooped up the cat and cuddled her against her body. The other feline, black with white fluffy spots on her chest, crossed to Cade, sat on his shoe, looked up at him, and gave a small meow.

"That's Pepper," Daisy added with a smile.

"How old are they?" Cade asked.

"Probably about eighteen months. We found them last fall in the garden, hence their names Marjoram and Pepper." After another cuddle—the tortie couldn't abide cuddling for long—Daisy let Marjoram down to the floor. "Another cup of tea before I put supper on the table?" she asked.

Pepper moved from Cade's shoe, walked a circle around his legs, then crossed to a deacon's bench under a window and settled on an afghan there.

"What kind do you have?" Cade asked.

"I have an Assam that I like. It's a black tea from India."

"If you brew the tea, you have to give me something to do."

"Guests don't have chores in the kitchen," she told him as Marjoram joined her sister on the bench.

"Consider it a contribution," he said. "What can I do? Really."

"You can toss the salad. I'll warm up the bread."

They worked companionably together as Daisy brewed tea, popped the bread in the oven, and watched Cade slice the carrots at the island. She pulled a basket from one of the knotty pine cupboards and lined it with a napkin, preparing it for the warmed bread. It had been over three years since she'd worked beside a man in the kitchen. Ryan's cancer had taken him so fast, they'd hardly had time to say good-bye. Not nearly enough time. But she shouldn't be thinking about loss now, not if she wanted to move on.

"I really appreciate this. Home-cooked meals are hard to come by," Cade said as he set the salad bowl on the table.

The round pedestal table was oak with a distressed wood finish. The chairs were antiques that she'd found at the flea market and refinished herself. All of it had been part of rehabilitation, grieving, and starting over. For the most part, it had worked.

"Are you saying you live on my scones?" she joked. A former dietician, she was aware of eating habits, both good and bad. When Cade did stop in at the tea garden, he usually bought a dozen scones. He'd told her that he often froze them and pulled them out when he needed them.

"Of course, I don't just live on your scones," he answered, faking injured pride. "I can fry burgers and cook an omelet."

When Daisy looked at Cade, she saw the man he'd become, but she also remembered the boy he'd been. "Why haven't you e. . .
We hope you are enjoying the book so far. To continue reading...
Murder with Lemon Tea Cakes
Karen Rose Smith
Copyright © 2023 All Rights Reserved
Also in this series
Also by this author