Murder on St. Nicholas Avenue
Book info
Sample
Audiobook
Media
Author updates
Lists
Synopsis
The author of Murder on Amsterdam Avenue returns to nineteenth-century New York City to find Christmas in the air, a police detective and a midwife with love in their hearts, and a wealthy newlywed with blood on her hands.
Detective Sergeant Frank Malloy and Sarah Brandt are not the only ones who have recently tied the knot. Family friend Mrs. O'Neill was delighted when her daughter Una wed the seemingly wealthy and charming Randolph Pollock. She didn't wonder why such an affluent man would want to marry a poor Irish girl, no matter how pretty she was. But now Mrs. O'Neill has a problem. Pollock's servants have found their employer bludgeoned to death with Una cradling his body. Rendered mute by the horror of her husband's death, Una cannot explain what happened, so the police have charged her with murder and locked her away in the Tombs to await trial. Mrs. O'Neill would like Frank to investigate the case and save Una, yet with Frank and Sarah still on their honeymoon, it's up to the other members of their newly formed household to do some detective work. But solving the mystery behind Pollock's death means first discovering the truth about who he really is...
Release date: November 3, 2015
Publisher: Berkley
Print pages: 320
* BingeBooks earns revenue from qualifying purchases as an Amazon Associate as well as from other retail partners.
Listen to a sample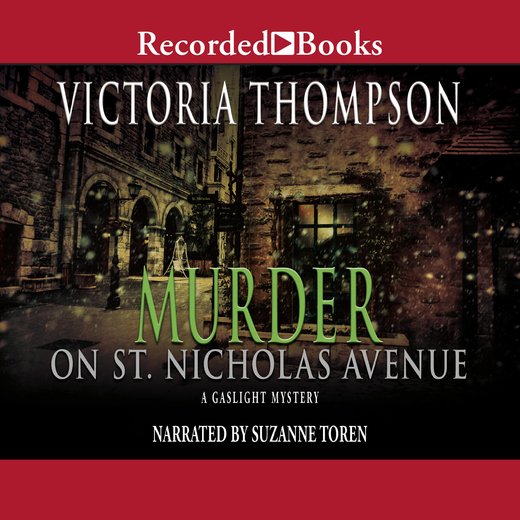 08:45:29
240.56 MB
November 3, 2015
Recorded Books
2015
Murder on St. Nicholas Avenue
Victoria Thompson
1

Maeve hurried to answer the door. Whoever was out there was getting impatient. Ringing the bell hadn't been good enough. Now they were knocking, too. Little Catherine had to practically run to keep up, but she wasn't about to be left behind by her nursemaid.

"Is it a baby?" Catherine asked, easily remembering how her mother would be summoned at all hours to deliveries when she was a midwife, since those calls had stopped only a few short months ago.

"I hope not," Maeve replied. "Your mama doesn't deliver babies anymore, and besides, she's too far away to help even if she did."

Maeve pulled open the door and found a middle-aged woman standing on the doorstep. Her hat was obviously the one she saved for "best," although her coat had seen better days. Maeve instantly classified her as one of the people who had started coming to the Malloy house looking for a handout as soon as they discovered her employer, Frank Malloy, had become a millionaire.

"Is this where the Malloys live?" the woman asked, looking up doubtfully at the imposing fa?ade.

Malloy and his new bride had decided to wait until they returned from their honeymoon to hire servants, but Maeve was starting to think that had been a terrible mistake. Nothing like a snooty butler to send people on their way.

"Yes, it is, but-"

"I'm a friend of Mrs. Malloy. Mrs. Alma Malloy, that is, not the new missus."

"She's not-"

"Oh, I know she's not home now," the woman said, twisting her hands anxiously. "She's with the boy at his school, isn't she? I wouldn't know that if I wasn't really her friend, now, would I? But it's not her I was wanting to see, is it? No, it's himself, Mr. Malloy. Francis. I've known him from a boy, I have, and I . . ."

To Maeve's dismay, the woman burst into tears.

Maeve glanced up and down the street, checking to see if the woman had brought someone with her. She saw no one else lurking about. Briefly, she debated inviting the woman inside. She and Catherine were there alone, but the woman didn't look dangerous. Besides, how could she shut the door and leave someone sobbing on the stoop?

"Come in, please," Maeve said, taking the woman's arm and drawing her inside.

"Why is the lady crying?" Catherine asked.

The woman stopped dead at the sound of the child's voice and made a visible effort to recover her composure. "And who's this, now?" she asked.

"This is Mrs. Brandt's . . . I mean, Mrs. Malloy's daughter. The new Mrs. Malloy, that is."

"Francis's new bride," she said, nodding. "A sweet little thing she is, too."

"Mr. Malloy is my papa now," Catherine said.

"Of course he is," she said with a watery smile. "I don't suppose I could speak with Francis, could I? It's very important, you see. A matter of life and death."

It was always a matter of life and death when people wanted a handout, Maeve thought, but she said, "I'm sorry to say that he's not here, but I'll be happy to tell him you called."

"I can wait for him. I have to see him right away, you know."

"You'll have a very long wait, I'm afraid. He's still on his honeymoon, and we don't expect them back for several weeks yet."

"Several weeks?" she repeated, her eyes flooding with tears again. "But I can't . . . I have to see him. It's my daughter, you see. They've put her in jail, and they say she's done murder, but she never did. She's a good girl, my Una. She would never do what they said, but they're going to hang her unless Francis helps her!"

Oh dear, this wasn't at all what Maeve had been expecting. And not something Catherine needed to hear about either. She glanced down to see the child's eyes had widened in alarm.

"Mrs. . . . I'm sorry, I didn't get your name."

"Mrs. O'Neill, lass. I'm so sorry to bother you, but-"

"Not at all. Why don't we go into the kitchen, Mrs. O'Neill, and I'll make you a nice cup of tea, and you can tell me all about your daughter."

"I don't want to be any trouble now, miss."

"It's no trouble. Mrs. Malloy would never forgive me if I turned away an old friend in need," Maeve lied. Mrs. Malloy generally thought old friends in need were a lot of trouble.

Maeve would have to distract Catherine somehow first, of course, but before she could come up with a plan, someone else rang their doorbell.

Wonderful, another visitor.

With an apologetic smile, she opened the front door again to find their neighbor Mrs. Ellsworth, smiling broadly and carrying a planter filled with sprigs of holly and trailing ivy.

"Maeve, dear, I've got this little planting for you and . . . Oh my, I didn't know you had company," she said, doing a much better job of lying than even Maeve herself could do, because of course she'd known very well that Maeve had company. Mrs. Ellsworth didn't consider it lying at all, though. People said things that weren't true all the time in polite society. It was just good manners, according to Mrs. Ellsworth.

Mrs. Ellsworth breezed right in without being invited, and Maeve did not object because they both knew she'd come to see if Maeve needed rescuing from an importunate beggar from the Malloys' old neighborhood. Nothing much happened on Bank Street that Mrs. Ellsworth didn't notice. She would have spotted the strange woman at the Malloys' door in a heartbeat.

Maeve introduced the two women.

"Are you quite well, Mrs. O'Neill?" Mrs. Ellsworth inquired, seeing the woman's red-rimmed eyes.

"Mrs. O'Neill has had some trouble, and she came to ask Mr. Malloy for help. It's detective business," she added, so Mrs. Ellsworth would understand that she didn't need assistance in running Mrs. O'Neill off. Frank Malloy had been a police detective until he came into money, and now he sometimes helped people in trouble. "I was just wondering if Catherine could visit with you for an hour or so while Mrs. O'Neill and I talk, at least until Brian and Mrs. Malloy get home from school."

"Of course, dear. You know little Catherine is always welcome. I'm just getting ready to make some pies for supper, and I know how she loves to make the lattice crusts. Would you like to help me with that?" she asked the child.

Plainly, Catherine wanted to stay and find out why this strange lady had been crying, but she was too well trained to refuse the invitation. "Yes, ma'am, I would."

"That's wonderful," Mrs. Ellsworth said, then seemed to remember the planter she still held. "And this is for your household, Maeve, for Christmas good fortune. The holly brings good luck to men and the ivy brings good luck to us females. We must always have them both together. That's only fair, don't you think? And let me know immediately if the ivy starts to wither. That's a very bad sign. And never burn the holly when it's still green. That's very bad luck."

Nearly overwhelmed by the detailed instructions while her mind was still on Mrs. O'Neill's problems, Maeve thanked her and took the planter and set it on a table in the hallway. A few moments later, after Catherine had been bundled into her hat and coat, she and Mrs. Ellsworth headed out and across the street to Mrs. Ellsworth's house.

"This house is . . . very nice," Mrs. O'Neill said, looking around in awe at the massive staircase and the chandelier hanging from the ceiling twenty feet above.

"Thank you," Maeve said. "I should probably take you into the parlor-"

"Oh no, the kitchen is fine for the likes of me, lass." She followed as Maeve led the way to the back of the house. "Alma must be very . . . comfortable here."

"She seems to be," Maeve said, biting back a smile. Mrs. Malloy wasn't the kind of person to let on if she was comfortable or not.

A few minutes later, Maeve had gotten Mrs. O'Neill to take off her coat and have a seat at the kitchen table while Maeve set water to boil on the newly installed gas stove. It was one of only a few in the entire city, they'd been told. While she waited for the water, she cut a few slices of the pound cake left over from yesterday and arranged them on a plate. By the time the tea was steeping and the cake had been served, over Mrs. O'Neill's polite objections, her guest had calmed down quite a bit.

"I'm sorry Mr. Malloy isn't here," Maeve began, "but I would be glad to hear your story and help you figure out what to do."

She smiled sadly. "Oh, lass, there's nothing you can do, I'm sure."

Maeve smiled. "Don't judge me by my looks, Mrs. O'Neill. I've helped Mr. Malloy solve many a case." It was only a slight exaggeration.

Mrs. O'Neill frowned. "Oh, surely not."

"I've also done work for the Pinkerton Detective Agency, so even if I can't help you, I'll know someone who can. Now tell me, why on earth would someone accuse your daughter of committing murder?"

Her eyes filled with tears again, but she resolutely blinked them back. "I can't hardly believe it myself, but I saw her in the jail with my own eyes. Just sitting there staring at the wall, all covered with blood, she was. She wouldn't say a word to me, not a single word. They said she hasn't said anything at all since it happened."

"Since what happened?"

Mrs. O'Neill drew a deep breath and let it out on a shaky sigh. "It's a long story."

"I'm not going anywhere." Maeve picked up the teapot and poured them each another cup.

"Well, it all started . . . oh dear, was it only five months ago? Yes, just that. My Una, she's a pretty girl. I'm not bragging. Everyone says so. And she's a good girl, too. Not vain like a lot of pretty girls are."

"I'm sure," Maeve said, doubting that but nodding her encouragement.

"She got a job at a factory about a year ago, sewing ladies' clothes. She'd give me her wages every week. I told you, she's a good girl."

Maeve nodded again.

"Then one day she came home that excited. A gentleman had seen her and offered her a job in his cigar shop."

"Seen her where?"

"Coming out of the factory. He was watching all the girls, and he picked her out special, because she's so pretty."

This sounded suspicious to Maeve. Men were always trying to take advantage of young women in the city. "Did he really have a cigar shop?"

"Oh yes. I can see what you're thinking, but I wouldn't let her get tricked into something bad. I went with her to see his shop. He was such a nice man. He liked to have a pretty girl to work behind the counter, he told us. It attracts customers. They come in to flirt with the girl and buy a cigar or two while they're there."

So long as cigars are all he's selling, Maeve thought.

"He'd just lost his counter girl because she'd gotten married. That happened to all the girls who'd worked there, he said. One of the customers would fall in love and off she'd go. So Una not only got a good job that paid more than she'd been getting at the factory, she also got a chance to meet a nice young man with prospects."

"And did she meet someone?"

"Oh yes. She wasn't there long before Mr. Pollock noticed her. He'd come in nearly every day, she said. Always polite, you understand. Mr. Winter didn't allow his girls to be treated rude. He told me that right off, or I never would've let her go there. And Mr. Pollock, he fell in love with my Una."

Which was, of course, what all men say when they want to have their way with a girl. Maeve's grandfather had told her that a million times when she was growing up, and in her limited experience, she'd found it to be quite true. "Did Mr. Pollock want to marry Una?"

"He did. At first she thought he was teasing. A lot of men teased her about getting married, but he was serious. He couldn't convince her at first, but then he asked if he could see her home one evening, to meet me. And when he did, he asked if he could marry my girl."

This sounded like a fairy tale, but unlike fairy tales, it probably didn't end happily. Something had obviously gone terribly wrong at some point, or Mrs. O'Neill wouldn't need help from Frank Malloy. "Did they get married?"

"Oh yes, and it wasn't one of those sham marriages either. I was there. I saw it happen. The priest said the words over them all right and proper. But this was only after I went to see his house. He has a beautiful house up in Harlem, on St. Nicholas Avenue. It's where all the rich people are moving. That's what he told us. He has a woman to cook for him and two more to clean and a boy to do the heavy work. And Mr. Pollock, he adored my Una. My girl was going to have the life I always hoped she would. It was like a miracle."

"But she didn't?"

"Oh, she did! Mr. Pollock, he bought her new clothes, and she lived in his beautiful house, and they were so happy. She was so happy. I know they were. He adored her."

She went still, staring off at something only she could see. Maeve waited, not wanting to rush her. Not really wanting to know at all, in fact.

"They came to me today. The police. Our roundsman, I should say. He knows me, you see. His wife and I go to church together. He told me Una was in the jail and I should go down right away. He told me . . ." Her voice broke, and she covered her face with both hands.

Maeve waited, her stomach knotted, her fists clenched tightly on the tabletop.

Finally, Mrs. O'Neill lowered her hands. Her eyes were awful, full of despair. "They said she'd killed him. Killed Mr. Pollock. But how could that be? She loved him. He was her husband!"

Maeve knew lots of wives would happily murder their husbands and a few who actually had, but she didn't think that information would comfort Mrs. O'Neill. "What did Una say when you saw her in the jail?"

"Nothing. I told you, she wouldn't say a word. They told me she hadn't said anything at all since they found her."
We hope you are enjoying the book so far. To continue reading...
Murder on St. Nicholas Avenue
Victoria Thompson
Copyright © 2023 All Rights Reserved
Also in this series
Also by this author