Murder on Wall Street
Available in:
eBook
Paperback
Audiobook
Hardcover
Book info
Sample
Audiobook
Media
Author updates
Lists
Synopsis
Midwife Sarah Brandt Malloy and her detective husband, Frank, must discover who killed a prominent—but despised—society banker before an innocent family is destroyed in Murder on Wall Street, an all-new Gaslight Mystery in the USA Today bestselling series.
Reformed gangster Jack Robinson is working hard to bolster his image in Gilded Age New York City society as he prepares to become a new father. But when Hayden Norcross, the man who nearly ruined his wife, is shot in cold blood, Jack knows the police will soon come knocking on his door. Frank Malloy has to agree—things don't look good for Jack. But surely a man as unlikeable as Hayden had more than a few enemies. And it's soon clear that plenty of the upper echelon as well as the denizens of the most squalid areas of the city seem to have hated him.
Sarah and Frank have their work cut out for them. As the daughter of the elite Decker family, Sarah has access to the social circles Hayden frequented, and the more she learns about his horrific treatment of women, the more disturbed she becomes. And as Frank investigates, he finds that Hayden had a host of unsavory habits that may have hastened his demise. But who finally killed him? Sarah and Frank must put the pieces together quickly before time runs out and Jack's hard-won new life and family are ripped apart.
Release date: April 27, 2021
Publisher: Berkley
Print pages: 336
* BingeBooks earns revenue from qualifying purchases as an Amazon Associate as well as from other retail partners.
Listen to a sample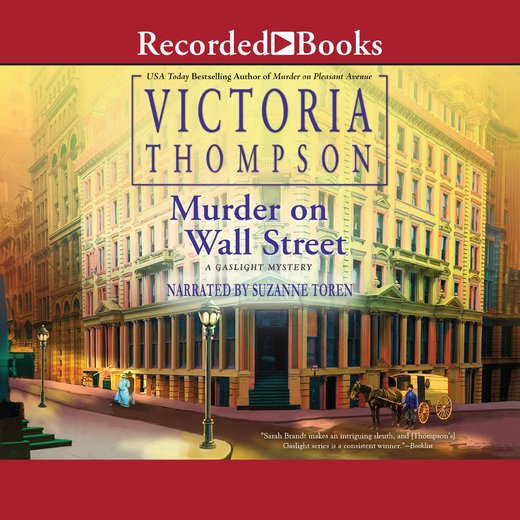 09:13:05
253.19 MB
April 27, 2021
Recorded Books
2021
Murder on Wall Street
Victoria Thompson
I
The baby seems to be in the right position, but you haven't dropped yet, so I think you have a while still to go."
Sarah Malloy managed a smile. No woman in the last month of her pregnancy wanted to hear she still had a while to go, especially in July.
"How long is a while?" Jocelyn Robinson asked crossly as she sat up in her bed and rearranged her clothing after Sarah's examination. They were in Jocelyn's bedroom, which she obviously had newly decorated with the most stylish furnishings.
"No one can say for certain. Babies come when they're ready."
"But . . . I thought it would be easy to figure out since I know exactly when . . . when the baby got started," Jocelyn said with a frown.
By which Jocelyn meant that she knew the exact day when she had been raped by a young man whom she'd had no reason to suspect would do such a thing.
Sarah's reassuring smile held. "That does make it easier, but even still, we can't predict exactly when the baby will come. You could give birth tomorrow and prove I have no idea what I'm talking about."
"I don't want to insult you," Jocelyn said with a rueful grin, "but I'd be very happy to give birth tomorrow. Or even today." She wrinkled her nose hopefully. "Don't you know some midwife trick to hurry things along?"
Sarah laughed at that. "I know a dozen, but none of them really work. About all they accomplish is giving the expectant mother something to do while she's waiting."
Jocelyn sighed and reached out in a silent request for Sarah to help her up from the bed. When she was on her feet, after some effort from both women, Jocelyn invited Sarah to join her downstairs for some cool lemonade.
The parlor-like the bedroom and most of the rest of the house-had been redecorated since Jocelyn had married Jack Robinson in January. The dark, heavy velvet furnishings favored by the house's original owner-and left undisturbed after Jack had acquired the house-had been replaced by lighter, more fashionable damask, showing Jocelyn's excellent taste. Today the parlor windows were open to what little breeze was available, and the lemonade was a welcome treat.
When the maid who had served them withdrew, Sarah said, "How are things going with you and Jack?"
Jocelyn sighed, making Sarah a little fearful of what her answer would be. Sarah had, after all, played matchmaker for the couple, who hadn't even known each other until a few weeks before they wed. "I can't believe how kind Jack has been to me. From the very first day, he's been so thoughtful about everything."
"I noticed that you are sharing the bedroom," Sarah said. The little signs of Jack's presence had been everywhere.
Jocelyn smiled shyly at that, and the color blossomed in her cheeks. "Yes, we have been, almost from the beginning. Jack is . . ." She gestured helplessly.
Sarah was sure she understood. Jack had set out to completely charm his bride, and he had obviously succeeded. "So that part of your marriage is good," Sarah guessed.
Jocelyn sighed again. "Better than good."
"But something isn't right," Sarah guessed again, wondering if she dared offer advice or even if she would have any to give.
"Not really. It's just that . . ." Sarah waited, giving Jocelyn time to choose her words. "I can't help wondering if Jack will be able to accept the baby."
"Has he said anything to make you think he won't?"
"No, he hasn't, but he doesn't speak of the baby much at all. Neither do I, come to that. I think we're both a little . . . self-conscious about it."
"He did understand that the baby is part of the bargain you made with him when you chose to marry," Sarah said. "I know some people think Jack Robinson is an immoral man because of the way he made his living, but he does have his own moral code. Keeping his word is important to him."
"Oh, I know he'll keep his word, but providing for a child and accepting it as your own are two very different things."
"Ah yes, I see what you mean. I can't speak for Jack, of course, but I do know that it's very possible to come to love someone else's child as much as you would your own."
"How could you know that?" Jocelyn scoffed.
"Because neither of my children is mine by birth."
"What?" Jocelyn asked, thoroughly shocked. "What do you mean?"
"Brian is Malloy's son with his first wife. She died when . . . when he was a baby." No sense telling a pregnant woman that Malloy's first wife had died in childbirth. "And Catherine was a foundling. I took her in, and when Malloy and I married, we adopted her. I adopted Brian at the same time."
"And you . . . you love them?"
"As if they were my own flesh and blood. Malloy already loved Brian, of course, but he's come to love Catherine just as much. So you see, families can be made as well as born, and let's not forget we're talking about a baby here. Nothing is cuter or easier to love than an infant."
"Even for a man?" Jocelyn asked with a worried frown.
"Especially for a man," Sarah said with a knowing smile, "because he doesn't have to get up with it in the middle of the night or change its diapers or do all the unpleasant parts of parenting."
Jocelyn finally smiled at that. "I see what you mean. I hadn't thought of that."
"Just give Jack a chance. If you expect him to accept the baby, he probably will. He might not be as excited as he would be if he were the baby's father, but let him know you expect him to be the father in every way from now on, and he will probably rise to the occasion."
Jocelyn's sigh was more relief than worry this time, and she rubbed her rounded stomach possessively.
"Do you feel a little better now?" Sarah asked.
"A little. I'll just be glad when the baby is born and I know how he's going to react."
"Speaking of knowing, have you spoken to your parents?"
"Oh my, didn't I tell you? Well, I think I did tell you that I wrote to them right after the wedding so they would know where I was and why I'd left the clinic." When they originally found out she was pregnant, Jocelyn's parents had sent her to the maternity clinic that Sarah had opened on the Lower East Side. They had wanted to keep her out of sight so she could give birth in secret, put the baby up for adoption, and resume her place in society.
"Yes, you told me that. I'm sure they were quite surprised."
"They always assumed I'd been lying about being raped, of course. When I married Jack, they decided that I'd just been ashamed of being seduced by a gangster and made up the whole rape story."
"That's probably just as well, since that's what you and Jack expected people to believe anyway."
"Yes, well . . . It hurt when they didn't believe me, and I don't think I can ever forgive them for that, but seeing their faces when they met Jack almost made up for it."
"They've met him, then?" Sarah asked in delight.
"Oh yes. I had invited them to dinner. They didn't respond at first, not for months, in fact. I wasn't surprised. They must have been thoroughly shocked that I would dare defy them like that and marry without getting their permission, much less without them even knowing. Then, about a month ago, my mother wrote me a note saying they would be happy to meet Jack. We had put an announcement in the newspapers, of course, and we had already entertained some of my friends who were anxious to meet my notorious new husband. I guess my parents' friends were asking all sorts of questions about their new son-in-law, and how could they admit they'd never met him?"
"That would be difficult. Even if you'd eloped against their wishes, they'd eventually be reconciled."
"And so they were. I'd done all the redecorating of the house by then. Jack was so generous. He told me to buy whatever I wanted."
"And you did a marvelous job."
"Thank you," Jocelyn said with a modest smile. "My parents were shocked, though. I don't know if they expected to find me living in a hovel or what, but they were obviously impressed by the house. And they were terrified of Jack!"
"Terrified? Why?" Sarah asked, amazed.
"His reputation, I suppose. And I'd also like to think they felt at least a little guilty for sending me to the clinic."
"Maybe they thought Jack would want revenge or something," Sarah said.
"Maybe," Jocelyn agreed. She was really smiling now. "Anyway, they were so nervous, they could hardly have a conversation. I have to admit, my mother did seem to have been worried about me. She told me privately that she'd wanted to visit me right away, but Father wouldn't let her come."
"How did Jack treat them?"
"That's the really funny part. Even though they were obviously frightened of him, he treated them with complete respect. I think that upset them more than anything."
"Because they'd been expecting him to be angry, I suppose."
"Or uncouth. Jack said he was nervous about meeting them, but you never would have known. He was the perfect host."
"I'm sure Jack has been in much more stressful situations. Your parents probably weren't carrying weapons, for example," she said with a grin. "Have they invited you to dine with them in return?"
"Yes, but I'm too far along to be out in public, so I had to decline."
"Are you serious?" Sarah asked.
"Oh yes. Jack doesn't want me to leave the house for fear I'll go into labor, and even if I wanted to defy him, my servants wouldn't permit it."
"And by servants, I assume you mean Tom and Marie O'Day," Sarah said with an amused smile. Sarah knew Jocelyn's butler and cook well from a case she and Malloy had worked on. Jack Robinson had hired the O'Days to help him with his new, respectable persona.
"Exactly. Marie has been making sure I eat well every single day, and Tom guards me like I was some rare treasure entrusted to his care. They only relax their vigilance when Jack is at home."
"And is he frequently at home?"
"More so of late. He has been divesting himself of almost all his illegal businesses. He said they kept him out in the evenings when he preferred to be home with me." Jocelyn gave her another modest smile.
"How very sweet of him."
"I thought so."
"What business is he in now?"
"He's buying real estate, or so he says. He calls it investing."
"How respectable."
"That's what I told him. He seems quite pleased with himself, although I do worry about him. Businessmen can be rather unscrupulous. I hope no one is taking advantage of him."
"Oh, Jocelyn," Sarah said, shaking her head. "If I were you, I'd worry about Jack taking advantage of other people. That's far more likely!"
The next morning, Frank looked up with pleasure when Jack Robinson entered the modest offices of Frank Malloy, Confidential Inquiries. Maeve Smith, his part-time secretary who also served as nanny to his children, was at home taking care of the children this summer morning, and his partner was still recuperating from a particularly troublesome case, so Frank was holding down the fort alone.
After the two men had greeted each other and observed the usual pleasantries-Jocelyn was doing well, as Sarah had already reported to Frank at dinner last night-and Frank had escorted Jack into his private office, the men settled back into their chairs. Frank said, "Now tell me what brings you here."
"Hayden Norcross is dead."
Frank frowned as he tried to remember where he had heard the name. "Is that the fellow who was shot in his Wall Street office the other day?"
"The very one."
Frank considered this information for a moment and found nothing of interest in it. "I saw it in the newspapers, but why do you care?"
"Don't you know who Norcross is?" Jack asked, a bit puzzled.
"Some rich society fellow who made his living by cheating other rich society fellows, I'd guess."
"He's . . ." Jack looked away and for the first time in the year since Frank had known Jack Robinson, he looked disturbed. But only for a moment. When he turned back to Frank, he was resolute again. "He's the man who . . . attacked Jocelyn."
By which he meant Norcross was the erstwhile suitor who had raped Jocelyn and gotten her with child. Then he had denied it and refused to marry her. Jack must hate Norcross with a passion, and he certainly had good reason to want him dead, and now Norcross really was dead. "I see," Frank said, afraid that he saw all too clearly. "And you need to hire a private investigator to help you."
To Frank's amazement, Jack smiled at that. "Yes, but not for the reason you obviously think. You think I killed him, don't you?"
"The thought crossed my mind," Frank admitted. "Did you?"
"No, I did not, although I will always regret missing my opportunity. I had other plans for Norcross, though, plans that involved humiliating him and ruining the rest of his miserable life, but I didn't kill him."
"Then why do you need my services?"
"Because the death will be investigated, thoroughly investigated, will it not?"
"By the police? It probably will since the victim was rich and the newspapers will be interested." Frank had been a detective sergeant for the New York City Police for a number of years, and he could easily imagine the amount of pressure the chief of detectives would put on his men to find the killer of such a prominent citizen. A generous reward from the family would also motivate the detective squad.
Jack shifted uncomfortably in his chair. "Normally, I wouldn't care how much they investigated, of course, but you see, I have a connection to Norcross."
"What kind of connection?"
Jack shifted again. He crossed his legs and cleared his throat. "A business connection."
"Did you sell him one of your saloons? Or a gambling hell, by chance?" Frank asked. Sarah had told him Jack was divesting himself of those.
Jack smiled in spite of himself. "I should have tried that. No, my association with Norcross was all completely legal. He worked for his father's investment bank, and he was putting a deal together for which I was an investor."
We hope you are enjoying the book so far. To continue reading...
Murder on Wall Street
Victoria Thompson
Copyright © 2023 All Rights Reserved
Also in this series
Also by this author