Bitter Pill
Myra Rutledge's childhood friend has spent tens of thousands of dollars on remedies to boost longevity.
Available in:
eBook
Paperback
Audiobook
Hardcover
Book info
Sample
Audiobook
Media
Author updates
Lists
Synopsis
No one weaves a story as well as beloved New York Times bestselling author Fern Michaels. In the latest in the Sisterhood series, a team of unscrupulous
doctors is profiting from others' distress—but these loyal friends know just the cure …
For the Sisterhood, there's a special satisfaction that comes with helping a friend in need, especially when it's someone as dear as Charlotte Hansen. Myra
Rutledge's childhood friend has spent tens of thousands of dollars on remedies to boost longevity. But far from improving her health, the medications seem to be
destroying it.
Myra becomes suspicious of the trio of doctors in charge of the program, especially once the Sisterhood's investigations reveal that one patient has died,
and another lapsed into a coma. While those in their care suffer, the three doctors—located in London, Aspen, and New York—all enjoy indulgent lifestyles
and extravagant toys. But justice is always the best medicine—and no one dispenses it better than the Sisterhood …
Release date: December 29, 2020
Publisher: Zebra Books
Print pages: 258
* BingeBooks earns revenue from qualifying purchases as an Amazon Associate as well as from other retail partners.
Listen to a sample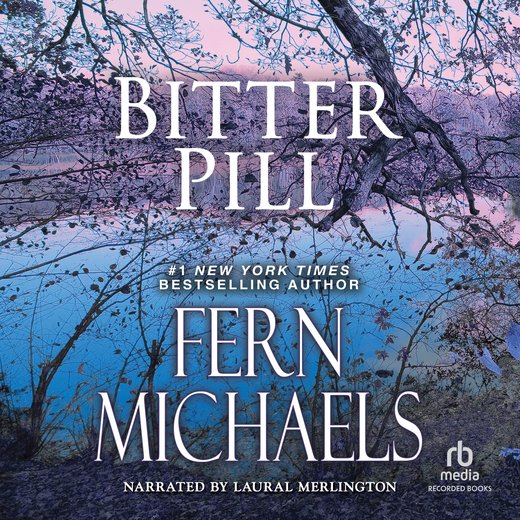 08:37:40
236.99 MB
December 29, 2020
Recorded Books
2020
Bitter Pill
Fern Michaels
Myra Rutledge repositioned herself on the antique settee on the terrace of her farmhouse. The letter she was holding in her lap was disturbing. Looking around at the luscious flowers overflowing their Italian terra-cotta pots, she inwardly smiled at their beauty, but that did not change the gloom that had descended on her.

"Good morning, love," Charles, her husband and partner, said, giving her a peck on the cheek. "Why so glum? It's a spectacular day!"

Myra picked up the letter and handed it to Charles. "It's from Charlotte."

"What seems to be the problem?"

"This letter. She sounds very depressed and a little disoriented," Myra answered.

Charles began to read. "My dear Myra, I am visiting Maryann in London. I thought it would be a good change of scenery for me, but I'm feeling rather low. I've been somewhat forgetful lately and get a little 'foggy' at times. I am seeing a doctor here, Dr. Julian Marcus, who has me on a boatload of medications. He was recommended by my doctor in Aspen, Dr. Harold Steinwood, who took over Dr. Leeland's practice. I was wondering if I could come by for a visit on my way back to Aspen. You always cheered me on . . . even when my first book submission was turned down! Don't want to intrude, but I could really use a friend right now."

Charles stopped reading. "Well, old girl, there doesn't seem to be anything else to do except get her here as soon as possible."

"Oh, Charles, you are such a dear. I know all the people coming in and out can be disruptive at times, but things have been very quiet for a while, and there doesn't seem to be anything on the horizon to change that. I know you were relishing our having time alone, but I have a bad feeling about this thing with Charlotte. Back in the day, she was always the Pollyanna." Myra took his hand and brushed her lips along his fingertips.

"Keep that up, and we'll have to lock the doors!" Charles chortled. Then Myra playfully slapped his hand away.

"Please make the travel arrangements for her. I'll send her an e-mail telling her to expect a full itinerary by the end of the day." Myra was feeling more like herself—giving Charles orders, which he gladly acted upon.

"Will do, love. But do you suppose we should check on her availability first?"

"My instincts are telling me we need to do this pronto!" She gave him a pat on the bum. "Now go!"

Charles took a small bow. "At your service, my lady."

Charlotte's father had been the groundskeeper for Myra's family's farm when she and Charlotte were teenagers. She and her father had lived in one of the small cottages on the property, and Charlotte, Myra, and Annie would explore the vast farm and make up stories together. Charlotte had gone on to become an author of children's books. She had made a tidy sum of money, though it was nowhere near the size of Myra's fortune. Not to mention Annie's. The Countess Anna Ryland de Silva was thought by many to be the richest woman in the world.

Charlotte had had a few best sellers early in her career, and toy manufacturers had licensed some of the characters. She'd been able to put her daughter through a pricey prep school and an equally expensive college. She had also established a trust for her grandson's education, but this still left more than enough money for her to lead a very comfortable life. Her lifestyle was not really extravagant, but she could travel when and where she wanted and could play a round of golf whenever she felt like it in Aspen during the summer. She usually spent the winter months visiting friends in Florida, Arizona, Saint Thomas, and Barbados, and she made regular trips to the UK, where her daughter, Maryann, lived with her husband and Charlotte's grandson.

Several days after she had sent the letter, she received an e-mail from Charles, husband and confidant to her friend Myra.

Charlotte could almost hear the British accent in Charles's e-mail. And she wrote back:

Charlotte reviewed the itinerary:

Charlotte smiled as she read the e-mail. "Leave it to Myra and Charles to take care of everything." She immediately felt a weight lift from her shoulders.... Or was it from her mind?

Myra gushed on the phone to Annie. "Guess who's coming for a visit?"

"Knowing you, Myra, it could be the queen of England," Annie teased.

"Well, at least you have the country correct, smartypants. But it's Charlotte! She was visiting her daughter in London and is stopping here on her way back to Aspen."

Annie had first met Charlotte when they were young teenagers, when Charlotte's family had lived on Myra's parents' farm. The last time the three of them had been together was when they took a trip to Sedona, Arizona, to "sit on a few rocks." They still giggled over how sore their backsides were after climbing Bell Rock and perching on the Schnebly Hill Formation to experience the sunrise at the summer solstice. They would often debate about what hurt their bottoms more: the red rocks or sliding down the banister of Myra's farmhouse.

"It will be nice to see her again," Annie replied. "What brings her here? Besides to visit with her girlfriends?"

Myra fiddled with her pearl necklace, a habit she had developed many years ago, when she would be lost in thought after the death of her daughter, Barbara. "Hmmm . . . I—"

Annie immediately interrupted her. "I know that 'hmmm,' and I bet that right now you're clinging to those pearls."

"Oh, aren't you the clever one?" Myra shot back.

"Maybe it's because I know you so well. Spill. What's going on?" Annie could be a relentless interrogator when she wanted to get to the heart of the matter.

"I received a letter from her yesterday. She seemed . . . out of sorts, you could say."

"We all feel out of sorts from time to time. How out? And what kind of sorts?" Annie often said it was like pulling teeth to get Myra to talk about her feelings or something she wasn't sure she could share.

"She's having some . . . How did she put it? 'Foggy moments,'" Myra replied.

Annie kept prodding. "That's not unusual. What else is going on?"

"I'm not sure." The sound of Myra's voice told Annie that she was worried.

"My dear friend, if I know you—and I am sure I do—you will get to the bottom of it sooner rather than later."

Myra chuckled. "You do know me, don't you?"

At that moment, Charles appeared with a tray of freshly baked scones and tea. "How about a little break?"

"Annie, I have to go. Charles is plying me with those luscious raspberry scones. Oh, I want to have a dinner party for Charlotte. Get as many girls as are available. I think having our group around will lift her spirits. You and Fergus will be here. Friday. Eight o'clock. Unless the two of you want to show up early. Fergus can help Charles in the kitchen, and you and I can sample the champagne. We wouldn't want anyone getting sick, now would we?" Myra giggled at her own words.

"That's an invitation I cannot refuse. Shall we come by at, say, six?"

"Six is perfect. If Charles needs Fergus here sooner, I'll let you know." After she got off the phone, Myra looked up at Charles, who nodded in agreement. He set down the tray of scones and poured his beloved her favorite tea.

"So, my dear. What exactly do you have in mind?" Charles took the seat across from Myra. "I can almost see those wheels turning."

Myra reached for her pearls again. "I'm not quite sure. I think the dinner party and a few relaxing days here will cheer Charlotte up, raise her spirits, but I am definitely not happy about this large number of medications she referred to in her letter."

"What did she say exactly, when you called her?" Charles leaned in closer to read the expression on Myra's face.

"I'm not clear on it yet. The treatment hasn't been approved by the FDA, but she is enrolled in some sort of trial. It's like the Wild West of medicine. No rules to speak of."

"Yes, apparently, one signs a waiver in those cases," Charles chimed in.

"And, I'm willing to bet, all their money," Myra snapped back.

"Now, love, before you get your vigilante pants in a knot, let's see what else Charlotte has to say. Maybe she's just feeling a little blue."

"I do hope so, Charles. I really do. But something isn't sitting right with me."

Charles rolled his eyes.... He could feel a mission coming on.

After three days of arguing with her daughter, Maryann, Charlotte snapped her suitcases closed and eyed the collection of medicine bottles on the vanity. She had secretly stopped taking them after mailing her letter to Myra. It had been almost a week. Everything had been happening so fast, but she felt much better. Maybe it was the anticipation of visiting her friends, or maybe it was the absence of "supplements" coursing through her body. Either way, she hadn't felt this lighthearted and alert in a long time.

She thought a moment. How long has it been? She could not recall. Darn it, Charlotte. Get a grip, she whispered to herself. You're going on an adventure. Let's not think about any of it. At least not for now. Feeling good was very welcome after all the months—yes, it had been months—of being in a fog. Even though she wasn't sure how many months, she was certain it had been much too long. She also knew that she had to stop talking to herself. Or, at the very least, not get caught doing it! If she was caught, they would really put her in a loony bin.

There was a slight rap on her door. "Mother, I wish you would reconsider." When Maryann came into Charlotte's room, she was finally being gentle instead of the screeching banshee she had become when Charlotte told her she was cutting her visit short.

"What is going on? And what is Dr. Marcus going to say about your leaving so soon?" Those had been the talking, or shouting, points, day after day.

Finally, quoting Clark Gable as Rhett Butler, Charlotte had replied, "Frankly, my dear, I don't give a damn." Charlotte had said it with calm determination, her way of letting Maryann know that the conversation was over. That had been two days ago, and neither had spoken to the other until now.

Charlotte was hoping that she would not be leaving on bad terms with her daughter. "Maryann, I do so appreciate your hospitality and concern for me, but I cannot change my plans now. Myra and Charles, as well as Annie and Fergus, have made a lot of arrangements."

"But what about my arrangements?" Maryann was getting a little heated again, realizing that she was probably not going to convince her mother to stay. "And Dr. Marcus?"

Darn it. Maryann wished she hadn't mentioned the doctor. His name seemed to be the "Niagara Falls" catalyst—the old comic routine when some guy goes berserk anytime he hears the words Niagara Falls. Yes, the mere reference to him almost always set her mother off.

But why? And why so suddenly? Maryann backed off her scolding and gave her mother a hug. "Mom, you know I want what's best for you." She tried to choose her next words carefully. "I'm just concerned about your health. That's all."

"To be perfectly honest, I haven't felt this good in . . . , well, since I can't remember when." Charlotte had a lilt in her voice, which Maryann hadn't heard in a while.

"I'm so glad. Maybe these treatments are working!" Maryann gave her mother another hug, but Charlotte stiffened and looked toward the vanity, where her pill bottles were.

"What? What is it, Mom?" Maryann stepped back and gave Charlotte a quizzical look.

Thinking about what she had been doing for the past several days—flushing her pills down the toilet—Charlotte decided to change the subject so as not to let on about her secret.

"You know how much I hate to fly."

"Well, it is first class. At least if anything happens, you'll go out in style!" Maryann thought she was being humorous, but it only made Charlotte shudder.

"That makes me feel so much better," Charlotte replied sardonically. She took a deep breath and reached for her daughter. "I know you mean well, my dear. But I'm getting antsy, and besides, I think Liam would rather be spending more time with his friends than with his grandmother."

"Don't be ridiculous! Liam loves you! He misses you all the time!" Maryann protested.

"I know, but he's almost eight years old. Little boys want to go out and play with their friends. Not take walks every day or play board games. Spelled b-o-r-e-d." That finally broke the tension, and both women laughed and hugged.

"You will call me when you arrive at Myra's?"

"Of course, darling. But it is six hours' difference. You may already be in bed."

"Just do it, please."

"I should be arriving at Myra's around five in the afternoon their time, so it will be about eleven o'clock here."

"That's fine. I'll sleep better knowing you're safe and sound."

"Safe, yes. Sound? To be determined." Both laughed at the double entendre. Maryann grabbed the bigger of the two suitcases and headed out the door. Charlotte scooped up the meds and threw them in her tote bag.

At first, Charlotte had been going to flush all the pills, but then she had decided she should bring them with her. She still wasn't sure if they were effective or not, but if her mood over the past few days was an indication of their usefulness, it was clear that she did not need them. Maybe she would ask Myra and Charles their opinion. Charles was not a doctor, nor was Myra, but between the two of them, they undoubtedly had connections to top medical professionals. Then she grimaced at her thoughts. Maybe it was too much to ask of her generous friends. She ultimately decided she would take each day as it came. That thought gave her a little peace of mind.

Minutes later, the lobby intercom buzzer sounded. "Ride for Mrs. Hansen."

"She'll be right down," Maryann said to the disembodied voice that had come out of the box on the wall. She turned to her mother in earnest. "Please be sure to follow up with either Dr. Marcus or Dr. Steinwood."

Charlotte grunted. "We'll see, my dear. I'll decide after I get back to Aspen." She gave her daughter another big hug. "I'll be fine. I promise."

The Range Rover was humming softly as the driver helped her inside. He stored her luggage in the rear compartment and handed her the tote.

Charlotte peered into the bag and checked the medicine bottles, almost six thousand dollars worth of pills. She had no idea what kinds of medicines they were, but she was determined to find out. She zipped the tote with the drugs, sat back in the luxurious leather seat, and willed herself to relax. She then recalled her other favorite movie quote, this time Vivien Leigh as Scarlett O'Hara—Tomorrow is another day. She smiled. Yes, I'm feeling much better today. Thank you very much.

That same afternoon, the day of Charlotte's arrival, Myra had Yoko bring armloads of flowers from her greenhouse to decorate every room in the farmhouse. It was still early spring, and Myra's gardens were not yet in full bloom. Only the potted plants on the terrace, which Yoko had helped her plant, provided an array of color to brighten the end of a long winter.

Hearing the commotion in the foyer, Charles wiped his hands on his apron and joined several of the sisters, who were carrying what seemed like hundreds of blooms.

"Coming through!" Yoko shouted as she carried an armload of peonies, with the dogs yapping at her feet. It was organized pandemonium.

Myra gasped at the sight of the colorful blooms. "Yoko! Where did you find peonies this time of year? They are absolutely gorgeous!"

With Yoko's arms filled with the massive bouquet, one could not see her face, and it seemed as if the flowers spoke when she answered, "I know people!"

A rip-roaring laugh filled the room. Everyone in Myra and Annie's circle knew someone. And it was those "someones" who assisted the women when they were on a mission. But today it was about flowers, food, and friends.

Kathryn parted the flowers hiding Yoko's face. "Peekaboo!"

"Very funny," Yoko chided Kathryn. "How about lending one of those big hands of yours!"

Kathryn grabbed the flowers and set them down on the large table in the entry. "Myra, where do you want these?"

Charles looked at the dozens, no hundreds, of flowers. "Did you bring the entire greenhouse with you, Yoko?"

Yoko tilted her head in Myra's direction. "What do you think? Everything but lilies."

Charles nodded. Of course she did, and of course, no lilies. House rules. Lilies could be toxic for dogs and cats.

Myra surveyed the dozens of arrangements and began giving orders. "Tulips in Charlotte's room. They were always her favorite—a sign of spring. Fuchsia peonies can stay here, white peonies and the cherry blossoms go in the dining room, orchids in the drawing room, and gardenias in the bathrooms. Blue irises in the master bedroom and sunflowers in the kitchen."

The women grabbed the vases in unison and made quick work of placing them according to Myra's instructions.

Maggie, whose insatiable appetite was the stuff of legends, was the first to ask, "What's for dinner, Charles?"

"Besides your cuticles?" Charles gave her an admonishing look.

Maggie held up both hands. "Look! I actually got a manicure!"

Everyone stopped in their tracks.

"You got a what?" Kathryn roared. "I've gotta see this." She grabbed Maggie's hands. "Well, I'll be darned. What gives?"

"I thought it might help me to stop biting them. But now I'm cracking my knuckles, just like you!" She nudged Kathryn with a playful elbow to the ribs.

More laughter and cackling ensued.

"We all have our little quirks, dear." Myra gestured with her hand on her pearls.

"Yes, but your quirk is elegant. Mine is, well, juvenile. Or neurotic," Maggie interjected.

"Neurotic?" Kathryn teased. "You won't get an argument out of me!"

Another round of giggles sounded until the chime of the doorbell interrupted the joviality.

Charles took charge of the door. "Must be the liquor store. I ordered Aperol for our aperitif cocktails."

"My new favorite!" Annie exclaimed. "Aperol, prosecco, and a splash of seltzer. Garnished with a slice from a juicy orange. Refreshing!" She smacked her lips. "Yum!"

"Okay, everyone. Now that we have the flowers sorted, let's get started on setting the table. I know it's still early, but I think all of you will want to freshen up before we turn our attention to Charles and Annie's latest favorite libation." Myra gestured to the dining room.

"Where are Nikki and Alexis?" Kathryn asked.

"Finishing up a trial. They should be here momentarily," Myra replied, giving Charles a sideways look that said, "Don't you say a word." And in his usual fashion, Charles gave a knowing nod.

With speed, accuracy, and movements that seemed to mimic synchronized swimming, the women began to set the table, each one knowing her assignment. They would create a glorious display fit for a queen.

Isabelle called into the kitchen, "The Tiffany or Waterford trumpet flutes?"

"I think the Waterford would be better for the aperitif. We like to layer the cocktail," Charles explained. "First, you add the Aperol to the glass, and then you pour the prosecco gently, so it floats on top of the Aperol, then just a little splash of seltzer. And, as Annie indicated, serve the whole thing with a slice of orange, and voilà!"

"A most beautiful and tasty delight," Annie observed.

"Perhaps Charles should introduce that ambrosia to us now. 'Get the party started,' as they say," Maggie said, tossing in her two cents.

"Perhaps we should wait," Myra said patiently. She knew the girls were getting excited about the dinner party. They had met Charlotte several years before, when she was signing at BookExpo in Washington, D.C. "We don't want to be snockered before Charlotte gets here."

"But she knows us!" Kathryn chuckled. "But I suppose you're correct. We still have a couple of hours and some chores before she gets here."

Nikki and Alexis made their entrance through the usual spot, the kitchen.

"What is that fantastic aroma?" Nikki quickly pecked her mother on the cheek and gave Charles a hug.

"Charles has been fussing with a new secret recipe." Myra was only half kidding. Charles was the equivalent of a Michelin-star restaurant chef. She didn't know how he had learned to create such fine cuisine, but she appreciated it, nonetheless. There were a number of things in Charles's background about which Myra knew very little, but she knew more about it than most. And she trusted him with her life, the life of her adopted daughter, Nikki, and those of the "sisters."

Fergus had been an "a. . .
We hope you are enjoying the book so far. To continue reading...
Bitter Pill
Fern Michaels
Copyright © 2023 All Rights Reserved
Also in this series
Also by this author