Book info
Sample
Audiobook
Media
Author updates
Lists
Synopsis
The devastatingly romantic fifth novella in the New York Times and USA Today bestselling Shatter Me series, chronicling the events after Imagine Me, the explosive sixth novel.
Juliette and Warner fought hard to take down the Reestablishment once and for all. Life in the aftermath isn't easy, as they and their friends at the Sanctuary work with their limited resources to stabilize the world.
Warner has his sights set on more than just politics. Since he proposed to Juliette two weeks ago, he's been eager to finally marry her, the person he loves more than anything and has endured so much to be with. But with so much chaos around them, it's been nearly impossible for them to have a wedding. And even Juliette has been distracted by everything they need to do.
At long last, Warner and Juliette's future together is within reach, but the world continues to try to pull them apart. Will they finally be able to be happily, officially, together?
Celebrate the tenth anniversary of Tahereh Mafi's bestselling Shatter Me series with Believe Me!
Release date: November 16, 2021
Publisher: HarperCollins
Print pages: 224
* BingeBooks earns revenue from qualifying purchases as an Amazon Associate as well as from other retail partners.
Listen to a sample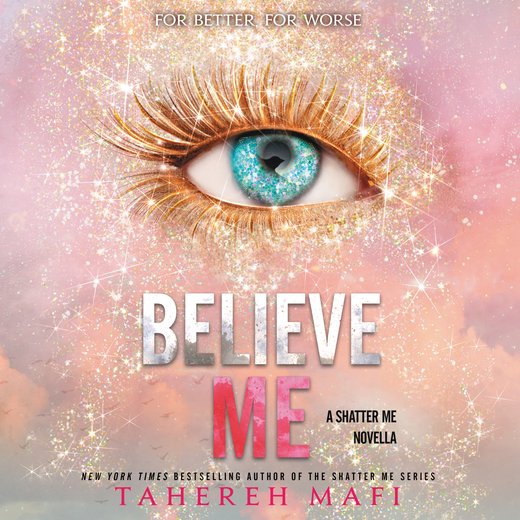 04:38:21
127.43 MB
9780063228337
November 16, 2021
HarperCollins
Believe Me
Tahereh Mafi
The wall is unusually white.
More white than is usual. Most people think white walls are true white, but the truth is, they only seem white and are not actually white. Most shades of white are mixed in with a bit of yellow, which helps soften the harsh edges of a pure white, making it more of an ecru, or ivory. Various shades of cream. Egg white, even. True white is practically intolerable as a color, so white it's nearly blue.
This wall, in particular, is not so white as to be offensive, but a sharp enough shade of white to pique my curiosity, which is nothing short of a miracle, really, because I've been staring at it for the greater part of an hour. Thirty-seven minutes, to be exact.
I am being held hostage by custom. Formality.
"Five more minutes," she says. "I promise."
I hear the rustle of fabric. Zippers. A shudder of—
"Is that tulle?"
"You're not supposed to be listening!"
"You know, love, it occurs to me now that I've lived through hostage situations less torturous than this."
"Okay, okay, it's off. Packed away. I just need a second to put on my cl—"
"That won't be necessary," I say, turning around. "Surely this part, I should be allowed to watch."
I lean against the unusually white wall, studying her as she frowns at me, her lips still parted around the shape of a word she seems to have forgotten.
"Please continue," I say, gesturing with a nod. "Whatever you were doing before."
She holds on to her frown for a moment longer than is honest, her eyes narrowing in a show of frustration that is pure fraud. She compounds this farce by clutching an article of clothing to her chest, feigning modesty.
I do not mind, not one single bit.
I drink her in, her soft curves, her smooth skin. Her hair is beautiful at any length, but it's been longer lately. Long and rich, silky against her skin, and—when I'm lucky—against mine.
Slowly, she drops the shirt.
I stand up straighter.
"I'm supposed to wear this under the dress," she says, her fake anger already forgotten. She fidgets with the boning of a cream-colored corset, her fingers lingering along the garter belt, the lace-trimmed stockings. She can't meet my eyes. She's gone shy, and this time, it's real.
Do you like it?
The unspoken question.
I assumed, when she invited me into this dressing room, that it was for reasons beyond me staring at the color variations in an unusually white wall. I assumed she wanted me here to see something.
To see her.
I see now that I was correct.
"You are so beautiful," I say, unable to shed the awe in my voice. I hear it, the childish wonder in my tone, and it embarrasses me more than it should. I know I shouldn't be ashamed to feel deeply. To be moved.
Still, I feel awkward.
Young.
Quietly, she says, "I feel like I just spoiled the surprise. You're not supposed to see any of this until the wedding night."
My heart actually stops for a moment.
The wedding night.
She closes the distance between us and twines her arms around me, freeing me from my momentary paralysis. My heart beats faster with her here, so close. And though I don't know how she knew that I suddenly required the reassurance of her touch, I'm grateful. I exhale, pulling her fully against me, our bodies relaxing, remembering each other.
I press my face into her hair, breathe in the sweet scent of her shampoo, her skin. It's only been two weeks. Two weeks since the end of an old world. The beginning of a new one.
She still feels like a dream to me.
"Is this really happening?" I whisper.
A sharp knock at the door startles my spine straight.
Ella frowns at the sound. "Yes?"
"So sorry to bother you right now, miss, but there's a gentleman here wishing to speak with Mr. Warner."
Ella and I lock eyes.
"Okay," she says quickly. "Don't be mad."
"Why would I be mad?"
Ella pulls away to better look me in the eye. Her own eyes are bright, beautiful. Full of concern. "It's Kenji."
I force down a spike of anger so violent I think I give myself a stroke. "What is he doing here?" I manage to get out. "How did he know how to find us?"
She bites her lip. "We took Amir and Olivier with us."
"I see." We took extra guards along, which means our outing was posted to the public security bulletin. Of course.
Ella nods. "He found me just before we left. He was worried—he wanted to know why we were heading back into the old regulated lands."
I try to say something then, to marvel aloud at Kenji's inability to make a simple deduction despite the abundance of contextual clues right before his eyes—but she holds up a finger.
"I told him," she says, "that we were looking for replacement outfits and reminded him that, for now, the Supply Centers are still the only places to shop for food or clothing or"—she waves a hand, frowns—"anything, at the moment. Anyway, he said he'd try to meet us here. He said he wanted to help."
My eyes widen slightly. I feel another stroke incoming. "He said he wanted to help."
She nods.
"Astonishing." A muscle ticks in my jaw. "And funny, too, because he's already helped so much—just last night he helped us both a great deal by destroying my suit and your dress, forcing us to now purchase clothing from a"—I look around, gesture at nothing—"a store on the very day we're supposed to get married."
"Aaron," she whispers. She steps closer again. Places a hand on my chest. "He feels terrible about it."
"And you?" I say, studying her face, her feelings. "Don't you feel terrible about it? Alia and Winston worked so hard to make you something beautiful, something designed precisely for you—"
"I don't mind." She shrugs. "It's just a dress."
"But it was your wedding dress," I say, my voice failing me now.
She sighs, and in the sound I hear her heart break, more for me than for herself. She turns around and unzips the massive garment bag hanging on a hook above her head.
"You're not supposed to see this," she says, tugging yards of tulle out of the bag, "but I think it might mean more to you than it does to me, so"—she turns back, smiles—"I'll let you help me decide what to wear tonight."
I nearly groan aloud at the reminder.
A nighttime wedding. Who on earth is married at night? Only the hapless. The unfortunate. Though I suppose we now count among their ranks.
Rather than reschedule the entire thing, we pushed it a few hours so that we'd have time to purchase new clothes. Well, I have clothes. My clothes don't matter as much.
But her dress. He destroyed her dress the night before our wedding. Like a monster.
I'm going to murder him.
"You can't murder him," she says, still pulling handfuls of fabric out of the bag.
"I'm certain I said no such thing out loud."
"No," she says, "but you were thinking it, weren't you?"
"Wholeheartedly."
"You can't murder him," she says simply. "Not now. Not ever."
I sigh.
She's still struggling to unearth the gown.
"Forgive me, love, but if all this"—I nod at the garment bag, the explosion of tulle—"is for a single dress, I'm afraid I already know how I feel about it."
She stops tugging. Turns around, eyes wide. "You don't like it? You haven't even seen it yet."
"I've seen enough to know that whatever this is, it's not a gown. This is a haphazard layering of polyester." I lean around her, pinching the fabric between my fingers. "Do they not carry silk tulle in this store? Perhaps we can speak to the seamstress."
"They don't have a seamstress here."
"This is a clothing store," I say. I turn the bodice inside out, frowning at the stitches. "Surely there must be a seamstress. Not a very good one, clearly, but—"
"These dresses are made in a factory," she says to me. "Mostly by machine."
I straighten.
"You know, most people didn't grow up with private tailors at their disposal," she says, a smile playing at her lips. "The rest of us had to buy clothes off the rack. Premade. Ill-fitting."
"Yes," I say stiffly. I feel suddenly stupid. "Of course. Forgive me. The dress is very nice. Perhaps I should wait for you to try it on. I gave my opinion too hastily."
For some reason, my response only makes things worse.
She groans, shooting me a single, defeated look before folding herself into the little dressing room chair.
My heart plummets.
She drops her face in her hands. "It really is a disaster, isn't it?"
Another swift knock at the door. "Sir? The gentleman seems very eager t—"
"He's certainly not a gentleman," I say sharply. "Tell him to wait."
A moment of hesitation. Then, quietly: "Yes, sir."
"Aaron."
I don't need to look up to know that she's unhappy with my rudeness. The owners of this particular Supply Center shut down their entire store for us, and they've been excruciatingly kind. I know I'm being an ass. At present, I can't seem to help it.
"Aaron."
"Today is your wedding day," I say, unable to meet her eyes. "He has ruined your wedding day. Our wedding day."
She gets to her feet. I feel her frustration fade. Transform. Shuffle through sadness, happiness, hope, fear, and finally—
Resignation.
One of the worst possible feelings on what should be a joyous day. Resignation is worse than frustration. Far worse.
My anger calcifies.
"He hasn't ruined it," she says finally. "We can still make this work."
"You're right," I say, pulling her into my arms. "Of course you're right. It doesn't matter, really. None of it does."
"But it's my wedding day," she says. "And I have nothing to wear."
"You're right." I kiss the top of her head. "I'm going to kill him."
A sudden pounding at the door.
I stiffen. Spin around.
"Hey, guys?" More pounding. "I know you're super pissed at me, but I have good news, I swear. I'm going to fix this. I'm going to make it up to you."
I'm just about to respond when Ella tugs at my hand, silencing my scathing retort with a single motion. She shoots me a look that plainly says—
Give him a chance.
I sigh as the anger settles inside my body, my shoulders dropping with the weight of it. Reluctantly, I step aside to allow her to deal with this idiot in the manner she prefers.
It is her wedding day, after all.
Ella steps closer to the door. Points at it, jabbing her finger at the unusually white paint as she speaks. "This better be good, Kenji, or Warner is going to kill you, and I'm going to help him do it."
And then, just like that—
I'm smiling again.
We're driven back to the Sanctuary the same way we're driven everywhere these days—in a black, all-terrain, bulletproof SUV—but the car and its heavily tinted windows only make us more conspicuous, which I find worrisome. But then, as Castle likes to point out, I have no ready solution for the problem, so we remain at an impasse.
I try to hide my reaction as we drive up through the wooded area just outside the Sanctuary, but I can't help my grimace or the way my body locks down, preparing for a fight. After the fall of The Reestablishment, most rebel groups emerged from hiding to rejoin the world—
But not us.
Just last week we cleared this dirt path for the SUV, enabling it to now get as close as possible to the unmarked entrance, but I'm not sure it's doing much to help. A mob of people has already crowded in so tightly around us that we're moving no more than an inch at a time. Most of them are well-meaning, but they scream and pound at the car with the enthusiasm of a belligerent crowd, and every time we endure this circus I have to physically force myself to remain calm. To sit quietly in my seat and ignore the urge to remove the gun from its holster beneath my jacket.
Difficult.
I know Ella can protect herself—she's proven this fact a thousand times over—but still, I can't help but worry. She's become notorious to a near-terrifying degree. To some extent, we all have. But Juliette Ferrars, as she's known around the world, can go nowhere and do nothing without drawing a crowd.
They say they love her.
Even so, we remain cautious. There are still many around the globe who would love to bring back to life the emaciated remains of The Reestablishment, and assassinating a beloved hero would be the most effective start to such a scheme. Though we have unprecedented levels of privacy in the Sanctuary, where Nouria's sight and sound protections around the grounds grant us freedoms we enjoy nowhere else, we've been unable to hide our precise location. People know, generally, where to find us, and that small bit of information has been feeding them for weeks. The civilians wait here—thousands and thousands of them—every single day.
For no more than a glimpse.
We've had to put barricades in place. We've had to hire extra security, recruiting armed soldiers from the local sectors. This area is unrecognizable from what it was a month ago. It's a different world already. And I feel my body go solid as we approach the entrance. Nearly there now.
I look up, ready to say something—
"Don't worry." Kenji locks eyes with me. "Nouria upped the security. There should be a team of people waiting for us."
"I don't know why all this is necessary," Ella says, still staring out the window. "Why can't I just stop for a minute and talk to them?"
"Because the last time you did that you were nearly trampled," Kenji says, exasperated.
"Just the one time."
Kenji's eyes go wide with outrage, ...
We hope you are enjoying the book so far. To continue reading...
Believe Me
Tahereh Mafi
Copyright © 2022 All Rights Reserved