The Dauntless
Save the Prince. Save the World. Spy Girl.
Available in:
eBook
Paperback
Audiobook
Hardcover
Book info
Sample
Audiobook
Media
Author updates
Lists
Synopsis
From USA Today bestselling author Jillian Dodd comes the fifth book in a sizzling series filled with action and adventure. Fans of The Selection and The Hunger Games will discover a heart-pounding thrill ride of espionage and suspense set in glittering high society.
Huntley Von Allister's cover is firmly in place. She's brilliantly completed her first four missions. But she is done.
Done working for Black X. Done trying to untangle the mystery of what got her mother killed. And very, very done with love.
She's given herself a simple mission-to recover the precious memories of her final days with her mother by visiting the places in the photos left behind. Well, that, and to discover who owns the emerald rings, like the one she found on Dupree. And completely destroy their secret society.
Release date: October 16, 2018
Publisher: Jillian Dodd Inc.
Print pages: 302
* BingeBooks earns revenue from qualifying purchases as an Amazon Associate as well as from other retail partners.
Listen to a sample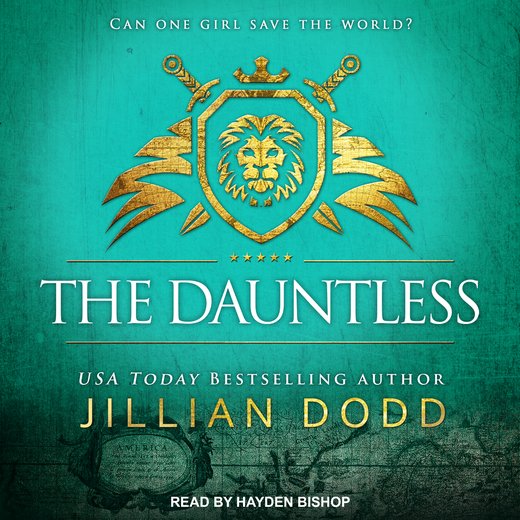 06:27:47
177.52 MB
June 11, 2019
Tantor Audio
2019
The Dauntless
Jillian Dodd
PRO:LOGUE
Grace Vallenta, the dowager Queen of Montrovia, sits in her office, watching the news reports. She should feel pleased with herself. After all, she's managed to arrange a marriage for her son to a woman who can not only handle the role of queen, but will also produce beautiful children.
She glances at a photo of her own wedding.
Her father was a nobleman, so her family attended many royal events, and like many young females in Montrovia, she crushed on the handsome Vallenta princes—Giovanni, Alessandro, and Marcelo. While none had paid her attention as a girl, she had gone away to a prestigious university, graduated with honors, and matured into a confident and alluring woman. Her family was happy when she was asked to interview with the royal family, thrilled when she went on chaperoned dates with the eldest Prince Giovanni, and over the moon when he proposed.
Talk about a fairy tale.
Of course, she knew Giovanni had a reputation as being a ladies' man—much like her own son.
At least no one could ever doubt Lorenzo's lineage.
From the moment their engagement was announced until their extravagant wedding and honeymoon, where she conceived their only son, it was a whirlwind of love with the promise of a lifetime of happiness.
Or so she thought.
What she didn't learn until a few years later was that Giovanni hadn't actually chosen her. His family had. While he was proving to be a good father, husband, and friend, she took it personally and allowed herself to do something reckless.
Something she continues to pay for to this day.
She moves away from her desk to look at another wedding photo, this one capturing a private moment between her future husband and his groomsmen, all in full Montrovian military dress.
Letting out a slow exhale, she touches the face of one of the men in the photo. They met at an event, not long after she returned home. He was a dashing young soldier, and there was something about a man in uniform. She was used to having her freedom at university, and it felt thrilling to sneak out of her parents' home to meet him in the moonlight and spend long nights in his arms—which she abruptly ended the moment Giovanni started courting her.
The night Giovanni's mother let the truth slip out, she was upset with her daughter-in-law over the dress she wore to the Queen's Ball. Both the queen and the princess were clad in red gowns, which her mother-in-law, the queen, considered the ultimate social faux pas.
In defiance, Grace has worn red to every ball since.
Our hearts are supposed to be pure, but most are not. They are filled with pride. They get hurt easily. And they seek revenge when wronged. And Her Royal Highness Princess Emilia Gracia "Grace" Vallenta of Montrovia did just that. The combination of discovering another woman in her husband's arms at the Ball, regardless of their excuse that the woman had nearly fainted, combined with the harsh words from her mother-in-law set her head and her heart in a tailspin.
She suddenly questioned everything in her happy marriage. She considered divorce. She considered simply running away. In the end, she confessed her concerns to the man in the photo—a man she knew would tell her the truth—and then fell into his arms and into his bed.
A few weeks and a missed period later, she discovered that she was pregnant.
There was no doubt that it was her lover's child. For, from the night of the Ball up until then, she'd been sleeping in a room by herself as a way to punish her husband. The poor man was clueless really. He looked good, the people loved him, and he was a skilled diplomat, but he couldn't convince his wife that he was faithful.
Even though, deep down, she knew he was.
Her marriage contract required two heirs, and with Lorenzo being eighteen months, it was time. She would reconcile with him, return to his bed, and then tell him the news of their pregnancy a few weeks later. She would have the child, say he was royal, fulfill her contract, and then leave the palace for good.
A tear trickles down her face as her hand involuntarily moves to cover her abdomen. The next frame on the wall holds a clipping from a Montrovian newspaper, reporting that the princess had a riding accident, getting bucked off her horse and then stepped on by it. She can still remember the pain surging through her body. When she lost the baby and the ability to have more children, she was shocked and awed when Giovanni held her and told her that he had fallen in love with her during their marriage. That there was no one else he desired. That Lorenzo was enough for them. That he wouldn't allow his parents to void their marriage over this.
And he stood by his word.
He was always a man of his word.
She, on the other hand, hadn't promised anything that day. She had been too distraught. Too emotional. Too guilty.
When she told her lover it was over, he threatened to tell all if their affair ended.
Even though she didn't desire the man further, they have been meeting in private for over twenty years. It went from exciting and passionate to being one of her duties. Something she's had to do to maintain her crown.
And, mostly, her secret. She never wanted to hurt Giovanni with the truth of her betrayal, for she did love him.
Now, her lover is leaving his wife. After all these years.
And he wants to marry Grace. Wants to take his place of power at her side, which is kind of crazy, considering the high rank he already holds in the Montrovian military.
He says that, if she refuses, he will tell the world his story. Their story. In all its lurid detail. Including the photos he has been taking in secret all these years.
Time is ticking.
Although she wishes more than anything that her son could marry for love, she's learned the hard way that love isn't enough. Lorenzo must marry before the end of the year.
Because that's when all hell is going to break loose in her world.
She's lost in thought when her door opens with a bang, and her son barges in.
"Mother, what did you do? Why did you make the announcement early?"
"Because you were out of time."
"I proposed to Huntley last night, and she accepted. We were to announce our news to you this afternoon."
She can tell that her son is quite distraught and can imagine how the evening went. A proposal and fervent lovemaking, followed by the announcement this morning. The fact that Huntley Von Allister isn't here by his side, fighting for her man, tells her all she needs to know. Huntley Von Allister will never be the Queen of Montrovia.
"This afternoon's press conference was marked on your calendar, Lorenzo."
"I assumed it was about the bombing, not—Mother, how could you?"
"Don't question me. I'm doing what has to be done to protect our country and the royal bloodline. Your father and I failed. You must not."
"What do you mean?" he asks.
"You know that your father and I also had an arranged marriage. When you were a toddler, I had a riding accident while pregnant that caused me to miscarry and lose the ability to have children. I urged your father to remarry to have more heirs, but he refused. There have been numerous attempts on your life already. If you die, Montrovia will die with you."
"Montrovia is under attack from unknown forces," he cautiously agrees.
"That is why I announced your engagement. We need to have something to keep the people interested while we deal with this internally."
"You want me to fight the attack with procreation?"
"Yes, I do. I was betrothed to your father for one reason and one reason only. To produce heirs. Lizzie has been proven to be reproductively sound."
"What?" he asks incredulously.
This is ridiculous. If he dies, there are distant cousins who will take his place. Montrovia will continue as it has for centuries.
"We had to know before we entered into an agreement. She has had eggs frozen in case she ever has an issue like I did, so you will still be able to have biological children. You and Lizzie should get to work on that. I'd like her pregnant before the wedding."
"I just told you, Mother. I proposed to another woman last night. I am in love. I can't just—not with Lizzie."
"This girl who agreed to marry you last night is not with you this morning. What do you think that means?"
"It means, she was devastated by your announcement."
"First off, if she loved you the way you deserve to be loved, Lorenzo, she'd be here at your side. Secondly, your womanizing ways are well known. Getting under women's skirts has practically been an art form for you. We've been dealing with the revolving door and tabloids regarding it since you were seventeen. Are you to tell me that, now, all of a sudden, you care about love?"
"Yes, because I am in love. Truly, madly, deeply in love with Huntley. I will not do a press conference with anyone but her, and that will be difficult because she's probably already on a plane out of here. She rightfully felt betrayed by all of us—mostly me."
"Your future queen must be of strong will and have an ironclad heart. The world will say horrible things behind her back as they sing praises to her face. The palace does not make official announcements and then take them back. Your engagement to Lizzie will be announced. The world's eyes will be on us during the Olympics and again for your marriage. We need this for our country."
"The world wants me with Huntley. The press knows I'm in love with her. It's obvious to everyone who has seen us together. Maybe, if you had gotten to know her as I asked instead of continuing with this farce, it would have been obvious to you as well."
"Yet she's on her way to Omaha. Obviously, running straight into Daniel Spear's arms."
"How would you know that?"
"I'm the Queen of Montrovia. That's how."
"If that's true, it's because of you, Mother."
"No, it's because of her lack of commitment with you," she counters.
Most of him disagrees, but what his mother said strikes a nerve. He knows Huntley was nearly brainwashed into believing she shouldn't have emotional attachments. Yet their love broke through, only for his supposed betrayal to crush her.
"I am the King of Montrovia, and I will not marry Lizzie. My word is final."
"Then you have doomed us all," she whispers to herself as he storms out.
Lorenzo finds himself sitting in his study at the table where he and Huntley played chess, feeling like his life has become nothing but a match dependent upon his every move. Although he gave the chess set to Huntley for her birthday, she insisted that it reside here, in his study, where it holds significance for them both.
He takes the queen off the board, wondering where he went wrong as he retrieves from his pocket the engagement ring Huntley threw at him this morning and places it around the chess piece. He'd tried not to push his relationship with Huntley, but when you know, you know.
He takes the queen and ring to his desk. He sits down, looking at a photo of him and his father. The man would be so upset with his mother for making Lorenzo choose between duty and love. After he met Huntley the first time, he knew Lorenzo was in love with the girl.
His father told him that when you find something precious, you shouldn't let it go even if it's not perfect.
But he did let her go.
When he found out the truth about her being a spy.
When he worried her feelings for him were only due to her mission.
And he worries what he will do now. Because his mother is right about the fact that someone is trying to destroy his country.
Destroy the monarchy.
Destroy him.
If he had died this morning, waking with Huntley in his arms after consummating their love, proposing, and marrying, all in the same night, he would have died a very happy man.
Part of him wishes that had happened.
So that he wouldn't have had to witness the hurt and betrayal on her face.
"That's why you were okay with it not being official last night. Isn't it?" she said.
"What? No," he countered. "I wanted to have that moment for just the two of us. When we marry in the church, it will be a royal affair and televised around the world. Please, come with me."
"No. It's better this way," she said, shaking her head and visually retreating. "You should do your press conference with Lizzie." As she ran her hand across her cheek, still swollen from her last mission, he knew he had lost her before she even spoke the words that came next. "I think we both know a girl like me could never be your queen in real life."
"You don't know what I went through, thinking you were dead," he said.
"And, now, I wish I were," she replied, pulling her clothes over her beautiful but beaten body. "Have fun with whatever starts in Montrovia, Lorenzo, because I won't be here to see it."
The door to his office swings open, Lizzie standing there. "Guess it's showtime," she says.
Lorenzo tucks Huntley's engagement ring and the chess piece into his pocket for safekeeping, wishing he were dead, too.
MISSION:DAY ONE
I left the yacht, running down the docks and choking back tears. I had no idea where I was going until I sat down on the hill that overlooked the harbor. I remembered being there with my brother, Peter, Allie, and Daniel. All of us had been excited to watch the cars race through the city streets at the Montrovian Grand Prix. Then, I'd run down it a few days later in a ballgown, desperately trying to save Lorenzo and Ari.
It felt like a lifetime ago.
With my eyes full of tears, I repeated what I had been taught at Blackwood over and over. You must thrive on your own, avoid emotional entanglements, and don't confuse duty with love.
That led me to where I am now.
I dial a memorized number and enter an authentication code, and I am met with a series of clicks before the voice of the former dean of Blackwood Academy comes on the line.
"X." Before I have the chance to admonish him, he quickly says, "I mean, Huntley."
"It's done," I tell him. "While former president John F. Hillford ordered the hit on my mother, it was Marquis Dupree who facilitated it. He went through the Moneyman to reach The Priest. All responsible parties have been terminated. And … I quit."
"You quit?"
"Yes. No more missions."
"But you must discover what's going to start in Montrovia," he argues. "It's what your mother would have wanted."
"You have no idea what my mother would have wanted because, if you had, you wouldn't have taught me the things you did. You wouldn't have taught me to thrive on my own. You wouldn't have told me not to love. My mother never would have wanted me to see the things I saw because of the Moneyman or go through what I experienced at the hands of Dupree. And she certainly wouldn't have wanted me to risk my life on numerous occasions for some spoiled prince."
"But—"
"But nothing. Ari and I have proven with DNA that we are in fact Ares Von Allister's children. I'm not remotely proud of anything to do with my father, but you can be sure that Ari and I will use his money to do some good in this world."
"Huntley, what happened with Dupree?"
"Why should I tell you? Give me one good reason!"
He has been firing back responses, but he pauses for a long moment before he says softly, "Because not only was I your mother's handler, but I'm also … your grandfather. And I'm worried about you."
"Bullshit."
"It's true."
"I'm hanging up now."
"Wait! I didn't know—until recently. I knew you as Calliope Cassleberry your whole life. Your mother never told me that she and my son—"
"Son? You're saying that you are Ares Von Allister's father?"
"Yes. Your mother, who was known as Kelley Bond, and my son were friends in high school. Kelley's stepfather was abusive. He beat her badly, left her to die really. My son found her, took her to a hospital a couple of towns away, and checked her in under a false name—Charlotte Cassleberry." He lets out a little chuckle. "Charlotte was the name of my late wife's terrier. Anyway, she was in the hospital for quite a while and had numerous surgeries, which dramatically changed her looks. But there was still the issue of needing to hide from her stepfather. With my resources, we were able to give her a new legal identity.
"After her college graduation, she got in touch with me. Her stepfather was still looking for her, and she and my son had had no contact because of it, but she was applying for a government job and was worried her background might not hold up to scrutiny.
"I worked for the CIA, training potential agents. When she told me that she had taken martial arts and mastered basic weaponry during college, I recruited her on the spot. Until you, she was the best I'd ever trained. She went on to be an outstanding and highly decorated agent."
I soak in what he said, knowing that he's not lying about this. Ari and I have yet to share what we discovered in the Montrovian safety deposit box with Black X. It seemed pretty trivial in comparison to the nuclear threat.
"And how did you come to train me?"
"I was offered a position by a double black covert agency known as Black X. My death was faked, and I ran a top-secret facility that trained young men and women—something I was good at. I never expected them to send you. I wanted to tell you the truth. The truth about your mother. The truth about me. I was told that it would impede your training. But had I known you were my granddaughter or that Blackwood had been created solely for you—"
"What would you have done differently?" I rudely interrupt.
He sighs heavily. "I don't know. But I do know that the only way to get out of this mess is to get through it."
"When did you find out?" I ask in my harshest tone.
"On your birthday."
"And your son—is he really dead?"
"Yes, he is."
"I'm glad about that actually. Because, if he wasn't, I'd have to kill him myself. What is the purpose of Black X?"
"That's simple. To stop whatever your mother discovered. You haven't asked again who runs Black X."
"That's because I don't care anymore. Good-bye, Grandpa. Don't ever contact me again. And for your information, Dupree shot all but two of his men for being stupid, and then he held a gun to my head. He fired, but at the last moment, he must have slightly moved the gun because he killed himself instead," I say, abruptly ending the call.
I pace back and forth in front of a large grouping of sculptures featuring a steel clock surrounded by vibrant-colored spheres and circus performers, one a fourteen-foot-tall stilts walker. I stop pacing to sit on one of the spheres as I contemplate what I just learned.
I feel a little bad about the way I just spoke to the dean, a man I'd respected for six years. The man who had been a sort of father figure to me. I shake those thoughts from my head. It doesn't really matter at this point.
I'm here. In Omaha. Keeping a promise to a friend.
I'm not letting anyone control my actions anymore. In fact, I gave myself a mission.
Your mission, should you choose to accept it:
Recover the precious memories of your final days with your mother by visiting the places in the photos she left behind.
At first, that was it.
But then I added something else.
Discover who owns the emerald rings.
And destroy their secret society.
I glance down at my backpack. The one I used when traveling with my mother. The one I now keep along with a few outfits on the gorgeous black jet I still haven't technically purchased from Lorenzo. I didn't even bother to pack. Just called the crew and hopped on the plane. I'm going to have to get used to not having an on-call concierge to handle my wardrobe.
My phone buzzes with a call from Ari. "Did you see the news from Montrovia?"
"Yeah, this morning."
"Where are you?"
"Where are you?" I fire back.
"Well, after almost dying, I got to thinking about life. And death. And … I asked Allie to marry me."
Oh, jeez. We are just alike.
I roll my eyes. "Tell me you didn't elope."
"Are you kidding? Allie wants a wedding fit for a princess."
"Her family paying?" I ask, knowing that, if the dean tells Black X that I quit, our money might very well disappear.
"Not funny," he says. "I'm worried about you."
"Not that worried. It's been nearly twelve hours since the news broke in Montrovia."
"Sorry, we were—"
"Enjoying life?"
"Yes, very much. I say, we forget about Montrovia and find a new place to live. And back to my first question. Where are you?"
"Omaha."
"Isn't that a little drastic?" He laughs.
"The Olympic swim trials happen to be here. I promised Daniel I'd come. And just so you know, I quit Black X."
"Can you wait until after my nearly royal wedding?"
"Ari, maybe the DNA tests were a setup to make us believe it. Maybe Terrance lied. Who knows?"
"Your mother—our mother—wrote the truth in the letter we found in the safety deposit box."
"I'm not sure I trust anyone anymore."
"Not even me?" There's a long silence as he waits for me to break. "Seriously? I almost died for you," he finally says.
I sigh. "I almost died, too. There's a lot you don't know, Ari."
"I guess I'm coming to Omaha then. Allie has to leave for a photo shoot. I was going to go with her. Figured we deserved a little time together. Not to mention, I'm pretty beat up from wrecking the motorcycle."
"We're both alive, Ari. That's all that matters. Take the time off. Get better. Enjoy Allie. There will be no more missions. I'm okay," I say with conviction, thankful for Blackwood Academy's course on effective lying.
"Okay then. Huntley?"
"Yeah?"
"You're not alone anymore. You have me. Don't forget that."
"Tell Allie congrats. That I want to see a picture of the ring. And that we'll celebrate soon." Even though I'm sad about my situation, I am happy for my brother.
"We're going to buy the ring today, and then I'm sure she will be shouting it from the rooftops," he says, ending the call.
I considered texting Daniel before I left Montrovia, but I wasn't in the right frame of mind. I was going to text him when I got here, but instead, I've been wandering outside the Omaha convention center where the event is being held, Lorenzo's vows on repeat in my head.
"Whatever our future holds, Lee, you must know that you, and only you, hold my heart. You give my life beauty and joy. You're like a song, the melody of you playing within every beat of my heart. I will love you until the end of my days. That is my solemn vow to you."
What I haven't come to terms with yet and why I keep pacing is if Lorenzo meant what he said. All I know is that he hasn't texted or called me—which in and of itself is probably the answer. It's just not the answer that my heart is willing to accept.
But then again, I'm the one who walked out on him.
I didn't want to. But I knew I had to. Yes, initially, I felt betrayed. But I know in the furthest depths of my heart that he loves me.
And that's the real reason I left.
I want what's best for both Lorenzo and Montrovia.
I was lying when I told him I don't care what happens there. His country and my life are inexplicably entwined. My mother had discovered the plot to destroy it, and I am fated to do the same.
Hopefully, before it's too late.
We hope you are enjoying the book so far. To continue reading...
The Dauntless
Jillian Dodd
Copyright © 2023 All Rights Reserved
Also in this series
Also by this author