Peril in Little Leaf Creek
Living in the country comes with rampant gossip, a stubborn next-door neighbor, and another murder.
Book info
Sample
Audiobook
Media
Author updates
Lists
Synopsis
Living in the country comes with rampant gossip, a stubborn next-door neighbor, and another murder… 
Cassie Alberta is settling into her new life in Little Leaf Creek. She is slowly starting to put the unexpected death of her husband and the life she had in the city behind her. She is enjoying the quaint town and her beautiful natural surroundings. Her next-door neighbor's lovable dog has stolen her heart. And although she never expected to live next to two goats she is liking them more every day. But her contentment turns to shock when a dead body is found in the woods near her home.  
When the death is originally called an accident, Cassie partners with her reclusive ex-cop neighbor to help prove that it was murder and find the killer. Her plan to keep things simple and enjoy single life seems to be becoming impossible when two handsome locals are vying for her affections. Cassie traverses a mountain of clues and suspects and heads straight toward danger. 
Will the culprit be caught before Cassie becomes the next victim?
Peril in Little Leaf Creek is the fast-paced second book in the Little Leaf Creek Cozy Mystery Series. If you like unexpected twists and turns, lively personalities, lovable animals and a never-ending list of suspicious characters, then you'll love Cindy Bell's heartwarming whodunnit.
Release date: September 2, 2020
Publisher: Independently published
Print pages: 238
* BingeBooks earns revenue from qualifying purchases as an Amazon Associate as well as from other retail partners.
Listen to a sample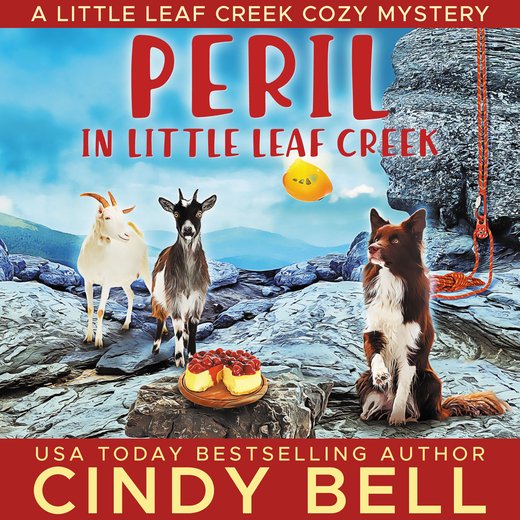 04:34:51
125.83 MB
9781667035628
September 12, 2021
Cindy Bell
Peril in Little Leaf Creek
Cindy Bell
"Higher." Sebastian Vail grunted as he eased the piece of wood up against the ceiling. His arms flexed under his rolled up sleeves, as he added pressure.
"Like this?" Cassie Alberta blew a strand of hair away from her eyes as she struggled to hold the wood above her head. She raised up on her toes and tightened her muscles, hoping not to lose her balance.
"Perfect," Sebastian replied in his smooth accent.
Do not be distracted, Cassie. She squeezed her eyes shut and focused on keeping the board in the air as she heard the drill whir to life. What had started as a simple patch in the ceiling, had turned into a crown molding project, thanks to Sebastian's know-how, and insistence. She wondered if he had ever done anything simple in his life, or if he always went for spectacular.
"Alright, nice and easy, let go," Sebastian murmured, as if speaking too loud might cause the entire ceiling to cave in.
As Cassie slowly pulled her fingers away they trembled, both from exertion, and from nervousness. After purchasing a fixer-upper, a two-story farmhouse in Little Leaf Creek, Sebastian, who owned a farm that backed up to her property, had practically taken over her repair plans. She didn't mind, but she still wasn't sure how to take him. He pushed his blond hair back behind his ears and flashed her a wide smile.
"Pretty, right?"
"So pretty." Cassie gazed into his warm brown eyes for a long moment, then blinked and looked up at the molding. "I mean, I'm sure it will be, once we get it painted."
"Did you look at those color swatches I brought over?" Sebastian pulled a dark blue bandanna out of his back pocket and used it to wipe the sweat off of the back of his neck. He jumped down from the table they'd both been standing on in order to reach the ceiling, and offered his hand to her to help her down.
Cassie eased her way off the table and pretended not to notice the way her mind spun as his fingers curled around hers.
"Actually, I haven't had a chance, yet." Cassie's heart skipped a beat as he glanced over at her. Was that disappointment she saw in his eyes? "I'm still unpacking, and I've taken on some more shifts at Mirabel's, so it's been a bit of a juggling act."
"Right, no rush." Sebastian tucked the bandanna into his back pocket again, then swept his gaze along the ceiling. "I think you're really going to like it when it's done." He placed his hands on his hips and leaned back some as he surveyed their work.
"Cassie!" Someone called her name as the front door swung open. "Cassie, are you home?"
Cassie recognized the voice this time. It belonged to Detective Oliver Graham.
"Oliver, what are you doing here?" Cassie smiled.
"Oh, I'm going door to door, just notifying the residents on this street about an incident." Oliver's words slowed as his gaze settled on Sebastian. "Sebastian."
"Detective." Sebastian pulled his baseball cap on over his blond hair, then narrowed his eyes. "What incident?"
"There was a burglary in Freemar, and the police there think the two suspects probably fled in this direction. Maybe headed into the woods and even up to the cliffs. Since your farm has direct access to the woods, and Cassie's backyard backs onto your farm, I figured this might be the area they would head for." Oliver shifted his gaze back to Cassie, his sharp gray eyes met hers. "You'll want to make sure that you keep things locked up, at least for the next few days."
"Are you sure they're around here?" Cassie frowned at the thought. She'd moved from the big city to a small town and expected things to be a little slower, as things had been during the years she had grown up in an even smaller town. So far that hadn't been the case. If anything, everything moved fast in Little Leaf Creek. Good news, bad news, and gossip, traveled at the speed of light.
At the first sign of a violation, the historical society snapped into action. The police were called for everything from bikes piled up outside of the corner store, to ducks blocking the roads. Town hall meetings were called regularly to ensure that the community knew about the rules in place and could vote on new rules being introduced. The people in Little Leaf Creek were quick to react, and to judge. So far she hadn't exactly been accepted with open arms by everyone into their community.
"If I was sure, they'd be in handcuffs." Oliver smiled.
"So, you're really telling every resident on this street, in person?" Sebastian tipped his cap up some as he looked at Oliver. "That's quite kind of you to go out of your way, when you could easily make a call or send a text."
"I figured Cassie might be home." Oliver shrugged as he glanced at Sebastian. "I wanted to make sure she was safe, since she lives alone."
"She's safe." Sebastian's lips spread into a full smile, one that didn't reach his eyes, or the tone of his voice.
"Thanks for coming by, Oliver." Cassie walked toward the kitchen. "Let me get you a drink before you head out. It's hot out there, you must be thirsty."
"Thanks Cassie." Oliver smiled.
"I'll grab you a glass of lemonade, too, Sebastian." Cassie focused on finding clean glasses, and poured three servings of the lemonade she'd made that morning. In her old life, she bought fresh squeezed lemonade, she didn't make it herself. In her old life, she didn't often have guests just pop in. A twinge of guilt rippled through her as she realized that her heart still pounded swiftly. Why? Why did she get stirred up by either of them? She had no right to even think about being attracted to another man. Not after her husband had died, not even a year before.
Get it together, Cassie. She took a deep breath as she tucked one of the glasses between her forearm and her chest, and held the other two in her hands. These men aren't the least bit interested in you, and fooling yourself into thinking that they are is only going to make your life harder.
Cassie returned to the living room and found that Sebastian and Oliver had stepped out onto the front porch.
Cassie nudged her way through the screen door and out onto the porch as well.
"Oh, let me get that." Sebastian plucked the glass from her hand.
Cassie held out one of the glasses to Oliver.
"I guess you have your work cut out for you then?"
"I do." Oliver took the glass as he met her eyes. "Thank you for this." He took a sip, then glanced away as his lips puckered.
"A bit too tart?" Cassie frowned as she recalled her nearly hour long debate about whether to add more sugar.
"It's perfect." Oliver licked his lips. "Sebastian, since your property has so many outbuildings, it would help me out a lot if you could keep an eye on them. Keep the barn locked up. At least until I get my hands on these two."
"Is it kids you're hunting?" Sebastian leaned against the railing of the porch and swallowed a mouthful of lemonade.
Cassie noticed his eyes crinkle as he swallowed.
"Quite a kick there, Cassie." Sebastian winked at her. "It's not every girl that can handle a strong lemonade."
"It was my first try." Cassie winced. Girl? She was closing in on forty, and the thirty-seven year old man, who could have passed for being in his twenties, called her 'girl'. He always seemed to be teasing her. "I might need a little more time to get the hang of it."
"I'm happy to test it out along the way." Sebastian's eyes lingered on hers for a moment before he looked over at Oliver. "So? Is it a couple of kids? I mean, is it really that big of a deal if they grabbed a few bags of chips?"
"It was an armed robbery." Oliver's tone hardened slightly as he turned to face Sebastian. "I'm sure you don't want a couple of kids running around your property with a gun they don't know how to use. It's serious. Besides, one is nineteen, one is twenty. They're not kids."
"Might as well be." Cassie took a sip from her own glass. Yes, pure sour. She had forgotten to stir it up before she poured it. "But a gun in the wrong hands is always dangerous."
"Just do me a favor and keep an eye on your outbuildings, alright?" Oliver shook his head. "The sooner we get these two behind bars, the safer everyone will be."
Cassie caught sight of her neighbor, Tessa Watters, as she opened her door to let her dog, Harry, out into the yard. Harry bolted toward the fence and barked at the three gathered on the porch. Cassie raised her hand to wave to Tessa who gave a quick wave, then pulled the door shut. She glanced over at Oliver, who turned away, as if he hadn't seen Tessa, though she was certain that he had.
"Are you ever going to tell me what really happened between the two of you?" Cassie crossed her arms as she stared at Oliver's back.
"Nothing more to say about it." Oliver cleared his throat as he turned back to face her. He reached into his pocket and pulled out a dog treat, then tossed it across the side yard and fence, right into Harry's mouth.
The dog bounded back and forth along the fence, clearly overjoyed. The goats, Billy and Gerry, in the large backyard cast lazy stares at the dog, then returned to nibbling on the shrubs.
"Good boy, Harry." Oliver smiled. Not the strained expression that Cassie had come to recognize as perpetual tension in the man's muscles, but a full, relaxed, and warm smile. Concentrating on it for just a moment, she didn't hear what Sebastian said.
"What was that?" Cassie looked over at him.
"I just said, I'll be sure to check on the buildings." Sebastian met her eyes, then took another sip of his lemonade.
"Great, thanks." Oliver drew her attention back to him.
"It looks like Harry is a big fan of yours." Cassie smiled as the collie mix jumped up against the fence and gave Oliver a friendly bark.
"He's a good pooch." Oliver tossed him another treat.
"I guess you two were pretty close. As close as you and Tessa were." Cassie tipped her head to the side as she scrutinized his expression. "What changed that?"
"It's in the past." Oliver settled his eyes on hers.
"I just hate to see two people who obviously used to be friends and care about each other, kept apart by some silly grudge. Maybe if you told me about it, I could help." Cassie smiled.
"Well, that works both ways. When you want to talk about what happened with your husband, I'm all ears." Oliver's jaw rippled.
"Oliver!" Sebastian set his glass down hard on the porch railing.
"All I'm saying is you don't have to carry it alone, you know. Maybe there's something I can do to help." Oliver searched her eyes.
"Stop." Cassie took a step back. "Please." She wasn't ready to talk about her husband's sudden death.
"I'm sorry." Oliver glanced away from her. "I didn't mean to upset you."
"It's okay." Cassie smiled slightly, as she tried to reassure him. "I just don't want to talk about it."
"I think you better hurry and go and catch those criminals before they get away." Sebastian shifted closer to Cassie as he fixed his gaze on Oliver.
Cassie's cheeks burned from the shock of Oliver talking about her late husband. Oliver was a difficult man to read. One moment she thought he was kind and determined, the next she saw him as callous and obsessive.
"I'll be on my way." Oliver ran his hand back through his neatly trimmed dark hair and glanced over at Cassie. "If you ever want to talk about it, I'm here." He turned and walked down the steps of the porch.
"Thank you." Cassie called out to him.
Sebastian took a step toward Cassie.
"Are you okay?"
"I'm fine." Cassie didn't want to talk about her history. She wanted to leave it in the past. After all, that was one of the reasons she had moved to Little Leaf Creek.
"Trevor!" Sebastian called out.
Cassie followed Sebastian's gaze toward the street and saw Trevor Danel, a local artist who had created a beautiful statue out of harvested scrap metal, which now resided in the center of her front yard.
"Sebastian." Trevor stopped on the sidewalk. "Did you hear about Clyde?"
"What about him?" Sebastian took a step closer to him.
"Hi Trevor." Cassie waved him toward the porch. Although they had their disagreements, when someone was found murdered on her front lawn on the first day she moved into Little Leaf Creek, they were slowly putting that in the past and becoming friends.
"I'll show you." Trevor looked at Sebastian. "Wait until you see this." He ran up the steps of the front porch and whipped out a tablet from one of the deep pockets of his over-sized jacket. Barely in his twenties, Trevor still carried the exuberance of adolescence while trying to forge his way into adulthood.
Cassie could see how he must have looked as a young child, bubbling over with excitement, as he looked at Sebastian eagerly and held up the tablet.
"Here, I'll show you." Trevor pressed the play button on the screen and handed it to Sebastian, then looked at Cassie. "One of the best climbers in the whole state is about to spend some time on our mountain. Watch!"
Sebastian held onto the small tablet as Cassie and Trevor stood close to him and watched the video play.
A man who looked to be in his thirties appeared on the screen, with a man closer to Trevor's age right beside him.
"I am so jealous of Aiden!" Trevor groaned. "I wish it was me going camping and climbing with Clyde. But I'm not much of a climber." He shrugged.
In the video, the two men bantered back and forth about their plan to go rock climbing in an area that was generally not explored by most. Clyde listed the dangers they might face, while Aiden joked about wrestling a mountain lion with his bare hands.
"That was a house cat, and you hid in the tent while it ate your fish!" Clyde gave Aiden a hard clap on his back as they both burst out laughing.
"Isn't he great?" Trevor grinned as he stared at Clyde. "He taught me so much when I was a kid. I wasn't really into camping, but he still made sure that I learned."
"He sure has a lot of enthusiasm." Cassie glanced up from the tablet and smiled at Trevor. "He must mean a lot to you."
"He does." Trevor looked at her. "The last time I saw my dad, when he made one of his rare visits to town, Clyde called him out for walking out on my mother. They all went to high school together." He shrugged. "It was about ten years ago, but it still sticks out in my mind. I'd never seen anyone stand up to my dad before, but Clyde wouldn't back down. He didn't have to do that, but he did it anyway."
"He's a decent fellow." Sebastian nodded, as the video came to an end. "I hear he's going to open a business with Shane Carlo. They want to become some kind of tourist magnet for rock climbing and adventure trips."
"That would be amazing!" Trevor took a deep breath. "But he's still not getting me on that mountain, no way."
"What's so wrong with the mountain?" Cassie raised her eyebrows as she smiled at Trevor.
"Well, besides the fact that I am not fond of heights and rock climbing. Bugs." Trevor scrunched up his nose. "This big!" He held his hands wide apart from each other.
"Oh, it can't be that bad." Cassie laughed as she watched him playfully swat his hands through the air.
"Oh yeah? When was the last time you went camping?" Trevor smiled.
"It's been a long time." Cassie's voice softened as she recalled a few star-filled nights she'd spent at summer camp as a child. It seemed like a lifetime ago.
"We could go sometime." Sebastian leaned up against the railing beside her. "I'll protect you from the bugs."
Cassie briefly looked into his eyes and wondered about the warmth she read there. Was he laughing at her?
"I'm sure you have plenty of better things to do." She grinned at him, then looked back at Trevor. "But I'll go if you go, Trevor."
"That's a big nope." Trevor shook his head as he backed away from the two of them. "Zero interest in getting any form of itchy rash. You know that plants can actually attack you?" He frowned. "Do your research, that's all I'm saying."
"I'll make sure I do that." Cassie grinned, as she nudged him with her elbow. "But I bet there are scarier things than a few creepy-crawlies."
"Maybe, but I don't want to find out." Trevor tugged his phone from his pocket, checked a message, then started toward the steps of the porch. "Going to go see him off. Later guys!" He waved to them as he pounded down the stairs.
"I miss those days, being that excited." Cassie glanced over at Sebastian. "Do you?"
"I still have them." Sebastian met her eyes, then angled the brim of his cap a little lower over his face. "I'd better go check those outbuildings as the detective suggested. Make sure you lock up."
"Thanks for all your help, Sebastian. Let me get my checkbook." Cassie turned toward the front door of the house, but his long fingers that wrapped around her wrist, stopped her.
"I'm not taking any money from you, Cassie." Sebastian released her hand as she turned back to face him.
"That's kind of you, Sebastian, but you've spent so much time helping me, I need to pay you something." Cassie frowned as she crossed her arms.
"Your company is plenty." Sebastian stepped down off the porch.
"It's not nearly enough." Cassie followed after him, determined to get her point across. "Sebastian, please, I don't want to feel like I'm taking advantage of you."
Sebastian reached the gate, then looked back at her.
"I've told you before. That's not how things work around here, Cassie. You may be used to everything being about money, but here, it's about community. At least, it is to me."
"But I have the money to pay you. I have the money." Cassie sputtered out her words. They fell heavily on her ears as she spoke them, each one sounding more and more petty to her.
"Good to know." Sebastian nodded to her, then pushed through the gate and walked off.
Cassie's heart sank as she wondered if she'd just offended him, and changed his impression of her.
She spent the rest of the day working on the house. Every time she finished one chore, she noticed three others that needed to be done. But it didn't feel like a burden to her. She felt as if she finally had a place of her own. A place that didn't harbor old memories, a place that could be carved out to represent her, and no one else.
By the time Cassie sprawled out in bed that night, her muscles ached, as did her heart. As much as she wanted to start her new life, there were things about her old life that she still hadn't been able to let go of, and Oliver had stirred that up for her that day. She squeezed her eyes shut and forced the thoughts away.
***
What felt like moments later, Cassie's alarm sounded, summoning her to get up as she had to go to Mirabel's Diner for the early morning shift.
After getting ready Cassie drove to the diner. She opened the door to the diner and stepped into the intoxicating aroma of freshly brewed coffee and cinnamon rolls baking in the kitchen. As she took a deep breath, a smile settled on her lips. She'd trade all of the luxury she'd experienced in her adult life, for that one moment, that one experience.
"Cassie!" Mirabel Light rounded the counter and threw her arms around her in a warm hug. "So good to see you this morning."
"It is?" Cassie smiled, dumbfounded, as the other woman stepped away from her.
"Sure."
"Is there something special about today?"
"Every day is special with you here." Mirabel grinned. "Let's make sure we have a wonderful day."
"Okay." Cassie laughed, as she grabbed her apron from the hook next to the kitchen doors. "What's gotten into you today?"
"Can't I just be happy?" Mirabel flicked her long, red braid over her shoulder, then raised her eyebrows. "It's not illegal, you know?"
"Of course not." Cassie walked up beside her. "I'm glad you're happy. You're almost always happy. You just seem happier than usual."
"It's going to be a great day." Mirabel took a deep breath. "I can feel it."
The front door of the diner swung open and a group of five people stepped inside, chatting away.
"I saw all of the flashing lights first thing this morning, even before I got the paper." The man in the front of the group shook his head as he approached one of the large tables in the middle of the diner. "It has to be something big for that many rescue vehicles to be going up there."
"What do you think it is?" A woman sat down across from him. "A mudslide?"
"It hasn't been raining enough for that." The man that sat down beside her shook his head. "Maybe someone got lost in the woods?"
"I heard that the police have been hunting a couple of burglars from Freemar." The youngest woman of the group sat down at the table. "I bet that's what it's all about."
"Maybe, but they were rescue vehicles." The woman who sat on the other side of her shook her head. "I don't think they would use rescue vehicles in a hunt for criminals."
"Unless someone got hurt in the process." The first man held up one finger. "I bet that's what happened."
"Listen to this crew." Mirabel smiled as she walked over to them with Cassie at her side. "Buzzing already this morning, are you?"
"Didn't you hear the sirens?" The youngest woman met Mirabel's eyes.
"Can't say I did, Sally. I must have already been here." Mirabel glanced over at Cassie. "Did you hear anything?"
"No, nothing."
"Well, then you missed it." Sally shook her head. "It was so loud I thought there must be a fire or something." She looked at the woman beside her. "It woke us both up didn't it, Heather?"
"Yes." Heather covered her mouth as she yawned. "And I'd rather be back in bed. But now I have to know what's going on."
"Anything on the town page about it?" Mirabel squinted as she tried to peer at Sally's phone.
"Nothing yet. Just a lot of people talking about the sirens, but no news on why." Sally looked up and straight into Cassie's eyes. "Why don't you ask Ollie?"
"Me?" Cassie laughed as she shook her head. "I can't do that."
"I saw him at your house yesterday." The first man who sat down grinned.
"Cool it, Cooper." Mirabel crossed her arms. "That is nothing to concern you."
Cassie marveled at the fact that the stranger knew about people coming and going from her house. This really was a small town.
"Sorry, but I think you have the wrong impression." Cassie looked toward the door as another group of people stepped inside.
Cassie walked toward them, ready to show them to a table and take their order. But before she could, a ripple of excitement broke out among them.
"My wife will let us know what's going on, she's one of the paramedics." A man at the front of the crowd pulled his phone from his pocket. His eyes widened as he looked at the screen. "It's Clyde!" He spoke up, probably louder than he intended. "It's Clyde, he died by the cliffs!"
We hope you are enjoying the book so far. To continue reading...
Peril in Little Leaf Creek
Cindy Bell
Copyright © 2023 All Rights Reserved
Also in this series
Also by this author