Chaos in Little Leaf Creek
Her new home comes with a sour-faced next-door neighbor, and a murder victim on her front lawn.
Book info
Sample
Audiobook
Media
Author updates
Lists
Synopsis
Her new home in the country comes with an antiquated historical society, a sour-faced next-door neighbor, and a murder victim on her front lawn…

Cassie Alberta needs a fresh start. Leaving the big city to put her husband's death behind her, she's immediately charmed by the quaint little town of Little Leaf Creek, even though her first encounter with her neighbor's dog and goats shows her that she has a lot to learn about country life. But her delight quickly turns to alarm when one of her first visitors is a dead body.

Shocked when she's accused of the crime, Cassie partners with her reclusive ex-cop neighbor to find the real killer. And when two handsome locals grab her attention, she finds the simple life she had hoped for in the small town has just become a whole lot more complicated. As the suspect list grows and the attempts on her life increase, simply surviving may be an impossible feat.

Can Cassie catch the true culprit before her final address is jail?

Recipe included: Vanilla Cake

Chaos in Little Leaf Creek is the fast-paced first book in the Little Leaf Creek Cozy Mystery Series. If you like unexpected twists and turns, lively personalities, lovable animals and a never-ending list of suspicious characters, then you'll love Cindy Bell's heartwarming whodunnit.

Buy Chaos in Little Leaf Creek to start solving the murder today!
Release date: August 6, 2020
Publisher: Independently published
Print pages: 234
* BingeBooks earns revenue from qualifying purchases as an Amazon Associate as well as from other retail partners.
Listen to a sample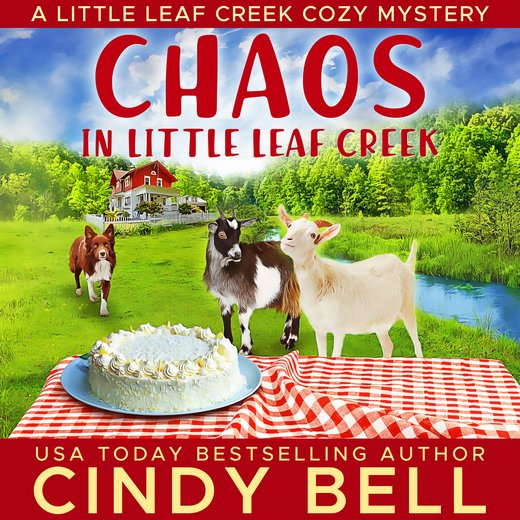 04:31:16
124.19 MB
9781667035949
August 24, 2021
Cindy Bell
Chaos in Little Leaf Creek
Cindy Bell
Chapter One
Cassie Alberta tucked a loose, brown curl back behind her ear and took a breath of the fresh air. Country air smelled different, and in some cases better. She had left behind the fumes of the city buses, but also the spice of the eclectic gathering of restaurants. In exchange she savored the scent of hay, mingled with the fertilizer it took to operate a farm. The farther into the small town she drove, the more the scents shifted. Fresh cut grass, the sweet scent of a local bakery, the heady aroma of sunbaked dirt on the side of the road. Summer was the worst time to move.
Cassie had discovered this quickly when hefting the items she hadn't wanted to put into the moving truck, into the trunk of her hatchback. Sweat trailed down the back of her neck, despite the cool air that blasted out of the vents in the dashboard.
Cassie's dark green eyes drank in the sight of the quaint shops that she passed at little more than a crawl. An ice cream shop, complete with hand-painted windows, and multi-colored wrought iron outside seating. A library positioned exactly in the center of town, with a mural that spanned the length of the front of the building.
Children reading with thought bubbles above their heads, filled with fantastic scenes from their imaginations. It was the library that had drawn her attention in the first place.
Cassie had told the real estate agent a general idea of what she wanted from her new town. After many years living in a bustling city, she ached for the small town of her roots. But even the small town she had grown up in had transformed into something far different, with splashy buildings, and a highway that ran right through it. She described a picturesque place, quiet, with many small businesses, and a small population. She wanted a place she could call home, her real home. She'd spent so much time feeling like a transplant in her luxurious surroundings, and she hoped that moving to Little Leaf Creek would change that.
However, the looks from the people she passed sent a different message. The locals, mostly dressed in denim and t-shirts, sent odd looks in the direction of her hybrid car, and squinted through the windows at her unfamiliar face.
Cassie smiled at them.
They didn't smile in return. But for a young girl that giggled as her mother tugged her into a shop.
Cassie took another deep breath and reminded herself that it would take some time to blend in with the locals. She had plenty of time to spare. She turned down a side road, and passed a parade of small houses, each with a small fenced yard, and a lush, full garden. She wasn't sure if it was the library, or the row of homes, all different colors, and yet all so similar, that had made Little Leaf Creek the place she wanted to live. Perhaps it was every unique detail that the residents of Little Leaf Creek took the time to infuse into their homes.
As Cassie drove a little farther out, the houses and properties became larger. There, nestled between a portion of the creek, and a neighbor's home, stood her house. Her house. It belonged to no one else. Only her name was on the deed. That had taken some time to comprehend. Every decision she made about the two-story farmhouse would be hers, and hers alone. From the look of the faded paint, and the untended garden, she knew there would be a lot of decisions to make. But she was ready.
Cassie parked in the driveway and sat for a moment to gather her thoughts.
Everything in her life had changed so quickly. She knew that was what she needed. She'd tried for a few months to let things go back to normal, but there was no normal anymore. She discovered that if she wanted normal, she'd have to invent a new one, and she'd set out to do just that. She walked around the outside of the house to look at her new house from every angle, then she climbed the stairs onto the front porch and felt the wood of the railing beneath her palm. Her stairs, her wood, her porch.
The thoughts swirled through her mind as she turned to look across the wide and mostly barren front yard.
Cassie stood on the front porch and smoothed down the skirt of her sundress. The moving truck wouldn't arrive until the next day. She had enough in her trunk to get her by until then. However, she felt no urge to unpack. Instead, she wanted to savor the sensation of standing on her front porch. She ran her fingertips across the peeled paint on the railing and thought about what color she might like it to be.
Michael had always liked red. Red ties, red cars, even red curtains. She was happy enough to allow him his preferences, as she didn't have too many of her own. Now, she had to figure out what it was that she liked.
Cornflower blue, like the shade of her dress? She looked from the material, to the railing, then shook her head. She wouldn't want to take any blue away from the sky.
Cassie stepped out from under the awning that stretched across the porch and looked up at the bright sky. If it weren't for the quaint town, and the artistic touches throughout the town, the sky would have sold her on the location. Somehow it seemed bigger here. Maybe because there were no skyscrapers to interrupt it. She noticed a small plane in the distance. It flew over what appeared to be unending farmland. She wondered about the pilot inside. Could he see her? She waved, just in case, then laughed at herself for the silliness of it all.
"Time to get to work, Cassie." She walked across the front yard and back to her car. As she opened the trunk, she heard a sharp bark. She looked to the side and noticed a dog poking his nose through the slats of the wooden fence that surrounded her neighbor's yard.
"Hi there, pooch." Cassie smiled at the dog. "Don't worry, I'll stay right over here."
Cassie never had a pet in the city, their lifestyle didn't coincide with taking care of other living creatures. But when she was a little girl, living in a town where the roads were made of dirt and the buildings had all begun to sink, she'd collected neglected and wounded animals. Much to the disdain of her mother, she'd harbor them all in her bedroom and nurse them back to health. Whether it was an injured squirrel, or a skinny cat, she always found a way to help them.
"Maybe I'll get a pet." The thought brought a smile to her lips.
Chapter Two
As Cassie hauled a few boxes up to the front porch, the dog continued to watch her. He barked now and then but seemed content to mostly watch her come and go.
As Cassie lugged the last box onto the porch, she noticed the dog had been quiet for some time. She glanced over at the fence and saw no sign of him.
"I guess I'm not that interesting after all." She laughed, then began carrying her boxes into the house. On her way back out to get the last one, she found the dog, seated right next to it, on her porch.
"Uh oh!" Cassie stared at the dog. He had brown and white fur and pointy ears. He looked like a collie mix. "Are you an escape artist, is that it?" She looked over at the fence and noticed a pile of loose dirt that had been dug away from the bottom of the fence. "You sneaky thing." She held her hand out to the dog.
The dog gave it a sniff, then a lick.
"You know, it's not going to make a good first impression if my new neighbors think I stole their dog." Cassie gave him a quick pet. "Come on you, it's time to get back home." She hooked her fingers around his collar and guided the dog back toward the fence. She walked the length of it until she came to a small gate at the back of it. She grasped the rusty latch and gave it a light tug. It moved easily, allowing the gate to swing open.
Relieved, Cassie nudged the dog through the gate, then started to close it.
Before she could, two goats burst through it, and out into the open field that backed up to the fence.
"Oh no!" Cassie gasped as the goats pranced with joy. The dog ran out as well, and began to bark at and chase the goats.
This certainly wasn't what Cassie had expected on her first day in her new home. As she watched the dog chase the goats, and the goats dodge the dog every time, she wondered for just a second if all of it might be a strange dream. But the sharp bark of the dog brought her focus back to reality. She had to do something, and fast.
It would make a terrible first impression with her neighbors if she lost the dog and goats before she'd even had a chance to introduce herself.
"Get back here!" Cassie rushed toward the goats in an attempt to scare them back through the open gate. Instead they kicked up their legs and ran in the opposite direction. The dog barked loudly and chased them from the other side, which sent the goats running straight toward her. She just managed to jump out of the way before they would have collided with her. The sudden movement of her jumping out of the way startled the goats, and they bolted off in the other direction again.
"Stop, please!" Cassie groaned as the dog chased the goats farther into the field behind the house. If there was ever a time when she wished she could melt into the ground, it was then. If only she had the chance to start her day all over again, maybe she could avoid this horrible situation. But the fact was, she had to hunt down the goats before they could get too far away.
Cassie ran in a wide circle around the goats and the dog. She couldn't get the goats to go through the gate, but her presence prevented them from running any farther through the field.
"It's time to go back home, goats!" She pleaded with the animals and shooed them in the direction of the gate. Her heart skipped a beat as it looked as if they might actually cooperate. But an instant later, they ran off in two different directions.
"What's going on out there?" A gruff voice shouted from the back porch of the house.
"I'm so sorry!" Cassie looked up at the woman who walked down the steps and through the yard, toward the open gate. She walked with an uneven gait, favoring her right leg. Her silver hair framed her face in layered waves. She had weathered skin and looked to be in her sixties. "Your dog and goats are loose and I'm trying to get them back inside, but I'm not that familiar with goats, and they don't seem to like me much!" She lunged for the goats again, but the heel of her shoe snagged in the soft soil and snapped off, causing her to fall forward right onto the ground. She pushed herself up as the dog and goats all hurried over to sniff at her curiously. She winced as the dog licked her cheek.
"Alright now, that's a good boy, Harry." The woman reached down and shooed the dog away from Cassie. Then she offered her hand to Cassie. Her striking blue eyes settling on her. "Sorry, he's a friendly boy."
"Thank you." Cassie grabbed her hand and managed to get to her feet. "I'm the one that should apologize. I should have just told you that Harry got out."
"Oh yeah, he opened up the gate, did he?" She eyed her from beneath furrowed eyebrows.
"No, I opened the gate actually." Cassie took a sharp breath as she tried to form a clear explanation.
"So, you are the one that let my goats and my dog out?" She looked past her, at the house beside hers, then shook her head. "I heard I was getting a new neighbor. Would that be you?"
"It's me, Cassie. Cassie Alberta." She winced. "But I really didn't mean to let the goats out, and no, I didn't let Harry out. You see, I think he was excited when he saw me arrive, and he dug his way out from under the fence."
"Not again." She grunted. "I've been trying to keep this dog fenced in for over a year. He always finds a way out. I'll be sure to fix that hole." She looked down at the dog seated in front of her. "You've got to stop being so friendly. That's not the way we do things around here."
"He's so sweet." Cassie laughed.
"I'm serious." She turned her attention back to Cassie. "Now look here, Cassie Alberta. I know that you're not from around here, and I'm sure that you have no idea who I am, but you'll hear plenty about me soon enough, and I want you to keep one thing in mind whenever someone tells you something about Tessa."
"Oh, don't worry, I would never believe gossip." Cassie waved her hand as she took a slight step back from her.
"You keep in mind that everything everyone says about me is true." Tessa looked straight into her eyes. "I like my privacy. I like to be left alone. If you're going to be my neighbor you're going to need to get used to that real fast." She slapped the outside of her thigh hard enough to make a loud cracking sound.
Cassie jumped at the sound.
The goats and dog bolted inside the fence. Tessa snapped the gate shut, then she turned and stalked back up onto the porch, and through the door.
Cassie dusted off as much of the dirt as she could from the skirt of her sundress, and sighed as she looked up at the tightly closed door. As far as first impressions went, she thought that might have been one of the worst. Dizzy from the entire encounter, and covered in a thin sheen of sweat, she stepped inside the house to wash up. Although she had a few changes of clothes, most of her wardrobe was on the moving truck. She found a pair of denim shorts and a tank top and grabbed her brush as she headed into the bathroom. When she turned on the water in the bathtub, the faint shriek that emitted from the faucet surprised her, but the loud shaking that followed made her jump back. When water finally dripped from the end of the faucet, the thickness and color of it shocked her.
"No, no, no!" Cassie groaned. She'd taken all of the steps to have the house inspected. She'd been assured there were no serious repairs to be done. Clearly, there was one very important issue.
Cassie turned the faucet back off and quickly changed. With a bit of dirt still smudged on her elbows she left the house behind. She hoped a drive into town would help take her mind off the embarrassing encounter with her neighbor. Now, she was on a mission. She had to find a plumber.
We hope you are enjoying the book so far. To continue reading...
Chaos in Little Leaf Creek
Cindy Bell
Copyright © 2021 All Rights Reserved
Also in this series
Also by this author