Murder on the Pilgrims Way
Book info
Sample
Audiobook
Media
Author updates
Lists
Synopsis
Pearl receives a surprise present from her mother, Dolly - an early summer break at a riverside manor house that has been recently transformed into an exclusive hotel - the newly named Villa Pellegrini.

Pellegrini - the Italian word for pilgrims - reflects the fact that the building lies on the old Pilgrims Way into Canterbury, and Pearl is looking forward to the break, not least because DCI Mike McGuire has been neglecting her due to his work. But when she discovers that she's actually booked in for a cookery course from the Italian celebrity chef, Nico Caruso, she begins to think again . . .

Pearl doesn't welcome instruction on cookery at the best of times, and certainly not from an arrogant chef like Caruso. She goes along, intent on challenging Caruso's egotism - and a long tradition of men dominating gastronomy - but soon finds herself distracted, not only by her enchanting surroundings but by the disparate selection of guests.

She even begins to enjoy Caruso's attentions - and his cookery - until one of the guests goes missing and it becomes clear that murder is on the menu.
Release date: April 6, 2017
Publisher: Little, Brown Book Group
Print pages: 304
* BingeBooks earns revenue from qualifying purchases as an Amazon Associate as well as from other retail partners.
Listen to a sample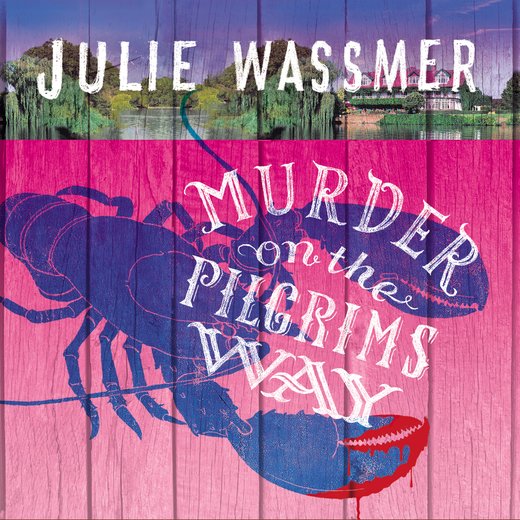 07:11:43
197.63 MB
April 6, 2017
Little, Brown
2017
Murder on the Pilgrims Way
Julie Wassmer
Pearl was listening to her mother, Dolly, on the other end of the phone as she took in the scene beyond her bedroom window. It was late afternoon and the sun had finally escaped behind clouds, the fading light causing the flat sea to appear like a grey steel plate. A few beach walkers were heading away from the outgoing tide and towards the comfort of the Old Neptune – the white clapboard pub that had once been swept away by a surge tide, only to be rebuilt from the reclaimed timbers and to remain ever since, resolutely upon Whitstable's shore, as an integral part of the local landscape.

The old pub's fortitude was a reflection of the defiant spirit of this little North Kent fishing town whose former history was still evident in the network of ancient alleyways that had been used by local smugglers to evade the coastguard's men. A rebellious spirit continued with more recent campaigns, including one to defend the town's independent shops from the threat of encroachment by chain stores.

Eight miles offshore, the Red Sands Army Fort served as a reminder of the anti-aircraft defence that had housed more than two hundred soldiers in a valiant effort to prevent the passage of enemy planes on their way to London. After the war, it had been duly commandeered by pirate radio stations in the 1960s, when a group of local DJs began spinning Mersey Beat singles in the same bleak quarters in which soldiers had once risked their lives. Now there was talk of the fort becoming a holiday resort, complete with apartments and helipad, demonstrating that one of the town's greatest secrets of success was its continuing ability to adapt without sacrificing its inherently quirky nature.

Pearl watched a group of sparrows as they hopped among clumps of cerise-flowered mallow which grew wild on the shingle together with other plants that had dared to spread beyond garden boundaries. Small shrubs of sage and white Japanese rose had found a home close to yellow horned poppies which vied for attention with viper's bugloss, whose deep blue petals proved so irresistible to bees. Much closer to the high waterline grew sea kale, soon to burst into small white flowers, while the shape of its silvery-green leaves reflected that of the waves themselves.

Reacting to something her mother had just said, Pearl looked away from the window and ran a hand through her long dark, tousled curls as she asked: 'But why on earth does this have to be such a secret? If you won't even tell me where we're going tomorrow, how can I know what to pack?'

Glancing towards the empty suitcase on her bed, Pearl recognised with some frustration that while she liked to travel light it was Dolly who always over-packed, insisting on using any empty space in her daughter's luggage to cram items of clothing she would never get to wear. A trip to the Greek Islands had been testament to that when Dolly had sworn she would need red espadrilles, trainers, sequinned stilettos and even a set of flippers – only to spend the entire two-week holiday happily slopping around in a pair of flip-flops.

The trip ahead of both women the next day was a shorter one – a well-earned week-long break. Pearl had been looking forward to it for months since it was, in fact, a belated birthday gift from her mother. Pearl's birthday was back in February but now in early June, and on the eve of their departure, she was none the wiser as to their destination because Dolly still insisted on secrecy.

'Are we flying?' she now asked.

'You know how I hate air travel these days,' Dolly said dismissively.

'Travelling by boat?'

'With my mal-de-mer?'

Dolly's seasickness was legendary and somewhat ironic for the widow of an oyster fisherman, though Pearl herself had inherited her father's love of the sea. She lived in Seaspray Cottage – aptly named since its garden backed straight on to the shore – and her closest neighbour was an old yawl which now lay permanently beached on Starboard Light Alley. Rescued by enthusiasts, the boat was a reminder of another time when ship construction had dominated Whitstable's shores and tall, three-masted schooners had towered over the roofline of dwellings like Seaspray Cottage. In 1870 alone, over a hundred master mariners had been listed in the town, and the trade in oysters, for which Whitstable was famous, had flourished.

These days, yawls were only to be seen during the Regatta, though the local oyster tradition continued in the form of an annual festival, as well as their regular appearance on the menu of Pearl's own High Street restaurant, The Whitstable Pearl. Pearl's oyster bar satisfied the appetites of visitors and natives alike, as the town had burgeoned in the last ten years with fishing cottages becoming gentrified by the DFLs, the town's acronym for the Down-From-Londoners. They flocked to Whitstable at weekends and during summer months to visit seaside boltholes while the old Favourite sat moored for ever on the shingle bank beside Pearl's cottage, her bowsprit pointing like an accusing finger at a block of 'new build' apartments across the road.

'At least tell me if I should pack a swimsuit?'

'Questions, questions!' said Dolly. 'Why do you have to know everything beforehand? Relinquish control and see where life takes you.'

'But it may take me to a swimming pool,' said Pearl. 'So unless you want me to go skinny dipping …'

Dolly paused before conceding, 'No pool.'

'Shame.'

'But there may be a Jacuzzi.'

'Really?'

'I don't know for sure.'

'Now you're teasing me.'

'And you're interrogating me. Stop playing detective and just go with the flow.'

Pearl sighed to herself, knowing all too well that, for her, mysteries were for solving, not ignoring. This was the main reason why, at the age of eighteen, she had set her heart on becoming a police detective, only to give up on her basic training just a year after beginning it, when she discovered that she was pregnant with her son, Charlie. Instead of continuing with the career she had always wanted for herself, she had remained in her home town and, over the course of two decades, built up a small but successful business with The Whitstable Pearl. Eventually, the need to revisit old dreams and unfulfilled ambitions had resulted in her starting up a new venture – Nolan's Detective Agency, based in an office consisting of a converted beach hut in her sea-facing back garden.

Pearl prided herself on having solved most of her cases to date, including several murder investigations, in the course of which she had found herself treading on the toes of DCI Mike McGuire. A Canterbury City police detective, McGuire had entered Pearl's life during a case involving a drowned oyster fisherman and had stayed ever since – though far too intermittently for Pearl's liking – remaining as slippery as an oyster in its shell …

Pearl was just considering this when Dolly broke her train of thought.

'So, yes, do bring a swimsuit and a few nice outfits,' she said. 'Plus some casual wear for the day.'

'No hiking boots?' asked Pearl, drily.

'Definitely not. Though it is an activity break of sorts,' her mother added.

'What sort of activity?' asked Pearl, becoming suspicious.

But Dolly signed off quickly. 'I'll pick you up tomorrow morning around ten-thirty.'

'Wait!'

Infuriatingly, Dolly had already put down the phone. Catching a glimpse of herself in the mirror above her bed, Pearl saw that her face was now creased into an anxious frown. The window pane rattled with a stiffening breeze but outside, the sea was still calm. Though the weather was set fair there was always a chance that things might go awry because summer rarely settled in Whitstable until July came marching in, bringing with it hordes of visitors. At that time, Pearl would never be able to leave the restaurant but for the next few days she was certain that her staff could cope, not least because she had hired a new young chef, Dean Samson, who had proved himself capable of replicating all her most popular dishes – and a few more besides.

It was an uncomfortable truth that Pearl was becoming dispensable – not only at her restaurant but in her son's life too. At twenty years old, Charlie was managing quite well on his own, with a flat in Canterbury and a place at university studying graphic design. If it wasn't for the few evenings he waited table in the restaurant, Pearl might not have seen much of him at all these days. It was indeed a challenge to relinquish control of the business, but with Whitstable's summer season yet to begin, she needed a break just as much as Dolly did. Nevertheless, the phrase 'activity holiday' was still troubling, particularly as some of Dolly's former favourite 'activities' included belly dancing and having once been part of a local group known as the Fish Slappers, whose fertility dances and elaborate handcrafted costumes had caused a stir at a number of Oyster Festival parades.

The bedroom door opened silently and in padded Pearl's rescue tabby cats to remind her it was feeding time. Pilchard mewed, while three-legged Sprat pressed his body up against the coverlet on the bed before pausing in his tracks at the sight of Pearl's suitcase. Both creatures seemed to eye her accusingly as though aware she was about to desert them. In fact, Pearl had made arrangements for her best friend and neighbour, Nathan, to take care of them in her absence, and knew that he would spoil them as much as he spoiled his own cat, Biggy, who lived in feline splendour with a variety of special chairs and designer fleeces. Pilchard and Sprat didn't do badly either, with a regular diet of salmon and fresh prawns from the restaurant but nevertheless the sight of a suitcase always provoked some concern and Pearl moved quickly to stroke them.

At that moment, the white sail of a small dinghy glided past her window. Pearl herself had been looking forward to spending an afternoon sailing with McGuire, only for him to bail out of the date a few weeks ago, citing pressures of work. She recognised now, in the light of Dolly's words, that McGuire remained perhaps the ultimate mystery – and one she might never fathom – though whether it was the attraction of opposites at work or, as she liked to think sometimes, the fact that he represented the perfect balance to her own passionate nature, she could not be sure. Certainly, in appearance, they looked as though they might have sprung from different tribes, for McGuire's blond good looks were almost Viking while Pearl, having inherited the physical traits of her father's Irish ancestry, was a tall, slim, dark-haired Celtic beauty with grey eyes the colour of moonstone. In spite of all the chemistry between them, McGuire had failed to call to re-book their date and the thought of this rankled for Pearl – almost as much as the lack of information offered by Dolly about their trip away.

Looking back at her suitcase, she decided to get on with the task of packing it, this time with renewed resolve as she selected a few light summery items from her wardrobe. Then her gaze fell on an item she hadn't seen for some time: a scarlet silk dress, fitted and off-the-shoulder. It was one she had yet to wear, having saved it for a special occasion – like a date with McGuire. Hesitating for only a moment, she now grabbed it from its hanger and folded it efficiently before adding it to her case. If the restaurant would not miss her for the next few days, then surely neither would DCI Mike McGuire.

Dolly hadn't learned to drive until the age of forty and it occurred to Pearl, as they hurtled along the Blean road in the direction of Canterbury that Friday morning, that her sixty-three-year-old mother might have chosen today to make up for lost time. Dolly was a rebel by nature and her inclination to push all things to the limit extended to her driving – in respect of both speed and safety. Travelling in her little convertible Morris Minor was always a memorable experience for passengers, but on a gloriously sunny morning and with the car's roof down, Pearl tried not to focus on the speedometer but instead to follow Dolly's instruction and relinquish control.

It was quite some time since she had taken a proper holiday. Although she had managed a brief trip to visit Charlie while he was living in Berlin, the break had mainly consisted of a whirlwind tour of sightseeing, interspersed with evenings cooking for her son and his friends, so it had hardly constituted a rest. In truth, Pearl had become so used to the race against time to accomplish all she had to do, that with every mile travelled away from Whitstable, she began to feel she was being released from the natural frantic tempo of her existence.

Slipping on her sunglasses, she leaned her head back, enjoying the warmth of the sun on her face and the wind blowing through her long hair while Dolly sped on, down towards the looming spires of Canterbury Cathedral rising in the distance. The Norman cathedral dominated the landscape, inspiring visitors with the same sense of wonder it had surely conveyed to many throughout the centuries, for the city had become one of the most visited pilgrimage sites in the medieval world after Thomas a Becket's murder, and Chaucer's Canterbury Tales had further spread its fame.

Dolly, as yet, had still given up no clues as to the location of the mystery tour. Arriving over half an hour late that morning at Seaspray Cottage, she had managed to find a spot in the car's boot for her daughter's case beside a large parachute bag and numerous plastic bags containing everything from a variety of footwear to a watercolour pad and paints. Her only comments during the journey so far had been to remark on the striking contrasts of colour provided by garden trees laden with clusters of pink cherry blossom or luminous golden chains of laburnum.

Dolly was an artist and in love with colour while Pearl's creativity lay firmly in her cookery. Having long since studied the basic principles of good cuisine, Pearl's own rebellion consisted in shunning further instruction and learning only from her personal experience and experimentation. Her culinary creations were achieved largely by instinct and the results so far had proved successful in terms of the reputation of The Whitstable Pearl – though it was true she had never been able to tempt McGuire to try a Whitstable oyster. He claimed to be allergic to shellfish and in spite of Pearl having explained, on numerous occasions, that many people who are allergic to crustaceans can nevertheless tolerate molluscs like oysters and mussels, McGuire refused to be persuaded.

As she and Dolly now passed beneath the sixty-feet-high West Gate, which stood like a sentinel at the entrance to Canterbury, Pearl's thoughts stayed with McGuire. He would surely be here somewhere in the city, interviewing suspects in a stuffy interrogation room at the police station on Longport, or perhaps taking a welcome break at the South American eatery in Dane John Gardens on the other side of the old city walls. She imagined that the gardens would look special at this time of year and recalled how she had once walked with McGuire in the shade of an avenue of lime trees to a fountain where they had shared their first kiss … but the sweet memory was shattered by the sudden noise of Dolly's car horn, blasting the driver ahead of her to signal that the lights had changed to green.

After making good progress along St Peter's Place and on to busy Rheims Way, the flow of traffic began inevitably to slow as cars headed into the shopping centre. Dolly heaved a sigh of frustration but it wasn't long before she found herself at another roundabout where she displayed a moment's hesitation before taking a sharp right turn. This prompted Pearl to ask: 'Are you sure you know where you're going?'

'Of course,' Dolly snapped. 'But grab the map there in the glove box. We might need it before long.' Dolly steadfastly refused to take instructions from the satnav Pearl had bought her, insisting on the use of old road maps instead – and the services of Pearl as navigator – though that onerous role sometimes also fell to grandson Charlie.

Ahead stretched Wincheap, the road which gave its name to Canterbury's south-west suburb and which ran for almost a mile from the city wall to the parish of Thanington Without. Having found the appropriate page in Dolly's road atlas, Pearl traced the length of road before them, noting how the Great Stour River ran like a concealed artery at the rear of properties whose frontages would have offered no clue to this.

From her mother's car, Pearl glimpsed the old parish church of St Nicholas surrounded by yew trees. One in particular was reputedly more than nine hundred years old, its great age serving as a reminder that yews had been planted in churchyards as signs of everlasting life. Another sign, showing fresh eggs for sale, indicated the way to an old farm at the rear of the church where sheep and chickens grazed on the riverbanks, seemingly oblivious to the stream of traffic.

'We should be approaching another roundabout soon,' warned Dolly. 'And the old Milton Manor Road is on the left, right? I mean, correct?'

Pearl confirmed she was indeed correct, though she would never have known it without consulting the map, and Dolly drove on, leaving the villages behind them as a patchwork landscape began to open up ahead with furrowed fields on either side of the road. Soon, the rolling countryside had become a distinct contrast to the busy Canterbury suburbs and the only building on the horizon that seemed at all recognisable to Pearl was signalled by two tall black-tipped chimney-stacks that rose in the distance like giant matchsticks.

'The old Chartham paper mill?'

'I hope so,' said Dolly, 'or it means we're heading in the wrong direction.' She offered a brief smile before braking, then reversing quickly back up the road. 'You distracted me,' she said. 'I've missed the sign.'

Pearl looked around but could see nothing but open countryside. 'What sign?'

Dolly failed to answer but was now looking keenly from left to right before she gave a sudden exclamation. 'There! Look – the old hawthorn tree.' She spun the steering wheel, making a sharp right turn as the tyres kicked up gravel. A short distance ahead, a set of wrought-iron gates finally came into view – left wide open as though welcoming visitors. Dolly stopped and put on the handbrake, this time exiting the car to investigate a small object she had noticed on the road ahead. She picked it up and it glinted in the sunlight as she examined it.

'How's this for good luck?' She was brandishing a small horseshoe. Tossing it into the rear footwell, she took her place again in the driver's seat before crunching the car back into gear. Smi. . .
We hope you are enjoying the book so far. To continue reading...
Murder on the Pilgrims Way
Julie Wassmer
Copyright © 2023 All Rights Reserved
Also in this series
Also by this author