Book info
Sample
Audiobook
Media
Author updates
Lists
Synopsis
The Whitstable Pearl restaurant has been busy all summer while Pearl's detective agency has brought few interesting cases - until a prospective client calls....
Christina Scott confides that seven years ago she had the perfect life, with a seaside home, a confirmed pregnancy and Steven, a loving husband - until one morning she woke to find herself alone. Christina's husband had vanished, taking nothing with him but his car - which was later found abandoned at the beautifully mysterious Oare Marshes.
Now, with the legal presumption of Steven's death about to be made, Christina shows a photograph to Pearl. It's not of him but of her young son, Martin, who has grown up without his father - and Christina is adamant he now deserves to know the truth. Will Pearl help her solve the riddle of Steven's disappearance?
DCI Mike McGuire warns Pearl she's on a fool's errand, but the case resonates with Pearl as she begins to uncover secrets and lies that take her on a dangerous journey back into her own past as well as Christina's....
Release date: June 7, 2018
Publisher: Little, Brown Book Group
Print pages: 320
* BingeBooks earns revenue from qualifying purchases as an Amazon Associate as well as from other retail partners.
Listen to a sample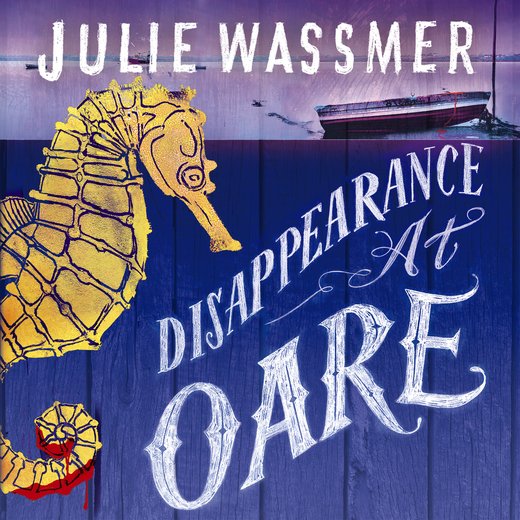 07:17:24
200.23 MB
April 4, 2019
Little, Brown
2018
Disappearance at Oare
Julie Wassmer
It was late afternoon on a sunny Wednesday in August and the view from Whitstable's prom showed plenty of holidaymakers on the beach – even though the tide was retreating. Brave kids and determined swimmers had headed out with it, hoping to find sufficient depth to float a lilo or to manage a few last strokes before giving up and plodding back across a great plain of estuary mud towards the pebbled shore. Pearl Nolan watched them. She was seated on a wooden bench at the foot of some grassy slopes which were dotted with rows of colourful beach huts, their porches slung with pastel shades of bunting swaying in the warm breeze. The pale grey vintage dress she wore perfectly matched the colour of her moonstone eyes, and a few sheets of paper rested on her lap, though what was written on them had failed to hold her attention. Instead, she had slipped off her reading glasses and propped them high on her head, in front of a hair clip which barely tamed her long dark curls, as she gazed straight ahead, realising that the concrete prom before her appeared almost like a symbolic frontier separating the Whitstable natives from the tourists on the beach.

The acronym DFLs, commonly used by local people for Down From Londoners, was appropriate, as the majority of Whitstable's summer visitors consisted of day-trippers keen to exchange the stifling city for a stretch of airy coastline. For those who remained immune to the pleasures of Whitstable's pebble beach, there were always the delights of the two main thoroughfares of the High Street and Harbour Street, where an eclectic mix of quirky independent shops offered all manner of items from connoisseur cheese to vintage vinyl. A morning spent shopping in Whitstable generated hearty appetites, and by lunchtime visitors could be found huddling outside the town's various eateries to peruse the menus on offer. Many would be seduced by the panoramic views of the beach-facing establishments, but there were plenty who fell for the more informal charms of Pearl Nolan's own restaurant, The Whitstable Pearl, especially since it served the best seafood in town.

Over the past twenty years, Pearl had developed a menu to satisfy both locals and visitors, with a selection of signature dishes that included squid encased in a light chilli tempura batter, marinated sashimi of tuna, mackerel and wild salmon, and a popular staple of sardines with garlic and chilli ajillo; but one thing always remained in popular demand, the single item that defined this little north Kent town, which might have gone quite unnoticed without it – its native oyster.

Every year, the weekend closest to 25 July signalled the start of the town's Oyster Festival, the date marking the Feast of St James, when a veritable tsunami of visitors descended from all over the world to celebrate the famous bivalve with a series of events that included an eye-catching parade, a tug of war, concerts, fringe theatre, and the inevitable oyster-eating 'Shuck', during which a dozen of Whitstable's finest molluscs would be downed in record time. So popular had the festival become that every hotel, guesthouse, holiday apartment and campsite space was booked throughout the entire period, leading some to complain that the festival had now outgrown its location and should be limited so it could once again return to being a low-key event for the enjoyment of local families. But the genie was out of the bottle, and while the pages of Sunday colour supplements continued to be splashed with glowing reports about this eccentric little fishing town that had managed to retain its character in spite of being only an hour and a half's travel time from London, Whitstable would continue to draw its summer visitors like wasps to an open pot of jam.

Now that the Oyster Festival had come and gone, Pearl was reminded that the next significant date on the town's calendar was the summer carnival. Bearing little in common with its counterparts in Rio or Notting Hill, Whitstable's charity parade was a far more parochial affair consisting of a procession of floats, walking groups and comic cars – all presided over by a local 'royal family' consisting of a Carnival Queen and two Carnival Princesses. Pearl usually contributed a trade float for The Whitstable Pearl, designed by her mother, Dolly, who was threatening to use her artistic skills this year to create a stunning aquatic scene featuring Pearl's young waitress, Ruby, as an appropriate marine creature – though what that might be was still undecided.

As one of the last events on the town's summer itinerary, the carnival took place when the days were growing noticeably shorter, signalling a time of restive impatience among holidaymakers who were keen to wring the last pleasures out of the season before it faded into autumn. And the same was true for the shopkeepers and business owners in town, who continued to benefit from Whitstable's new-found popularity. But for Pearl, business was not everything, and the period following the height of summer was usually a time for some welcome respite – especially since she now had a young assistant chef in place who was not only capable of replicating her menu, but also wished to add some dishes of his own. Looking down at the printouts in her hand, Pearl realised that the beach scene in front of her had been acting as a distraction from the new menu items that Dean Samson had asked Pearl to consider in the hiatus after lunch and before the evening restaurant service began. Recipes combining roast turbot, razor clams and sea purslane displayed the young chef's originality, but they also blended perfectly with the style Pearl had long ago chosen for her restaurant – one characterised not by grand culinary statements but a clear respect for simple dishes created with the very best ingredients.

Pearl had never become complacent about the restaurant's success, nor had she forgotten what a struggle it had been in the early days – especially while bringing up her son, Charlie, as a single parent. She had known, even then, that in order to gain a good reputation, she would need to be more than the 'good cook' she had already proved herself to be, and so she had dedicated herself to the task in hand, immersing herself in tastes and flavours, and learning how to marry ingredients together successfully, including various herbs and spices – and not just the familiar ones like rosemary, thyme and mint, but the more exotic seasonings and fragrances of Syrian oregano, Moroccan saffron, Middle Eastern sumac and sticky Turkish urfa pepper.

How many oysters had she served to her customers over the last two decades? Certainly not as many as the twenty million that had been dredged from the town's oyster beds in past years but, nevertheless, in those early days, she had finished her services bearing the battle scars of cooker burns on her forearms and the smell of seafood and sautéed garlic clinging to her hair and clothes, to head home and take care of her son. In doing so, she had exchanged the thick humid air of her restaurant kitchen for the fresh salt tang of the expansive sea as a walk on the beach revived her. It still did so, but these days she no longer had to slave in the same kitchen over her dishes because she now had Dean to do that for her. Nevertheless, it was true that the young chef's keenness to contribute was serving to underscore a certain sense of redundancy for his boss. Pearl's presence was no longer deemed essential on the restaurant floor either, because a small group of dedicated staff now managed quite well without her – as did Charlie.

At twenty-one, Pearl's son rented a flat of his own in Canterbury, where he was studying graphic design at university and, after a gap year in Berlin spent designing and selling T-shirts, he was showing a fair amount of independence, though the odd session working at the family restaurant always provided a welcome boost to his finances.

Charlie's very existence had been the whole reason for The Whitstable Pearl, and for his mother giving up on the police training she had once embarked upon, and as she stared out towards the beach again, she allowed her mind to wander back to that summer romance with Charlie's father. She could almost see him again on the beach: blond, lean, like Charlie himself – a young man who had been merely passing through a small town on his way to explore the world. He had pressed her to join him, but Pearl had stayed behind, feeling sometimes like the small marine creatures left stranded on the beach at low tide, unable to leave the estuary waters for wider oceans . . . A simple pregnancy test had convinced her that she had no choice but to remain in Whitstable, forgetting all dreams of becoming a police detective and instead bringing up her child. And so she had thrown herself into a hectic world of food and cooking until, as her fortieth birthday approached, those dreams had resurfaced and she had felt the urge to respond to a new sense of purpose by starting up Nolan's Detective Agency . . .

Pearl was ultimately proud of having solved several local cases, including the high-profile murders which had set her on a collision course with DCI Mike McGuire of Canterbury CID. The police detective had arrived in Whitstable while on a temporary transfer from London, but had decided to stay on in the area and had made his home in a riverside apartment in Best Lane, Canterbury – just seven miles away from Pearl.

At the outset, there had been some conflict and competition between the two detectives, but a relationship had sprung up, based on mutual respect, physical attraction and a recognition that they complemented one another as much as yin and yang. Ultimately McGuire was proving to be an irresistible conundrum for Pearl, and the last summer months had proved frustrating for her as the police detective had been in London for a court case and Nolan's Detective Agency had received only the usual requests to locate lost dogs and stolen bikes – none of the real mysteries Pearl thrived upon. A few nights ago, during their last phone conversation, McGuire had promised Pearl that he would be back soon – but until then she had only the restaurant and Dean's new menu items to concentrate on. Slipping on her reading glasses once more, she took a deep breath and decided to do precisely that, when a passing cloud suddenly masked the sun and a sound began to fill the sky above her.

Looking up, she thought it might be the rotors of a noisy drone being operated from somewhere at the top of the slopes, but a silhouette soon became visible through hazy cloud, growing larger as the sound amplified from a helicopter sweeping in across the bay. For an instant she queried whether it could be the police scanning the area for a wanted criminal, or perhaps an escaped convict from one of the three prisons based on Sheppey, the island west of Whitstable behind which the sun set every evening, and the thought prompted Pearl to wonder whether it might even be McGuire, himself, in the helicopter. She hadn't seen him for several weeks, but if he had managed to return from London earlier than expected surely he would have contacted her? The helicopter hovered for a while, appearing almost stationary, as though scanning the retreating tide, but the lifeboat was still in place at its harbour station and a young beach attendant sat relaxed on his elevated platform, suggesting to Pearl that the chopper wasn't following up a coastal emergency. She got to her feet and took off her glasses, shielding her eyes from the sun to stare up – but the helicopter began to descend and seemed to head straight in her direction before swooping up and away at the very last moment to trace the entire length of Marine Parade, the residential road that ran along the top of the grassy slopes. With disappointment, Pearl realised that the chopper's appearance signalled nothing more than a local radio station's search for traffic news for rush-hour commuters.

Turning back to the bench, Pearl was just about to sit down again when her mobile rang from the depths of her basket – not the familiar tone of the phone she used for personal calls, but the dedicated line for Nolan's Detective Agency. It was a sound she hadn't heard for some time and she answered the call quickly, straining to hear above a sudden blast of music from a noisy beach radio. The woman on the end of the phone line was softly spoken. Giving her name as Christina Scott, she hesitated for only a moment before explaining with some urgency: 'I need your help.'

Fifteen minutes later, Pearl approached the gate to her sea-facing garden to note that Christina Scott was already there, waiting for her. Tall and with an angular frame and shoulder-length blonde hair, she appeared to be in her early thirties and was dressed in a pale pink cotton blazer and matching linen trousers, an outfit which seemed overly formal for the sultry afternoon. With the disappearance of the tide, the air had become muggy and the briny smell of seaweed clung to it, but Christina was leaning against the promenade wall and staring out towards the horizon, as though she might have been gazing at something infinitely more interesting than wind-farm sails waiting for a freshening breeze. Something seemed to tell her she was being observed, and she glanced quickly back along the prom just in time to see Pearl, who came forward, offering a smile as she asked: 'Mrs Scott?'

The woman shook Pearl's outstretched hand. 'Yes,' she said. 'But please call me Christina.' Pearl noted that the woman's deep-set eyes were the colour of topaz, and seemed burdened with a stifled sadness. She quickly indicated the way through her garden gate, and away from the revellers on the shore who were heading off to freshen up for the evening, perhaps before returning to the beach and to the old Neptune pub, where a band would be playing later.

The two women moved through Pearl's tiny, well-kept garden, brushing past huge banks of fragrant lavender until reaching the converted wooden beach hut that Pearl now used as an office. Once inside, she moved to open a window and invited Christina Scott to take a seat. Taking her own place behind her desk, Pearl saw that her prospective client was fishing for something in her handbag, finally taking out a small packet of cologne-soaked tissues. She used one to moisten her throat, then wiped her hands with it in such a thorough way that Pearl was reminded to give attention to a few dusty surfaces, until Christina produced a small bag into which she placed the used tissue, signalling she had come prepared.

'Can I get you something?' Pearl asked. 'Tea? Coffee?'

Christina shook her head and explained in a faltering voice: 'I'm . . . afraid I don't have much time. I have to get back for my son.' She offered a tense smile before explaining: 'My mother's taken him out for the afternoon. She's staying with us for the summer holidays.'

Before Pearl could comment, a rabble of teenagers raced past on the beach outside and their screams caused Christina to flinch. Laughter followed and the voices finally trailed away, but still Christina Scott stared towards the window until Pearl gently prompted: 'How can I help?'

Christina looked back, allowing Pearl to note that she was an attractive woman, though her complexion was pale in spite of the good weather and her features were drawn, as though she might be experiencing some low-level pain. 'It's my husband . . .' she began.

On hearing those three words, Pearl's heart sank. The stalking of errant spouses and partners was bread-and-butter work for most private detectives, but Pearl was never keen on spending her time searching for evidence of cheating. She braced herself, fully expecting to hear a catalogue of marital abuse or infidelity, but instead Christina simply stated: 'He's missing.'

The words came almost as a whispered secret, and a silence fell before Pearl responded. 'I take it you've notified the police?'

Christina nodded and Pearl continued: 'Then they should file a Missing Persons report, and—'

'They have.' Christina had broken in quickly, betraying some impatience, before she looked away again to the window, seemingly in an effort to calm herself. 'They haven't found him. And I don't believe they will,' she said determinedly. 'That's the reason I'm here.' Looking back, she held Pearl's gaze as she explained further: 'Steven and I met at university in London – though he dropped out to become an artist. It was really all he ever wanted to do.' She gave a sad smile. 'We fell in love, got married and moved down here several years ago when house prices were rather more reasonable. My mother helped with a deposit on our home in Seasalter. I was teaching at a nearby school and Steven was still working on his paintings.' She broke off for a moment then went on. 'One morning, I woke to find he wasn't there. He'd disappeared – into thin air.' She fell silent again and Pearl waited, allowed her time to continue. 'I thought he might have gone for an early morning run, but his trainers were still in the porch and . . . he'd taken nothing with him but the car.' She paused again, this time as though trying to remember precisely. 'I tried his phone, but my call went straight through to voicemail so I rang some friends and then family. Steven's parents live out in Herne Bay,' she added. 'But no one had seen or heard from him.' She bit her lip, then composed herself again. 'We waited . . . until the evening. Then I reported him missing.'

Christina fumbled in her bag, this time for a paper handkerchief, and went on. 'The police detective who came to see me said that over two hundred thousand people go missing in this country every year. Did you know that?' Her question was purely rhetorical because she quickly added: 'He said that most missing people return within a few days – so I held on to that thought. It was all I had. And I convinced myself that Steven would be one of them . . . that he'd come home . . . so when the doorbell rang that night, I was sure it must be him.' She looked hopeful – then crestfallen. 'But it wasn't. It was the police, coming to tell me they had found the car.' Her voice trailed into silence as she nervously began to tear off tiny pieces of the paper tissue in her hand.

'Where?'

'On the old slipway at Oare.'

'Oare,' echoed Pearl softly. 'You mean on the marshes near Faversham?'

The area was some thirteen miles from Whitstable, a beautiful but isolated spot used mainly by walkers and birdwatchers attracted by the nearby nature reserve. Pearl knew that a now disused ferry service had once operated between two points across the Swale river, from the mainland at Oare to the Isle of Harty on the southeastern side of the Isle of Sheppey. A popular pub, the Ferry House Inn, lay on the island side, but Pearl now remembered it was some years since she had been there.

'The car had been abandoned,' said Christina, 'and there was no sign of Steven. Only his jacket on the passenger seat. And a note.'

'A note?' asked Pearl.

Christina nodded. 'It said: I never thought what I did was of value – so I really can't go on like this any more.' She paused for a moment then admitted: 'Those words have haunted me ever since.' She frowned suddenly as she looked down to see that she had torn the paper handkerchief in her hands into shreds. She stuffed the pieces of tissue into her . . .
We hope you are enjoying the book so far. To continue reading...
Disappearance at Oare
Julie Wassmer
Copyright © 2023 All Rights Reserved
Also in this series
Also by this author