Book info
Sample
Audiobook
Media
Author updates
Lists
Synopsis
Discover the Whitstable Pearl mysteries: a combination of seafood, murder, and a multi-tasking heroine on the coast of Kent . . .
Pearl's detective agency takes a back seat as she prepares to offer a warm welcome to a group of special visitors. A local Arts Festival is being held to honour a cultural exchange visit from representatives of Borken—Whitstable's Twin Town in Germany.
Yet very soon, personality clashes surface among the participants; local politicians try to use the festival for their own ends while others jostle for improved billing on the festival programme. Tempers flare, old feuds re-surface and on the eve of the first event, a cryptic message—Murder Fest—is received by the local police. Before DCI Mike McGuire has a chance to investigate, the festival commences with an unscheduled event when a celebrated author is found brutally murdered . . .
Soon the only 'Arts' on display are dark ones, as Whitstable's celebration of local culture transforms into a real-life murder fest—offering Whitstable's Pearl Nolan another mystery to solve.
Release date: May 9, 2019
Publisher: Little, Brown Book Group
Print pages: 304
* BingeBooks earns revenue from qualifying purchases as an Amazon Associate as well as from other retail partners.
Listen to a sample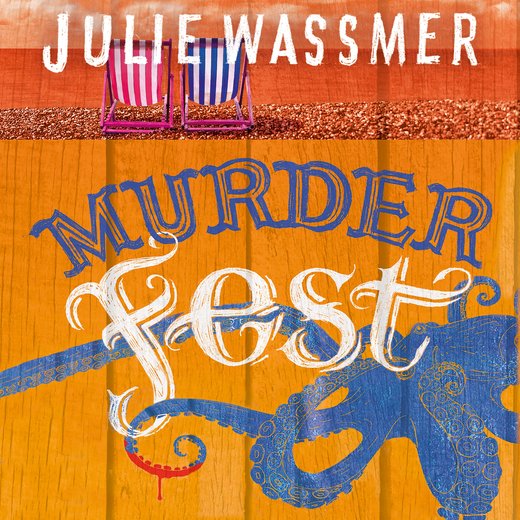 08:08:41
223.71 MB
9781405542098
May 9, 2019
Little, Brown
2019
Murder Fest
Julie Wassmer
Two weeks later

'I can't believe you volunteered me for this without asking.' Pearl Nolan was brandishing her smartphone in front of her friend and neighbour, Nathan Roscoe. On its screen was an e-mail she had received that morning. Nathan glanced at it then noted Pearl's frustration and the fact that her long dark curls were still glistening wet from her morning shower as she added: 'And you're not even going to be here.'

She waited impatiently for his response but Nathan took his time, carefully packing a pair of stylish shirts into an equally stylish suitcase on his bed, before he pointed out calmly, and in the relaxed mid-Atlantic accent he had acquired during the twenty or so years he had lived in Whitstable: 'I recommended you, Pearl. There's a difference.'

As Pearl watched Nathan close his suitcase she felt conflicted, because Nathan had only just returned from a trip to Paris where he had been doing research for a travel article he had been commissioned to write. She had missed him, as she always did when he was away. He was her best friend, after all, and if he hadn't been gay, he could have been so much more to her; but now he was off to Glyndebourne for some opera and, instead of enjoying these last few moments with him, she was taking him to task for having saddled her with a commitment …

'Do you know how many people are meant to be coming to this event?' she asked.

Nathan remained unperturbed. 'Droves, I'd imagine,' he said casually. 'Your reputation goes before you. Who wouldn't want to sample food from The Whitstable Pearl?'

Having sweetened his compliment with a sugary smile, he saw she wasn't appeased. 'OK,' he sighed. 'So, just say no – stand aside and let some flashy restaurant on the beach take over and gain all the kudos from this event—'

'Kudos?' echoed Pearl, curious.

Nathan now gave her his full attention. 'This isn't any old bunfight, sweetie,' he explained. 'Whit Fest promises to be a comprehensive festival of our local arts, and its launch will be prestigious. Those representatives from that German twinning association will be taking back with them a full report of everything Whitstable has to offer: fine art, literature, music … and local cuisine.' He pointed at her. 'The whole town is relying on you, my darling.' Then: 'As is poor Heather Fox. She's run herself ragged trying to get this off the ground – and take care of her sick father at the same time.' He allowed a moment for that thought to settle.

Pearl sighed. 'No pressure then.'

'Look, it really is your decision,' he continued. 'But, even at this late hour, you could still rise to the challenge? You always do. Besides,' he went on, 'as it's your restaurant, I'm sure you can invite a few special guests of your own.' He slipped his packed suitcase from the bed before offering two more words. 'Inspector McGee?'

'McGuire,' said Pearl, pointedly. Her eyes narrowed with suspicion. 'Why is it you can never get his name right?'

Nathan remained silent as he checked his appearance in one of the mirrored doors of his wardrobe, smoothing a hand through his chestnut-brown hair and examining a few silver strands at his temples. He wasn't the only person in Pearl's life who failed to give due respect to the Canterbury police detective by correctly remembering DCI Mike McGuire's name. Pearl's mother, Dolly, only ever used the pejorative term 'the Flat Foot' when referring to him – and that thought also now rankled for Pearl.

'Well?' she asked.

Nathan turned, and noted her peeved expression. He decided to make amends.

'All right. So, maybe I'm scared of losing you to him.'

Pearl's expression was pure shock. 'To McGuire?'

'Don't look so surprised! You make a beautiful couple. You're all dark fury, like Cathy in Wuthering Heights and he's …' Nathan paused. 'Well, he's tall, blond and … if he ever leaves the police force, he could make a fortune giving handsome lessons.' He raised a well-groomed eyebrow. 'Isn't it about time you were more than just … partners in crime?'

Pearl turned away from Nathan's knowing gaze and confessed: 'Chance'd be a fine thing.' She slumped down on the bed. 'If it's not his police work getting in the way, it's my life.' As she began idly stroking Nathan's brand-new taupe bedspread, he sat down beside her, concerned both for Pearl and his bedspread. He took her hand. 'What is it, sweetie?'

She looked at him. 'We were planning to go away. For a long weekend. A city break in Amsterdam. But then—'

'Don't tell me,' Nathan broke in with a sense of foreboding. 'Someone got murdered?'

Pearl shook her head. 'Charlie got himself on a summer course in animation and I ended up having to drive him to Dorset.'

Nathan looked sidelong at her, convinced she was teasing him. 'Sweetie, your son is twenty-one years old and there are trains to Dorset.'

'But you didn't see what he took with him,' Pearl protested. 'It barely fitted in my car.' She paused. 'When I got back I found a text from McGuire explaining that he'd been assigned to some high-profile robbery case – and has a new DS.'

Nathan looked at her blankly. Pearl explained: 'Detective Sergeant Terry Bosley.' She gave a huff and went on: 'No doubt they'll be all buddied up by now. Racing around the county, chasing leads.'

Nathan looked decidedly unimpressed. 'That's what cops do on TV, sweetie, but I don't imagine it's half as much fun as you think.'

Nathan was well aware of Pearl's former ambitions to become a fully fledged police detective, and how an unplanned pregnancy had put paid to them. At the tender age of nineteen, and while showing real promise in putting her natural people skills to use with the CID, Pearl had given up on her police training and returned instead to her home town of Whitstable in order to bring up her beloved son, Charlie. Two decades on, and the unpretentious seafood restaurant that bore her name had become one of Whitstable's most popular eateries, with a selection of signature dishes that included squid encased in a light chilli tempura batter, marinated sashimi of tuna, mackerel and wild salmon, and a popular staple of sardines with garlic and chilli ajillo. One thing, however, always remained in popular demand, the single item that defined this little north Kent town which might have gone quite unnoticed without it: its native oyster. Over the course of twenty years, Pearl's dishes had come to satisfy the tastes of locals and visitors alike, but two years ago she had found herself at a crossroads when Charlie moved to Canterbury to begin a degree at Kent University, leaving his mother with an empty nest. Recognising the need for a new challenge in the next stage in her life, Pearl had started up her own detective agency – Nolan's – and Mike McGuire had entered her life.

'Well, I'm sure Inspector McGoo—' Nathan was suddenly silenced by Pearl's look. 'McGuire,' he then continued, 'will un-buddy himself before too long and find his way back here to regale you with stories about his case? But, until then, you have this fabulous event to cater – and I'm sure you'll exceed all expectations.' He smiled, rather too smugly for Pearl's liking, so she chose to remind him: 'I haven't actually agreed to do this.' She indicated the e-mail still on the screen of the smartphone in her hand. 'But I have replied to your friend, Heather, to say I'll pop round later for a chat.'

'Good,' said Nathan. He looked at his suitcase then at Pearl. 'And I only wish I could come along with you,' he added, torn.

'I don't,' said Pearl. 'Or you might end up volunteering me for something else.' She gave him a knowing smile and a peck on the cheek before turning for the door. Nathan called out to her. 'It's a wonderful thing, you know, to be called upon to support the arts?' He paused for a moment before adding: 'Could be lucrative, too, in the long run, though I know that would never be reason enough to persuade you.' He offered a wink which served to remind Pearl that, as usual, Nathan's flattery got him everywhere.

It was late afternoon before Pearl was able to get away from the restaurant. In the early summer months, before July came storming in, bringing fine weather and plenty of DFLs (the town's acronym for Down From Londoners), it was possible for Pearl to relax by taking a much-needed stroll along Whitstable's pebbled beach, before the restaurant's busy evening service began. She did so now on her way to meeting Heather Fox, heading east from The Whitstable Pearl towards her destination: a sea-facing cottage on the lower part of some grassy slopes. Fairview belonged to Heather Fox's father, Colin, and was situated between the Art Deco façade of the Continental Hotel and a municipal building which housed a café serving Mediterranean food. The cottage was aptly named, since it enjoyed an uninterrupted vista across the sea towards the Red Sands army fort that had been constructed eight miles offshore during the Second World War. On a clear morning, the fort sat squarely on the horizon, but this afternoon's heat haze concealed its steel supports so it appeared more like a phantom ship at sea.

Although Pearl had passed by Fairview many times, today she gave proper attention to its latticed windows and a neat front garden filled with flowering bushes of hebe, deutzia and philadelphus. A low boundary wall meant the property was as much on display to passers-by as Pearl's own home, Seaspray Cottage, which backed straight on to the beach. In the summer months, Pearl's sea-facing garden became the backdrop for numerous tourist 'selfies', as well as refuge for the odd holiday drunk seeking a few hours' snooze on her small square of lawn. Her own coastal view included the area known as West Beach, on which stood the famous white clapboarded Old Neptune pub, and a stunning sunset vista which compensated for all intrusiveness from DFLs. As she walked up a sloping path to Fairview, she imagined the same was true for its owners, since the Fox family had lived there for decades.

Reaching the front door, Pearl noticed a movement behind the lace curtain at its bay window; before she had a chance to ring the bell, the door quickly opened to reveal Heather Fox, smiling warmly as she offered her hand.

'Thank you so much for coming,' she said brightly, beckoning Pearl quickly inside. Pearl reckoned she must be in her early thirties, tall and slim, with shoulder-length dark brown hair, streaked with chestnut highlights. Her outfit was fashionably nautical: a navy and white striped T-shirt, blue jeans and deck shoes, but her crimson fingernails and stylish silver earrings discounted any recent boating trips. She glanced quickly up the stairs before whispering: 'Dad's just taking a nap so I thought we could talk in the conservatory.'

The two women moved together through a hallway that was stacked with large cardboard boxes, into a dining room which appeared to be a curious mix of the traditional and 'on trend'; a fashionable display of poppies in a modern porcelain vase sat on a Victorian card table, while cushions bearing geometric designs were strewn over an antique chaise-longue. Heather explained. 'I'm sorry everything's so untidy but I gave up my flat in London recently. As storage is so expensive these days, I brought everything back here.'

Pearl nodded. 'Nathan mentioned your father has been unwell lately. I'm sorry to hear that.'

'Thanks,' said Heather, troubled. 'Dad's been seriously ill. He had to have a heart operation. To be honest, I'm not too sure how much longer he may need me.' Pearl noted that the comment was ambiguous, leaving Pearl in doubt as to whether Colin Fox was getting better – or worse. For a moment, Heather looked conflicted, but rallied quickly and led the way for Pearl to follow her into a small conservatory filled with cane furniture.

'Come in,' she said, taking some paperwork from the cushion of a chair so that Pearl could sit down. As Pearl did so, she took in the view of a carefully tended established cottage garden filled with colourful borders of foxgloves, delphinium, phlox and some hardy pink geranium. Heather went on: 'I was so relieved when Nathan suggested you might be able to help. I mean, it's one thing for me to organise this festival – I've worked in PR for almost ten years, so I'm used to promoting book launches, art exhibitions and concerts – but … well, I realised that what we really need for Whit Fest is a kind of … unifying event right at the very start, something to properly welcome the German committee members while showcasing the town at the same time? Oysters are the thing we're most famous for,' she continued, 'so your Whitstable Pearl restaurant would be the perfect venue.' She gave a smile which Pearl returned, warming to the young woman before her.

'Thanks,' said Pearl. 'But I'm not quite sure why you've decided to hold the festival right now – in June? Surely it would attract more interest, and visitors, in a month's time, during the Oyster Festival?'

Heather sat down to face Pearl. 'Perhaps,' she conceded, before adopting a softer tone. 'I'm not sure how much Nathan has told you, but my father has been chairman of the local twinning association for almost twenty years. He loves Borken and the whole community there, so keeping strong ties between the two towns has always been very important to him, especially as he's seen some of the other local twinning associations fade away due to lack of interest. Dad's a very strong European. He's always made regular trips to Borken but, well, since his last heart attack, he's been unable to travel, and though he doesn't complain much, I know how he hates not being able to see his old friends.' She looked pained once more then rallied again. 'But if he can't get to Borken, it occurred to me that a little bit of Borken might come to him.' She smiled. 'The German committee members told me they'd be more than happy to come, but they have to do so sooner rather than later, due to previous engagements. Unfortunately, some have had to drop out completely, but a lovely lady – Dad's old friend, Wibke Ruppert – and her brother, Laurent, who's a widower and a retired charity trustee, are still making the trip here as Borken's "ambassadors". They're both very cultured and adore Whitstable.' Her smile faded momentarily as she confided: 'I must admit, I was a bit worried about the cost of hotel bills, but then Marion, who owns Beacon House, came forward and kindly offered me her property for their stay. She's been wonderful, taken herself off to visit relatives in Italy, and isn't charging a penny.'

'Very kind of her,' said Pearl. The local landmark property had acquired its name from a signal which had once stood in its garden as a low-water warning to sailors. Although there were grander, more expensive seaside homes along the western coast, where a millionaire's row of 'new builds' jostled for the title of best design statement, Beacon House possessed a more distinctive style and arguably the best sea view in Whitstable, since it had looked out for over a hundred years at the mysterious 'Street', or Street of Stones, a stretch of shingle which became visible at low tide.

'Marion's a great supporter of the arts,' said Heather. 'She also runs the local book group.'

'Yes, I know,' Pearl smiled. 'My mother – Dolly – is a member. Mum's also visited Borken a few times, though I've yet to do so.'

'Oh yes, of course,' said Heather. 'I'm really pleased that we'll be showing some of Dolly's artwork in our exhibition at The Horsebridge on Friday.'

'Are you?' asked Pearl, trying to imagine her mother's eccentric efforts in the grand exhibition space at the local cultural centre.

'Of course,' Heather added with a fair degree of diplomacy, 'it's going to be a wonderfully eclectic exhibition. Something for everyone.'

In the silence that followed, the bells of St Alfred's Church suddenly rang out for the evening service, prompting Heather to add: 'Rev Pru is staging a candlelit concert on Saturday.' She turned to indicate a wall chart as she explained: 'And that will immediately follow a children's dance routine at the junior school.' She turned back to Pearl and explained: 'I'm still relying on this chart because the brochure's taken longer than expected to finalise – mainly due to a few hiccups …'

'Hiccups?'

'Nothing to worry about,' said Heather. 'But, well, let's just say it can be a challenge to manage "creative personalities"?' She looked up apologetically, as if having said too much, but a man's voice suddenly sounded from the hallway.

'Heather?'

'In here, Dad!'

In the next moment, Colin Fox followed his daughter's voice into the conservatory, brought up short to see she was not alone. He looked quizzically from Heather to Pearl, his face drawn, its pallor making him appear like a waxwork. Heather gave him a warm smile and explained: 'This is Pearl Nolan, Dad.'

At this, Colin seemed to come to life with a genial smile. Stepping forward he took Pearl's hand. 'Of course it is. Good to see you,' he said. He pumped Pearl's hand before pointing a finger at her. 'You won't remember the last time we met, because you couldn't have been more than a young teenager. How's your mother?'

'She's well,' said Pearl, returning his smile.

'And looking forward to this festival, I shouldn't wonder. As are we all.' He looked back proudly at his daughter as he continued. 'Heather's been working so hard to get things off the ground. And I hear you might be tempted to help out with the food?'

Pearl took a deep breath, about to voice a few concerns. 'Well, I …' But she broke off as she saw Colin suddenly putting out a hand to steady himself.

'Dad?' Heather moved quickly to support him. 'Are you OK?'

Her father nodded, but glanced in some embarrassment towards Pearl. 'I … think I may have got up too quickly,' he said. 'Maybe I'll go and lie down again and leave you two alone.'

'Here, let me help you,' said Heather. But Colin gently pushed his daughter's hand away. 'I'm fine,' he insisted. 'No need to fuss.' Turning to Pearl, he managed a weak but sincere smile. 'Good to see you, Pearl. Please give my regards to your mum.'

He gave a gentle nod and turned for the door. Heather Fox watched him go and listened carefully for her father's footsteps climbing the stairs. Only with the sound of a door softly closing upstairs did she turn again to Pearl, concern still written on her pretty face as she asked: 'I'm sorry. Where were we?' It was clear the young woman's earlier enthusiasm had palled. Pearl reminded her: 'You were talking about the importance of having a welcoming event – at The Whitstable Pearl?'

'Oh, yes, of course,' said Heather, summoning enthusiasm. 'And it really would be wonderful if you felt you could possibly help but …' She broke off for a moment before admitting: 'I'm afraid I've not been able to attract any sponsorship from the high-profile businesses, but, nevertheless, I'm sure we could stretch to offering some of your finest oysters?'

Pearl studied the face of the young woman before her – it was clear from her earnest expression that there was much more at stake in Whit Fest than a series of cultural events. Pearl made a decision. 'I think we can do better than that,' she said finally. 'How about a full seafood buffet for your guests? A few drinks too – Pro. . .
We hope you are enjoying the book so far. To continue reading...
Murder Fest
Julie Wassmer
Copyright © 2023 All Rights Reserved
Also in this series
Also by this author