Series info
Sample
Audiobook
Media
Author updates
Lists
Synopsis
Karigan G'ladheon, running away from school, is traveling through a deep forest when a galloping horse pounds up to her, its rider impaled by two black-shafted arrows. With his dying breath, he tells her he is a Green Rider, one of the magical messengers of the King. Before he dies, he makes Karigan swear to deliver the message he's carrying, and gives her his green coat, with the symbolic brooch of his office. Pursued by unknown assassins, following a path only her horse seems to know, Karigan becomes a legendary Green Rider-for when given to the right person, a Rider's brooch awakens the magic inside….
Release date: November 4, 2008
Publisher: DAW
Print pages: 480
* BingeBooks earns revenue from qualifying purchases as an Amazon Associate as well as from other retail partners.
Listen to a sample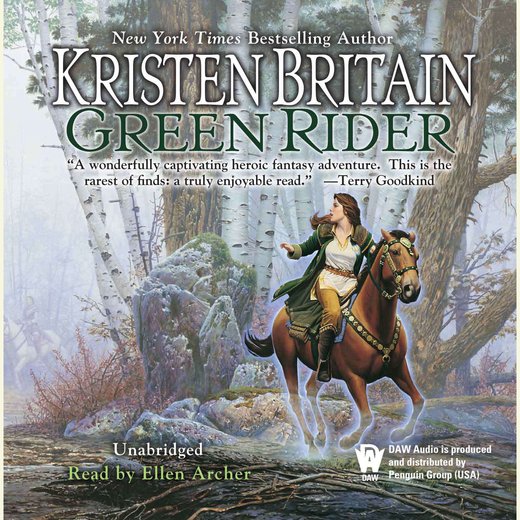 16:02:59
440.83 MB
9780756407346
February 16, 2012
Penguin Random House
Green Rider
Kristen Britain
DEAD RIDER
 
Karigan G'ladheon awakened to the chitter of waxwings and chickadees. Mourning doves cooed and jays defended their territories with raucous song and fluttering wings. Above her, the sky opened up like an expansive dusky canopy that winked with stars. The moon hung low in the west.
 
Karigan groaned. She lay at the edge of a fallow farmer's field, behind a hedgerow, and her back wasn't taking it well.
 
She pushed damp hair away from her brow. Everything was wet with dew and her clothes stuck to her like a cold and clammy second skin. She remembered aloud why she was here.
 
"To get away from Selium."
 
Her own voice startled her. Aside from the birds, the countryside was wide open and empty and silent. There would be no tolling of Morningtide Bell here, nor the familiar creaking of floorboards as her fellow students moved around in her old dormitory building preparing for a day of classes.
 
She stood up and shivered in the chill spring air. Indeed, she was "away" from Selium, and would get farther away still before the day was done. She gathered her blanket and things, stuffed them into her pack, stepped over the hedgerow, and started walking. She carried little more than a hunk of bread, some cheese, a change of clothes, and some jewelry that had belonged to her mother—the only objects precious enough to her to carry away. All the rest had been left in the dormitory in her haste to leave Selium.
 
She walked briskly to stave off the chill, the gravel of the road crunching beneath her boots. The rising sun, with its bands of orange and gold, drew her east.
 
As she walked, the glistening grasses of farm fields transformed into thick stands of fir and spruce blotting out the newly risen sun and darkening the road.
 
This was the edge of the Green Cloak she entered, an immense wood that grew thick and wild in the heart of Sacoridia. Its more tame borders marched in snatches and thickets right down to the shores of Ullem Bay and the foothills of the Wingsong Mountains. The bulk of the wood was dense and unbroken, save for villages and towns that made islands of themselves in its interior, and the occasional woods road that, from an eagle's view, she thought, must cut through it like a scar.
 
Such roads were often in conflict with their surroundings. It didn't take much for saplings to start growing in the middle of woods roads and winter blowdowns to topple across them, eventually obscuring the least used. A carpet of rusty pine needles softened Karigan's footfalls and gave this road an abandoned look, though it was the main thoroughfare leading into Selium from points east.
 
Karigan walked till her stomach growled. She sought out a warm patch of sun surrounded by solid, cold shade, and washed down chunks of bread and cheese with handfuls of water from a gurgling stream next to the road. It wasn't the choicest water, but it would have to do.
 
Afterward, she splashed cold water on her face. She felt altogether bedraggled after just one night on the road, and she longed for the hot baths and full meals the school served up.
 
"Don't tell me I miss it..." She glanced over her shoulder as if the entire campus, with its templelike academic buildings looming over the city from atop its hill, might pop into view.
It was curious how a night on the road made yesterday's events seem somehow less significant, less hurtful. Karigan half-turned, gazing back down the road which, within a day's walk, ended at the school. Her hands tightened into balls and she clenched her jaw. She would show the dean.
 
Kick me out of school, will you? Let's see how you like confronting my father. She grinned, imagining her father, his expression livid, towering over a shrinking Dean Geyer.
 
Then her shoulders sagged and her grin faltered. It was no good. She had no control over her father. What if he agreed with the dean that her punishment was just?
 
She kicked the ground and pebbles skittered across the road. Gods, what a mess. She hoped to reach Corsa before the dean's letter did, so she could tell her father her side of the story first. Either way, she would be in deep trouble. Maybe she ought to hire herself out on a merchant barge and stay away for good. After all, that's what her father had done when he was a boy.
 
She jammed her hands into her pockets, and with head bowed, ambled along the rutted road at a reluctant pace.
 
She startled a baby squirrel sitting on an old lightning-racked stump. It pipped and squealed, its tail abristle. It stamped in place, then darted from one edge of the stump to the other, as if too frightened to decide which way to go.
 
"Sorry I scared you, little one," Karigan said.
 
Chittering, the squirrel dashed into some underbrush and scurried noisily through the leaf litter of the forest floor, sounding like some much larger beast.
 
Karigan walked on humming an off-key tune. However, when the sounds of the squirrel did not abate but, in fact, grew much louder, she froze.
 
The racket shattered the woods. Trees and shrubs shook as if some wild creature—many times larger than a squirrel—thrashed in the twined branches and undergrowth. Crazed catamounts and rabid wolves played through her mind. She hadn't a weapon with which to fend off the beast, and she couldn't run either; her feet seemed to have taken root in the ground.
 
She drew a ragged breath. Whatever the nameless beast was, it charged her way, and fast.
It burst from the woods in an explosion of branches. Karigan's breath hissed in her throat like a broken whistle.
 
The creature loomed huge and dark in the tree shadows. It huffed with great wheezings through flared nostrils like some infernal demon. Karigan closed her eyes and stepped back. When she looked again, a horse and rider, not some evil dragon of legend, staggered onto the road. Twigs and leaves fell from them to the ground.
 
The horse, a long-legged chestnut, was lathered with sweat and huffed as if from a hard run. The rider slumped over the chestnut's neck. He was clad in a green uniform. Branches had lashed trails of blood across his white face. His broad-shouldered frame twitched with fatigue.
He half dismounted, half fell from the horse. Karigan cried out when she saw two black-shafted arrows impaled in his back.
 
"Please..." He beckoned her with a crimson glove.
 
She took one hesitant step forward.
 
The rider was only a few years older than she. Black hair was plastered across his pain-creased brow. Blue eyes blazed bright with fever. With the two arrows buried in his back, he looked as if he had fought off death longer than any mortal should have.
 
He was of Sacoridia, Karigan was certain, though the green uniforms were far rarer than the black and silver of the regular militia.
 
"Help..."
 
Each step she took was shaky as if her legs could no longer support her. She knelt beside him, not sure how she could aid a dying man.
 
"Are you Sacoridian?" he asked.
 
"Yes."
 
"Do you love your country and your king?"
 
Karigan paused. What a curious question. King Zachary was relatively new to the throne and she knew little of his policies or methods, but it wouldn't do to sound disloyal to a dying servant of Sacoridia.
 
"Yes."
 
"I'm a messenger...Green Rider." The young man's body spasmed with pain, and blood dribbled over his lip and down his chin. "The satchel on the saddle...important message for...king. Life or death. If you love Sacor...Sacoridia and its king, take it. Take it to him."
 
"I—I..." One part of her wanted to run screaming from him, and another part felt drawn to his need. Running away to Corsa, instead of waiting for her father to collect her at Selium, had held an irresistible air of adventure that she had anticipated. But real adventure now looked at her with a terrifying visage.
 
"Please," he whispered. "You are—"
 
The last words died inaudibly as blood gurgled in his throat and sprayed his lips, but she thought she caught a breathy the one. The one what? The only one on the road? The only one to take the message?
 
"I—"
 
"Dangerous." He shuddered.
 
Everything around fell silent in an expectant hush, as if the world held its breath for her decision.
 
Before Karigan could stop herself, she said, "I'll do it." She heard the words as if someone else had drawn them from her.
 
"You s-swear?"
 
She nodded.
 
"Sword. Bring it to me."
 
The horse shied from Karigan, but she caught his reins and drew the saber from the saddle sheath. Its curved blade flickered in a patch of sun as she held it out before her. She knelt beside the messenger again.
 
"Wrap your hands around the hilt," he said. When she did, he placed his hands over hers. It was then she saw his gloves were not dyed crimson, not originally. He coughed, and more blood flecked the corners of his mouth. "Swear...swear you'll deliver...the message to King Zachary...for love of country."
 
Karigan could only stare at him wide-eyed.
 
"Swear!"
 
It was as if she already looked upon a ghost rather than a living man. He would not allow himself to die until she swore the oath. "I swear...I'll deliver the message for the love of my country."
 
Although she had sworn, the Green Rider was not ready to die yet. "Take the brooch...from my chest. It will ident..." He squeezed his eyes shut in pain till the spell passed. "Identify you as messenger...to other Riders." The words were gasped as if he were forcing air in and out of his lungs by sheer will to extend his life. "Fly...Rider, with great speed. Don't read m-message. Then they can't tor-torture...it from you. If captured, shred it and toss it to the winds." Then, because his voice had grown so faint, she had to lean very close to hear his final words. "Beware the shadow man."
 
A cold tremor ran through Karigan's body. "I'll do my best," she told him.
 
There was no response from the messenger this time though his eyes still stared at her, bright and otherworldly. She gently pried his fingers from her hand and closed his eyes. She hadn't noticed the winged horse brooch before, but now, pinned over his heart, it glowed golden in the sun. Absently she wiped bloody finger marks off her hands onto her trousers and then unclasped the brooch.
 
A curious sensation, not at all unpleasant, as if all her nerves sang in unison, tingled throughout her body. The gold warmth of the sun embraced her, and drove the shadowy chill away. There was a fluttering like great white wings beating the air, and the sound of silver-shod hooves galloping...
 
Moments later, the sensation receded, and she realized the sound was her own excited heartbeat, and the sun had risen sufficiently to widen the patch of light she stood in. Nothing more. She pinned the brooch to her shirt.
 
She then sensed, like a breeze whispering through a hundred aspen trees, invisible lips that seemed to murmur, Welcome, Rider.
We hope you are enjoying the book so far. To continue reading...
Green Rider
Kristen Britain
Copyright © 2023 All Rights Reserved
Also in this series
Also by this author