Book info
Sample
Audiobook
Media
Author updates
Lists
Synopsis
A luxurious and richly compelling new novel from the bestselling author of Blush, about a famous family jewelry dynasty and the hidden past that could topple it all.

One perfect diamond is all it takes to divide a family. Could one summer be enough to fix it?

The Pavlin family built an empire on love. As the first jewelers to sell diamond engagement rings, they started a tradition that has defined the industry ever since. But when an ill-fated publicity stunt pits the three Pavlin sisters against one another for a famous family jewel, their bond is broken. No ordinary diamond ring, the Electric Rose splinters the sisters, leaving one unlucky in love, one escaping to the shores of Cape Cod, and the other, ultimately, dead. 

Now, more than a decade later, the only Pavlin granddaughter, Gemma Maybrook, is still reconciling the reality of her mother's death. Left orphaned and cast out by her family after the tragic accident, Gemma is ready to reclaim what should have been hers: the Electric Rose. And, as a budding jewelry designer in her own right, Gemma isn't just planning on recovering her mother's lost memento, she's coming back for everything.

From Manhattan's tony Fifth Avenue to the vibrant sands of Provincetown, Gilt follows the Pavlin women as they are forced to confront the mistakes of the past if they have any hope of finding love and happiness of their own.
Release date: June 21, 2022
Publisher: G.P. Putnam's Sons
Print pages: 384
* BingeBooks earns revenue from qualifying purchases as an Amazon Associate as well as from other retail partners.
Listen to a sample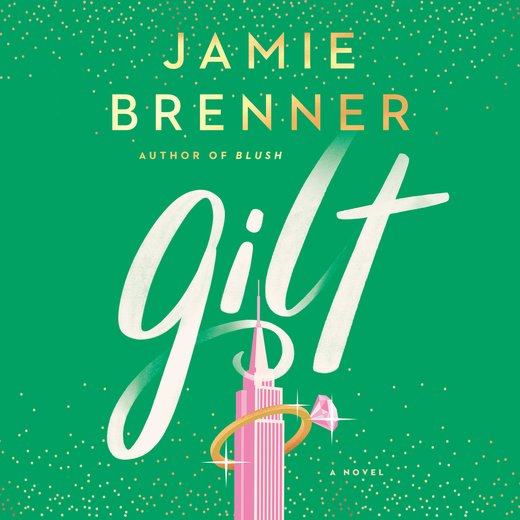 10:37:00
291.62 MB
9780593592038
June 21, 2022
Penguin Random House
Gilt
Jamie Brenner
1
 
New York City, 2004
 
She reached for her mother's hand, excited and just a little bit afraid. The sun was beginning to set on Fifth Avenue, and cars were at a standstill. Reporters crowded the sidewalk and onlookers pressed against metal security barriers.
 
"Over here, over here," photographers called out, and her parents stopped for a moment, her mother leaning down to whisper to her, Smile for the camera.
 
"Paulina, show us the ring," someone called out, and her mother flashed her left hand. A woman stepped forward holding a copy of a magazine and asked for an autograph.
 
It seemed to take forever to reach the jewelry store on the corner of Fifty-Third Street, a seven-story limestone and granite building her grandfather called a "monument to love." The entranceway was engraved with her family name. Tonight, display windows were filled with black-and-white photographs of legendary couples: Elizabeth Taylor and Richard Burton, Marilyn Monroe and Joe DiMaggio, Grace Kelly and Prince Rainier. And in front of each photo, a Pavlin & Co diamond engagement ring, just waiting to be bought by a customer with a love story of their own.
 
It was the tenth anniversary of Pavlin & Co's most famous diamond of all, a thirty-carat pink stone called the Electric Rose. Her grandfather Alan gifted the treasure to the first of his three daughters to get engaged: her mother.
 
That afternoon, her mother had let her try it on. It was so beautiful she couldn't take her eyes off it, the color of a pale rose petal but also clear like a drop of water. Gemma had to clamp her small fingers tightly together to keep the ring from tilting over.
 
"One day it will be yours," her mother said.
 
The thing was, while everyone in the family loved talking about the ring, no one seemed to ever want to talk about her parents' actual engagement. Or wedding. Or anything about her parents at all. Gemma was too afraid to press with questions. Sometimes she worried things were too perfect. That it could somehow all disappear.
 
Gemma and her mother spent all day getting ready for the party. A stylist visited their apartment, piling her mother's blond hair into an updo and blow-drying Gemma's until it hung down her back like a golden sheet. Both of their gowns were white and embroidered with butterflies, each delicate wing hand-sewn by another visitor to the apartment earlier that week, a man with a white ponytail and dark glasses and an accent, who her mother called "Mr. Lagerfeld."
 
"We're twins tonight," her mother said with a wink. "No one will be able to tell us apart."
 
When the car arrived to whisk them down Fifth Avenue, her father looked at them both and said, "You two are more beautiful than any diamond in the world."
 
Gemma's parents guided her inside Pavlin & Co, the vast sales floor transformed into a wonderland of sparkling diamonds everywhere you looked: in glass display cases, on the hands of the glamorous guests, and in the framed photos on the walls.
 
The photos were advertisements from the long history of Pavlin & Co, starting back in 1947 with a black-and-white picture-now recognized all over the world-of a man on one knee in the snow, slipping a diamond solitaire ring on the finger of a willowy brunette in a ball gown. Above them, in elegant script, the sentence A Diamond Says Love. With those four simple words, her great-grandfather had created the idea of the diamond engagement ring.
 
Her mother told her the story over and over again, the way other little girls were told fairy tales.
 
"There was a time when people didn't buy diamond engagement rings," her mother said, "not until our family made them important."
 
Gemma's eyes skipped forward eagerly, alighting on her favorite series of ads, the ones featuring her mother. She'd modeled for the 1994 ads wearing furs and her own pink diamond. Whenever Gemma looked at the photographs of her mother with her chin resting in her palm, the spectacular gem flashing on her finger, her big blue-green eyes staring directly into the camera, they didn't make her long to get engaged so much as they made her long to be Paulina. She was sure lots of women in the 1990s felt the same way. Buying a Pavlin diamond wasn't just buying a piece of jewelry-it was buying the promise of love.
 
They passed the orchestra playing near the gilded elevators, and her grandmother rushed toward them. Constance, with her eternally blond bouffant hair and head-to-toe designer outfits, seemed like a queen to her.
 
"You're late," Constance said. "Come along, everyone's waiting for you."
 
The rest of the family was assembled on the podium: Alan, looking distinguished in his tuxedo, and her mother's two older sisters, Aunt Elodie and Aunt Celeste. Like her grandmother, her aunts seemed regal and somewhat unknowable. Aunt Elodie was Alan's right hand at Pavlin & Co, while Aunt Celeste lived far away at a beach. Gemma wished she was closer with her mother's sisters. Maybe that would help fix the nagging sense that something was wrong. She was especially uncomfortable around Elodie. There was just something about the way her aunt looked at her.
 
Uniformed guards encircled the podium as her grandfather stepped toward the microphone. On either side of him, glass cases displayed glittering diamond rings in every shape and color, yellow and white and even a rare blue stone set in platinum. Of course, none of them compared to the ring on her mother's finger.
 
"Gemma," Aunt Elodie said in a loud whisper, placing a hand on her shoulder. "Don't you find it interesting that with all this security, a thief can still hide in plain sight?"
 
What?
 
"Oh, give it a rest, Elodie," her mother said.
 
"You'd like that, wouldn't you?"
 
Confused, Gemma looked between her mother and her aunt. Her stomach tensed, and that feeling came over her again-the sense of something terribly wrong.
 
"Gemma, go over there and stand with Grandma," her mother said.
 
"Why?" She didn't want to leave her side.
 
"Please just do it," her mother said, a rare flash of annoyance in her voice.
 
Biting her lip, she dutifully walked to the other end of the podium. What just happened?
 
She blinked back tears, then told herself she had no reason to be upset. Looking out at the crowd, she knew she was lucky to be exactly where she was in that moment. Everyone wanted to be a Pavlin, to have beautiful things and be surrounded by love. So what if her aunt Elodie and her mother didn't get along? It wasn't the end of the world.
 
But something deep down told her that it could be.
 

2
 
New York City, Fifteen Years Later
 
Gemma was the only student at graduation without some kind of family. She'd considered not even attending, but she'd been looking forward to the awards ceremony for a long time. And so, wearing her blue cap and gown, she took her aisle seat in the third row.
 
The auditorium was warm, teetering on the brink of overheating. Air-conditioning vents wheezed loudly, as if they hadn't been intended for a room filled to capacity.
 
She looked across the aisle at her classmate; Mae Yang.
 
Did you bring it? she mouthed.
 
Mae interned at New York magazine, and Gemma needed to borrow a press pass-the only way she was going to sneak into the Pavlin & Co centennial celebration tomorrow night. A party she hadn't been invited to.
 
The dean took to the stage. "Welcome, graduates, friends, and family . . ."
 
She slumped back in her seat, urging herself to stay in the moment-no matter how imperfect. Directly behind her, her best friend-and former boyfriend-Sanjay squeezed her shoulder. He leaned forward.
 
"Thanks again for the extra tickets," he said.
 
"No problem," she said. It was the least she could do for him. She'd give anything to have his trust again.
 
Gemma opened her compact to use her pressed powder. Her long hair, the color of white corn, was pulled back in a low ponytail. She always looked pale and tired during finals week, and this time was no exception. Except this time, her eyes-a startling deep teal color-were bright with something new. The spark was like a pang of hunger just as dinner was being pulled from the oven-so close to satisfaction, but not quite there. It was standing on a diving board, looking down from a great height. It was the final toll bridge on the long drive to a beach. Anticipation, she was learning, was most painful when you were close to the finish line.
 
The dean announced the beginning of the awards ceremony. Since the first day of her freshman year Gemma had dreamed of earning first prize in jewelry design; the NYSD Senior Award winners were profiled in The New York Times, and it was a distinction that awarded visibility to young artists and artisans at a time when they needed it the most, launching them into the real world.
 
For Gemma, it would have the added value of helping her reclaim what had been taken from her.
 
Her project was a jewelry collection she called Old New York. Gemma got the idea from visiting Sanjay at his job working the front desk of a historic hotel called the Casterbridge. The place captured her imagination the moment she walked into the lobby; it was like she'd stepped into a different century. The lobby walls were red damask and the room packed with heavy mahogany furniture. An entire wall was floor-to-ceiling bookshelves, all leather-bound volumes with wildly romantic titles: My Last Duchess, Wide Sargasso Sea, The Wings of the Dove. The guest rooms were named after classic English novelists like Browning, Rhys, Waugh, and Austen, spelled out on the doors in brass letters.
 
When Sanjay told her the hotel was being renovated and selling off all the old fixtures, she knew she needed the brass door letters to turn into charms.
 
Gemma saw the world through the lens of objects turned to jewelry. She spent every weekend scouring markets downtown or stoop sales in Brooklyn and Queens for knickknacks that could be turned into necklace charms. A lot of them reflected a little piece of Manhattan history, and all were affordable. She wanted people to feel they could build a jewelry collection without spending a fortune. Ideally, on pieces that represented something special to them.
 
Today, under her gown, Gemma wore a charm necklace that included a gold-plated Casterbridge "G," a faceted aquamarine (her birthstone), and a gold and enamel daffodil-her favorite flower.
 
"Gemma? You have to go up onstage," Sanjay whispered, nudging her from behind.
 
Applause surrounded her, and the dean stood onstage waiting expectantly. Had he just called her name?
 
She walked as quickly as possible but still felt like she was moving underwater. By the time the dean handed her a glass plaque for the top honor in jewelry design, she was so winded she could barely muster a smile.
 
"Congratulations," he said, shaking her hand.
 
She knew she was expected to make a speech, but she hadn't prepared anything out of superstition that she'd jinx herself. She looked out at the audience, and Sanjay gave her a thumbs-up. Gemma took a deep breath.
 
"I wouldn't be here if it weren't for my mother, Paulina. She's my inspiration. Mom, this is for you." The mothers in the audience glanced around, smiling, wanting to acknowledge the woman who must be so proud in that moment. But that woman had been gone for over a decade.
 
She slid back into her seat and then fanned herself with her program, vibrating with adrenaline.
 
Sanjay leaned forward and put a hand on her shoulder.
 
"Congrats. See you at the party tomorrow?" he said. She nodded, but the answer was no. There was only one party she wanted to attend.
 
Whether her family liked it or not.
 


3
 
Elodie Pavlin sat in her sun-filled office on the top floor of Pavlin & Co's flagship building. Behind her vintage brass and leather desk, the window offered a view of the busy streets of midtown in late spring, the worker bees on their lunch breaks, the tourists filing in and out of Gucci, Prada, and Versace, the police taking a break from their post outside St. Patrick's Cathedral. But Elodie didn't waste time with the view. She hadn't gotten to the helm of the company by daydreaming. At fifty-three years old, she was a woman with tunnel vision, and her focus at the moment was the party she was hosting tomorrow night.
 
Her eyes glanced toward The New York Times unfurled across her desk. It was a three-week-old copy she kept in her top desk drawer, open to the style section. The headline read, "One Hundred Years of All That Glitters."
 
This summer marks the centennial anniversary of Pavlin & Co, eponymous jewelry company founded in 1919 by Isaac Pavlin, whose son, Elliot, made engagement synonymous with diamonds. To mark the occasion, the family's private jewelry collection will be on display at the flagship store through the month of June.
 
"My father, Alan, spent his life celebrating the idea that a diamond says love," said Elodie Pavlin, now CEO. "He marked many occasions with a piece of jewelry gifted to my mother. Now I want to share these treasures with our devoted customers to show our love for them."
 
The exhibit opens the night of May 25 with a private party. It opens to the public the first week of June.
 
The black pug by her feet, Pearl, let out a sneeze that sounded like it came from a much larger creature. Pearl, her only trustworthy companion.
 
"You hate this air-conditioning, don't you?" she said, reaching down with an affectionate pat.
 
Elodie closed the paper, inhaling with satisfaction. Tomorrow's party was going to truly showcase her talents as CEO. She only wished her father had lived to see this day.
 
Growing up, Elodie loved nothing more than following her father around the Fifth Avenue store and feeling the buzz of the customers, the click of metal and glass as cases were opened and locked, the crinkle of stiff paper bags in Pavlin & Co's trademark green-the color of emeralds.
 
"Emeralds don't sparkle, they shine," her father always said. The shopping bags themselves even had a gleam to them. Emerald green had always been the brand's signature color.
 
The store was her second home and had been for as long as she could remember. Starting her freshman year of high school, Elodie spent every summer at the office. She didn't have the glamour job of catering to celebrities trying on jewels for the Academy Awards or showing multimillion-dollar engagement rings to high rollers. Instead, she had a desk at a cubicle and took orders, learned how to weigh loose diamonds, picked rings up from the setter, and arranged for deliveries. She was happy to pay her dues, to learn the business from the ground up. Someday, she would be the one hosting luminaries at the fifth-floor salon. She would be the one greeting the press at the annual holiday launch party.

That day had, at last, arrived. Since her mother's passing, Elodie had presided over two successful holiday season launches, and now was preparing for the company's centennial year – an anniversary she needed to leverage as spectacularly as possible. It was increasingly difficult to keep jewelry in the minds – and budgets – of customers.

People simply didn't buy jewelry like they used to. The entire business model was based on tradition – a tradition engineered in part due to the marketing genius of her grandfather. What would an anniversary be without a pair of solitaire diamond earrings or a string of pearls? An engagement without a big diamond ring?

But these millennials! They preferred the latest technology gadgets for their birthdays. A trip to Phuket for their one-year anniversary. An engagement ring and wedding ring might be the only piece of jewelry someone ever buys for their spouse, and even those sentimental items were becoming less and less essential. It was hard for her to believe, but it was true. This is what it had come to. And for all the big splashy pieces that generated press, for all the borrowed glitz and glamour during the television and film awards seasons, it was the buying habits of the average person that sustained a business over the decades. And the average person needed to coaxed, prodded, and lured in like fish on the line. That's what made evenings like the one she had planned so important. Desire had to be invented.
We hope you are enjoying the book so far. To continue reading...
Gilt
Jamie Brenner
Copyright © 2022 All Rights Reserved