Summer Longing
Available in:
eBook
Paperback
Audiobook
Hardcover
Book info
Sample
Audiobook
Media
Author updates
Lists
Synopsis
When a baby is left on the doorstep of a Cape Cod beach house, an unlikely group of women risks all they hold dear to harbor and protect her in this pause-resisting story from a USA Today best-selling author.
Ruth Cooperman arrives in beautiful beachside Provincetown for her retirement, renting the perfect waterfront cottage while she searches for her forever home. After years of hard work and making peace with life's compromises, Ruth is looking forward to a carefree summer of solitude. But when she finds a baby girl abandoned on her doorstep, Ruth turns to her new neighbors for help and is drawn into the drama of the close-knit community.
The appearance of the mystery baby has an emotional ripple effect through the women in town, including Amelia Cabral, the matriarch who lost her own child decades earlier; Elise Douglas, owner of the tea shop who gave up her dream of becoming a mother; and teenage local Jaci Barros, who feels trapped by her parents' expectations. Ruth, caring for a baby for the first time in 30 years, even reaches out to her own estranged daughter, Olivia, summoning her to Provincetown in hopes of a reconciliation.
As summer unfolds and friends and family care for the infant, alliances are made, relationships are tested, and secrets are uncovered. But the unconditional love for a child in need just might bring Ruth and the women of Provincetown exactly what they have been longing for themselves.
Release date: May 5, 2020
Publisher: Little, Brown and Company
Print pages: 368
* BingeBooks earns revenue from qualifying purchases as an Amazon Associate as well as from other retail partners.
Listen to a sample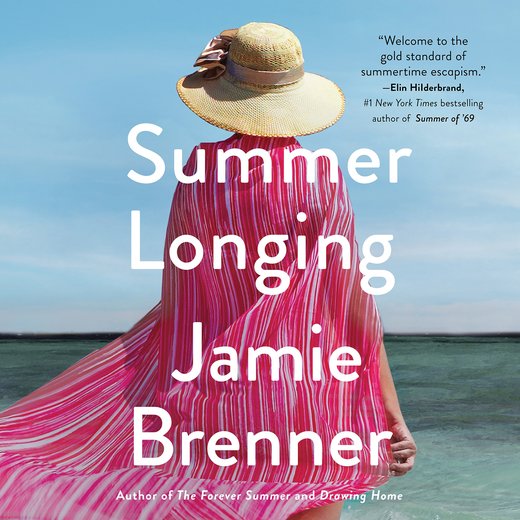 11:36:55
319.04 MB
9781478998907
May 5, 2020
Blackstone HBG
2020
Summer Longing
Jamie Brenner
Chapter One

She hadn't been on a summer vacation in thirty years. Although, if she really thought about it, a trip didn't count as a vacation if you weren't coming back. Either way, there would be no more meetings, no more deadlines, no more fires to put out. Ruth was free.

She was also anxious. The ferry ride from Boston to Cape Cod was choppier than she'd anticipated. Ruth had planned to pass the hour-and-a-half journey on the upper deck, out in the fresh air. She'd lasted about five minutes; the sun was strong and the speed of the ferry created a lot of wind and, well, she wasn't used to traveling by boat. For the past few months she'd been driving back and forth from Philadelphia while she searched for her summer rental. But now, with everything either packed up and sent to town or already in storage, she didn't need her car. She wanted to experience the journey to Provincetown like a native—by water.

She'd told only a few friends about her decision to sell her business and her house and retire in Provincetown. Her announcement was met with "Isn't there a closer beach?" and "But the winters!" To the latter, she replied, "But the summers." Really, though, why should she have to explain herself at all?

Ruth sensed the ferry was approaching Cape Cod before the shore became visible. The line for the snack bar disappeared, laptops were closed, and suitcases were retrieved from the metal racks. She checked the time; within the hour, she would walk in the front door of the most perfect beach cottage, and her new life would begin.

Ruth closed the novel she had been reading and peered out the water-streaked window of the cabin. The Pilgrim Monument, a two-hundred-and-fifty-foot tower in the center of Provincetown, came into view. The sight of it made her feel almost giddy, like a teenager. This was what she could not fully convey to her friends. The feeling she got in Provincetown was not definable by geography or weather or logic; it was like falling in love.

Next to her, a couple strapped their baby into a stroller. The baby fussed and fussed. Rattles and pacifiers were produced, to no avail. Oh, Ruth was so happy that that high-maintenance phase of life was behind her.

Ahead, she could vaguely make out the small shops lining MacMillan Wharf and, in the far distance, the steeple of the town library. To her right, the long breakwater was covered end to end with double-crested cormorants, standing with their wings spread to dry. Yes, she knew the name of the black birds now. She learned something new every time she visited. Unlike so many small towns, closed and unknowable, Provincetown was a place that offered itself to you, unfurling like a beach blanket shaken out in the sun.

How many summers had she been too busy working to enjoy the beautiful weather? She'd spent long weekends in windowless rooms testing products or fixing packaging errors or filling out spreadsheets. For decades, her complexion had been as pale in August as it was in February. Not anymore.

Beside her, the baby began to wail. Okay, perhaps it was time for the deck.

Ruth picked up her suitcase and climbed the stairs to the upper level, gripping the wet, slippery handrail all the way. Outside, she was met with a light spray of water against her cheeks; it was startling at first, but the intake of breath gave her a burst of adrenaline. She leaned over the side railing and took in the vista of sailboats and the bustling seaport, the pier already filled with art merchants and vacationers lined up for whale-watching tours. To her left, twelve-foot black-and-white photos of the town's Portuguese matriarchs greeted her from the sides of boathouses.

The motor quieted as the ferry pulled up to the dock. A crowd gathered on the wharf, and people waved at the boat, eager to greet friends and family.

She had arrived.

Ruth followed the line of people down the metal gangplank to the dock, rolling her suitcase behind her. As her fellow passengers were welcomed with hugs or excitedly shouted names, Ruth turned left and headed toward Commercial Street alone.

The wheels of her suitcase bumped against the uneven wooden boards of the pier walkway. She passed the small buildings that housed crafts shops and offices for whale-watching tours and sunset cruises, maintaining a steady pace. A traffic cop directed the flow of pedestrians and cars heading west. A Cape Cab idled near the curb, and Ruth slid into the back seat.

The taxi driver turned left down one-way Commercial, heading in the opposite direction of her house in the East End. He would have to turn around on Bradford, but she didn't mind the circuitous route. She rolled down the window and looked to her right at Cabot's Candy. On the opposite side of the street was the quirky Marine Specialties store, then the stately red-brick post office. Sights that were becoming more and more familiar with each visit.

Except she was no longer visiting. Today was her first official day as a Provincetown resident. She had hoped, when she originally set her plan in motion, that by the time she had her Philadelphia life packed up, she'd have a permanent new home in Provincetown. But finding a house for sale on the peninsula—just three miles long and two streets wide—had proved to be a challenge.

"Your best bet is to be patient and rent," said Clifford Henry, the real estate agent.

Patience was a skill that Ruth, at age fifty-eight, had yet to master. She was a firm believer in the full-speed-ahead approach. That's how she'd met all of life's challenges, and for the most part, it had paid off. But for now, Provincetown was forcing her to slow down. She would rent for the summer while looking for her forever home.

Although it was difficult to imagine finding anything as perfect as Shell Haven.

The three-story white-shingled Georgian cottage had major curb appeal. It had a wraparound open porch, a pediment roof with a widow's walk, and a front lawn blooming with blue and white hydrangea bushes. Inside, the kitchen had a beautiful built-in hutch, and the master bedroom had a view of the bay. For Ruth, it was love at first sight.

"I'll take it," she'd told Clifford Henry the day he gave her a tour of the rental property. "And for the record, this is exactly the type of house I'm looking to buy."

"You and everyone else, sweetheart," he'd replied.

The cabbie made a right off Bradford onto narrow Bangs Street, then got back onto Commercial. Ruth buzzed with anticipation. One block, and there on the right, the house came into view.

Ruth paid the driver and took a minute on the sidewalk to adjust her handbag and get a good grip on her suitcase before following the red-brick path framed by blue hydrangeas to the porch steps. You're almost home, she told herself.

One of the owners of the house, Fern Douglas, had told her she'd leave the house keys in the mailbox. This seemed to Ruth an odd and not entirely safe system, but she realized she needed to learn to go with things a little more. What was the point of moving to a place like Provincetown if she couldn't relax there?

The narrow black metal mailbox was affixed to the side of the house. Ruth rested her bag on a bench and reached inside. Her hand met only empty space.

She bent down and peered inside. No key.

You've got to be kidding me. Suddenly exhausted, she walked up to the front door to see if Fern had simply left it unlocked. No.

Ruth rang the bell. Had she somehow mixed things up? But no, of course not. She was right on time on the date they'd agreed she would move in. She rummaged through her bag, dug out her phone, and dialed Fern Douglas. The call went straight to voice mail.

So unprofessional!

She hesitated only a few seconds before knocking on the doorframe. The door behind the screen cracked open.

"Ms. Cooperman?" a woman asked. She looked to be in her late thirties and had green eyes and strawberry-blond hair that skimmed her shoulders. She was not Fern Douglas.

"Yes," Ruth said, striking a note somewhere between cheery and extremely put out. "Is Fern Douglas here? The keys were supposed to be in the mailbox—"

"Yes, apologies. The move-in date has been delayed a night. You have a reservation at the Beach Rose Inn," the woman said.

What? "I need to speak to Fern. Is she here?"

"No," the woman said.

"Can you reach her for me? Or tell me where to find her?"

"No," the woman repeated. "But I can give you directions to the inn."

Chapter Two

Elise Douglas liked to think of herself as a team player. She knew that in marriage, this was an essential trait. And if anyone had asked her on that late-spring morning what the most important thing in her life was, she would have said, without hesitation, her marriage.

The problem was that if someone had asked what the second most important thing in her life was, she might have said her home. It had taken a lot of time and luck to find Shell Haven, a glorious eighteenth-century house. Three years into their life in Provincetown, the two of them had moved in and devoted themselves to lovingly restoring it. It had been intended as the place to start their family. Now, two summers later, they were moving out.

"It's temporary," Fern had reminded her.

"It's for the entire season."

"A minor inconvenience, considering how much our tenant is paying."

Fern was right, of course. She had a way of being maddeningly practical no matter the situation. For Elise, renting out the house felt like a personal loss, like they were giving away a piece of their lives for the summer. For Fern, it was just business.

When Fern had her mind set on something, it was very difficult to argue with her. And that's why, for the past few months, ever since the house-renting plan had been put in motion, Elise had simply pushed it to the back of her mind. She didn't think about it at all, pretended it was not happening.

But now it was move-out day.

They were supposed to have left the previous day, ensuring that the house was in pristine condition for their summer tenant. But Elise had begged Fern for one more night under their own roof, and Fern acquiesced. They slept in the guest room and woke up early to change the sheets and pack any last-minute things they might have forgotten. It had been, Elise had to admit, a true indulgence on Fern's part. It was, Elise had to admit, Fern being a team player.

Elise knew she had to let go. But earlier that morning, watching Fern retrieve their spare set of house keys and leave them in the mailbox for their tenant, something in her snapped. In the past year, she'd given up so much. Too much. She did not want to give up her house too.

And so, after Fern left for work, Elise opened the door and walked out onto the porch. She blinked for a moment in the sunlight, hesitated for just a few seconds, and then reached inside the black metal mailbox just outside the door. She felt around until her fingers touched the house keys, pulled them out, and dropped them into the pocket of her robe.

What she'd done next, well—she wasn't proud of it. She realized, as she walked to the tea shop to join Fern, that she had perhaps crossed a line by displacing their tenant. But there was nothing she could do about it now, and she was already late for work.

She climbed the front steps of the two-story Colonial in the middle of Commercial Street that housed Tea by the Sea. Their shop had been open for business for exactly one week.

Elise had dreamed about owning a tea shop for over a decade. In her twenties she'd waited tables at Boston Seaport restaurants, one of which offered a small selection of specialty teas. It was the first time Elise understood that Lipton didn't define tea any more than Folger's defined coffee. She broke up the long hours on her feet with tea breaks between shifts. Tea forced her to slow down, be mindful. She learned about velvety white tea, the earthiness of green teas, the complex flavors of oolong.

The dream of owning her own shop was fanciful, and she'd never imagined it would become a reality. And then Fern made it happen.

The shop was all white walls with ceiling fans, tin ceiling tiles, rows of shelves with the shop's own brand of artisanal tea, and, in the back of the store, a long white counter. On one side, two big chairs were arranged in front of the large picture windows with unobstructed views of the bay. And everywhere, the aroma of fruity tea leaves.

Looking at the beautiful space they'd created, she realized how badly she'd behaved with the house. She could practically feel the keys burning in her pocket.

She had been impulsive and now she had to fix it. She had to confess to Fern.

But Fern was busy. She was sitting across the room in front of the window with a notepad, interviewing yet another applicant for their part-time position. The young woman was very dressed up for an afternoon in P'town, even for a job interview. She wore a pastel print skirt and matching ballerina flats.

It was that time of year; a tide of young people swept into town for the summer, and enough of them were looking for jobs that small businesses and restaurants could staff up after the long, DIY winter. Fern had interviewed almost a dozen late-teen or twenty-something women in the past two weeks. She'd offered the position to a few but lost them to restaurants, where they would earn higher tips.

Fern stood up and shook the applicant's hand; the young woman left with a shy smile at Elise.

"How did that go?" Elise said. "She looks familiar."

"We met her last summer when we were selling at the farmers' market. Her name's Cynthia. Family lives in Chatham but she wants to spend the summer here. She seemed unconcerned about tips as long as we can give her enough hours." She looked up at Elise and smiled. "We'll see."

Fern climbed on a chair and reached above the front counter to write the iced tea of the day on the chalkboard: Chai Tide. It was a blend of black tea and spices like cardamom, cinnamon, fennel, ginger, black pepper, and cloves.

"I thought we were going to do the ginger peach for the iced today," Elise said.

"We're low on that," said Fern.

"Listen, I need to tell you something," she said, walking to the counter. She climbed up to stand on it so she was level with Fern perched on the chair. She took the chalk from her hand and drew a big heart on the chalkboard. "I love you."

Fern smiled. "I love you too. Now erase that so I have space for the menu."

"Look, I really tried to be ready to hand over the house today. But I still feel like I need more time. It's a big adjustment. So I did something that—"

"Elise, I know it's been a rough year. But try to be positive. Look at this beautiful place we have. Please—let this be enough."

Elise nodded, swallowing hard. She turned back to the chalkboard and, with one sweep of her palm, erased the heart. Before she could say another word, the front door's bells tinkled, announcing the arrival of their real estate agent, Clifford Henry. Clifford was a youthful forty-something with bright blue eyes and heavily highlighted brown hair that he wore slicked back.

Clifford Henry, who'd brokered the rental to Ruth Cooperman.

Elise began to perspire.

"My tea divas! What is that divine smell?"

"That's our Strawberry Meadows, a green sencha tea with bits of dried strawberry in it," Fern said. "Would you like a cup?"

"Of course! Iced, please. But ladies, we have a problem, do we not?"

"What problem?" Fern said, stepping down from the chair.

"I just got an earful from Ruth Cooperman," Clifford said. "She's at the inn waiting for me to straighten things out. So let's do that, shall we?"

Fern turned to Elise. Clifford looked at Elise.

Elise climbed down from the counter, removed the keys from her pocket, and slid them over to Clifford.

  

Ruth carried her suitcase up yet another set of front steps to yet another porch, aware on some level that the Beach Rose Inn—a three-story gray-shingled house with wide steps leading to a wraparound veranda—was quite charming. But she was in no mood.

Her real estate agent had not, by her estimation, been sufficiently outraged by this turn of events.

"I'm sure this is just a misunderstanding," he'd said when she'd shown up at his office. "It's the start of the season and things can be…glitchy. It's nothing to be upset about. I'll take care of it."

Considering what she was paying for the house, she certainly hoped so.

She opened the front door of the inn and almost tripped over a sleeping chocolate Lab. Across the room, a barefoot young woman stood on a step stool, hanging a mosaic-framed mirror on the wall.

"Rach, that's too high," said a man standing near her.

The woman turned around with a toss of her long, golden-brown hair. She reached her hand down to the man, and he passed her a nail.

"No, it's not. It's eye level," she said.

"In what universe is that eye level? You're standing on a stool."

The woman noticed Ruth. "Oh, hello there. Can I help you?" she asked, stepping off the stool.

Ruth, completely worn out, let go of her suitcase and sank onto a cushioned ottoman. The lobby was warm and welcoming, with white walls and woodwork, framed black-and-white prints of historical Provincetown, pale gray couches flanking a white wicker table. Ruth appreciated the decorative accents of antique copper candlesticks, glass bowls filled with seashells, a wide bookshelf with well-worn hardcovers and warped paperbacks. But the most arresting aspect of the space were the mosaics, some made of tile, others made of stone and shells. One wall featured a large stained-glass starfish. Spectacular. "I was told to ask for Amelia," she said.

The woman and man exchanged a look.

"I'm Rachel Duncan," the woman said. "Amelia's granddaughter. She didn't tell me we had a guest checking in today, but come on in. This is my husband, Luke."

The man had taken her place hanging the mosaic. He climbed down, smiling warmly at Ruth. He looked to be in his midthirties and had sandy-brown hair and bright green-blue eyes.

"Luke Duncan," he said, shaking her hand. "Nice to meet you."

"Yes, well, I'm not staying here," Ruth said. "There was just a misunderstanding at my house."

Again, the woman and her husband exchanged a look.

"You should probably talk to—" Rachel said.

"I'm here, I'm here," a voice called from somewhere. And then an old woman entered—a very old woman. She walked briskly toward Ruth. She had long white hair and creased skin and wore a green-and-purple-batik sundress. She smiled at Ruth; her eyes were dark with a twinkle of mischief. "You must be Ruth. I'm Amelia."

"I was just explaining this is a misunderstanding."

"Yes, yes, it will all be straightened out," Amelia said. "In the meantime, I was just putting out a bite to eat."

Ruth, accepting the fact that she had completely lost control of the day, followed Amelia to the backyard. Really, she shouldn't have been surprised by the odd turn of events. Provincetown was nothing if not quirky. Yes, it was the place where the Pilgrims had first landed. But it was also a haven for the artistic and the downright eccentric. Over the decades, Provincetown had developed its own unique rhythm, its own code. It was peaceful and welcoming, and at the same time, there was always the sense that anything could happen.

The bay stretched out before them, sun-dappled, dotted with distant sailboats. The backyard, with a long wooden table in the center, extended to the edge of the beach. The table was set with a pitcher of iced tea, a coffeepot, several small tins, a few coffee mugs, an assortment of glasses in pale translucent colors, and a bread basket.

Ruth, too hungry to politely hesitate, sat facing the water and poured herself coffee. Amelia passed her the bread basket, its contents enclosed in a folded cloth napkin. Ruth unwrapped it to find a round yellow loaf, half of it sliced into thick pieces.

"Broa," Amelia said. "Portuguese corn bread. There's butter and jam in those tins but I honestly don't think it needs a thing."

Ruth reached for the bread and took a bite. It was rich and buttery but not too sweet. "I appreciate your hospitality, but I'm not staying," Ruth said. "I'm supposed to move into my summer rental today. Well, technically I already moved in. I sent my things and I was going to get the keys this morning, but there was a delay. I'm just waiting for my real estate agent to sort it out."

"Fern and Elise's place. I heard. It's a lovely home."

"There you are," a man called from the back porch. He walked toward them holding a large blue cooler. Ruth found herself straightening in her seat. He had thick dark hair, chiseled features, and dramatic dark eyes. He looked to be about thirty. "As requested, two dozen oysters fresh off the water."

"Marco, you're a lifesaver," Amelia said.

"Anytime." The man kissed Amelia on the cheek and set down the cooler. "Marco Barros," he said, holding out his hand.

Ruth shook it, trying not to beam like a teenager. "Ruth Cooperman."

"She's renting Fern and Elise's place for the summer," Amelia said.

"Nice to meet you. I have to run, Amelia. My father just helped me pull a bunch of cages and you wouldn't believe the condition they're in."

"Rough spring?"

"Not ideal. But I'm managing."

"I'm sure you're more than managing. Tell your mother I said hi."

When he was gone, Amelia said, "Marco's family runs the boatyard. A few years ago he started an oyster farm. His sister just finished her first year at Princeton. Good kids."

Ruth nodded.

"Do you have children?"

Momentarily thrown by the question, Ruth looked down at her coffee mug, turned it in her hands. "I do. A daughter. Olivia."

"Will she be visiting this summer?"

"No, she will not." She didn't have the heart to tell the woman that the last time she had spoken to her daughter was months ago, and that had been just a perfunctory conversation. Her daughter did not even know she'd moved to Provincetown.

Ruth's phone buzzed with a text from Clifford. I'm bringing over your keys. Meet me at Shell Haven.

Well, there was no time for sentimentality. Or further conversation. She pushed the bench out from the table and stood up to leave.

She had a house to move into.

Chapter Three

Olivia Cooperman pushed through the heavy doors of the Tribeca art deco office building just after eight o'clock in the morning. She swiped her ID card in the turnstile and smiled at the security guard.

For the past eight years she'd spent more time at 32 Sixth Avenue than in her own apartment. She still got a thrill out of the commanding lobby with the tiled map of the world, the mosaic ceilings, the bustle of all the people coming from and going to the twenty-seven floors filled with businesses ranging from radio stations to fashion labels to PR firms. Olivia was headed to the twenty-second floor, home to HotFeed, one of the biggest celebrity social media–management companies in the country. Olivia oversaw a team of twenty people running the accounts of movie stars, athletes, reality-TV stars, and musicians.

Last week HotFeed had won the business of a breakout star from a Netflix show. The actress, barely out of her teens, had appeared at the office for one meeting with her army of publicists and agents. Now Olivia and her colleagues were waiting to see which HotFeed account manager would get to take the reins of the plum account.

Olivia wanted the assignment. Badly.

At thirty years old, while many of her friends were planning weddings, moving to the suburbs, and having babies, Olivia devoted herself to work.

"You can have a personal life and a professional life, you know," a friend had told her recently over drinks. A friend with a newly acquired diamond on her left ring finger.

"I think the myth that you can have it all has been debunked," Olivia replied. The myth had certainly been disproven in her own life experience. The most recent casualty of her demanding career: her two-year relationship with a banker named Ian Brooks. Just last week, he'd broken up with her in the middle of dinner at Blue Hill.

"I hope you and your phone will be very happy together," he'd said before he walked out.

The impossibility of a work-life balance had been painfully clear to her from the time she was a child. She'd always resented her mother's preoccupation with her business. Ruth Cooperman had spent long days at the office; she'd never made it to any of Olivia's school plays or baked for a single fund-raiser. She hadn't even given a thought to dinner half the time. Her father had managed all that. Olivia had promised herself that if she had an intense career, she wouldn't make the mistake of adding a child to the mix. For Olivia, it wasn't just career first. It was career only.

She'd thought she'd made that clear to Ian from the start.

"Good morning, Dakota," she said to her assistant, who was already settled in her cubicle outside of Olivia's glass-walled office. Olivia had hired Dakota just over a year ago, fresh out of NYU. Dakota had a communications degree, a tattoo of Dorothy Parker on her left shoulder, and the ability to produce endlessly creative hashtags.

"Hey," Dakota said, biting on the end of a pen. "There's a delivery there for you."

Olivia had already spotted it, a long rectangular vase filled with exotic flowers twisted into a train of petals that seemed to float on the surface. She began humming softly to herself, some pop song she'd listened to during the subway ride to the office. It could only be congratulations from someone. Someone who knew she'd landed the account. Or, more likely, the person who had granted her the account.

It was happening. Her hard work, the sacrifice of her personal life, was paying off. It didn't matter what other people thought.

She closed her office door and smiled as she opened the small white envelope.

No hard feelings, xoxo Jessica

What? She looked through the walls of her glass office to the cubicles just outside. There, next to Dakota, was another assistant, Jessica. Jessica was young, Jessica was cool, Jessica was…getting the new account?

Heart pounding, Olivia texted her assistant. Can you come in here, please?

Dakota scurried in carrying a razor-thin company-issued laptop and her phone.

"Close the door," Olivia said. "What have you heard about Jessica?"

"She got a promotion. And the new account," Dakota said. "I thought you knew."

Olivia shook her head. "This doesn't make any sense," she muttered.

"I mean, it kind of does," said Dakota.

"How do you figure?" Olivia asked, her mouth dry. She'd put eight years into this company; Jessica had been there eighteen months.

"Well," Dakota said casually, as if pointing out the obvious, "she does have the biggest Instagram following in the entire office."

"Right," Olivia said, her mind racing. It's okay, she told herself. You've got this. The only answer to work problems was to work harder.

  

Elise and Fern closed the shop at six and, exhausted, retired upstairs for an early night.

The studio apartment above the tea shop had needed a lot of work. While the storefront had come with beautiful moldings and a filigree ceiling, the living quarters on the second floor had fallen into disrepair. Over the winter, a contractor had updated the electrical wiring and plumbing, plastered the walls, and stripped the floors. But the bedroom furniture had arrived just days ago.

Their first night in their summer accommodations, both Elise and Fern shifted uncomfortably in the unfamiliar bed.

Elise closed the book of essays and placed it on her nightstand alongside the blue candle she had bought to match the walls, which were painted a shade called Sapphireberry. At the shop, she'd been told the candle was for healing, forgiveness, fidelity, happiness, and opening lines of communication.

It's going to take a lot more than a candle tonight, Elise thought.

She lit the candle.

Next to her, Fern paged through a short-story collection. Elise knew neither one of them could absorb a word of any book. They hadn't spoken since midafternoon.

"Do you think this blue is too blue?" Elise said, to break the ice. She had selected the bright color herself, and Fern, who usually had a more conservative eye for interior design, had not protested. In an attempt to overcome Elise's reluctance about renting out the house for the summer, Fern had given Elise a lot of leeway in decorating their new living quarters.

Fern closed her book and looked at her. "Are we going to talk about what happened today?"

Elise sighed. "I'm sorry. I've said I'm sorry a million times. It was a temporary freak-out." She reached for Fern's hand and Fern didn't pull away. That was a good sign.

"We have a contract with our tenant. This is business," Fern said. "What you did today undermined everything we'd agreed on."

Elise n. . .
We hope you are enjoying the book so far. To continue reading...
Summer Longing
Jamie Brenner
Copyright © 2022 All Rights Reserved