Drawing Home
Available in:
eBook
Paperback
Audiobook
Hardcover
Book info
Sample
Audiobook
Media
Author updates
Lists
Synopsis
An unexpected inheritance, a promise broken, and four lives changed forever: the newest page-turner from USA Today bestselling author Jamie Brenner.
Summer has started in idyllic Sag Harbor, and for Emma Mapson that means greeting guests at the front desk of The American Hotel. But when one of the town's most famous residents, artist Henry Wyatt, dies suddenly, Emma learns he has mysteriously left his waterfront home — a self-designed masterpiece filled with his work — to her teenage daughter, Penny. Back in Manhattan, legendary art patron Bea Winstead's grief at her lifelong friend and former business partner Henry's passing turns to outrage at the news of his shocking bequest. How did these unknown locals get their hands on the estate? Bea, with her devoted assistant Kyle in tow, descends on Sag Harbor determined to reclaim the house and preserve Henry's legacy.
While Emma fights to defend her daughter's inheritance, Bea discovers that Henry left a treasure trove of sketches scattered around town. With Penny's reluctant help, Bea pieces them together to find a story hidden in plain sight: an illustration of their shared history with an unexpected twist that will change all of their lives.Drawn together in their battle for the house, Emma and Bea are forced to confront the past while facing a future that challenges everything they believe about love, fate, and family.
Release date: May 7, 2019
Publisher: Little, Brown and Company
Print pages: 368
* BingeBooks earns revenue from qualifying purchases as an Amazon Associate as well as from other retail partners.
Listen to a sample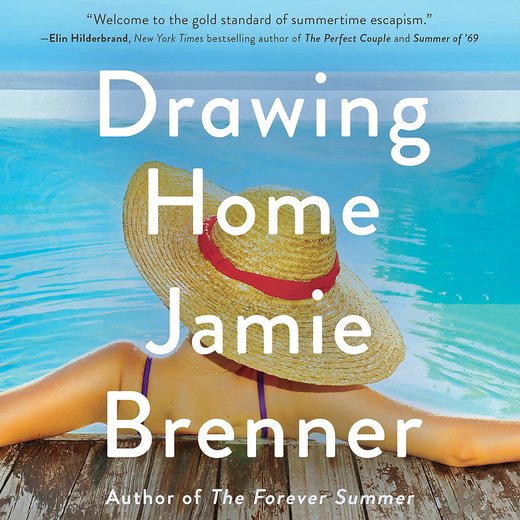 12:00:37
329.89 MB
9781478998891
May 7, 2019
Blackstone HBG
Drawing Home
Jamie Brenner
Chapter One

On summer weekends The American Hotel in Sag Harbor felt like the center of the universe. If you lived in town, you were stopping by for a drink, and if you were visiting, you wanted a spot in one of the eight guest rooms.

It was the Friday before Memorial Day, not officially summer but close enough. The Hampton Jitney stopped right in front of the hotel and unloaded a fresh batch of Manhattanites every hour.

Emma Mapson, a Sag Harbor native, had watched the summer crowds grow every year. She'd seen fancier restaurants open and higher-end boutiques decorate Main Street. But one thing that never changed was The American Hotel. The red-brick Colonial building looked and felt exactly as it had when Emma was a young girl, with the same antique wood furniture, nautical paintings, and Tiffany chandeliers. The lobby had the same well-worn couch and the same backgammon table where her father had taught her to play and where she, in turn, had taught her own daughter to play. It all seemed to say to her, Go ahead, live a little. At least, it used to feel that way.

"I have a problem with my room," a woman said, approaching the front desk.

"I'm sorry to hear that," Emma said, glancing down at the handwritten reservation log and trying to figure out which guest she was talking to. "What's the problem?"

"Everything!" the woman said. "I can't find a single outlet for charging my phone. There's no television, and there's no closet."

Emma arranged her face into a practiced, neutral expression. Too empathetic, and it was like she was admitting there was a problem; too quizzical, and the guest felt even more provoked. Best to look simply blank.

"What's your last name, ma'am?" Emma asked.

"Stoward." She spelled it slowly, as if Emma were barely familiar with the alphabet. Emma flipped through the reservation ledger and found the woman was booked in the Cooper Room. True, there was no television in that room—or in any of the rooms. And although technically there wasn't a closet, the room did feature a large antique armoire. She had no idea why the woman couldn't find the outlets.

"Mrs. Stoward, I'll—" Emma looked up and caught a glimpse of a familiar mop of curly dark hair across the lobby.

The American Hotel's front desk provided the best people-watching in town. Emma never knew who might be sitting on the sofa, which offered views of Main Street on one side and the hotel's always-full bar on the other; she might look up and see the town dockmaster, a tourist from the Midwest, a celebrity chef, or Billy Joel, a local. But she was happiest when the person planted in that coveted spot was the one she saw now, her fourteen-year-old daughter, Penny.

Penny's thin frame was hunched over her drawing pad, as always. Emma couldn't see her face because it was hidden by hair. Oh, that hair. When Penny was a toddler, people had stopped Emma in the street to comment on her daughter's curls. Emma watched her now, willing her to glance up. She could always tell from Penny's eyes—big and dark and so unlike her own—whether or not she was in a decent mood. Emma didn't know if it was Penny's age or just Penny, but the mood roller coaster was something to be reckoned with.

Emma smiled at the hotel guest standing before her. "I'll be up to your room in a minute to see what I can do," she said, buying herself some time to find out why Penny had left school so early. When the woman was out of sight, Emma slipped out from behind the desk.

Penny, busy rummaging through her book bag, didn't notice her.

"Hi, hon," Emma said. "What are you doing out of school?"

Penny looked up, pushing her curls out of her face.

"It's a half day. You know, 'cause of the holiday weekend."

Of course. "Right! I forgot." She leaned down to wrap her arms around her but Penny wriggled away. Emma straightened up, trying not to feel rejected. "Okay. So what's your plan?"

"I'm going to hang out with Mr. Wyatt. But I need to buy a book first." She gave Emma her puppy-dog-eyed I need money look.

Emma sighed. "Can't you borrow it from the library?"

"They don't have it yet and I really want to show it to Mr. Wyatt today."

Emma turned to look at the corner of the bar where the old man, a world-renowned artist and her daughter's unlikely pal, could always be found in the late afternoon. "Don't bother Mr. Wyatt right now. He's talking to someone." She walked Penny to the front desk and handed her a twenty. Her daughter leaned over and gave her a quick kiss.

"I guess now I know the price of a little public affection," Emma said.

Penny rolled her eyes on her way out the door.

Emma answered the ringing house phone, booked a room reservation, and then walked up the stairs to the second floor to see what she could do to placate the complaining guest.

"Finally," Mrs. Stoward said when she opened the door. She was not alone in the room. Emma spotted a man—Mr. Stoward?—seated on the edge of one of the twin brass beds. He was busy tapping away at his phone and didn't bother looking up.

"See what I mean?" Mrs. Stoward waved her arm as if to say Look at this disaster.

Emma glanced around, taking in the antique full-length mirror, the red-and-gold-striped couch, and a set of Dominy chairs. The room also featured a beautiful armoire that could hold a full wardrobe.

It made her crazy when summer people didn't fully appreciate the charm of the hotel. The building dated back to 1843 and yet guests expected it to feel like the Four Seasons. And they never had any sense of the village's history. They didn't care that it had been a whaling port, a writers' colony, a historic African-American community, a stop on the Underground Railroad. Did they know that John Steinbeck had called Sag Harbor home? No; all they wanted was restaurant recommendations.

"Let me show you the outlets," Emma said. She bent down and pointed out one hidden by the legs of the wooden desk.

"Well, that solves one problem," the woman said, hands on her hips.

Emma walked to the armoire and opened it. "We have more hangers if you need them. I think you'll find this very spacious."

Mrs. Stoward peered suspiciously at the armoire. "Is this cedar?"

"Just use the damn cabinet, Susan," mumbled the man.

"And what about the television?" she said to Emma.

That got the man's attention. He directed his irritated gaze at Emma. "Yes, we need to get a television in here," he said. "There's a game at seven."

Before Emma could explain that they didn't have televisions at the hotel, she heard a scream from the ground floor.

"Excuse me," she said, and she rushed from the room to the top of the stairs. One of the housekeepers was running up.

"Someone just passed out at the bar!" the housekeeper yelled, almost breathless. Passed out? It was early afternoon. Had someone already overindulged? It had been known to happen.

"Did you call an ambulance?" Emma said, running down the stairs to reach the front desk. She pushed through the wooden door between the stairwell and the lobby, a door she knew was often blocked by a café cart or a table, but she would lose precious seconds if she used the patio door and went around to the front entrance.

Nothing was blocking the door to the lobby today. She grabbed the black landline phone on the front desk and dialed 911.

"It's Emma at The American Hotel. We need an ambulance for an unconscious customer." The dispatcher asked her for some specifics, but from her spot, she couldn't get a good look at the fallen customer, and the phone wasn't cordless. The old-fashioned quirks of the place sometimes posed a challenge. She should have used her cell phone, but service could be spotty.

Waiters and busboys gathered around the person on the floor; the bartender, Chris, was on his knees trying to help. Did Chris have EMT experience? She wouldn't be surprised. Most people working in town were, if not jacks-of-all-trades, skilled at a variety of jobs. The person taking your dinner order one night could very well be operating your water taxi the next.

She scanned the bar, looking for anyone she recognized, trying to get a sense of whether the guest on the floor was a tourist or a local. The bar had a few regulars who came for happy hour every day, year-round. They were the ones at the bar in the middle of a blizzard. The American Hotel was a club to these customers.

Emma realized one bar stool was empty, the one at the corner closest to the lobby.

Oh no. She hoped the person on the ground wasn't who she thought it was.

 

Penny crossed Main Street, heading for the bookstore. As far as she was concerned, the town had two major things going for it: the bookstore and the self-serve frozen-yogurt shop, BuddhaBerry. Somehow, between these two places, she would find a way to pass the three-day weekend.

Penny didn't do well with lots of free time. It made her anxious.

"Instead of worrying," her mom had said, "think of something you have to be happy about. Just one thing, even if it's small."

One thing she had to be happy about was that eighth grade was nearly finished. It had been a brutal year. She'd almost failed math. Her best friend, Robin, barely had time for her anymore now that she'd become part of the group of "basics"—the girls with the flat-ironed hair and the new iPhones and the right clothes. Then, in December, the town's only movie theater had burned down. Everyone freaked out—it had been a historic building, and that stretch of Main Street smelled charred for weeks afterward. The burned pit was nasty. Still, Penny was amazed how upset people got about it.

"It's symbolic," her mother told her. "It's a sudden loss. And too much about this town is changing as it is. We have to hold on to some things."

Without the theater, there was one less thing to do on the lonely weekends. And now, one less thing to do this summer.

But she still had this place, Harbor Books.

The bookstore smelled like fruit and spices from the Dobrá Tea bar in the back. The owner, a twenty-something woman named Alexis Pine, had told Penny about the tea thing months before it opened. Alexis was obsessed with it—oolong tea, pu'er tea, green tea. Alexis had long hair that had once been blond but was now the pinkish-red hue of hair that had been dyed with Kool-Aid. She had funky, boho clothes and was basically everything Penny wished she could be. Alexis also had two cats in the shop, a vintage-book collection in a glass case in the back, and an impressive working knowledge of graphic novels.

"Hey, Penny," Alexis called from the counter. "Your book came in."

Penny was moving on from her manga and superhero phase and getting into realism with the graphic novel This One Summer by Jillian Tamaki and Mariko Tamaki.

Penny slid her mother's twenty across the counter with her fingertips, trying to touch as little of the bill as possible.

"Whatcha doing this weekend?" Alexis asked, handing Penny her change.

Penny quickly shoved the change in her pocket, pulled her forbidden tube of Purell out of her handbag, and squeezed a fat blob of it on the backs of her hands and on her palms. It burned her skin, which was already dry and cracked from overwashing.

"I'm not sure what I'm doing yet," Penny said.

She was embarrassed to admit that she didn't have any plans. Why did she feel like such a loser lately? It wasn't just the usual things, like not having a dad around and living in a house that was small and in the wrong part of town. Her otherness felt deeper, more unshakable, with every passing week.

It was why she felt more comfortable around older people. They didn't seem to notice anything strange about her. Most were just nice. This was why she had gotten into the habit of hanging around the hotel where her mother worked.

That's why she was going back there now to show her new book to Mr. Wyatt.

Mr. Wyatt had white hair and always wore a tweed jacket and carried a nephrite walking stick from Fabergé. His usual seat was in the near corner of the bar, his back to the lobby, and he didn't talk to anyone because he was always bent over a cocktail napkin doodling. It had taken a while before she'd realized some of these napkin drawings were framed in the dining room. The night she'd noticed this, she wanted to ask her mom about it, but the bar had been packed, and if her mother had known she was still there, she would have sent her home. So she asked the old man, "How'd you get them to hang your drawings on the wall?"

"They fished them out of the garbage or retrieved them from a crumpled heap at the end of the evening. I had very little to do with it."

It took her a few seconds to process this, and then she told him, "I draw too." It was one of the few things she enjoyed.

"I'm surprised anyone of your generation lets go of the phone long enough to put pencil to paper," he said.

"I'm not allowed to have a smartphone," she said. Penny had OCD and anxiety, and the doctor said screens were the worst things for her. This didn't help her in the friend department.

"You're not allowed to have a phone but you're allowed to hang around in hotel bars?" he said.

"I'm just visiting my mother at work," she told him.

The old man looked across the room at her mother, then back at her. He smiled for the first time. "Emma's kid. I see the resemblance." He had to be lying. Her mother was beautiful and she was, well, not.

After that night, Mr. Wyatt asked to see her drawings. He met her in the lobby and they sat on the couch; she drank soda and he had martinis and he taught her about contour and proportion. A month or so later, she realized that Henry's drawings were hung in other places besides the hotel. His artwork was all around town. Henry was famous.

Now, as she was leaving the bookstore, her phone, her old, crappy, embarrassing flip phone, chirped with a text.

Don't be mad. You can totally come to the party. I'll send you the address.

Penny ignored it. She didn't need Robin's charity invitation. She had better things to do.

She headed back to the hotel. It took her a minute before she noticed the police cars. Two were parked at an awkward angle right in front of the building. Traffic was being redirected. A small crowd had gathered on the sidewalk.

She ducked her head down and tried to slip across the front porch to the hotel entrance.

"Young lady, step aside. You can't go in there," an officer said.

Ushered to the sidewalk, Penny wondered if she could sneak around back. And then—

"Some old guy dropped dead at the bar," a man announced. "Right over his martini."

"That's how I want to go," someone said.

Penny stood very still. Sirens blared nearby, and she covered her ears, her anxiety officially triggered. In the midst of all this, the four o'clock jitney pulled up to the curb, and dozens of passengers disembarked, lugging bags and talking on their phones. Although Penny was desperate to get away, she was trapped by the swarm of summer people in a hurry to have fun.

Chapter Two

Few things in life gave Bea Winstead more pleasure than a crowded room.

As one of New York's most legendary art patrons, Bea was famous for her intimate gatherings of, oh, a hundred or so people, the kind of people whose deep pockets and eagerness to acquire the next big thing merited an invite. And then there were the guests of honor, the lucky artists who walked into Bea's Park Avenue apartment wondering how they might pay the next month's rent on their studios in Greenpoint and ending the evening with six figures in sales. It was this promise of art meeting commerce that had given Bea's parties the heady air of unpredictability and importance for more than four decades.

But apparently, her power was waning. She scanned the room and noted the no-shows. Had her parties lost their luster? Or was it simply that she could not compete with Memorial Day weekend, when everyone fled to the Hamptons? God, how she loathed the Hamptons.

"Kyle, tell the caterers to keep the drink carts at least five feet from any panels."

Her assistant was a handsome young man with a thick head of hair, vibrant blue eyes, and the chiseled features of a movie star. When she first saw him doing odd jobs around her building, she assumed that was what he aspired to be, an actor, like her favorite waiter at Aureole, who'd ended up on a sitcom.

"No, ma'am. I'm happy to be a handyman," he'd said when she asked.

Bea appreciated that kind of focus. Dedication to work was important, whatever that work might be. It was a sign of good character. And so, when she needed help with a particularly complicated art installation in her apartment, she'd asked him. That same week, her assistant quit. She thought, Why not hire someone practical, for a change? Enough with these dreamy art hangers-on with no discernible skills. She offered the young handyman a job with a salary he couldn't turn down.

Bea took a final look at the canvases Kyle had mounted on the wall for the evening's event, paintings of gigantic flowers, amoebas, and birds. The artist, Bronx native Frank Cuban, was twenty-six years old. Bea was hosting this show of his work tonight as a favor for an old friend, Joyce Carrier-Jones, an artist she'd known back in the heyday of the Tenth Street galleries. Now Joyce was the dean of admissions at Franklin, the city's top fine-arts high school. Cuban was a former student. In art, as in life, it was all about who you knew.

The artist's show included one panel in acrylic, graphite, wood, and nail polish. Another was an oil pastel on paper with Sharpie and spray paint. Amusing, yes. Groundbreaking, no. Bea missed the days when there were one or two big art movements in any given decade. She missed the sense of discovering a true star.

But the key to longevity was not to look back. Looking back was fatal to the spirit.

Joyce Carrier-Jones walked over and handed Bea a glass of wine. Joyce had a loud manner of dressing, bright caftans and large ceramic jewelry. Her dyed-black hair had a dramatic silver streak in front and she wore oversize square-framed glasses.

"Cheers," Joyce said. "To the rise of another new talent. You know, Bea, I really admire your career. I might want to move into managing artists like you used to do. Never too late, right?"

Bea barely heard her. She held up her wineglass, incredulous. It was stemless! Did any standards exist these days?

"This is unacceptable," she said.

"Do you see a crack?" Joyce said.

"It's not what I see, it's what I don't see—a stem! You cannot serve white wine in a stemless glass." Her free hand fluttered impatiently up to the large pearls around her neck.

"Oh, Bea, it's fine. You have to get with the times. These are very popular right now."

"A stem is for function, not decoration. It is to keep the chilled wine from being heated by hands."

She charged back into her foyer in a huff, thinking for the thousandth time that the greatest indignity of aging was not watching your body degrade but watching the world around you fall apart.

Bea had been raised in a place where etiquette was second only to religion—Newport, Rhode Island. She was born just a few years after the Great Hurricane of 1938, a night when roads had been washed away along with people's lives. But her parents' story about that infamous evening said everything about the town: When the deadly storm hit, their neighbor Grace Graham Wilson Vanderbilt was preparing for a formal dinner, and she continued her preparations even as a large portion of her porch was swept away by the winds. Roads became rivers, and the invited guests had to decide whether to risk their lives or risk offending Grace Graham Wilson Vanderbilt. Twenty-seven of the thirty invited dinner guests arrived.

She would have her assistant deal with the wineglasses.

"Kyle, I need to talk to you," she said, snapping her fingers and waving him over.

"I need to talk to you too," he said. "There's something you should see."

Kyle handed her his phone, a news alert on the home screen: Henry Wyatt, pioneer of the minimalist art movement, dead at 83.

The room blurred around her. The party, the paintings, the wineglasses—all receded, replaced by images of another crowded room decades earlier. A young man with tapered fingers and paint under his nails. She closed her eyes, seeing a railroad apartment filled with canvas after canvas stacked against the walls. The memories rushed at her, vivid and breathtaking. She saw herself as if it were yesterday, sitting with Henry on a bench in Washington Square Park, broke and uncertain but with their entire lives ahead of them.

Bea reached for Kyle's arm to steady herself. "Get everyone out of this apartment. Pack my bag and pull the car around to the front."

"Now?"

"Now!"

"Where are you going?"

"We are going to the Hamptons."

  

In addition to everything else she had to do, Emma suddenly had another major task: maintaining a sense of normalcy.

While she had long heard rumors that The American Hotel was haunted, she had never known anyone to actually drop dead there. That it would happen on her watch was unfortunate. That it would happen to someone she knew and liked, even more so. But there was no time to think about Henry Wyatt when the bar was overflowing and the wait list for a table was in the double digits.

The Henry Wyatt business was being handled by her boss. The owner of the hotel, Jack Blake, had spent a long time huddled in the back office with the police chief and he was now busy keeping out the press. Emma told herself to pretend it was just a typical Friday night and focus on keeping the guests satisfied.

The head bartender, Chris Vincenzi, signaled for her.

Emma had a special affection for the bartenders at the hotel. She knew it was partly because her own father had been one himself. He had died when she was very young, so the hotel bar felt like a link to him. But on a practical level, she appreciated the bartenders because they made her job easier.

The bar was the heart and soul of the establishment. When cocktails were flowing and the conversation reached a fever pitch, when the assembled crowd was that perfect mix of local and transient, moneyed and blue collar, young and old, all was right with the world. Even the most persnickety hotel guest couldn't help but fall under the spell. When she'd applied for a job at the hotel, she'd dreamed of working behind the bar. But Jack Blake had never, in the history of his establishment, hired a female bartender. Sexist? Maybe. The guys at the bar called it tradition. She wondered if her father would have agreed with them.

"Em, can you pull this bottle for me?" Chris said, scribbling the name of a particular bottle of the Châteauneuf-du-Pape on a bar napkin. "I don't think any of the servers will be able to find it and I'm too slammed to go myself."

The owner of the hotel was serious about his wine. Jack had been collecting since the early 1970s, and the wine list was more than eighty-five pages long with somewhere around seventeen hundred selections. Although Emma had been employed at the hotel for almost a dozen years, the intricate maze of the wine cellar still occasionally stumped her. When she was downstairs, wandering through the rows of bottles, a thought popped into her head: Penny! It was the first time in hours she'd had a minute to think of her. Penny was going to take the news of Henry Wyatt's death hard. Emma just hoped that she could be the one to tell her what happened, that Penny wouldn't hear about it from someone else or see it online.

The hardest part of her job was that, when she was at the hotel for twelve or fourteen hours straight, she didn't get much contact with Penny. It was a safe town, and everyone knew everyone, but it was still less than ideal to have a fourteen-year-old running around unfettered after school. She was a good kid, but things happened. And when Emma was caught up in a busy wave at work, she felt completely cut off from her other job, her more important job, of being a mother. A single mother.

The wine cellar's numerical system sometimes sent her in circles and made her feel like she was misreading coordinates on a map, but tonight, thankfully, she navigated it correctly and spotted the bottle of Paul Jaboulet Aîné 2010 Domaine de Terre Ferme Red, Châteauneuf-du-Pape. Okay, so something had finally gone smoothly. Maybe the night was turning around.

Upstairs, she delivered the wine to the table and hurried back to the front desk to answer the ringing phone.

"The American Hotel, Emma speaking."

"Emma, Jim DiMartino here."

Jim DiMartino, a ten-year veteran of the Sag Harbor Police Department, had been one of the first responders when Henry Wyatt collapsed.

"Hi, Jim. You looking for the chief? He left a while ago."

"Actually, that's not why I'm calling. I've got Penny here at the station."

Over the din of the bar crowd, she could vaguely make out his words, something about a party and underage drinking and someone backing a car into a house on Fahys Road. Penny hadn't been drinking, but she'd been caught up in the sweep.

Emma looked helplessly around the room at the full tables, the packed lobby, the bar three-deep with customers.

"I'll be right there." Mercifully, the police station was just two doors away. She would go get Penny, and then she would have to call Angus to take her home. Angus, who used to rent the house next door, had moved in with Emma and Penny five years ago, when he lost his wife. Part of the move had been for financial reasons; why pay rent on a whole house when he lived by himself? Angus and Celia had, years before that, sold the house they'd owned together. The increased property taxes were crushing everyone, even people who were living in modest homes in modest parts of town. Now there was no such thing. A lot of people Emma knew had been forced to make tough choices.

But really, the move had been part of a promise he'd made to Celia before she died. Celia, who had babysat for Penny since she was a baby, did not want her husband to live alone after she was gone. "The man has been married for fifty-eight years," she'd said to Emma. "He won't fare well on his own. Good heavens, do you know how he would eat if left to his own devices?" Celia, anxious to make sure her husband would be loved and taken care of, made both Angus and Emma promise they would live in the same house.

Emma hated to call him this late. Angus spent his days volunteering at the Sag Harbor Historical Society or the whaling museum and he was usually asleep before eight. And, really, Emma should be taking Penny home herself. But just as a captain couldn't abandon his ship, she couldn't leave the front desk on a busy Friday night. Emma had long ago accepted that at any given moment, she was dropping the ball either at work or at home.

She turned into the alleyway between the municipal building and Page Restaurant. Page had its windows open, and music and laughter filled the night air.

The small station couldn't house all the teenagers picked up at the party, so they were lined up as if this were a fire drill at the high school. Every young face was glued to a cell-phone screen. She scanned the group for Penny. Her daughter, tall for her age at five foot six, usually stood out in a crowd of teenagers. Her wild hair also made her difficult to miss. And yet Emma didn't see her.

Emma made her way into the station. Sure enough, Jim had kept Penny close. She sat behind the counter at a chair next to DiMartino's desk.

"Thanks for the call," Emma said, shaking the officer's hand. She turned to her daughter. "You okay?"

"Yeah, Mom. I'm fine." In typical teenage fashion, she seemed irritated, even though Emma was the one who'd been put out. Moments like this would be so much more tolerable if she had a co-parent with whom she could share an eye-roll. But, just as she had countless times before this, she reminded herself that she was in this alone and that she and her daughter were both doing their best.

"You didn't tell me you were going to a party."

"It was a last-minute thing. And my phone died."

Emma didn't have time for this.

"Some night," DiMartino . . .
We hope you are enjoying the book so far. To continue reading...
Drawing Home
Jamie Brenner
Copyright © 2022 All Rights Reserved