Esme Cahill Fails Spectacularly
Book info
Sample
Audiobook
Media
Author updates
Lists
Synopsis
From the author of The Restoration of Celia Fairchild, comes a novel about the meaning of family and the places we call home. If you love "southern summer" fiction authors like Mary Alice Monroe and Kristy Woodson Harvey you'll love this delicious novel about family, friendship, and finding your true path in life. 
Esme Cahill thinks she has failed spectacularly: fired from her New York City publishing job, divorced from her husband, and possessing little more than a broken-down car and a pile of unfinished manuscripts, she drives home to Asheville at the request of her late grandmother, Adele, who had begged her, just before she died, to return to the place she grew up.
There she discovers the once-charming lakeside retreat run by her family is sliding toward financial ruin, so with the help of her grandfather, George; estranged mother, Robyn; and a travelling chef Dawes (maker of the world's best grilled cheese sandwich) they set to work. In the attic, Esme unearths a trove of museum-worthy art quilts, sewn by Adele. Piecing together the inspiration behind them, Esme discovers a forgotten chapter in her family history and her grandmother's untold story, that of a gifted artist who never received her due.
This is an always-emotional, sometimes humorous, very human novel of what it means to be family—the ties that bind us together and the unintentional hurts that can rend us apart. And, along the way, Esme learns that failure can be the first step toward the life you're meant to find.
Release date: May 30, 2023
Publisher: HarperCollins
Print pages: 384
* BingeBooks earns revenue from qualifying purchases as an Amazon Associate as well as from other retail partners.
Listen to a sample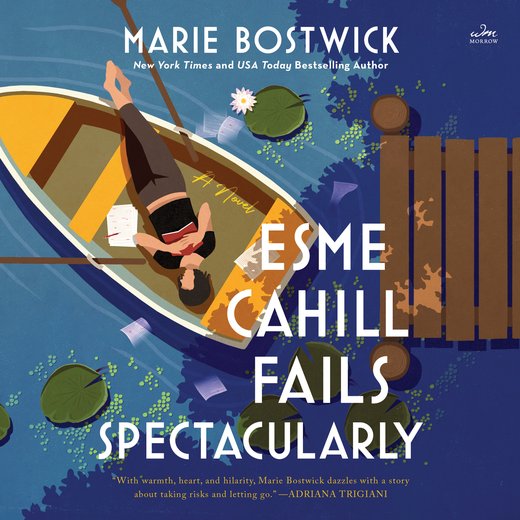 11:36:15
318.73 MB
9780063322073
May 30, 2023
HarperCollins
Esme Cahill Fails Spectacularly
Marie Bostwick
Anger tastes like ginger root, sharp and sweet and juicy, a tang that makes your tongue burn.
At least, that's what this anger tastes like, the anger of frustration and betrayal, of being discounted and blocked at every turn, forced from the path I'd mapped out for myself years before, exiled to the outskirts of everything I long for, cast aside, disregarded, sidelined.
So many words. But they still can't fully express all I'm feeling, the taste of this fury.
That's the problem with the English language, with words in general. They have no inherent meaning in and of themselves, and so many are required to explain an emotion, even to yourself. As much as I love books, I sometimes wonder how writers do it, and why. It all seems so wasteful. You can fill a page and still miss the mark of what you meant to say.
But I've never been very good at putting my thoughts into words. I didn't talk until I was four. I don't mean that I couldn't talk, only that I didn't. Even then, I felt the inadequacy of speech, sensed that I experienced the world differently than other people and that trying to explain this could only result in misunderstandings.
I was right.
When my mother told the family doctor that her eight-year-old daughter tasted emotion and felt color, he frowned and muttered and sent us to other doctors—a pediatrician, a child psychiatrist, and finally a neurologist, who told my mother, "Adele suffers from synesthesia, a brain malfunction in which the senses can become confused, eliciting an abnormal connection in response to certain stimuli. For example, seeing a particular color and experiencing an actual sensation of taste associated with it."
I didn't understand what he was talking about. But when he uttered the words malfunction and abnormal, looking at me like a lab experiment, I tasted and saw mustard.
Now, having lived for twenty-one years as a synesthete, I'm not convinced that the doctor understood what he was talking about either. It's not a malfunction, it's a gift, an extra portion of perception that not everyone gets to experience. Like most other people, I can talk, write, and express myself. But most other people can't do what I do, experience emotions as something tangible and concrete, a sensation that requires no explanation or interpretation. It might not be normal, but I wouldn't give it back.
When I feel the bite of ginger on the back of my tongue, I know exactly what type of anger I mean. It has a color too, this anger that's been simmering during the hours-long ride from Washington and bubbles up again as the bus starts to slow: it's the gray of spent coal shot with ink black and cinnamon.
When I was little, we had a tomcat with fur just that color, a stray who showed up to lick some cream I'd spilled on the stoop and never left. He had six toes on each front paw but only one eye, and his battle-scarred right ear was torn in three places. When I asked if I could keep him—a silly question because nobody can "keep" a cat, they come or they go—my father said, "Why? That's the
most miserable cat I ever laid eyes on." The name stuck. So did the cat.
Miserable lived under the steps that led to the alley. He wouldn't come inside, not even if you tempted him with tuna. But sometimes on a summer day, he'd lie on his back to soak in the sun, arms stretched high over his head, and let you rub his belly three, four, or even five times. And then, without warning, he'd collapse into himself like a jackknife snapping into a sheath and pierce your friendly hand with all twelve of his sharp little front claws, often drawing blood, then slink back under the porch with a hiss that said you should have known better.
So maybe that explains the unusual color of this ginger-flavored fury? Because the anger of the moment is coupled with conviction that someday I will have my revenge on those who should have known better than to stand in my way, not by piercing them with my claws but by proving them wrong.
I should be making art, perfecting my technique, working toward the day when I'll see my work hanging in galleries, or even museums. Instead, I've been banished to the mountains to babysit other people's paintings and sculptures for the duration of the war. The fact that my canvas and marble-carved charges are among the finest in the world offers some solace. Perhaps the talents of the masters still cling to the works they've left behind? Perhaps I'll breathe it in somehow, find inspiration by osmosis? But it's still a banishment, a grossly unfair one, my penance for the sin of rebuffing the advances of my married boss.
The bus groans and squeaks and shudders to a stop. The driver calls out, "Asheville! Asheville, North Carolina! Next stop, Montreat!"
I jump to my feet, the only passenger to do so, palming the back of my head to make sure my blue hat is still pinned on before pulling a leather portfolio of my paintings and a wheat-colored suitcase holding more brushes and tubes of paint than clothes down from the luggage rack. The mid-thirties masher in the wrinkled suit, who was offended when I moved to another seat after jolting from sleep to find his hand on my knee, scowls and crosses his arms over his chest, making it clear he has no intention of helping.
I lumber up the aisle, the suitcase bumping against my legs with every step, worried it's going to catch on my stockings and
wondering if I'll be able to find another pair if it does. The war is only days old but already there's talk of hosiery being rationed to reserve silk and nylon for making parachutes. I stretch my arm out as far as I can to keep my bag from banging on my legs and get to the front of the bus without incident. The kindly driver, a man with salt-and-pepper hair and a heavy Baltimore accent that marks him as a native of my hometown, who has been at the wheel since Washington and told me he makes this same trip twice a week, takes my burdens from me, sets them onto the curb, then offers his hand as I descend the steps.
"Thank you. Do you know where I can get a cab?"
"Nobody's coming to meet you?" he asks.
I pull a folded slip of paper from the pocket of my best blue jacket, now terribly wrinkled from the journey.
"I've got an address for a boardinghouse on Flint Street."
"Well, you won't find any cabs in this part of Asheville, miss. But if I'm remembering right, Flint is over in the Montford neighborhood." He points. "Go through that alley, take a right onto Broadway, then a left at the next corner onto Starnes. Just keep walking three, maybe four blocks. It's not far but I don't like leaving a lady all alone on the street." He glances at my suitcases, then at his wristwatch and shakes his head. "If I wasn't already behind schedule . . ."
I smile, then purposely put on the accent I'd worked so hard to rid myself of after leaving home and going to art school. "You don't need to worry about me, mister. I'm a Baltimore girl, not a lady."
He laughs. "Well, all right. I guess you can take care of yourself then," before wishing me well and climbing back behind the wheel.
The bus drives off, belching exhaust.
I pick up my bags and march down the deserted sidewalk in my platform pumps, tasting raw ginger, seeing cat fur and the comeuppance to come, a gallery hung with my work and the day I will prove them all wrong.
The new used car I bought impulsively in New York and immediately nicknamed "the Toaster" on account of its boxy shape had a sticky clutch, a top speed of fifty-two miles an hour, and air conditioning that smelled weirdly of sauerkraut and worked only intermittently. So, by the time I reached the outskirts of town, I was tired, hot, cranky, and way behind schedule.
But when I putt-putted to the top of the hill and I saw blue-green waves of mountains reaching the horizon in every direction and the city in the center, looking like the only human habitation in the known universe, suspended in an endless sky, irritation gave way to awe. On a perfect day in early June, "Land of the Sky" is more than a tagline; it's a spot-on description of Asheville, North Carolina.
There was a time when this mountain town felt like a kind of heaven to me, a place of rescue and redemption. But when an injured animal is given refuge and time to heal, there comes a day when safety starts to feel like suffocation. The same thing happened to me. That's why I left Asheville nearly fifteen years before, intent on becoming a writer.
I'd been talking about it since I was twelve, scribbling stories and "honing my craft" while hammering out the particulars of a year-by-year plan to create a happy, secure, successful life as a multi-published, bestselling novelist who had it all—house, husband, family, friends.
Step one was to get myself to New York City.
When I told my grandparents that the time had come for me to begin my career and leave the lakeside lodge where they'd raised me, George couldn't understand what the one had to do with the other.
"Why can't you stay here and write? We've got paper and pens in North Carolina too, you know. Not to mention lots of material to work with. Take Thomas Wolfe," he argued. "Look Homeward Angel is a classic, one of the best novels of all time, and the whole story takes place right here in Asheville."
"Yes. And Wolfe got his master's at Harvard, taught at NYU, and wrote most of the book in Europe, George," I said. I'm not sure why but I always called my grandparents by their first names; maybe because I didn't know they existed until I was ten. "New York is the center of the literary universe. If I'm going to be published by twenty-two, I need to start making contacts."
"You're only nineteen," he countered. "What's the rush? You've got plenty of time."
"I'll be fine," I said, responding to the look in his eyes and how he was tugging at the buckle of his suspenders, the way he did when something worried him. "It's not like you're never going to see me again. I'll come back to visit all the time, I promise. But now that I've finished college, there's no point in my hanging around here any longer. Besides, if you plan to lead an amazing life, you've got to go where life is amazing."
George hooked a thumb around his suspenders and turned toward my grandmother.
"What do you say to all this?"
Adele fixed her eyes on mine.
"When were you thinking of leaving?"
"There's a bus on Friday morning."
"I see. So you w
ant to be gone before Robyn comes home? You're sure? She's still your mother, Esme. You haven't seen her in ten years."
I bit my lower lip but didn't speak. Adele wasn't much of a talker but when she did talk, she had a way of cutting to the heart of the matter.
"Well," she said at last, reading the resolve in my silence and then looking at George, "I'd say that we have a lot to do before Friday."
Yes, we did.
From the day Adele taught me to sew my own clothes, my closet had been stuffed. My therapist says it stems from childhood deprivations. I just think I like variety. And making stuff. That's the problem with therapists: they turn everything into a diagnosis.
No way would my wardrobe fit into two suitcases, so I just packed my summer clothes and boxed up the rest to be shipped once I found a place to live, along with my books and the portable sewing machine I'd gotten for graduation. It ended up being a pretty big job. However, Adele's most pressing concern was teaching me to cook shrimp and grits.
"The grease adds lots of flavor, so make sure the bacon is good and cooked before you toss in the shrimp," she explained as she stirred a mess of crackling lardons in her favorite cast iron skillet. "New Yorkers probably won't know about it so they'll think you're making something exotic. The best thing about this recipe is it's scalable, perfect for parties."
Oh, Adele.
Any other grandma about to send her teenage granddaughter off to the big, bad city would have been instructing her in the proper use of handheld mace. Adele's big concern was making sure I was prepared to entertain. That fact that I didn't have an apartment, a job, or two nickels to rub together and didn't know a soul in New York was inconsequential—Adele was absolutely certain I'd be throwing a lot of dinner parties.
Of course, that's exactly what happened. Though I'm honestly not that great a cook, shrimp and grits became my signature dish, a recipe that works for a first-date dinner for two or a baby shower for twenty. Like Adele said, it's scalable.
George had a more practical, or at least more grandfatherly, response to my departure. He did, in fact, buy me some mace, and a rape whistle, and taught me a couple of karate throws to use should I ever be attacked from behind.
Back then, I had a halo of brown ringlets that matched my eyes and hung to my shoulders, a sprinkling of freckles on my turned-up nose, and a heart-shaped baby face. The day after I moved in with Yolanda, I borrowed her scissors and hacked my hair into a short, messy pixie cut in hopes it would make me look older and force people to take me seriously, but it didn't really help. I was twenty-eight years old before I was able to order a cocktail without getting carded. So that, along with the fact that I'm five feet tall without shoes and weigh one hundred and seven pounds soaking wet, made G
eorge's attempts to turn me into a badass feel somewhat laughable. But I played along to ease his mind and because, well, it was sweet that he worried about me.
I'd never met my own father or even known who he was. On the rare occasions when the topic came up, Robyn referred to him as "the sperm donor," which made me suppose he'd been just another of her many one-night stands. But George was better than two fathers to me, so I never felt the lack.
Now, driving down the highway, I spot the exit that George's battered green pickup had taken when dropping me off so many years before, and the memories come flooding back, as vivid as if they were occurring in real time.
The bus was late. I remembered feeling impatient, wanting to make a clean break, wishing my grandparents would just get in the truck and go because the way George kept pacing and jingling the change in his pocket was making me crazy. I also remembered feeling worried about what would happen if they did go and the bus didn't come. What if I'd already missed it? There wasn't a proper terminal in Asheville, just a pickup and drop-off point in front of a gas station. What if this was the wrong gas station?
Finally, the bus rumbled around a corner. The long stretch of waiting gave way to flurry and flutter, the counting of suitcases and hurried inquiries about the packages of new underwear Adele had left on my bed the night before. Then, suddenly, the bus was at the curb, belching exhaust, and the driver was lifting a door on the underbelly of the beast—quickly, so quickly—and loading my bags into the expanse before closing the compartment door with an impatient clang and saying we had to get moving, that he needed to make up time.
I remembered the jolt of elation that coursed through me, the euphoria of adventure and fresh starts. And I remembered the last round of hugs, and the wet sheen in George's eyes and how he pressed a hundred-dollar bill into my hand, and reminded me to call as soon as I got to New York. And I remembered Adele placing her hands on my cheeks and leaning in until we were nose to nose, saying, "I love you, I love you, I love you," and me saying it back.
I remembered following the driver to the door, putting my foot on the first step, being interrupted by a squeal and a hoot, and turning to see Adele running toward me in her going-to-town shoes with short, stiff strides, her platinum curls bouncing with every step.
"Your lunch! Your lunch! You almost forgot!" she cried, then thrust a paper shopping bag with enough provisions for a week into my arms. "Eat the egg salad first," she instructed, "so the mayonnaise doesn't turn. And then the pimento cheese. Save the peanut butter and jelly for last. Don't forget."
"I won't."
"Sit by the driver," she advised. "And watch out for mashers."
"What are mashers?"
"Men with overcoats and wandering hands."
I laughed. "I love you."
"I love you more."
"Don't worry, Adele. I'll be fine."
"Oh, I know you will!" she exclaimed and squeezed my hands. "I absolutely do! Big things are in store for you, Esme. Big, big things!"
I found a seat in the back, next to a window. My grandparents stood on the curb, taut smiles signaling their determination not to cry. I waved, dry-eyed, thinking that they were preciously overemotional. After all, it wasn't like I was never coming back. When I came to visit, I'd be successful, happy, and possibly famous, and they'd be proud of me.
But as the bus pulled away, I felt a sudden stab of . . . not regret precisely, more a wish that things could have been different, that I hadn't lived the kind of life that made me into the kind of person who would accelerate her exit plan to avoid her own mother, the mother she hadn't set eyes on in nearly a decade. Heaven knew I had my reasons. So did my grandparents, which is why Adele hadn't urged me to delay my departure. Because what would be the point? If I stayed on an extra week, or even two, it wouldn't have made any difference. Robyn made her choices and now I was making mine, a choice to forget the past and focus on my future.
I got up onto my knees, pressing my palm against the grimy window and craning my neck to keep my grandparents in sight for as long as possible, feeling a shiver of excitement as the bus picked up speed and drove off. Adele was right, big things were ahead for me. I was sure of it. All I had to do was work hard and stick to my plan.
Everything is perfectly straightforward, when you're nineteen.
Carl Zinfandel, fifty-something and balding, with hands like hams and a 1962 class ring on one of his fleshy fingers, dressed in a short-sleeved shirt and striped rayon tie that floated an inch above his belt buckle, looked more like the assistant manager of a grocery store than a senior editor for a major New York publishing house. In short, he wasn't at all what I expected.
But maybe he was thinking the same thing about me.
I was short and the chair across from Mr. Zinfandel's desk was weirdly tall. I sat there, toes dangling above the floor, while he read my résumé.
Considering how slim it was on actual content, I was surprised it was taking him so long. I'd stayed up all night writing it, padding my skimpy work history with a list of writing awards and using the biggest font I could reasonably get away with.
I looked down at my lap and frowned. Wearing linen was a mistake. When I sat down, my dress pleated into a dozen uneven wrinkles. And I didn't even want to imagine what my hair looked like. After the big brown eyes I inherited from Adele, my crown of chestnut ringlets was my best feature, but they frizzed into a tangle somewhere between Brillo pad and bird's nest when it was humid.
I ran my hand over my hair, thinking about how many of my favorite authors had been published by Dorne and Merrill—E. Foster Llewellyn, Rita Harris-Crown, Oscar Glazier—and how amazing it would be to work here. Or, if I was honest, just about anywhere.
Mr. Zinfandel cleared his throat and laid my résumé on the desk.
"So . . . you really haven't done anything. Have you?"
"Sorry?"
I was prepared for questions about my strengths and weaknesses, not honesty. I tried to recover, mumbling something about being in charge of author events at the bookstore when the manager was recuperating from gallbladder surgery (there'd only been one), but Carl waved a beefy hand through the air and cut me off.
"That friend of yours who works in the design department—the artsy one with purple hair . . ." He fluttered his fingers over his pate as if he were sprinkling fairy dust on his head.
"Yolanda? We're roommates. She said you had an opening for an editorial assistant."
"Yolanda. She said you're a writer?"
"Yes. I mean . . . I was. I've never really published anything."
"Did you finish anything?"
"Over the last three years, I've written fifteen novels in various genres." He raised his eyebrows, waiting for the rest of the story. "And got two hundred and sixty-eight rejections."
His eyebrows reached new heights. "Really?"
Yes. Really.
Who'd have guessed I had such an infinite capacity for humiliation? Admitting it was humiliation of a different sort. But for the first time since I'd walked into his office, Mr. Zinfandel looked interested. So when he propped his elbows on his desk and rested his chin on his big knuckles, I did the thing that you should probably never, ever do in an interview—I told the
absolute truth.
I told him about growing up as the only child of a single, teenage mom who found her escape in drugs and alcohol and about how Zip, one of the many "uncles" we lived with over the years, taught me how to read before disappearing like all the others, taking all the money from my mother's purse but leaving me with my escape, books. I told him about having our car repossessed, being hungry when Robyn got fired, which happened pretty often, and the run-in with the law that landed her in jail and me in foster care. When Carl started to look sorry for me, I skipped ahead and told him about George and Adele, the grandparents I'd never known I had, and how George had driven through the night to collect me after a social worker called to inform him of my existence and predicament, and took me home to the Last Lake Lodge, a rustic fishing resort outside of Asheville.
"And you lived happily ever after?" Carl asked, rocking backward in his chair, grasping the cracked leather armrests and making the springs squeak.
"Yes and no."
Without going into too many details, I gave him to understand that starting a new school in a small town wasn't easy, especially once your classmates found out about your drug addict, jailbird mother. It's not fair to judge children for the mistakes of their parents but people will do it. That's why it's so important to make a name and reputation for yourself. I knew that from an early age. What I didn't know, not at first, was how to do it.
During a shopping trip for school clothes in Asheville, not long after I arrived in North Carolina, Adele decided we should stop by the bookstore. Oscar Glazier was there, signing copies of Red Dawn and Cold Steel. I was agog, awestruck by my first sight of a living, breathing published author. The book was adult action adventure and way over my head, but Adele bought me a copy anyway and made me promise not to read it until I was fourteen. I broke my promise almost immediately.
Of less importance than the book was the man who wrote it. Mr. Glazier didn't even look up while signing my copy, but the encounter changed something in me, opened a door in my mind. I started secreting paper, pencils, and a flashlight inside my pillowcase and scribbling under the covers when I should have been sleeping.
Reading stories offered me escape. Writing them gave me release, and a sense of safety and control, the ability to create worlds in which heroines always triumph against seemingly impossible odds, always. My first efforts were shaky, peppered with plot holes and deplorable spelling, but I was hooked. Soon I was writing all the time, under the blankets in the dark of night, in my head during the light of day. Bit by bit, I got better at it.
After winning a countywide writing contest for sixth graders, my teachers decided I should skip the seventh grade entirely. This convinced me of two things: that writing was my destiny and that it was possible to speed the process of growing up. My grandparents were caring, kind, and supportive, but I c
ould never shake the feeling that childhood left a person too much at the mercy of others. Even at eleven, maybe especially then, I hated being dependent and understood that if you didn't take hold of your own destiny, somebody else might.
And so I took every AP class my high school offered, plus community college classes during the summer, graduated at sixteen, earned my bachelor's degree from Appalachian State at nineteen, and moved to New York City a month later, right after learning that my mother had been paroled and was moving back to the lake, "just until she gets back on her feet," as George said. How long that would take was anybody's guess, but even one day was too much for me, so I caught that bus the day before she was due to arrive.
New York was all I'd hoped it would be—bustling, loud, and overcrowded, an assault on the senses, with bookstores in every neighborhood and potential characters on every corner. I spent my second day in the city parked on the stoop of the West Side Y, scribbling notes about the people who streamed in and out, figuring at least one of them would make a good story. But in New York, even the Y was beyond my budget. After spotting a "roommate wanted" ad on a coffee shop bulletin board, I called the number and moved in with Yolanda the same day.
Our apartment, which shared a bathroom with a ground floor nail salon that was probably a money-laundering operation, was really more of a hallway sandwiched between two other apartments, and definitely not legal. But it was cheap and I liked Yolanda, a funny, free-spirited art school grad who crocheted weird and whimsical googly-eyed monsters that looked kind of like those paper and clay animals from the Oaxaca region of Mexico, was forever falling in love with guys who were all wrong for her, and who loved to read as much as I did.
We lived on cheese sandwiches, ramen noodles, and hope. Yolanda was waitressing at three different restaurants until she could find a gallery that was willing to buy her art. I sold books at Barnes & Noble during the day and wrote into the wee hours in every imaginable genre—romance, suspense, young adult, fantasy, steampunk. It was fun at first. Yolanda came from a small town too, and we loved exploring the city, figuring out everything you could do to entertain yourself in New York for under two bucks, telling each other that someday, after we were famous, the stories of our starving artist days would make great interview fodder.
But cheese sandwiches and ramen get old after a while. So does rejection.
When the landlord raised the rent, Yolanda took a job as a junior graphic designer at Dorne and Merrill and ended up liking it more than she'd thought. Maybe I would too?
I cleared my throat and clarified my position on Carl's inquiry about living h
appily ever after. "What I meant to say is, not yet. But I'm working on it."
"And you think getting a job as my assistant might speed the process?" he asked. I clasped my hands in my lap, saying nothing. "Are you sure you're ready to give up on writing?"
"Absolutely."
I meant it. If you don't take the hint after two hundred and sixty-eight rejections, when will you? And at this point, I just wanted to be good at something again.
"Well." Carl paused to slurp his coffee. "You wouldn't be the first editor who started out thinking they were a writer. What kind of books do you like?"
"All kinds." I wiggled toward the front edge of the chair so that my toes, which had lost all feeling, made contact with the floor, and listed my favorites by genre. It took a while.
"But . . . ," I said finally, and paused to lick my lips, worried I was about to say the wrong thing. "I'm not all that crazy about literary fiction. Most of it anyway. I mean, I'm not saying that I hate it—"
Carl cut me off with an enormous, yawping guffaw.
"Gawd, I do! Pretentious, self-indulgent, word salad most of it. Everybody dies and nothing happens! ...
We hope you are enjoying the book so far. To continue reading...
Esme Cahill Fails Spectacularly
Marie Bostwick
Copyright © 2023 All Rights Reserved