Blood Debts
A Wizard, an Angel, and a Horseman of the Apocalypse walk into a bar.
Available in:
eBook
Paperback
Audiobook
Hardcover
Book info
Sample
Audiobook
Media
Author updates
Lists
Synopsis
The ancient pact between mankind, Heaven, and Hell has been broken. And this upstart wizard's quest for vengeance may have just kicked off Armageddon. So, time for a drink . . . or maybe two.

Already plagued with sinister night terrors that could qualify him as a card-carrying psychopathic insomniac, Nate can barely even manage to put his pants on in the morning, let alone pick teams for the Apocalypse.

But when he's framed as a demon sympathizer, condemned by the Armies of Heaven, and hunted down by both his allies and the Four Horsemen, this wizard doesn't think it can get any worse.

Then they take away his magic. And a wizard without magic stands no chance against the forces of Heaven and Hell . . .
Release date: November 14, 2015
Publisher: Argento Publishing, LLC
Print pages: 378
* BingeBooks earns revenue from qualifying purchases as an Amazon Associate as well as from other retail partners.
Listen to a sample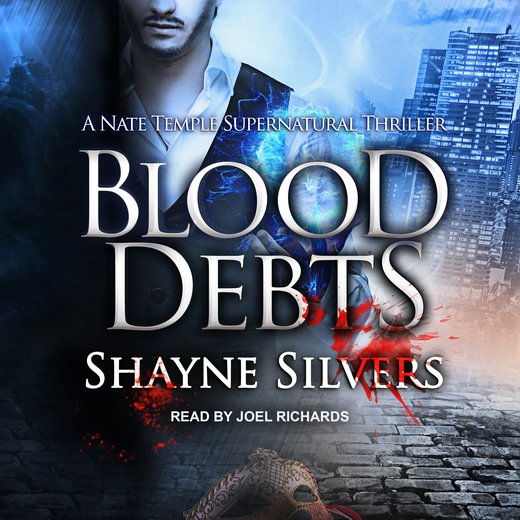 14:45:42
405.46 MB
May 30, 2017
Tantor Audio
2017
Blood Debts
Shayne Silvers
Chapter 1
The gnarled oak desk quivered as a subsonic blast shook the entire room. I flinched involuntarily, my drink tinkled lightly where it sat on the desk in front of me, and the lights flickered. I blinked eyelids that suddenly seemed to weigh a ton. What the hell was that? Had I been asleep? I couldn't seem to remember the last few moments. Perhaps I had been drinking more than I thought. Indie must have already abandoned me for bed by now, because she wasn't here beside me. And where was Dean? Or Mallory, for that matter? Surely, they had heard the sound. Felt the sound. The hair on my arms was sticking straight up in response to my sudden adrenaline spike.
Then I heard the scream. It sounded like someone was being skinned alive.
I bolted from the leather chair in my father's old office—now my office—at Chateau Falco. Another distant blast shook the foundation of the house as I darted out the door and onto the landing that overlooked the first floor. Before I could move any farther, a fiery comet came screaming through the second floor stained glass window, barely missing my skull, before it crashed through the banister beside me and blazed on into an adjacent room. The furniture inside instantly caught fire with a hungry whoomp. Dust and debris filled the air and the remnants of the window crashed down to the marble floor, shattering into a billion colorful shards like a crystallized rainbow had just been obliterated. The cloying stench of smoke instantly filled my ancestral home as it began to burn.
Fast.
More screams and shouts raged through the night amidst a barrage of gunfire and explosions. I crouched, trying to ascertain from where the sounds originated. After all, it was a huge fucking house. Seventeen thousand square feet was a lot of space to search, and that wasn't including the grounds. The single scream I had first heard meant that I had to go in that direction. Someone was dying, right now, their screams full of tortured anguish. My home was under assault, by what sounded to be the combined efforts of the Four Horsemen of the Apocalypse.
Unforgivable.
I briefly entertained what I would do to the prick who dared attack my ancestral home. Then I was running, formulating plans and discarding them just as fast, drawing the magical energy that constantly filled the air around me into a protective cloak. The energy that most people didn't believe existed.
But I was a wizard. Special. A Freak, as some called us.
I could see magical energy. Feel it. Taste it. Hold it.
And use it…
To dish out all sorts of hell when I felt so inclined.
And oh, did I feel so inclined right now.
As I raced past empty room after empty room, aged paintings seemed to grimace in distaste at my lack of protection…as if I was the ultimate embodiment of failure for a once powerful family. I grunted, shrugging off the pain of those looks. It was just my imagination. They weren't really disappointed in me. They weren't even real. After all, I had instantly reacted to the attack, right? Or were you dozing through obvious signs of intrusion, awoken only by the sound of their victory in kidnapping one of your friends…
My Freudian Id is not a pleasant person. I ignored the smug son of a bitch.
I heard the scream again and determined that it was coming from outside…along with the incessant gunfire. What the hell was going on out there? I sprinted down more hallways, zigzagging back and forth in an effort to get outside faster. Who was screaming? The voice was either in so much pain, or so much rage that I couldn't even determine if it was male or female, let alone human.
I finally reached the front entryway, grabbed the massive handle to the front door, and heaved hard enough to tear it from the frame as a surge of magic fueled my strength. I tossed it into the foyer behind me and launched myself into a scene straight from Hell. The icy wind struck my face like a finely woven blanket of cold steel, sobering me instantly.
I practically shit myself with my eyes wide open.
The night was chaos incarnate.
Dragons the size of utility vans stormed the skies, blasting fireballs at my home from every direction. The ancestral home of the Temples was on fire, and the centuries old construction wasn't faring well. The porte-cochere above me leaned drunkenly, one of the supports abruptly cracking in half. I immediately dove to safety before the roof collapsed, nearly dying before I even had time to fully comprehend the situation. I rolled onto the balls of my feet, scanning the darkness amidst the dust, explosions, shouting, and dying. The fountain in the center of the drive was now a pile of useless rubble, and bodies decorated the once elegantly stained concrete. But now it was stained an altogether different color.
The color of fresh blood.
A dozen of my security guards lay in smoking…pieces throughout the manicured lawn. Energy quested hungrily through the air, the waves of power coursing like gossamer threads of colored smoke. Power was everywhere. I grinned darkly. I could use that to my advantage. I saw a dragon or two also littering the lawn, betraying the fact that my security hadn't been caught entirely off-guard, even if their Master had been dozing in his office over a glass of whisky. I shook the guilt from my head. Despite the truth of it, I didn't have the time to feel sorrow. My guards knew the risks in defending my home.
Right? Had I even expected an attack of this magnitude?
I shivered as the guilt of their deaths threatened to overpower me. I shoved it down harder. Later. Instead, I sprinted towards a small pocket of humans battling each other near the old horse stable—that my family had upgraded to a car garage—a hundred feet away. I didn't know friend from foe, but I was heartened to discover that at least some of my men had survived. Reality seemed to abruptly shift, my vision rippling for a second, like I had seen a mirage in the desert. I shook my head, frantically searching for the attacker who was messing with my perception.
But there was no one nearby, and the group of humans was too busy fighting each other to bother with little old me. No dragons either. I was temporarily alone, so who was messing with me?
After a few tense seconds, I took off towards the fighting again, dodging a small, jeweled box lying discarded in the grass. Thievery? A horde of dragons seemed like overkill for a robbery. I growled to myself. I would figure out the reason for the attack later. Now was time for action. I instinctively made a choice and launched a crested wave of ice at the most unsavory looking group of men. Some collapsed under the onslaught while others remained upright—now frozen solid—but all as dead as a doornail. The survivors rounded on me with a triumphant hiss.
Shit. Wrong group.
They launched themselves at me with a unified roar of bloodlust, casting battle magic at my face like I had just slapped their grandmother at a holiday dinner party.
Dragons and Wizards?
I managed to dodge the majority of the numerous elemental attacks, feeling only a single blast of fire sear my forearm, but I ignored that pain. I shattered an attacker's stray arm at the elbow as I came within physical reach. I quickly realized I needed backup. A smile tugged at my weathered cheeks.
I bellowed out a single name into the darkness, never ceasing the lethal swings of my arms as they both physically and magically pounded my enemies. A deafening peal of thunder shook the heavens, followed immediately by a crackling bolt of black lightning, which sliced an unlucky dragon neatly in half, causing reptilian blood to rain down upon me. In its wake, a lamenting neighing sound filled the air with a very noticeable physical vibration.
Grimm—a seemingly Demonic black and red feathered unicorn the size of a Clydesdale—entered the fray. The single pearlescent, gnarled, and thorned horn protruding from his skull instantly gored one of my attackers through the heart. I might have hesitated for a second as I saw the unicorn lick up a quick swipe of blood with a hungry tongue. I might have also shuddered with unease.
Might.
But despite Grimm's insatiable penchant for violence, I was glad the Minotaur had introduced me to him. He had helped me battle dragons once before…to their detriment. I hoped we would do it again tonight. Flaming, orange eyes met mine in a brief, appreciative greeting before we both refocused on our enemies. I called out familiar whips of fire and ice, utilizing them like Indiana Jones on crystal meth to eliminate the crowd of wizards attacking me. I spun in circles of crackling volcanic and arctic fury, lashing a leg here and a face there, feeding off their dying screams as I lost myself in the mayhem.
A ribbon dance of death.
What could have been ten minutes or an hour later, I realized that all of them were dead. Grimm was staring at me with wide, concerned eyes. I was covered in gore, blood, and ash. And I realized that I was grinning maniacally.
Before I could prove to the unicorn that I hadn't lost my mind, a familiar cry split the night. "NATE!" The agonized scream grabbed and shattered my mind into a million tormented fragments.
My breathing came in ragged grunts as I slowly turned, recognizing the voice.
The dragons had Indie. My girlfriend. The love of my life.
My Kryptonite. My Achilles Heel.
I spotted her standing atop the garage, a giant golden dragon gripping her in his talons.
Alaric Slate, the leader of the dragon nation.
My mind went fuzzy for a moment, my vision again rippling like a desert mirage. But…wasn't he dead? No. He couldn't be dead. He was right in front of me. Holding the woman of my dreams in his razor-sharp claws. A swarm of dragons I hadn't noticed until now unfurled just above our heads, simultaneously striking Grimm from behind. The mythical creature was obliterated in a millisecond, shredded into organic matter like he had fallen into a pool of piranhas. I screamed with vengeful fury at the death of such a magnificent beast—my friend—and cast my power at the earth around me in a fifty-foot radius. The dirt and rock exploded skyward, dropping the dragons into a ten-foot deep hole. A second later, I slammed the earth back over them like a heavy quilt, burying them alive. Tucking the monsters in for bedtime.
Permanently.
An amused chuckle filled the night air. I could hear Indie struggling, but I knew it was futile. I slowly turned to face Alaric, my vision throbbing with rage. He stood like an angry god—half shifted into his dragon form—a single golden talon pressing into Indie's soft skin like a hot knife resting on a plate of butter. "Hand me the box, Temple," he growled greedily.
I…blinked.
Because I had absolutely no clue what he was talking about. If I did, I would have given it to him. Hell, I would have given him anything to save Indie. Even my own life.
Indie screamed. "Don't do it, Nate!"
He silenced her by shoving his talon straight through her gut, causing her to grunt in utter shock, and then agony. I realized that I was suddenly closer, having instinctively raced towards him with murderous intent. He held up a claw in warning and I froze with one foot still in the air. His other talon was still embedded inside my girlfriend's stomach. I was stunned, in shock, unable to think straight, but I slowly lowered my foot to the cold earth. How had it escalated so quickly? He'd barely warned me. I glanced down at my feet, trying to control my rapid breathing while frantically assessing the situation for a way—any way—to save Indie's life. Her wound was fatal, not superficial. Alaric was a hunter. He knew my plight. He knew my skills. He had effectively commanded my obedience. He knew I would do anything to save Indie. Give up anything.
"Please!" I begged. "Take whatever you want, just release her!"
He nodded. "Of course. The box. Bring it here. Now. She doesn't have long without medical attention." Several new dragons were suddenly pumping their vast wings above me, hovering hungrily, as an added threat. I followed his gaze and glanced to my side, only to see the same box from earlier sitting in the bloody, frosted grass. Wait…that can't be right. I saw that near the fountain…
In a confused daze, I reached down and picked it up.
"Easy, Temple. No surprises. Bring it here." I hesitated, not with any rebellious intent, but with simple confusion about how the box could have appeared beside me when I had seen it a dozen feet away only minutes ago. Alaric shook his head with a sad smile, abruptly twisting his talon inside Indie with a violent, final jerk.
"Nate…" she whispered between tortured gasps.
My senses instantly shut down. I was suddenly numb with disbelief and impotent fury. My body began to quiver, rattling the forgotten jeweled box that I still held in my now numb hands. The lid began to pry loose from the box. I looked down curiously. Yes, do it. Do it now…a strange voice cooed in my ear. I listened to it, not even caring about its origin, and began to open the box, knowing that with Indie already dead, a part of me had died, too. Only ashes remained of my heart. The world could burn and thank me for it.
I no longer cared.
"No!" Alaric's voice boomed as he tore his claw entirely through the love of my life, effectively slicing her in half. I felt the mass of dragons dive for me as one cohesive unit, a pack of claw and fang. As if in slow motion, I realized that my death would be a painful one, and I also realized that I was fresh out of fucks to give. I deserved it. I had inadvertently allowed this to happen. Allowed them to kill the woman I loved.
So, I opened the box.
A wail of despair from the very pits of Hell filled the night before my vision turned an amber-tinted urine color, tunneling out to a single point. Indie.
The dragons' claws tore into me, trying to prevent me from opening the box. But they were too late. The world ended in a climactic symphony of pain and sound as I embraced death.
I became death.
Then, nothingness.
We hope you are enjoying the book so far. To continue reading...
Blood Debts
Shayne Silvers
Copyright © 2023 All Rights Reserved
Also in this series
Also by this author