A Song for the Dark Times
Available in:
eBook
Paperback
Audiobook
Hardcover
Book info
Sample
Audiobook
Media
Author updates
Lists
Synopsis
A thrilling new Rebus novel about crime, punishment, and redemption, from one of the mystery world's most acclaimed masters.
Release date: October 13, 2020
Publisher: Little, Brown and Company
Print pages: 336
* BingeBooks earns revenue from qualifying purchases as an Amazon Associate as well as from other retail partners.
Listen to a sample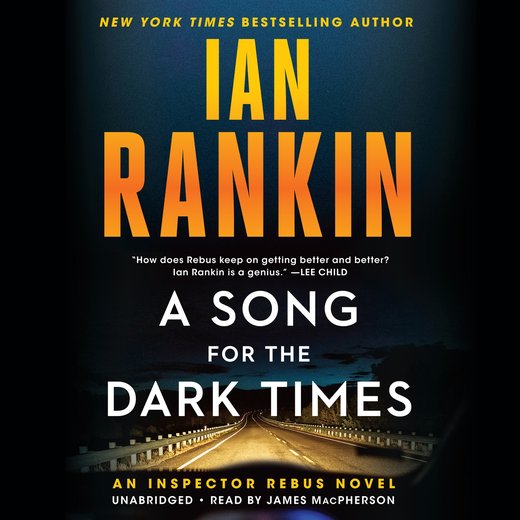 11:02:05
303.1 MB
9781409178026
October 13, 2020
Blackstone HBG
A Song for the Dark Times
Ian Rankin
Siobhan Clarke woke to a text from Rebus. She decided it could wait until she'd made coffee. It was just gone seven and Graham Sutherland had already gone. She wondered if she should be unnerved by his ninja-like ability to dress and depart without her noticing.

'Could have made me a drink, though…'

She tramped back to her bedroom, still in her pyjamas, mug cupped in both hands. Placed it on the bedside table and lifted her phone, swiping it awake.

Big favour. Look after Brillo today. Key under half-brick next to front door. Talk later.

'The hell?' Clarke seated herself on the edge of the still-warm bed and made the call.

'I'm driving,' Rebus warned her. 'Don't want to get a ticket.' His old Saab had no hands-free option. She could hear the engine churning.

'Where's the fire?'

'Samantha. Her partner's gone AWOL.'

'You're driving to Tongue?'

'Not quite–they moved to the next village along a couple of years back.'

'And you reckon your rust bucket's up to the job?'

'I almost asked to borrow yours.'

'Why didn't you?'

'It was five o'clock. I wasn't sure you'd have thanked me.'

'I'd also have held you back with a few questions.'

'That too. Brillo doesn't need much looking after–a bit of a walk and you can leave him to his own devices while you go beg for a place on the MIT.'

'You don't want me unpacking for you?'

'It's all done.'

'Liar.'

'Don't you go rummaging through my stuff without my say-so.'

'You reckon you'll only be away for the day?'

'Mispers, Shiv–they almost always turn up eventually.'

'Where are you now?'

'Just south of Pitlochry.'

'On the dreaded A9?' She paused. 'Is Samantha all right?'

'Would you be?'

'How long's he been gone?'

'Two days, one night.'

'Suicide risk?'

'Not overly.'

'Oh?' Clarke tipped the mug to her mouth.

'Samantha says she was seeing someone else.'

'Ah.'

'He didn't pack a bag; car left near the house; hasn't used his debit card.'

'Maybe trying to give her a fright?'

'In which case he'll be getting a slap.'

'From her or from you?'

'Let's catch up later. You know where Brillo's stuff is.'

'I did until you rearranged the kitchen.'

'Always good to have a challenge, Shiv.'

In the time she took to shape her reply, Rebus had ended the call.

It was just after ten by the time she reached the MIT office. The room was buzzing with activity, Graham Sutherland leaning over Christine Esson's desk as she explained to him whatever was on her computer screen. When he spotted Clarke, Sutherland broke off the conversation and sauntered in her direction.

'Can't seem to keep you away, DI Clarke,' he said, folding his arms as he planted himself in front of her.

She gave a shrug and what she hoped was an endearing smile. 'John's headed out of town. I've literally got nothing else to do.'

'But like I said, I've a full complement here.' He gestured to the desks. Clarke recognised everyone: Esson and Ogilvie; DSs Tess Leighton and George Gamble, another DC called Phil Yeats. She'd worked with them before as part of Sutherland's team. They all knew about her and the boss. Only Gamble ever gave her any

stick.

'No DI that I can see,' she commented.

'That would be me.'

She turned towards the doorway. Malcolm Fox had just entered, carrying a sheaf of paperwork.

'You get around, Malcolm,' Clarke said.

'Major Crime Division are taking an interest,' Sutherland explained, not sounding exactly thrilled about it. 'They've loaned us DI Fox for the duration.'

'Making daily reports to our elders and betters, I dare say.'

'Above all else, I'm a team player, Siobhan–you know that.'

Clarke couldn't help glancing in Tess Leighton's direction. The look Leighton gave her signalled that the relationship she'd had with Fox hadn't lasted.

'I can be useful, sir,' Clarke said, turning her attention back to Sutherland. 'You know I can.'

Sutherland took his time considering. 'It would mean sharing a desk with Malcolm.'

'As long as he promises not to copy my classwork.' Clarke knew what Sutherland was thinking–just as Fox would be keeping an eye on them and reporting back to his bosses, so she'd have an eye on him, keeping Sutherland in the loop.

Fox seemed ready to remonstrate, but decided on a resigned shrug instead. 'Fine by me,' he said. 'Catching the killer is the priority.'

'Well said. I'll leave the two of you to find a spare chair from somewhere and then get reacquainted.'

They watched Sutherland retreat to his office. Fox held out a hand.

'Welcome aboard.'

Clarke stared at the hand. 'My town, my ship. You're the passenger here.' She heard Tess Leighton stifle a laugh. Fox's face began to redden.

'Same old Siobhan,' he eventually said. 'Light on charm, heavy on offensive. Almost like you learned from the master. Speaking of whom…'

'House move's done and dusted.'

'But his health's okay? I mean, no worse than it was?'

'Phone him sometime and ask.'

'I gave up trying.'

Clarke was looking around, in search of a free chair.

'Maybe the support office.' Fox gestured towards the corridor. 'I'll do it if you like.'

Clarke nodded her agreement.

'While you make us some tea.' He made his exit quickly, before she could respond.

Clarke marched over to the kettle, checked it for water and switched it on.

'There's a kitty,' George Gamble growled from behind his desk. 'Five quid in the tin.'

'And hello to you too, George.' Gamble seemed to be wearing the same suit as ever–three-piece in too loud a check. His hair was still unruly, face blotchy, stomach straining against his waistcoat. Seated opposite him, Tess Leighton seemed a ghost by comparison–slender, pale-skinned, hollow-eyed. Both were good enough detectives in their different ways, even if Gamble seemed to be counting the days and hours until retirement. Clarke had only worked with them once before, and was better acquainted with Esson and Ogilvie, both of whom came from her team at Gayfield Square. Phil Yeats was another of Sutherland's regulars, a fair-haired twenty-something who specialised in doing what he was ordered to do, no more and no less.

Esson had brought a mug to the kettle, ready for a refill.

'What's the story?' she asked quietly.

'John's off north to see his daughter.'

'Leaving you in the lurch.'

'We'd pretty well finished the move. Just a few boxes left.'

'Find anything interesting tucked away in his flat?'

'No porn or dead bodies. Turns out he likes a Jack Reacher book, though.'

'I'm more of a Karin Slaughter girl. They're both coming to Edinburgh if you—'

'Christine,' Clarke broke in, 'when exactly were you planning to tell me about Fox?'

'What's to tell? Far as I knew, you were on leave.'

'So when I dropped by yesterday…?'

'I thought it might annoy you ever so slightly.'

'I'm not annoyed–I just like to be apprised.'

Esson puckered her mouth for a moment. 'See anything of DCI Sutherland last night?'

Clarke glared at her. 'What if I did?'

'He didn't spill the beans either–same reasoning, I'm guessing. We just wanted you to unwind. DI Fox tends to have the opposite effect.'

The kettle had finished boiling. Clarke lifted it too high as she poured, scalding liquid slopping from the first mug. She cursed under her breath.

'Break's obviously done you a power of good,' Esson teased, watching Fox carry what looked like an interview-room chair into the office.

Clarke ignored her, finished making the tea and carried both mugs to Fox's desk. He was moving his things to one side–laptop, stationery, phone charger–with all the delicacy a man of his proportions could muster. Clarke tried to get comfortable on the chair. Fox hefted his mug in what looked like a toast before taking a sip.

'So where are we?' Clarke asked.

'To start with, we're treating it as homicide,' Fox obliged. 'No weapon recovered as yet, and nothing substantive from CCTV–though we're still looking. Victim was an overseas student and there have been a few attacks recently.'

'Oh?'

'Mostly in St Andrews actually–rich kids hounded by local idiots. But there have been a couple of incidents around the Meadows. Students have organised themselves so no one needs to be out there at night on their own. Then there's the race angle–Brexit has led to a rise in attacks, mostly verbal but occasionally physical.'

'In Edinburgh?'

'Again, just a few reports. But one of the victim's close friends was beaten up a few weeks back.'

'That's interesting.'

'Not far from the deceased's home. We're not seeing an obvious connection as yet, but it's on our radar.'

'What about Salman's lifestyle? I know he liked James Bond, but that's about it.'

'The guy seems to have lived like James Bond, too.' Fox put a series of photographs up on his screen. 'These are from his social media. Nightclubs and champagne. The Aston he drives in Edinburgh is a new model, but in London he has a classic DB5.'

'Isn't drinking frowned on? I assume he's a practising Muslim…'

'Different rules seem to apply.' Clarke watched shot after shot of Salman bin Mahmoud, in immaculate tailoring, embracing a succession of glamorous young women in clubs and at sporting events.

'You'll notice he favours a martini,' Fox commented.

'What about drugs?' she asked as another page of photos appeared, courtesy of Fox's finger on the trackpad.

'Not as far as we know.' Fox began to tap at the faces. 'That one's the daughter of a Conservative MP. And this one is Scottish gentry–Lady Isabella Meiklejohn. Her dad owns a goodish chunk of the Flow Country.'

'The what?'

'Caithness and Sutherland. Peat bog mostly.'

'They all look like supermodels.'

'Wonder what attracted them to the exotic playboy millionaire.'

Fox was rewarded with a twitch of the mouth from Clarke that almost constituted a smile.

'How rich was he?'

'We don't really know. His father's been under house arrest for a while, but there's obviously still money–only so far you can run a lifestyle like that on credit. We've added photos of his Edinburgh abode to the Murder Wall.' Fox gestured in its general direction. 'And the Met have sent us some of his London pad–not too shabby in either case.'

'And he wasn't known to us before this happened–neighbours complaining of wild parties, speeding tickets on the streets of the New Town?'

'A fistful of parking fines that went unpaid. He wasn't keen on walking any distance to his front door, which meant leaving the Aston on the occasional yellow line.'

'Catnip to the wardens.'

Fox nodded his agreement. He had come to the end of the photographs. Clarke sat back in her chair. It wasn't exactly built for comfort–she was going to have to bring in a cushion from her living room. 'So what do you think happened?'

'It comes down to the locus. Seafield Road that time of night–he was either at the start of a long drive south or else he was meeting someone.'

Clarke nodded her agreement. 'None of his friends live out that way?'

'Not that we've found.'

'Maybe he was looking for a hot hatch to race. Not unknown of an Edinburgh night, especially in the suburbs. If I had a car like his, I'd be tempted.'

'Carjacking gone wrong is certainly something we're looking at. Aston's been examined; only its owner's prints. Plenty fuel and no obvious mechanical issues.'

'So he didn't pull off the road for a breakdown.' Clarke nodded again. 'Mobile phone records?'

'Have been requested in full. So far it looks like his last call was to a male friend–actually the same one who was mugged. He says they were just chatting about this and that, plans for the weekend and such.'

'How long before he was killed?'

'A couple of hours.'

'Have you talked to his friend?'

'Me personally?' Fox shook his head. 'I've not long arrived.'

Clarke made eye contact and held it. 'Why did they send you, Malcolm?'

He offered a slow shrug. 'It qualifies as Major Crimes, Siobhan.'

'Why, though?'

'Because certain people insist.'

'Our political masters, you mean?'

'There are international ramifications. With us leaving Europe…'

'We need all the trading friends we can get–including regimes?' Clarke guessed. 'But the Saudi rulers don't exactly see the deceased's father as a bosom buddy, so why the pressure?'

'I really can't say.'

'Which is a diplomatic way of telling me not to push it?' Clarke cocked her head. 'Are we going to hit brick walls along the way, Malcolm? People we won't be allowed to question, information that's not going to be forthcoming?'

'I honestly have no idea.' Fox lifted the mug to his lips again. 'But something tells me you're going to clamber over any walls you find–almost like you learned from—'

Clarke stopped him with a wagged finger. 'Anything John Rebus taught me is long gone, and so is he.'

She hoped the words sounded more confident than she herself felt.

Rebus had forgotten how long the drive took. A distance of around 250 miles and he could swear he'd done it in under four hours in the past. Today, however, it was more than five, with just the one stop to refuel car and driver both, giving the Saab's bonnet a reassuring pat to let it know he appreciated the effort. The A9 itself hadn't been too bad considering–some lorries and caravans and a couple of sets of roadworks. The process of dualling was ongoing and would continue to be ongoing long after Rebus had headed to the traffic-free highway in the sky. He hadn't thought to bring anything. There was just the one CD in the car–a compilation Siobhan had burned for him. She'd written the words 'Songs for Dark Times' on the disc in black felt pen. He'd asked her to explain the title.

'Some to make you think,' she'd said, 'some to calm you down or get you dancing.'

'Dancing?'

'Okay, nodding your head then.'

It was indeed a mixed bag. One track might be funk that sounded beamed down from the 1970s, the next a piece of Brian Eno minimalism. Leonard Cohen sang about love and loss, and another band about post-Brexit England. Then there was Black Sabbath with 'Changes'.

'Nice touch, Siobhan…'

At the petrol station, adding a toothbrush and toothpaste to his purchases, he'd asked the woman at the till if they sold CDs.

'All Bluetooth these days,' she'd explained.

'Hopefully not after brushing,' Rebus had replied.

The rain had arrived well before Tain, accompanying him to Altnaharra and beyond, thirty-odd miles of single-track road, but mercifully free of other vehicles. His eyes felt gritty and his spine, shoulders and backside ached. When he paused in a passing place to relieve his bladder, he took deep breaths in an effort to appreciate his wilderness surroundings. Steep peaks, glassy lochs, bracken and birdsong. Not that he had taken in much of the scenery, being too preoccupied with thoughts of Samantha. Her mother, Rhona, had died a few years back. There had been a sparsely attended funeral in a commuter town outside London. Samantha had grown up in the flat in Arden Street, eventually moving with her mother to London. Then back to Edinburgh for work, before finally settling in Tongue with Keith. Carrie had arrived thanks to IVF–a final throw of the dice, in Samantha's words. They'd moved a few further miles east from Tongue to a modern bungalow that kept the heating bills down. Rebus had met Keith only a handful of times, preferring to visit during working hours. Likewise, Keith seldom accompanied Samantha and Carrie on their rare trips to Edinburgh.

Did Rebus even know his surname? Samantha must have told him. In one ear and out the other probably. Seemed to work hard enough though, provided for his family. Last job Rebus knew of was helping decommission the old nuclear power plant at Dounreay. There'd been a leak the previous year and Rebus had phoned to check Keith was all right. Samantha had assured him that all the tests had come back negative.

'You'll still need a bedside light then?' her father had joked.

Dounreay wasn't exactly next door to Naver. About a forty-five-minute drive each way. He'd once asked Samantha why they didn't move closer to Keith's work. The answer was Carrie. She had friends and was in a good school. Put those on the scales and the commute weighed nothing.

Good old Keith. So why had Samantha been seeing another man?

As he passed by Tongue, Rebus switched off the wipers. The sun had broken from behind a bank of cloud. The sea, when he caught sight of it, was gleaming and calm. The wind had died down. Past Tongue was another stretch of single-track road, winding inland so that he lost sight of the sea again for a bit. Eventually he reached Naver, driving through the village. As he passed Samantha's bungalow, he checked for a patrol car, seeing no sign of one. The church was a few hundred metres further along, the lay-by just in front of it. Keith's dark blue Volvo XC90 sat there.

Rebus drew to a stop behind it and got out, rolling his shoulders to loosen them. The key had been removed from the Volvo's ignition and the doors were locked. Rebus peered inside without noting anything unusual. He estimated the distance back to the bungalow–a walk of a few minutes? He doubted public transport was plentiful, though there was a bus stop on the other side of the road. Maybe Keith had hitched a ride or organised a taxi or something. Maybe mates from Dounreay had taken him drinking in Thurso and he'd woken up ashamed at something he'd done, lying low in a hotel or a spare room until he could summon the courage to confess.

After all, hadn't Samantha confessed?

Or had she? Had she told Keith, or had she been found out? Rebus watched as a car approached. It was a Mondeo rather than a marked vehicle, but he somehow knew it was the police. Unmarked meant CID, so it was no surprise when the car pulled up next to Rebus's Saab, blocking half the carriageway. The driver put the flashers on and got out, leaving his door ajar, engine running.

'Can I help you with anything, sir?' he asked, in a tone that suggested something needed explaining. He was in his late twenties, short black hair already going silver at the temples. Clean-shaven, square-jawed, ruddy-cheeked, broad-shouldered. In other circumstances, Rebus might have taken him for a farmer.

'You're here to question my daughter,' he said. 'And that's why I'm here.'

The man arched his back a little, as if for a more appraising look. 'You'll be John Rebus then?' He saw Rebus attempt to disguise his surprise. 'Internet makes it easy these days. I ran your daughter's name and there you were.'

'It's her partner you should be interested in.'

'Everybody interests me, sir.' A hand was shoved towards Rebus. 'I'm a detective sergeant, all the way from Inverness.'

'Long way to come.'

'Not nearly as far as some.'

Rebus shook the proffered hand. 'Does the detective have a name?'

'Robin Creasey.'

'And you know I'm ex-CID?'

'Strictly civvy street now, though.'

'Is that you telling me not to get involved?'

'Of course you're involved–you're her family. But if this does turn out to be police business…'

'It'll be none of my business?' Rebus guessed.

'We understand one another.' Creasey looked at Rebus's car. 'You've just arrived, eh? I can feel the heat coming off the engine.'

'I might need to get that seen to.'

Creasey offered a broad smile. 'Let's go see your daughter then.' But he paused halfway to his Mondeo, scanning his surroundings. 'Odd place to leave the car, isn't it? I wonder if he was much of a churchgoer…'

Samantha kept biting off bits of her fingernails throughout the interview. The living room was messy, most of the damage done by Carrie. Rebus doubted Samantha had even noticed. The same was true in the kitchen–the previous day's dishes piled in the sink; breakfast leftovers on the table. Rebus had made them mugs of tea. Samantha was on a chair, Creasey the sofa. Rebus took the spare chair, moving toys and books from it. Creasey kept his questions short but incisive. Problems at work? At home? Was this sort of behaviour out of character? Could she give him Keith's phone number, and those of his friends and family? Rebus learned that Keith's surname was Grant and his parents were deceased. He had a sister in Canada but they weren't close. Did he ever go for a swim–there was a beach nearby, after all? No, because he'd never learned.

'He didn't drown himself,' Samantha stated.

She'd tried his phone, of course, but had he maybe used his bank card? He had not. Why did she think he'd left the car in the lay-by? She shook her head in response, choosing a fresh fingernail to gnaw on. Rebus noticed how many framed photographs there were in the room, mostly posed shots of Carrie, taken at her school–but family holidays too, everyone smiling for the camera. In the flesh, Samantha looked tired, hair long and straggly with an increasing amount of grey in it. Rebus reckoned she'd lost some weight, her face gaunt, skin loose at the neck.

'You should tell him,' he announced, just as the interview was winding down. His daughter gave him a hard stare. 'He'll find out anyway, if he's as thorough as I think he is.'

Creasey looked from daughter to father and back again, content to bide his time. Samantha focused her eyes on the wooden floor at her feet.

'There was a guy I was seeing for a while. It's finished now, but Keith found out. Hard to keep secrets in a place this size.'

'How long ago was this?'

'A couple of months.'

'This other man–a friend of his?'

She shook her head. 'He runs a commune. That's what you'd probably call it. Keith and me were curious, so we visited one day. Keith didn't go back, but I did.'

'So Keith does know the man?'

'His name's Jess Hawkins. Far as I know they just met the once, and only really for a quick handshake.'

'When Keith found out, he didn't go looking for Mr Hawkins?'

'I told him not to. Whatever it was, it had ended by then.'

'How did he find out?' Rebus asked. 'Did you tell him?'

She shook her head again. 'A note–anonymous, of course.'

'Someone in the village, then?' Samantha shrugged. 'Do you still have it?'

'No.'

'Have you seen Mr Hawkins since?' Creasey enquired.

An eventual slow nod of the head. 'In social situations, yes.'

'I appreciate you sharing this with me, and I have to ask if you think it could have anything at all to do with Keith's disappearance.'

'I don't think so.'

'There must have been an impact on your relationship, though?'

She glared at the detective. 'I don't remember booking to see a counsellor.'

Creasey held up a hand in appeasement. 'It's just that it might explain Keith's actions–he needs to go somewhere to clear his head, think things through.'

'He's had a couple of months to do that,' Rebus reasoned.

'Time for things to fester,' Creasey countered. Rebus noticed that he hadn't touched his tea. It sat on the floor on a ceramic coaster. 'I'd imagine things were difficult, Samantha. Did he retreat into himself, or is he more the type who lashes out?'

Samantha gave a snort. 'Keith's never ever raised a hand to me.'

'You talked? Tried to work things out?'

'When he was around.'

'He started staying out more than usual?'

'He had his hobby people. They probably saw more of him than Carrie and me did.'

'What's the hobby?'

'Local history. There's an old POW camp back towards Tongue. They're looking at its history, doing some excavating. There's a half-baked plan to open it to tourists.'

'Maybe not so half-baked–you're on the North Coast 500 after all. Plenty new visitors.'

'Mostly speeding past in their sports cars,' Samantha said dismissively. Creasey turned towards Rebus.

'It's a circuit that's become popular with drivers.'

'I know,' Rebus replied. 'I might live in the far-off lands to the south, but news sometimes travels.'

Creasey decided to ignore Rebus's tone and turned his attention back to Samantha. 'What do you think's happened to Keith, Samantha?'

'Something.'

'Could you be more specific?'

'An accident maybe.' She offered a shrug and checked her phone. 'I need to fetch Carrie soon.'

A glance at his watch told Rebus his daughter was exaggerating–school wouldn't finish for another hour or two. He saw Creasey come to the same conclusion, yet nod all the same.

'One last question then–when did you last see or speak to Keith?'

'That same evening. After dinner, he said he was going out.'

'He didn't say where?'

'No.'

'And he seemed all right?'

Samantha nodded slowly.

'Then let's leave things for now.' Creasey got up from the sofa and handed her a business card. 'I'll file a missing person report, but if he does turn up or anything changes…' Samantha gave another nod. 'Are the keys to the Volvo here? I wouldn't mind checking the interior. I'll pop them through your letter box when I'm finished.'

'On the table by the front door.'

Creasey stretched out his hand to take hers. 'People almost always come back,' he said. She returned the handshake without looking in the least bit convinced.

Rebus got up and said he would see the detective out. Creasey lifted the car keys while Rebus opened the door. Both men stepped outside, Rebus closing the door after them, making sure it wasn't locked.

'You reckon it's nothing to worry about?' he enquired.

'Early days. If she'd not mentioned the affair and I'd found out after, I might have wondered what else she wasn't telling me.' He paused, studying Rebus's face. 'I know she's not always had it easy. She was twelve, wasn't she, when that nutcase got hold of her? Held a fearsome grudge against you.'

'Thirty-odd years back.'

'Then a hit-and-run in her twenties. She was in a wheelchair for a time. Still has a trace of a limp when she walks.'

'Is this us playing detective Top Trumps?'

'Aren't Top Trumps a bit after your time?'

'You're forgetting I've got a granddaughter–plus a daughter who's turned out perfectly well adjusted, despite your insinuations.'

'I've not met too many folk who're "perfectly" well adjusted, Mr Rebus.'

'Go look at the car, head home, file your report.'

'Leaving you here to do what exactly?'

'Help my daughter as best I can.' Rebus opened the door and disappeared back inside.

They got the living room and kitchen tidy, Samantha checking her phone every few minutes in case she'd missed a text from Keith.

'So nothing at all out of the ordinary that day?' Rebus asked.

'No.'

'Keith came home from work, had dinner, then went out?'

'Weren't you listening when I told the detective?'

'Just getting it clear in my mind. What time did you start to worry?'

'Bedtime, I suppose.'

'You suppose?'

'I texted him.' She waved her phone in front of her father's face. 'Take a look if you don't believe . . .
We hope you are enjoying the book so far. To continue reading...
A Song for the Dark Times
Ian Rankin
Copyright © 2023 All Rights Reserved
Also in this series
Also by this author