Won't Go Home Without You
Book info
Sample
Audiobook
Media
Author updates
Lists
Synopsis
A refuge in good times and bad, there's nothing the four very different Richardson sisters won't do to sustain their family's legacy—a historic bed-andbreakfast in Charleston, South Carolina. Now, as one sister celebrates new love, another's heart is sorely tested …

One night only—that's all Robin Richardson-Baptiste will give the husband she once adored. She thought nothing could shatter their storybook marriage—not illness or a life-saving operation that left her unable to have children. For her
husband, Dr. Logan Baptiste, told her in a thousand unspoken ways their love was all he needed. But now, in the face of overwhelming evidence, his co-worker, Kamrie, claims Logan fathered her son.

Logan can't recall what happened with Kamrie—and DNA never lies. He does know he's never stopped loving his gentle, courageous wife. But doing whatever it takes to uncover the truth, and save his marriage, not to mention his career, will
challenge them like never before. And one night of undivided attention and desire may be the only thing to heal their hearts, reveal all—or shatter things beyond repair …
Release date: January 26, 2021
Publisher: Dafina
Print pages: 322
* BingeBooks earns revenue from qualifying purchases as an Amazon Associate as well as from other retail partners.
Listen to a sample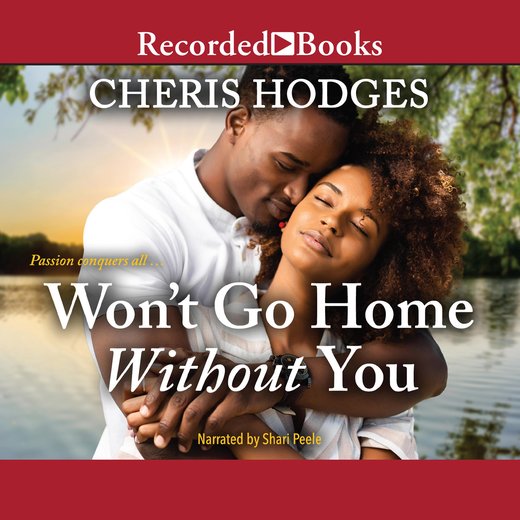 08:14:45
226.49 MB
January 26, 2021
Recorded Books
2021
Won't Go Home Without You
Cheris Hodges
Robin knew the last place she needed to be was in Charleston, South Carolina, helping her baby sister, Nina, with her wedding plans. There was so much her sisters didn't know about what was going on in her life and she didn't want to tell them while they were celebrating Nina and her fiancé Clinton's upcoming nuptials.

I can do this, she told herself as she walked into her family's historic bed-and-breakfast. The Richardson Bed and Breakfast had been the place where she learned about love as she watched her mother and father, Sheldon and Nora, live out a fairy tale romance that Disney couldn't reproduce if they tried. Granted, she knew now that there had been some hard times that probably tested their relationship.

But there were no outside babies. Robin gently patted her cheeks to stop her tears from coming. She wanted a family like she had growing up. A loving husband, three or four kids, and happiness.

But even if Logan hadn't cheated, she wouldn't have been able to have a child. Two years ago, Robin had been diagnosed with ovarian cancer. She had a lifesaving hysterectomy. Because she had her husband's support, she'd never shared with her family—especially her sisters—what she'd been through.

She didn't want pity. And she didn't want a reminder that she couldn't have the life she'd dreamed of when she'd said "I do" to Logan.

Obviously, he hadn't planned on taking his vows seriously. That's why he'd gone out and made a baby with that nurse. She'd served him with divorce papers over the summer and he'd had the unmitigated gall not to sign them. He kept sending them back to her attorney with a note: Not signing until we talk.

But she didn't want to talk to him, didn't want to see him—she just wanted to be done with him. And Logan wasn't making it easy.

Besides, the last conversation they'd had seemed cruel now. They had been discussing adoption and telling her family about her cancer. That, she'd told him, was going to be hard, because cancer had claimed their mother's life years ago. Back then, it felt safe to talk to him about everything. To share her fears with the man whom she'd thought she would love for the rest of her life. Robin's cancer diagnosis had put so much fear in her heart and soul because her mother didn't survive.

Logan had assuaged her fears, telling her about all of the treatments and advances in surviving cancer since her mother's death. Robin knew her three sisters would've been overly emotional if she had shared her illness with them. That's why she'd valued having Logan's strong shoulders when she was going through it.

But now, it felt as if it had been a charade. A big fucking joke.

Robin had moved out of the house in Richmond because Logan wouldn't leave. Sheldon had come to Virginia and helped her move into a town house in Petersburg. She told her dad the whole story about Logan's infidelity and the baby.

Robin had broken down and revealed her health issue. Of course, Sheldon had been shocked that she hadn't allowed her family to be there for her.

"Daddy, I thought Logan and I could handle this. He said he was going to . . ." Her voice trailed off and tears spilled from her eyes. "He said as long as we had each other, nothing else mattered. We'd make a family our way. Didn't know that meant he'd go drop sperm in a . . ."

"I could kill him. All that Pop shit and he does this to you?"

Robin shook her head as her tears fell. Sheldon drew his daughter into his arms and held her. "Robby, I wish I knew what to say to make you feel better."

"Did you and Mommy ever . . ."

"I never cheated on your mother, but we had our ups and downs. All marriages do."

"But how can a man take vows and break them like this? Then he keeps the lie going like I'm some kind of idiot who's going to stick around. That mother . . . Sorry, Daddy."

"No need to apologize this time. I understand that you're upset. But you're going to have to decide if you are ready to let him go and end your marriage."

"Why wouldn't I be? Logan knew I wanted a child— children actually. He knew how . . . Daddy, this is the worst betrayal. There's no coming back from this."

Sheldon brushed a tender kiss across her forehead. "Make sure that's true. I know you don't want to hear this, but I can't wrap my head around Logan doing this to you. That boy . . ."

"People change and I can't believe you're defending him! Daddy!"

"I'm not defending him and I'm not telling you that you should go back to him, but this doesn't seem like the man who begged me for your hand in marriage and promised me that he'd never hurt you."

"Obviously people change," she said again.

"That's true, but I can't believe there . . . Robby, whatever you need from me, let me know. I'm going to follow your lead. If we have to kick his ass, then we'll do that. But if you ever decide to take him back, then I'm going to support you on that as well."

She dropped her head in her hands because she didn't know what she wanted to do.

Robin opened the door to the suite where her sisters had gathered. Planting a plastic smile on her face, she walked in and gave Nina a big hug.

Logan walked into the house he and Robin had shared for nearly a decade and was still floored by the silence. Six months without his wife had been driving him crazy. What was also making him lose his mind had been the fact that she'd moved out like a thief in the night—with Sheldon's help.

Logan knew his father-in-law was loyal to his daughters, but he thought the older man would've allowed him to plead his case. Nope. The calm and serene Sheldon Richardson actually told him to fuck off.

He was still shocked to hear that word come out of Sheldon's mouth. He'd even called his sister-in-law, Alexandria, who'd been a fan of his in the past. But she obviously had his number blocked. The two times he had called, the calls went straight to voice mail.

When the Richardsons closed ranks, there was no getting inside that wall of loyalty.

As much as he wanted to fight for his marriage and prove his innocence, Logan couldn't. Not until he had gotten to the bottom of the deaths that he was sure had been linked to Cooper Drugs, the company the hospital had started using for transplant patients. Then there was his career to consider. Something he'd worked so hard to build.

But is it worth losing your marriage?

The ringing of his cell phone shattered the silence and nearly made him jump out of his skin.

"Dr. Baptiste."

"Logan," a female voice cooed. "It's Danielle."

He rolled his eyes. Why was she calling? He'd just ended a twelve-hour shift and had no plans to go back to the hospital.

"What's up?" he asked the nurse.

"Your patient, Mr. Gary Cooper, there aren't any orders for his medication this evening and I'd hate for something to go wrong."

Logan groaned, because he knew good and well that he'd left detailed notes on the man's insulin dosages. But he wasn't going to allow anything to go wrong. "I'll be there in fifteen minutes." He ended the call without saying good-bye. It wasn't as if he had anything else to do. Being alone in what had been a dream house was nothing short of a nightmare.

Speeding down the road toward the hospital, Logan thought about the days when heading into work was an exciting time for him.

Then all hell broke loose.

Kamrie Bazal. The nurse, who had assisted him through some of his biggest surgeries at Richmond Medical, had the nerve to accuse him of being her son's father. Bullshit. He'd never slept with that woman.

No matter what a flawed DNA test said. But he'd been hit with divorce papers and a child support lawsuit in a span of six months. Then there was talk of an internal investigation at the hospital about his so-called relationship with Kamrie.

That made him laugh. Outside of the operating room, he had nothing to do with that woman. Though there were plenty of other doctors who couldn't say the same thing. He thought she'd been a friend. He had been nothing but kind to her.

So, why did she pick me? He pulled into his assigned parking spot in the parking garage.

When he got out of the car, his phone rang. Seeing that it was a blocked number, he hit the ignore button.

This day was getting more annoying as the minutes ticked by.

"Logan."

Turning around, he saw Kamrie walking toward him. "What the hell?"

"I'm sorry for the subterfuge. But you won't talk to me and we have to figure this thing out."

"Figure what out?" He folded his arms across his chest. "You mean to tell me that you and Danielle don't have anything better to do than fuck with me after my shift?"

"You could get to know your son and . . . I heard your wife left you. Nothing is stopping us from being a family now."

Logan blinked, then broke into laughter. "Have you lost your mind? How are we going to be a family when that kid of yours isn't mine?"

"We're going to do this. You remember the night of the hurricane. We were all trapped here and . . ."

Logan threw his hand in her face. "You're fucking insane."

"That's not what the DNA test says. Jean is your son and I know for a fact he's going to be the only child you're ever going to have, since your soon-to-be ex couldn't give you a child."

"Watch your mouth. You're not even fit to think about her, much less say a mumbling word about her." Logan clenched his hands into fists. And though he would never strike a woman, Kamrie was a test.

"Logan, we can have the family I know you want. Jean should meet his father and have a relationship with you."

He took a huge step back. "You don't know shit about me."

She smiled, reminding him of The Grinch on Christmas day. "You keep acting as if you've forgotten that I know every inch of that amazing body. Especially . . ." She nodded toward his crotch. "Stop denying it. We're a family and you should come home, where you belong."

Logan crossed over to his car and slammed inside. He wondered if he could order a seventy-two-hour hold for that crazy bitch. Calm down, he thought as he pulled out of the parking garage. Logan knew he needed to find his wife. She hadn't taken his calls and her lawyer wasn't forthcoming with where he could find Robin.

Of course, going to her office was an option but it was going to be his last resort. He didn't want to cause a public scene this close to the holidays. Hell, he didn't want to cause a scene, period.

But he had to find her and they needed to talk. Robin was more than likely in Charleston, South Carolina, with her family. Maybe it was time for him to listen to the human resources director and take some time off.

All he wanted for Christmas was to win his wife back and get his life back on track. And he was going to do whatever he had to do to prove his love to Robin. That meant that he was going to have to get Kamrie to come clean about the father of her son.

Logan couldn't live without Robin and this lie wasn't going to destroy them. All he could do was pray that he wasn't too late.

Robin tried to keep a brave face on for her sister. Nina looked so beautiful in her white gown. The older the youngest Richardson sister got, the more she looked like their mother, Nora. Especially when she smiled.

She was smiling a lot these days. Young love was a beautiful thing. But Robin hoped Nina would never face the kind of pain that Logan had caused her. It would've been different if the son of a bitch had been honest and owned up to what he did. It was his constant denials that kept her angry. She couldn't believe her prince charming had become the average Joe.

When caught, deny and lie. Logan—her man—was supposed to be better than that. He'd promised her that he'd never lie or hurt her. That bastard did both. Logan knew how much she wanted to have a family of her own. But that was never going to happen. Her family didn't know why she and Logan hadn't had children, and, thankfully, her sisters weren't the type of women who thought the key to a happy marriage meant a house full of kids. But Robin wanted children and wanted to have the kind of family that she'd grown up with.

Cancer changed that.

She thought that it wasn't going to change her marriage. Logan had promised her that it wouldn't. He'd even said that he didn't want children. He'd said they could spend their lives traveling and enjoying each other. She believed him. Believed that she alone was enough for her husband.

After her surgery and the fact that she would never be able to have a child, Logan swore that they could make a family any way they wanted to. Adoption, foster parents, volunteering at schools or Boys & Girls Clubs.

"Family," he'd said, "is what we make it."

Then I guess he made it with that woman. Wonder if he's going to claim his kid now?

Alexandria, Robin's oldest sister, touched her shoulder. "What's going on with you?"

"Huh?"

"You keep staring off into space and this isn't like you. You normally have some magical story to tell about your wedding."

Robin waved her hand. "I'm fine. The last thing I want to do is take away from Nina's day and Christmas."

"But you don't have to suffer in silence. I know something serious is going on. Let's go grab a drink, and if you want to talk, we can. Otherwise, we can drink and eat chicken wings."

"I'm vegan now."

Alex rolled her eyes. "Vegan? Why?" She looked her sister up and down. "It can't be for vanity's sake. You look amazing. A little too thin, if I'm honest."

"I'm doing it for my health." Robin smiled. "But I'm glad you think I look good."

"Yeah, well, you have a lot working in your favor. We share the same DNA."

Robin pinched her sister's arm. "Modest much?"

"Let's get out of here. Yolanda and Nina are going to be flipping through fabric swatches and ignoring us for the next few hours and you need to talk to me."

Robin dropped her head and fought back the hot tears welling up in her eyes. Alex wrapped her arms around her sister's shoulders. "I'll happily kick his ass."

"Now you sound like Yolanda." Robin laughed and wiped a tear away. "There's more to this than just Logan cheating."

Alex furrowed her eyebrows. "What's really going on?"

Robin tried to usher Alex out of the room before Nina or Yolanda saw her tears. Too late.

"Robin!" Nina and Yolanda were by her side in a flash. "Why are you crying?" Nina asked.

"I told you something was going on over here," Yolanda said. "Spill it."

"Leave her alone," Alex warned. "Don't y'all have stuff to do?"

"Yeah," Nina said. "And at the moment, I'm going to hug my sister."

Nina drew Robin into her arms and gave her a tight hug. She wished that she hadn't told her little sister about Logan. But, since Yolanda knew, Robin had to share the sad news. "Do you know how much I love you for being here right now? I know it has to be hard for you to remember your wedding when your marriage is falling apart."

Robin sighed and ran her hand across her face. "I wish it was just that. Nina, I am beyond happy for you and Clinton. This isn't just about my marriage ending."

Yolanda nodded. "Start talking, Robin."

"We're going to need a few bottles of wine for this," Robin said. "Let's go and have a few drinks."

"Wait," Nina said as she looked down at the slip she was wearing. "I need to change."

"We'll be at the bar across the street," Robin said as she and Alex left. Yolanda stayed behind with Nina.

The drive to Charleston seemed to take forever. Six hours turned into eight because of the holiday traffic on the interstates. And there were a few moments when Logan almost turned around. What if he arrived in Charleston and Robin wasn't there? Suppose Sheldon decided to have him arrested for trespassing?

Logan wasn't stupid enough to believe that he could plead his case to his father-in-law and have him on his side. Robin was his daughter and though Sheldon was a fair man, nothing was stronger than the love he had for his daughters.

Still, he had to get Robin to hear him out. Logan knew he couldn't live without her. And this lie was going to be the death of him. Especially if she continued to believe it. Why would she think that I'd want another woman when she has been the only one I've ever needed?

Logan slowed down as the person in the car in front of him abruptly slammed on the brakes. Switching into the right lane, he wondered if the accident in front of him was a sign. When he arrived in Charleston, was his marriage going to really crash and burn like the Prius that had hit the deer? He didn't look at the carnage in the other lane as he pressed forward. If he was going to fight, then he couldn't be a punk ass.

It was after three a.m. before he arrived in Charleston, and it didn't dawn on him until he pulled into the parking lot of a no-name motel that it was Christmas Eve. Christmas just didn't mean a thing to him without Robin. After parking his car, Logan walked into the lobby and wasn't surprised to find the front desk clerk asleep.

He tapped the desk and smiled as the man opened his eyes. "Sorry to wake you," Logan said.

"My bad. It's been a long day. You need a room?"

Logan nodded. "Got any king-sized beds?"

"Nope. Queen or twin."

"I'll take a queen." Logan sighed and pulled out his wallet. "Don't hit me on the head with the cost for one night, though."

"Don't tell the boss that I was sleeping and I'll let you stay for fifty dollars."

Logan pulled out his credit card and nodded. "My lips are sealed."

After getting checked in, Logan walked into a room that smelled a lot like mildew. He shook his head, thinking about how stellar things had always been at the Richardson B&B.

In college, Robin talked about her father's hotel and made it sound like some fairy tale castle. When she'd taken him to Charleston in their junior year at Xavier, he saw that she was right. The history of the place in the face of Southern discrimination, how he raised his daughters surrounded by such beauty and privilege, yet they were some of the most gracious women ever. Even if Alexandria tried to act like she was a hard ass. Clearly, she wasn't. Alex had a protective nature over her family but knew that Sheldon wore the pants. He had been pleasantly surprised by the wedding toast she'd given all of those years ago.

"To the man who will love my sister to the moon and back. And to my sister, who found her Creole prince charming, may God bless your union. And may you teach my sister how to make jambalaya."

He wondered if Alex would listen to him and help him win his wife back. It took him about three seconds to realize that he was foolish to think that any one of those sisters would listen to a word he had to say.

Even if he hadn't done anything wrong. Kamrie had been spreading this lie about them sleeping together and that child being his. He had to stop it and that meant he needed a real DNA test. That would mean giving credence to the rumors Kamrie flaunted. Logan stupidly had hoped this thing would disappear. He wanted to keep his marriage and his reputation intact. As the rumbles in the rumor mill grew and grew, Logan couldn't ignore it anymore. He needed to clear his name. But not just for his career. He had to do whatever he needed to do to win his wife back.

He could understand why Robin was so devastated by this. She'd been the one who wanted a big family. Three children, all boys. Logan smiled as he thought about the days they'd lain in the grass on the quad and planned their life.

"What do you see in that cloud?" she asked as she pointed to a puffy white cloud.

"A big chance that we're going to be all wet real soon," Logan replied with a laugh.

She grabbed his hand and placed it on her thigh. "Who says I'm not wet already."

"Now, Robin, you know you can't play with me like that."

She licked her bottom lip. "I don't play. But I got some studying to do."

"All work and no play makes a dull girl."

Robin rolled her eyes and eased closer to him. "I made a promise to my mother and I have to keep it."

"What promise was that?"

"To be focused. And as amazing as you are, Mr. Baptiste, you're not taking my focus off my future."

"Nah, that's not what I'm doing. We're going to be a team. So, if you need to study, then get to it."

She looked down at his arm, which hadn't left her waist. "You're going to let me go or no?"

"Do I have to?"

Robin raised her right eyebrow. "Aren't you in my study group?"

He nodded. "But I'm skipping tonight. Guess who has a chance to go and cut open a human heart tonight."

Robin shook her head and moved his arm. "The fact that you're so excited about that really makes me believe you're going to be a great doctor or a serial killer one day."

"Stop watching those true crime channels, attorney."

The couple rose to their feet and held each other just as the first drops of rain started falling. Logan leaned in and kissed her while the. . .
We hope you are enjoying the book so far. To continue reading...
Won't Go Home Without You
Cheris Hodges
Copyright © 2023 All Rights Reserved