Book info
Sample
Audiobook
Media
Author updates
Lists
Synopsis
Elite investigator Zoe Harrington isn't about to be fooled twice. She knows all the tempting by-any-means-necessary games FBI agent Carver Banks will use to close a case. So when he needs her help with a missing person case, she's happy to charge him double the fee -- and keep his sizzling moves at arm's length. But when the search strikes too close to home, Zoe finds the passion between them reigniting past the danger point.
Carver doesn't want to deceive Zoe again. He's never stopped wanting the sexy private detective who can match him play for passionate play. But she's at the top of a hit list. And he'll do whatever it takes to keep her out of harm's way -- until Zoe uncovers his true agenda. Now, how can he prove his love for her is real? And with time running out, will their one chance to survive mean losing each other forever?
Release date: October 31, 2017
Publisher: Kensington Books
Print pages: 384
* BingeBooks earns revenue from qualifying purchases as an Amazon Associate as well as from other retail partners.
Listen to a sample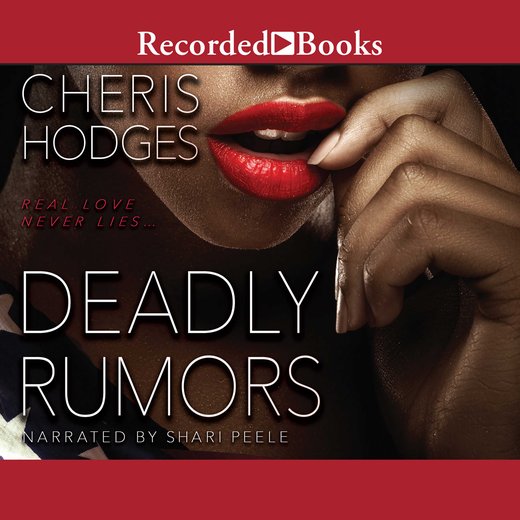 09:44:02
267.36 MB
October 31, 2017
Recorded Books
2017
Deadly Rumors
Cheris Hodges
Zoe Harrington was a marked woman and she didn't have a clue. FBI Agent Carver Banks watched Zoe as she watched a man who, he assumed, was a cheating husband. Over the last two months, Zoe's cases had been simple: catch the cheat, prove a parent was neglectful, or that someone violated a protective order. Carver liked it that way. She was safe. At least for now.

After the alert he'd gotten on Friday, he knew Zoe was anything but safe. The only thing missing was a red target on her back. There was something else he knew, as well: If Zoe knew she was under surveillance, there would be hell to pay.

Guns would be pulled, bad words exchanged, and there's a good chance that he'd be nursing a gunshot wound. Carver chuckled, thinking about Zoe pulling a gun on him and having the nerve to shoot him.

It was a risk he'd have to take. Until the threat against her was neutralized, he had to protect her. And Zoe Harrington wasn't the kind of woman who needed protection—at least not in her mind—and she certainly wouldn't accept his help. She thought he was her enemy, when that was the last thing he was.

Carver smirked to himself. The feisty Zoe had a smart mouth, but she was a hell of a kisser. Too bad she assumed the kisses and passion they'd shared two years earlier hadn't been real.

It had been very real to him. Unforgettable. Carver couldn't get the taste of Zoe out of his system. Not even when he had to arrest her on some trumped-up charges because of her ex-sister-in-law, Natalie.

The moment he snapped those handcuffs on her had probably solidified her hate for him. But he'd been doing his job, setting a trap for Natalie and the sex traffickers she'd been linked to. And as he'd tried to explain this to Zoe, she wasn't trying to hear anything he had to say.

Carver wanted more than Zoe even knew—wanted her lips, hips, and thighs pressed again him. But she wouldn't look at him through eyes that weren't clouded with anger. And she had beautiful eyes, light brown with gold specks dancing in them.

He understood why Zoe was still mad, but something had to change, and the sooner the better.

Zoe had noticed the black sedan following her about three blocks ago. "Time for some action," she exclaimed as she made a quick U-turn and blew past the car that had been following her. She couldn't get a look at the driver because of the dark tint on the windows, but she got a good look at the license plate. She made a mental note to run it through the DMV database when she made it to the office.

This was the only thing she missed about police work. Driving like a maniac, weaving in and out of traffic without worrying about traffic violations. What she didn't miss was the bullshit politics in the department and the stop-and-frisk edicts from superior officers that only seemed to target blacks and Hispanics. What she really didn't miss was the thin blue line of silence that kept bad officers on the job and good ones silent. She'd made it her business in the first year of opening her firm to take all cases that were somehow related to the NYPD. She especially liked it when she worked a case that involved one of those upstanding captains who'd been caught with his pants down. She'd had three of those in the early days of her firm. Zoe was proud that she'd brought down two of the most arrogant captains in the NYPD because of their love of hookers. Seeing their faces splashed across the newspapers after their arrest made her feel as if she'd accomplished something great.

Then, a few years ago, she'd taken the case of a family who wanted to prove police brutality against her old partner. Because of her work, seven officers were fired and one was indicted. Of course, there was no conviction. Zoe knew that case had made her a lot of enemies in the NYPD.

Was that why she was being followed? Zoe thought about the cases she'd worked lately. Nothing stood out in her mind as threatening. And it wasn't Natalie, because that trick was locked up. Maybe I'm being paranoid, she thought as she headed toward her office. Zoe kept an eye out for the car that had been following her. Satisfied that she'd shaken her tail, Zoe took the back road to her office. On the quiet two-lane road, if someone was following she would know immediately. Though no one was behind her when she arrived at her office, Zoe was surprised to see him standing on her doorstep.

For a split second, she thought about ramming her car into him. But killing an FBI agent would be stupid, and the few hours she'd spent in lockup proved jail was not a place she could ever reside. Sighing, she slowly exited the car and crossed over to Carver Banks. Why did that man have to be so sinfully gorgeous? Even in a pair of nondescript black slacks and white button-up shirt, he made her mouth water. She remembered the feel of that muscular body against hers, the taste of his tongue in her mouth as he kissed her senseless. Too bad it had all been a lie.

"You better have a warrant," she snapped.

"Hello to you, too, Zoe," he said with a smile.

Why did her knees go weak when she looked into his whiskey-brown eyes? She looked away. "Why are you here, Agent?"

"Because I need you."

Zoe's breath caught in her chest. "What?"

"Can we go inside and talk?" He nodded toward the door and smiled.

"Why were you following me?" She folded her arms across her chest. "I've had my fill of dealing with you and the FBI."

"Zoe, I'll tell you everything, but it would be a lot better if we talked inside."

She rolled her eyes and then unlocked her office door. "I don't have all night to talk to you. I just got finished working a case, and there's paperwork that I'd like to get taken care of before I go home and get some rest. Can we make it fast?" She pushed the door open and flipped the overhead lights on. Carver gave her a slow once-over, seemingly drinking in her black leather leggings, black tank top and knee-high boots. Catching his glance, she raised her right eyebrow.

"What? Did you lose something over here, or do you make a habit of ogling people who you claim to need?"

"Nothing, you just look like—"

"I was doing surveillance? Like I said, I don't have all night to banter with you."

"I'm investigating a cold case, and though I'd like to say that the Bureau is making it a priority, they aren't. We have some staffing issues in our office, so my superior gave me the green light to get some help. You were the first person I thought of."

Zoe eyed him quizzically. "Let me get this straight. You expect me to work with you?"

"Of course, you will be paid for your work and—"

"I don't need your money, and working with you isn't good for my business." Zoe rolled her eyes and stroked her hair. Did he think she was going to be stuck in close quarters with him or take orders from him? Please! This man needed to get out of her office now. Just the scent of his masculinity was driving her crazy.

"Zoe, you're one of the best investigators that I know, despite the fact that you spend a lot of time working divorce cases these days."

"Are you judging me?" Zoe crossed over to her desk and sat down so that her knees would stop quaking. His gaze seemed to penetrate her soul. And as much as she didn't want to think about it, her mind flashed back to the night they'd made love.

"Never that, although you've spent a lot of time judging me for doing my job."

"That's not why I judge you," she said as she leaned back in her seat. "Why me, though? If I recall, the last time we saw each other, you wanted me in jail."

"I wanted to solve a case and your arrest was—"

"The most embarrassing thing to ever happen to me." Zoe slammed her hand on her desk. "And I don't care what you said at that press conference, there are people who still think I had something to do with Natalie's crimes."

"There's a name for those people," he said with a wink. "And that's called stupid." He walked over to her desk and leaned in to her. "So, when you go out and do your thing, you always dress like Catwoman?"

Zoe sucked her teeth and ignored his comment and the way he eyed her breasts. "And why do you think I would take this case? The FBI has the strength of the government behind them. What can I add?"

"A fresh set of eyes, a nice smile that disarms people, and you're good at what you do, Zoe. Everything you do."

Her thighs trembled at the timbre of his voice. Had that night meant more to him than she gave him credit for? No. It was just him using her to solve a case. She would never forgive him for playing her like that.

He took a step closer to her. "If you dress like this, I'm sure that we'll get this case solved quickly."

"Get off it," she snapped as she rose to her feet and went around her desk to stand in front of him. "I haven't even said I'd take the case."

"I think you should," he said.

"Really couldn't care less what you think," she said with a sarcastic wink.

"You know what I really think," he said.

Zoe glared at him. "What did I just say?"

Carver shrugged. "You really look like you should kiss me." Carver stroked her cheek as he smiled at her.

She pushed back against his chest, her heart beating like a steel drum. "Not again, Agent. If I take this case, it is strictly business. Then again, that kiss was all business for you anyway." Zoe rolled her eyes and stepped back from him.

"Are you going to take the case?"

"Haven't decided yet."

"Good." In a swift motion, Carver pulled her into his arms and captured her lips in a smoldering kiss. Zoe wanted to fight the pleasure that flowed through her body. She wanted to pretend his kiss didn't arouse all sorts of wicked desire. Then she felt his hands roam the small of her back and she melted against him. He tasted magical and his heat made her wet. Her body's traitorous reaction to his kiss made her angry. Pulling away, Zoe slapped him.

"What was that for?" he asked, stroking his stinging jaw.

"Keep your lips and hands to yourself!"

"Why, you like it too much?"

"You think too highly of yourself. I didn't like it at all."

Carver pursed his lips as if he wanted to say something, but thought it was better to let Zoe's lie hang in the air. She looked away from him and crossed over to her desk. They needed something between them other than temptation.

"Are you sure you and the FBI can afford me? There will be no discounts," she said, then licked her lips. Damn it. Why could she still taste him and why did she like it?

"What?"

"If I take the case, my rate is one fifty an hour plus expenses. If I have to leave New York, I fly first class."

"That's fine," he said. "My agent in charge gave me a generous budget to work with and—"

"And I work alone. When you hire me, you give me control. I don't want you telling me how I should do my job or hear about any tips that you may have to make my job easier. I'm boss here."

"Hold on. This is an official FBI investigation and I can't just give you carte blanche to run the investigation without me," Carver said.

Zoe furrowed her eyebrows. "What's this case all about, and if it's so important, why is the FBI trying to outsource the work?"

Carver took a deep breath. "It's a missing persons case, and as much as I hate to say it, the media has spurred us to look into the case of Jessica Dolan."

"Who is Jessica Dolan?"

Carver stroked his forehead and frowned. "She was a college student who went missing about three years ago. It was around the same time that a few college-age women were killed by the Bayou Serial Killer."

"I remember that case, but I thought the killer was caught?"

Carver nodded. "He was, but we need closure for this family. The Dolans think that we dropped the ball on finding Jessica because she's African American."

Zoe rolled her eyes. "I don't doubt that. Blond hair and blue eyes sells newspapers and mobilizes search parties. Missing black women barely get a nod in the media or with law enforcement. What's so special about the Dolans?"

Carver stroked his forehead. "They're close friends of the former president," he said. "That's one of the reasons why the FBI has reopened the case and why it's important to find her or her remains."

"Interesting, the only way you can get justice is to be connected? What about all of the other missing black women out there who don't—"

"Look, I wish I could find everyone who went missing, but despite what you and the public think, we don't have an endless supply of resources. We need to get started sooner rather than later. I'll see you in the morning," he said. But Carver made no effort to move, and Zoe focused on his mouth as he stood there.

No kiss this time? she thought. Stop it! You said this is just business and you need to keep your word.

Carver stared at Zoe's lips, longing to kiss her again. If he didn't get his hormones under control, he was going to get everybody killed.

"You can go now," Zoe said after a tense silence. She knew that after seeing him, she wasn't going to get any work done for the rest of the night. His masculine scent filled her office and she was sure it would linger and mess with her mind.

"Aren't you leaving as well?"

"I don't need an escort," she replied.

"Humor me."

Zoe rolled her eyes and allowed him to walk her outside. "Carver, I hope you know nothing has changed between us."

"I'm aware of that."

"This is strictly business."

"Zoe, you realize I was doing my job."

She rolled her eyes again. "Sure you were."

He closed the space between them. "You were, as well, so you can stop blaming me for everything."

"Excuse me?"

"You played the same covert game, so don't act as if you didn't do anything."

"I was just following the leader. Can we go now?" Carver nodded and Zoe gripped her car door handle as she watched him cross the parking lot.

Lord, that walk, she thought. Strong like a lion. Graceful like a black panther. Always on guard. She shivered inside, thinking of his hips with her legs wrapped around them. Stop it!

"Waiting for someone?" he called out when he noticed she hadn't gotten into her car.

"No, just waiting for you to leave."

"Start your car and I will."

Zoe shook her head. "You think it's going to explode? No one is out to kill me, Carver."

If only you knew, he thought. "You ever wonder if some of those cheating husbands might want revenge?"

"Paranoid much?" she asked as she clicked the automatic start button on her key chain. "See, no explosion. And if those husbands didn't want to get caught, then they would've kept it zipped and tucked away."

"Easier said than done," he shot back.

"Spoken like a no-good man," she said, then opened her driver's side door.

"Good night, Zoe."

She pressed the remote start button to shut the car off, then crossed the lot to stand in his face. "So, among all the things that I think about you, you're adding cheater to the list?"

"For some men, it's hard to resist temptation."

Zoe inched closer to him, then placed her hand on his chest. "How hard is it for you?"

He grabbed her hand. "Stop playing with me, because you know I'm the one who will always get to you."

Carver's words sent her reeling. Zoe hadn't realized she'd stepped back until he touched her elbow. "You should go now," he said. "Wouldn't want you to find yourself unable to resist temptation."

Zoe marched to her car without looking back at him. How could she hate him and yearn for him at the same time? Taking this case was a bad idea.

Carver knew it was a bad idea to follow Zoe home, but he needed to take a look at her place. Find out if her house had any blind spots where someone could hide. He was surprised that she still lived in the Bronx, but it made sense since her family had such a storied history in the borough. Underneath that independent streak was a girl who didn't want to leave home. That made him smile, until he noticed the bushes in front of her house. They had to go. And while he wanted to set up and watch her house all night, he couldn't risk Ms. Hothead finding him in the morning and blowing a gasket. After she pulled into her garage, Carver drove away. He headed to the FBI satellite office for a briefing on the search for Joseph Singletary—the man who wanted Zoe dead.

Singletary had been the mastermind behind the Harlem Madam—Zoe's ex-sister-in-law. When Zoe and the FBI brought Natalie down, there was a ripple effect in the trafficking organization. The FBI was able to raid trafficking rings in North Carolina, California, and Maryland. But Singletary was always one step ahead of getting captured.

That's what worried him. Singletary could be anywhere and no one had a clue. Natalie wasn't talking, nor were any of the other pimps they'd busted. Pulling into the parking lot, Carver pulled out his cell phone and sent the security text to the receptionist.

He walked to the front door and pressed in the code that he'd received on his cell phone. Once the door opened, he smiled at the receptionist, then showed him his ID.

"Agent Banks, they are waiting for you in the back."

Nodding, he headed for the conference room for the briefing. He hated these tight offices with no windows that reminded him of Afghan bunkers. But it had to be done if he was going to take down Singletary before he harmed a hair on Zoe's head.

"Banks," the agent in charge, Delvin Smallwood, said when he spotted Carver at the door. "Did you find Harrington?"

"Yes."

"Good. Just got some intel that Singletary has placed a bounty on her head."

Carver leaned against the wall. "She agreed to work on the case with me. At least I can get her out of New York for now. How are we going to find this bastard and put him away?"

Agent Wendy Covington pointed to an electronic map on the wall. "Two weeks ago, we traced a cell phone call from him in Nebraska. Didn't make sense that he would be there, so we tried to get a hit on the Internet server used to upload the girls on Backpage and got a hit in New Jersey. By the time we got a physical address, everything was gone." She folded her arms across her chest. "It's like he's freaking Houdini."

"What is he, a fucking ghost?" Carver groaned as he glared at the map.

"We need a crack in his organization," Wendy said. "Have you taken another stab at Natalie?"

He shook his head. "She's not talking, even when I offered immunity."

"You did what?" Smallwood boomed. "We don't have the authority to do that. The federal prosecutor wants to get a pound of flesh, and right now all we have is Natalie. She's too afraid to talk, so she's going to be the example."

"It was bait, and she didn't take it," Carver said with an eye roll. "I told Zoe that we're reopening the Jessica Dolan case because the family is friends with the former president and they want closure on where their daughter's body is."

"All right. Make sure you keep Zoe away from her family. Last thing we need is for Zachary Harrington to get caught in the cross fire."

Carver narrowed his eyes and clenched his fists. "It's bad enough that Singletary's hurting all of these girls, but now he's out to kill people."

"Zoe did help cripple a large part of his organization," Wendy said, not hiding her adoration. "I guess she really didn't like her ex-sister-in-law. Because she did everything in her power to get that woman behind bars."

"How are we going to keep her alive, though? All of our efforts to find Singletary have failed. I'm beginning to think that someone is feeding him information about the investigation," Smallwood said. He picked up a flip phone and handed it to Carver. "This is how we communicate, and you need to make sure Zoe loses her smartphone and other devices that can be traced. One thing we know about Singletary is that he knows technology."

Carver nodded as he tucked the old-school phone in his pocket. "I need another car so that I can watch her house tonight. She's already seen the sedan."

Wendy tossed her keys to him. "Take my Challenger," she said.

"That purple monster? I don't want her to see me. How am I going to stay in the background in that thing?"

"No one is going to suspect that it's a government car," she replied, and sucked her teeth. Carver rolled his eyes, but she did have a point. Who would think that an FBI agent would be driving a muscle car? He pocketed the keys.

"All right," he said. "Anything else?"

Smallwood shook his head. "Just make sure that the media doesn't get wind of the Dolan case. Keep in mind that we're just using this to keep Singletary off her back and to keep Zoe alive."

"Isn't Jessica Dolan dead?" Wendy asked. "Why are we using this case?"

"Because," Smallwood began, "it gives us a reason to relocate Harrington and it isn't a priority case."

Carver nodded. When Smallwood told Carver that Zoe was in danger, the men sat down and came up with the cover story to get her out of New York until Singletary was apprehended, because every time they seemed to get close to capturing the pimp, he'd get away. As much as Carver tried to pretend this was just another case, it was personal for him. Zoe wouldn't be harmed, and if he had to put his life on the line to save hers, he would.

"I'm out," Carver said.

Zoe walked into her kitchen and grabbed a box of oat cereal. She didn't pour a bowlful or grab milk to go with it; she just took the box and sat on the sofa—eating it dry. Why had she been foolish enough to take Carver's case, or kiss him? Her body tingled with the thoughts of his hands roaming her body, his tongue licking her sensitive spot.

"Stop it," she muttered, then stuffed a handful of cereal in her mouth. Munching mindlessly, she picked up her cell phone to check that payment for her last case had been received. When she saw it had been, she smiled. "Another satisfied customer," she said, then closed her box of cereal. Rising to her feet, she headed for the kitchen and put the box away. Sighing, she started to call her brother, but he was a newlywed and it was after ten. Hopefully he and Chante were working on making a niece or nephew for her.

Work had consumed her life, and in the still of the night, she was bored. It wasn't that she didn't have offers for dates and dinners, but after seeing all of the cheating and everything else she investigated, trusting was hard. She couldn't even go on a date without running a background check on the guy first. And these days, any little thing, from writing a bad check to having overdue parking tickets, was enough for Zoe to decide he wasn't worth her time.

And then there was Carver.

No one compared to that man or made her body hum like a chamber singer. That one night changed her life, and she couldn't get over it no matter how hard she tried. Instantly, she thought back to the interlude in her office and his words vibrated through her body.

Stop playing with me, because you know I'm the one who will always get to you.

Groaning, Zoe headed up to her bedroom to change into her gym clothes. She had energy to burn off. Late-night trips to the gym were becoming a part of her life. A hard workout always put her in the mood to sleep. Though she knew a much better sleep aid—another night with Carver.

"Ugh!" She tied her sneakers and jogged down the stairs and headed out the door. Maybe Marcus would be there tonight and they could do another burpee challenge. Thinking about her workout partner made . . .
We hope you are enjoying the book so far. To continue reading...
Deadly Rumors
Cheris Hodges
Copyright © 2023 All Rights Reserved