Book info
Sample
Audiobook
Media
Author updates
Lists
Synopsis
For the three very different Richardson sisters, continuing their family's renowned bed-and-breakfast legacy is already a formidable job. But unexpected desire will challenge them in ways they never imagined...
Sportswriter Nina Richardson had the perfect life away from her family's famous shadow. But a social media blowup and rejection by her boyfriend brought her back to their peaceful Charleston, South Carolina B&B to figure out what went wrong. So there's no way she's going to trust the crazy-hot sparks flying between her and handsome new employee Clinton Jefferson. It's just reckless, rip-his-clothes-off, one-night-and-forget-it lust—right?
Fresh from working for the Richardsons' biggest rival, Clinton wants to show his modernization ideas aren't sabotage or a gimmick. Getting involved with the rebellious Nina means trouble for sure—but he can't resist showing this stubborn, fiery woman how she should be loved. But false accusations and Nina's returned ex shake their passion—and fragile trust—to the core. Now between cascading obstacles and conflicting loyalties, can Clinton and Nina untangle what they really want in time?
Release date: January 28, 2020
Publisher: Kensington Books
Print pages: 384
* BingeBooks earns revenue from qualifying purchases as an Amazon Associate as well as from other retail partners.
Listen to a sample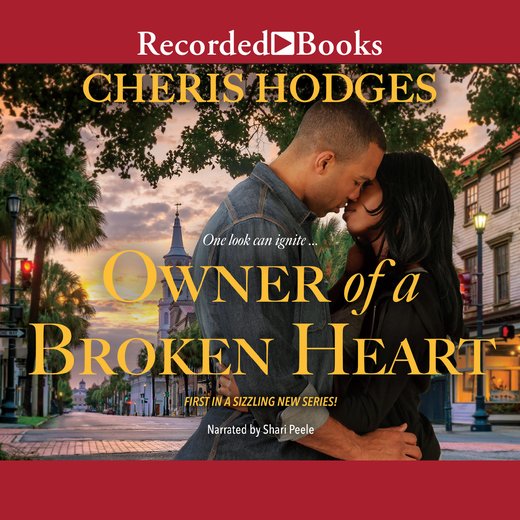 08:52:47
243.9 MB
January 28, 2020
Recorded Books
2020
Owner of a Broken Heart
Cheris Hodges
Nina Richardson was pissed. The sportswriter had never felt more disrespected or more angry in her career. Did this quarterback just call her sweetheart in the middle of a press conference? Her male colleagues chuckled and tried to hide it behind coughs. Nina gritted her teeth and fought the urge to roll her eyes.

Be the professional, she told herself as she looked at his garish outfit. They weren't in some nightclub; she was doing her damned job and he dismissed her question about his poor play and three interceptions with a sexist quip.

"Sweetheart, I'm going to get a suggestion box and put it outside this door and I want your suggestions about my route accuracy to be in there."

Nina's mouth dropped. Oh, I have a suggestion. You might consider not mixing plaids and stripes, because not only do you look like a clown, your current QB passer rating suggests you have the brains of one as well. And I don't give a damn that it's preseason.

"Any other questions?" the media relations representative asked, then ushered the quarterback from behind the podium. Nina seethed as she and the other reporters headed out of the meeting room. Part of her wished she could've said everything on her mind about that overgrown child. August was too soon for the bull. There was a lot of football to get through before the Super Bowl and Pro Bowl.

And she needed her job as a freelance sportswriter. She'd thought the days of women journalists being disrespected by the men they covered were over; obviously not in Charlotte, North Carolina. Nina enjoyed her freedom and flexible schedule. So, she'd be damned if she'd let Cody Cameron put that in jeopardy.

"Son of a bitch," she muttered as she waited for the elevator. The local sports columnist touched her elbow. Nina glanced at him and he pulled his hand back quickly.

"He's young. Probably didn't mean anything by it."

"Thanks for mansplaining that." Nina took a deep breath and counted to ten in her head.

"It could've been worse, you know."

"Oh really. Please tell me more about how you've been through the same thing." Nina clasped her hands together. "We're not running the same race, Mel. I have to be twice as good as you guys in there. And I am."

"Point taken. Maybe this could be a teachable moment for Cody."

Nina rolled her eyes when Mel walked away. She couldn't wait to call her boyfriend—well, that wasn't the best way to describe Coach Lamar Geddings. Though they had spent the last year hanging out, watching football, and having sex. They just hadn't labeled their relationship. Nina wanted more, but she hadn't been brave enough to say so. Still, she played the girlfriend role, cooking for him, which wasn't in her wheelhouse, and rocking his world every chance she got.

That had to mean something, right? And then there was the fact that she had been pitching his story to every editor she knew. Lamar had taken over a high school football program with a state record for losing. He'd turned things around in his first season as head coach. The school had even made it to the playoffs. Unfortunately, there was a high school across town, which had a different record. They'd won over two hundred games in a row. One of Nina's assignments had been to cover their historic season.

But she saw the human-interest quality in Lamar's story. One she had no intentions of writing, because how could she write about the man she loved and be objective? Nina smiled as she stepped off the elevator and headed for the parking lot of Bank of America Stadium. She reached into her purse and pulled out her phone. When she dialed Lamar's number, she was perplexed when his voice mail picked up.

It was Thursday and their usual meeting date. Of course, the night game had changed the normal time they'd meet for a drink and dinner. Also, why was her phone vibrating so much?

Nina clicked on her Twitter app and to her horror she'd gone viral. Why did the world have to be so connected?

"Fuck!" she muttered as she sprinted to her ruby red Mustang GT. Tossing her phone on the passenger seat, the only thing Nina wanted was a thick vanilla milkshake and some fries to dip in it. She didn't want to read the tweets about her encounter with the popular quarterback. She'd already made up in her mind that everyone was on his side.

Okay, she was going to take one quick look.

How rude! Cody Cameron is a jackass for calling that female reporter sweetheart. She was doing her job! #Respect

Nina pumped her fist and muttered "thank you."

What is this 1960? Really, we're calling women sweetheart in the workplace?

It wasn't long before she found Cody defenders.

Sports reporting is a man's game, she ought to cover something else if she can't take a joke. #Damnfeminists

Nina dropped her phone and said a few curse words. Yep. It was time for a milkshake. She tore out of the parking lot headed for her favorite diner. When she pulled up to a stoplight, Nina called Lamar again.

Voice mail.

Where is he? She pulled into the parking lot and picked up her phone again. Obviously, she was a glutton for punishment.

Why do they let women in the locker room anyway? I bet that reporter wants to date Cody and he turned her down. #Thirstybroads

Nina grunted as she closed the app. She didn't date professional athletes. And before Lamar, Nina never mixed business with pleasure. She hadn't wanted to be that sportswriter. She didn't flirt with players, though sometimes in the locker room she'd get comments on her ass. Nina ignored them, pretending she was unbothered, like her older sister Alexandria would be.

Other times, Nina would ask a question about the stupidest thing the player did on the field, just to let him know that she was serious about her job. Until Cody, she thought she'd had the respect of the players she covered.

Maybe that's why all of the tweets about her being a jealous groupie pissed her off. She didn't want Cody Cameron or anybody else in the locker room. Nina just prayed no one would dig up anything about her relationship with Lamar. But how could they? They'd never posted anything on social media. They rarely hung out in public and despite pitching his story to almost every editor she knew, the only high school she'd covered regularly was the record-breaking Independence High.

Besides, though things were a little on the gray side, seeing Lamar wasn't technically wrong because he wasn't officially a part of her beat. Sighing, she pulled into the parking lot of the diner and smiled. But as she walked into the diner, her smile quickly faded.

Was that Lamar sitting in the corner wrapped around some other chick? Nina took a breath and shook her head. There had to be a logical explanation for this. She couldn't think of one.

"Just one?" the hostess asked, breaking into Nina's murderous thought.

"Yes. Can I get a table back there?" She pointed to the empty one next to Lamar and his tart. She knew calling the woman names in her head wasn't right. Lamar was the liar—that chick owed her nothing. But Lamar had some explaining to do.

The hostess nodded and led her to her selected seat. Nina sat down and faced Lamar. She'd wanted to toss something at him, but she waited until he made eye contact with her. She raised her eyebrow and pursed her lips. Inside her blood boiled.

"Hello, Lamar."

"Nina. Hi." He nudged his date. "This is Nina Richardson, she's a reporter."

The woman nodded, then turned back to Lamar. "I'm going to the bathroom. Be right back."

Once they were alone, Nina tossed a sugar package at him. "What the hell?"

"Don't make a scene. You know we're not a couple so . . ."

"Fuck you."

"Nina, I never made any promises to you about us being exclusive, so I can see other people." He spoke as if he was explaining the four-three defense to a freshman linebacker.

"Is that right? How long have you been seeing her? Were you sleeping with both of us at the same time? You bastard."

Lamar rose to his feet. "We're just friends, right? I don't see what the big deal is here."

Nina gritted her teeth and glared at him. This was the cherry on top of a trash-ass night. Just as she was about to launch into a tirade, the girl returned with a smile on her face.

"Bae, are you ready to go? We need to work off this dinner." She reached out for Lamar's arm and glanced at Nina. "Nice to meet you, ma'am."

Lamar took her hand and they headed out the door. Nina started to go after them when her phone rang. It was her editor calling and she wondered what else could make this night even worse. The only time she got calls from her editor was when something was wrong.

"This is Nina."

"You're trending on social media. I can't believe Cody called you sweetheart in the press conference."

"Are you serious? I really thought this would've gone away by now." Nina groaned and shook her head.

"Number one trending topic on social media. I even got a few calls from folks asking for your cell phone number. Puts me in a pickle here, Nina."

"What do you mean?"

"I can't run your story."

"Why? I didn't do anything wrong, I didn't even respond on Twitter."

"Decision came from up top. They don't want our objectivity questioned because of the exchange and—"

"This is bullshit. So am I off the Panthers for the season?"

The editor sighed. "At least until the playoffs."

"If they make the playoffs. Okay, I'm a freelance writer. I turned down other gigs to take this job and now—"

"Nina, you're a great writer and I want to keep you working with us. Your work with Independence is extraordinary. You don't have to stop covering that. Just take a few days and let this die down."

"Fine."

"I still need you for the Dallas game, I mean you're already on the list. And since it's preseason, you don't have to do a Cody-focused story."

"Wow, thanks." Her voice was draped in sarcasm.

"I hate this as much as you do, but I'm still going to pay you for your work tonight."

As if you had a fucking choice, she thought, then ended the call. Yep. This was one of the worst nights of her life, professionally and personally.

Two days into her suspension, Nina knew one thing for sure: If she didn't get out of her house, she was going to lose her mind. Lamar had texted her and asked about the incident in the locker room. Her reply had been a middle finger emoji.

Then her sister Yolanda had called her and asked why she hadn't cussed Cody Cameron out for being a disrespectful ass.

"Because I want to keep my job," she'd told her. "And from the way things are looking, I'm hanging on by a thread."

"You can do better than writing for some local rag anyway. Why aren't people jumping on your side like they do when a white girl gets treated like this?"

"Because I'm not a white girl and obviously I'm in the wrong. Look, Yolanda, I got to go. I'm tired of talking about this and everything else." Nina had been asked to appear on a local newscast, but she covered stories and she wasn't going to become one.

"What else is going on? Spill it, Nina."

Nina had broken down and told her about Lamar and the woman he'd been with at the diner.

"Oh, girl, I'm—"

"We'll talk later." Nina had hung up on her sister and forced herself not to cry.

She needed to get away from Charlotte and the best place for her to go was home. She could spend some time hanging out at her father's bed-and-breakfast in Charleston, South Carolina. Then she could ignore the dull pain thudding in her heart and fight the urge to call Lamar. Nina knew she wouldn't get the apology or explanation she wanted or deserved.

Sheldon Richardson would be happy to have his baby girl come home. Her oldest sister, Alexandria, might not be so inviting though. She'd want to know why she was making this impromptu visit and ask too many questions. Then she'd probably try to put her to work. Alex was more like a mother to Nina than a sister. When Nina had been two years old, her mother died and Alex, who was ten years old at the time, became Little Mama. Alex took responsibility for her little sister and mothered her—sometimes smothered her. She'd been thankful that Alex wasn't on social media enough to know about the hoopla surrounding her and Cody.

Her father had called and told her he'd be happy to teach that smart-mouth quarterback how to respect women with his leather belt. Nina couldn't love her father any more if she tried.

Despite her viral encounter in the locker room, Nina had done quite well for herself as a sportswriter. Her career was thriving with her work appearing in several regional and national magazines and newspapers. She was set to have a spot on one of ESPN's broadcasts of SportsCenter at the start of basketball season, but she was hired by three magazines to cover Independence High School's historic winning streak and turned the ESPN job down because writing was her true passion.

If she was going to do TV, Nina wanted a spot on NFL Live, though she didn't see that happening anytime soon. Nina had heard so many people say that real football fans wouldn't want to listen to a woman's opinion on the sport. And she wasn't blond enough for most networks. And with all of this unflattering press about her, she probably wouldn't be bankable enough for a network to take a chance on her.

What made things even worse was the fact that Lamar's presence loomed over her like foreboding storm clouds. It wasn't as if she'd be able to avoid Lamar all season. His school had a regular season game against the Patriots and there were the jamborees. As a matter of fact, she was supposed to cover one Friday. To make matters worse, she'd invited him to sit in the press box with her at the Carolina Panthers' Monday night game and she'd already given him the pass. Oh, how she wished she could've taken it back. If she were bolder, she would've done just that two days ago.

Cursing inwardly, Nina wondered why she'd tried to buy him with football games and promises of media coverage. Did she really think that doing all of that would make Lamar love her? She basically allowed him to use her for coverage and exclusive access to NFL games. Nina played along, hoping things would change and he'd see her as more than a sex partner. Clearly, nothing changed.

But he bugged her about media coverage. Always wanted to tag along to Panthers' games and celebrate afterward.

Nina couldn't sell his story to anyone she worked for. No one cared because the story about Independence was bigger. At one time she'd hoped that his school would knock the Patriots off their throne. Now she just prayed Independence would keep West Meck from scoring a point and Lamar would get fired. A public firing that she would love to write about—for free.

Despite how much she wanted to, Nina couldn't totally blame Lamar. She made it easy to be used. Easy to be thought of as a fool.

Nina carefully set her laptop on the coffee table and picked up her cell phone. She couldn't face this right now. She was going to leave, even if it was going to cost her money. She dialed her father's number. She couldn't wait to tell her Daddy that she was coming home for a visit.

Charleston, South Carolina

Sheldon Richardson was a formidable man, Clinton Jefferson surmised as the older man shook his hand. Before Clinton could say a word, Sheldon spoke in a booming voice that reminded him of thunder and made him cringe like a sharp bolt of electricity had struck him.

"I know why you're here and the answer is no."

"Mr. Richardson." His voice didn't convey the nervousness that flowed through his body like his own blood. He actually sounded confident, but that couldn't have been further from the truth. Clinton was damn near petrified as he prepared to do the unthinkable.

"No. I'm not selling, no matter how much Birmingham is offering. I don't want to be a part of a chain. You see, what I offer isn't something you can get from any hotel and you can say that nothing will change, but it will. I've been around the block and know how these things work. Hell, you're not even representing one of the best chains. So go back to Randall Birmingham and tell him Sheldon Richardson said hell no."

"Sir, I didn't come with another buyout offer." Clinton reached into his briefcase, pulled out his résumé, and handed it to Sheldon. "I'm looking for a job."

Sheldon laughed and his round belly shook like jelly. Clinton wondered if he could talk the older man into dressing up like Santa for the holidays. Before they'd have that conversation, Clinton would have to get the job first.

"A job? Why would you want to work for a family-owned company when you're hot shit at Randall's Fortune 500 company? I can tell you right now I won't pay what they were paying you." Sheldon took the résumé and looked over it. He nodded, impressed with the young man's credentials.

Clinton Jefferson didn't have many heroes growing up in North Charleston, but Sheldon Richardson had always been one of his. Every time he saw him in the newspaper, Clinton swelled with pride. Here was a man who looked like him making headlines for positive reasons. It was because of Sheldon that Clinton had studied hospitality in college. He also majored in marketing because he wanted to work in upper management and not the day-to-day running of the property. He'd been working with Randall Birmingham's company since he landed a paid internship there his junior year of college. But deep down, he'd always wondered what working for Sheldon Richardson would've taught him.

The day he walked into the Richardson Bed and Breakfast with an offer from Birmingham Properties to purchase the historic and picturesque hotel, he'd never been more nervous in his life. But Sheldon had made such an impression on him that he wanted to work for him and learn everything he could about the hospitality industry. It wasn't as if he was coming into the company empty-handed. With his marketing expertise, he could get nationwide recognition for the bed-and-breakfast and help Sheldon make more money than he'd ever dreamed of without having to sell to anyone.

"Sir," Clinton said. "If I wanted to keep making the same salary, I wouldn't have quit. I want to brand your business and make this bed-and-breakfast the premier destination in the Southeast. When people think of Charleston, this should be the first place they think about. I have media contacts and the know-how to get the job done. When I analyzed your company for Birmingham, the only weakness I saw was in your marketing. You don't do a lot of it and in this media-driven marketplace, you're going to need to do more if you want to keep the Randall Birminghams of the world at bay."

Sheldon looked over Clinton's résumé again. "Why should I take a chance on you? You could come in here and take my secrets back to your old boss. I know how this game is played, son. One thing you don't want to do is cross me."

Nodding, Clinton understood the older man's apprehension. "Give me a ninety-day trial period, have me sign a confidentiality agreement or whatever. Mr. Richardson, I've always admired you. When I was growing up in North Charleston, you were a legend. You came downtown in a time of segregation and opened this luxurious property and thrived. I'd never dream of doing something underhanded to take away what you've worked so hard for."

Sheldon smiled and pointed to a picture of an older white man hanging behind his vast oak desk. "Mr. Richardson is the reason a lot of racist white folk stayed here in the days of segregation. People assumed he owned this place and I was just the hired help. I made up so many excuses as to why he was never on the property. Would've paid a lot of money to see the look on their faces when they found out I was the real owner." Sheldon chuckled, then leaned into Clinton. "I'll let you in on a little secret. That's just an old picture I found at a yard sale in 1963. I don't even know who that man is. It was my wife Nora's idea to create the persona of Mr. Richardson being white. She was right, too."

"What you've done with this place is admirable. It's certainly understandable why you wouldn't want to sell. But I know I can make this place even more well-known than it is now with social media and—"

"Why are you here again?" an angry female voice boomed from the doorway of Sheldon's office.

"Alex, meet your new marketing manager, Clinton Jefferson."

"Daddy," she said as she breezed into the office like a hurricane. "You can't be serious. Isn't this Randall's stooge?"

"I still own the place, so I'm serious. The decision has been made. Clinton has something we need. He's a helluva salesman because I just bought his pitch, hook, line, and sinker."

Anger shadowed Alex's comely features as she glared at Clinton. A lesser man would've been intimidated by the Amazonian beauty. She was tall, nearly six feet. Her eyes were black as coal—just like Sheldon's but lacking warmth. With her straight black hair pulled back in a conservative bun, she looked like the grade school teacher who you didn't want to piss off.

But he didn't appreciate being called a stooge. Clinton was his own man, no one owned him—especially Randall Birmingham.

"Well, Mr. Jefferson, welcome to the company. But keep in mind that I handle the day-to-day running of this business. You will answer directly to me." Alex folded her arms across her chest and gave him a slow once-over.

"Yes, ma'am. I'm here to assist." The way Alexandria spoke, Clinton had no doubt that this woman ruled with an iron fist.

Before Alex could say anything else, her father's private line rang.

"Hello, it's Sheldon," he drawled. "Baby girl. It's good to hear from you. How are you holding up? They did w. . .
We hope you are enjoying the book so far. To continue reading...
Owner of a Broken Heart
Cheris Hodges
Copyright © 2022 All Rights Reserved