Book info
Sample
Audiobook
Media
Author updates
Lists
Synopsis
Enter the extraordinary fantasy world of Descent: Legends in the Dark through the eyes of its most notorious necromancer as he begins his conquest of the realms of Terrinoth



Waiqar, Lord of the Mistlands, is a necromancer of supreme power, arrogance, and skill. Driven by his hunger for power, he has the whole of Terrinoth in his sights. But before he can raise his undead armies and march on the Baronies, his hold on the Mistlands must be complete. Waiqar's court is rife with scheming and deception, from corrupt vampires with plans to usurp him, to an apprentice harboring dark ambition of his own. As his enemies vie for power, Waiqar's own plans come to fruition. For power is hard won but easily lost, and this great necromancer has more to lose than anyone.
Release date: April 4, 2023
Publisher: Aconyte
Print pages: 352
* BingeBooks earns revenue from qualifying purchases as an Amazon Associate as well as from other retail partners.
Listen to a sample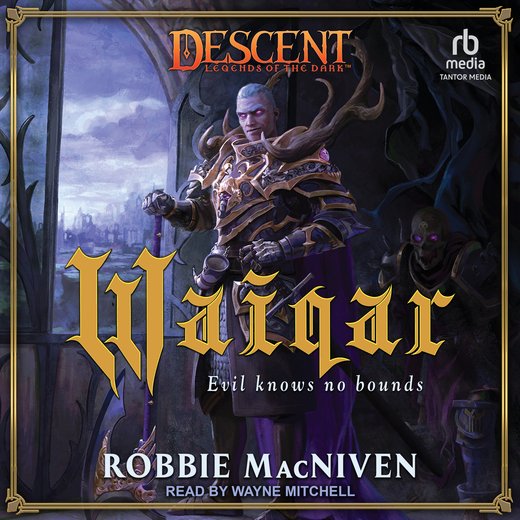 10:57:46
301.11 MB
April 4, 2023
Tantor Audio
2023
Waiqar
Robbie MacNiven
CHAPTER ONE
Tomaz's friends took him on the thirteenth day of Chillwind.
It was during the night. The first he knew of it was a hand clamping over his mouth, stifling him. He tried to fight back, but others gripped him, unseen in the dark, three or four assailants who hauled him up from his bed and half-carried, half-dragged him out of the university dorm hall.
Tomaz tried to scream, but could not. He tried to struggle, but failed to break free. It seemed incredible that none of the other Greyhaven students in the long, vaulted room would be awoken by the commotion, and yet none came to his aid.
He was taken outside, feeling the cold bite of the new winter wind that knifed through the alleys and around the slope of Winding Hill. A gibbous moon leered down at the city, offering him the faintest half glimpse of his attackers. They were robed, with raised hoods and black rags bound around their lower faces.
"Put the robes on him," one snarled. Tomaz realized they had taken his long, gray student's robes with them from the dorm, and now one stuffed them over his head.
Tomaz was terrified. Was it the runemasters? Was it witch hunters, come from Nerekhall? Was the Death Cult of Greyhaven about to be purged by the authorities?
He should never have joined in the first place. He knew necromantic magics were forbidden, that those at the university who practiced such dark arts did so in secret with good reason. He should have stayed his curiosity and never gotten involved.
"Not here," said one of his assailants as they held him for a moment longer, seemingly uncertain about what to do next. "Up the slope, to the alley."
Tomaz was marched into the fetid darkness between the buildings just uphill from the Hall of a Thousand Scribes. He heard the bell on the Celestial Observance begin to toll the hour, the dolorous chimes a fitting backdrop as he was shoved down onto his knees in the dirt.
Oh gods, they were going to slit his throat. The hand across his mouth came away, and he began to babble, fear rendering him incoherent.
"Please," he managed, looking up at the dark figure standing over him. As he did so, something pierced the panic, a moment of realization that made him pause.
He knew the robes.
"Wilem?" he asked disbelievingly.
"I told you he'd recognize us," hissed another of his assailants. Tomaz knew that voice.
"Viktor?" he said. He began to laugh, his fear replaced by a surge of relief. "Oh, praise the Great Necromancer! I thought you were witch hunters! I thought we'd been discovered!"
They were his friends. Or, more accurately, his fellow cultists, members of the society that concealed itself in the midst of Greyhaven's student population. Death Cults, dedicated to the study of necromancy, were said to proliferate all over Terrinoth, and the arcane university was no different. Tomaz had found the members insular for the most part – and understandably so, given that practicing dark magics was a capital offence in the Free City – but since his first day with them he had found it all wonderfully exciting, a thrill compared to the drudgery of most of the first-year lectures. A few of the cult's members had even seemingly grown accepting of him.
Now, apparently, they'd decided to play a joke on him. Or perhaps they had more practical intentions – they were always talking about kidnapping one of the university's runemasters. Clearly, they were just practicing.
"You could have warned me a bit sooner," he said. The figure in front of him dropped his hood and pulled down his rags. It was indeed Wilem.
He said nothing. Instead,
he punched Tomaz in the face.
The younger student reeled, tasting bitter blood on his lips. Before he could recover, they were on him again, pinning his hands behind his back and binding his face. He was gagged and blindfolded, his wrists lashed together behind him. Helpless, he was heaved back onto his feet and marched from the alleyway.
Confusion and terror, even more acute than before, threatened to overwhelm him. This couldn't be happening. These were his friends. Why were they doing this? Where were they taking him?
"Lift him," he heard Wilem order. He was shoved up and forward, landing on what felt like wooden runners. He could smell old straw and dung. A cart, he realized.
He tried to speak, but the gag made him choke. He rolled over, but felt a foot plant itself on his chest, keeping him down. Moments later it was replaced by something heavy and yielding. More was added, pressing onto him, heaped one atop the other. Sacking? He was being concealed.
The cart lurched into motion. He gave up struggling momentarily, panting through his nose, his thoughts in turmoil. A part of him still wanted to believe this was all some elaborate joke, or training, or preparation for some greater scheme. He was a junior inductee, a Mortificer, whereas Wilem was a High Mortificer, the cult's chief lieutenant and second only to Tarmond, the Arch Mortificer and most senior student. Perhaps he'd just been chosen because he was new? Or maybe this was some sort of test, or a rite of promotion?
He tried to stay with that theory as he endured the juddering motion of the cart over Greyhaven's worn cobbles. He expected it to stop at any moment and for him to be bundled out at their destination, but it didn't. It kept going. Eventually the uneven movements became less intense, and he realized that they were no longer traversing the city's streets. They were out on a country road.
He didn't know how long the journey lasted, but it was not short. The first time he stopped and the sacking was hauled off, he hoped that he would be untied, but all that was removed was the gag. He hoped desperately that his absence in the dorm back in Greyhaven would be noticed, that someone would come looking for him, even the authorities he had once dreaded. But there was no sign of pursuit.
"Please, where are you taking me?" he pleaded, panting fearfully.
"Drink," snapped Wilem's voice. A flask was pressed to his lips. He gulped down the tepid water, almost choking.
The gag was immediately reapplied, and he was thrown down again. The cart set off. So it continued.
•••
Blindfolded the whole time, it was impossible to tell day from night. Sometimes, when they had
stopped, Tomaz would try to arise from the cart, but a hand would always shove him back down and a voice – Wilem, Viktor, Lillian the final year head-of-class or Fergas, the highest-graded student in Tomaz's cohort – would snarl at him to lie still. He slept intermittently, too afraid he'd wake up to the stabbing pain of a dagger in the ribs or at his throat. They fed him, bread and cheese mostly, and untied his wrists when his moaning indicated he had to relieve himself, but beyond that there was no reprieve.
It was like a nightmare, and it was going to become so much worse.
Eventually, the blindfold was snatched away. Tomaz grunted, squinting in the pallid daylight. Viktor and Lillian were standing over him, their robes and rags discarded, their clothing muddy from days on the road.
They manhandled him down off the cart. He looked around, groggy, trying to get his bearings.
He certainly wasn't in Greyhaven anymore, nor anywhere near it. The cart seemed to have stopped in the midst of a bog. The ground around them was a festering morass of black mire and springy tussocks, all shrouded in a gray mist that coiled languidly around them like a predator, hemming them in. The whole place stank of decay.
Tomaz wanted to ask where they were, but the gag was still constraining him. The others stood around him, gazing not at him, but off into the mist. It looked as though they were waiting for something. Judging by their expressions, it wasn't something good.
He was regretting ever meeting any of them. He had only been at Greyhaven for a few months when he had first befriended Wilem during his early elementalism lessons. It was through him that he had met the others. His own father had been a minor dabbler in the art of necromancy – nothing major, of course, but he had once managed to briefly reanimate the family cat. After that he had seemed like a changed man, living in constant fear. He had left home, claiming the priests of the Church of Kellos were hunting for him, and had never returned. It had all left a powerful impression on Tomaz, who had been fascinated by the concept of the Sphere of Death, and had worried that during his arcane studies at the university he wouldn't have an opportunity to pursue his real interests.
What they called "fell" magic was strictly forbidden at Greyhaven, but the university was renowned as the seat of Terrinoth's learning and his parents insisted he attend. It turned out that Tomaz had not been alone in harboring a secret interest in the magics of the afterlife.
He was now very much regretting that fact.
He whimpered. In vain, he tested the bonds at his wrists, and immediately wished he hadn't. The cords had chafed his skin raw. His whole body ached, and he was desperately hungry. He briefly contemplated trying to run out into the bog, but knew he wouldn't get far. He wasn't exactly the fittest of Greyhaven's student cohort, and both Wilem and Viktor were older and taller than him.
Besides, as bad as being kidnapped by his erstwhile friends was, he'd still rather be with them than find himself alone in the sinister marshland.
A noise disturbed his rec
koning, making everyone start. It sounded like the call of a hunting horn. It came a second time, echoing in the mist surrounding them.
"They're coming," Lillian said, fear in her voice.
"We should just abandon him," Fergas added urgently. "They'll find him easily enough!"
"The Arch Mortificer was clear, we make the handover in person," Wilem said, apparently struggling to hide his own apprehension. "You should be glad, Fergas. This is a great honor."
"If it's such an honor, why isn't Tarmond here himself?" Fergas pointed out.
Wilem didn't answer. There was another noise now, more regular than the sound of the horn – the splashing of something in the mire. It grew steadily louder.
Tomaz's heart was racing. Despite the pain in his wrists, he squirmed against his bonds. Lillian noticed and snatched him under the arm to hold him firm.
What did Wilem mean by a "handover"? Why had he been dragged here, to the middle of some cold, foul bog? Had he displeased the cult in some way? Perhaps they thought he was an informer? Or not dedicated enough to the cause?
The splashing grew louder. The mud-spattered pony that had been hauling the cart snorted and strained against its bridle, seemingly aware of what was coming.
Shapes swept toward them from out of the fog, a trio of towering figures, mounted on great steeds. Tomaz only understood the true horror of them as they reined in before him.
They were, or had once been, knights. They wore plate armor, black lacquer that had been slashed and scarred and scraped in a thousand places. Their pauldrons and gauntlets were studded, as was the barding on their steeds. At their waists they bore great weapons, a massive broadsword for one, a jagged mace for another and a wicked looking war hammer for the third. Shields were slung against their saddles, as battered as their armor, all three bearing the same device – a white skull with the antlers of a stag, set against a field of black and purple.
All three of the riders were long dead. Their great helms, crested with antlers like their sigil, hung about their saddle pommels, leaving their heads exposed. All were completely skeletal, nothing but bare bone, a trio of skulls that grinned broadly down at Tomaz as he stared up at them in abject horror. Only their eye sockets indicated the source of their sentience. Deep purple witch-light glowed there, and it flared in the fog as they sat astride their equally skeletal steeds.
Three riders, risen from the dead and come for him. Tomaz felt close to fainting. He knew the stories, and knew the device on the shields, the horned skull. Even those who didn't hold secret allegiance to a Death Cult recognized that mark. It was engrained into a thousand cautionary tales and dark fables, woven into tapestries and inked onto the pages of histories and fantasies alike. It was seared into the folklore of Terrinoth, into the lege
nds from Forthyn to Trast, from the shores of the Sea of Redtyde to the barren borders of the Ru Steppes.
It was the sigil of the Great Necromancer, the Undying One, the Betrayer. It was the mark of Waiqar.
Viktor pulled away Tomaz's gag. He tried to speak, to beg, but cold dread killed the words before they could be uttered.
"Take him," Wilem said hoarsely, addressing the riders. The others had all backed off. Tomaz remained frozen, unable to move as, wordlessly, the lead knight dismounted. It waded through the cloying bog until it was towering over him, the foul light festering in its eye sockets pulsating.
Tomaz burst into tears. The horror snatched him and, with no apparent difficulty, lifted him up and carried him by the scruff of his robes. He couldn't find the courage to fight back as he was slung like a sack of vegetables across a moldering blanket rolled up on the rear of the knight's saddle, before being lashed there. The undead warrior mounted his steed once again and, without even glancing at the rest of Tomaz's former friends, turned and galloped into the mist, followed by its companions.
Over the splashing of hooves and his own sobbing, Tomaz heard Wilem calling out after him, voice echoing through the mist.
"You were always talking about serving the Great Necromancer, Tomaz! Well, now you can!"
•••
Waiqar took to his throne just before the start of the banquet.
The grand hall of Zorgas was bedecked in its finery. It was the Night of the Red Feast, the time when the lords of Bilehall, Dalibor and their lesser coven-kin renewed their oaths of subservience to the Undying One. Waiqar found little pleasure in their company, but a part of him still enjoyed the act of hosting the occasion. What was the point in ruling if he could not, at times, display the more lavish trappings of his power?
Tonight the hall reflected that. The lost spirits that wandered Zorgas had been momentarily banished and the braziers had been lit, partially illuminating a cavernous, vaulted space constructed from dark mirestone, its ceiling arching away into shadow. The walls were hung with tapestries portraying Waiqar's life and un-life, while two dozen armored figures were arrayed around the hall's edges, each carrying a banner displaying the heraldic crests of one of the Bilehall families – the black serpent of the DeVays, the skeletal scorpion of the Balthazars, the horned drake of the Torvics, and more besides.
Those same families were now gathered like a pack of savage beasts around the feasting pit in the center of the hall, bedecked in their finery, trying to show restraint as they waited on Waiqar's permission to begin.
They were no better than dogs, Waiqar mused. He had vague recollections of a canine he had known in life. He had trained it to overcome its excitable nature, until he could hold food before it and know that, even when it hungered desperately, it would not dare to eat before he gave it permission.
It was the same with these pets, he decided as he watched them struggling to control their bestial nature. Describing them as dogs was not wholly accurate though. They were more like parasites, leeches or fleas dressed up in red silk and gold and black velvet. They could only be strong if others were weak. Without the existence of hopeless, vulnerable prey, they would not be able to survive. That in turn made them contemptuous to Waiqar. They were nothing like him and his Deathborn. He did not even consider them immortal.
But they had their uses, and so Waiqar was hosting the vampire families of the Mistlands. He had even dressed for the occasion, garbing himself as befitted a warrior-king. His ashen gray hair was slicked back from his pale, hard-boned face. He wore his armor, plate and scale mail, intricately etched with a thousand grimacing rune-skulls and edged with brass. At his shoulders were the antlers of the Great Stag, Morkai, which he had slain in life, and a cloak of deepest, imperial purple. At his waist was the ensorcelled horn of the Death Hunt, and resting to his right was his broadsword, Bitterbite, and the great war axe, Doom's Edge.
The throne completed the image, a construction of black stone with a high, arching back carved to resemble the mythical hooded reaper of death. Behind it was Waiqar's standard, a black and purple banner bearing on it the white stag's head that was his ancient crest.
Only one other figure was permitted to occupy the dais, sat on a lesser throne to Waiqar's right. His name was Tristayne Olliven, and like Waiqar he was no vampire. Like all of the other undead nobility in the chamber, he had cast a glamor about himself to hide the rotting effects of time, assuming his former, mortal appearance to those he valued – a nicety not followed when it came to the lesser dregs and thralls, who saw them all for what they really were. To Waiqar, Tristayne resembled a man reaching the end of his youth, pallid, with languid, jet-black hair and equally dark eyes. He was clad in his robes and bore a long-handled scythe that was currently resting against the side of his throne. He was Waiqar's apprentice in the arts of necromancy.
Normally Waiqar kept him separate from matters of state, desiring that he focus only on his arcane studies, but he had chosen to permit his presence tonight, hoping that he would learn something of the primitive mindset of the so-called lords of Bilehall and Dalibor. Such an experience might be useful in the future, and besides, Waiqar wished to test him.
"What do you think of our guests?" he asked, leaning toward Tristayne. The younger necromancer gave a small, non-committal shrug.
"They look hungry," he said. Waiqar laughed, causing some of the vampires to tear their eyes away from the feast arrayed in the pit beneath them.
"Note that," Waiqar told Tristayne. "These creatures are always best to deal with when their th
oughts are on their food."
"Lord Waiqar," called out one of the Bilehall lords, Naythen Torvic. Waiqar found him a particularly detestable creature, though unfortunately he and his sister Lucrezia were also the most powerful of the Bilehall nobles. He was a pallid, bald-headed figure with flabby, waxen-looking skin, dressed in oversized finery, and now he dared address Waiqar from the far side of the pit.
"Do we await only your pleasure, lord, or might we begin?" he demanded. "Given that our latest oaths of allegiance have required that we increase our tithes, I would have at least expected the Red Feast to start on cue this year."
The other lords of Bilehall ceased their hissing, and a deadly quiet settled over the hall. Waiqar held Torvic's gaze, until his sister tugged urgently on the sagging creature's arm, hissing words in his ear.
"Not, of course, that we are anything other than grateful for your hospitality," Torvic added with obvious difficulty, no doubt on Lucrezia's advice. Waiqar let the tension run a little longer before replying, his voice cold.
"I wish to make a public gift to my apprentice," he said. "I assure you that is all we wait for, Lord Torvic. It shall not be long."
In truth Waiqar had been waiting to see how long it took one of them to complain, wondering which would have the courage or the arrogance to speak first. Of course it had been Torvic. It only further confirmed his suspicions. His instincts craved to punish the vile creature before his simpering underlings, but he restrained himself. There would be time for that. Time was always on his side.
He reached out with his mind, brushing aside the anguished souls that sought to latch onto his spirit-thoughts as they located the brooding, brutal presence of Ardus Ix'Erebus. The champion of Waiqar's guard was standing just beyond the hall's great doors, bearing the gift. Wordlessly, Waiqar instructed him to enter.
The doors swung open and Ardus strode inside, the light of the braziers glinting from his heavy armor. One great gauntlet was planted on the shoulder of a short, rotund figure, who visibly quaked with terror as he was led up onto the dais. It was a human, hideously mortal and far too alive. Waiqar glanced only briefly at the shaking, fleshy thing, focusing his attention instead on Tristayne.
The necromancer was frowning, clearly confused.
"What is it?" he asked.
"A gift," Waiqar said, almost teasingly. ...
We hope you are enjoying the book so far. To continue reading...
Waiqar
Robbie MacNiven
Copyright © 2023 All Rights Reserved