Vines of Promise and Deceit
Book info
Sample
Audiobook
Media
Author updates
Lists
Synopsis
A royal tour. A hidden settlement. A deadly new power. Cadence just wants to help Airlie. Instead she's trapped in a double life at the Guild. And with nomad delegations arriving for a royal tour, everything is only growing more complicated. As the threat from both the raiders and the fallen kingdom grows, Cadence and Zeke's charade is stretched to breaking point as they fight for their friends. But how can Cadence keep everyone safe when she's growing less and less sure who she can trust? Separated from her sister, Airlie has never felt more helpless. As she uncovers more about their heritage, her fear for Cadence grows. Cadence is ignorant of the danger lurking inside her, but Airlie can do nothing to warn her. Desperately searching for a way to help Cadence from afar, Airlie must find a way to unleash her own power before it's too late for both of them.
Release date: February 2, 2022
Publisher: Luminant Publications
* BingeBooks earns revenue from qualifying purchases as an Amazon Associate as well as from other retail partners.
Listen to a sample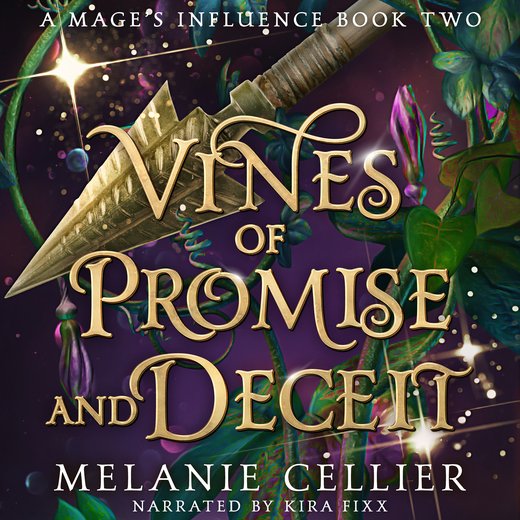 09:48:14
269.28 MB
9781922636331
September 20, 2022
Dreamscape Media
Vines of Promise and Deceit
Melanie Cellier
Chapter 1
Cadence
I dropped my spoon into my soup as my nerves jangled. Something wasn't right. It took me a moment to detach my thoughts from my usual worry about my absent sister to focus on the new problem.
Whatever had caused the unsettled feeling, it wasn't immediately obvious. All around me, I felt the presence of power, as I had done ever since my seed was activated. The mages in the dining hall formed such a crowd that their abilities knotted together in a tight clump.
I stretched out further, using the new awareness that had already become second nature. In the halls and rooms of the Guild, an occasional mage was still working or had decided to skip lunch, and the blazing strength of all three affinity heads was easily identifiable in their individual suites. The members of the Triumvirate—the people's voice in Tartora's government —had their meals delivered and didn't need to frequent the Guild dining hall with everyone else.
Alongside the distant mages, servants dotted the Guild building, the faint candles of their weaker abilities moving in all directions as they fulfilled their regular duties. Their weakness might have disqualified them from a Guild apprenticeship and subsequent status as a mage, but their abilities still proved useful in daily life—as my frequent hot baths attested.
After months of monitoring the Mages' Guild for incursions by raiders, the pattern of power was a familiar background to my life—as constant as my concern for Airlie. And although I had only learned to identify the distinct feel of those closest to me, everyone in the Guild had a generally recognizable presence. Enough that none of them would have distracted me from my meal.
Which was how I knew an unknown mage of substantial power had just passed through the palace gates.
I shoved my chair back, standing abruptly. Now that I was paying attention, I realized there was more than one new arrival—several mages of strength had entered together.
My two breakfast companions stopped eating to look at me with varying levels of interest.
"Is something wrong?" Gia sounded concerned.
The crown princess still kept me company in the dining hall every day. Despite her parents' expectations, the passage of several months hadn't diminished her interest in being a normal apprentice.
And Nikolas still followed everywhere his sister led, although he regarded me now with only the faintest trace of surprise and zero concern.
"I just realized...I need to go back to my...I'll only be a minute." My words came out in a jumble, my mind barely conscious of the conversation.
Thankfully Gia accepted my confusing half-sentences with a farewell wave and a promise to meet me after her afternoon lessons. I preferred to keep my words vague and sound like a muddled fool than lie to my best friend—even though the deception was required to ensure my safety.
Within two steps of the table, Gia had faded from my mind, however. I needed to alert the Guild to the intruders as soon as possible. And I couldn't do that directly.
My eyes met Zeke's across the hall, and I discovered he was already standing, all his attention trained on me. He must have been watching me with half an eye while he ate his own lunch. Had he somehow known to expect trouble today?
I fliicked my gaze toward the doors. He nodded and started in that direction.
It was a subtle movement, but I caught Karielle watching me with shrewd, narrowed eyes. I quickly looked away, feeling a faint flush in my cheeks. Karielle had been the one to inform me that Zeke's mother was the most likely candidate to replace the elderly nomad king. When King Fenix died—assuming Zeke's mother was indeed elected in his place—Zeke would become a prince.
It had been a friendly warning, but from her perspective I had utterly ignored it. And I couldn't tell her it wasn't Zeke's good looks or charm that had kept me glued to his side all spring. Only Zeke and I knew he was my in#uencer—the one who had activated my seed—and therefore bound to train me.
Not that the training had been going particularly well. I pushed the thought from my mind. There were more urgent matters to worry about.
Slipping through the closest external door, I stepped into the manicured gardens that decorated the center of the horse-shoe Mages' Guild. Zeke already awaited me next to a weathered gray fountain of indeterminate age. It was an established meeting place since the splash of the falling water helped obscure the quiet murmur of our voices.
"Intruders?" he asked without waiting for me to speak. "Are you sure they're not from the palace? Or a delegation from one of the other guilds?"
I groaned. "Are you ever going to let me live down that one mistake? I've had a lot more practice since then. I can tell the difference between the strong ability of a mage and the weaker one of everyone else. I can't tell you if the new arrivals are a threat, but I'm certain they're mages—unfamiliar ones."
"Where are they right now?" he asked.
I turned my attention to the Guild building, and beyond it, the palace, talking while I searched for their current position. "They came in through the front gate and were stationary for a while in the main courtyard."
"That sounds innocuous," Zeke said. "Considering that's where proper visitors would be found."
I nodded. "They're absolutely saturated with power, though. That's what makes them stand out. It's more than just their abilities, and I can't tell what it's doing. It could be some sort of concealment."
I suppressed a sigh. Surely after months of training I should be able to identify how the power was being used? But neither Zeke nor I could even con"rm if it was a usual capability for a power mage, let alone how to do it.
"They're using power right now? That doesn't sound good." Zeke crouched down to place his hand on a vine that curled against the base of the fountain.
"They're moving!" I cried. "But they're not heading for the palace. They're..." I frowned, my heart rate spiking. "They're coming here."
I had expected that piece of news to warrant a response, but Zeke didn't move. Instead he stared hard into the distance, as if listening to something I couldn't hear, his expression slowly changing from concern to a sort of resigned irritation.
"What can you hear?" I asked, my pulse slowing and my sense of urgency disappearing. Whatever conversation was happening on the other end of the vine, it mustn't indicate raiders within the walls.
Zeke remained crouched there for another moment before rising smoothly to his feet. "They're not due until next week, but I shouldn't be surprised. Mother loves to catch both her allies and her opponents off guard."
"Mother?" I gaped at him. "You mean the newcomers are the nomad delegation? But they're not supposed to be here for another—"
"Five days. Yes, I know. That's Mother for you."
I shook my head, trying to assimilate the information. "I thought there was supposed to be a sizable group from three different tribes. So why are there only eight or so of them?"
Zeke's resigned expression disappeared, his sharp gaze focusing on me. "Or so? What does that mean? Can't you tell how many there are?"
I bit my lip, embarrassed he'd picked up on my hesitancy. I took a moment to count again.
"No, there are definitely eight of them. Heading this way. It's a little harder to distinguish their individual abilities with that cloud of power around them. I thought there were nine before, but I must have miscounted in my panic."
Zeke stepped close and put his hands on my shoulders, alarm in his eyes as they captured mine.
"That doesn't sound like you. Forget about the eight coming this way for now. Focus on the rest of the Guild, and even the palace. Are you sure there's no one else out of place?"
His worry rubbed off on me, setting my heart racing again. My stomach churned with the fear I might have missed something crucial. But I pushed aside the shaky feeling and drew a deep breath. Closing my eyes, I stretched out.
The familiar tapestry of power that was the Guild blossomed inside my mind. I sent my awareness racing along the vines of power, skimming over the familiar abilities that glowed inside my consciousness.
"There!" I said the word aloud, although I kept my eyes closed. "There's someone else. He's not with the others."
"That's what I was afraid of." Zeke sounded grim.
My eyes #ew open, the blood draining from my face. "He's powerful, too. I don't know how I missed him."
"But you didn't miss him. That's the important thing. Where is he?" Zeke dropped his arms, his body tense, as if waiting for a word from me to go racing off.
"It's like he's hiding himself." I frowned. "But surely that's impossible—it must be a coincidence."
"What do you mean hiding himself?" Zeke glanced around, as if he might find the unknown mage under a bush or lurking behind a fountain.
"He should be obvious—he's a powerful plants mage. But he's keeping himself close to other sources of power so he doesn't stand out as much."
Zeke focused in on the important point. "So he's on the move? Which direction?"
I grabbed at his arm. "You can't go after him alone!"
"You said he's a plants mage like me. I can handle him."
I shook my head at his instinctive arrogance. Given his strength, it was understandable.
"It's not just that he's powerful. I think he might not be alone."

"What do you mean?" He looked wary, "You said
there were nine."
I bit my lip, not wanting to make another mistake. "I did
count nine initially. And I can't be sure—maybe that's all there is. But when he moved just then, for a moment he wasn't near any other source of power. I could sense him more clearly, and it was like..." I worried at my lip. "It's hard to describe. I can't exactly feel another person. I can feel a...shield of some sort?" I sighed. "Maybe that's not what it is. But it's made out of power, and it's large enough to conceal a person's ability."
"A shield of power?" He stared at me, clearly torn.
My voice dropped, uncertainty clawing at me. "There's... something wrong with it."
"With the shield?"
I shrugged helplessly. "I don't know how to describe it. It's definitely power, but it doesn't feel right." I touched my head, nearly overwhelmed by a sudden dizziness that got worse the harder I tried to focus on the strange power.
After a moment, I shook my head. "I can't explain it any better than that. But I don't think you want to go running into that shield."
The sound of voices and footsteps made us both start and look up, stepping away from each other in unison. I grimaced. Could we have looked more guilty?
"Zekiel!" The call from across the courtyard somehow managed to convey both affection and command.
Zeke gave a barely audible sigh, before calling back, "Mother!"
He started toward her at a fast stride, and I had to trot to keep up. The eight new arrivals wore long, #owing robes with varying levels of decoration. The most elaborate of them—in richly embroidered garments of deep maroon—was a tall woman with warm glowing skin and a noticeable family resemblance to Zeke.
She held her arms out in a gesture of welcome, and Zeke moved directly toward her, with me still trailing behind. Given their unexpected arrival, no Tartoran dignitaries, royals, or even mages were in attendance, although a small cluster of #ustered looking people in blue and gold livery bustled around, clearly trying to herd the nomads back toward the palace.
Zeke's mother ignored them entirely, all her attention on her son. Given she had headed straight for the Guild, rather than the palace, she had clearly made him her "rst priority on arrival. It was a warming gesture, but Zeke didn't look particularly pleased.
"You're not supposed to be here yet," he said as soon as we were close enough for normal speech.
"Can you blame me for hurrying to see my only son?" Her rich tones bore a slight hint of amusement. "Much can be forgiven a mother who has been separated from her child."
Zeke's face suggested he didn't buy her explanation, although he closed the remaining distance between them readily enough.
I had spent months anticipating my meeting with Annora, head of Tribe Nicabar. But now that she was here, my attention was divided. Tracking the intruder—or two—who had slipped in alongside the nomads was proving dif"cult.
The suspicious plants mage had somehow positioned himself near Drake, Master of the Elements. And since the head of the elements affinity was with his apprentices, the cluster of strong mages created an almost solid blaze of power.
An unwelcome voice in my mind whispered that it was the perfect hiding place for another mage. But I brushed the thought aside—such a hiding place would only be necessary if the intruder knew a power mage would be tracking them. And surely that was impossible.
Zeke had reached his mother, but he didn't embrace her, instead giving a deep bow. She chuckled, reaching out her arms and pulling him close.
"I've missed you, Son," she said.
"And I've missed both you and the tribe." He bestowed his blinding smile on all eight of the nomads present.
Several of them called greetings of their own, smiles on every face, but I could see Zeke's heart wasn't in his usual charming facade. He was as distracted as I was.
I stepped closer, despite the awkwardness of intruding on such a moment, and he slipped out of his mother's embrace.
"Greetings, Tribe Nicabar." I gave a half bow, grateful for the etiquette lessons we had all been receiving in preparation for the upcoming tour. Thanks to that instruction, I knew it was appropriate to greet the head of a tribe as representative for the whole. "I believe Master Drake is on his way to welcome you."
Given his sudden #urry of movement, apprentices trailing like a constellation behind him, I assumed some palace staff member had just reached him with news of Annora's arrival.
Zeke dropped back a step, and I leaned toward him.
"I don't know how," I breathed, too quietly for the others to hear, "but the intruder is with him."
Zeke angled toward me, his brows drawing together. I #icked my eyes to the main door in the elements wing of the Guild, conscious that Annora watched us with keen interest. He swung his gaze that way in time to see the set of stately double doors burst open.
The tall "gure of Drake emerged, striding into the courtyard with all the authority of his age and position. Following only steps behind was a small crowd comprised of his apprentices, other elements mages they had gathered on the way, and a number of servants in blue and gold livery.
Zeke tensed, his eyes running over the people pouring out the door, ready to spring when the intruder appeared. But after a moment, he looked back at me with confusion in his eyes. There was no one out of place.
I frowned, equally bewildered. "He's there! But I don't..." I trailed off, concentrating. The milling crowd made it hard to match the view before my eyes with my sense of the many abilities.
One of the men in blue and gold took a step in our direction, and I clutched Zeke's arm.
"That's him!" I hissed. "He's dressed as a servant!"
Zeke didn't hesitate. The man's eyes came up to meet mine, and he broke into a sprint. But Zeke moved equally quickly.
They collided in the center of the courtyard, long before the man could reach either me or the nomad delegation. Zeke tackled him around the middle, sending them both crashing to the ground.
The intruder—who couldn't possibly be a servant with an ability that blazed that brightly—swore loudly. Chaos erupted around us as several people in the crowd screamed.
Some #ed back to the building while others rushed toward the two plants mages struggling in the dirt. Already vines had sprung from the earth, wrapping around one and then the other as they fought for supremacy.
Drake, who had almost reached the nomads, turned back to identify the source of the commotion. At the same moment, Annora stepped forward, anger and determination making her even more formidable.
Neither of them spoke, but a strong wind sprang up, rushing toward the combatants, while simultaneously, a single, thick vine sprouted from the ground and lashed toward the intruder. The wind was Drake's, so the vine must belong to Annora. Clearly Zeke's mother was also a plants mage.
The intruder shouted, somehow slipping out of the grip of the clinging vine. With one desperate spin, he turned them both, thrusting Zeke into the brunt of the wind, so that Zeke's body created a small windbreak for his attacker.
Once again, the intruder's eyes met mine across the distance. The determination in his had been replaced with resignation as he thrust a dramatic hand toward us.
Only a single deep rumble gave warning before the ground beneath us split, sending Annora, Drake, and me tumbling down into the newly formed chasm.
Chapter 2
Cadence
"Cadence!" Zeke screamed my name as I fell.
My stomach dropped, my mind scrambling to function as my body began to tumble. All around
me power #ared. Reaching out for it was as easy as breathing. But how could I use it to break our fall?
For a horrible half-second, my mind went blank. Then my instincts kicked in, fueled by months of study with Zeke. The details around me came into focus, and I sucked in a shud‐ dering breath.
Invisible lines, like a network of roots, spread through the earth, thrusting it apart as the chasm cracked open deeper and deeper. A different root system—one that glowed with the similar light of a second plants mage—attempted to bring the earth back together. Annora was "ghting to wrest back control of the ground. And all around us, noticeably different from the roots of plants mage power, bright vines of elements power snaked through the chasm, gathering air around each of us to slow our fall.
I didn't need to work out how to use the power on the world around me. Far more experienced mages were already doing it. All I had to do was help them.
I seized the power in the "rst root network and yanked it away from the earth beneath us. Thrusting it toward the power of Drake and Annora, I shaped it to mimic theirs, strengthening their efforts.
The earth creaked and groaned, the crack no longer growing beneath us. For half a breath, my feet brushed against the bottom of the chasm, and then Drake's newly strengthened bubble of air sent me soaring upward.
Racing at our heels, the earth closed again, Annora's power now bolstered by that of the intruder instead of "ghting against it. But as we neared the surface, our progress slowed. The intruder had withdrawn from the battle which meant I was no longer receiving a stream of new power to augment the efforts of the other two.
We continued to rise, however, a gentle cushion of air propelling me the "nal distance and depositing me in a crushed garden bed. A last rumble from the earth sounded as the ground closed back together, leaving only a jagged line of disturbed dirt to show where the chasm had been.
I gulped, dropping slowly to my knees and then to all fours as I took deep, gasping breaths.
"Cadence?" Zeke knelt beside me. "Are you all right?"
I nodded wordlessly, "ghting against my heaving stomach. When it settled, I glanced up at him, nodding again in response to the half worried, half proud look on his face.
At "rst Zeke had struggled with teaching me. Without any idea how power mages were supposed to function, he had been at a loss when I couldn't understand how to use the power I so easily gathered. For a while, we had been forced to focus on my most basic ability—sensing the people around me and the vines and roots of power that sprang from them. It had been an important "rst lesson given my secret role surveilling the Guild.
But eventually it occurred to me that I didn't need to work out how to shape the power myself if I used someone else as a guide. In the weeks since then, I had spent many hours practicing the trick with Zeke. He had performed every type of feat he could think of while I augmented his efforts using leftover power I could seize from around the Guild. It didn't matter what he did—as long as I could follow his pattern, I could mimic it.
Unfortunately I had yet to manage any of the feats on my own, but at least I was able to harness my power for something useful. With my help, he had performed acts he could never have managed on his own due to the limits of his strength. I was like a second pair of arms coming in to help him move his bed—except the amount of leftover power in the Guild made me more akin to the strongest weightlifter ever known. While Zeke seemed sure there must be a limit to my strength, we had yet to "nd it.
But this had been my "rst attempt to suck away power as another mage expended it, instead of merely skimming up their leftovers. It had been surprisingly easy, although that might have been due to the intensity of my need. Most people could perform unexpected prodigies when their life depended on it.
I glanced across at Annora and Drake and winced. If their appearance was anything to go by, I must look completely disheveled. But they, at least, were upright and calling commands. Groaning, I forced myself onto my feet.
Zeke put a steadying hand under my elbow.
"Did it work?" he whispered. "Did you help them?"
When he had shouted my name as we fell, it probably
sounded like concern to everyone else. I just hoped his mother had been too occupied to notice and didn't resent that his "rst thought was apparently for me. She had no way of knowing he had actually been shouting for me to remember my training.
I nodded. "Thank goodness Drake and your mother were there. Helping them was easy, thanks to all our practice."
"See!" He grinned broadly. "I told you it was a useful skill."
His mother caught his eye, her brow lowering at his inappropriate response to the moment.
He let me go and hurried over to join her. I once again trailed behind, wondering why everything felt so sore when I had never actually hit anything. Apparently I had tensed every muscle I possessed on the way down.
"You did an impressive job identifying the threat, Zekiel," she said, a note in her voice I couldn't read. "And I'm told you've been guarding the entire Guild! Clearly your time here has been well spent. I never dreamed you were capable of such feats."
Zeke stiffened slightly. But although he didn't look in my direction, his mother's eyes #icked brie#y to me before returning to her son. My heart, barely recovered, began to race again, but her next words had nothing to do with me.
"It would have been nice if you'd managed to hold on to our attacker, however." She said the words mildly, despite the criticism. "It appears he's escaped."
Zeke grimaced. "I was only distracted for a moment, but it was long enough for him to slip out of my grasp. He bolted immediately, and since half the Academy took off after him, I stayed to see if you needed help." He gave her a cheeky look. "Surely a son can be forgiven for worrying about his mother."
"His mother. Yes." She raised an eyebrow, but her expres‐ sion softened, and after a moment she sighed. "I suppose you can hardly be blamed in the circumstances. We must hope those who pursued him have been successful."
"What have you done to my garden, Annora?" The sharp voice made us all spin toward the wing on the opposite side of the courtyard.
A short woman with unlined golden skin but gray in her sleek, black hair stood behind us. She eyed the visible line in the dirt and the crushed garden with disfavor.
Annora, however, grinned broadly. "Master Augusta! It's a pleasure to see you again after so long."
The Master of Plants, head of the plants af"nity at the Tartoran Mages' Guild, continued to eye her for a moment before a smile spread across her face.
"You were always a troublemaker, Annora. But then my breathless apprentices inform me this was not your doing."
"No indeed, Augusta." Drake frowned across the ruined garden, half his attention still on the gates, as if he was consid‐ ering going after the team of people who had pursued our attacker. "Annora was the one to seal the chasm."
Augusta's brows drew together. "Chasm?"
"It went deep," Zeke said to his in#uencing mage in a concerned voice. "Far deeper than should have been possible."
His mother nodded. "For a moment even I struggled to counteract his efforts." She inclined her head toward the Master of the Elements. "And I'll admit to being grateful Drake was present to cushion our fall. Although I soon gained mastery over the chasm itself, I was glad not to have to worry about catching myself as well."
Zeke's brows drew together, his eyes #ying to mine. I shrugged slightly, still hanging back, not wanting to draw anyone's attention.
"How could he be so powerful?" Zeke asked, and I under‐ stood his unspoken thoughts.
Annora was a plants mage of great strength. Even before I met her and sensed her power, I had known she must be—due to both the strength of her son and her position as head of a tribe of great renown. And yet she had struggled at "rst to match the strength of our attacker. She thought she had subse‐ quently mastered him with ease, but she didn't know of my assistance. Zeke, however, did.
"It is impossible," Augusta said #atly. "The raiders cannot possess a mage of such strength."
"Beside the General," Drake said, a look I couldn't read passing between the two masters.
I frowned. On the night of the raiders' full-scale attack on the Guild—the night my sister disappeared—there had been a mage present of enough strength to smell people on the air. Considering Airlie had been hailed as the "rst mage with such an ability in two generations, I didn't share their certainty of the weakness of the raiders. But it didn't seem like the moment to insert myself in the conversation.
And perhaps it had been the General himself who had searched for us that night. Smelling the air was an elements ability, and he was an elements mage.
"Clearly what happened was not impossible," Annora said briskly. "I can assure you none of us imagined the ground opening beneath our feet."
Her glance encompassed both Drake and myself, and I froze at the keenness of her gaze as it rested on me. Her eyes moved on within a second, but I was left with the uneasy impression that I hadn't been avoiding notice after all. Like her son before her, Zeke's mother was far too inclined to see me.
Given the timing of Airlie's disappearance, and the protec‐ tive role she had agreed to take on, only Evermund's in#uence kept her from being labeled a traitor—and me along with her by association. He housed and fed me and, in return, I tried not to cause trouble by drawing too much attention to myself. The powerful mages of the Guild didn't need reminding of my unwelcome presence.
A clamor of voices at the Guild gates sent Drake hurrying away from us. He met the mixed group of guards and mages part way across the courtyard, their conversation too low for us to overhear. But there was no mistaking the thunderous look growing on his face or the absence of a prisoner in their midst.
Annora's delegation closed protectively around her, leaving Zeke free to sidle up to me.
"He was powerful, wasn't he? It wasn't some trick? There weren't other raiders concealed somewhere helping him, or..."
"Unfortunately, no. He was at least as powerful as your mother."
"And what about me?" he asked, trying to sound casual. "Am I more or less powerful than her?"
I rolled my eyes. "It's not that exact. You're both powerful mages, that's all I can tell you."
"Really, Cadence?" He gave me a woebegone look. "You couldn't have had pity on my ego and claimed the glow of my power might be a little stronger?"
I gave him a small shove. "Hardly. The last thing you need is a bigger ego."
He chuckled, and my eyes involuntarily #icked to his mother. When I caught her looking in our direction, I took the smallest step away from him. His gaze followed mine, the humor dropping from his face.
But before any of us could respond further, Drake reached us, the pursuers clustered around him.
"He escaped," he announced, anger in his voice and on his face.
Augusta raised a forbidding eyebrow, her gaze seeming to land on every single person in the crowd around Drake.
"How is that possible?" she asked in a cold voice.
"I won't have you blaming any of my people." A guard captain I recognized pushed to the front of the group, the guards in the crowd moving immediately toward him as if he offered shelter. "I've just spoken to the most senior guard who was part of the pursuit, and they couldn't have foreseen what happened."
"And what exactly did happen?" Annora asked, cutting in before anyone could protest.
"They chased him as far as the river, intending to trap him there," Captain Huxley said, meeting her gaze steadily. "It's an established procedure. My people are trained not to provoke "ghts with mages around crowds of civilians. And with the Viridian running alongside the city, it provides a convenient barrier for all but elements mages. Given your attacker had already shown himself to be a plants mage, the elements mages among my people expected the water to be a tool in their favor."
"Expected?" Annora asked. "I take it events did not tran‐ spire as hoped."
"They did not." Captain Huxley's voice stayed steady, no note of apology or hint of weakness creeping in. "But they couldn't have foreseen it, as I said."
An elements mage of medium strength stepped forward from the growing crowd, directing his comments toward the head of his affinity.
"I've certainly never seen a plants mage do the like."
Another stepped forward to join him. "Or an elements mage, if we're honest."
Drake frowned, his brows drawing closer and closer together.
"Would it be too much to ask that you illuminate the rest of us as to exactly what happened?" Annora asked in a commanding tone. "I would like to know the fate of the man who attempted to assassinate me the moment I arrived in Tarona."
I #inched slightly, but only Zeke beside me seemed to notice, and he stayed silent. The two mages did likewise, both of them looking to Captain Huxley, relief on their faces when he resumed the story on their behalf.
"By all accounts, upon reaching the river, the intruder stepped into a small vessel he must have concealed there previously. As soon as he did so, it was whisked away—upriver—at impossible speeds. By the time any of them even realized what was happening, he was long gone."
"The boat moved upriver at high speed?" Augusta looked between the two elements mages with lowered brows.
When they both nodded, she looked to Drake. "He can't have reversed the #ow of the river. Even if he had been an elements mage, such a feat would require too much strength. Even you could not accomplish it. But a tight stream of air, perhaps? An elements mage might do the job in such a way, but I thought he had a plants af"nity?"
Drake frowned. "Only a plants mage could have opened the earth the way he did. So a jet of air like you describe is out of the question. Although air is one of our specialties, I don't think anyone in my af"nity could call a #ow of suf"cient strength so quickly—or hold it with such sustained force. The Viridian #ows strongly at this time of year."
"While he couldn't have changed the #ow of the entire river, what about a narrow stretch of water, just on the surface?" one of the elements mages suggested, clearly caught up in the academic question. "That would require far less strength."
Drake frowned, his eyes narrowing as he looked between Annora and Augusta. "It is a question my af"nity will consider further. Clearly this man was a plants mage cross elements, so it is possible there is some twist to his ability we have not yet encountered." His gaze #icked to Captain Huxley. "There is always an element of unpredictability when someone comes under an in#uence other than their own af"nity."
Although his tone and look suggested the captain was somehow to blame for not foreseeing and planning for the unexpected, Huxley's manner remained implacable.
Annora broke the tension, inclining her head in agreement with Drake's words. "I, myself, have found great value from having my plants seed activated by a healing mage. I "nd being plants cross healing gives me a range of #exibility I would not otherwise have achieved. But it seems in this case such #exi‐ bility was used against us. We must be more wary in the future."
Drake rumbled his agreement, while Augusta's brows drew tightly together. The two of them exchanged a look as Captain Huxley stepped forward with a respectful bow toward Annora.
"May I suggest we move toward the palace?" he said. "I'm sure King Marius will be eager to welcome you to his kingdom. And we cannot delay informing him of this attack—along with the remaining Triumvirate member, of course. Extra defenses will naturally be..." His voice trailed away as he moved out of earshot, the nomads and the two masters accompanying him.
I sent my extra sense ahead of them, identifying Colton— the Master of Healing and third member of the Triumvirate, alongside Drake and Augusta—in the palace with both the king and Evermund. They had likely gathered to welcome the unexpectedly early contingent of nomads, not yet aware of the attack.
As the three most powerful mages in the kingdom, the Triumvirate not only led the Mages' Guild but also represented all the guilds. The king did not have authority to govern without their input, and Evermund—the Royal Mage—stood as liaison between them. All of them would be expected to greet a visitor with as much status as Annora.
Some of the mages followed behind them, while the rest of the crowd slowly spread across the courtyard. Zeke, however, stayed put, watching me with searching eyes.
"You look worried. Do you think he'll be back? He can hardly sneak up on you, of all people. In fact, if you hadn't been here, he might have succeeded in his aim."
"And what was his aim?" I asked in a small voice, distracted for a moment from my concerned thoughts.
Zeke glanced around us, lowering his voice. "You don't think he was here to assassinate my mother? He certainly went straight for her. The raiders can't like the idea of a new alliance between the nomads and the Tartorans. They're sheltering in the fallen kingdom, and Calista has more borders with the nomads than Tartora. An alliance would help King Marius in his determination to see an end to the raiders."
I grimaced, trying not to sound nervous. "I hope that's what everyone else saw."
Zeke frowned. "What do you mean?"
"He was looking straight at me, Zeke," I whispered. "I think he was coming for me, not your mother. If she was his target, he could have struck before she was surrounded by a guild full of mages. He slipped into the palace alongside her delegation, remember?"
Zeke's eyes widened. "Do you think he only made a move because you detected him? Perhaps he hoped to catch you when you were alone and abduct you like they did to Airlie."
A surge of warmth toward Zeke gripped me. He must be one of the only inhabitants of the Guild who would reference Airlie's abduction as fact. Although they didn't say so outright —at least not to me or to Evermund—most of the mages believed she had absconded by choice. After one of the guards reported seeing a girl in a blue gown leaving the palace grounds part way through the festivities in company with a handsome young man, everyone decided Airlie had been sick of the demands put upon her due to her incredible strength and had chosen an easier life.
"He was hiding," I whispered, voicing my real concern.
"In the servants' livery, you mean?" Zeke ran a hand along his jaw. "I wonder how he sourced it? I suppose it can be done in the city easily enough."
I shook my head. "No, he was hiding from me."
"From you?" Zeke stared at me.
"Remember what I said by the fountain? All his movements
were designed to keep him hidden from a power mage. He could have walked through the palace gates at any time, but he waited for the arrival of the nomads because it gave him a chance to enter alongside other unknown mages of signi"cant
strength. If he had come in alone, I would have sensed him immediately. But alongside the delegation, I almost missed him. I would have missed him if you hadn't made me double check."
I took a deep breath. "They de"nitely know about my abil‐ ity, Zeke. That's why they're coming for me." I gulped. "And they're not going to stop, are they? How many other powerful mages can they possibly have?"
"Surely not many." His brows creased. "I just wish we knew how they got the one—even if it was his cross ability that gave him the edge."
"But it wasn't."
The lines on Zeke's face deepened. "What do you mean?" "That man was de"nitely a straight plants mage. I have no
idea how he disappeared up that river, but he wasn't plants cross elements. I couldn't say anything earlier because how would I explain to the others how I knew?"
Zeke shook his head. "But that makes no sense. Even being cross elements, his escape was already inexplicable. If what you're saying is true..."
"It is," I said "rmly. "I'm sure of it. Living at the Guild, I have plenty of experience sensing all variations of abilities. I can easily tell a mage with a straight ability compared to one who is cross-in#uenced. You know that."
For a moment we stared at each other wordlessly. Slowly, the concern in Zeke's eyes grew.
"What then? Did he have help?" His eyes widened. "Wait! You said there was someone else with him—someone shielded. So, were they the one to help him escape—or are they still here?"
We hope you are enjoying the book so far. To continue reading...
Vines of Promise and Deceit
Melanie Cellier
Copyright © 2023 All Rights Reserved