Thorns of Hope and Betrayal
Danger and deception await the sisters in the Hidden City.
Book info
Sample
Audiobook
Media
Author updates
Lists
Synopsis
The wild power is getting stronger and ignoring it won't be possible for much longer. Cadence is willing to sacrifice herself if it will save them all, but Airlie and Zeke are determined to find another way. Drawn to the Hidden City, Cadence and Airlie are swept into the cutthroat terrain of nomad politics. Tribe Nicabar hope to seize the throne, but Annora's secrets threaten everything—including the sisters. But while the twisted vines that connect them all threaten to tear apart everything Cadence and Airlie hold dear, they might offer the only chance for survival. They just have to escape the vengeful wrath of the General first.
Release date: April 7, 2022
Publisher: Luminant Publications
Print pages: 283
* BingeBooks earns revenue from qualifying purchases as an Amazon Associate as well as from other retail partners.
Listen to a sample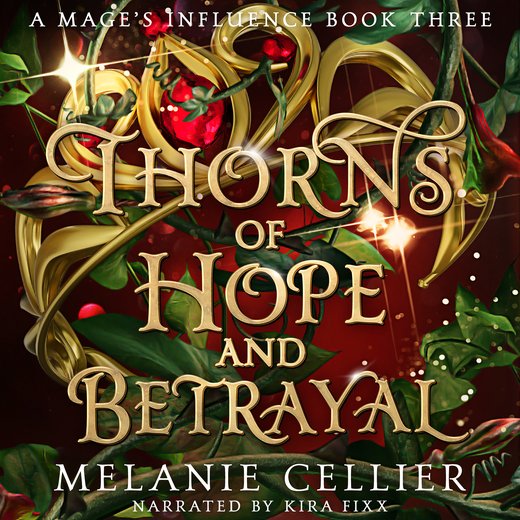 08:55:52
245.31 MB
9781922636362
September 27, 2022
Dreamscape Media
Thorns of Hope and Betrayal
Melanie Cellier
Cadence
"Where are my books? I put them right here!" I spoke aloud in my frustration, although I was alone.
Swiveling, I glared around the room. I specifically remembered putting my small collection of precious books on the side table in front of me. They were my only remaining link with my home and parents, and I was sure I wouldn't have forgotten where I left them. I had kept them safe for this long, but there was no sign of them now.
Stomping around the room, I examined both desks, the other side table, and even looked beneath the sofa. Only after I had checked the entire room did I stop in front of the single bookcase which held a small portion of Evermund's book collection—the overflow from his main suite.
With a strangled groan, I spotted my missing volumes neatly lined up with the others. Pulling them off, I muttered irritated accusations at my absent sister. But really, I only had myself to blame. I should have known when I agreed to temporarily share a room with Airlie that she would compulsively tidy my possessions.
I took a moment to flick through some of the pages, my fingers lingering over the illustrations in my favorite. The royal residence they portrayed didn't look like the palace or attached Mages' Guild here in Tarona. Did they resemble the old palace in the Calistan capital of Calinara, then? The one from before the invasion?
I knew I should get on with my packing, but I hesitated another moment, letting myself sink into memories of my mother and the stories she used to tell. She had loved this book even more than I did, and when she talked, it had been easy to imagine myself as a princess in these halls.
The door from the garden opened, pulling me out of the moment. I looked up in time to see Airlie's eyes drop to the book in my hand before flying over to the open bag on my bed. She looked back at me slowly, and I waited in some trepidation for her comment.
She obviously understood the significance of me packing my meager personal possessions for our trip into the nomad lands, but I wasn't ready to answer any questions on the topic. I didn't know myself what it meant yet—I certainly hadn't made the decision to leave Tartora behind permanently. But neither did I feel certain I would return. Zeke had only been gone for a few days, and I already missed him intensely.
With so much confusion whirling inside me about my future, I didn't want to add Airlie's opinions to the mix. But as she came over to join me, her words showed she was thinking about something else entirely.
"I think our grandmother painted those pictures herself."
"Really?" I looked at the one in front of me with fresh eyes. "How do you know?"
"While I was at the settlement, I met an elderly lady who was born there. Nan. Apparently she and our grandmother were close friends growing up." Her eyes lingered on the pictures as mine had done, and I wondered how the memories were colored in her mind. "I visited her quite a few times, and she mentioned that our grandmother was a talented artist. Apparently her parents used to tell them stories about the glories of Calinara before it fell, and Grandmother liked to sketch the scenes."
My fingers tightened around the book which had just become even more precious to me.
"I'm surprised it wasn't Father who loved it instead of Mother, then," I said. "He was the one always telling us stories about Calista."
Airlie frowned, as if considering the matter. "Father wasn't one for dreaming about balls and tapestries. But he always treated the book carefully when it did pass through his hands, and he never stopped Mother treasuring it. I think he must have felt a connection to it, even if he wasn't obvious about it, like Mother was."
I closed it reluctantly, placing it inside a waterproof leather bag along with my other volumes. I didn't want them to come to harm because of my decision not to be parted from them.
As I tucked them away in the middle of the pack, I moved as slowly as possible, hoping Airlie might collect whatever she came for and leave. She remained in place, however, regarding me with a knowing eye.
"It doesn't matter how slowly you go, I'm not losing interest and wandering away, Cadence."
I grimaced.
"We leave first thing in the morning," she added. "You can't put off seeing Hayes any longer."
"This is a bad idea," I muttered, but without much spirit.
I couldn't deny I had initially agreed to see Hayes in case I needed healing. The fact I had since gotten cold feet did nothing to stop Airlie stubbornly holding me to my initial agreement. I already knew it was useless to argue with her.
"No," she said crisply, "it's the opposite of a bad idea. It's essential." She gave me a piercing look. "You know how important this is, Cadence. Who knows what damage you've already done to your body? Messing with wild power killed our grandfather. Father himself was scared enough of it that he rarely used his ability. It's not your fault you used it before you knew any better, but it would be inexcusable not to get yourself checked over now. For all we know, access to a powerful healing mage might have made a big difference to Grandfather and those poor people in the settlement. So we're going to go to Hayes and see what he can do whether you like it or not."
"But what if he can recognize my affinity?" I whispered as I followed her outside, trailing along as she briskly strode across the courtyard toward the healing wing.
We'd been over this conversation more than once, but I couldn't help voicing the question yet again.
A worried line settled on her brow, but she didn't break stride. "Then we'll deal with that when it happens. Your life is more important."
I sighed, unable to come up with an argument against that point. This was why I had agreed to go see Hayes in the first place. But I couldn't help the dread that filled me at the potential consequences. If only Zeke was still here to stand by my side. I knew that no matter what happened in Tartora, he wouldn't desert me.
Thoughts of Zeke made my mind wander. He was only days ahead of us, but the separation felt significant. I trusted him completely, but his entire life stood on the brink of enormous change. Would Zekiel the nomad prince be a different person from Zeke the apprentice, like the difference between Princess Morgiana and Apprentice Gia?
Airlie pulled open a door and ushered me inside one of the Guild corridors. Shaking off my concerns, I took a steadying breath as I approached the door to Hayes's suite. The sound of my rap barely reached my own ears, so I forced myself to knock again, more loudly.
Footsteps sounded behind the door, and it swung open to reveal Hayes, wearing a look of mild curiosity.
"Good evening." He looked from me to Airlie. "Do you need something? Are you both well?"
"That's what we'd like to find out." Airlie prodded me from behind. "Do you mind if we come in?"
His eyebrows rose. "Not at all." He stepped back, gesturing for us to enter his small but neat sitting room.
I cleared my throat, feeling awkward now that I was here and unsure how to begin.
"I'm worried about our exposure to the raiders," Airlie said when I stayed silent. "Cadence told me what happened here with Dara. I didn't see anybody dropping dead at their settlement, but we did engage the General and his mages in battle in order to escape. How can we be sure he didn't do something to us that we can't see from the outside?"
"I—I suppose it's possible." Hayes sounded bemused, but his expression slowly grew more interested, the lines on his forehead deepening. "We never did manage to work out what happened to Dara, so there really is no saying what the beginning of the condition might have looked like."
Airlie nodded. "Exactly. We'd be grateful if you could check us both, to ensure we're in good health."
I bit my lip, hoping her inclusion of herself would be enough to draw attention away from me, but not at all convinced it would be. How could we hide the truth from Hayes when his ability let him send power into my body? As soon as he made contact with me, I would be helpless to hide anything. Even if it was possible to use my own ability to conceal my nature, I had no idea how.
Airlie held out her arm, and Hayes placed his fingertips lightly against it. He closed his eyes, but I had barely completed a breath before he opened them again.
"You're healthy," he said with a smile. "Remarkably healthy, given everything you've been through. You should try for a little more sleep, though."
"You couldn't just top me up?" she asked sweetly, making him chuckle.
"You're not tired enough to need my intervention. And besides." He gave her a stern look. "I've told you before. Intervention from a healer can help in the short term, but in the long term your body and mind both need true sleep."
I looked back and forth between them, feeling guilty. Hayes must have told her that before her capture, when she was carrying the weight of the Guild on her shoulders. I had been wrapped up in my own concerns back then.
Hayes turned to me, holding out his hand, and I reluctantly raised my arm toward him. As I closed the distance, Airlie kept talking, perhaps hoping to keep him distracted enough that he wouldn't consider anything beyond my immediate health.
"I've heard a rumor that you're coming with us. Is it true?" she asked.
My eyes flew up from my dread-filled examination of the decreasing gap between Hayes's fingers and my arm. Hayes was coming with us? She hadn't mentioned anything about that to me. If he was going to be in the nomad kingdom, too, then there was no urgency to complete this examination right now. I felt completely fine. I could hardly be dying.
I glared at her as Hayes turned toward her also, although he was smiling.
"Yes, that's right. I've just had confirmation from Their Majesties. They insisted on the presence of a healing mage, of course. And as you know, I've accompanied Evermund on some of his travels before. In fact, I'm quite looking forward to—"
His words faltered, his attention swinging back to me. I swallowed hard at the look on his face, my eyes dropping to where his fingers had now made contact with my arm.
"Cadence!" He paused as if unsure how to continue.
"What is it?" Airlie closed in on us, seizing my other arm. "Is she dying?"
Hayes shook himself. "What? No, no! It's not that severe…" His brows drew together. "Yet."
"Is it like Dara?" I asked, my breath quickening. "Can you fix it?"
My earlier fear of discovery was gone, replaced with one even more pressing. I'd been impatient with Airlie's obsession about my health—thinking that if the wild power had done me lasting harm, I would have felt it. I'd hardly spent a lifetime manipulating the awful stuff. But now visions of Dara's face—empty in death—filled my mind.
"Give me a moment." Hayes's words were unusually short, his eyes closed in concentration.
Airlie and I exchanged worried looks as the silence stretched taut and thin. The seconds ticked by impossibly slowly as I wondered if I should be feeling something change within me. Were his efforts not working?
I forced myself to draw a long breath, in and out, calming my racing thoughts. Given I hadn't felt any problem to begin with, there was no reason to suppose a lack of sensation meant disaster now.
I tried not to stress as beads of sweat appeared on Hayes's brow. When he eventually let his hand drop, opening his eyes and staring at me, I gulped.
"Will I be all right?" I asked in a voice that betrayed me by trembling slightly.
Hayes forced his face—which was equal parts confused, concerned, and intensely curious—into a smile.
"Of course." He hesitated. "Have you been injuring yourself a lot since you came to the Guild, Cadence?"
"Injuring myself?" I stared at him. "No, of course not. I'm sure you would have heard of it if I had. But why would I?"
"No reason I can think of," he said lightly, but his expression didn't mirror the unconcern of the words.
My momentary relief was swept away in a new flood of worry. He had sensed something inside me that didn't match with his expectations—perhaps something different from the first time he healed me. But the only thing that had changed was Zeke activating my seed.
I swallowed, trying to think of something to say, but he spoke again.
"I can't tell you what was wrong with you any more than I could understand what it was when it killed Dara."
"It was the same?" Airlie asked sharply.
"An earlier version, certainly, but of the same nature." He looked at me with concern. "Something about your insides was very, very wrong, Cadence. But even now—having examined you thoroughly as well as healed you—I'm not sure I could explain it exactly. In a way it was like a disease, I suppose. Although what I felt in you was only a shadow whereas Dara was saturated with it." He shuddered, seeming genuinely lost for words. "There was just something wrong with your insides."
I watched him wordlessly, my eyes wide. I didn't need any more detail. I knew just what he was describing because I had felt that wrongness myself in the wild power.
"Thank you," I whispered. "For getting rid of it."
"It is all gone?" Airlie asked, her words fast and the look she gave him piercing.
He nodded before hesitating again. "I was able to drive it out, but it was difficult. Far more difficult than it should have been given how little of you it had touched, Cadence. That's why I asked if you had experienced a number of healings since our first encounter. Then it was your first healing and easy as any healer could hope. Today I would liken my task to healing a hardened veteran whose body had learned resistance after scores of healings."
I exchanged a look with Airlie, neither of us having to speak to read the other's thoughts. My body had no reason to resist the healing like it might do in my elderly years, so it must be the condition itself. Hayes was one of the Guild's most powerful healers, and yet he had struggled to heal the most mild aftereffects of handling wild power. And if it got harder each time, like regular healings…
I shuddered. Clearly I couldn't manipulate wild power in the expectation a healer would swoop in and fix me afterward. Not even an army of healers would be enough to protect me if I tried to tackle all the wild power still lurking in Calista.
"I can't explain why it was so hard to heal," I said after a moment. "But it wasn't because of previous illness or injury."
He sighed. "No, that would have been far too simple an explanation."
He fixed me with a keen regard that made me want to writhe. I forced myself to stay still and calm, however, doing my best to look innocent—whatever that looked like.
"I would like to check you again in a few weeks if that's all right? In case it comes back. It makes me uneasy not knowing what we're dealing with, or how it might progress. I believe I've eradicated it all, but how can I be sure?"
"I…" I swallowed, glancing at Airlie who gave me an insistent look. I sighed. "Certainly. I mean, of course. Thank you."
His brow wrinkled, his eyes flashing between the two of us. "I don't need to tell you that a healer's work is confidential. I have no desire to pry into other aspects of your life."
Every muscle tightened as I forced my numb lips to thank him. Airlie took over, chatting about the upcoming trip as she shepherded me out the door. We exchanged farewells, and I couldn't tell if they were somewhat strained on his side or if the impression was only an illusion based on my own discomfort.
As soon as the door had closed and we had started down the corridor, I grabbed Airlie's arm.
"What was that about?" I hissed. "Could he tell? Does he know about me now?"
Airlie shook her head. "Of course not! I'm sure he wouldn't have hidden it so well if he did. He could just pick up on your agitation and was giving you a standard healer's reassurance."
I frowned, glancing back down the hall at the closed door. "I don't know. I thought his voice had more weight than that. And the way he was looking at us at the end…"
"I'm sure he was too distracted by your strange affliction," she said stubbornly, fixing me with a look that spoke as clearly as words. She was bursting from not pointing out she had been right about my health.
"Maybe," I said, still uneasy.
Hayes had noticed a difference when he healed me this time. Had it truly just been the aftereffects of my contact with wild power?
"What does it matter anyway?" Airlie's voice was laced with impatience. "He's clearly not intending to say anything to anyone even if he did pick up on something."
"For now," I said, looking back a final time. "He's not going to say anything for now."
We hope you are enjoying the book so far. To continue reading...
Thorns of Hope and Betrayal
Melanie Cellier
Copyright © 2023 All Rights Reserved