Things We Never Said
Michael wants her back, but Dahlia can't seem to let go of the tangled emotions of the past.
Book info
Sample
Audiobook
Media
Author updates
Lists
Synopsis
Local metalsmith and gift shop owner, Dahlia McGuire, likes her quiet life in Hartwell, Delaware. It's the perfect place to hide from her family and the tragic events that led to their estrangement. However, when her father, the person she loves most in the world, needs her Dahlia has no choice but to return to Boston to face her ghosts. One of those happens to be her ex-boyfriend's best friend, Michael Sullivan. The man she was never supposed to fall in love with.
Michael Sullivan has never forgotten Dahlia McGuire. Some might say he's never gotten over her. For years he lived with the anger of her desertion, and now, newly-divorced, he's finally ready to move on. That proves impossible when Dahlia returns to Boston and reawakens their explosive connection. Despite everything, Michael wants her back, but Dahlia can't seem to let go of the tangled emotions of the past. When she flees home to Hartwell, Michael follows, determined to do everything in his power to convince her they belong together.
However, when the unthinkable hits the quiet seaside town, Michael finds himself trying to unravel more than the mystery of Dahlia's broken heart. It's time for truths left unsaid to finally be spoken or Michael and Dahlia might find themselves torn apart forever . . .
Release date: May 7, 2019
Publisher: Samantha Young
Print pages: 380
Content advisory: explicit language; sexual content
* BingeBooks earns revenue from qualifying purchases as an Amazon Associate as well as from other retail partners.
Listen to a sample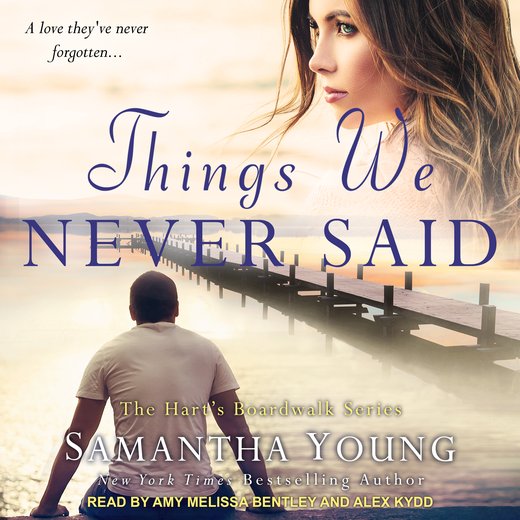 14:25:34
396.24 MB
May 31, 2019
Tantor Audio
2019
Things We Never Said
Samantha Young
Prologue
Dahlia
Boston, eleven years ago
There was no way my parents could say I wasn't willing to do just about anything to make money and stay in my degree-related industry.
My father was a firefighter, my mother a nurse, and some of their five kids wanted to go to college. Cian and Sorcha McGuire had not been happy when I announced I was applying to art school. Except for Dermot, who jumped from one job to the next like he was afraid of catching herpes from it, and Dillon, the youngest, who had gone to beauty school, I was the third McGuire to go to college. That crap was expensive enough, my parents said. Why couldn't I choose something practical like Davina, who was studying business, or Darragh, who had studied journalism?
Yeah, so practical.
Okay, they were way more practical than art college but creating beautiful things was a huge part of who I was.
But even with a scholarship and financial aid, school was expensive, which meant I had to work several jobs throughout the year to help pay for it. I lived at home with my parents, which lowered costs, but it also made it harder to meet friends, so I tried to get jobs in the arts industry.
However, even I had to admit this job was above and beyond. The only reason I was standing there half-naked was that it paid a lot!
The exhibition in the small gallery in Allston was by the artist K. Lowinski. It was titled "More Than," and the paintings were abstract and made to look like they were ready to burst alive from the canvas. To draw people to the exhibition, the gallery hired me and two other girls and three guys to stand in the gallery like pieces of living art. We were supposed to stand completely still on a small round platform each and move now and then. What was so exciting about that, you ask?
That we looked naked.
We wore sheer body stockings that K. Lowinski had painted and decorated but only on very strategic parts.
Now I was a short, curvy twenty-year-old and there were pieces of the art that barely covered some stuff, if you know what I'm saying. In fact, when I first put the stocking on, I thought there was no way I could go out onto the gallery floor and be seen almost naked! Then I remembered the money and the fact that no one I knew would ever step foot inside an art gallery.
My parents would never find out about it.
More to the point, my macho-man boyfriend, Gary, would never find out. We'd only been dating two months, so it wasn't like he had a say anyway. Gary, however, was funny, hot, and the first guy who had succeeded in making me orgasm during sex. I was pretty excited about that, so I didn't want to mess that up.
Nope. No one would find out about this little stint as an exhibitionist in an exhibition.
See what I did there?
Trying not to smirk at my own joke, I ignored the slight pain in my lower back and tried not to move too much. When I took the job, I didn't realize how difficult it would be to stand for so long. I was not a person who stood in one place. Gary said he'd never met someone with so much energy. Not that he was complaining, wink wink, nudge nudge.
I let my thoughts turn to my project for college. This semester I'd taken a metalsmith class, and I was in love. Like, seriously, seriously in love. I think I'd found my calling. I was creating jewelry that my teacher raved over. I'd given a necklace I'd made to my mom for her birthday and even she, Sorcha "I can't believe a kid of mine is going to fuckin' art school' McGuire," thought it was beautiful. She ruined it by asking me how I expected to make real money out of jewelry-making. But whatever.
I was Dahlia McGuire, soon-to-be silversmith. How cool was that? As my brother Dermot would say, "Fuckin' A, Dahlia, fuckin' A!"
My musings were slowly brought to a halt as a burning sensation crept over my skin. Not literally burning. But you know that hot, tingly feeling that prickles your body when it feels like someone is watching you? Well, considering I was almost naked in an art gallery, people were watching me. I let my eyes move around the room and …
There!
Leaning against the wall, next to one of the paintings was the reason for that hot, tingly feeling.
He grinned when our eyes met and wowzer. Okay, speaking of hot, tingly feelings.
I jerked my gaze away, flushing as his crooked, boyish smile flittered across my vision.
I got a distinct impression of broad shoulders and a narrow waist in the plain navy T-shirt he wore.
Thoughts off the hottie, Dahlia, I grumbled to myself. I had a job to do—and a boyfriend.
A boyfriend who knew his way around my clit.
I wouldn't jeopardize that for anything!
However, as I tried to remain as still as possible, I could feel the guy staring.
And staring.
And more staring.
He couldn't be. It had to be my imagination.
Ah, screw it. I snuck a peek and stiffened when I saw he was not only watching me, he'd moved closer.
This time I stared back.
Gary was taller but leaner, had dark hair with lovely blue eyes, and visible tattoos. He was from Southie but looked like a pretty-boy rock star.
This guy was rougher around the edges with his dark-blond hair and dark eyes. His face was hard hewn and at total odds with his beautifully shaped mouth.
He smirked as I looked my fill.
I narrowed my eyes.
This guy was not here for the art.
Perv!
Forgetting my job for a second, I grimaced, which seemed to amuse him.
Huffing inwardly, I decided the best thing to do was ignore the hot guy who came for a peep show. That negated the hotness. It really did.
There were other girls here.
Go peep at them!
To be fair, he only seemed to ogle my face … but I knew when I wasn't looking, like now, he was studying me elsewhere.
That wasn't flattering. It was creepy and annoying.
I'm a living piece of art, dipshit, not window dressing in Amsterdam!
Oh, who was I kidding? Even the so-called "art enthusiasts" had come here to see the almost naked people. That's why the gallery did it.
Still, at least everyone else pretended to be interested in the art.
Growing increasingly irritated—and I didn't know if it was because my heart was inexplicably racing at his intense staring—I returned my attention to Mr. Hottie with the staring problem.
Yup. Still there. Still looking at me.
And now in this seriously smokin' smoldering way that made more than my heart beat fast. I felt a flip low in my belly as our eyes connected and shock floored me at the consequent heat between my legs.
What the hell!
Horrified that a stranger had elicited that kind of reaction in me (I mean, what was that?), I decided it was time to move and make a point. I raised my arm slowly, gracefully, as I bent my opposing knee and as I brought my arm upwards, I watched the stranger's eyes flare with heat.
Shit.
Perv.
Bringing my hand up to my face, I curled it into a fist, except for my middle finger, which caressed my cheek with a pointed "fuck you" glare.
And what was his reaction to the sight of me flipping him off?
He threw his head back in laughter, drawing attention from everyone else. I lowered my hand in case my boss saw me flipping off a customer.
Dark eyes glittering, the stranger's laughter trailed off, and he gave me a weirdly affectionate smile before he turned and walked away. He disappeared around the corner, and I deflated with relief.
Or was that disappointment?
* * *
An hour later, I walked out of the small closet they'd given us to change in, wearing my own clothes and wishing for the money to get a massage. My back was all kinds of stiff from standing on my feet for four hours with only two fifteen minute breaks in between.
Later that night I had my first shift as a waitress in a bar in Malden, the neighboring town to my own, Everett. It was my sister Davina's old job, and when the college bar I'd been working at told me they were cutting my hours, I jumped ship. The pay was crappy, but you did what you had to do, am I right?
I tucked a piece of hair behind my ear as I passed a mirror in the back of the gallery. The gallery wanted our faces scrubbed clean except for mascara on the girls, so I looked very young. And boring. I'd been in my Dita Von Teese phase now for three years and loved vintage clothing, black-winged eyeliner, and red lips. Taking a quick glance at my makeup-free face, I decided I needed bangs. Bangs would look hot. Very vintage.
Altogether I wasn't my usual cute self as I walked out into the main gallery. I wore jeans, a T-shirt, and sneakers rather than a pencil skirt, blouse, and sandals combo. Sometimes I wore flattering dresses too. But being curvy, I loved the way a pencil skirt accentuated my small waist and fuller hips.
Jeans made me look ordinary.
My boss had said we could get a free coffee and a sandwich in the small café at the back of the gallery and I was definitely going to take advantage of the offer. After I got my food and drink, I sat down in the quiet café and almost groaned with pleasure at getting off my feet.
It was one of those quietly perfect moments of contentment. A seat and free food.
Until he ruined it.
The chair next to mine scraped back, and I jerked with surprise, only to tense when hottie with the dreamy eyes and lush mouth sat down at my table. Our eyes hooked and locked as he crossed his arms on the tabletop and leaned in.
"Hey."
I swallowed a bite of my sandwich, and my pulse skittered into takeoff. A flush spread over my skin and I hoped it wasn't visible. Attempting to ignore my body's inexplicable reaction to his proximity, I frowned. "Oh goodie, it's Perv Boy."
He flashed me a quick, crooked, boyish smile that did not give me butterflies.
Okay, it did. It totally did.
"People usually call me Michael or Mike." He had a thicker Bostonian accent than me. He sounded like Gary, and I suspected he too was from Southie.
"That's because they haven't witnessed you gaping like a prepubescent boy at a half-naked woman before."
Michael or Mike chuckled. "Was that how it came off?"
"You still have a little drool right there." I gestured to the corner of his mouth.
He didn't smile this time. Instead, he stared intensely at my face until I began to wonder if there was something on it. Flushing, I snapped, "You're doing it again."
Michael (I decided I'd always liked the name and hated it when people shortened it to Mike) shrugged. "I can't help it."
"Well, try." I bit into my sandwich and scowled at him as I chewed.
"Christ, anyone ever tell you that you're fuckin' adorable?"
"Anyone ever tell you that you're full on?"
"I never have been before."
"Oh, lucky me that you decided to give it a try today."
"You're a little smart-ass." He chuckled. "Your boss know you flip off customers when you're pretending to be art?"
"You're the first."
"I'm honored."
"You're also the first to blatantly come in to perv on the models."
"Not true." He settled back in his chair like he was getting ready for a long, comfortable chat with me.
I had to get rid of him. My heart was pounding way too fast, my belly was fluttering with butterflies. I was not supposed to react to any guy like this who wasn't Gary. At the thought of Michael getting up and leaving, however, an overwhelming sense of disappointment came over me. I was enjoying ribbing him, and he was … well, the way he made me feel was kind of exciting.
Oh boy.
"It is so true!" I guffawed. "You were absolutely perving."
"I was staring at one model. You. And I wasn't perving."
"Oh, so you're an art aficionado, are you?"
"No, I'm a rookie cop. This is my day off, and I told my friend I would drop him off at this catering gig he has going for tonight. That event is here. I was walking out of the kitchen to my car when I look over and yeah, I'm not going to lie, all I saw at first was a beautiful body. Then I looked at your face, and well," he shrugged, "I couldn't look away."
Maybe I was an idiot to hear the sincerity in his voice. But that's what I heard. No sleazy come-on. Just honesty. He looked like I'd caught him off guard, which made me feel better about my reaction to him.
I didn't know what to say.
"You gonna go all shy on me now?"
I narrowed my eyes. "I was formulating a response."
"Oh, were you?" He chuckled. "You go on, then, and you keep formulating. I've got time."
"I should think you're a creep."
He cocked his head. "The point of dressing you up like that was to make people stare, no?"
"Yes, I guess," I wrinkled my nose, "but other people are less obvious about it."
"Why you doin' it?" he nodded toward the gallery.
"It's not shameful," I said defensively.
"I didn't say it was."
"Well, you're making it all sexy when it's supposed to be about art."
Michael laughed. He looked good laughing. His laughter was deep and rumbly, and I felt that between my legs too.
Dear God.
"You make it sexy, and I think these people knew exactly what they were doing when they hired you."
I flushed at the compliment. "Whatever. It pays ludicrously well, and I'm an art student. I need the money."
We hope you are enjoying the book so far. To continue reading...
Things We Never Said
Samantha Young
Copyright © 2023 All Rights Reserved