The Yellow House
Available in:
eBook
Hardcover
Paperback
Audiobook
Book info
Sample
Audiobook
Media
Author updates
Synopsis
The Yellow House delves into the passion and politics of Northern Ireland at the beginning of the twentieth century. Eileen O'Neill's family is torn apart by religious intolerance and secrets from the past. Determined to reclaim her ancestral home and reunite her family, Eileen begins working at the local mill, saving her money and holding fast to her dream. As war is declared on a local and global scale, Eileen cannot separate the politics from the very personal impact the conflict has had on her own life.
She is soon torn between two men, each drawing her to one extreme. One is a charismatic and passionate political activist determined to win Irish independence from Great Britain at any cost, who appeals to her warrior's soul. The other is the wealthy and handsome black sheep of the pacifist family who owns the mill where she works, and whose persistent attention becomes impossible for her to ignore.
Release date: January 28, 2010
Publisher: Center Street
Print pages: 352
* BingeBooks earns revenue from qualifying purchases as an Amazon Associate as well as from other retail partners.
Listen to a sample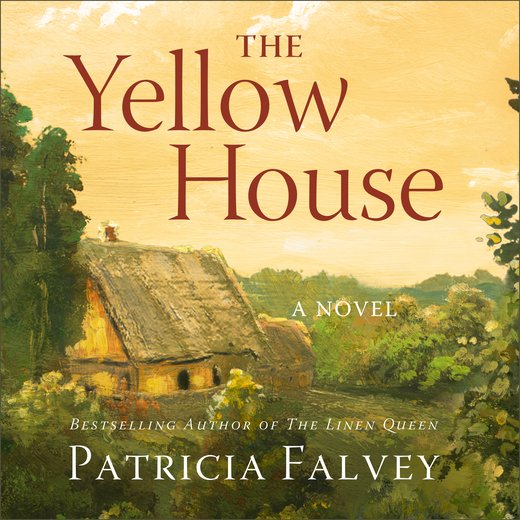 16:20:14
448.73 MB
December 31, 2019
HighBridge Audio
2009
The Yellow House
Patricia Falvey
I would like to thank my agent, Denise Marcil, for her invaluable guidance throughout the development of this novel. I am
deeply grateful for the way she challenged me to reach levels beyond which I believed myself capable. Her expertise, experience,
practicality, and caring concern are everything an author could ever hope to find in an agent and more. In addition, I would
like to thank Anne Marie O'Farrell and Katie Kotchman of the Denise Marcil Literary Agency for their assistance and enthusiasm.
I would also like to thank Christina Boys, my editor at Hachette Book Group, for her immediate and sustained enthusiasm for
this book. Thanks also to her assistant, Whitney Luken. My appreciation and thanks also go to Alan Tucker, who edited this
manuscript with courteous attention and elegant diligence. The manuscript was indeed "ready to meet the queen" when he was
finished. Also thanks to Dr. John McCavitt, Northern Ireland historian and author of The Flight of the Earls, for sharing his expertise on Irish political and religious history. Thanks also to Dr. Marilyn Cohen, anthropologist, head
of women's studies at St. Peter's College in New Jersey, and author of Linen, Family and Community in Tullyish, County Down, for her insights into the social conditions in the linen industry in Northern Ireland. Thanks also to Rosemary Mulholland,
president of the Bessbrook Historical Society, and Pat O'Keefe, Irish musician, for generously assisting me with my research.


Thanks must also go to many friends scattered throughout the United States and abroad for their support and belief in my dream.
They include the Good Eats and Lucky's Gangs in Dallas; the Reno Crowd; Spa Sisters in New York and Pawley's Island; former
colleagues at PricewaterhouseCoopers, LLP; and many, many others. I would especially like to thank Marjorie Jaffe, who introduced
me to Denise Marcil and so was the reason it all started. Thanks also to my dear friend Susan Grissom for her unflagging optimism
and encouragement and for her research assistance. A special thank-you to Bernard Silverman for his sustained caring and support
and for all the jokes! And last but not least, my appreciation to my family, especially my beloved sister, Connie, who has
kept the spirit of Ireland alive in me all these years.




I remember the summers best, when the days rested in the long arms of the evening and the sounds around Slieve Gullion were
as muted as benediction. Only the faint barking of distant dogs cut the stillness as farmers drove their cattle home. Smoke
curled from cottage chimneys and children gulped down tea so they could return to play while time hovered between day and
night like a gift from heaven.


On such an evening, when I was eight years old, I lay in the tall grass in front of our house with my ear pressed to the ground.
If you listened hard enough, Da had told me, you could hear the fairies dancing down below. But this evening all was quiet.
I sat up. My brother, Frankie, a year older than myself, was torturing the life out of a worm, hacking at it with a sharp
stone.


"Stop that, Frankie," I said.

Frankie shrugged. "I'm only trying to see if it's true."

"What?"

"That it grows itself back again if you cut it in two."

I sighed. Frankie was always doing things like that—cruel wee things. I put it down to his being a boy. I lay down on my back.
A brown-and-orange butterfly circled above me. I put up my hands, lazily tracing its flight.


"I wish Da was home," I said.

I heard his voice long before I saw him. His lovely sweet tenor carried from the distance, lilting across the fields that
spread out below our house. I scrambled up and raced toward the road. Frankie dropped the worm and followed me. Our old Irish
setter, Cuchulainn, pricked up his ears and barked. We shaded our eyes as we squinted into the setting sun. Da appeared at
the brow of the hill. He stood up in the cart, his hands loosely holding the pony's reins. His crop of red hair glowed like
a halo around his head as the fire of the sun caught it. I imagined him the great Irish warrior Hugh O'Neill himself, returning
from the battle, riding out of the sun. How I loved my da.


"Da's coming, Mammy," I shouted back to the house, "Da's coming."

Frankie and I ran toward the cart. Da stopped singing and waved at us.

"Hello, darlin's. Up with you now."

Da was a wiry man of medium height, with a face so full of life that it shone even on the dullest of days. He was dressed
today, as always when he went to town, in a brown suit and a white cotton shirt with a clean starched collar. "Dandy Tommy,"
the villagers called him. He wore no cap, and his curly hair sprang out around his head like a laurel wreath.


He slowed the pony and the cart stopped. Frankie and I clambered up, shoving each other to get in the seat beside Da. Da chucked
the reins again, and the pony began to walk. She was a sweet little Connemara pony, gray and white, with eyes like silk.


"On now with you, Rosie," Da said.

Mammy stood at the front door, holding my little sister, Lizzie, by the hand. Lizzie strained to get away.

"Dada, Dada," she crowed.

"She was lovely and fair as the Rose of the summer." Da crooned the words of "The Rose of Tralee." It was his favorite song,
one that he sang often to Mammy. The girl in the song was named Mary, the same as Ma, and Mammy always smiled when he sang
it. The cart trundled through the gate that led to our farm. It had broken long ago and was never closed. Red summer roses
clung stubbornly to the rotted, splintered wood, trailing down over the low stone walls on either side. They were Mammy's
roses. She loved flowers.


"What's this, Da?" Frankie said. "What's in these buckets?" Frankie tried to pry the lid off a tin bucket in the back of the
cart.


"Wait and see." Da laughed.

Rosie halted in front of the house and we climbed down. Ma came forward, still holding Lizzie's hand. She looked down into
the bed of the cart.


"And what in the name of God have you there?" she said. Mammy's voice was always soft and slightly hoarse, as if she had a
catch in her throat.


"Paint, my lovely Mary Kathleen," said Da, jumping down from the cart.

"Paint?"

"Aye, paint. Buckets of lucky yellow paint to mark the grand anniversary."

"What are you talking about?" Mammy dropped Lizzie's hand, and the baby toddled forward and wrapped her arms around Da's leg.

"The anniversary of the day my grandda Hugh O'Neill won back this house and the O'Neill family's honor along with it. In 1805—a
hundred years ago this very day!"


Frankie and I giggled, while Ma shook her head and sighed. Wisps of long black hair played around her face. She put up her
hand to shove them back.


"Will you go on with yourself," she said. "Sure you have no notion of when or even how your grandfather got this house."

Da straightened his back and put on a look of mock outrage. "Don't I know my own family's history, Mary? Didn't I hear the
story many's a time from Hugh himself? He won this house back from the Sheridan family…"


"In a game of cards," put in Mammy, resting her hands on her hips.

"Aye," said Da, "but the house rightfully belonged to the O'Neills. The Sheridans only had it at all because King James gave
it to them. Stole all the land off the Catholics, so they did, and gave it away to the English who were loyal to the Crown,
and—"


"Och, we've heard it all before," said Ma, cutting Da short before he could gather steam for one of his big speeches.

"Da, Da. What's the paint for?" Frankie cried. He had managed to lift the lid off one of the buckets with the help of the
sharp stone he still had.


Da turned to us. His blue eyes were bright with excitement.

"For the house, darlin's. We're going to paint the O'Neill house yellow. You'll be able to see it from the top of Slieve Gullion
itself, so you will. It will be like a giant sunflower standing in the middle of the fields, so bright it would dazzle a blind
man."


"Did you bring the meat? And the flour?" Mammy wasn't smiling like the rest of us. I thought maybe she didn't like the yellow
color.


Da slapped his forehead. "Ah, love, sure didn't I forget in all the excitement. I'll go back for it tomorrow. But in the meantime
I have a case of porter—enough for a good party. P.J. and the boys will be up tonight and we can celebrate."


Da put his arm around Ma, but she pulled away from him.

"The paint was half price, Mary," he said quietly. "I just took the notion and bought it. To cheer us all up, you see. To
celebrate."


Mammy sighed. "I don't see much to celebrate."

There were tears in her eyes. She cried sometimes at night when she thought no one was watching. I didn't want her to be sad.
I walked over and patted her sleeve. She pulled me close to her.


Frankie stirred the paint in the bucket with a stick. It was the color of daffodils, but it had a sharp smell that made me
wrinkle my nose. "Can we start painting now, Da? Can we?" he asked.


Da turned away from Ma and lifted the buckets down from the cart. He lined them up outside the front door like tin soldiers.
"Of course you can," he said. "There's still plenty of light. I brought brushes for everybody."


"But Da—it's too high," I said, frowning up at the two-story house with its massive chimneys on each end of a gabled roof.

"Ah, my little Eileen, don't you be worrying your head. My friends and myself will climb the ladders. You just start where
you can reach. Here's the brushes. You too, Mary."


Da held out a brush to Ma, but she turned away and shoved me toward the side of the house.

"Eileen, help me take in the washing."

"Och, Ma—"

"Now, Eileen!"

Mammy's voice was sharp. It frightened me. I didn't want her to be mad at my da.

"But we're supposed to be celebrating, Ma," I whined.

"Fetch the basket," was all Ma said. Furiously, she unclipped the pegs from the line, tossing the white sheets into the basket.
Her lips were pursed in a thin line. Then she took the basket from me and walked into the house, slamming the door behind
her. Da took a stick and stirred the paint in each of the buckets. The golden yellow crust, like the foam on top of fresh
buttermilk, dissolved through the rest of the liquid, leaving only bubbles on the top. Frankie had already started slapping
paint on the graying white walls of our house, and it dripped down in uneven ribbons.


"He's doing it wrong, Da," I said. Frankie glared at me.

"Ah, he'll get the way of it, Eileen. Here, you start over there."

Even Lizzie had a brush, although she dabbed more paint on the grass than on the walls. She trailed after Frankie, calling
his name and laughing. She was the only one of us who could coax a smile out of our Frankie. His brown eyes softened as he
looked down at her. "You're a wee pest," he said as he guided her hand so she could dip her brush in the paint. At last Ma
came out of the house. Her face was softer now, but tiny red lines ringed her eyes. She lifted a brush and started painting
along with us. She smiled at Da.


"Don't be getting paint on my flowers, now," she said, indicating her rows of scarlet poppies, yellow anemones, and blue forget-me-nots
planted in a bed along the front of the house and in the window boxes.


Da laughed. "I'll mind the flowers," he said, "but I can't say I'll mind you."

He danced toward Ma and daubed yellow paint on her arm, then danced away.

"Tom!" she squealed. "If that's the way you want it, here goes." She landed a daub of yellow paint on his cheek. Frankie and
Lizzie and I laughed, and the knot that had formed in my stomach went away.


I recall that day now through the haze of time and memory. But the yellow has never faded. It is as vivid in my mind as the
day we covered the house and ourselves in yellow paint and danced like canaries around the garden.




WE LIVED IN the village of Glenlea in the south of County Armagh, in the northern province of Ireland called Ulster. Glenlea, standing
at the foot of the grand mountain Slieve Gullion, was one of many villages that ringed the mountain, each village having its
particular view of the grand stone duchess. Slieve Gullion was sixty million years old and cradled a sleeping volcano deep
within her. In winter, she stood proud and naked like an ancient scarred warrior. In spring, she wrapped herself in green
bracken, while bluebells and white hawthorn blossoms cascaded down her great bosom and raced across the fields toward our
house.


The night we painted the house yellow, the Music Men came. They came often in the long summer evenings when the pale moon
hung in the still-light sky. They came whistling, swinging their fiddles and accordions with stout arms, cloth caps pushed
back on reddened foreheads.


Mammy opened the big oak door wide to our guests.

"You're very welcome," she called in her lovely, deep voice.

"God bless all here," said P. J. Mullen.

P.J. was the leader of the Music Men. A fiddle player like my da, he was a short, burly man with coarse red hair and a long
red beard that fanned out across his chest. I was sure he was one of the fairies. His voice was so loud, you jumped to hear
it coming out of so short a man. P.J. was my godfather.


The men removed their caps and bowed their heads as if entering a church. I shot past them and sat on the wooden bench next
to the big hearth in the kitchen, my face warm with joy.


"How's yourself, P.J?" said Ma.

"Fine as the day is long, missus."

"Hello, Fergus, Billy," Ma said, nodding at two of the other men. "How's your ma, Fergus?"

"Not too bad, thanks, missus," said Fergus Conlon. "She'd be great only for her legs."

A bachelor, Fergus still lived at home with his ma, who by all accounts was an oul' witch. Ma often said Fergus was earning
indulgences in heaven right and left for having to put up with her.


Billy Craig handed Ma a bunch of wildflowers, his big round face red as a beetroot. Billy, a giant of a man but a bit simple,
was madly in love with my ma. Every time he came to the house he brought her a present of some kind, and Ma always made a
great fuss over it. She took the wildflowers from Billy, put them right away in a vase of water, and set them in the middle
of the table. Billy beamed.


The fourth Music Man was Terrence Finnegan. No one knew much about Terrence. It was whispered he used to be a priest who had
fallen in love with a girl and was thrown out of the priesthood. No one ever asked him, of course. We all preferred a good
mystery.


Da came downstairs, a broad smile on his face, and shook hands with each of the men.

"Well, I see you didn't get far with the paint job," said P.J. as he dragged a small stool away from the wall. "No bother.
The boys and I will be up with the ladders this week to finish the job."


"You'd better hurry," I said. "Great-Grandda Hugh's anniversary will be over."

The men laughed. Da turned his back to P.J. to reach up for his fiddle, which sat on a shelf on the kitchen wall. "She's right,"
he said.


I watched Da as he took down the fiddle and laid it across his knees. I loved the way he ran his long, slender white fingers
along the length of its dark wood. Ma said Da's fingers reminded her of the stems of flowers. Reverently, he brought the instrument
up to his shoulder and tucked it under his chin. With his right hand he raised the bow and brought it down across the strings.
The sharp, high notes were both sweet and melancholy. I held my breath while the haunting strains ran themselves out. Then
Da looked up and flashed a smile at me, and suddenly the fiddle seized on a merry jig. I clapped my hands and laughed.


Da got up again and lifted a small fiddle from a shelf and handed it to me. He bowed. "Would you do me the honor of playing
for us, my lovely colleen?" It was a little game we always played before the music session began in earnest.


I stood up and tucked the fiddle under my chin. "Of course," I said in my best grown-up voice. "What would you like to hear?"

"How about 'The Dawning of the Day'?"

I started to play the sad tune, uncertainly at first until I got the feel of it. Then Da and the others joined in. Ma set
bottles of porter at the feet of the musicians, who had arranged themselves, each on his favorite stool, around the big fireplace.
Even when it was warm outside, we always had a fire going in the kitchen. As the blue smoke from the turf curled up in wisps,
I inhaled the familiar pungent smell. A splintered wooden chair stood empty to the left of the hearth, Great-Grandda Hugh's
chair. Ma always set a bottle of porter beside that chair as well, and old Cuchulainn would go over and rest his big head
on the chair as if he were being petted by an invisible hand.


When we had finished playing, the men laid their instruments across their knees and lifted their bottles of porter.

"To the woman of the house," boomed P.J. He held up his bottle toward Ma and then took a long swallow. "No man would ever
go thirsty in this house."


He turned to Da. "I saw John Browne's cattle grazing beyond in your back fields, Tom. Did you lease him the land?"

Ma's head turned sharply toward Da. A knot formed in my stomach.

"Och, no," Da said, looking down at his fiddle. "I sold him a few acres, that's all. Sure I had more land than I could manage."

Ma put down the kettle she had just picked up.

"But, Tom, that's the second parcel you've sold off this year." Her words hovered in the air like smoke. The Music Men fingered
their instruments, busying themselves with tuning them. Da looked over at Ma, but she had her back turned to him.


"Will we start with a hornpipe, lads?"

He started a tune on his fiddle, and soon the other men took up their instruments and joined in, following along at the pace
set by Da's fiddle. I clapped my hands, and Lizzie crowed and reached up to Frankie to dance with her. Frankie smiled. He
rose and set down the skin-faced drum he had been beating with a stick in time to the music. Da had brought the drum, called
a bodhran, home for him, and he played it with a fine intensity. Frankie had wanted to learn to play the fiddle like me, but
Da said I was better suited to it. Frankie sulked about that for weeks. He was very competitive, our Frankie.


As Frankie walked Lizzie around the floor on her unsteady feet, Ma busied herself making soda bread. She formed the dough
into two round batches and etched the shape of a cross with her thumb on the top of each loaf, then put them in a big iron
skillet and thrust them into the middle of the turf fire.


The music session took on its own ritual. Da and P.J. set down their fiddles and Terrence his pipes and nodded to Billy Craig.
It was his turn to play a solo. Billy wrapped his plump white fingers around his tin whistle and coaxed a sweet, mournful
tune out of it. He called it "The Lonesome Boatman." I closed my eyes and imagined a boat skimming across Camlough Lake. The
man rowing it was sad. Maybe he had lost someone he loved. Billy may have been simple, but he was a genius with the tin whistle.
Da said God often made up for things in odd ways. Billy was the only Protestant in the group, but Da said it made no difference,
because when it came to music everybody was equal.


Then Terrence Finnegan took up his uilleann pipes. He strapped the bellows around his waist and right arm and laid the pipes
across his knees. Using his elbow, he pumped the bellows, sending air into the pipes. He pushed the mellow sound of "The Cregan
White Hair" out of them. The sound was sweeter than that of traditional bagpipes, yet a sound as mysterious as the man himself.
A dark man, Terrence was taller even than Ma, with gray flecks in his black hair and intense brown eyes. While he played,
he looked around, as he always did, fixing his gaze on Frankie. He hardly spoke to Frankie, but he always stared at him when
Frankie wasn't watching. It made me a bit jealous.


Then Fergus, tall and narrow as a stalk, bent over his mandolin and began to play a lovely old air called "The Coolin," his
bony, thin fingers stretched across the strings like a crab's legs.


I looked around the room and tried, as I always did, to commit the scene to memory. Something in me wanted to hold on to it
forever. From the kitchen window, I saw Slieve Gullion wrapping herself in her evening shawl as the light grew dim. Ma lit
the paraffin lamps, and their light joined the glow of the firelight to dance a jig on the walls. All around the white-painted
walls were shelves on which sat Da's collection of old musical instruments—uilleann pipes, a banjo, and bodhrans decorated
with ancient Celtic designs. There were framed pictures on the walls, too—Ma's handiwork. She loved to sit outside the house
and draw the landscape around us. Da framed the pictures and hung them for her. The colorful hooked rugs on the floor were
her work as well, and the bright print curtains that flapped at the windows.


I went over to where Ma bent over the skillet in the fireplace.

"Can I help you, Mammy?"

"Aye, Eileen, get out the plates and the butter." Her face was red from the heat of the fire, and her long black hair fell
down over one shoulder. She straightened up—a tall woman, with a lovely curved figure and long legs. She carried the skillet
to the table and took off the lid. The smell of the soda bread made my mouth water. She slid the round loaves onto a wooden
tray, took a knife and cut along each spur of the cross, making eight triangles. She slit each wedge in half and buttered
it. The butter frothed from the heat and sank into the belly of the bread.


"Here, Eileen, pass these around."

The men placed their instruments on the floor while they ate and drank.

"Did you hear what those bastards are up to now?" growled P.J. between bites of soda bread.

We all waited. P.J. was a great one for setting up his audience. He took a deep swallow of his porter.

"Those feckers are after forming the Ulster Unionist Council to fight Home Rule. And you can bet your arse they don't mean
to fight by civil means."


Billy giggled like a big child, and so did Frankie and I. We always giggled when P.J. cursed. Ma shot us a warning look.

"Home Rule doesn't have a leg to stand on," Terrence said softly. In contrast with P.J. and his bluster, Terrence never raised
his voice, but he commanded attention as powerfully as if he had been roaring from a pulpit. "Those fellows down south have
been harping on it for years. England will never agree to let Ireland rule itself, and that's the truth."


"Me ma says if Home Rule is ever passed for Ireland, the Protestants here in the north will have the rest of us drawn and
quartered." Fergus peered at my ma with the same alarmed look in his eyes that rabbits had when Frankie pounced on them. "No
offense, missus, I'm just saying what me ma says, that's all."


Ma smiled. "None taken, Fergus." Ma had been born a Protestant, but she had turned Catholic after she married Da. She was
more devout than any of us.


Terrence looked straight at Ma and then scowled at Fergus. "It's all just talk," he said.

"All the same," boomed P.J. as he drained the last of his porter, "them Unionist bastards are getting ready for a fight. They'll
not stop until they've burned us all out of house and home. It will be just like the plantation times all over again—they'll
take everything we own. Sure there's already been stories of burning up in Belfast. We've not heard the last of it, mark my
words."


I shivered as if a sudden draft had entered the room, and I moved closer to Da. I understood some of what they were talking
about—Da had spoken of these things often enough. The Catholics in Ireland wanted to be able to rule themselves without interference
from the English, but the Protestants were against it, particularly the Protestants in Ulster. They were afraid of the hold
the Catholic Church would have on them if they were trapped inside a free Ireland. They were called Unionists because they
wanted to keep the union with England. I had heard all this talk before—but tonight it seemed more urgent and more threatening.
A frightening thought entered my head and prowled around like a menacing animal. What if, as P.J. said, the Protestants came
and took our house back and drove us out? They had done it in the past, and only for Great-Grandda Hugh we would not be living
in it now. I swallowed hard and tried to think of something else.


P.J. brushed the crumbs from his beard and said, as he always did, "Will we play one for the road?"

"I'll sing Mary's favorite song," said Da, "the one I courted her with—'On the Banks of My Old Lovely Lea.'"

"Good man," cried P.J.

"Lovely," shouted Billy.

Da began to sing. His tenor voice was high and clear. The years fell away from his face as he sang. Slowly, the Music Men
took up their instruments to accompany him. The song was a sweet and melancholy love song. Da looked straight at Ma as he
sang, and Terrence followed Da's gaze. Ma sat at the table, smiling at Da. Lizzie had crawled into her lap, and Ma sang the
words softly into the child's ear as she rocked her to sleep.


The music ended. The men shuffled to their feet.

"The English took all our land," Frankie put in suddenly. "We learned about it in school. They just came in and took it and
gave it to themselves—acres and acres of it." His small face was red with fury, and his dark eyes flashed.


"That's enough, Frank," Ma said sharply. "It's time for bed." Ma always called him Frank when she was annoyed with him.

"The lad's right just the same," said Terrence. "It's a wonder Tom here has any piece of land he can call his own."

Da nodded. "Well, we have my grandfather Hugh O'Neill to thank for that. There were no flies on that man."

I tugged at Da's sleeve. I could no longer hide my anxiety. Frankie had voiced my worst fears.

"Will the Ulstermen come and take our house, Da?" I whispered.

Da stroked my hair. "Of course they won't, love," he said.

"But Mr. Browne has already taken some land, and he's an Ulsterman."

I was sorry the minute the words were out of my mouth. Poor Da's face turned pale. He looked over at Ma. She lowered her eyes
and said nothing.


"Ah, sure you do your best, Tom," Terrence said uncertainly. "You do your best."

"Aye," said Fergus. He stood up and put on his cap. "Well, I'd best be going. I have to get started on the bleaching early
tomorrow. Ma says the rain is coming. She can feel it in her bones. And there'll be no work to be had when it's raining. Ma
says I need to get the work while I can."


"Ah, sure if your ma told you the pope was in the backyard, you'd believe her!" said P.J.

Fergus glared at him. There were times when Fergus turned very dark, as if a dark ghost haunted him somewhere down inside.
It frightened me to see it.


That night, after the Music Men left, I climbed the stairs to my bedroom and knelt up on the window seat, as I always did,
to bid good night to Slieve Gullion. I rested my chin on my hands and stared at her outline in the pale moonlight.


"Please, Mother Gullion," I whispered. "Please don't let anybody take away our house." The ancient mountain gazed back at
me in silence. I slipped into bed and pulled the quilt up over my head, shivering as I waited fo
We hope you are enjoying the book so far. To continue reading...
The Yellow House
Patricia Falvey
Copyright © 2021 All Rights Reserved