The Turning Point
Available in:
eBook
Paperback
Audiobook
Hardcover
Book info
Sample
Audiobook
Media
Author updates
Lists
Synopsis
The past changes you forever...

The Turning Point is a gripping novel of passion, intrigue and ambition, set against the backdrop of 1950s Britain from acclaimed author Judith Lennox. Perfect for fans of Lulu Taylor and Rachel Hore.

Cambridge, 1952. When Ellen Kingsley embarks upon an exciting career in scientific research she soon finds herself caught in a bitter world of rivalry and ambition. Resisting the advances of charismatic Mark Pharaoh, who will stop at nothing in his pursuit of success, she moves to London and falls in love with dashing Alec Hunter. Then a chance encounter introduces Pharaoh to Ellen's old school friend, the captivating India Mayhew, and they embark upon a passionate love affair that leaves destruction in its wake. And amid a web of deceit and desire, long-held secrets will be revealed with far-reaching consequences...

(P)2012 Isis Audio
Release date: August 2, 2012
Publisher: Headline
Print pages: 339
* BingeBooks earns revenue from qualifying purchases as an Amazon Associate as well as from other retail partners.
Listen to a sample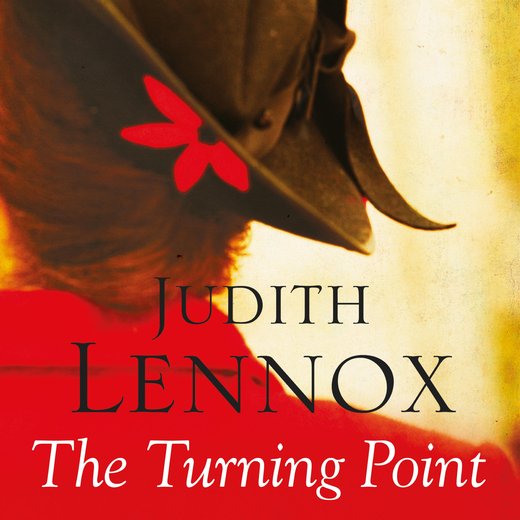 21:41:23
595.73 MB
9781472274748
April 17, 2020
Hachette UK
2012
The Turning Point
Judith Lennox
Chapter One

It was the first cold morning of September.

A narrow lane angled sharply away from the main road, heading through a hazel wood. The chill autumn air was redolent of beginnings, of new academic years, something to get your teeth into after the torpor of late summer. A few leaves cast themselves adrift from the branches, scattering the verges with splashes of gold and crimson.

So you're going to be one of Pharoah's men. The remark, made to her by an academic acquaintance shortly after her interview six weeks ago, came back to Ellen Kingsley as she cycled up the incline. In her memory, the words were tinged with amusement and perhaps condescension. She had replied, 'I'm going to work at Gildersleve Hall, if that's what you mean,' and had felt a thrill of pleasure in saying so.

At the top of the rise she braked and looked out over the shallow valley. The hedgerow and trees had fallen away and the fields were shaken out before her like a gold and brown quilt over the gently rolling landscape. A small grey tractor was ploughing up stubble. A flock of white birds wheeled in the blue sky before alighting on twists of earth.

Beyond the fields lay Gildersleve Hall, solid and uncompromising against this modest countryside. Half a dozen white poplars, their leafy heads shimmering silver in the breeze, stood beside the hall, and a line of cypress trees curved towards the road. A tower, wreathed in ivy, protruded from one side of the building. The heavy eaves over the two prominent bay windows gave the house the appearance of frowning, and the red-brick walls and slate roofs seemed to absorb the autumn sunshine. The house looked secretive, almost menacing, and if Ellen had believed in ghosts, she might have imagined it to be haunted.

But there was always an explanation for everything, and she knew that the heavy Victorian Gothic architecture lent itself to associations of mystery and the supernatural, and that the windows appeared blank because the scientists working in the laboratories would have put down the blinds to shut out the glare of the sun. And the flicker of apprehension she felt was caused by her excitement at this, her first day in a new job.

This was the opportunity she had worked for and longed for. This was the start of her future.

The lab in which she would grow her crystals was on the topmost floor of Gildersleve Hall.

On her arrival, a secretary had let her in, and a man of around Ellen's own age, pausing in the act of dashing upstairs, had looked back over his shoulder and said, 'You must be the new research assistant.' Introducing himself as Martin Finch, he offered to show her up to her lab. Climbing up flights of stairs, Ellen glimpsed offices and laboratories. A tall, dark-haired man hurried past them, acknowledging their presence with a nod and a word of greeting.

Martin had a plain, rather rubbery face, with a long, bulbous nose, full mouth and thick, black eyebrows. His tweed jacket was open over a jersey, shirt and tie. He wore his short brown hair parted to one side, and a spatulate fingertip jabbed at the bridge of his tortoiseshell glasses, which kept slipping down his nose.

He opened a door for her. 'These rooms are always freezing in winter,' he said. 'But you'll have your burning passion for science to keep you warm.'

That, and several jerseys, Ellen thought. A cold draught whistled through the small room. Two of the walls were lined with benches, on which stood microscopes, bunsen burners and retort stands. Two desks, the surface of one bare except for a lamp and inkwell, the other heaped with papers, pens, log books and slide rule, had been placed back to back in the centre of the room. A black metal filing cabinet squeezed into a corner, and books and box files were stacked on shelves. There was a calendar, the months written in French, pinned to a wall.

Ellen said, 'My last lab wasn't exactly luxurious, Dr Finch. Four of us in a space the size of a broom cupboard and a bomb crater outside the door.'

'You must call me Martin, Miss Kingsley. And I'm not Dr Finch, I'm a mere mister. Shall I tell you about the others?'

'Please.'

'There are two groups of scientists who work at Gildersleve Hall. Alpha and beta, I call them.'

'Who's alpha?'

'We are, of course. There's fewer of us, but we're cleverer. We're the protein group. The phage group – the betas – are in the other side of the house. There's about twenty of us scientists, as well as various other bods – technicians and secretaries, that sort of thing. You'll be sharing this lab with Mam'zelle.'

'Mam'zelle?'

'Andrée Fournier. We call her Mam'zelle. Quiet type. French. She has a cubbyhole where she brews her coffee. No men allowed in there on pain of death. She's been here about a year. She arrived a few weeks after me, does something clever with myoglobin molecules. Some of the older men have been here much longer. Who interviewed you?'

'Dr Kaminski.'

'He's been at Gildersleve for donkey's years. He joined in the war when the hall was doing all the top-secret stuff. He's a Pole, clever bloke, was in the RAF then got shot up rather and ended up here.'

At her interview, Ellen had seen that one side of Dr Kaminski's face was a mass of scar tissue, the legacy, she assumed, of his wartime career. It had been hard to look at him without flinching and without pity.

Martin went on, 'Kaminski's Pharoah's deputy, fills in for him when he's away on one of his jaunts. Pharoah's at a conference in America just now, so Kaminski's top dog. Padfield and Farmborough are old-timers as well, ex-army types. Padfield's a first-rate batsman, captains the cricket team. We have a few matches against some of the Cambridge labs in the summer, it's jolly good fun. But I don't suppose you're interested in cricket, Ellen.'

She smiled. 'My brother's very keen, so I've learned to take an interest.'

'Padfield and Farmborough are chemists, crystallographers. You'll be making your crystals for them, as well as for Jan Kaminski. Toby Dorner works on this floor too. He's a biochemist, Jewish, came over here from Austria in the thirties, when he was just a kid.'

'And the man who passed us as we came upstairs? The tall, dark man?'

'Jock, you mean? His name's Alec Hunter, but we all call him Jock.'

'Scottish, then?'

'Very well deduced.'

She could not tell whether he was being sarcastic or not.

'I think you'll find our group's a friendly bunch,' added Martin. 'Apart from Dr Redmond, of course. He was here in the war too. Farmborough once told me he was senior to Pharoah back then. He's an odd chap.'

'Why do you say that?'

He went to the window. 'That's his cottage.'

Ellen looked out. The window looked down to the area of land behind Gildersleve Hall. There were several outhouses, including the shed in which she had put her bike. Beyond were the tall poplars she had glimpsed earlier from the road; behind them, ploughed fields and hedgerows. Following Martin's pointing finger to the skyline, Ellen caught sight of a cottage, standing beside woodland.

'It's in the middle of nowhere,' he said. 'But that's how Redmond likes it, the miserable blighter. His lab's in the tower. Gets in a huff if you go in there.'

'Perhaps he dislikes being interrupted.'

'Perhaps he doesn't care for company. I don't think he has a friend in the world.'

'Is he married?'

Finch guffawed. 'Good Lord, no. Padfield and Farmborough have wives and families. The rest of our group are footloose and fancy free.' He had taken off his glasses and was polishing them with his tie. Uncovered, Ellen noticed a sharpness in his eyes.

'Do you come from round here?' he asked.

'I'm from all over the place. My father's in the army. I went to Bristol University.'

'Hah, red-brick like me, then. Where are you lodging?'

'In Copfield. It seemed most convenient, only three miles on the bike.'

'There's a pretty decent pub in Copfield, the Green Man.' Martin put his glasses back on and blinked. 'Some of us sometimes have a drink there after work. You should join us – as I said, we're a friendly bunch.'

The door opened and Martin Finch broke off. A small, slender woman, her glossy dark hair neatly pinned up at the back of her head and her clothing hidden under a white lab coat, came into the room. She was carrying a coffee cup, covered by a saucer. Putting it down on the bench, she said, 'Hello, Martin.' And to Ellen, 'You must be Miss Kingsley. I'm Andrée Fournier.'

The two women shook hands. Then Miss Fournier said, 'Thank you, Martin. I can show Miss Kingsley where everything is,' and Martin left the lab.

Andrée Fournier was strikingly pretty. Her face was heart-shaped and her complexion was flawless and golden. She had emphasized her dark-brown eyes with a light application of liner and mascara and she wore a neat navy-blue skirt and jersey.

'Would you like a coffee, Miss Kingsley?' she asked. 'There's some in the pot.'

'Please.'

'Come with me. I'll show you where you may put your coat.'

Across the landing, Miss Fournier opened a door. This room was very small, little wider than a corridor. A small, high, narrow window framed an oblong of sky and there was an unshaded electric light bulb, a sink and a kettle. Above the sink was a mirror; to its side were coat pegs, on one of which hung a red woollen scarf and a grey coat.

Ellen hung her coat on the second hook and breathed in the aroma of coffee. 'What a gorgeous smell.'

'The coffee the others drink is vile. My mother sends me the beans from France.' There was a coffee pot beside the kettle; Andrée poured out a cup.

Ellen said, 'Martin seems very friendly.'

'Ah, yes. Though these men, and their silly names for people . . . Martin can be such a child. Help yourself to sugar.'

'I suppose nicknames can be rather tiresome.'

'You will be "Ginger", Miss Kingsley. It's inevitable.' Miss Fournier's voice was dry.

Ellen smiled. 'I was "Ginger" all the way through school and college, so I'm used to it. "Carrot-top" was worse.'

'You have beautiful hair. I used to long to have auburn hair like yours when I was a little girl.'

The coffee was delicious, rich and stimulating. Ellen asked, 'What do you do for lunch? I wasn't sure so I brought sandwiches.'

'Dr Padfield and Dr Farmborough often go home for lunch, but most of us have sandwiches in the common room. There's a fire there, so it's warm in winter, but sometimes I prefer to come up here. The common room can be so noisy. Miriam cooks for Dr Pharoah and Dr Kaminski. When the men eat in the dining room, she cooks for them too.'

'Only the men?'

'Women aren't allowed in the dining room. It's a tradition. The others eat there when we have a visitor.'

There was a tonelessness in Miss Fournier's conversation, which Ellen put down to the difficulty of speaking in a foreign language. She said, 'Which part of France do you come from?'

A flicker of animation on Andrée Fournier's perfect features. 'Paris. Do you know it?'

'A little. I spent a week there last year. The university arranged it. It was wonderful – such a beautiful city. You must miss it.'

'Yes, I do.' Miss Fournier glanced at her watch. 'It's a quarter to nine. We should get to work.'

At one o'clock, Ellen and Andrée went downstairs to the common room. It was furnished with an electric fire, armchairs and occasional tables, as well as some hard chairs and stools. A large bay window looked out on to the gravel courtyard at the front of the house. There was an air of mild disorder: on the tabletops, apple cores and biscuit wrappings were mixed in with pens, ashtrays, newspapers and periodicals. A record player was playing a Rosemary Clooney song and the room smelled of pipe smoke and instant coffee.

Andrée sat down on a stool and began to unwrap her sandwiches. Ellen sat beside her.

'Well, well, the new recruit to our merry band!' A big, red-faced man put down his newspaper and crossed the room, offering his hand to Ellen. 'Farmborough, Bill Farmborough. Welcome to Gildersleve Hall, Miss Kingsley.'

'Thank you.' She shook his hand.

'I'll do the honours, shall I? That oaf in the corner is Denis Padfield.' There was a wave and a grunt from a balding man in a herringbone tweed jacket. 'You've met Finch, haven't you? And this is Toby Dorner. Put down that foul brew you've made, Bat, and say hello to the nice lady.'

Toby Dorner was young, short and slight, with close-cropped, curly brown hair and protruding ears, which gave him an impish look. Standing up, he took Ellen's hand. 'It's a pleasure to meet you, Miss Kingsley,' he said. 'I'm delighted that you're joining us.' His voice was gently accented.

Someone stuck his head round the common-room door. Ellen recognized him as the dark-haired man she had encountered on the stairs earlier that day, Alec Hunter.

Bill Farmborough said, 'Come and meet Miss Kingsley, Jock.'

Hunter introduced himself to Ellen, shaking her hand. He had a distracted air, as if his attention was elsewhere. He made a quick gesture with the papers he was holding, saying, 'Kaminsky wanted these in a hurry. Any idea where he is?'

'Last time I saw him he was heading for the tower.'

'Thanks. Excuse me, Miss Kingsley.' Dr Hunter left the room.

In Alec Hunter's absence, the memory of his appearance – clear brow, almond-shaped dark blue eyes, a firm, well-shaped mouth, aquiline nose and tousled dark hair – lingered, like the after-image of a bright light.

A discussion about her lodgings followed; Ellen was fortunate in finding a room with Mrs Bryant, someone said, and horror stories were told about other digs in the area.

'Bat's frightfully energetic,' drawled Martin. 'Cycles come rain or shine. Me, I'm a lazy blighter and I drive a car.'

'It's not a car, Miss Kingsley,' said Denis Padfield. 'It's a rust heap. When it rains, pieces fall off it.'

Martin crumpled a sheet of newspaper into a ball and hurled it at Padfield. Andrée rose to her feet and left the room.

Padfield sighed. 'See now, Finch, you've gone and put Mam'zelle into a huff. Now she'll be ratty with us all.'

Ellen said, 'Why do they call you Bat, Dr Dorner?'

'Looks like a bat, don't you think? Skinny . . . big ears . . .'

'It's because he can find his way in the dark,' explained Martin. 'Whenever there's a blackout, Bat flits happily about while the rest of us are falling over our feet.'

'Are there often blackouts?'

'Now and then. This house has its own electricity generator.'

An electric kettle stood on a table near the window; the shelves above it held mugs and tea and coffee. Ellen asked whether anyone wanted a drink; Denis Padfield asked for a cup of tea. She took down two mugs from the shelf.

Bill Farmborough drawled, 'Not the striped one, it's Redmond's. Gets into a frightful bate if anyone else uses his mug.'

Ellen put back the striped mug and took down a plain one instead. They were all pleasant and friendly, she thought, though she understood why they irritated Andrée Fournier. She herself was used to schoolboyish banter: her brother, Joe, was four years younger than she was.

An older man came into the room. He was of average build but stooped, so that his gaze directed downwards. His ill-cut grey hair had thinned on top and he was wearing National Health spectacles. His clothing looked worn and not at all clean. Over an off-white shirt he wore a baggy brown corduroy jacket with leather elbow patches that were cracked and fraying.

Toby Dorner said, 'Hello, Redmond,' but the older man did not respond. He crossed the room to the table with the tea things, took down the striped mug and spooned in tea. When the kettle boiled, he poured water on to the leaves and gave the mug a vigorous stir.

'Good morning, Dr Redmond,' said Ellen, and introduced herself.

He was standing only a couple of feet away from her but he did not respond, did not even look at her. She might have been invisible. She might not have existed.

Once he had made his tea, Dr Redmond left the room, mug in hand. Dr Padfield called after him, 'And nice to talk to you too, Redmond!' and there was a murmur of laughter.

Then Bill Farmborough said, 'Pharoah, I didn't think we'd see you till the end of the week,' and immediately everyone fell silent, as if a switch had been flicked.

It was Ellen's first glimpse of the director of Gildersleve Hall, Marcus Pharoah. His tall, broad-shouldered form was flattered by a beautifully cut charcoal-grey suit. The collar of his white shirt was crisp and the silk of his tie was elegantly striped in muted shades of maroon and gold. Pharoah's features were regular and handsome, a few silver strands showing through his black hair. He held himself easily, the stance of a man used to commanding the attention of a room.

'Good morning, gentlemen. And good morning, ladies.' His dark brown eyes came to rest on Ellen. 'You must be Miss Kingsley.'

Dr Pharoah welcomed Ellen to Gildersleve, apologizing for having been too busy to greet her earlier. 'Have my troops been looking after you, Miss Kingsley?'

'Yes, thank you, very well.'

'I'm pleased to hear it. Let me tell you what I wanted to make of the hall. I wanted to create a laboratory in which I could mix all the disciplines together. Biochemists, molecular biologists, physicists, chemists, crystallographers . . . perhaps even a mathematician or two. I wanted to make an environment where new ideas might meld together and find a receptive audience. Other institutions – King's and the Cavendish, for instance – strive for the same, but I like to think we've managed it rather better. Some of our visitors tell me they find the atmosphere at Gildersleve Hall rather frantic, but I like that. I doubt if great ideas come out of monastic silences. I believe they're more likely to develop from a mixing pot, even if the bubbling and brewing makes a bit of a racket.'

There was a silence. Ellen wondered whether anyone else in the room was having to fight the desire to applaud.

Bill Farmborough spoke. 'How was America, Pharoah?'

'Useful, very useful. But we must be on our mettle, gentlemen – the race is to the swift.' Dr Pharoah smiled. 'And if no one offers me a cup of tea soon, I shall desiccate.'

'We wouldn't want that. Our lord and master reduced to a heap of powder.' Farmborough put on the kettle.

A discussion followed about the lines of research being undertaken at the hall. Opinions were batted back and forth, suppositions confronted and taken apart with surgical precision. Then Marcus Pharoah made his apologies and left the room.

Ellen ate her lunch. Bill Farmborough went back to his newspaper, a chess game started up, and Rosemary Clooney sang, her voice like honey, 'If you loved me half as much as I loved you.'

She was a Daddy's girl, she supposed. Her father, who was a Royal Engineer, had always delighted in her faculty for maths and science. He had shown her how to take apart a motorcycle engine and put it together again and they had stood together in the frosty darkness of Salisbury Plain, watching a meteorite shower. Though winning a prize at school had been important to her, winning her father's approval had mattered far more.

Her childhood had been one of new houses, new schools, different places and different people as the family had moved between army camps. She had acquired the ability to remember people's names and to fit in anywhere. At the age of twelve she had been sent to boarding school in Buckinghamshire. She had enjoyed school, which had provided her with an anchor, especially during wartime. A teacher had encouraged her talent for science; after leaving school she had taken a degree in chemistry at Bristol University, followed by a year's research. She had known by then that she was no theoretician, that her gifts were technical, for experimentation, where her methodical, careful intelligence, her powers of observation and her determination to discover the truth and to prove it as far as possible beyond doubt were assets.

Her final-year project at Bristol had been on crystallography. The growing of crystals was something she had found she had a knack for, which was why she had been offered the job of research assistant at Gildersleve Hall. This was how she would spend her days: investigating those tiny, beautiful, slivers of perfection.

A short, burly man in a camouflage jacket, a brindled bull terrier at his heels, was coming away from the outhouses when, at the end of the afternoon, Ellen went to collect her bicycle. She said good evening and he gave her a sharp look and then a curt nod.

She took her bicycle out of the shed and wheeled it to the gravelled forecourt in front of the hall. Martin was loading cardboard boxes into a small Austin parked there.

'You look rather heavily laden,' she said.

Martin looked up. He was red-faced and a line of sweat darkened the hair on his forehead. 'They weigh a ton. Have you survived your first day?'

She laughed. 'Just about.'

'I hated it at first. I felt like a new boy at school. I wanted to turn tail and run.' He glanced at the boxes. 'I'd offer you a lift but I have to take these to Mrs Pharoah. She's some charity do on.'

The lid of one of the boxes flapped open, revealing a stack of plates. Ellen said, 'It's all right, thanks, I've got the bike.'

Martin lifted a box on to the front seat of the car. 'I thought I might call in to the jolly old Green Man tonight. Some of the others said they'd come. If you don't mind my prattle, you could always join us.'

'Thank you,' she murmured, then she said goodbye and cycled away.

Her lodgings were in a bungalow on a road that struck out from Copfield towards Cambridge. Her landlady, Mrs Bryant, was a war widow in her early thirties. Mrs Bryant had one child, a twelve-year-old daughter, Gillian. The three of them ate supper together and afterwards Ellen retired to her room, where she wrote a letter to her parents and another to her boyfriend, Daniel Risborough.

Daniel lived in London, where he shared a flat in Marble Arch with his elder brother Clarence. He was a linguist and worked for the Diplomatic Service. They had met ten months ago, on a train – or, rather, they had met just after they had left the train, because Daniel had forgotten his umbrella and Ellen had run after him with it. He had offered to buy her a drink. 'I was trying to think how to ask you out,' he said to her, 'but I couldn't work out how to do it, but now I can, to thank you for returning my umbrella.' Since then, they had met up when the opportunity arose. She went with Daniel to concerts and art galleries, and sometimes they kissed, and now and then tentative suggestions of engagement and marriage were voiced and then put aside.

In her letter, Ellen described her first day at Gildersleve Hall, emphasizing the parts that she thought might interest Daniel: the architecture of the hall and the laboratory's connections with Cambridge (Daniel was a Trinity man). She finished by reminding him of their arrangement to meet for lunch in October (the forgetfulness with the umbrella had not been an isolated incident). Then she left the bungalow to post her letters.

The light was fading as she walked down the road and crossed the village green to a Norman church with its square central tower. The dying sun gilded the flints and stones of the ancient walls. The postbox was at the end of a winding lane overhung by hawthorns, the box itself almost lost beneath the foliage. Beyond the end of the lane was a disused RAF aerodrome, to one side of which was a new council estate, built to house the families who had come from the bombed cities to live in the Nissen huts after end of the war.

Ellen continued her circuit of the village, eventually striking back towards its heart. The Green Man pub, which stood beside the village green, had a grey and mossy thatched roof. Remembering Martin's invitation, she went inside.

Two couples sat in the private bar, sipping their drinks in genteel silence. Noise issued from the public bar, swelling as Ellen opened the door. The room was crowded. Men turned to stare at her, their gazes running from her head to her toes. A quick scan told her that, apart from the barmaid, she was the only woman in the room.

Martin was sitting at a corner table. She waved to him.

'Ellen!' He rose to his feet. 'You don't mind sitting here, do you? The saloon bar's as dead as a mortuary. Let me get you a drink. What would you like?'

'A half of bitter, please.'

She sat down at the table. When Martin came back with the drinks she asked after the others.

'Looks like they couldn't make it. Cheers.' He chinked his glass against hers. 'I didn't think you were going to come. I saw you earlier, walking across the green.'

'I had letters to post, and,' she lowered her voice, 'my room is perfectly comfortable but there are about half a dozen different patterns in it. Curtains, eiderdown, carpet, rug . . . it's a little oppressive.' She smiled. 'My boyfriend would find it unbearable. He would have moved out by now – either that or had a nervous breakdown.'

'Boyfriend?' said Martin.

'Daniel lives in London.'

'Ah.'

'When I was leaving the hall this afternoon, I saw a man at the outhouses. Tough-looking . . . wearing an army jacket. He wasn't particularly friendly.'

'That would have been Gosse.' Martin grimaced. 'Pharoah's familiar.'

'Why do you call him that?'

'Gosse has been the janitor at Gildersleve Hall since it was first set up.' Martin cast a glance round the room. 'Just checking. He drinks here sometimes. Pharoah met him during the war. Rumour is, Roy Gosse was just out of military prison and Pharoah got him transferred here. Gosse's obnoxious to the rest of us but would do anything for Pharoah. He's useful, I'll give him that. Keeps the old place running, fixes the boiler and defrosts the pipes in the middle of winter, that sort of thing.'

'You sound as though you dislike him.'

Martin shrugged. 'I don't care about him one way or the other. I wouldn't cross him, that's for sure. He has a nasty temper. Keep-fit fanatic, used to be a boxer, apparently.' He offered Ellen a cigarette; she thanked him but declined.

He said, 'What did you think of us all, then?'

'Everyone was very kind and helpful.'

'Everyone? Come off it, Kingsley.' Martin flicked a lighter. 'Redmond? Helpful?'

'Perhaps not him. Actually, I felt sorry for him.'

'Why? He's an unfriendly devil.'

'He looked . . . uncared-for. And perhaps he's shy, rather than unfriendly.'

'Why on earth should he feel shy? He just can't be bothered, and that's the truth of it. Thinks the rest of us are beneath him.'

She did not argue the point further. Martin said, 'And Mam'zelle? Do you think you're going to like sharing a lab with her?'

'Yes, I would have thought so.'

'She's got a sharp tongue, you know. Mind you, Hunter tends to get the worst of it these days.'

'Does Andrée dislike him?'

'She used to adore him.' Martin rolled his eyes. 'Madly, passionately, you know, and then it all fell apart. Now, when they're in the same room together you can cut the atmosphere with a knife.'

'That's the trouble with workplace romances. If it all ends badly you still have to see each other every day.'

'I get on with Jock, on the whole, but he's lord of the manor or some such back home, and he can be a moody devil. And Mam'zelle blows hot and cold. I expect they bickered like cat and dog.'

At their meeting in the common room that morning Dr Hunter's dark blue eyes had rested on her for a moment without a flicker of a smile and had then slid aside. Ellen knew that her attraction to him was not real, that it was some transference of the hope and excitement she had invested in her new job. He was a handsome man, undeniably, but once you got to know someone, as a colleague or a friend, handsomeness was as easily forgotten as ugliness.

Martin said, 'What did you think of Pharoah's speech this morning? You know,' he put on a pompous voice, 'creating a laboratory in which all the disciplines are mixed together . . . great ideas . . .'

'I thought it was inspiring.'

'I suppose it is if you haven't heard it before.' Martin fidgeted with a beer mat. 'He adds a new bit now and then, for neophytes like you.'

'Has Dr Pharoah a family?'

'A wife, Alison, and a daughter, Rowena. They live in Barton. Alison's rather a bitch. I suppose I shouldn't say that, but it's true. Her family's very rich and she looks down on lesser folk. I think that to begin with, just after the war, the Pharoahs lived in the hall itself. Probably wasn't grand enough for Alison, so they bought the house in Barton.' Martin grinned. 'My landlady tells me there are ghosts at Gildersleve Hall.'

'Ghosts?'

'A child, a little boy, died in the house, fell downstairs or something. You're supposed to be able to hear his footsteps at night, running up and down the corridors. Creepy.' Martin made spo
We hope you are enjoying the book so far. To continue reading...
The Turning Point
Judith Lennox
Copyright © 2023 All Rights Reserved