The Jeweller's Wife
Available in:
eBook
Paperback
Audiobook
Hardcover
Book info
Sample
Audiobook
Media
Author updates
Lists
Synopsis
A passionate affair. A dark secret. A tainted legacy.

In The Jeweller's Wife, Judith Lennox writes an epic tale of passion and betrayal that moves through the turbulence of war to 1960s London. Perfect for fans of Rachel Hore and Elizabeth Jane Howard's Cazelets series.

'A fast-moving, complex story' - The Times

1938. As England awaits the outbreak of war, Juliet Winterton journeys from the Mediterranean to the Essex countryside to begin her life as the beautiful young wife of a London jeweller.

But beneath her husband's intelligence and ambition, lies a cruel and ruthless man. And when dashing politician, Gillis Sinclair, comes to stay at Marsh Court, Juliet is drawn to his irresistible charm.

So begins a passionate affair that will have consequences far beyond anything Juliet imagines. For Gillis Sinclair is hiding a dark secret and, as the next generation of Wintertons grows up, Juliet fears that they, too, will be tainted by the past...

(P)2017 Soundings
Release date: December 31, 2015
Publisher: Headline
Print pages: 512
* BingeBooks earns revenue from qualifying purchases as an Amazon Associate as well as from other retail partners.
Listen to a sample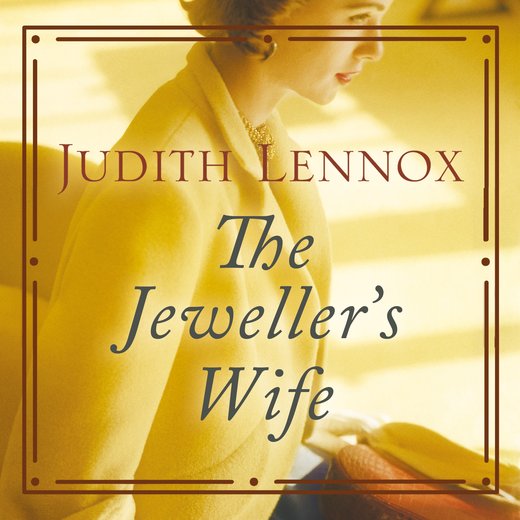 15:30:45
426.07 MB
9781472274755
March 12, 2020
Hachette UK
2015
The Jeweller's Wife
Judith Lennox
At breakfast, the housemaid dropped a kipper in Henry's lap and he called her stupid and sacked her. She was stupid, Juliet Winterton conceded, a poor, uneducated little thing, the youngest of a large family living in a cramped cottage in Maylandsea. But she felt sorry for her, and after the girl had fled the room, wailing, she pleaded for her.

The mean look she had become accustomed to during the three months of their marriage came into Henry's eye. Ripping the backbone from the unfortunate fish, he said, 'You can be so weak, Juliet.'

She stood her ground. 'Ethel can't help it. You frighten her, Henry, you make her nervous. My father always said you should be kind to servants because they are less fortunate than us.'

'Your father was a fool.' He slit open an envelope with the paper knife. 'He threw away his money and left you penniless, I recall. God knows what would have happened to you if I hadn't rescued you.'

She hated to hear her father, who had been dead not six months, talked of in this way. But she had learned to be wary of Henry's tongue, so she occupied herself with scraping butter on the toast that Ethel had burned. She had lost her appetite, and the oily smell of the kippers turned her stomach.

When his plate was clean, Henry put down his knife and fork. 'We are to have a guest for dinner tonight,' he said. 'I've received a letter from Sinclair.'

Gillis Sinclair was a Member of Parliament and lived in London. Henry was the godfather of Gillis's younger daughter Claudia and had often spoken of him, but Juliet had not yet met him, or his wife, Blanche.

'I'll have a room made up,' she said. 'Will Mr Sinclair be coming alone?'

'Yes. Blanche is indisposed. You must make up a room in the cottage. When the Sinclairs are at Marsh Court, they always sleep in the cottage.'

Henry blotted his mouth with his napkin and stood up. Henry, his brother Jonathan and sister Jane were all cut from the same cloth, sharing the Winterton fair good looks, but Henry was the tallest of the three and the most imposing. 'You had better send over an invitation to Jonny and Helen,' he added. 'And the Barbours. Make up a party.'

Charles and Marie Barbour were neighbours of the Wintertons, owners of a substantial farm that lay to the south of Marsh Court. 'Let me speak to Ethel,' Juliet coaxed. 'I'll make sure she promises to do better. We'll need her tonight, and you know how hard it will be to find another girl.'

'No.' He bared his teeth. 'I said that she's to go.'

There was far too much to do that morning, with only the help of the cook, Mrs Godbold, and a maid so long in the tooth Juliet feared for her life each time she tottered up the stairs. She herself made up the bedroom in the smart little cottage in Marsh Court's grounds that they used for guests, consoling herself with the thought that she would see Helen and Jonathan that evening. Jonathan's character was milder than Henry's, and as for Helen, her sister-in-law, she was fast becoming a friend.

After lunch, she went outdoors. The leaves had fallen from the trees early that year, torn from the branches by a sharp October storm, and the Japanese maples had painted their blood-red swirls on the lawn. Had it not been for her quarrel with Henry, Juliet would have taken out her sketchbook and tried to capture the mingled colours of the fallen leaves, but she felt too unsettled to paint. Your father was a fool. He threw away his money and left you penniless. God knows what would have happened to you if I hadn't rescued you.

Rescued me, she thought. The wet grass brushed against her ankles as she walked. Was that what you did, Henry?

The rain had exhausted itself, leaving in its wake pale blue skies and a peaceful stillness. Marsh Court stood on a peninsula that jutted out into the North Sea and was bordered by the Blackwater estuary to the north and the River Crouch to the south. The low-lying countryside that surrounded the house was made up of soft shades of green and grey and brown, restful to the eye. Juliet watched as a flock of gulls wheeled above the water, sunlight catching on their white breasts, so that they seemed from a distance a single bright organism.

The garden melded into first field and then salt marsh with no fence or hedge to mark the border of the property. The only other house in sight was the red-brick cottage, built in the previous century for a Winterton maiden aunt, that would be used that night by Henry's friend Gillis Sinclair.

Juliet looked back at Marsh Court. Decades of sun and rain had softened the walls and roof to tawny pinks and gold, so that the building seemed to melt into its surroundings. The three broad gables faced out to the marsh and mudflats of the estuary, where water was sewn into the creeks and saltings like strands of metal thread. Inside the house, French doors opened on to terraces cluttered with pots of geraniums, and bees buzzed in the chipped dustiness of a coloured glass window. The drawing room chimneypiece was decorated with rustic carvings of Adam and Eve, Eve fat-bellied and perky, Adam straggle-haired, going to seed. In the boot room there were worn pins and bats intended for games Juliet did not know how to play; in the library was an album filled with snapshots of Winterton dogs. They all looked the same to her, but when Henry's sister Jane turned the pages, she sighed and said, 'There's Lucky, and oh, look! My darling old Sally.' And her brothers smiled and nodded their heads.

Juliet had loved Marsh Court from the first moment she had seen it, emerging from a sea mist at the end of her long journey from Egypt to the east of England. And yet three months of marriage had not rid her of the feeling that she was acting the role of mistress of the house, that it did not yet belong to her, that she was an intruder, an imposter. She would run a hand along a polished banister or press her face into a faded velvet curtain as if by doing so she would become part of the house, and part of the Winterton family.

As the land sloped down, the grass became roughened and tussocky, blurring seamlessly into the field beyond. She reached the spot where the Wintertons lit bonfires in celebration of important family events. All that now remained in the fire pit was a circle of ash.

Juliet began to gather up fallen leaves, sweeping them into a heap: golden oak leaves, scarlet and coral tongues of cherry, and palmate horse chestnuts, like brown, crinkled outstretched hands. In her pocket she found an old shopping list – stockings, stamps, Beecham's Powders. She crumpled it into a ball and stuffed it into the leaves. Her elegant gold cigarette lighter was from Winterton's, a present from Henry. She held the flame to the paper until it caught, and then she stepped back. A column of smoke found a way through, and she breathed in the acrid autumnal smell.

A movement caught her eye. A man was walking along the path that ran by the foot of the field. Although the land bordering the estuary did not belong to Marsh Court, few people went there, and the Wintertons liked to think of it as their own. She had been enjoying her solitude, burning her unhappiness along with the dead leaves, and she felt … not embarrassed, exactly, but exposed, as if she had been glimpsed in some private activity such as cleaning her teeth or putting up her hair.

The man on the path was tall and moved with a spring in his step. Juliet watched as he left the footpath and made his way inland, towards the bonfire. She anticipated a request for directions, or perhaps a glass of water.

But as the stranger drew within earshot, he called out, 'You must be Juliet. When I heard that Henry had brought a wife home from Egypt, I was intrigued. I've been longing to meet you.' Approaching her, he held out his hand. 'Forgive me for startling you. I'm Gillis Sinclair. Henry warned you I was coming, I hope.'

His forehead was high and his expressive blue-grey eyes were framed by straight brows. His light hair had a curl to it; his nose was long and straight and narrow and his mouth wide and well-shaped. Juliet thought him quite startlingly handsome. She shook his hand, murmuring a greeting.

His features were alive with laughter. 'Am I not what you were expecting, Mrs Winterton? Perhaps you had envisaged some middle-aged politico, prematurely worn down by affairs of state?'

It was true, she had expected an older man. Henry was seventeen years older than her, and Juliet had assumed his friend to be a similar age.

'Not at all,' she said. 'I'm delighted to meet you, Mr Sinclair.'

'Gillis. I hope we need not be formal.'

'Then you must call me Juliet. Gillis is an unusual name.'

'It's Danish. My mother came from Copenhagen.'

'Do you speak Danish?'

'Some. You must forgive me, turning up in your garden like this. My motor car's in Maldon, having its exhaust repaired. The wretched thing was billowing out black smoke all the way from Chelmsford. A fellow at the garage offered me a lift, but I decided to make my way here on foot. I love to walk along the estuary.'

As he spoke, his gaze rested on her. What was it, she wondered, in a smile, a glance, that could so discomfort you, and at the same time make you feel suddenly alive, as if you had been living in shadows and now, gloriously, had stepped into the sun?

She said, 'I'm sorry to hear your wife is unwell.'

'Poor old Blanche. She thinks she caught it from the children. I keep away from them as much as I can.'

This said with a twinkle in his eye. She still struggled with the English habit of saying one thing and meaning another. She feared it made her rather plodding company.

The fire had burned down to ruby-red, white-fringed embers. As they set off for the house, she asked Gillis how old his daughters were.

'Flavia is four and Claudia is … let me see … two.'

'How delightful.'

'The next time I come here, I shall bring them. You would think them dear little things.'

'I'd like that.'

'Henry told me you met in Cairo. Were you born there?'

Juliet shook her head. 'No, I was born in England, but my father and I travelled a great deal. I met Henry a fortnight after Father died.'

'Difficult for you.' And as they headed up the wet lawn, he gave her a slanting glance. 'It's always hard to lose a parent. And Henry, though I love him dearly, isn't the easiest of men.'

Juliet's father, Alexander Capel, had been fluent in half a dozen languages and could learn a new one with remarkable rapidity. An Egyptologist and an Hellenic scholar, he had quarrelled with his parents at the age of twenty-one, and, quitting England, had spent the rest of his life roaming the countries of the eastern Mediterranean. Her mother had died when Juliet was twelve, worn out by ill-health and wandering. The bereavement had left Juliet heartbroken. She had not minded the absence of a settled home until then. Her mother had made every house a home, and after her death Juliet felt dislocated and rootless.

She and her father moved to Cairo when she was seventeen. At first, they rented an apartment in Zamalek, a district of leafy streets and airy villas. They kept a servant and ate out in restaurants. Juliet took drawing lessons while her father worked as a translator for the British Embassy. Their friends were the sort of friends they had always had, a mixture of nationalities: writers, intellectuals and vagabonds. She loved the long, leisurely dinners and the conversations that never faded before midnight, and the cool early mornings and the inky shadows that pooled in ancient streets.

When his health deteriorated, her father could no longer work and so they moved from the apartment to rooms in the southern part of Gezira Island. They no longer had a servant and Juliet herself kept house and cooked. She earned a small amount of money as a companion and letter-writer to an old Frenchwoman (she had for several years acted as her father's amanuensis), and taught drawing to three spoiled English schoolgirls. Her father drank cheap spirits to dull the pain. Always outspoken in his admiration of Arab culture, he took to wearing a grubby galabiya and fez and quarrelled with his British acquaintances, who called less often. Juliet expected they thought he had gone native.

Six months before he died, her father's editor, a Frenchman – Alexander Capel's historical monographs were modestly popular in the French-speaking world – took her out to dinner. Jean-Christophe warned her that war was coming and that she and her father should leave Cairo. The Italian victory in Abyssinia, to the south of Egypt, had been one of the first moves in the coming conflict, which would, he calmly explained to her, be unimaginably terrible. He had tried to speak to her father but he had not listened. She must persuade him.

They then turned to lighter matters. They had a pleasant evening, and afterwards Jean-Christophe took her back to his villa on Abou el Feda Street and made love to her. She let herself be seduced because she needed the comfort of human touch. He was a kind and sensitive lover and made her believe that she was beautiful. She fell in love with him and felt very low when, a month later, he returned to his chateau in the Loire, and his wife and children.

As her father's illness worsened, Juliet sold off their valuables to pay for morphine. His suffering was long drawn out and terrible to watch, and during his last weeks she was unable to comfort him, which left her after his death with a sense of failure she never quite managed to throw off.

After she paid off the most pressing of her father's debts, she had no money left at all. It was summer, and the weather was already unbearably hot. She had never liked Cairo, which was a noisy, clamorous and secretive city, but she did not know where else to go and could not have afforded the fare if she had. She took to running her hand through coat pockets in search of coins and hiding in the dim interior of the shuttered rooms, pretending she was out, when the landlord knocked on the door for the rent.

She was alone and poor and afraid that she might fall through the cracks. Plenty of people more deserving than she slept on Cairo's pavements. At night, she was kept awake not only by the heat and by grief, but by fear of loneliness, abandonment and penury. She had lost the capacity to feel much more than a horror of the past and a dread of the future. She was nineteen years old and her heart felt desiccated. Her yearning for love was more powerful than her hunger for the sugary sweetmeats they sold at the roadside stalls.

She decided to sell her last remaining item of value, a pearl necklace, which had been a gift to her father from a wealthy trader in Aleppo. Alexander Capel had taught the man's six sons to speak English and had translated texts for him from Aramaic into modern Arabic and English. Her father had given her the necklace on her fifteenth birthday. At first she hadn't cared for it, thinking it old-fashioned and heavy, but she had since come to love it and to appreciate the magic of the three strands of lustrous, large, round greenish-gold pearls. They were salt-water pearls, formed in a volcanic atoll in the Pacific Ocean, set in yellow gold, and between each gem was a diamond.

Henry Winterton came into the shop as the jeweller, no doubt sensing her desperation, was trying to fleece her. To Juliet's surprise, he immediately countered the offer with a better one. While the shopkeeper protested, Henry introduced himself to her.

'I have a jewellery business in London,' he said. 'Winterton's of Bond Street. Do you know it, Miss …?'

'Capel,' she said. 'No, I'm afraid not.'

'Well then, do you accept my offer?'

Because it pleased her to thwart the shopkeeper, and because the offer was generous, she shook hands on the bargain and thanked him. It felt shady, though, as if she was agreeing to something other than the exchange of money for a pearl necklace.

As they left the shop, Henry Winterton's cheque in her handbag, he held out to her the green leather case containing the pearls. 'Look after them for me,' he said. 'I'll be in Cairo for a fortnight. You can return them to me before I leave.' When she demurred, he added, 'If they aren't worn, they'll lose their lustre. I'm staying at Shepheard's Hotel. I'll buy you dinner tonight and we can make arrangements for the necklace's return. I don't make a habit of seducing innocent schoolgirls, if that's what you're worried about. Tell me where you're lodged and I'll send for you at eight. And wear your necklace. It's a remarkable piece.'

Henry bought her dinner that first evening, and then each evening for a fortnight. Juliet did not cash his cheque, but put it in a cedarwood box in her bedroom and looked at it now and then.

The shabbiness of her days contrasted with her evenings at Shepheard's Hotel. At eight o'clock a car would arrive and drive her there. Henry would be waiting for her at a table in the Moorish dining room. The first evening she was ill at ease and dumbstruck, so he filled in the silences. His great-great-grandfather, he told her, had established the first Winterton shop in Colchester in the 1850s. Thirty years later, the family had bought a second premises in Bond Street. There was a special Winterton cut, he explained, his large, elegant hands sketching the shape, that made a diamond glow with exceptional brilliance. He travelled abroad several times a year to buy raw gemstones but only purchased made-up items of the most exceptional quality. His gaze lingered on her pearl necklace as he spoke.

Then he told her about his family. His sister Jane was married to Peter Hazelhurst, a surgeon, and they had twin sons, Jake and Eliot, and a baby daughter, Gabrielle. Henry's younger brother Jonathan was his partner in the family firm. Henry oversaw the finances and sourced gemstones while Jonathan dealt with the staff and the day-to-day running of the shops. Both men were involved in the creation of new pieces because both understood the characteristic Winterton combination of flamboyance and elegance. Jonathan and his wife Helen lived in Maldon in Essex, in the east of England, just four miles from Henry's home, Marsh Court.

Juliet imagined Marsh Court to be a damp, gloomy place. In the heat of a Cairo summer, that appealed. She noticed that though Henry spoke of his family with affection, he took pleasure also in describing their failings and weaknesses – Jonathan's indecisiveness, Jane's adherence to fashionable methods of child-rearing.

Three evenings before Henry was due to leave Cairo, he proposed to her.

'Well?' he barked when, taken by surprise, she did not immediately respond. 'Have you nothing to say?'

Panicked, she took her cue from the nineteenth-century novels she liked to read. 'I am most honoured—'

'I don't seek to honour. Or flatter. I never do.'

Then he pointed out to her the advantages of marriage to Henry Winterton. He was thirty-six years old, seventeen years older than she, and so would comfortably be able to support her and any children they might have. He enjoyed society and kept a flat in London, so she need fear neither boredom nor insecurity. She would be part of his family. She would have a home.

Juliet, who was already half in love with him, longed for all these things. Henry Winterton was good-looking, confident and intelligent, and he had been generous to her. In so many ways, marriage would resolve all her problems. But he had not told her that he loved her.

He reached across the table and took her hand. 'I'm afraid you don't have time to shilly-shally. I have urgent business in London that I need to return to as soon as possible.' His voice lowered. 'Juliet, I want you.'

Not 'I love you' or 'I adore you', but I want you. She discovered that it was a powerful thing to be wanted, to be the focus of someone else's desire. It captivated, it subjugated. Many Englishmen found it hard to talk of love, she told herself, and she was certain that the heat in Henry Winterton's eyes conveyed everything she needed to know.

A week later, they were married at the Ministry of Justice. They spent their honeymoon night at Shepheard's Hotel. Before she emerged from the bathroom in her nightdress, she faltered, afraid to turn the door handle. The thought occurred to her that she was about to go to bed with a stranger. But the ordeal was soon over, and really, it was not so bad as she had feared. Henry was a vigorous lover whose pride demanded that he give her equal pleasure to his own. Jean-Christophe had ensured that she was not a complete novice, and if Henry noticed that, he did not remark on it.

They set sail for England the following day. After overnight calls at Valletta and Gibraltar, they left the boat at Dieppe and took a train to Paris. There, Juliet purchased her trousseau at the House of Worth. Henry had instructed her to order four evening gowns. Assistants spread out bales of fabric on the counter, and after an hour of pleasant deliberation, she settled for a black, a rose-pink and a red.

She couldn't decide on the fourth. The assistant, a tiny, elegant woman in her sixties, suggested a simple ecru gown threaded round the hem and neckline with a narrow black ribbon. Juliet voiced her reservation that the shade was too close to her sallow skin and wavy dark-gold hair, but the assistant gave a scornful hiss. Cowed, Juliet gave in. Six weeks later, the box containing the four gowns, wrapped in tissue paper and tied with satin ribbon, arrived at Marsh Court.

She wore the pearl necklace with the ecru gown to dinner that night. The necklace needed a simple gown to set it off. When she looked in the mirror, she saw that the gleam of the pearls brought out the warm tones in her complexion. Her cheeks were still flushed from her afternoon in the garden. She pressed her face into her palms and breathed in the bonfire smoke that had drenched into her skin, and in her mind's eye she saw Gillis Sinclair walking towards her, out of the marshes.

Henry must still have been angry with her, because when she went into the drawing room, he said, 'There you are. I was beginning to think we'd lost you. I thought you must have gone to the river to rescue more lame ducks.' Then he addressed Jonathan and Helen and Charles and Marie Barbour, who were sitting on sofas arranged round the fire. 'Juliet has a soft heart. If she had her way, she'd fill my house with spongers and fools.'

'You would hardly have sought out a hard-hearted wife, Henry.' Gillis Sinclair was standing in the shadows by the bookcase. He inclined his head to Juliet. 'Mrs Winterton, may I compliment you on your appearance. Henry, I congratulate you on unearthing such a treasure.'

'Pff,' said Henry, with a curl of the lip. 'I despise credulousness. It's a quality that's sometimes passed off as kindness when in fact it's closer to stupidity.'

'A capacity for sympathy is hardly a bad thing.'

'I don't doubt you're good at pretending sympathy, Sinclair, when it suits you.'

Thankful to be out of the spotlight, Juliet sat down with Helen and Jonathan. She hated it when Henry was in such a bitter mood, seeking out low motives even in those dearest to him, and she guessed that the Barbours felt the same, because they were looking down, taking great interest in their drinks. Jonathan and Helen appeared unperturbed. They must have seen such displays countless times before. Besides, Juliet had discovered that even the most amiable Winterton took pleasure in a fight.

She was afraid that Gillis might take offence, but instead he gave Henry a sweet smile. 'You're right, I'm perfectly capable of a little hypocrisy, when it suits me.'

'Gillis has a heart, you see,' proclaimed Jonathan. 'I've always suspected that whatever pumps the blood round my brother's veins is made of some dense, non-porous stone.'

Henry raised a thin smile. 'But then you're not the ambitious sort, are you, Jonny?'

Henry had something in him of the jealous four-year-old who teases his little brother with sly prods and pokes. There was more than a dart of unkindness in his last remark. Henry was the money-maker in the family, and it had been he rather than Jonathan who had taken Winterton's from an old-fashioned, traditional jeweller's to a successful, up-to-date company.

Jonathan acknowledged the barb by raising his glass. Having made his point, Henry returned to Gillis.

'So you'll admit you're ambitious.'

'It's a necessary ingredient of success.'

'Ambition and hypocrisy go hand in hand, wouldn't you say?'

'If you're implying that politics requires a particular skill at dissimulation, then I won't disagree with you.'

'Honest of you,' said Henry sarcastically.

'And if I pointed out to you some modest, humble parliamentary men …'

'I'd say they were the biggest liars of the lot.'

Gillis looked down at the fire, but Juliet saw the smile that curved the corners of his mouth. 'So if I were to tell you that beneath this admittedly attractive exterior, I am modest and humble …'

Henry gave a roar of laughter and clapped Gillis on the back. 'Arrogance suits you, dear fellow, you mustn't be ashamed of it.' And everyone laughed.

Shortly afterwards, the maid announced that dinner was served. Juliet continued to observe at the dinner table how clever Gillis was at coaxing Henry into a more pleasant frame of mind. She studied him, trying to learn how he did it. Henry tolerated good-humoured teasing from his friend that he would have reacted to with sarcasm or ill-temper from anyone else. As the dinner progressed, he showed his most attractive side and became charming and amusing, an excellent host. As for Gillis, he was urbane, cheerful and unruffled, a wonderful conversationalist who could make an entertaining tale from any subject. Juliet thought Blanche Sinclair fortunate to have married a man who was such good company.

She wondered whether the two men's friendship had been forged by what they had in common – their quick wit and informed intelligence, their steel-trap minds and sharp memories – but as the evening wore on, she came to the conclusion that it was their differences that they enjoyed. She suspected that Henry appreciated that Gillis ignored his ill-humour, and that this allowed him to take pleasure in the cut and thrust of unbridled argument. Whatever the basis of their affection, Gillis brought out the best in Henry and she was grateful to him for that.

Marsh Court's dining room had a warm and comfortable dignity. Candlelight gleamed on the fragile old porcelain, Bohemian crystal glasses and Georgian silver, and the crimson damask curtains shut out the night. The conversation was at first of shooting and yachting and Henry's recent purchase of half a dozen cases of French wine. Ignorant of these subjects, Juliet said little, and it was only when the talk moved on to a discussion about a series of concerts at the Wigmore Hall that she began to join in. She had always taken great pleasure in listening to music, which had the power to intensify her happiness and console her in sadness. Both Jonny and Jane Winterton were fine pianists and she loved to hear them play.

Throughout the meal, she had to measure out the direction of her gaze, to prevent it always coming to rest on Gillis Sinclair. She was drawn to him, and it was all too easy to find herself studying the curve of his mouth or the angle of his jawline. She saw how fluidly his expression moved between laughter and melancholy, and how his blue eyes sparkled at a witticism or became gloomy when the talk turned more sombre. Once, his gaze met hers and he gave her a smile that was inviting, almost conspiratorial. After that, she tried not to look at him again.

The political events of the last two months hung so heavily over them that it was inevitable that they would discuss the recent events at Munich. Because Gillis Sinclair was a Member of Parliament – and, at the age of thirty-one, a parliamentary undersecretary – he was viewed by them all as a man with access to inside information. Charles Barbour asked him whether he thought Hitler would keep the promises he had made in Munich the previous month. The relief and gratitude that had greeted the return from Germany of the Prime Minister, Neville Chamberlain, with what had appeared to be a guarantee of peace in exchange for Czechoslovakia's loss of the Sudetenland, had quickly soured and been replaced by a mixture of guilt and apprehension. Juliet had not forgotten that her French lover had told her that the coming war would be a terrible one. She hoped that at Marsh Court she had found a place of safety.

'Naturally he'll renege on it,' said Gillis. 'Every thinking man knows he will.'

'So all that scuttling off to Munich, umbrella in hand, was futile.'

'Not completely. It's given us time, and we need that very badly to build up our military strength.' Gillis looked angry. 'We've nothing like enough aircraft. Good God, we haven't even enough spares to repair our ships.'

'Perhaps we'll have time to find a lasting peace,' murmured Helen.

Gillis shook his head. 'No, Helen, I'm afraid not.'

'We were talking earlier of the arrogance of politicians,' said Jonny savagely. 'What greater show of arrogance could Chamberlain have displaye
We hope you are enjoying the book so far. To continue reading...
The Jeweller's Wife
Judith Lennox
Copyright © 2023 All Rights Reserved