One Last Dance
Available in:
eBook
Paperback
Audiobook
Hardcover
Book info
Sample
Audiobook
Media
Author updates
Lists
Synopsis
Times change, and sometimes for the better.... As the 20th century draws to a close, Esme Reddaway knows that she must uncover the truth.
A truth that began during the First World War when Devlin Reddaway fell passionately in love with Esme's elder sister, Camilla, and promised to rebuild his ancestral home, Rosindell, for her. But the war changes everything and Devlin returns to England to find that Camilla is engaged to someone else.
Angry and vengeful, he marries Esme, who has been secretly in love with him for years. Esme tries to win Devlin's heart by reviving the annual summer dance. But as the years pass she fears that Rosindell has a malign influence on those who live there, and the revelation of a shocking secret on the night of the dance at Rosindell tears her life apart.
Decades later, it is she who must lay the ghosts of Rosindell to rest. Spanning the last century, Esme's story of sibling rivalry, heartbreak, betrayal, and forgiveness is sure to appeal to fans of Kate Morton, Rachel Hore, and Downton Abbey.
Release date: January 30, 2014
Publisher: Headline
Print pages: 512
* BingeBooks earns revenue from qualifying purchases as an Amazon Associate as well as from other retail partners.
Listen to a sample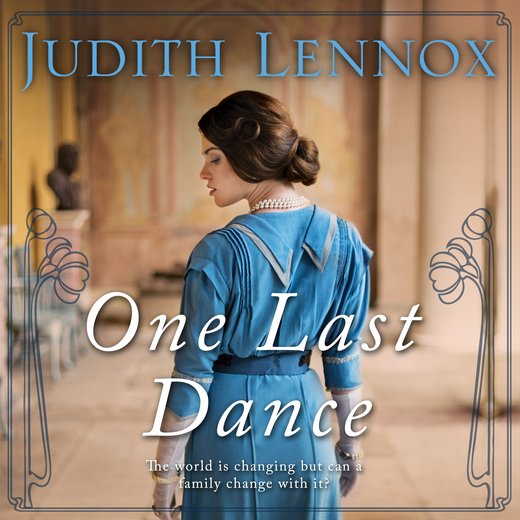 16:26:39
451.66 MB
9781472217615
January 30, 2014
Hachette UK
2014
One Last Dance
Judith Lennox
And in the distance, the sound of the sea.

Her eyes closed, she listens to the rush and pull of the waves. She pictures the swell breaking on the beach, leaving a frill of foam as the emerald water draws back, heaving with it a hundred shiny pink and amber pebbles. She sees the heavy blackish-green heads of the pine trees on the cliff tossing back and forth and the wind rippling through the gorse.

Esme opens her eyes. She is in her bedroom in Little Coxwell, eighty miles from the coast. There is no wind, no storm, and yet she can still hear the sea. Is she, perhaps, going mad, demented – or could she in fact be dying, her poor tired heart giving out as she heads for Paradise?

Not today, she thinks. I have things to do.

The crash of the waves is fading now, and she remembers that she was dreaming of the sea. In her dream, she was running along the beach with her sister, Camilla. She still feels the hard, compacted sand beneath her bare feet, the scratch of the grains caught between her toes and a knobbly shell cutting into her instep. She is running as fast as she can, her lungs straining as she tries to catch up with Camilla, who, flaxen plaits streaming like banners, seems to shrink as she pulls ahead. By the time Esme reaches the far end of the bay, her sister has scrambled up the jagged rocks and is standing where they jut out into the water, laughing as the waves' white spray soaks her, laughing at silly little Esme, who is scared of heights and the sea.

It is memory, this. She recalls how Tom ran in and out of the white-tipped waves, and how she upturned her bucket to make a perfect dome of sand. The nursemaid spreading out the picnic on the beach. The chauffeur dozing in the Daimler, parked in the shade of the trees.

She must have been five or six years old. A few years later, her mother or the nursemaid would have told them off for behaving like hoydens. Hoyden, she thinks, lying in bed, fully awake now, her gaze settling on the grey line of light between the curtains. She hasn't heard that word for years. Are there any hoydens these days? Times change, she thinks. She remembers the summer clothing she and Camilla wore, the layers of vest, knickers, petticoat, frilled voile frock and pinafore deemed suitable for a day at the beach. She thinks of Coral's jeans and sleeveless T-shirt. Yes, times change, and sometimes for the better.

The sound of the sea recedes, then is gone. She looks at the clock and sighs. It's twenty past five: so many hours to get through before Zoe arrives. She feels a mixture of impatience and dread, the needing-to-get-it-over-with sensation that one endures before an aeroplane takes off. Or before a dance. The plainer, less favoured daughter, she was the sort of girl who hovered on the perimeter of the ballroom, self-conscious, wondering what people thought of her. It is one of the great advantages of old age, she thinks, that she no longer cares.

Her apprehension, the coiling in the stomach as she considers this evening's summer party, comes, she knows, from a fear that she might fail. She has planned carefully, but there is always the possibility that what she has set out to do will be thwarted, that her arrangements may prove inadequate, or that her fractious, fractured family will refuse to do as she wants. Will refuse, even, to turn up. This may be my last birthday, one never knows at my age. She has used emotional blackmail, played the frail old lady card, more than once these past weeks.

The day may still slip away from her, receding into the distance like Camilla's running figure. She is afraid that she will falter, that she will lack the grit to confront the past, and that she will be left standing on the sand while Camilla looks down at her and laughs her last triumphant laugh. She is afraid that her heart, which her doctor, who is young and tactless, describes as 'flabby', will not hold out, and she will never know the truth.

She feels anxiety surging through her like the waves of the sea and she closes her eyes and tries to breathe deeply. She has taken to going once a week to yoga classes at the village hall – herself and half a dozen young mothers, trying to lose their baby weight – and she recites in her head the instructions of her bouncy young instructress, to relax each muscle in turn, to breathe from the diaphragm, not the chest, to empty the mind.

Her mind drifts, and she is at Rosindell again. She is walking through the garden, away from the guests who spill on to the loggia and the terrace. The music, some old song, becomes distant as she follows the path of the stream towards the trees. A hard white moon has turned the grass to iron shreds and the purple candles of the rhododendrons seem luminous. The lights of the house recede, and now, in the disjointed manner of dreams, she is walking beneath the holm oaks, and the wet ferns are brushing against her ankles. There is the sound of the sea, the rich, salty smell of it, and she is standing on the clifftop, and dizzyingly far below her the waves are pounding against the rocks.

She must have slept, because she is woken by the phone ringing. Her heart beating fast – flabbily, Esme thinks crossly – she pulls on her dressing gown and hurries downstairs. Zoe nags her to have a second telephone installed in the bedroom, but Esme won't hear of it: the expense, and besides, she is of a generation that regards the telephone with respect and a little dread, to be used sparingly, or in cases of urgency.

She is breathing hard by the time she reaches the foot of the stairs and her right hip hurts. She picks up the receiver and says her name.

'Mum, it's only me, nothing to worry about.' Zoe's voice. 'Happy birthday.'

'Thank you, darling.'

'Sorry to ring so early, but I've a lot to get through today. By the way, Philippe's coming.'

'Philippe?'

'You remember, Coral's father.' The patronising tone of the young prompting the unreliable recollection of the old. 'He telephoned last night, asking if he could come to the party. It's going to be a surprise, so we mustn't tell Melissa or Coral.' Zoe sounds distracted.

Esme imagines her daughter running her eyes over a row of figures as she talks, the telephone receiver jammed between shoulder and chin.

'Of course, darling.' Tired and apprehensive, Esme remembers to say, 'It's good of you to do this, Zoe.'

'It's no trouble. Three o'clock, then, Mum.'

Esme is about to make her farewells when Zoe says suddenly, 'I'm still surprised – surprised you wanted it at Rosindell!'

'Are you?' says Esme vaguely. 'Well, no matter. I'd better go and pick out some clothes.'

'Haven't you packed?'

Esme knows that Zoe will have planned her weekend outfits days in advance, will have organised her suitcase after finishing work on Friday, and will have folded her party frock between layers of tissue paper so that it does not crease.

She says soothingly, 'It won't take me a minute. I'll be standing on the doorstep, case in hand, I promise.'

She ends the call. It is a quarter past seven in the morning and the garden is at its most beautiful early in the day, so she puts on a mackintosh over her nightdress and dressing gown, sticks her feet into a pair of wellies, and goes outside.

Sunshine makes diamonds out of the dewdrops on the grass. There is only a small square of grass – she dislikes lawns; all that tedious business of mowing and feeding – but she has naturalised cowslips and fritillaries, and in spring the little green square reminds her of the Devon meadows of her childhood, which sparkled with flowers. Esme's home stands in the centre of a quarter of an acre of garden. The cottage, with its small windows and low ceilings, is inconvenient and old-fashioned, but she bought it for the garden, which is her private paradise. The garden walls her off from the rest of the village. It was Rosindell, of course, that bred in her the habit of solitude.

Narrow gravel paths divide the beds and bees hum around the sedums, which are in flower. She likes September, her birthday month: it still holds the possibility of opulence and yet it lacks the oppressiveness of the dry August heatwave, which always seems unnatural in a cool, rainy country.

Esme's hens, pert and handsome Buff Orpingtons, forage in the undergrowth. A thrush sings, perched on an apple bough. She knows why she dreamed of Camilla, yet the dream has recalled to her something she has not thought about for years: the jealousy that as a child she felt towards her elder sister, in all its destabilising intensity. Extraordinary, she thinks, how the old insecurities remain, even after so long, and with such a forgotten power. The joys and miseries of childhood are so easily dismissed, and yet their consequences have remained with her throughout her life. She knows now that it is too easy, the creation of a favoured child. She has her own guilt. Loss and longing will always paw at her heart. Jealousy and longing, she thinks: these are the emotions that have shaped my life.

She turns back to the house. Upstairs, she takes a simple black frock from her wardrobe, a pair of black low heels and her pearls. She picks up the small sheaf of paperwork – the evidence, she calls it to herself – from the top of the chest of drawers and, sitting down on the bed, leafs through it. The Country Life photographs, and a much older picture of Rosindell's servants, lined up outside the front door of the house. An illustration stolen from a library book, of a beach party at Cannes. Esme can tell, studying it, that the subjects consider themselves louche, stylish and modern, and yet their old-fashioned swimsuits look ridiculous now and the hairstyles are stiff and unflattering.

Old secrets, long and sour in the plotting. But she feels calmer now. She thinks, today I will know the truth. But when did the truth begin? You have to go far, far back. To the war, the first war, which ran a harrow over her generation, leaving it crushed and bleeding. No one who did not live through it can understand the tidal force of that war, or that it left nothing unchanged. Afterwards, she and her contemporaries carried a darkness in their hearts. Perhaps the darkness eats at her even now. Perhaps it ate away at Camilla, who nursed during the war. And now she wonders whether that was how Camilla was able to do what she did, because she had seen so much of death and betrayal that they no longer seemed important to her.

If you want to discover the truth, she thinks, you have to go back to 1917. To London, and to Devlin Reddaway, on leave from his regiment at the Western Front.

A maid showed Devlin Reddaway into the drawing room of the Belgrave Square mansion. Half a dozen people were sitting on the armchairs and sofas. He saw Camilla Langdon immediately. She was wearing a light green dress, white stockings and low-heeled white shoes, and her hair, which was a pale, silvery blond, was pinned up at the back of her head.

She rose, smiling, taking his hand. 'Devlin, how lovely to see you. How are you?'

'I'm very well. And you?'

'Thank you, I'm in perfect health. Lady Clare, Captain Reddaway is a friend from home.'

Lady Clare was seated on the central sofa. Shrewd grey eyes surveyed Devlin and greetings were murmured. She had seen Rosindell a long time ago, Lady Clare mused, when she had been a girl. Hadn't the house once been famous for its summer ball? So sad when the old traditions fell away. Still, one must move with the times.

Camilla introduced Devlin to the woman seated beside Lady Clare, a Mrs Sheridan, round-faced and pretty, her cheeks the smooth pale pink of dog roses. The girl in a blue frock on the sofa beside Camilla was Edna Clare, Lady Clare's daughter. Besides Devlin himself, there were two other army officers present, one with his arm in a sling, the other curly-haired, freckled, very young.

Tea was poured, cake offered. At first Lady Clare directed the conversation, but after a while she left the room and Mrs Sheridan took centre stage. The talk was light, of the cold weather, of the recent Christmas and of a film Mrs Sheridan had seen. Devlin's gaze was drawn constantly to Camilla. It seemed to him that there was a challenge in her eyes, a recklessness in her smile. Her boyish, earthy laugh startled.

Camilla's enquiry to the curly-haired officer resulted in blushes and stammering.

'I'm g-going home tomorrow, Miss Langdon. S-see my parents in S-Suffolk.'

Camilla turned to Devlin. 'Will you go home this leave?'

'I should do. It's been more than a year. If we only have to put up with each other for a couple of days, perhaps my father and I won't fall out.'

Edna Clare spoke. She had a low, attractive voice. 'Family squabbles become unimportant at times like this, don't they?'

Their last quarrel had been of such a bitter nature that Devlin doubted that, but he said, 'Yes, I expect you're right, Miss Clare.'

'Darling Edna, you have a more forgiving nature than I have.' Camilla smiled at her friend. 'To me, a quarrel is a quarrel, and neither time nor war nor anything else will heal it.'

'You don't mean that,' said Edna.

'I do, but let it be. I won't quarrel with you.' She turned to Devlin. 'How is your father?'

Walter Reddaway had been in poor health for some years. 'No worse, as far as I know,' Devlin said. 'And your parents? And Tom? And …' There was a sister: he must be tired, Devlin thought as he scoured his memory, because he had forgotten her name and could recall nothing of her but a mass of amber-coloured hair. A tall, thin girl, weighted down by her hair.

'Esme? She's well, I believe. And Tom is stationed at Portsmouth, land-bound, which he hates.' Camilla was frowning at him. 'I wasn't sure you'd come. I'm such a hopeless correspondent. I thought you might be cross with me.'

At five o'clock the party began to break up. As Devlin rose to go, he spoke to Camilla.

'May I see you again?'

'I have an engagement tonight. Tomorrow, if you like.'

'I'm visiting a friend of mine in Derbyshire tomorrow.'

'Will you be back by the evening?'

He expected to be. Camilla turned to Mrs Sheridan. 'Captain Reddaway may join us tomorrow evening, mayn't he, Sally?'

'Yes, that would be delightful.' Mrs Sheridan bestowed on him a smile. 'The more the merrier.'

Devlin Reddaway had arrived in London that morning, having left the front in northern France two days earlier. A slow, stuttering train had drawn him from the battle lines across grey and brown countryside to Le Havre, from where he had sailed overnight to Southampton. A second train had crawled between English fields and woodland. Arriving in London, he had taken the Underground to Victoria, and from there, needing fresh air, he had walked to Marble Arch, where a fellow officer had lent him his flat. The flat was masculine in taste, furnished with leather armchairs and Indian rugs. As he unpacked his kitbag, the four unfamiliar rooms had seemed chilly and unwelcoming. Only the letter that the porter had handed him in the foyer, the letter from Camilla, inviting him to tea in Belgrave Square that afternoon, had lightened his mood.

Camilla Langdon's family lived in Dartmouth, in south Devon. Charles Langdon, Camilla's father, owned a boatyard on the river Dart. Charles's wife, Annette, was fair, fat, pretty and socially ambitious. You took a ferry from Dartmouth across the mouth of the Dart to reach the village of Kingswear. Three miles from Kingswear was Rosindell, Devlin's home, marooned on its blustery headland.

Rosindell's history was written in timber and stone. The first buildings on the site had been a hospice and a chapel, constructed in the fourteenth century. Later, a great hall had been added, along with farm buildings. In Tudor times the house had been further enlarged, but the family had clung to the old religion, had chosen the wrong side during the Civil War, and then the estate had fallen into a long decline. Cattle had lived within the confines of the buildings, and brambles and ivy had woven their long tentacles over the walls. Rosindell had been close to ruin when, in the nineteenth century, George Reddaway had restored the house, doubling it in size. Since then, Reddaways had lived and died and prospered and wasted. Now, Rosindell had fallen into decline once more.

Devlin's father, Walter Reddaway, and Camilla's father, Charles Langdon, held each other in mild contempt. The Langdons had built a large, brash new house in Dartmouth; Rosindell had stood in the same isolated valley, among the same acres of fertile farmland, for centuries. But Devlin had been to the same prep school as Tom, Camilla's brother, and they had liked each other well enough. Tom was lazy and affable, good company when they were younger for a day's boating or bird's-nesting. A secretive and moody adolescent, Devlin had admired Camilla Langdon's looks.

Shortly after the outbreak of war in 1914, he had joined up. He had been sent to France in the summer of 1915, and in September he had been wounded at the battle of Loos. After he had been discharged from hospital, he had gone home to Rosindell. There he had quarrelled with his father and done what he could to shore up the estate. One afternoon in Dartmouth, he had encountered Camilla by the harbour. There had been a sudden rainstorm, the skies had opened, and she had put up her face to the heavens and laughed. In that moment, attraction had become compulsion and admiration had turned to desire. Her blonde prettiness, even the perfection of her features, might have seemed insipid in a different woman, but Camilla's beauty was that of a pale flame, light-reflecting and restless, her small, curving mouth and speedwell-blue eyes informed by rapidly changing emotions: amusement, anger, excitement.

She had turned to leave, the shoulders of her coat darkened by the rain, when he had said, 'Write to me, won't you, Camilla?'

'Yes, I will, if you like,' she had replied. And then she had added, 'But don't be cross with me if I forget.'

In the year that had followed his return to France, four letters from Camilla had reached Devlin at the front. The last had been posted from London. Camilla had written to him that she had left home to work as a nurse in a hospital in Belgrave Square. The hospital was housed in the ballroom of a mansion belonging to the mother of her school friend, Edna Clare. It has taken me months to persuade my mother to let me go to London. Fortunately, Edna's mother is Lady Clare and Mummy is such a snob.

After Devlin left Lady Clare's house, the London streets in the blackout seemed gloomy, dim and mysterious. But for the bright, narrow wand of a searchlight, dancing in the charcoal sky, he might have slipped back in time. The pubs had opened and Devlin bought a glass of watery beer, then found a quiet restaurant, where he ordered supper. A gluey drowsiness came over him as he drank his coffee, and so he headed back to the flat.

As soon as he lay down in bed, he drifted instantly into a dream in which he had tumbled from the cliffs at Rosindell to the sea below. He would reach out, grab a rock and try to haul himself out of the water, but the rock was always needle sharp, tearing his hands, or slippery with seaweed and impossible to grip.

The following morning, the Sheffield train was crowded. Devlin gave his seat up to a woman and child and stood in the corridor, looking out at the wintry fields. Leaning a shoulder against the window pane, he dozed on and off until the train drew into Sheffield station. There, he changed trains, sitting in a carriage that jolted between the majestic, snow-topped hills of the Peak District. He alighted at Hathersage and walked up the steeply sloping road to the Hutchinsons' house. The route was familiar; he had stayed there two or three times when he was a boy, in the school holidays.

He steeled himself before knocking on the door. Mrs Hutchinson opened it. 'Devlin, how good of you to come.' She embraced him. 'My dear boy. We've all been so looking forward to seeing you.'

Devlin hung his greatcoat on the hall stand and put his cap and gloves on a table. 'How is Eddie?'

'He had a bad night, I'm afraid. You mustn't mind if …' Her voice fluttered away.

She was a kind, motherly woman, and he had been fond of her as a boy. Edward's father had been a vicar, but was now retired. The Hutchinsons had married late in life and had only the one son.

Mrs Hutchinson patted Devlin's sleeve. 'It's so good to see you. And looking so well. Come and say hello to Edward. He's in the snug, catching the sun.'

Devlin followed Mrs Hutchinson through the house. A large window framed a view of the hills. Edward's wheelchair was beside the window. A tartan blanket was tucked over the stumps of his legs, which had been blown off above the knees.

'Hello, Eddie,' said Devlin.

Edward turned a scarred face towards him. 'You shouldn't have come.'

'Dearest,' said Mrs Hutchinson gently, but Edward looked away to the window.

'I could do with a cup of tea, if you have a moment, Mrs Hutchinson,' said Devlin. 'There wasn't any to be had on the train.'

'Tea,' said Mrs Hutchinson with a breathless gasp. 'Yes, of course. I'm so sorry, you poor boy, you must be parched! And a piece of cake – you'll have some fruit cake, won't you?'

She left the room. Devlin drew up a chair and sat down opposite Edward. Before he could speak, Edward said, 'I meant it, you shouldn't have come. I'm as dull as ditchwater and you'll only have, what? A week's leave?'

'Five days, because of travelling.'

'Then you shouldn't have wasted it on me.'

'I'm not wasting it. I wanted to see how you were.'

'I am as you see.' Edward gave a twisted smile. 'I'm three fifths of a man. I've worked it out. Two legs and half my face gone, so minus one fifth for each leg and the hole in my face makes up for the stumps. Don't say it,' he said roughly, as Devlin began to speak.

'Don't say what?'

'That I'm still the same person underneath or some rot like that. Because I'm not.' He nodded to the hills. 'I'll never walk there again. I'll never be there on my own, looking down the valley from the peaks, seeing the whole world around me. I'd rather be dead. She knows I'd rather be dead. That's why she never leaves me alone, that's why she sends my father to the shops instead. Annie, the maid, has gone, you know. Couldn't stand the sight of me. She used to flirt with me, when I was in one piece.'

There was a clinking of cups and plates. Devlin took the tray from Edward's mother and set it down on a table. The pouring of tea and the handing round of cake allowed some light remarks. Edward's cup jittered against his saucer; as his mother mopped up the spills, he glared at her, his expression a mixture of contempt and resentment.

Devlin searched for a topic of conversation, rejecting in rapid succession London, Camilla, the war as hopelessly tactless or unsuitable. Rosindell: but then he had never invited Edward to Rosindell, too embarrassed as a schoolboy to expose his friend to its dereliction or his father's oddities and tempers.

His gaze alighted on a library book on the windowsill. He asked Edward about it and Edward made some grudging reply, then Mrs Hutchinson supplied a few bright comments and Devlin talked about a book he had read, and so the conversation limped on for an hour or so, Eddie taking little part, that expression of viperous outrage often naked in his eye.

Devlin left shortly after lunch, pleading his evening engagement in London, promising to return on his next leave. He took a window seat on the Hathersage train. I'll never walk there again: he turned away from the view and concentrated on lighting a cigarette. On the train from Sheffield, he sat in the corner of a carriage, closing his eyes. He didn't sleep, though. He found it almost impossible now to remember the Edward he had once known, with whom he had played at school and walked and climbed in the Peak District. It was as if the man he had seen that day had erased those memories, as if they had never been. It was not only Edward who had been destroyed, but his family also, who had once seemed to him the ideal of the happy family, an exemplar, almost, of what might have been, had his own mother lived. Since her death when Devlin had been five, his father had cut himself off from the world. Visitors had stopped calling at the house, deterred by Walter Reddaway's rudeness and moroseness. His father had neglected Rosindell and now the roof on the oldest part of the building let in water and in winter the cellars were awash.

More passengers piled on at Doncaster and then the train rattled off again. His exchange with Camilla the previous day now seemed one of politeness, holding no promise. An acquaintance from home, adrift in London; what else could she have done but allow him to tag along with her? What did he hope for? He did not want to want Camilla Langdon. In Flanders he had lost the habit of wanting. Out there, you desired the absence of things – cold, rain, fear, mud. And then yesterday, he had glimpsed desire itself, rushing into the void.

The train drew into London at a quarter past seven. He had time to kill before meeting Camilla and her friends, so he ate an indifferent supper in a café and then found a pub. As he walked to Piccadilly, girls with painted faces smiled at him, huddled in their thin coats in doorways. London was clamorous, frenzied and hollow. If you picked at the surface, you would find nothing beneath.

In the nightclub, he ordered another drink. Already he could see how the evening would turn out and already it bored him. He would be an intrusive and unwanted extra to Camilla's circle, tolerated for pity's sake. He would compete with her more favoured friends for time alone with her.

Half an hour passed before they arrived, the bright silks of the women's dresses contrasting with the dull khaki of the men's uniforms. Camilla was wearing a simple white gown, so that she seemed luminously pale, almost ghostlike. Round her shoulders rested a stole of white fur, which gleamed as it caught the light. In his mind's eye, Devlin imagined a creature, an ermine or an arctic hare, running across a snowfield, free, alone, swerving this way and that, leaving a looping trace on a blanched hill.

He was introduced to Mrs Sheridan's husband, a sandy-haired man with a nervous tic that caused his head to jerk sideways every few minutes, and to another couple, the Crowthers, the woman darkly vivid and thick-browed, her husband twice her age. Edna Clare was accompanied by a cousin who was in the Guards.

There was a tall man with a neatly trimmed moustache, who ran bored eyes over Devlin as Camilla introduced them.

'Devlin, let me introduce you to Major de Grey. Victor, this is Captain Reddaway, a friend of mine.'

Seats were found, drinks were ordered. Devlin sat between Captain Sheridan and Mrs Crowther. Mrs Sheridan talked about her nieces, while her husband remained silent, staring at the dance floor. Camilla and de Grey sat opposite Devlin. Camilla was talking to de Grey but her words came to Devlin only patchily, drowned out by Mrs Sheridan's voice and the music of the three-piece band. The major had an aloof look and his occasional smiles were compressed and brief.

Interrupting Mrs Sheridan's monologue, Devlin glanced across the table. 'Have they known each other long?'

'I don't believe so, Captain Reddaway. Major de Grey's sister is married to my cousin. Greenwell, the de Greys' estate, is in Gloucestershire. Do you know it? Reggie and I stayed there one summer before the war. The gardens are famous for their allées of pleached limes.'

Watching de Grey lead Camilla on to the dance floor, Devlin felt the savage bite of jealousy. Was she keen on de Grey? Surely not – the man seemed a cold fish.

A voice hailed him; looking up, Devlin saw an officer he had known at training camp. 'Hello, Bridges,' he said.

'Good to see you, Reddaway. Let's have a drink.'

Camilla's friends showed no inclination to move up and allow Bridges to join them, so he and Devlin sat at another table. Bridges was an unprepossessing man, short, snub-nosed and wet-lipped. Devlin remembered that he had a mild, agreeable nature, unsuited for war. He was someone you would have assumed would have been pointlessly wiped out in an early futile skirmish.

He was teaching at a training camp in Hertfordshire, Bridges told him. 'I'm good at maps,' he said.

'Good for you.'

'Envious of you fellows on the front line, of course.'

'Are you?'

Bridges' head dipped. 'Feel I should say I am. It seems cowardly, to be glad to be stuck at home.'

'Rot. I should make the most of it.'

'That's what Louisa says.'

'Louisa?'

'My wife.' A photograph was unearthed from a wallet and a wedding portrait of a heavy-jawed woman overburdened with white lace offered to Devlin.

'Pretty girl,' said Devlin. 'Congratulations.'

'She's in Lancashire, worse luck, with her mother, because she's going to have a baby, or I'd be with her tonight. Don't awfully care for these places, but I needed a drink.'

The dance came to an end. Devlin saw Camilla and de Grey separate and murmured an excuse to Bridges. The band struck up 'If You Were the Only Gi
We hope you are enjoying the book so far. To continue reading...
One Last Dance
Judith Lennox
Copyright © 2023 All Rights Reserved