A Step In The Dark
Available in:
eBook
Paperback
Audiobook
Hardcover
Book info
Sample
Audiobook
Media
Author updates
Lists
Synopsis
Secrets can bind a family – or tear them apart...
Judith Lennox's A Step in the Dark is a powerful family drama set in India and Scotland that spans from 1915 to the 1960s. Perfect for fans of Lucinda Riley and Kate Morton.
It's 1915 when young Bess Ravenhart, recently widowed, leaves her baby son Frazer with her mother-in-law, Cora, while she sails from India to Britain to set up a home. But Cora has no intention of returning Frazer to his mother's care. Though Bess makes a new life in Edinburgh and knows the joy – and pain – of motherhood with further children, her heart always aches for the little boy she left behind. When Frazer travels to Scotland twenty years later, it seems Bess's dreams of a reconciliation will come true. But Frazer trails danger in his wake, and it's possible that not only he but also Bess and her whole family will live to rue the day of his return...
(P)2010 Isis Audio
Release date: July 17, 2005
Publisher: Headline
Print pages: 423
* BingeBooks earns revenue from qualifying purchases as an Amazon Associate as well as from other retail partners.
Listen to a sample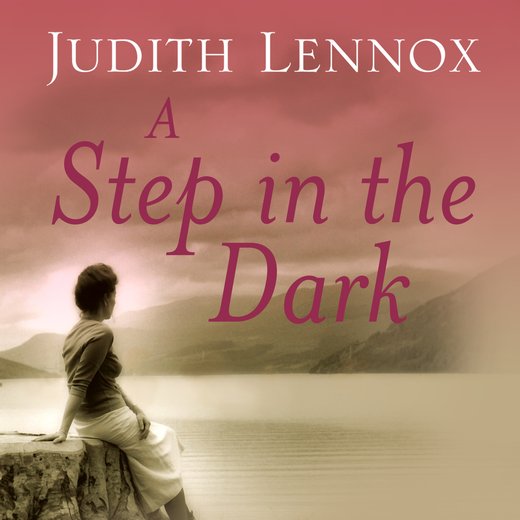 19:53:54
546.53 MB
9781472274731
February 13, 2020
Hachette UK
A Step In The Dark
Judith Lennox
On the boat, sailing from India, Bess Ravenhart thought about her child.

His white-gold hair, his gap-toothed smile, his plump hands clutching a leaf, a nut, to place on her lap. His bubble of laughter when the nut rolled to the floor, and she caught him up in her arms and covered him with kisses.

Gazing out over the intense blue of the Indian Ocean, it occurred to her that her marriage had begun and ended with laughter. 'I heard you laugh. That was what made me look at you,' Jack Ravenhart had once told her. 'And when I saw you, I knew that I would marry you.'

They had met on an ink-black evening, when the Mall in Simla was brightly lit and busy and the night air was heavy with the scent of woodsmoke and spices. Bess had been staying in Simla with friends while her widowed father was away on business. All Simla society paraded on the Mall. Assignations were made, quarrels picked and mended, love affairs begun with the flash of an eye.

Bess could never afterwards recall why she had been laughing. But for the rest of her life she remembered her first sight of tall, handsome Jack Ravenhart. He was on the far side of the Mall, mounted on a restless black horse. There was the glint of spurs and tunic buttons, and his eyes following her as she walked past, her laughter dying a little in the heat of his gaze. On his face she recognized the expression that soon became familiar to her, that characteristic mixture of greed and delight and recklessness.

They married three months later. Jack swept aside all objections. He wanted her, and he was in the habit of having whatever he wanted. At eighteen years old, Bess found herself Jack Ravenhart's wife and the daughter-in-law of Fenton and Cora Ravenhart. She and Jack lived in a bungalow in Simla with a staff of a dozen servants and a stable full of polo ponies and hunters.

A year later their son, Frazer, was born. Once Bess had recovered from the birth, their life seemed to go on much as before. Frazer's ayah looked after him while Bess and Jack went to fancy-dress balls and picnics and hunted and attended the races. But Bess knew that something had changed, though she kept it to herself. Dressing for the evening, she would steal a few moments to watch her baby as he slept in his crib, absorbed by the plump curve of his cheek and the fat star shapes of his hands, until Jack, coming to look for her, hurried her out of the house, still buttoning her gloves or pinning up her hair.

To be with Jack Ravenhart was an adventure, and she enjoyed every minute of it. He never refused a dare; he sought out excitement and danger. They laughed and they danced, heedless and exhilarated, throughout the two years of their marriage. They spurred each other on; in Jack, she found someone whose appetite for life matched her own. They were two of a kind, living for the moment, careless of the future.

The laughter stopped only on the day he died. It was dawn, and they were riding in the hills above Simla. He challenged her to a race, and her sudden fear, her premonition – the unfamiliar stony path, the mist that swirled round the pines – made her cry out to him: No, Jack!

Her words hung ragged in the air as he spurred his horse to a gallop along the narrow track. Before the horse threw him, the last sounds she heard were the drum of hooves and, from a distance, his laughter.

A broken branch across the path, they told her, and the mist disguising the edge of a steep escarpment. The fall had broken Jack Ravenhart's neck. And with his fall, the long, intoxicating party that had been their life in Simla came to a sudden, shocking end.

His absence rubbed the colour from her life. At night, alone in bed, she still seemed to hear his laughter.

'What do you intend to do now?' Cora Ravenhart, Jack's mother, asked Bess, on the day after the funeral.

Cora had called at the bungalow that Bess and Jack had shared. Cora was tall and imposing, her bosom one great, undivided mass sloping into a tightly corseted waist. Her black clothing showed up her pallor and deepened the furrows that grief had carved into her face.

'I thought . . .' began Bess, but the sentence trailed off as she glimpsed traps, pitfalls.

Mrs Ravenhart did not sit, but moved round the room, her fingertips brushing against a vase, a length of curtain, a carved wooden screen. 'I'm afraid it isn't possible for you to remain here, Elizabeth. Jack's affairs were not left in good order. There are a great many debts. Your housekeeping bills . . . his mess bills . . .' Cora's blue eyes rested fleetingly, disdainfully, on Bess as she added, 'The life you led . . . you were living beyond your means.'

Bess murmured, 'I hadn't realized.'

'Hadn't you? A cavalry officer's pay is not generous. You could not have lived as you did without our help – our considerable help. This bungalow . . .'

'Our bungalow?'

'It is Fenton's, of course.' Fenton Ravenhart, Jack's father, was a man as cold and distant as Jack had been warm and generous.

Cora paused, her gaze caught by the photograph of Jack on top of the piano. When she spoke again, her voice was harder. 'Everything belongs to Fenton. You own nothing. And we really can't be expected to keep up two households in Simla now. The expense . . .'

Bess blurted out, 'Have you come here to tell me that Frazer and I must live with you?'

A trill of laughter. 'I don't think that would do, do you, Elizabeth? I must be frank. I don't think that would suit either of us.'

The dislike in Cora Ravenhart's eyes, carefully veiled in Jack's lifetime, was naked now. 'I assumed,' said Cora softly, 'that you would go back to your father. He would take you in, presumably?'

'Yes . . . I don't know . . .' It was now almost two years since she had last seen her father, Joe Cadogan. Joe was a wanderer and a dreamer, always searching for the new venture that would make his fortune. He had returned to the country of his birth shortly after Bess had married.

She said, 'My father's living in England now.'

Her mother-in-law was looking out of the window, her silhouette black against the blurred blue-greens of the garden. 'Please don't think me ungenerous, Elizabeth. Whatever our differences, you were Jack's wife. I am here to offer you help. I will pay your passage to England, and I will take care of Frazer until you are able to send for him.'

I will take care of Frazer. Swallowing her first angry retort, Bess managed to say coolly, 'Thank you, but I'll take Frazer to England with me.'

Mrs Ravenhart sat down. 'Do you know where your father is living?'

'Naturally.' But Bess was aware of a sudden uncertainty; it had been months – as many as six months, perhaps – since she had heard from her father. Though she had written to the hotel in which he was living to tell him of Jack's death, so far she had received nothing, neither a note nor a telegram, in return.

'Do you know whether his residence is suitable for a child? No? I suspected not.' Cora gave a small, tight smile. 'After all, I hear that he left India under something of a . . . a cloud, shall we say.' Mrs Ravenhart's voice dropped to a murmur. 'There were gambling debts, I believe.'

Bess had to dig her nails into her palms to suppress her rising temper.

Cora Ravenhart went on, 'I only want what's best for Jack's son. As you do too, I trust. Which is why I am suggesting that Frazer remains here while you travel to England to make arrangements. We have been intending for some time to visit Fenton's elder brother, Sheldon, in Scotland. Everything is arranged – we will sail next April and we plan to stay with Sheldon for the summer. We can bring Frazer with us. By then you should have set up a suitable establishment in which to bring up a child. In the meantime, I shall write and send you news of him, of course. I'm sure it will all work very well.'

Bess cried out, 'But I can't just leave him! He's all I have left!'

'Frazer is a delicate child,' said Mrs Ravenhart. Now, her voice was cold and hard, like steel. 'To take him from India to damp, chilly rooms in England might ruin his health. And your separation will only be a matter of months, after all. You mustn't think of yourself, Elizabeth. You must think of Frazer, of what's best for him. He is all that matters now.'

India had almost vanished, but Bess remained sitting on the deck of the P&O liner, her gaze fixed on the compressed charcoal band of the coast. It was the first time she had left India, where she had been born and brought up, and she found herself thinking of race meetings at Annandale, with the horses' breath clouding the air and the tall pines and deodars black against a pearl-white sky. She thought of parties at the bungalow – the thrill of a seance and the shrieking silliness of games of truth, kiss and dare. And the card games in the early hours of the morning, in a blue haze of cigarette smoke, a crumpled pyramid of fifty-rupee notes in the centre of the green baize-covered table. And she remembered the pinks and yellows of the girls' silk dresses, the purples and oranges of hibiscus and bougainvillaea, and the gold of the sun on the white peaks of the Himalayas. And she thought of Frazer, of the first time she had held him in her arms and looked down at his tiny, crumpled face and his unfocused, knowing, dark blue eyes.

Seeing her black dress, and that she was alone, a couple called Mr and Mrs Williamson had taken her under their wing. Mrs Williamson was kind and vague and untidy, her conversation a succession of breathy, unfinished phrases. 'This war ... so awful . . . those poor boys . . .' she said, and shook her head, and Bess recalled that, on the other side of the world, a war had broken out. Not that it mattered to her. Everyone said it would be over by Christmas.

Mrs Williamson spoke to her of her son, in an army training camp in England, and of her two married daughters, one in India, the other living in the Williamsons' home town of Edinburgh. She showed Bess photographs of solemn-faced grandchildren, festooned in lace frocks or clad in sailor suits. In the evenings, Bess and the Williamsons played games of whist and piquet for pennies – except on Sundays, of course. On board ship no one played cards on a Sunday. Or danced or read a novel or even smiled, Bess thought desperately. Sundays passed slowly, in a state of scratchy, furious boredom, nothing to be found to relieve the tedium in the wide blue of the Indian Ocean or the intense heat of the Red Sea.

Soldiers joined them at Port Said, where the ship stopped to re-coal. The bolder ones came to speak to Bess as she sat on deck, sheltered from the fierce sun by an awning. Their uniform buttons and epaulettes flashed gold; talking to them, she had to put up her hand to shelter her gaze from their brightness, and the flash of light on the sea. Their fingertips twirled the ends of their moustaches and their eyes feasted on her, an oasis in a desert. If she put her mind to it, she thought, she could find herself another husband before the ship reached Southampton.

At night, in her cabin, she took out her most precious possessions and placed them on the narrow bed. Her cashmere shawls, with their rich swirling patterns of blues and ochres and rusts, the heady colours of India; the necklaces and bracelets and brooches that Jack had given her on birthdays and anniversaries; photographs of Jack and Frazer, and a jacket that she had knitted for her baby son. Pressing the jacket against her face, closing her eyes, she breathed in the powdery scent of him, still woven into the stitches.

Sitting on the bed, looking at the photographs, she acknowledged that her mother-in-law had only forced her to face the reality of her situation. She must endure this temporary separation for Frazer's sake. In a week's time she would be in England. She would go to the hotel where her father was staying and her father would help her to rent a house. Then she would write to Mrs Ravenhart and ask her to bring Frazer to England without further delay. Or perhaps her father would pay her return passage to India and she would go back and fetch her baby herself.

Yet the sense of unease she had felt ever since she had accepted Cora Ravenhart's offer to look after Frazer remained undiminished. She remembered how deeply Cora had loved Jack, her only child. How, when they were together, her gaze had followed him round the room. How Cora had patted the sofa for Jack to sit beside her, how she had softened when he was there, and how she had smiled for Jack, only Jack.

The ship docked at Southampton. Steam billowed from funnels and porters rushed from ship to train, pushing mountains of luggage. It was November, and the sky was an iron-grey mass of cloud. Bess shivered. As she left the ship, reaching the end of the gangway, she found herself suddenly hesitant to put her foot on dry land. A step in the dark, she thought; her first step into a new country, a new life.

She parted from the Williamsons at Waterloo station, their shipboard acquaintance ending in hugs and cries of good wishes and promises to write. In the cab, she stared out of the window at the London streets, her gaze darting this way and that, trying to take it all in. So many motor cars and trams, so many people. Though it was only mid-afternoon, the skies were already darkening. The bare branches of the trees loomed through an orange-grey fog and all sorts of unfamiliar smells hung in the thick, soupy air. As the cab turned the corner of a street, the fog thinned for a moment and Bess glimpsed the black slick of the Thames. She could hear the hooting of foghorns, the cries of street sellers. And it was cold, so much colder than a summer's evening in Simla. The icy damp seeped through her thin coat and her fingers chilled inside her cotton gloves. I am in London, she thought, with a thrill of excitement. I am in London, city of wealth and power and plenty, the greatest city in the Empire.

Outside her father's hotel, she fumbled with the unfamiliar coins to pay the cab driver. The foyer of the hotel was marbled and cavernous. Palms in brass pots drooped over polished floors, and gilt mirrors reflected the flickering light of the chandeliers. Ladies in beaded and ostrich-feathered evening gowns descended the stairs; through an open doorway, Bess glimpsed gentlemen lounging in leather chairs. They smoked and read their newspapers and summoned the waiter with a snap of their fingers.

She asked for the number of her father's room at the reception desk. The clerk studied a large, leather-bound book. Then he looked up at her.

'I'm afraid we have no one of that name staying in the hotel, madam.'

Bess insisted he check again. He ran his fingertip down the column of names. 'No. There is no Mr Cadogan here.'

'But there must be!'

'No, madam. I'm sorry, madam.' The book closed with a smack.

She stood in the foyer beside her luggage. What now? She tried to think; then a voice interrupted her thoughts.

'Perhaps I may be able to help, my dear.'

The man who had addressed her was tall, white-haired and florid, much the same age as her father, she guessed. 'Harris is the name,' he said, bowing to her. 'Dempster Harris. I reside at this hotel. And what may I call you, my dear?'

Bess told him her name. 'Mrs Ravenhart,' he repeated, luxuriating over the syllables. 'Enchanté.' He kissed her hand. 'You must excuse my impertinence, my dear Mrs Ravenhart, but I couldn't help overhearing you asking for Joe Cadogan.'

'Do you know him?'

'I most certainly do. Dear old Joe.' Mr Harris smiled. 'Always such good company.'

'He's my father,' she explained.

His eyes widened slightly. 'You haven't the look of him.'

'I'm told I take after my mother. I thought my father was staying here. Do you know where I might find him, Mr Harris?'

'Rather lost touch, I'm afraid.' He looked regretful. 'Joe left here after his accident.'

'Accident?'

'Knocked down by a tram, poor chap. London is quite impossible these days. You take your life in your hands whenever you cross the road. And poor old Joe, coming here from the tropics . . . well, he wasn't used to it, was he?' He shook his head. 'There, there, you mustn't be alarmed, my dear. Walking wounded by the time he left the hotel. Perhaps he took himself off for a spot of sun. Recuperative, don't you know.'

'I have to find him.' Her father would help her make a home in this dark, cold city. And she must have a home for Frazer.

He glanced at her luggage. 'Have you travelled far, Mrs Ravenhart?' 'From India,' she said.

'India.' He beamed. 'You must tell me all about it. I know, we'll have a spot of supper. No, I insist. And then I'll rack my brains and try and think where dear old Joe might have gone. One thinks so much better over a spot of supper, don't you agree?'

In the hotel dining room, Bess's natural optimism returned, and she felt intoxicated: by the champagne Dempster Harris ordered, and by the opulence of her surroundings. The silks and satins of the ladies' gowns – rich crimsons, sapphire blues and violets – contrasted with the khaki of their army officer escorts. These women had a polish and elegance that made the ladies of Simla seem in retrospect old-fashioned and provincial.

Mr Harris sat back in his chair. 'And what do you think of London, Mrs Ravenhart? Are you enjoying yourself?'

'Oh, enormously!' She smiled at him. 'And thank you so much for supper, Mr Harris. It's splendid.'

'The pleasure's all mine.' He gave a little cough. 'Your husband . . . ?' he enquired tactfully, glancing at her black dress. 'He has passed on, I fear.'

'Jack died in a riding accident.'

'How frightful . . .' There was a gleam of interest in his eyes. 'Leaving you to soldier on on your own, you poor little thing, alone and unprotected.' He squeezed her hand. 'Tell you what, how about a spot of dancing when we're finished here? That'd cheer you up. I know a smashing little place.'

She reclaimed her hand, murmuring polite expressions of regret.

By the time they parted, Bess had the names of her father's friends and tradesmen and the addresses of his favourite clubs and pubs. In the room she had taken in the hotel, she studied the handful of letters her father had written to her since he had left for England – he had been only a fitful correspondent – for clues to his whereabouts.

Then she stood for a long time at the window. Passers-by were still drifting along the pavements below: a soldier, his arm round his girl's waist; a couple in evening dress, stepping out of a cab. Her gaze moved from the street lamps that glowed through the fog to the buildings, so massive and numerous, that jutted above the skyline. And she wished that she could soar like a bird over those houses and shops and offices, swooping from one London street to another, peering through windows and down chimney pots until she found him.

The next few days reminded Bess of the treasure hunts she and Jack had liked to devise in Simla. Tracking her quarry took her from cafes with private booths lined with crimson plush banquettes to dining rooms where white-aproned waiters rushed to and fro with plates of chops and tankards of ale. She called at red-brick villas in sedate streets, where she spoke to widows and grass widows of fading prettiness. The widows talked fondly of Joe Cadogan before shaking their heads and saying, no, they couldn't tell her where Joe was living now, but when she found him, would she kindly remind him about the ten shillings he had borrowed.

She visited pubs and betting shops, where the only women in the establishment served behind the counters, and the men eyed her and called out to her. She answered back smartly and did not pull down her veil. She would not see the world through a mesh of black. She travelled in cabs and buses and underground trains; she walked for miles and miles. She was always cold, no matter how many coats and stockings and gloves she heaped on, and she grew increasingly troubled when, as her search continued, she found herself walking down ever meaner, narrower streets.

In a street market in Spitalfields, barefoot children gathered fallen apples and cabbage leaves from beneath the stalls, and a tramp slept in a doorway, a bundle of tattered rags.

Bess knocked at the door of a lodging house. To one side of it was a furrier and to the other was a herbalist. Musky scents from the herbalist cut through the sourer stench of the streets, reminding her briefly, painfully, of India.

The landlady showed Bess to an upstairs room. An old man was sitting in a chair by the fire; she did not at first recognize him. Then he looked up and smiled.

'Bess,' he said. 'My Bess. What on earth are you doing here, dear girl?'

The accident had knocked him back a bit, her father told her, but he was as fit as a fiddle now. She did not believe him. His skin was yellowish, a legacy of the malaria he had contracted in India a long time ago. When he coughed, his handkerchief was flecked with blood. His years in England had diminished him, as if the dark and the cold had drained him of vigour. He was pleased to see her, he said; times had been hard, and most of his old friends in England were dead or had forgotten him, and the doctor's bills had left him rather short, so if she could lend him a guinea or two . . .

Her letter telling him of Jack's death had not reached him. When she explained to her father that she had recently been widowed, his eyes filled with shock and bewilderment. 'That poor boy ... so young . . . my dear Bess.'

When, later, she left the lodging house, she had to bite back the feeling of panic that had come over her, finding her father old and ill in that small, comfortless room.

Back at the hotel she took a star sapphire pendant and a gold bracelet from her jewellery case. She found Dempster Harris in the smoking room. 'Forgive me for troubling you, Mr Harris,' she said, 'but I wondered whether you could tell me where I might sell these.' She showed him the jewels.

He took out a leather billfold; she heard the rustle of banknotes. 'There's no need for that, my dear Mrs Ravenhart. Always happy to help a lady as lovely as you.' His long, yellowing teeth showed beneath the fringes of his moustache as he held out the notes to her. 'And you needn't worry about paying back my little loan. It would give me great pleasure if you were to accept my offer of . . .' he searched for the word, 'of protection'.

She thought of Frazer. Frazer in her arms, reaching up to pull the silver combs from her hair. Frazer in the bungalow garden, wide-eyed with wonder at every bird and flower. Take the money Dempster Harris held out to her and she could send for Frazer tomorrow.

Yet she murmured her refusal. She could manage; she would find a way. She need not make that sort of bargain.

Dempster Harris sighed. 'A pity. We could have had such fun.' His eyes softened. 'You remind me of a girl I once knew. Black hair and blue eyes, just like you.'

With the money she received from the sale of her jewellery, Bess rented a furnished terraced house in Ealing. She engaged a maid-of-all-work to do the housework and washing and placed an order at the grocer's.

She wrote to Cora Ravenhart, in India, asking for news of Frazer. Wrapped up in an eiderdown because of the cold, her thoughts wandered. She thought of her childhood in the cantonments of Madras during her father's army days. She remembered the years after her mother had died: they had travelled to the hill country after Joe Cadogan decided to earn his fortune planting indigo. After the plantation failed, they had returned to the searing heat of the plains, where her father had tried his hand as a merchant, selling teak and mahogany and Indian cottons and silks. During those years, a succession of aunties had come to stay at their various bungalows. If she had become Dempster Harris's mistress, she would have ended up much like one of the aunties, a transient creature, only of value so long as her looks lasted and she could amuse and entertain.

Bess had never known a settled home; all too often, her comfort and well-being had been dependent on the turn of a card or the swift run of a horse. It had been a changeable, rackety sort of life. Sometimes she had had a wardrobe full of silk dresses, at other times she had sweated over her needle to let out frocks long grown out of. She had had a freedom that few other Anglo-Indian girls of her age were permitted. No one had stopped her roaming through the bazaars or bathing in the stream with the native children, clad only in her drawers and camisole. No one had taught her that she must not roar with laughter at her father's friends' ribald jokes, and no one had explained to her that when she was in company she must sit, hands clasped, ankles crossed, and not speak until she was spoken to.

She had been staying in Simla with friends of her father's when she had met Jack. It had been in Simla, that tight little capital of Anglo-India in the hills, that she had first become aware of the power she possessed. Dressed up in borrowed finery, introduced to society, she had noticed how men's eyes followed her as she danced round a ballroom or rode down the Mall. All their desire had been distilled in Jack Ravenhart's hungry gaze. She had married him because how else could she get on in life? How else might she survive?

Had she loved Jack? She had never been sure. She had liked him enormously. And she had desired him. She hadn't known about desire until she had met Jack. Did liking and desire add up to love? She did not know. She knew only that she would have given a great deal to have Jack in bed beside her now, to roll over and find him looking at her with that greedy, devouring expression. She remembered how he had liked to run his fingertips the length of her body, tracing its contours, as though he was making a map of her. She remembered how his touch had drawn delight from her, and how, when he was away, she had longed for that delight.

She dashed away her tears. Tears were futile, looking back was a waste of time. She caught sight of the envelope on the dressing table. There were things she had left out of her letter to Cora Ravenhart. That her father was ill. That he was penniless. That England was not as she had assumed it to be, that it was too cold, that it rained too much, and that she had not expected those barefoot children, those heaps of rags huddled in doorways.

When there was no reply to her letter, she wrote again. The letter had got lost, she reasoned; it was a long way from London to India. Throughout the winter, as the war on the Western Front settled into a murderous stalemate, she wrote to Cora Ravenhart again and again. Cora never wrote back. The darkening of the city, as the street lamps were dimmed for fear of air raids, echoed the darkening of Bess's heart. Questions haunted her. Why did Mrs Ravenhart not write? Was Frazer pining for her? He had been thirteen months old when she had left India – how could he possibly understand why she had had to leave him? Worse, what if he was ill? Had Mrs Ravenhart not written because she could not bear to impart bad news? Something seemed to grip like a tightly wound spring inside her. Frazer's absence gnawed at her heart, shredding its surface, leaving it raw and bleeding.

Her rings and bracelets paid for her father's doctor's bills, rent and food. Each piece of jewellery contained a memory, trapped in a moonstone or frozen in the cold flare of a diamond. The winter passed slowly, marked off by the chapters of the book she read aloud to her father and by the hands of cards they played. The fog and rain seemed to surround the city like a palisade, cutting her off from the life she had once known. In the coldest months, she dreamed of the monkeys at Hanuman's shrine on the hill of Jakko. The children of Simla had fed them biscuits; in her dream the monkeys rushed endlessly through pine and honeysuckle, their chatter and the patter of their feet filling the air. Running with them, she shook off the mixture of grief and frustration that was with her throughout the winter.

More and more often she dreamed of Frazer. Sometimes he did not know her and turned away from her; sometimes he was oddly altered and she did not recognize him. Once she dreamed that she was going home. When she reached Simla, she found the bungalow empty; outside, looking down the Mall, she caught sight of a tall, golden-haired young man, who turned and smiled and waved a farewell to her before he walked away.

In this cold country, all the front doors remained shut, and people did not gather in the street as they had in India, talking long after the sun went down. She sensed her neighbours' disapproval of her in their tight, frosty smiles, and in the lack of any social invitations. When she was lonely, she spoke to the man who swept the streets or the woman behind the counter in the sweet shop. On the tram, she chatted to the soldiers who, their arms in slings or bandages round their heads, were in London convalescing from their wounds.

Sometime in the spring of 1915, she accepted that her father was dying. It was around the time of the second battle of Ypres, when German troops used chlorine gas for the first time. Like the gassed soldiers, her father now fought for every breath. Sitting at his be
We hope you are enjoying the book so far. To continue reading...
A Step In The Dark
Judith Lennox
Copyright © 2023 All Rights Reserved