Book info
Sample
Audiobook
Media
Author updates
Lists
Synopsis
The incredible conclusion to the trilogy that began with the Hugo Award-winning The Fifth Season
· Shortlisted for the Hugo, Nebula, Kitschies, Audie and Locus Awards
· A New York Times Notable Book
· The inaugural Wired.com book club pick

The Moon will soon return. Whether this heralds the destruction of humankind or something worse will depend on two women.

Essun has inherited the phenomenal power of Alabaster Tenring. With it, she hopes to find her daughter Nassun and forge a world in which every outcast child can grow up safe.

For Nassun, her mother's mastery of the Obelisk Gate comes too late. She has seen the evil of the world, and accepted what her mother will not admit: that sometimes what is corrupt cannot be cleansed, only destroyed.

Praise for this trilogy:
'Amazing' Ann Leckie
'Breaks uncharted ground' Library Journal
'Beautiful' Nnedi Okorafor
'Astounding' NPR
'Brilliant' Washington Post
Release date: August 15, 2017
Publisher: Orbit
Print pages: 464
* BingeBooks earns revenue from qualifying purchases as an Amazon Associate as well as from other retail partners.
Listen to a sample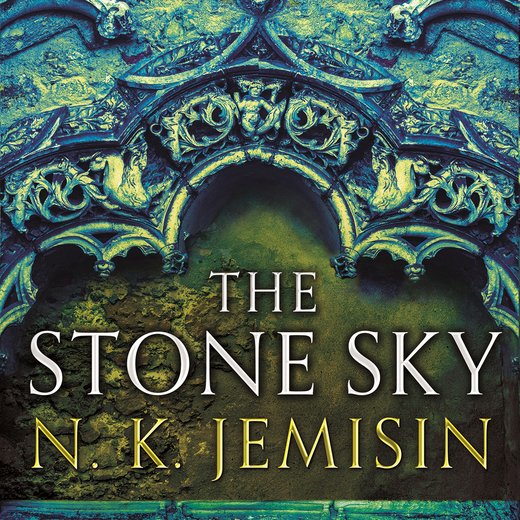 14:16:55
392.27 MB
9781478916291
August 15, 2017
Little, Brown
2017
The Stone Sky
N.K. Jemisin
TIME GROWS SHORT, MY LOVE. Let's end with the beginning of the world, shall we? Yes. We shall.

It's strange, though. My memories are like insects fossilized in amber. They are rarely intact, these frozen, long-lost lives. Usually there's just a leg, some wing-scales, a bit of lower thorax—a whole that can only be inferred from fragments, and everything blurred together through jagged, dirty cracks. When I narrow my gaze and squint into memory, I see faces and events that should hold meaning for me, and they do, but … they don't. The person who witnessed these things firsthand is me, and yet not.

In those memories I was someone else, just as the Stillness was someworld else. Then, and now. You, and you.

Then. This land, then, was three lands—though these are in virtually the same position as what will someday be called the Stillness. Repeated Seasons will eventually create more ice at the poles, sinking the sea and making your "Arctics" and "Antarctics" larger and colder. Then, though—

—now, it feels of now as I recall myself of then, this is what I mean when I say that it is strange—

Now, in this time before the Stillness, the far north and south are decent farmland. What you think of as the Western Coastals is mostly wetland and rainforest; those will die out in the next millennium. Some of the Nomidlats doesn't yet exist, and will be created by volcanic effusion over several thousand years of eruptive pulses. The land that becomes Palela, your hometown? Doesn't exist. Not so much change, all things considered, but then now is nothing ago, tectonically speaking. When we say that "the world has ended," remember—it is usually a lie. The planet is just fine.

What do we call this lost world, this now, if not the Stillness?

Let me tell you, first, of a city.

It is a city built wrong, by your standards. This city sprawls in a way that no modern comm would be permitted to do, since that would require too many miles of walls. And this city's outermost sprawls have branched off along rivers and other lifelines to spawn additional cities, much in the manner of mold forking and stretching along the rich veins of a growth medium. Too close together, you would think. Too much overlap of territory; they are too connected, these sprawling cities and their snaking spawn, each unable to survive should it be cut off from the rest.

Sometimes they have distinct local nicknames, these child-cities, especially where they are large or old enough to have spawned child-cities of their own, but this is superficial. Your perception of their connectedness is correct: They have the same infrastructure, the same culture, the same hungers and fears. Each city is like the other cities. All of the cities are, effectively, one city. This world, in this now, is the city's name: Syl Anagist.

Can you truly understand what a nation is capable of, child of the Stillness? The entirety of Old Sanze, once it finally stitches itself together from fragments of the hundred "civilizations" that live and die between now and then, will be nothing by comparison. Merely a collection of paranoid city-states and communes agreeing to share, sometimes, for survival's sake. Ah, the Seasons will reduce the world to such miserly dreams.

Here, now, dreams have no limit. The people of Syl Anagist have mastered the forces of matter and its composition; they have shaped life itself to fit their whims; they have so explored the mysteries of the sky that they've grown bored with it and turned their attention back toward the ground beneath their feet. And Syl Anagist lives, oh how it lives, in bustling streets and ceaseless commerce and buildings that your mind would struggle to define as such. The buildings have walls of patterned cellulose that can barely be seen beneath leaves, moss, grasses, and clusters of fruit or tubers. Some rooftops fly banners that are actually immense, unfurled fungus flowers. The streets teem with things you might not recognize as vehicles, except in that they travel and convey. Some crawl on legs like massive arthropods. Some are little more than open platforms that glide on a cushion of resonant potential—ah, but you would not understand this. Let me say only that these vehicles float a few inches off the ground. No animals draw them. No steam or chemical fuels them. Should something, a pet or child perhaps, pass underneath, it will temporarily cease to exist, then resume on the other side, with no interruption of velocity or awareness. No one thinks of this as death.

There is one thing you would recognize here, standing up from the core of the city. It is the tallest, brightest thing for miles, and every rail and path connects to it in some way or another. It's your old friend, the amethyst obelisk. It isn't floating, not yet. It sits, not quite quiescent, in its socket. Now and again it pulses in a way that will be familiar to you from Allia. This is a healthier pulse than that was; the amethyst is not the damaged, dying garnet. Still, if the similarity makes you shiver, that's not an unhealthy reaction.

All over the three lands, wherever there is a large-enough node of Syl Anagist, an obelisk sits at the center of each. They dot the face of the world, two hundred and fifty-six spiders in two hundred and fifty-six webs, feeding each city and being fed in turn.

Webs of life, if you want to think of them that way. Life, you see, is sacred in Syl Anagist.

Now imagine, surrounding the base of the amethyst, a hexagonal complex of buildings. Whatever you imagine will look nothing like the actuality, but just imagine something pretty and that will do. Look closer at this one here, along the southwestern rim of the obelisk—the one on a slanting hillock. There are no bars on the building's crystal windows, but visualize a faint darker lacing of tissue over the clear material. Nematocysts, a popular method of securing windows against unwanted contact—although these exist only on the outward-facing surface of the windows, to keep intruders out. They sting, but do not kill. (Life is sacred in Syl Anagist.) Inside, there are no guards on the doors. Guards are inefficient in any case. The Fulcrum is not the first institution to have learned an eternal truth of humankind: No need for guards when you can convince people to collaborate in their own internment.

Here is a cell within the pretty prison.

It doesn't look like one, I know. There's a beautifully sculpted piece of furniture that you might call a couch, though it has no back and consists of several pieces arranged in clusters. The rest of the furniture is common stuff you would recognize; every society needs tables and chairs. The view through the window is of a garden, on the roof of one of the other buildings. At this time of day, the garden catches sunlight slanting through the great crystal, and the flowers growing in the garden have been bred and planted with this effect in mind. Purple light paints the paths and beds, and the flowers seem to glow faintly in reaction to the color. Some of these tiny white flower-lights wink out now and again, which makes the whole flower bed seem to sparkle like the night sky.

Here is a boy, staring through the window at the winking flowers.

He's a young man, really. Superficially mature, in an ageless sort of way. Not so much stocky as compact in his design. His face is wide and cheeky, his mouth small. Everything about him is white: colorless skin, colorless hair, icewhite eyes, his elegantly draped clothing. Everything about the room is white: furniture, rugs, the floor under the rugs. The walls are bleached cellulose, and nothing grows on them. Only the window displays color. Within this sterile space, in the reflected purple light of the outside, only the boy is obviously alive.

Yes, the boy is me. I don't truly remember his name, but I do remember that it had too many rusting letters. Let us therefore call him Houwha—the same sound, just padded with all manner of silent letters and hidden meanings. That's close enough, and appropriately symbolic of—

Oh. I am angrier than I should be. Fascinating. Let's change tracks, then, to something less fraught. Let us return to the now that will be, and a far different here.

Now is the now of the Stillness, through which the reverberations of the Rifting still echo. The here is not the Stillness, precisely, but a cavern just above the main lava chamber of a vast, ancient shield volcano. The volcano's heart, if you prefer and have a sense of metaphor; if not, this is a deep, dark, barely stable vesicle amid rock that has not cooled much in the thousands of years since Father Earth first burped it up. Within this cavern I stand, partially fused with a hump of rock so that I may better watch for the minute perturbations or major deformations that presage a collapse. I don't need to do this. There are few processes more unstoppable than the one I have set in motion here. Still, I understand what it is to be alone when you are confused and afraid and unsure of what will happen next.

You are not alone. You will never be, unless you so choose. I know what matters, here at the world's end.

Ah, my love. An apocalypse is a relative thing, isn't it? When the earth shatters, it is a disaster to the life that depends on it—but nothing much to Father Earth. When a man dies, it should be devastating to a girl who once called him Father, but this becomes as nothing when she has been called monster so many times that she finally embraces the label. When a slave rebels, it is nothing much to the people who read about it later. Just thin words on thinner paper worn finer by the friction of history. ("So you were slaves, so what?" they whisper. Like it's nothing.) But to the people who live through a slave rebellion, both those who take their dominance for granted until it comes for them in the dark, and those who would see the world burn before enduring one moment longer in "their place"—

That is not a metaphor, Essun. Not hyperbole. I did watch the world burn. Say nothing to me of innocent bystanders, unearned suffering, heartless vengeance. When a comm builds atop a fault line, do you blame its walls when they inevitably crush the people inside? No; you blame whoever was stupid enough to think they could defy the laws of nature forever. Well, some worlds are built on a fault line of pain, held up by nightmares. Don't lament when those worlds fall. Rage that they were built doomed in the first place.

So now I will tell you the way that world, Syl Anagist, ended. I will tell you how I ended it, or at least enough of it that it had to start over and rebuild itself from scratch.

I will tell you how I opened the Gate, and flung away the Moon, and smiled as I did it.

And I will tell you everything of how, later, as the quiet of death descended, I whispered:

Right now.

Right now.

And the Earth whispered back:

Burn.

NOW. LET'S REVIEW.

You are Essun, the sole surviving orogene in all the world who has opened the Obelisk Gate. No one expected this grand destiny of you. You were once of the Fulcrum, but not a rising star like Alabaster. You were a feral, found in the wild, unique only in that you had more innate ability than the average rogga born by random chance. Though you started well, you plateaued early—not for any clear reason. You simply lacked the urge to innovate or the desire to excel, or so the seniors lamented behind closed doors. Too quick to conform to the Fulcrum's system. It limited you.

Good thing, because otherwise they'd never have loosened your leash the way they did, sending you forth on that mission with Alabaster. He scared the rust out of them. You, though … they thought you were one of the safe ones, properly broken in and trained to obey, unlikely to wipe out a town by accident. Joke's on them; how many towns have you wiped out now? One semi-intentionally. The other three were accidents, but really, does that matter? Not to the dead.

Sometimes you dream of undoing it all. Not flailing for the garnet obelisk in Allia, and instead watching happy black children play in the surf of a black-sand beach while you bled out around a Guardian's black knife. Not being taken to Meov by Antimony; instead, you would've returned to the Fulcrum to give birth to Corundum. You'd have lost him after that birth, and you would never have had Innon, but both of them would probably still be alive. (Well. For values of "alive," if they'd put Coru in a node.) But then you would never have lived in Tirimo, never have borne Uche to die beneath his father's fists, never have raised Nassun to be stolen by her father, never have crushed your once-neighbors when they tried to kill you. So many lives saved, if only you had stayed in your cage. Or died on demand.

And here, now, long free from the ordered, staid strictures of the Fulcrum, you have become mighty. You saved the community of Castrima at the cost of Castrima itself; this was a small price to pay, compared to the cost in blood that the enemy army would have extracted if they'd won. You achieved victory by unleashing the concatenated power of an arcane mechanism older than (your) written history—and because you are who you are, while learning to master this power, you murdered Alabaster Tenring. You didn't mean to. You actually suspect he wanted you to do it. Either way, he's dead, and this sequence of events has left you the most powerful orogene on the planet.

It also means that your tenure as most powerful has just acquired an expiration date, because the same thing is happening to you that happened to Alabaster: You're turning to stone. Just your right arm, for now. Could be worse. Will be worse, the next time you open the Gate, or even the next time you wield enough of that strange silvery not-orogeny, which Alabaster called magic. You don't have a choice, though. You've got a job to do, courtesy of Alabaster and the nebulous faction of stone eaters who've been quietly trying to end the ancient war between life and Father Earth. The job you have to do is the easier of the two, you think. Just catch the Moon. Seal the Yumenes Rifting. Reduce the current Season's predicted impact from thousands or millions of years back down to something manageable—something the human race has a chance of surviving. End the Fifth Seasons for all time.

The job you want to do, though? Find Nassun, your daughter. Take her back from the man who murdered your son and dragged her halfway across the world in the middle of the apocalypse.

About that: I have good news, and bad news. But we'll get to Jija presently.

You're not really in a coma. You are a key component of a complex system, the whole of which has just experienced a massive, poorly controlled start-up flux and emergency shutoff with insufficient cooldown time, expressing itself as arcanochemical phase-state resistance and mutagenic feedback. You need time to … reboot.

This means you're not unconscious. It's more like periods of half-waking and half-sleeping, if that makes sense. You're aware of things, somewhat. The bobbing of movement, occasional jostling. Someone puts food and water into your mouth. Fortunately you have the presence of mind to chew and swallow, because the end of the world on the ash-strewn road is a bad time and place to need a feeding tube. Hands pull on your clothing and something girds your hips—a diaper. Bad time and place for that, too, but someone's willing to tend you this way, and you don't mind. You barely notice. You feel no hunger or thirst before they give you sustenance; your evacuations bring no particular relief. Life endures. It doesn't need to do so enthusiastically.

Eventually the periods of waking and sleep become more pronounced things. Then one day you open your eyes to see the clouded sky overhead. Swaying back and forth. Skeletal branches occasionally occlude it. Faint shadow of an obelisk through the clouds: That's the spinel, you suspect. Reverted to its usual shape and immensity, ah, and following you like a lonely puppy, now that Alabaster is dead.

Staring at the sky gets boring after a while, so you turn your head and try to understand what's going on. Figures move around you, dreamlike and swathed in gray-white … no. No, they're wearing ordinary clothing; it's just covered with pale ash. And they're wearing a lot of clothes because it's cold—not enough to freeze water, but close. It's nearly two years into the Season; two years without the sun. The Rifting's putting out a lot of heat up around the equator, but that's not nearly enough to make up for the lack of a giant fireball in the sky. Still, without the Rifting, the cold would be worse—well below freezing, instead of nearly freezing. Small favors.

In any case, one of the ash-swathed figures seems to notice that you're awake, or to feel the shift of your weight. A head wrapped in face mask and goggles swivels back to consider you, then faces ahead again. There are murmured words between the two people in front of you, which you don't understand. They're not in another language. You're just half out of it and the words are partially absorbed by the ash falling around you.

Someone speaks behind you. You start and look back to see another goggled, masked face. Who are these people? (It does not occur to you to be afraid. Like hunger, such visceral things are more detached from you now.) Then something clicks and you understand. You're on a stretcher, just two poles with some stitched hide between them, being carried by four people. One of them calls out, and other calls respond from farther away. Lots of calls. Lots of people.

Another call from somewhere far away, and the people carrying you come to a halt. They glance at each other and set you down with the ease and uniformity of people who've practiced doing the same maneuver in unison many times. You feel the stretcher settle onto a soft, powdery layer of ash, over a thicker layer of ash, over what might be a road. Then your stretcher-bearers move away, opening packs and settling down in a ritual that is familiar from your own months on the road. Breaktime.

You know this ritual. You should get up. Eat something. Check your boots for holes or stones, your feet for unnoticed sores, make sure your mask—wait, are you wearing one? If everyone else is … You kept that in your runny-sack, didn't you? Where is your runny-sack?

Someone walks out of the gloom and ashfall. Tall, plateau-broad, identity stripped by the clothes and mask but restored by the familiar frizzy texture of the ashblow mane. She crouches near your head. "Hnh. Not dead, after all. Guess I lose that bet with Tonkee."

"Hjarka," you say. Your voice rasps worse than hers does.

You guess by the flexing of her mask that she grins. It feels odd to perceive her smile without the usual undercurrent of menace from her sharp-filed teeth. "And your brains are probably still intact. I win the bet with Ykka, at least." She glances around and bellows, "Lerna!"

You try to lift a hand to grab her pants leg. It feels like trying to move a mountain. You ought to be able to move mountains, so you concentrate and get it halfway up—and then forget why you wanted Hjarka's attention. She glances around then, fortunately, and eyes your upraised hand. It's shaking with the effort. After a moment's consideration, she sighs and takes your hand, then looks away as if embarrassed.

"Happening," you manage.

"Rust if I know. We didn't need another break this soon."

Not what you meant, but it takes too much of an effort to try to say the rest. So you lie there, with your hand being held by a woman who clearly would rather be doing anything else, but who's deigning to show you compassion because she thinks you need it. You don't, but you're glad she's trying.

Two more forms resolve out of the swirl, both recognizable by their familiar shapes. One is male and slight, the other female and pillowy. The narrow one displaces Hjarka at your head and leans in to pull off the goggles that you hadn't realized you were wearing. "Give me a rock," he says. It's Lerna, making no sense.

"What?" you say.

He ignores you. Tonkee, the other person, elbows Hjarka, who sighs and rummages through her bag until she finds something small. She offers it to Lerna.

He lays a hand on your cheek while holding the object up. The thing starts to glow with a familiar tone of white light. You realize it's a piece of a Castrima-under crystal—lighting up because they do that in contact with orogenes, as Lerna is now in contact with you. Ingenious. Using this light, he leans in and peers closely at your eyes. "Pupils contracting normally," he murmurs to himself. His hand twitches on your cheek. "No fever."

"I feel heavy," you say.

"You're alive," he says, as if this is a completely reasonable response. No one is speaking a language you can understand today. "Motor skills sluggish. Cognition …?"

Tonkee leans in. "What did you dream?"

It makes as much sense as Give me a rock, but you try to answer because you're too out of it to realize you shouldn't. "There was a city," you murmur. A bit of ash falls onto your lashes and you twitch. Lerna puts your goggles back on. "It was alive. There was an obelisk above it." Above it? "In it, maybe. I think."

Tonkee nods. "Obelisks rarely linger directly over human habitations. I had a friend back at Seventh who had some theories about that. Want to hear them?"

Finally it sinks in that you're doing something stupid: encouraging Tonkee. You put a mighty effort into glaring at her. "No."

Tonkee glances at Lerna. "Her faculties seem intact. Little sluggish, maybe, but then she always is."

"Yes, thank you for confirming that." Lerna finishes doing whatever he's doing, and sits back on his heels. "Want to try walking, Essun?"

"Isn't that kind of sudden?" asks Tonkee. She's frowning, which is visible even around her goggles. "What with the coma and all."

"You know as well as I do that Ykka's not going to give her much more recovery time. It might even be good for her."

Tonkee sighs. But she's the one to help when Lerna slides an arm under you, levering you up from prone to sitting. Even this takes an effort of ages. You get dizzy the instant you're upright, but it passes. Something's wrong, though. It's a testament to how much you've been through, maybe, that you seem to have developed a permanently crooked posture, your right shoulder sagging and arm dragging as if

as if it is made of

Oh. Oh.

The others stop bothering you as you realize what's happened. They watch you heft the shoulder, as much as you can, to try to drag your right arm more into view. It's heavy. Your shoulder hurts when you do this, even though most of the joint is still flesh, because the weight pulls against that flesh. Some of the tendons have transformed, but they're still attached to living bone. Gritty bits of something chafe within what should be a smooth ball-and-socket. It doesn't hurt as much as you thought it would, though, after watching Alabaster go through this. So that's something.

The rest of the arm, from which someone has stripped your shirt and jacket sleeves in order to bare it, has changed nearly past recognition. It's your arm, you're pretty sure. Beyond the fact that it's still attached to your body, it's got the shape you know like your own—well. Not as graceful and tapered as it used to be when you were young. You were heavyset for a while, and that still shows along the plush-looking forearm and slight sag under your upper arm. The bicep is more defined than it used to be; two years of surviving. The hand is clamped into a fist, the whole arm slightly cocked at the elbow. You always did tend to make fists while you were wrestling with a particularly difficult bit of orogeny.

But the mole, which once sat in the middle of your forearm like a tiny black target, is gone. You can't turn the arm over for a look at your elbow, so you touch it. The keloid scar from where you once fell is impossible to feel anymore, though it should be slightly raised compared to the skin around it. That level of fine definition has vanished into a texture that is gritty and dense, like unpolished sandstone. Perhaps self-destructively you rub it, but no particles break off beneath your fingertips; it's more solid than it looks. The color is an even, allover grayish tan that looks nothing like your skin.

"It was like this when Hoa brought you back." Lerna, who has been silent throughout your examination. His voice is neutral. "He says he needs your permission to, ah …"

You stop trying to rub your stone skin off. Maybe it's shock, maybe fear has robbed you of shock, maybe you're really not feeling anything.

"So tell me," you say to Lerna. The effort of sitting up, and seeing your arm, have restored your wits a little. "In your, uh, professional opinion, what should I do about this?"

"I think you should either let Hoa eat it off, or let one of us take a sledgehammer to it."

You wince. "That's a little dramatic, don't you think?"

"I don't think anything lighter would put a dent in it. You forget I had plenty of chances to examine Alabaster when this was happening to him."

Out of nowhere, you think of Alabaster having to be reminded to eat because he no longer felt hunger. It's not relevant, but the thought just pops in there. "He let you?"

"I didn't give him a choice. I needed to know if it was contagious, since it seemed to be spreading on him. I took a sample once, and he joked that Antimony—the stone eater—would want it back."

It wouldn't have been a joke. Alabaster always smiled when he spoke the rawest truths. "And did you give it back?"

"You better believe I did." Lerna runs a hand over his hair, displacing a small pile of ash. "Listen, we have to wrap the arm at night so that the chill of it doesn't depress your body temperature. You've got stretch marks on the shoulder where it pulls your skin. I suspect it's deforming the bones and straining the tendons; the joint isn't built to carry this kind of weight." He hesitates. "We can take it off now and give it to Hoa later, if you like. I don't see any reason why you have to … to do it his way."

You think Hoa is probably somewhere below your feet at this very moment, listening. But Lerna is being oddly squeamish about this. Why? You take a guess. "I don't mind if Hoa eats it," you say. You aren't saying it just for Hoa. You really mean it. "If it will do him good, and get the thing off me in the process, why not?"

Something flickers in Lerna's expression. His emotionless mask slips, and you see all of a sudden that he's revolted by the idea of Hoa chewing the arm off your body. Well, put like that, the concept is inherently revolting. It's too utilitarian a way of thinking about it, though. Too atavistic. You know intimately, from hours spent delving between the cells and particles of Alabaster's transforming body, what's happening in your arm. Looking at it, you can all but see the silvery lines of magic realigning infinitesimal particles and energies of your substance, moving this bit so that it's oriented along the same path as that bit, carefully tightening into a lattice that binds the whole together. Whatever this process is, it's simply too precise, too powerful, to be chance—or for Hoa's ingestion of it to be the grotesquerie that Lerna plainly sees. But you don't know how to explain that to him, and you wouldn't have the energy to try even if you did.

"Help me up," you say.

Tonkee gingerly takes hold of the stone arm, helping to support it so it doesn't shift or flop and wrench your shoulder. She throws a glare at Lerna until he finally gets over himself and slides an arm under you again. Between the two of them, you manage to gain your feet, but it's hard going. You're panting by the end, and your knees are distinctly wobbly. The blood in your body is less committed to the cause, and momentarily you sway, dizzy and light-headed. Lerna immediately says, "All right, let's get her back down." Abruptly you're sitting down again, out of breath this time, the arm awkwardly jacking up your shoulder until Tonkee adjusts it. The thing really is heavy.

(Your arm. Not "the thing." It's your right arm. You've lost your right arm. You're aware of that, and soon you'll mourn it, but for now it's easier to think of it as a thing separate from yourself. An especially useless prosthesis. A benign tumor that needs to be removed. These things are all true. It's also your rusting arm.)

You're sitting there, panting and willing the world to stop spinning, when you hear someone else approach. This one's speaking loudly, calling for everyone to pack up, break's over, they need to do another five miles before dark. Ykka. You lift your head as she gets close enough, and it's in this moment that you realize you think of her as a friend. You realize it because it feels good to hear her voice, and to see her resolve out of the swirling ash. Last time you saw her, she was in serious danger of being murdered by hostile stone eaters attacking Castrima-under. That's one of the reasons you fought back, using the crystals of Castrima-under to ensnare the attackers; you wanted her, and all the other orogenes of Castrima, and by extension all the people of Castrima wh
We hope you are enjoying the book so far. To continue reading...
The Stone Sky
N.K. Jemisin
Copyright © 2023 All Rights Reserved