Book info
Sample
Audiobook
Media
Author updates
Lists
Synopsis
Can you really have the best of both worlds? He's rich, successful—and has been faithfully married to his longtime girlfriend for nearly one gruelingyear. Because for Dr. Dorian Graham, too many women is never too much—no matter how loyal his wife, Shantae, has been since their college days. So when she proposes they celebrate their first anniversary by each spending a no-questions-asked, no-consequences night with their greatest temptation, Dorian is shocked, but can't resist. Especially since Shantae's wild-card younger sister, Reagan, is gorgeous, uninhibited—and the one who got away . . . It turns out one sizzling night with Reagan isn't enough. Yet the more Dorian takes, the more she demands—and the more he suddenly has to lose. Soon, with his mind games being used against him and his every move checkmated, Dorian will be forced to go all-in on one last desperate play to win. But winning might just be another way to crash and burn . . . Praise for The Wives We Play "Drama, drama, drama!" —Cydney Rax "Thrilling, unique, and so addicting! Briana Cole brings a spin to a taboo lifestyle that had me hooked from the first page. . . . A fantastic, enthralling novel that should not be missed!" —Shanora Williams, New York Times bestselling author of Dear Mr. Black "Tempestuous, gripping, and downright salacious! Briana Cole explores the complexities of love while twirling on the razor's edge of twisted betrayals. A phenomenal, cinematically written debut!" —N'TYSE
Release date: February 23, 2021
Publisher: Dafina
Print pages: 242
* BingeBooks earns revenue from qualifying purchases as an Amazon Associate as well as from other retail partners.
Listen to a sample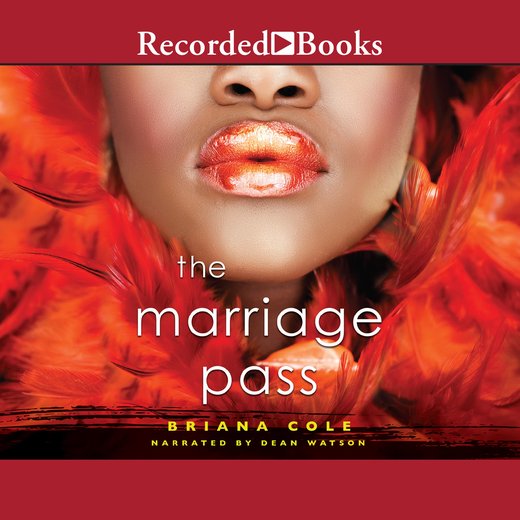 07:21:13
201.98 MB
February 23, 2021
Recorded Books
2021
The Marriage Pass
Briana Cole
Today seemed like the perfect day to go to jail.

It was cold, too damn cold for an April morning in Atlanta. The low temperature, combined with the rain pelting the Jeep Cherokee in sheets so thick it was nearly blinding, seemed to heighten Shantae's anxiety, and thus her urgency to get to the Southside Women's Correctional Facility. If the weather had been anything other than uncooperative, she would have reneged on her promise altogether. The last thing she wanted to do was spend her Saturday going through the routine security checks and sitting in that musty visiting room while the guards showed entirely too much interest in her modest attire. So honestly, the terrible weather had forced her to make the trip, because like her mother had reminded her only a few hours prior, what else did she have planned? Besides, she needed to get a few things off her chest.

Shantae steered her car up the slick roadway, flashing her ID briefly at the entrance before letting the guard direct her to the visitors' parking lot.

By the time she had fumbled with her umbrella and made a mad dash for the front door, Shantae's sweat suit was completely soaked through and hung on her petite frame. Though she couldn't see herself, she knew she probably looked a mess between her paled mahogany complexion and sloppy ponytail. But that was honestly the least of her concerns. And apparently from the appreciative stare of the guard at the first checkpoint, her hasty appearance didn't even matter.

"How you doing?" The guard's snaggletooth winked at Shantae as he smiled in her direction. She tried not to be disgusted.

"Fine," she murmured, obediently setting her purse on the conveyer belt.

"What's your name?" he pressed.

"Shaunie." It was a nickname she hated, one she never would have answered to, but it was better than divulging her real name to yuck mouth.

"You too pretty to be frowning up like that."

It took everything in her not to roll her eyes. Shantae spared the guard an absent glance, long enough to catch his name and badge number just in case he didn't stay in his place. She almost laughed out loud. No, his name is not Denzel. His mama must have a sense of humor.

"You must got a man or something," Denzel went on.

"I do." Shantae stepped through the metal detector and lifted her purse from the bucket.

"The nigga probably in jail, huh? You seem like you used to this."

Shantae didn't bother responding as she headed down the familiar corridor. The idiot had one thing right. She was used to this.

Shantae followed a small group of people into a visiting room with tables, chairs, and cement floors. The air felt like it was on full blast, which chilled her damp clothes and was enough to sting her skin. She had a seat on one of the benches and waited. Pretty soon, the idle chatter ceased, the door swung open, and a line of female inmates in orange jumpsuits with handcuffs binding their wrists trudged into the room. Shantae's eyes swept over the faces before she settled on one in particular.

Not even incarceration could mask the woman's sex appeal. She was short, like Shantae, with the same rich mahogany complexion and slanted eyes. She had put her braids up in a messy bun, and though her jumper was a few sizes too big, her curves were still just as prominent. Plus, Shantae knew her sister because despite the circumstances, only Reagan had a sway like she was strutting on a catwalk, and a slight smirk that was so subtle, Shantae only knew it was there from the little sexy dimple winking at her cheek.

Shantae could only shake her head as Reagan headed toward her. It was clear she wasn't taking this latest arrest any more seriously than the first six. The girl was young, reckless, and in more ways than their five-year age difference could justify.

"I didn't know you were coming," Reagan said, sliding in the chair across the table.

"Of course you did. I told you I would."

Reagan shrugged absently, as if those words meant nothing. "Still," she said. "Figured you would change your mind."

"Well, do you want me to leave?"

Another shrug, this time accompanied with a slight eye roll. Funny how she was the one that got herself in the situation, and yet she had the nerve to be frustrated.

"I don't know why you got an attitude with me," Shantae said, nodding toward the handcuffs binding her sister's wrists. "This is nobody's fault but your own."

"Oh, so now you're trying to lecture somebody? I thought you had my back?"

"I'm here, ain't I?"

Reagan pursed her lips, unable to argue with that comment. She sighed and lowered her eyes. "Yeah," she murmured.

Brief silence stretched between them, and for a moment, all that could be heard were the hushed voices of surrounding inmates and their visitors. Another chill had Shantae shivering in her damp attire.

"So what happened this time?" Shantae asked when her sister made no move to speak.

"Just'. . . stupid shit."

Shantae could only stare in disbelief. She wondered if it was "stupid shit" when Reagan had written all those bad checks before, or "stupid shit" when she'd been booked on credit card fraud after opening up a ton of them in their mama's name. Or maybe she considered the time she forged their dad's signature to refinance the house "stupid shit." It was all minor to her, and her spending a few weeks or a few months in jail was only a temporary inconvenience.

"So what you been up to, sis?" Reagan's lips lifted into a mischievous smirk.

"Nothing. Just work."

"Oh yeah? What do you do now?"

Shantae lifted a brow, partially because she knew Reagan was really trying to get an idea of how much money she was making. Baby sis couldn't care less if she was selling drugs, hair, or life insurance. As long as the funds were flowing.

"Banking," she answered.

"Ah shit now, I see you." Reagan's eyes lit up like a kid on Christmas. "My sister doing big things now. Y'all hiring?"

"Girl, whatever. I know you're not serious about a job."

"Shit, I might be. I know you probably work with some fine-ass educated brothers." Reagan licked her lips dramatically. "Probably can convince me to get a legit job so I can get my head together."

Shantae chuckled at the sexual innuendo. "Please, it's not even like that."

"Oh yeah, I forgot. You still with ol' boy, then, huh?"

"Something like that." Shantae pictured the three carat, princess-cut diamond engagement ring nestled in the side pocket of her purse, right next to her compact and hand sanitizer. Slight embarrassment had forced her to take it off any time she wasn't around her fiancé. As much as she hated not wearing it, it was much easier than facing the inquisition.

"Something like that?" Reagan echoed, narrowing her eyes in a questioning glare. "What the hell does that mean? You still with him or not? Which is it?"

"Yes," Shantae said, simply.

"Oh yeah? I'm surprised you still hanging in there. He must have that good ass comatose sex." Her eyes seemed to glint in obvious delight.

Leave it to Reagan. Sex and money. That was all that mattered.

"We are not even about to go there," Shantae said.

Reagan shrugged. "I'm just saying, it must be a reason he's still around. You and I both know he ain't the loyal type. Shit, he's probably worse than me honestly."

Shantae felt the sting of Reagan's accuracy and had to swallow a swell of annoyance at her sister's candor. A damn shame what love would make someone do.

"We need to change the subject."

"Don't be salty, sis. I'm trying to look out for you."

"Well you need to worry less about me and my man and more about getting your life together."

Reagan rolled her eyes. "Here you go with that shit. My life is together."

Shantae glanced around the jail before throwing her sister a pointed look, proving her point. "When do you get out?"

"Two more weeks."

"And then?"

"I don't know. I'll figure something out." A smirk touched her lips. "Maybe I'll do like you and snag me a doctor to take care of me."

A voice blared through the intercom, carrying an agitating wave of static, signaling visiting hours were almost over. "You'll put something on my books?" Reagan asked. "The food here is trash, so I'm trying to get some stuff out of the commissary."

"Yeah, I got you." The words were simple, but a familiar reminder of their unspoken and often one-sided pact. It never failed, and no matter how she hated herself for it, she always had her sister's back. Maybe one day, Reagan would push her selfish tendencies aside and realize that, as sisters, they needed to look out for each other.

Dorian eyed the scene from his perch at the bar, an assembly of empty Corona bottles and shot glasses at his elbow. Ass and titties were in abundance tonight. They had definitely upgraded since his last visit. Wall-to-wall naked women pranced around the club, the reek of musk and sex all but coming from their pores. Even in the dimly lit room, the strobe lights illuminated the collection of thirsty desperation on their faces as they volleyed between the patrons. Crowded glass high-top tables and barstools peppered the open area, and a T-shaped stage stood center with poles at each corner. Even now, a dancer was up there making her cheeks slap so hard it sounded like she was giving a round of applause. Plush circular booths lined one side of the room, slightly elevated for an unobstructed view of the entertainment from any angle. The whole scene looked like something that should be on the Sin City Strip.

He swallowed a swell of annoyance as he watched his best friend, Roman, use his lips and tongue to place a bill in a dancer's garter.

The atmosphere was magnetic and honestly should've pulled him right in the thick of it, flicking bills at the random bodies along with his boys and indulging in all of the sinful obscenities only appropriate for a strip club environment. Roman was finally getting married, so they certainly had a reason to celebrate. But thanks to yet another argument with his wife, Dorian was now in a fucked-up headspace and really wasn't in the mood. Which was probably Shantae's intent when she started the argument after finding out he was going to the bachelor party.

Dorian watched his boys continue to enjoy the entertainment while he sat pouting in some drunken stupor. The thought had him motioning to the bartender. "Hennessy," he rattled off and the woman flounced away to make him his drink.

"Hey, Big D."

Dorian glanced absently at the woman who slithered onto the stool next to him. Her voice was low and seductive as she leaned in close to purr in his ear. A combination of sweat and some kind of strawberry-flavored perfume emanated from her skin. Instinct had his eyes dropping to the C-cup breasts all but spilling into his lap. She made sure to brush her succulent pearl-size nipples against his arm, and Dorian felt the bulge in his slacks tighten.

"A little birdie told me you needed someone to make you feel better," the woman went on, her pierced tongue licking her lips wet. "Can I make you feel better, Daddy?"

Dorian's eyes cut to Roman, then slid back to the dancer. He had a pretty good idea who the little "birdie" was. She seemed to wait patiently as he accepted the drink from the bartender and took two healthy swallows before setting the glass down. "That's a loaded question," he murmured.

She smiled, showing an erotic gap between her two front teeth. "Is it?" She shifted closer, intentionally turning so her body brushed again his thigh. "I was told to treat you extra special since you're feeling a little down. Why don't you come with me to VIP so I can give you some . . . cake?" As if to sweeten the pot, the dancer lifted one breast to her mouth and flicked her tongue a few times over her nipple while keeping her eyes trained on his.

The gesture was enough to make Dorian's mouth water. All thoughts of Shantae and that petty-ass argument were flying out the window. "Tempting," he said. "You dangerous, girl."

"I know." Unfazed, the dancer tossed her weave ponytail over her shoulder and sat back on the barstool. "But you still seem a little hesitant," she said with a smirk. "Why don't I just let you get a piece right here?" She propped one six-inch stiletto on Dorian's lap and the other on the top of the bar. Dorian could only watch as she boldly moved her thong to the side, exposing her glistening and completely shaven juicy fruit. The glint of a silver ball from her piercing peeked from the folds. "Is that enough to change your mind?" she whispered.

Dorian snatched his eyes away. Damn, it did look good. That's why he knew Shantae was pissed when he mentioned the little rendezvous with his friends. Because she knew he would be tempted, and she knew he really couldn't be trusted.

Thinking with the head between his legs would surely have him taking this woman up on her offer right there in the middle of the club. As drunk as he was, he was coherent enough to know that this time, sexing a stripper was liable to leave him with enough regret to outweigh the sexual gratification. It was low. And he didn't want to think that was what he needed to resort to. Not when he had a wife. No, he wasn't the happiest in his relationship, but he took his vows seriously. For the most part.

"Ah shit, looka here!" Roman threw his arm around Dorian's neck as he eyed the stripper's open legs. "Looks like my girl YoYo is treating you right. You my boy!" Dorian watched in disgust as Roman leaned over and planted a noisy kiss on YoYo's inner thigh.

YoYo giggled. "Roman, call me later, boo," she said, standing up from the stool. "Your friend here doesn't know how to handle me." She winked and blew Roman a kiss before sauntering off, but not before Roman was able to get a good slap on her ass.

He moaned, taking a seat next to Dorian. His eyes seemed to twinkle behind his glasses as he nudged Dorian's shoulder. "D, what the hell is your problem? I sent YoYo over here to take care of you. She would have had you howling at the moon and shit, boy." His latte complexion was flushed from his own apparent amusement.

Dorian massaged his temples. A combination of alcohol and the bass of the music had the beginnings of a headache throbbing. "You trying to start some shit," he said. "I'm not on that tonight."

"Don't tell me you done went and got soft on me," Roman teased. "Let me find out you one of them down-low jokers now and I swear I'm telling Shantae."

Dorian ignored the joke. "Man, whatever."

"Aw, come on. What's your problem?"

"I'm not feeling it," Dorian reiterated, not bothering to hide his groan. "I'm tired and I ain't in the mood for this."

"Yeah, I know. Your ass ain't never in the mood since you settled down with ol' girl."

It was the truth. Even said in jest, the truth had a pierce of fresh anger rippling through his body intense enough to leave his hands trembling. Roman was right. He had lost himself in his marriage. His jaw tightened and he struggled to hide the internal rage by knocking back the rest of his drink. The liquid stung his throat, but it wasn't enough distraction. He already felt the pin-like prickles of regret stabbing at his heart like an old wound. Time hadn't dulled the ache.

Dorian always had this vision of what marriage was supposed to look like. He remembered how his parents always talked about the "forever honeymoon" stage. It was completely normal to catch them sneaking kisses and flirtatious winks across the table at dinner or groping each other in a dark corner of the house when he would come downstairs for a midnight snack. He knew it should look different, feel different. Raw, bitter emotions of uncertainty came rippling back, and that was what kept constantly nagging him.

Dorian's pocket vibrated and he pulled out his cell phone to eye the incoming call. He felt his lips purse into a frown at Shantae's number. Dorian sighed and swiped his finger to reject the call.

"Was that Shantae?" Roman craned his neck to look at the phone screen.

"Yeah."

"Damn. What next? She going to come up here and get you? What, she got you on a curfew or something?" Roman nudged his friend's shoulder and gestured back to their little party in a section of the club. "Come on, man. Seriously. We trying to have a good time and you over here acting like a female. Cut that shit out."

He was grateful when Roman walked away after that. His friend had always been too damn candid for his own good.

Dorian's phone vibrated again, this time signaling a text. He debated whether to read it or just delete it altogether. Curiosity had him opening the message anyway.

WE NEED TO TALK. WAKE ME WHEN YOU GET HOME

Dorian rolled his eyes and shoved his phone back in his pocket without responding. Like hell he would do that.

"Hey, stranger."

It wasn't even the flirtatious voice that had Dorian turning around. It was her scent. He hadn't seen her in over a year, but he'd always know her by that alluring fragrance. She had once divulged its ingredients, apple and jasmine, but he figured it was the person that could carry the scent so deliciously, yet dangerously sinfully.

He remembered she was short, about a good foot under his chin. But since he was sitting, he was face-to-face with the juicy cleavage she had busting out of a crop top with bills safety-pinned to the neckline. His medical eye could tell immediately she'd had work done, and whatever MD had blessed her with the extra assets had done a damn good job. Speaking of which, Dorian couldn't stop himself from admiring the rest of her five-two frame. Yes, she was certainly thicker in every place that mattered, and she wasn't thinking twice about showing off every curve.

He saw her dimples next, the sexy impressions in her cheeks present even though she wasn't smiling. Her warm, coconut brown complexion and the natural crinkle curls that fell in a wildly exotic mane. And the deep-set misty gray eyes that seemed to glimmer as she spoke to him. The signature features were all a semblance of Shantae. It was more than clear they were sisters, but this one was the young, carefree, uninhibited version of his much more conservative wife.

Reagan's glossed lips parted in an appreciative grin. "You must like what you see." She did a slow pirouette on the eight-inch heels, showing how the skintight red dress stopped to tease just underneath the succulent flesh of her butt.

Dorian lifted his glass to his lips, almost embarrassed at his blatant lust for his sister-in-law. Damn, the alcohol had hit him with a vengeance.

"Good to see you again, Reagan," he murmured.

"Always good to see you, big brother." Her tone was taunting, and the corners of her lips lifted as if she was trying to hide a smile o. . .
We hope you are enjoying the book so far. To continue reading...
The Marriage Pass
Briana Cole
Copyright © 2022 All Rights Reserved