Book info
Sample
Audiobook
Media
Author updates
Lists
Synopsis
Secrets, suspense, and a missing sister—who may not want to be found—are at the center of Briana Cole's latest enthralling multicultural drama. Will appeal to fans of psychological suspense, gritty drama, and listeners of De'Nesha Diamond, Kiki Swinson, Saundra, Wahida Clark, Ashley & JaQuavis, Victoria Christopher Murray, and Shelly Ellis.



"That's not my sister." Overwhelmed by shock and relief, those are the only words Deven can muster when she is called to identify the body of a suicide victim. A body she was informed was her sister, Kennedy. But as she stares at the lifeless stranger, she's filled with questions: Who is this woman? Why was Deven listed as family? And most important, where is Kennedy? Her intuition tells her just one thing: this can't be a total coincidence.



Desperate to put the pieces together, Deven launches her own investigation. Soon, she finds herself tangled in a web of secrets and lies so twisted that it blurs the lines between fact and fiction. And between the sister she thought she knew and the one who seems to have many hidden, dangerous lives. But only Kennedy would have the answers to increasingly urgent questions. Just one possibility is clear: Kennedy isn't missing. Maybe she just doesn't want to be found. And maybe you can never truly know another person. Even your own sister.
Release date: October 25, 2022
Publisher: Kensington Books
Print pages: 320
* BingeBooks earns revenue from qualifying purchases as an Amazon Associate as well as from other retail partners.
Listen to a sample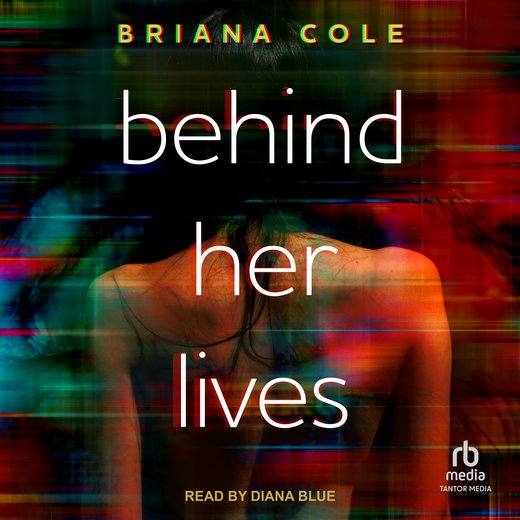 09:28:26
260.22 MB
October 25, 2022
Tantor Audio
2022
Behind Her Lives
Briana Cole
Something was off about today. Deven could sense it.

Her sister called it a devenstinct, her therapist called it anxiety. And her boyfriend "joked" it was borderline crazy (though she'd been particularly repulsed by his comparison). A Navy friend of hers once called it a lull—that calm before the storm. Either way, the moment her eyes flipped open, only seconds before her alarm pierced the eerie silence, she felt disturbed.

Reaching for the clock on her nightstand, Deven fumbled blindly with the buttons, pushing on each until one of them abruptly suppressed the noise. She sat up straight in the bed, shrouded in darkness, her eyes scanning the shadows of her bedroom as if the source of her trepidation would be evident. Deven could make out the silhouettes of her furniture, her mounted big screen TV, the full-length mirror positioned in the corner to catch the perfect angle of the less-than-spacious master suite. Nothing out of the ordinary, it seemed.

As if to serve as a bitter reminder, the mattress shifted next to her. Deven glanced over as the stocky figure turned, the sheets doing little to shield his naked frame. Justin. The memory of last night came barreling back, the images calibrating in and out of focus like a camera lens.

His call had been out of the blue, like all his calls had been for the past six months since the two had begun this long distance "thing" (could she really call it a relationship at this point?). And since he'd been ignoring her calls for days, Deven had wanted to reciprocate the disrespect. But as pathetic as it was, loneliness eclipsed the stubbornness, and she had answered on the first ring, accepting the dinner proposal before he'd even finished asking.

Knowing his track record, Deven shouldn't have been surprised when he'd come over straight from the airport feigning jet-lag. Too tired to take her out but evidently not too tired for sex.

Deven was frustrated at his antics. Well, she needed to call it for what it was—downright pissed. One minute, Justin was the doting boyfriend with impromptu gifts and calls. His spontaneity had become a staple and Deven had begun to anticipate arriving home to find him waiting outside, ready to whisk her away to some fancy dinner or event. But then on a whim, Justin requested for his corporate job to transfer him to Baltimore because it was a "better opportunity." Suddenly, his impulsive nature wasn't quite as attractive anymore and his decision to leave created more distance between them than the three-hour plane ride. Still, it was clear Justin expected her to go with the flow. His flow. Whether it was loyalty or sheer stupidity, she always did.

Deven frowned as Justin slept on peacefully, completely oblivious to her growing agitation. It was her own damn fault for ignoring her common sense. Now here she was, dissatisfied in more ways than one. On a sigh, she tossed her legs over the side of the bed, suddenly restless and eager for light. As soon as she peeled back the curtains to allow the first strips of the New Jersey dawn to peek through, she immediately felt soothed. And just like that, that ominous feeling was gone, for now. Which was enough to calm her nerves. Thank God. Still, she couldn't help but chuckle to herself as she looked out at the courtyard of her apartment complex. She was too damn old to still be afraid of the dark.

The apartment was situated in a prime location for Deven's prying nature. The courtyard was below her second story view, a stone T-shape walkway with benches and picnic tables resting underneath a covered pergola. The walkway was flanked by neatly trimmed hedges opening to plots of gardens that did little to deter the dogs from fertilizing it, despite the sign that clearly read No Dogs in the Courtyard.

A few tenants began to dribble from their apartments, cutting through the courtyard to head to their daily regimens: the two women who worked out together every morning and always dressed in matching yoga pants and sports bras, the family of four that were headed to church in their Sunday best, and the college student who always wore those plaid pajama bottoms since he was usually making a quick run to the neighboring bodega for coffee. Deven should've been in her scrubs, ushered right alongside them on her way to work, but she couldn't bring herself to move from the window. Something was still nagging her. But just like she had deduced only moments before, everything appeared normal.

Deven glanced to the parking lot as a police car pulled in and stopped directly in front of the office. They were probably headed to the couple in apartment A121. It wouldn't be the first time their domestic violence disputes had gotten out of hand.

"You're up early."

She turned her back on the hum of morning activity and watched Justin groan and stretch, the muscles highlighted in his body with the movement. She had to stop herself from staring. Probably one reason why she was in the predicament in the first place. Plus, she had to remind herself that no matter how sexy the man was with his champagne complexion and chocolate brown eyes, that was where it ended. The sex was less than mediocre, or as Deven's sister once described unsatisfactory sex, "like that sneeze that wouldn't come out." Yeah, that was it.

Justin sat up then, the sheets pooling at his waist as he leaned against the headboard. "You working today?" he asked.

Deven sighed and nodded, already dreading the 12-hour shift at the hospital. "Maybe we could go get some breakfast before I go in," she suggested. The decline in his eyes was prominent before he had a chance to open his mouth again. "You know what, never mind. Don't worry about it." Dismissing her own proposal, Deven turned back around, willing herself to ignore the sting of rejection.

"Aw sweetie, I'm sorry." Justin rose and crossed the room, closing the space between them. He caressed her shoulders while placing gentle kisses on the nape of her neck. Deven felt her skin warm under his touch. It was a shame he still had that kind of effect on her body. "It's not that I don't want to," he reasoned. "It's just that, I'm only in town for a few days and I got some running around to do before I head back. But . . ." His hands were now making their way under her t-shirt to cup her breasts. "You can do me for breakfast—"

The sudden doorbell startled them both as it echoed through the room. Relief had Deven quickly stepping from Justin's embrace, glancing towards the doorway as if she could see the visitor through the walls. Justin frowned and sharing the curious sentiment, tossed a quick look to the digital clock on the nightstand. 7:23 AM.

"You expecting somebody?" His question had more of an accusatory undertone than Deven would've liked and had her rolling her eyes. Did he really have the nerve to be jealous?

Rather than entertain him with a response, Deven shrugged into her robe and belted it at the waist, murmuring a quick, "Be right back," before stepping from the room. And just because she knew it would raise his suspicions, she closed the bedroom door behind her for more privacy. Pettiness aside, Deven was just as curious as he was about the unexpected house call, so she hurried to answer the front door, flicking on lights as she passed through the hallway. Not bothering with the peephole, Devin flipped the locks and pulled the door open.

She froze, eyeing the two police officers as the first swell of panic ballooned in her chest, tight and suffocating. Now she wished she had've made Justin answer the door. Maybe then she could cower somewhere in the bathroom and pretend that these two weren't here for whatever reason that brought them to her doorstep.

The female officer spoke first, her cinnamon complexion blanched with, what looked to be exhaustion or discomfort, both of which were plausible in her line of work. But still she attempted a smile. "Good morning. Are you Ms. Deven Reynolds?"

Deven felt numb but apparently, whatever head gesture she gave them was satisfactory because the woman continued, taking a tentative step in her direction. "I'm Officer McKinney and this is Officer Wise," she introduced, motioning to the plump man at her side. "Can we come in for a few minutes?"

Deven's gaze volleyed between the two, her breath suspended in her throat. The look the officers wore was all too familiar. Working as a Labor and Delivery Nurse, it was unfortunately common to identify when tragedy struck; a twin was stillborn, a wife hemorrhaged during her cesarean, that baby girl didn't make it out of NICU. Each time, the staff, herself included, carried that same haunted look, eyes pained but hollow with desensitization. It certainly didn't calm her spirit seeing these two mirror that same demeanor.

Now it made sense. That feeling—that devenstinct—she had been experiencing all morning; like a foreboding pendulum teasing her, taunting her. Deven held her breath and shuffled to the side to let them enter. So much for the calm before the storm. Apparently, the storm had arrived.

"We are here to deliver some bad news," Officer McKinney began, compassion etched on her pretty face. "Would you mind if we all sat down?"

Deven couldn't move if she tried so, she just stood in place engrossed in the visceral images of every worst-case scenario that played like a movie on loop in her mind. Had something happened to her mother? Had there been an accident? A robbery? She shut her eyes against the intrusive thoughts as she struggled to let loose the few staggering breaths strangled in her throat.

"Ms. Reynolds?"

It was the man that spoke this time, Officer Wise, his gentle voice floating through Deven's subconscious like a melody. Just that quick, the morbid thoughts dissipated, and she opened her eyes again. Both officers were watching with such concern that she felt like she may crumble right then and there. And still, she had no idea what the hell was going on.

"Sorry." Deven nodded her acknowledgement. "What is it?"

"Would you like to sit down?" Officer McKinney offered again.

Deven shook her head. Never mind the fact that her feet felt like cinder blocks. "No. What's the news? Is it my mother?"

"No ma'am." Officer McKinney paused, took a laborious breath, then, "Your sister, Kennedy, died of what appears to be an accidental drug overdose."

Shock was an understatement. More like numb. Deven hadn't realized she was clenching her jaw until the tension had her head throbbing. She swayed, immediately throwing up her hands to ward off the officer who reached in her direction.

"Don't touch me," she whispered. Something warm bled into her chest before seeping up to bubble out of her lips. Laughter. Was that her laughing? Deven tossed her head back, the movement causing even more pain to rupture her skull. Still, she couldn't stop laughing at the sick and twisted cops who had traveled all the way to Mt. Laurel just to tell a joke.

Neither officer seemed surprised by her reaction and the way they just waited and watched prompted Deven to purse her lips together; a weak attempt to stifle the last few remnants of her chuckle. "Sorry," she said again, a restrained smile toying at the corners of her lips. "It's just, that is crazy. Kennedy doesn't do drugs."

"A woman was picked up at 918 Parkwood Avenue." Officer Wise launched into his explanation like he hadn't heard Deven's words. "Apartment B2. Is that your sister's address?"

Deven's heart skipped a beat. Sure, that was her address, but . . .

"I just talked to Kennedy a few days ago," she assured them, desperately relieved at the memory. "She's out of town." It was a mistake. A huge mistake. She couldn't fault the police for their ignorance.

"How is Puerto Plata?"

Kennedy's voice was light, the sound of waves harmonious with her merriment. "Beautiful, Sis. Next time you should come. I'm sure you could use a vacation."

"How long are you staying?"

"I'll be back in another week."

Deven shook her head again, her voice strengthened with a renewed vigor. "She's out of town and won't be back until next week. She wouldn't have come home without telling me."

Officer Wise looked back to his partner, an obvious nonverbal cue for her to pick up the conversation. "Your sister was nonresponsive in her home this morning," Officer McKinney said then, her tone patient. "She was already gone by the time paramedics arrived."

"That's not true."

"Ms. Reynolds, I'm so sorry, but Kennedy has died."

Deven's body stilled before the first few involuntary convulsions caused her muscles to ache. Now it was something different she felt, consuming her body like flames. She blinked and shook her head again, willing those damned words out of her ears.

"What the hell is wrong with you people?" she said, trying her best to keep a leash on her temper even as angry tears touched her eyes. "How could you say something like that? Why would you say that?"

"We're going to need you to come with us to identify Kennedy's body." Officer McKinney's voice was calm, sickeningly so. A direct irony to her words. It felt like a vacuum sucking the air out of the room. Out of her lungs. Deven braced herself against the wall on legs that felt like putty. They were wrong. So, so wrong. The tears were coming now, hot and heavy acidic drops burning her cheeks crimson.

"Is this some kind of joke to you? My sister doesn't take drugs. Fuck you and get the hell out of my house."

"Ms. Reynolds—"

"Get out!" Deven was screaming now, and she didn't give a damn how deranged she sounded. That's what she got for being so curious. She should've let that damn doorbell ring until the batteries gave out. Officer Wise and Officer Too-Damn-Nice could've knocked and knocked until their knuckles bled. Then Deven could have put the covers over her head and avoided waking from a dream to a nightmare.

"Hey, what's going on?" Justin padded into the foyer; a pair of basketball shorts slung low on his hips. Sleep clouded his face, but his eyes immediately widened at the sight of the uniforms. His arm circled Deven's waist. She welcomed the support, however territorial, and leaned into him.

"I'm Officer Wise and this is Officer McKinney," the man introduced with a nod in his partner's direction. "Are you Ms. Reynolds's husband?"

"Friend." Justin's tone was clipped as if he took offense to the mistake. If Deven hadn't been so enthralled with the situation, she would have had an attitude about his shitty correction. "What's this about?" he asked.

"We just shared with Ms. Reynolds that her sister died of an accidental overdose. We need her to come down to the medical examiner's office to identify the body. And we would appreciate if you could join her. I'm sure she needs your support during this difficult time."

Justin's body tightened—or maybe that was hers. It wasn't any easier digesting the news the second time around.

"Damn. Yes, of course. Let us get dressed and we'll be right along."

Both officers were visibly appreciative, and they stepped into the living room to wait. Part of Deven felt compelled to curse them again for bringing such bullshit to her doorstep on this otherwise gorgeous Sunday morning. The other part of her was too gripped by fear to address them. That could seem like an admission, and she wasn't ready to admit she believed them. Not yet.

Justin propelled her back to the master bedroom and guided her to down to the disheveled bed; a bed where only moments before, Deven had been blissfully ignorant that she was in a world where her sister wasn't. She shifted on the mattress, the springs more pronounced under her legs. Her robe had fallen ajar, and a slight chill wafting to sprinkle goosebumps on her skin. Everything just felt wrong and soiled.

". . . just can't believe it," Justin was saying, his voice nearly inaudible from inside the closet.

Deven tried to tune him out, not interested in the idle conversation he intended to pepper with platitudes. Instead, she reached for her cell phone. Her fingers fumbled over the screen in a dazed stupor, and it took three tries to finally get the sequence of digits in the right order. She just needed to hear her voice, then maybe . . .

"You have reached—" Deven hung up on the robotic voice that signaled Kennedy's voicemail box. Not even a ring. But the fact that her cell phone was off certainly didn't mean she was dead, did it?

Justin reappeared in front of her, his shorts replaced with jeans and a black sweatshirt. He held a tiny pile in his arms which Deven recognized as her own clothes. When she didn't move to take them, he sighed and sat down beside her. "Come on, babe, you got to get dressed so we can go."

Deven shook her head. She couldn't go. If she didn't, she could still pretend, couldn't she? Kennedy was on a beach in the Dominican Republic, probably on the balcony in her villa drinking a mimosa and watching the sun break over the ocean. The tropical weather would've bronzed her skin by now and knowing her, she'd be using that arresting smile of hers to woo whatever tourist, lifeguard, or bellhop to the cabana for some vacation sex after breakfast. A glimmer of hope had the image crystallizing even more and Deven could almost hear those waves again, could almost taste the salt in the air. It calmed her nerves for the briefest of moments, but it was enough. She reached for her shirt then, her movements labored and forced with resolve. She would go. If anything, just to prove to the police, Justin, and hopefully herself, how very wrong they were.

She felt deceived.

Deven watched the world blur past the passenger window, the sun warming the glass despite the 64-degree thermometer reading on Justin's dashboard. But more than the temperature, Justin's silver Tesla eased down I-295 with as much leisure as a morning ride for breakfast. No one, not even her, would suspect they were headed to the morgue to identify a body.

But here they were, Justin tailing the police car, the red and blue lights from the siren flickering colored filters across their faces like a prism. Justin's arm was thrown across the console to rest on her thigh. Every now and then, he would give it a little squeeze. Deven didn't know if the gesture was supposed to be comforting, but she didn't have the heart to tell him otherwise. It soothed her to sit in the discomfort rather than risk disturbing the stillness. Because right now, with the mound of confusion and unanswered questions suspended between them, Deven could imagine, if only for a few moments before, that she wasn't teetering on the edges of sanity since the news.

Deven watched the buildings blur by outside the window. Funny how everything looked different now; how the tragedy had the world slightly skewed; like a myriad of incoherency through a tempered glass. The air didn't feel the same nor smell the same. How could life go on so easily with one less person in it?

Deven wondered if knowing how things turned out, whether she would have done some things differently. Maybe one shift in the matrix could have adjusted that perfectly synchronized chain of events that ultimately led to Kennedy's demise. Or maybe, just maybe the dominoes were already falling into place long before she opened her eyes that morning or accepted Justin's dinner proposal. Even more nauseating, she had been so selfish as to be so preoccupied with sexing Justin while her poor sister lay dying. Deven bit her tongue to keep from sobbing out loud. She wouldn't believe shit until she saw Kennedy for herself. Until then, she would cling to hope. That was all she could do.

"I didn't know Kennedy did drugs." Justin's comment pierced the quiet. He probably hadn't intended to sound so damn insensitive. Or maybe she was just extra emotional right then.

Deven turned to him, sure his peripheral could see her frowning at his profile. "She didn't," she snapped. She wouldn't.

Justin didn't seem offended by the tone. Or if he was, he didn't let it show. "The officers said—"

"I know my sister." Deven interrupted, her tone firm with agitation. She needed to believe that as much as he did. "She would never do drugs."

Justin's sigh was heavy, further heightening the palpable tension between them. "I just want you to be prepared for whatever we're about to walk into, Dev. That's all."

And that's where the blissful ignorance came in again. No one could ever be fully prepared for death. In no way, shape, or form. Of course, Justin wouldn't know that. He was the youngest of three, both parents alive with all four grandparents either traveling or living comfortably in their million-dollar homes. As far as Deven knew, the closest Justin had come to experiencing death was his dog, . . .
We hope you are enjoying the book so far. To continue reading...
Behind Her Lives
Briana Cole
Copyright © 2023 All Rights Reserved