The Kill
Available in:
eBook
Hardcover
Paperback
Audiobook
Book info
Sample
Audiobook
Media
Author updates
Synopsis
Detective Maeve Kerrigan is away for a colleague's wedding, and she's enjoying an excuse to spend a beautiful fall weekend relaxing in the English countryside. It's a much-needed break from the grit and grime of her daily life on the London police force. But even at a wedding, the job is never far away.
Midway through the reception, Maeve and her abrasive but loyal partner on the police force, DI Josh Derwent, are called back to London. A fellow policeman has been murdered, in a compromising position in a public park at night. And when Maeve and Derwent arrive to speak with the victim's family, his wife and daughter are surprisingly cold and reticent, which adds further layers of complexity to an already delicate investigation. And Maeve knows the victim and his family aren't the only ones with things to hide: the dark secret that her boss, Superintendent Godley, has been keeping for years is threatening to blow up in his face, and if that happens, they'll all be caught in the aftermath.
Pulled between her loyalties to Godley, Derwent, the victim of a murder, and her own driving sense of right and wrong, Maeve will be forced to decide how much she's willing to risk in the name of justice in The Kill, Jane Casey's most intimate, compelling novel yet.
Release date: June 2, 2015
Publisher: St. Martin's Publishing Group
Print pages: 336
* BingeBooks earns revenue from qualifying purchases as an Amazon Associate as well as from other retail partners.
Listen to a sample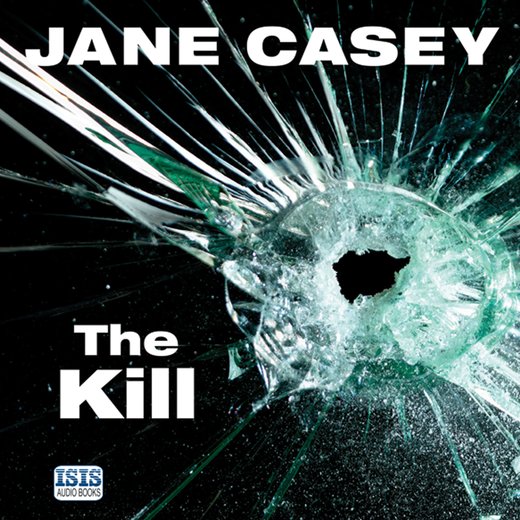 12:17:32
337.63 MB
January 7, 2014
Isis Publishing Ltd
The Kill
Jane Casey
Chapter One



Afterward, everyone agreed on one thing: she was a beautiful bride. Christine Bell was always pretty, but on her wedding day she glowed with happiness. A cynic might have said the glow was something to do with the small bump under the forgiving folds of her empire-line wedding dress. I might have said it, but I was having a day off from cynicism. Even though I was allergic to public displays of affection, I let Rob hold my hand as Christine walked past us up the aisle. She beamed as she clung to her father's arm, taking her time about getting to the altar although the organist was thundering through "Here Comes the Bride" as if it was a race to the finish.

Leaning out, I could see Ben Dornton as he turned around to watch her walking toward him and the mixture of love, awe, and hope on his face jolted me out of my usual composure. Ben was a detective sergeant on my team. Balding and thin, he was not my idea of a romantic hero, even in a pearl-gray morning suit, but there was something unguarded and honest in his expression that brought tears to my eyes. I squeezed Rob's hand as I swallowed the lump in my throat and blinked furiously, afraid to rub my eyes in case I smudged my mascara. He didn't look at me but I could see the corners of his mouth twitching and knew why: a five-pound bet outside the church that I would cry before Christine made it to the altar.

Which reminded me about the other party to that particular bet. I leaned forward to see across the aisle, to the box pew where DI Josh Derwent was standing on his own, order of service in hand, glowering at me. He shook his head slowly, disgusted. He'd thought I could hang on until the vows before I wept. Not for the first time, I'd let him down.

And since I'd bet both of them I wouldn't cry at all, I'd let myself down too.

I didn't care. I shrugged at Derwent and went digging in my bag for a tissue. There were plenty of other people in the congregation who were sobbing happily too: most of Christine's family, including her father, and lots of my colleagues' girlfriends who were obviously imagining the day it would be their turn. The two bridesmaids, still pink from their walk to the altar, were dabbing at their eyes. And why not cry? It was a beautiful day, and Christine was a beautiful bride, and the two of them couldn't have been happier to be getting married. There was a baby on the way, it was true, but this wasn't a shotgun wedding. They had got engaged months before the bride got pregnant. Christine was a civilian analyst in our office, and liked to confide in me for no reason that I could see, so I had been party to the long, tearful discussions in the ladies' loo about whether it was better to postpone the wedding until after the baby had arrived or whether she should just get on with it. My vote had been firmly for getting on with it. There was a limit to how many times I could feign interest in swatches of material for bridesmaids' dresses or wedding favors or accent colors for decorating the chairs at the reception.

Besides, I was looking forward to the wedding. I had a dress I wanted to wear that would just about do for a September wedding. Midnight-blue, narrow, and strapless, it was a world away from my usual work clothes. Rob had booked time off from work so we could go together, and I'd never been to the part of Somerset where the bride's family lived. The wedding was in a tiny thirteenth-century church in the middle of a postcard-perfect village. The church was currently crammed with rather a lot of the Met's finest, but you could still admire the rood screen if that was your thing, and the carving on the pulpit, and the marble monuments to local worthies from centuries ago. Afterward the reception would be across the road, in a marquee in the garden of the bride's aunt's house. We were staying in one of the local pubs, where they had romantic rooms with low beams and wide, soft beds, and a roll-top bath by the window. I had booked to stay an extra night, so Rob and I could be alone together. In almost two years we'd never gone away anywhere on holidays. A trip to the country, even if it was just for the weekend, made a nice change.

The only problem was that I couldn't drink any of the French wine that Ben had traveled across the Channel to buy-cases and cases of it, since he knew his colleagues well enough to cater for a big night. Derwent had driven some of it down from London in his car, and Rob had gone to help him unload it while we hung around before the wedding.

"Not that there's much point since I won't be able to have any." Derwent dumped a box by the marquee and went back to get another one.

"Are you on call? So's Maeve." Rob was moving much more slowly than Derwent, not being in the least bothered about the inspector's compulsion to prove himself quicker and stronger than any other man. Tall and broad-shouldered, Rob looked extremely handsome in his best suit. As if he knew what I was thinking, he winked at me before he disappeared inside the marquee. I guessed he was going to put the case behind the bar, where it was needed, rather than leaving it outside. Derwent was on his third case by now, piling them up. I sat on the wall and watched the two of them, amused.

"It's typical." Derwent glared at me. "And I'll be watching you, Kerrigan. No sneaking a glass of fizz."

"Just to toast the happy couple."

He pointed at me. "Not a drop."

"I wouldn't," I protested. "I know the rules. Besides, the boss is going to be there. I wouldn't dare." The boss was Superintendent Charles Godley, one of the Met's stars, who was handsome and talented and expected the best from his team. We investigated murders. The most complex and sensitive ones came to us, which was flattering, but it meant that we couldn't shut down for the weekend. Everyone was invited to the wedding but some of us had to stay sober, ready to rush back to London if we were needed. Rob had been one of us, once upon a time. He knew the score. Given the choice, he would have been happy to be on call too, I felt.

But we wouldn't be needed. I closed my eyes and tilted my face up so the sunshine could warm it. The weather was perfect. Everything would be perfect.

Derwent nudged my foot with the toe of his shoe. "Wake up."

"I'm not asleep," I said, not opening my eyes. "Why are you bothering me?"

"There's no one else to talk to."

"Why didn't you bring a date? Couldn't you find anyone?"

"Of course I could have found someone. I wanted to come on my own."

"Why?"

"I have my reasons."

Something in his voice made me open my eyes. I shaded them with my hand so I could look at him. "Do I want to know what those reasons are?"

A grin. "Probably not."

"Tell me anyway."

"Maybe later." He looked past me and raised a hand. "There's Ben. Poor fucker. He looks as if he's going to spew."

"He's probably nervous."

"Nervous that Christine won't turn up. It's a good thing he got her pregnant. She's a long way out of his league."

"She's completely in love with him," I said, my voice sharp. "She'll be there because she wants to marry Dornton."

A slow headshake. "That was quality minge."

I shuddered. "Congratulations. That is absolutely the most offensive way you could have said you found Christine attractive."

"Do you reckon?" Derwent leaned back, hands in his pockets, thinking. "I bet I can come up with something more offensive than that."

"Please don't bother." I stood up.

"Aw. I was enjoying the view."

"What view?"

The grin again. "You should always wear skirts like that. With a slit, I mean."

I had forgotten about the slit. It ran up as far as my thigh, and when I sat down, most of my left leg was on display. I blushed, which was annoying. "Not exactly ideal for work."

"No. Not with stockings, anyway." The grin had got wider. "Lace tops, too. Nice."

"What are you two talking about?" Rob had finished moving the boxes from Derwent's car, as well as the ones Derwent had abandoned outside the marquee. Now he strolled across the grass to stand beside me. He slung an arm around my shoulders and pulled me toward him so he could drop a kiss on my cheek. I knew my face was hot.

"I was just saying what a lucky man you are," Derwent said smoothly.

"You won't get any arguments from me." Rob's arm tightened around me for just a second and I didn't duck away. Having him there was like emotional body armor, which I badly needed when Derwent was around.

I twisted to see the church, where there was a growing crowd centered on Dornton. "Let's go and talk to the others."

Derwent had come with us, but diluted by lots of other people he wasn't as bad. The conversation had been distinctly less personal, at least until Rob and he had started placing bets on whether I'd cry or not.

I looked across the aisle again, to where Derwent was sitting, somber in dark-gray. He looked more like he was at a funeral than a wedding, I thought. Coming into autumn he was at his leanest, with two marathons done for the year and another lined up before winter. His jawline was sharply cut, his cheeks slightly hollow, and to me he looked hungry, but possibly not for food. He was sitting quite still, his attention directed somewhere other than the couple standing at the front of the church, exchanging their vows with tremulous sincerity. I followed the line of his gaze to see where he was looking and I was not in the least surprised to find that he was staring at the prettier of the two bridesmaids. Nor was I all that surprised that she was staring back. He looked all right, from a distance. It was only when you got talking to him that you realized he was the last man on earth you should tangle with.

I just hoped she'd have the sense to run away.

* * *

It was after the dinner (excellent), the speeches (long), and the bride and groom's first dance (awkward but tender) that Derwent came for me. I was sitting beside Rob, my back to the rolled-up side of the marquee. I was enjoying myself in a mild way but I hadn't said much all evening. I was missing Liv, my friend and colleague, who was recovering from a nasty injury and had been off work for almost a year. She was traveling with her girlfriend, and had sent good wishes. I would have preferred to have her there. A light breeze from the garden sighed across my skin, but it was hot in the marquee and I didn't need or want my jacket. Rob had taken off his too, and his tie, and rolled up his sleeves. His hair was a little bit rumpled and I watched him laughing at one of Chris Pettifer's jokes, the lines lengthening around his eyes in a way that made my heart turn over. True to my word, I hadn't had a drop to drink but I felt not quite sober, all the same, when I looked at Rob. I wanted to lean against him and whisper in his ear. I wanted to tangle my fingers in his hair and kiss him. I wanted to press my body against him. I wanted to draw him into the dark garden and be alone with him. I settled for dropping a hand on his long, lean thigh, feeling the muscles move under my palm as he registered the contact and knew just what it meant.

Derwent's voice shattered my reverie. "Can I borrow your bird?"

"Depends," Rob said. "Why do you want her?"

"Just a dance."

I looked up at Derwent, unsmiling in his suit. He was as immaculate as he'd been eight hours earlier. So much for the party mood.

"I'm not dancing," I said.

"Why not?"

"I hate dancing when I'm sober." It was true. I felt too self-conscious. I was too tall to be inconspicuous on a dance floor.

"I'll look after you." Derwent held out a hand to me. "Come on."

"Go on." Rob nudged me, as if I wanted his encouragement. "I don't mind."

"I do," I said.

"Don't be such a misery-guts," Derwent snapped. "Just come and dance with me. It won't take long."

Something in the way he said it made me suspicious. "Why? What's your game?"

He leaned down so he could lower his voice. The music was loud enough that he didn't really need to murmur. All the same, I could see the need for caution when he said, "I need you to make Beth jealous."

"Beth?"

"The bridesmaid."

"Which one is Beth?"

"Does it matter?" Derwent demanded. Then he relented. "The fit one. Dark hair. Nice tits. Not the one who looks like an ironing board in a frock."

"Good choice," Rob said. "Good luck, mate."

"No luck required. Just Kerrigan."

I was glaring at Rob, who had given no sign of even noticing the bridesmaids, let alone of having assessed their chests.

"What?" he said, blinking at me, all innocence.

"Nothing." I looked up at Derwent who tilted his head to one side.

"Please?"

I really wanted to say no. I'd felt sorry for Derwent earlier, though, coming to the wedding on his own. He looked lonely. I was pretty sure he was lonely. And I was so completely happy with Rob I couldn't take away his chance to feel the same way.

"Go on, Maeve," Rob said. "Have fun."

I stood up and it took Rob a second to follow my face all the way up. He squinted slightly as he tried to focus and I wondered just exactly how drunk he was. To Derwent, I said, "One dance. But I want you to know I don't approve of you playing mind games with the poor girl. If you like her, just tell her that."

"Yeah, because that always works." Derwent rolled his eyes.

I opened my mouth to reply and stopped, as Rob's hand slid inside the slit in my skirt and ran up the back of my leg. When he slipped his fingers between my legs so he could stroke the soft skin at the top of my thigh, I thought,Oh. That drunk.

I looked up and saw Derwent grinning at me. He knew exactly what Rob was doing, I realized, and I stepped away from my boyfriend so I was out of range.

"Do I have your permission to do what I like with her?" Derwent asked Rob.

"You have my permission to try. But don't blame me if she hurts you."

"Can you stop talking to Rob as if he owns me?" I grabbed Derwent's arm and marched him toward the dance floor, where the band was halfway through "That's Amore."

"When I'm dancing with someone who's taken, I like to get everything agreed in advance so I don't get thumped. He's a big lad, your bloke."

"So are you."

"I still wouldn't want to fight him."

"Well, I wouldn't want to ruin Ben and Christine's wedding with a brawl, so behave yourself."

Derwent shook his head. "That's not going to work."

He took hold of me and took charge, spinning me around so I was breathless and laughing after a couple of minutes. It turned out that Derwent was surprisingly good at dancing, despite the slight limp he'd acquired a few months earlier when he was injured in the line of duty. I was almost disappointed when the song ended. He stood beside me, though, and made no move toward the edge of the dance floor.

"They look happy," I said, watching Ben and Christine kiss in the middle of the dance floor as people applauded them.

"It'll be you next."

"Not next," I said. "But maybe someday." I looked across at Rob, who was watching us, a half-smile on his face. His eyes were still slightly unfocused but I had the feeling he was paying more attention than a casual onlooker might have thought.

"That's commitment," Derwent said.

"It is for me."

"I wasn't taking the piss. He's lucky."

"Oh." I was wrong-footed and, for once, speechless.

"How's the self-esteem today, Kerrigan?"

That was more like Derwent. I glowered. "Fine. I'm not used to you being nice, that's all."

"Saying it as I see it, that's all. Nothing nice about it." He waited a beat. "You're lucky too, though. He puts up with you which is more than ninety-nine point nine percent of men would bother to do."

Ugh. "If you want to find a girlfriend, do you really think the best way is by dancing with me?"

He pulled me toward him. "I'm not looking for a girlfriend tonight, Kerrigan. I'm looking for a shag. Weddings are all about shagging. And making Beth jealous is the last thing I need to do to tip her over the edge."

"You old romantic."

"I am romantic. I love weddings." The band played the first few chords of "Can't Help Falling in Love with You." The singer was no Elvis but he gave it his best shot, crooning into his microphone with his eyes closed. Derwent pulled me so close to him the buttons on his jacket dug into my stomach. "I've got a system. Scope out the talent during the ceremony. Choose your target. Make contact with her before the meal. Watch her during the meal, so you can see if she's eating." He leaned even closer so his lips were almost brushing my ear. "Desire kills all other appetites. If she's eating, forget it. If she can't eat, you're in."

"Did Beth eat?"

"Not that I saw. And I was watching." He sounded infinitely smug.

"I still don't know why you're mauling me and not her." I could hear the irritation in my voice and Derwent wouldn't have missed it. He skimmed his left hand down so it was resting on the curve of my bottom.

"Because she thinks she's missed her chance and she'll be so grateful to be wrong."

"What are you doing?" I wriggled, trying to get away.

"Dancing with you. Settle down and enjoy it, Kerrigan. For the next two minutes, you're mine."

He was too strong for me to be able to put any air between us. I felt his breath on my neck, his heartbeating much slower than mine, his hand warm on my skin through the thin material of my dress. His chest pressed against mine and my bodice slid a vital quarter of an inch lower. His hips moved against me, in time to the music, and I found I couldn't quite catch my breath. His attention was focused on my cleavage but as I leaned back, trying to get some space, he stared straight into my eyes, and that was somehow more intimate than anything else. I couldn't look away, until he did, and then I took a few moments to find my voice.

"Take your hand off my arse, sir."

The grin. "Fifty-six seconds. I'm impressed."

"Move it," I ordered.

"On a normal bird, that would be your waist."

"The fact that I'm taller than average is not a reason for you to grope me."

He let go of me altogether and stepped back, laughing. "I wondered what it would take to make you angry."

"Sorry to ruin your game."

"You didn't." Derwent's eyes were narrow with amusement. "Beth left when we started dancing to this song. She's been gone pretty much the whole time."

My face was flaming. "So that was you having fun."

"Oh come on, Kerrigan. You enjoyed it too."

I turned away from him and stalked through the marquee, then out the other side without speaking to anyone. The sign for the ladies pointed toward a trailer with three cubicles in it and a bank of mirrors and sinks on the other side. I rattled up the steps of the trailer, moving fast, as if I was home free once I got inside. Derwent would follow me if he felt like it. The sanctity of the ladies' loo meant nothing to him. But why would he follow me? He'd had his fun. He spent his whole life trying to get a reaction from people, the more outraged the better, and I'd played right into his hands. I needed to be alone, just to get my composure back, but of course I wasn't alone.

Standing at the sink, arms folded, was Beth the bridesmaid. The other bridesmaid was leaning on the counter beside her. The two of them broke off their conversation to glare at me, which settled what they'd been talking about. I took my time checking my appearance in the mirror before I shut myself in a cubicle. I wasn't going to be intimidated by two twenty-four-year-olds in flamingo-pink satin. I stared at myself, noting that my cheeks were flushed, my eyes bright with upset. At least my hair, straightened for the wedding, was under control for once.

I shut the door and sat down on the closed loo, my hands to my face. My heart was still pounding. I took a few deep breaths of chemical-sweet air. I couldn't even work out what I was feeling: a hell-brew of embarrassment, shame, and anger. It wasn't just that I was mortified about being felt up in front of my colleagues and my boyfriend. I couldn't bear the fact that I had responded to Derwent on some base, biological level, far below logic and reason. Outside, the conversation was continuing in whispers and stifled giggles. Irritation, I found, was a lot better than humiliation. I counted to twenty, then unlocked the door.

"Was there something you wanted to ask me?" I said to Beth.

She looked terrified. "No."

Her friend was bolder. "What are you doing with Josh? He likes Beth."

"Yes, he does."

"And you were hanging around with that fit dark-haired bloke earlier. Isn't he your boyfriend?"

"Yes, he is."

For a split-second, the bridesmaid who was not Beth looked disappointed that Rob wasn't single. As if, I thought, abandoning the moral high ground.

"Well, why were you all over Josh? How do you know him? Or don't you?"

"I work with him."

"No you don't," Beth said. "He's a police officer. He investigates murders."

"So do I."

She looked surprised. "Seriously?"

"I'm a detective constable."

I watched the two of them stare at me, checking out the shoes and the legs and the very fitted dress that was cut to make the most of my chest and the least of my waist.

"I think, even if I was a police officer, I'd be ashamed to be that much of a slut in public while my boyfriend was watching." Plain bridesmaid's tone was biting.

God, I hated the word slut. I was tempted to snap back, but I took hold of my temper. There was one way to neutralize Derwent, at least for the rest of the evening, assuming he was right and the lady was willing.

"I was just dancing," I said. "And Josh really likes Beth. Beth, do you like Josh?"

She nodded.

"Then go and find him. Put us all out of our misery."

I'd have warned her to be careful but there didn't seem to be much point. I left her checking her makeup as her friend redid her hair, shoving in hairpins with thin-lipped concentration. It had to be hard to be the not-pretty bridesmaid, even if Beth's reward was a short liaison with my DI.

I walked down the steps to the path that led back to the marquee, not hurrying this time. Light spilled out of the tent across the grass, and the band had gone up-tempo again with "Walking on Sunshine." Gales of laughter rang out and a woman screamed, then cackled loudly. I wished I felt more like partying. I wished I could have a drink and forget the previous twenty minutes had ever happened.

My eyes were getting used to the darkness. Glancing to my right, I saw a figure standing motionless under a tree. Derwent.

As I got close enough to see his face I faltered and stopped. It was his expression-dark, undisguised desire. I could tell what he wanted and how he wanted it: a willing partner bent over a car bonnet, right there and then. No preamble. No romance. Just sex.

And I was scared. Not of him, but of what I might do. There was a reckless, hand-in-the-fire, jump-in-the-river part of me that I kept hidden, but it still existed. I wasn't to be trusted with my own happiness. I hadn't wanted to fall in love with Rob because I knew I would wreck it, somehow. Derwent was the ultimate bad idea, on every level. And I loved Rob.

I knew, though, that if Derwent said my name then, I might be tempted to go to him.

All of this flashed through my mind like a wildfire in the space of a half-second, before I realized he was looking past me, to where Beth was stepping down from the trailer on to the gravel path. I don't even think Derwent had noticed me break my stride.

I walked on, into the brightly lit marquee, where everyone was flushed from the heat of dancing and the good French wine. Nothing about my appearance would make me stand out to anyone, even though my face was flaming. I tacked sideways, away from where Rob was sitting, knowing that his very inconvenient habit of reading my mind would be too dangerous to risk. I was heading for the bar and a glass of water. I had to recover something like self-possession before I went back to him.

"Maeve."

I jumped about a mile. "Sir."

Godley smiled down at me, tall and film-star handsome as ever. "You can call me Charles. We're off duty."

"I don't actually think I can," I said truthfully and he laughed.

"Give it another couple of years of working with me and you'll be calling me far worse things than my name. Look at Josh. He has absolutely no respect for me."

I flinched a little at the sound of Derwent's name, and Godley saw it. He frowned, then asked, "Are you having a good time?"

"Of course." I smiled at him. "I was just going to get a drink. Water, I mean."

"I could do with a refill too." He stood back to let me go first, following me to the bar where I waited for the bar staff to notice us. And waited. And waited.

"If you don't mind, I could try," Godley said in my ear.

"Be my guest." I swapped places with him. Instantly, two of the girls dropped what they were doing to rush over and take his order. While we waited for the drinks a heavy-set middle-aged man blundered up to the bar and cannoned into me. With tremendous courtesy Godley put his arm around me to move me out of range. For the second time that night, I was aware of getting a completely undeserved glare from other women because of who I was with.

Which reminded me. As I took my glass from Godley, I asked, "Is Serena here? I haven't seen her."

His expression darkened. "She isn't here. I came alone."

"You and Derwent both did. You should have been each other's dates."

"I've seen what Josh does to his dates. No thanks."

I wondered if Godley had seen what Derwent had done to me. He had moved on, though.

"I should tell you, Maeve ... Serena and I are getting divorced."

"What? Why?" I realized it was none of my business as soon as I asked. "I mean, I'm sorry. Sorry to hear that."

Godley grimaced. "It's been coming for a while. Sometimes things go too far and you can't find a way back to where you used to be."

"I'm sorry," I said again.

Godley was about to say something else but his expression changed and he reached into the inside pocket of his jacket to get his phone, which was vibrating from an incoming call. He handed me his glass so he could hold the phone and jam the other hand against his ear. I moved a few steps away to give him some privacy, even though his side of the conversation was monosyllabic. Minutes passed and I edged further away, thinking I should find myself someone else to talk to rather than hang around waiting for the boss to remember I was there. He had tucked the phone between his shoulder and his ear so he could scrawl notes on a paper napkin, writing fast, his expression grim. I watched, not sure how I could help or if I should try.

Godley turned around then, looking for me, and I knew it was bad, whatever he was hearing. He snapped his fingers to get me to come closer and shielded the phone so the person on the other end couldn't hear what he was saying. "Go and get Derwent. Right now."

I went. I dumped the glasses on a nearby table and hurried out to the sweet-smelling garden, going as fast as I could though my heels were slowing me down on the gravel path. After a few steps I slid my shoes off and ran on the grass instead, heading for the car park.

The area where the cars were parked was deserted and badly lit, but I could see straightaway I'd been wrong about the car bonnet. No one was even near Derwent's car, let alone sprawled across it. I slowed down, looking around. I'd been so sure ...

As I got closer, I realized I wasn't as wrong as all that. They were in the back seat.

Without my shoes I was completely silent. I moved around to the window closest to Derwent's head, and I used the heel of the shoe I was carrying to rap on the glass, hard. His head came up fast and I saw him swearing as he reached over to open the door. Beth was frantically trying to readjust her dress, tugging the top half up and the bottom half down.

"What the fuck, Kerrigan?"

"We've got a call." For Beth's benefit, because Derwent already knew, I added, "We have to go."



Copyright © 2014 by Jane Casey
We hope you are enjoying the book so far. To continue reading...
The Kill
Jane Casey
Copyright © 2021 All Rights Reserved
Also in this series
Also by this author