The Harp and The Rose
It's 1920's Ireland and revolution grips Harp and those she loves, but the Crown Forces are not the only enemy
Book info
Sample
Audiobook
Media
Author updates
Lists
Synopsis
Queenstown, County Cork. 1920

For twenty-year-old Harp Devereaux, life should be idyllic. At university, she feels for the first time in her life that she belongs, her mother Rose is running the Cliff House as a successful business, and her childhood sweetheart JohnJoe is by her side, but the storm clouds of war grow ever darker.
For eight hundred years Ireland has made numerous bids for her freedom but now, at last, liberation from British rule is tantalisingly close, if the men and women of the revolution can just hold on.
Harp, her family, and her friends find themselves in the thick of the fight, but the Crown Forces are not the only enemy. A sinister force from the past is lurking and will stop at nothing to exact his revenge.

The Harp and the Rose is the third book in the Queenstown Series.
Release date: August 23, 2021
Print pages: 229
* BingeBooks earns revenue from qualifying purchases as an Amazon Associate as well as from other retail partners.
Listen to a sample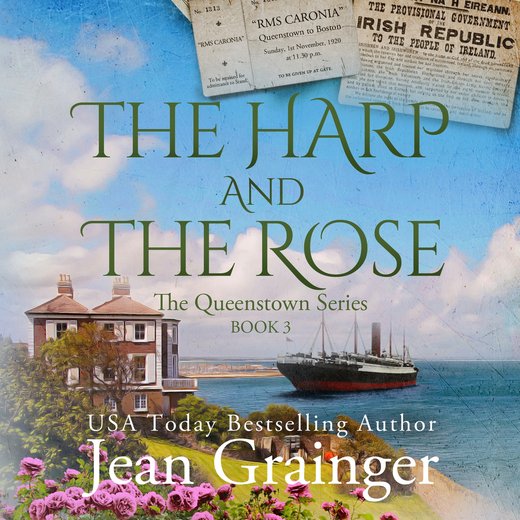 07:34:50
208.22 MB
9798200894420
February 8, 2022
Blackstone Audio
The Harp and The Rose
Jean Grainger
Prologue
Shimla, India, 1920
The rattan ceiling fan spun lazily, barely moving the humid heat of the Himalayan afternoon. A fly buzzed for a moment before it was swatted expertly by the young white-clad waiter who was standing by, at the ready to serve any one of the handful of guests. The card room of the Orchid Hotel was large, the baize tables scattered at a distance from each other for discretion's sake. On this Tuesday afternoon, the wheels of the Empire were being oiled in offices around the town by an army of British civil servants of varying ranks, and few had time to play cards. Apart from him and his companions, there were a table of ladies playing bridge in the corner, their pale skin glistening with perspiration despite their light, cool, pastel-coloured dresses, and a foursome of businessmen who sat near the bar, up to escape the stifling heat of Bombay; Ralph thought they were Dutch. They were playing pontoon, a childish game in his opinion, but judging by the laughter and the frequency of the waiter's visits with more gin and tonics and cold beers, they were not taking it too seriously.
Oliver Beckett languished in a cane chair, sipping a seltzer water, and Ralph sat opposite. Beckett was a tall, thin man in his late forties or early fifties. His salt-and-pepper hair was cut short in the military style, and his face, while not unhandsome, looked like it had been carved in granite. Beckett was as close to a perfect specimen of a high-ranking officer in the British army as could be achieved. He had piercing blue eyes and straight full brows. The only things amiss were his thin lips and slightly receding chin. His demeanour matched his appearance – sparse, nothing to spare. Though he had been there almost a year, nobody knew him really. He didn't drink alcohol and rarely socialised. He'd been married, it seemed – the mamas looking for potential suitors for their marriageable daughters had compiled a full dossier on him within hours of his arrival – but he remained aloof.
'So have you heard I'm being transferred to your neck of the woods, Devereaux?' Beckett's north-of-England accent belied his high rank. Generally the broad vowels of the north belonged on an NCO, but Beckett must have been something special to rise above his natural rank in life to the position he now enjoyed.
'Really?' Ralph had heard rumblings. Nothing was a secret for long in Shimla.
'Yes, Queenstown, in County Cork. You're from there, are you not?'
'Yes, that's right. My family have a house there, the Cliff House. I grew up there but then came out here as a young man. What's taking you there?'
Beckett gave a small sly smile. 'I seem to have a particular knack for managing insurgents. The powers that be reckon that if I can get the natives here back in line, I can apply the same techniques to the Irish, though they are considerably more pig-headed than our Indian subjects.'
Ralph nodded sagely. 'Yes, there's a certain mindset there, undoubtedly, a mulish ignorance, I think you'd call it. They make terrible servants, for example, most unbiddable.' He nodded at the young waiter with a white-toothed grin, who jumped to the command, and within a minute, another seltzer water and a gin and tonic appeared. 'A servant of ours, a woman, a devious, conniving creature, actually lives in my family home, I'm sorry to say. Her and her illegitimate child, allegedly the result of an affair between her and my brother, but I don't know about that. I've had all the devil of a job to remove them. To be honest, in the end I just gave up.'
'So have you been back there recently?' Beckett asked.
Ralph considered what to say. He'd kept more or less to the truth – it was the easiest way to not be caught out – but he was rarely drawn on the subject of his life before Shimla. 'Well, I went back after my brother died to confront her, but I'm ashamed to say, she saw the threat of my arrival to her newfound wealth and seduced me. I foolishly allowed it. The woman is a devil, I tell you. She lured me to her bed, and I was helpless to stop it. She is beautiful, I'll give her that, but the exact same methods she used to beguile my poor halfwit brother worked on me. I'm embarrassed about it now. She even forced an engagement on me, intimating that I had got her in trouble and that I had to do the honourable thing. Of course, against my better judgement, I did, but I soon learned that it was yet another of her lies, a ruse to trap me. Luckily I came to my senses and got out of there before the wedding.'
'Sounds like a lucky escape.' Beckett sipped his water.
'It was, most fortuitous. But my own fault. I was grieving for my brother, I suppose, and she saw that weakness. But if you're going there, keep an eye on her, and the daughter too. She's Rose Delaney and the daughter most unfortunately has our family name, Harp Devereaux. The mother knocks about with the local undertaker, a disreputable fellow called Matt Quinn, and to be honest, I've always had my doubts about him.'
'Why is that?' Beckett swatted a fly from his arm. He showed no sign that either the heat or the humidity perturbed him in any way. For some new arrivals, it was oppressive, and they were easily spotted, but Beckett seemed to adjust immediately.
He'd been sent from London last year to rout out any dissention among the natives employed by the Crown, the implication being that the viceroy was making a total dog's dinner of it, with the Ghadar Party having success in uniting the Indian Hindus, Sikhs and Muslims, when previously they'd remained conveniently at loggerheads. The Indian independence movement was gaining traction and getting support, not just in India but from all over the world, and the British were right to be alarmed. It was impossible to run the Empire without native help, but in doing so, the authorities ran the risk of allowing people who were disgruntled with the status quo right into the heart of the organisation.
Ralph took a sip of his drink. This was too good an opportunity for revenge to give up. 'Well, the last time I was there, I struck up a friendship with a Captain Pennington of the Royal Norfolk, a decent chap and a fine golfer. One night he simply vanished. There had been some argy-bargy the evening before with the daughter I mentioned, Harp. She's a chip off the old block, if you know what I mean. I went to bed and heard some kind of racket upstairs. I thought nothing of it. They live on the third floor, and who knows what visitors they have at night. Not my business. But then the next morning, Pennington was gone. Rose made up some story about him absconding without paying the bill or something, but I always felt there was more to it than that. And I saw Quinn lurking about that night too, so whatever happened, he's involved.'
'And did the army investigate?' Beckett asked.
Ralph sighed. 'It was 1916 and the war was raging – I think they had bigger problems. They sent a chap, all right, but he swallowed that devious cow's version. I'll tell you this – she will fool even the most astute of men into thinking she's a prim and proper lady. They had cooked up some story by then about Pennington going AWOL. Don't ask me the details now – I forget. But then a body was found near his parents' place in England, and they put two and two together and made five. Case closed. But I always knew there was more to that story.'
Before the conversation could go any further, Alfred Pascoe walked in, greeted them and sat down at the bar near them. 'Scotch, one lump of ice,' he demanded of the waiter.
'Ah, Alfie, how are you?' Ralph asked.
Pascoe turned. 'Hello, Ralph. Fine, thanks, and you?'
Alfred Pascoe was the only child of Isaac Pascoe, a wily old Cornish man who'd come out to the jewel in the British Empire's crown in the 1860s and made a fortune in tea. Isaac was a frugal, hard-working, sullen man, and he and his French wife had lived a righteous life, dominated by work and God. Alfred had been a miracle by all accounts, born as his mother turned forty-five years old. They spoiled the child, instilling in him none of the values they had hitherto espoused. The result was a paunchy middle-aged man with a florid complexion and a weak chin. No wonder his wife seeks her pleasures elsewhere, Ralph thought.
Ralph always made a point of being friendly to Pascoe. It gave him a thrill, knowing that Alfie was oblivious to the fact that Pamela Pascoe spent most afternoons entertaining Ralph in their marital bedroom.
'Marvellous.' Ralph smiled. 'You know Brigadier General Beckett, I trust?'
'Only by reputation.' Pascoe smiled as well. 'It's nice to make your acquaintance, sir. I haven't been spending much time up here of late – business in the city.'
Ralph suppressed a smile. The business of losing his shirt in every casino in Delhi, he thought. Pascoe was a gambling addict, and everyone knew the Pascoe fortune was in serious jeopardy. Luckily Pamela had independent means from her father, or Ralph would have to rethink his association there.
'A pleasure,' Beckett replied, but didn't get up.
Before the conversation could move on, a beautiful young woman arrived, followed by a young native laden down with shopping bags and boxes. 'Papa, so sorry I was delayed. How was your trip up? Frightful, I'd imagine, in this heat.' She kissed Pascoe's cheek as he embraced her. She didn't look at either Ralph or Beckett.
Marianne Pascoe was as perfect an example of an English rose as could be found. Slender and pale, with blond curls and a peaches-and-cream complexion, she had china-blue eyes and a kind of girlish innocence that endeared her to all who met her. She'd been at boarding school in England and then finishing school in Switzerland, and now that she was back, it seriously curtailed Ralph's afternoons with her mother. It was a bore to listen to Pamela drone on about how much she missed her daughter when she was away, but it was worse to have the airheaded young woman about.
'Oh, it was fine, darling. Worth it to see you again.' Alfie clearly adored her. 'Shall we dine? I booked a table on the terrace.'
'Marvellous.'
Alfie Pascoe drained his whiskey and bid the men a good day.
'She's a beauty,' Beckett remarked after they'd left. 'Is she spoken for?'
Ralph thought quickly. The officer was far too old for Marianne, but if he took a shine to her, it might be just the thing. If Ralph could engineer it, it would mean Marianne out of the way. But more importantly, Pamela would have a direct line to what was happening in Queenstown, and so, de facto, would he. Marianne didn't know him, but he knew her. 'No, she's just back from school,' he replied.
A silence hung between the two men, an unspoken conversation.
'Pascoe is up to his eyes in debt. He might be persuaded to offer her hand in exchange for a wager?'
'What makes you think I'd want to marry her? My intentions would be far less honourable.'
'Marry her and you can indulge whatever intentions you like, legally and forever.' Ralph smiled.
Beckett was clearly considering it. 'Possibly. What's his weakness?'
'Poker.'
Alfred Pascoe fancied himself a card shark, but Ralph wasn't fooled. The man was way out of his depth, and everyone knew it. Gambling wasn't a gentleman's pastime for him; it was a compulsion.
Poker was Ralph's main trickle of income these days, unfortunately, but he kept his winnings small and was confident that he was above suspicion. He was clever enough to play without losing his shirt, but he also ensured he made no enemies. No big sweeping of the board for him. A little win here and there, nothing to alert anyone's attention.
'Can you set it up?' Beckett asked, draining his glass and rising.
'Of course. I'll send word.'
Beckett nodded and placed his hat on his head before departing.
***
As Ralph had suspected, Pascoe jumped at the chance of a high-stakes game. And so the following evening, they convened again in the card room.
Pascoe was focused but exuded an air of desperation. Ralph caught the brigadier's eye, but they gave nothing away. Ralph knew that Beckett had at least a straight if not a full house. And Pascoe was in trouble.
'I'll fold,' Ralph said, knowing his hand was mediocre at best. Anyway he was more interested in watching the cat-and-mouse game between Beckett and Pascoe.
'I'll see you, and raise you twenty.' The brigadier threw another chip on the table with a cool self-assuredness, and Pascoe eyed the pile of chips in the middle of the table with ill-concealed greed.
On and on the game went, Pascoe clearly getting into deeper and deeper water as he saw and raised each move. But like all gamblers, he was sure his lucky break was just around the corner.
Beckett spoke quietly. 'How would you like an escape clause?'
'I beg your pardon?' Pascoe looked outraged to have the game interrupted like that; it was most irregular.
'Well, as I see it, you stand to lose a substantial amount. So I have a proposition.' Beckett's voice was barely audible, and Pascoe had to lean in to hear him.
Ralph remained impassive.
'Go on.' Pascoe clearly hated having to say it. Ralph noticed the bead of sweat that trickled down his pudgy neck into the collar of his shirt.
'Simply that if your hand wins, you take the pot, but if my hand wins, you get your money back in return for your daughter's hand in marriage.'
Pascoe swallowed. The pot was approximately 3,000 pounds. From what Pamela had said, it was money old Alfie definitely could not afford to lose. Ralph didn't want to see him bankrupted; Pamela would hate that and would end up having to dig into her own funds to save face, money Ralph saw as his. He needed Beckett to have a strong hand and for Pascoe to be as weak as he knew him to be. By the looks of things, Pascoe had a fairly good hand, not spectacular but good enough. Ralph hoped he was confident or cocky enough to think it was sufficient.
'But she's just a girl! She's only nineteen, and, sir, with all due respect, you're considerably older than that.' Pascoe reddened.
'Alfie, come now,' Ralph purred. 'Marianne is a lovely girl, and she would be taken care of very well by the brigadier. She would want for nothing and enjoy the life of the wife of a senior British officer. We know him to be a decent chap, and he would treat her well.'
'But she would never agree, and my wife…' Pascoe protested.
'Girls are silly – we know that. Marianne doesn't know what's best for her, but you as her father do. And your wife' – Ralph slightly emphasised the 'your' – 'will surely be guided by you as head of the family?'
Bingo. He knew from Pamela that she and Alfie had had an enormous bust-up recently and that he had threatened all sorts up to and including divorce if he wasn't given the respect he felt he was due. Pamela would hate the scandal of a divorce, and even though Alfie was frittering away the family fortune, the Pascoe name still meant something in India. Alfie's father, whom Alfie idolised, had ruled his family with an iron fist, and Alfie aspired, though failed, to attain such heights of control.
'So it comes to this, Pascoe. If you beat me, I walk away with nothing, but if my hand trumps yours, you walk out with your pockets full provided I have an undertaking from you that Marianne and I will wed within the month.'
Pascoe swallowed and looked around, and his eyes rested on Ralph's. Help me, his look said.
'It's a win-win, Alfie,' Ralph soothed reassuringly.
After an interminable minute, Pascoe showed his hand. A straight flush. He turned his cards up to reveal the nine, eight, seven, six and five of diamonds.
Pascoe looked slightly smug, and Ralph could tell by the gleam in his piggy eyes that the pile of chips would solve his immediate financial worries at least. Though undoubtedly he wouldn't use the money to pay his debts but would lose it all exactly as he'd won it.
Beckett's face was inscrutable. He made brief eye contact with Pascoe before revealing his hand. Ralph thought Pascoe would actually vomit. The colour drained from his face and the sweat formed on his brow almost instantly. He pulled back the hand that was poised to sweep up the chips and stared in disbelief.
A royal flush.
The brigadier calmly gathered the chips but then pushed them across the table to Pascoe. 'Thank you, gentlemen. Let me get you both a drink?'
There was a ruthlessness to the man Ralph identified. He recognised it because he too possessed that trait. 'Thank you.' Ralph smiled. 'And congratulations.'
The brigadier nodded, and they all watched as the waiter gathered the chips that would be taken to the manager, who would convert them to cash.
'A gin and tonic?' Beckett asked Ralph.
'Please.'
'And for you, Alfred?'
'The same please,' the other man managed, though his voice cracked and he mopped his brow with his handkerchief.
'Two gin and tonics and a seltzer water, lots of ice,' Beckett commanded the young Indian waiter. 'Now, gentlemen, thank you both for a very pleasant afternoon. I trust you will deliver the good news to Marianne this evening? I'll meet you both here tomorrow at four for afternoon tea to discuss everything.'
The drinks arrived and Pascoe downed his in one long draught, standing up immediately. 'I must get on,' he mumbled, and nodded his goodbye.
Ralph observed the brigadier over his glass. 'He was full sure he had you.' There was no pity or admonishment in his words; it was simply a statement of fact.
Beckett shrugged and changed the subject. 'Where'd you get that?' He nodded at Ralph's wooden leg beneath his cream linen trousers.
'An unfortunate bullet.' Ralph smiled. Everyone assumed his injury was earned in the war, and he never chose to disavow them of that assumption.
'Where?' Beckett was persistent.
'Below the knee,' Ralph replied, deliberately misunderstanding him.
Chapter 1
Twenty-year-old Harp Devereaux crossed over to the other side of the road and instinctively moved as the small group of Black and Tans made their way down Oliver Plunkett Street in Cork City. If her Cumann na mBan mentors, Liz and Cissy Devlin, had taught her anything, it was to stay out of their way inasmuch as was possible. The army and the navy were all right usually, but the Tans were a law unto themselves and terrifying. The women's wing of the republican movement were more at risk from sexual violence from them, and it was best not to give them cause to notice her.
Harp's classes at University College Cork were finished early that day, as it was the Easter holiday, and she was looking forward to the train journey home to Queenstown. She had set her heart on studying at Trinity College in Dublin, but the Devlins had mentioned how useful she would be to the movement if she stayed and Cork, and so she decided to attend U.C.C. She loved her studies there and had no regrets. She was thinking about her last lecture on Romance languages given by Professor Mary Ryan, the first female professor in Ireland and the United Kingdom. It gave her a surge of pride and enthusiasm for the fight ahead to think that with each blow for freedom, they were striking a blow for women's rights too. Harp loved being at university – the reading, the learning, the sheer joy of it thrilled her – and for the first time in her education, she didn't feel like the odd one out.
Despite her good humour, however, the tension in the air was palpable. Since the first shots fired in the War of Independence the previous year, the IRA were gaining ground in every direction, and the result was that the ever-swelling numbers of Crown forces were on high alert and very trigger-happy. The success of the Irish Volunteers under General Michael Collins had even caused the smaller Royal Irish Constabulary barracks out in the country to close for fear of attack.
But the arrival the previous month of the Black and Tans – as the new recruits to the RIC were called – lent the entire conflict an air of savagery that had not previously been there, and everyone was on edge.
They jostled each other as they passed in their mismatched uniforms and almost knocked a toddler over, caring nothing for the population as usual. The supplementary police force, brought in to mercilessly quash the IRA and wreak havoc on the people of Ireland, were mostly demobilised soldiers from the Great War, damaged, drink-addicted, broken men who had left any shred of compassion or human dignity they might have once possessed in the trenches of Flanders and Ypres.
The killing of the Lord Mayor Tomás Mac Curtain the previous month, in front of his wife and children, had shaken the city to the core. Police, their faces blackened, had barged into his house and shot him, leaving him to die in his wife's arms. Cissy had been distraught – she knew his wife and was heartbroken for her – but Liz was different as usual. While the older woman felt all Irish losses keenly, Harp knew that Liz was aware that with each new outrage came more and more recruits to the IRA and Cumann na mBan. And goodness knew they needed more.
She wrapped her scarf more securely around her neck and tugged her knitted hat down. She had a handgun in the waistband of her skirt at the back, so she needed to bundle up. The gun had been used earlier in the day on a raid on the post office near the college; funds were always needed. The gunman had melted into the crowd, and the gun found its way to her as was arranged. Men were stopped all the time – JohnJoe joked that he wished that she was as familiar with the contours of his body as the British were – but they tended not to stop women, and girls clearly coming from their classes, large bags of books over their shoulders, were generally ignored.
She took to heart the instruction of Countess Markievicz, the women's army leader, when she said, 'Dress suitably in short skirts and strong boots, leave your jewels and gold bands in the bank, and buy a revolver.'
Weapons were critical, and the IRA sought to retrieve each and every one they could. Storing them was one of the biggest issues and one Matt and the Devlins were working on constantly.
There had been a raid on a loyal farmer's barn around Fota, and the IRA had lost a lot of weapons that night. Luckily no personnel were there, but that didn't stop Matt being furious. It was probably just a stroke of luck on the part of the RIC, but Matt was constantly warning them of the danger of informers. It had been, he was quick to point out, the reason each armed insurrection had failed in the past. And only by dealing swiftly and severely with anyone aiding and abetting the British could victory be achieved.
She exhaled as the Tans passed by and continued her journey. The city was busy, but she made her way to the station without a problem. Possession of a firearm meant execution, so it was no small thing to walk around with a gun in her skirt. But she felt strangely calm about it all. She wasn't particularly brave, she didn't think, but she believed the job had to be done and they had to be the ones to do it. She was reminded of the words of the Talmud, a Jewish holy book Henry had a copy of in his library. 'If not me, who? If not now, when?'
To her relief the train was full. It would be on Holy Thursday since the station would be closed the next day for Good Friday. Queenstown locals, children home from boarding school for the holidays, British military and a handful of passengers for the port filled each carriage, mercifully necessitating that she stand. It was harder to find a reason to stand when the train was half empty, and it would be hard to sit with a gun in her back.
She found a corner of the carriage and leaned against the wall as the train pulled out of the station. She wished she could take out her book. She was engrossed in Edmund Spenser's The Faerie Queene and over the holiday was due to write an essay on the justification for its inclusion in the canon of works that constituted the literature of Western civilisation. That he wrote much of the text in Youghal, a seaside town just to the east of Queenstown, gave Harp an added level of interest. Reading would have passed the time nicely, but she dared not risk it; she needed to remain alert.
The train juddered as it rounded the bend in the tracks, and a fellow passenger fell against her. Instinctively Harp shielded herself, ensuring the girl crashed against her arms rather than her body.
'Oh, I'm terribly sorry,' the girl exclaimed in a British accent as she tried to right herself.
'Don't worry. It always happens on that bend.' Harp smiled. 'I think the train driver is in a rush to get home for his tea.'
The woman was around her own age, perhaps a little younger, and was remarkably pretty. Slight but shapely, she had that creamy complexion so admired in England, with innocent blue eyes and golden-blond curls piled under an extravagant hat.
'Well, I grew up in India, so these are very civilised trains compared to there. Indians think nothing of transporting livestock on the train, and the carriages can become awfully smelly. Even the first-class ones stink rather.' She made a face and giggled.
Up to the time she went to university, Harp would have cringed at the thought of a casual conversation with a stranger like this, but expanding her mind and education had given her confidence. Not feeling so odd all the time was refreshing, as she was now surrounded by people who were not only as well read or clever as she was but often remarkably more so. She loved it.
'Are you taking a ship somewhere?' Harp asked.
The girl shook her head sadly. 'No, I'm afraid not. My husband was recently posted here – he's a military man – and I've had to come with him. We just arrived three weeks ago. We live at a place called Peary Tower, an awful mausoleum of a house just outside of the town. It's honestly like a place one would go to be murdered!' She had a surprisingly deep laugh for a girl, an earthy chuckle that Harp found infectious.
'I know it.' Harp smiled. The other woman wasn't wrong in her assessment. It was a dark gothic mansion that had been owned once by some eccentric writer who never published anything. When he died without issue, the state took it over.
'Don't get me wrong – it's very pretty here and I love the cooler weather, but it's rather hard to fill the days. Oliver – that's my new husband – is out all the time, and I'm jolly lonely, I suppose. I'm used to living in Shimla, in the Himalayas – all the British live there once the city gets too warm – and there's always something to do or someone to see.'
'Well, you could play tennis perhaps. I think some of the British officers' wives do that?' Harp suggested, strangely warming to the girl though she was clearly the wife of the enemy. Perhaps a friendship with her could be of use. Matt was always saying that this was an information war; the more intelligence they could gather, the more targeted the attacks could be.
The girl grimaced. 'My husband took me to a sherry reception to meet the other wives when we first landed, but…' – she leaned in to whisper – 'they are all so old.'
Harp couldn't help but laugh.
'My name is Marianne.' She stuck out her hand and Harp took it.
'Harp.'
They chatted amicably about the possibility of interest or diversion in Queenstown such as might entertain young ladies, and Marianne described the move to Ireland from India in hilarious detail. She was such a live wire and seemed to have a turn of phrase that brought out the humour in everything. Harp found the arrival in the station came all too soon. Marianne was indiscreet certainly, revealing that her husband snored and that he insisted on sleeping with a window open even though she found it freezing at night.
As they alighted, Marianne fell easily into step beside her. 'So you have a boyfriend?' Marianne asked, gathering her bag and large hat box.
'Er…yes. He's American but he lives here now.'
'Ooh, an American! That's exotic.' Marianne giggled. 'There were a few of them in India. Everyone assumed they were filthy rich, and all the girls set their caps at them. Our own chaps would fume, but the Americans were so exotic compared with dull old George in his plus fours and Fair Isle jumper.' She did an impression of 'dull George' that made Harp laugh.
Harp noticed the checkpoint as Marianne carried on. Her heart thumped and she swallowed. There was not normally a checkpoint getting off the train. They would wave her on surely.
Straight ahead, at the ticket barrier, a soldier drew a middle-aged woman to the side and patted her down. Harp focused on her breath. She must not look guilty; they could spot that a mile away.
The crowd getting off the train slowed to a shuffle as each person was processed through the checkpoint.
Marianne chatted on, oblivious to Harp's disquiet, and soon they were at the barrier.
'Ah, Corporal Hastings, isn't it?' Marianne smiled, and the previously sullen soldier smiled back.
'Yes, Mrs Beckett, how nice to see you again.' He nodded.
'And you, how is that thumb now?' Marianne turned to Harp. 'The silly goose jammed it in a rather heavy trunk of mine as he helped us move into Dreary Towers.'
The man suppressed a grin; he was clearly charmed by her. 'I'm fine, Mrs Beckett, thank you.'
Marianne linked her arm with Harp's. 'This is my friend Harp.'
The corporal nodded pleasantly. 'Good afternoon, miss. Please, pass on.' He ushered them through the barrier and returned to his duties.
Harp tried to exhale slowly so as not to alert her new friend to her panic. Yes, developing Marianne's friendship was a good idea.
'He's rather a dish, isn't he?' Marianne asked conspiratorially as they walked out of the station into the late afternoon sunshine.
'Em…I suppose so.' Harp had no idea; all she ever saw was the uniform.
'I think so, anyway. I'd better head for Dreary Towers, I suppose. It was lovely meeting you, Harp. I hope we can meet up again?'
'I'm sure we will – Queenstown is a small place,' Harp replied. 'My mother owns the Cliff House guest house –'
'Oh, that beautiful white house overlooking the sea?' Marianne interrupted. 'I admire it every time I pass. You're so lucky to live there, and the gardens are spectacular, from down here anyway. I adore gardening. We had the most lovely gardens around our house in Shimla. Papa and I used to take care of them…' A dark cloud passed over her elfin face. 'Well, my father doesn't live there any more, but it used to be gorgeous.'
'My mother is a good gardener, but it's actually my boyfriend, JohnJoe, who has the green fingers. Come up and see the glasshouses and the gardens sometime if you would like?'
Marianne's face lit up with enthusiasm. 'Oh, I would love that. I'm sorry, I know I'm probably being frightfully pushy, but I have not a single friend and that awful house is truly driving me scatty. And the gardens out there, well, it's more like a tangle of wild wilderness really, all briars and thorns, so I don't even know where to start.'
'Could your husband get it cleared for you, and you could perhaps plant it then? Because of the Gulf Stream, the south coast of Ireland is actually more Mediterranean in terms of soil temperature, so we can grow things here that shouldn't flourish in our climate, or so JohnJoe tells me anyway. Apparently any involvement on my part with a plant is the kiss of death.' Harp wondered if she'd imagined the look of disappointment on Marianne's face.
'No, he said it's fine as it is – though the weeds and briars are taller than a man – so I doubt he would do that for me. But I'd love to come and see your garden.'
They walked along together until Harp was almost level with the Devlins' store. She would drop off the pistol there, and it would be collected by someone else later.
We hope you are enjoying the book so far. To continue reading...
The Harp and The Rose
Jean Grainger
Copyright © 2022 All Rights Reserved