Growing Wild in the Shade
Book info
Sample
Audiobook
Media
Author updates
Lists
Synopsis
If you want to disappear, start again, make a new life, a small Irish village is probably not the wisest place to go, since anonymity is not something we do well here. The arrival of someone new is always a cause for twitching curtains and whispered conversations. But here, like everywhere, people have their secrets, and as the local sergeant I'm expected to have my eyes peeled for anything unusual. And I do. Usually. Until I don't, and the consequences are potentially fatal.
Release date: July 18, 2022
Publisher: Gold Harp Media Ltd
* BingeBooks earns revenue from qualifying purchases as an Amazon Associate as well as from other retail partners.
Listen to a sample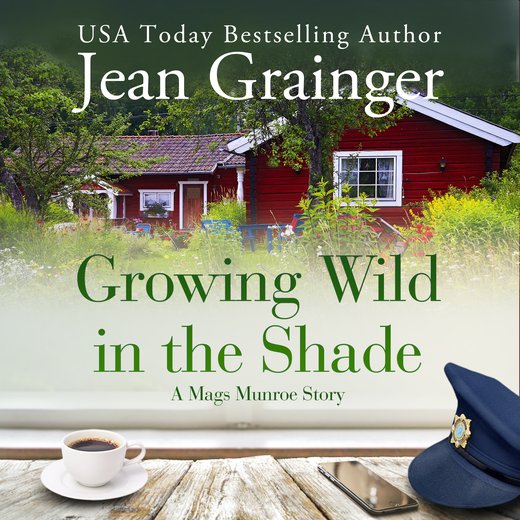 06:31:57
179.43 MB
9781915790347
September 25, 2023
Dreamscape Media
Growing Wild in the Shade
Jean Grainger
Chapter 1
I'm trying to keep a straight face.
Sharon is telling me how she swiped right yesterday on her dating app. She's being very cagey about the details, so she obviously thinks I'm going to laugh. Which I probably am. Still, if online dating helps heal my best friend's broken heart after the awful Danny Boylan broke it by going off with 'Chloe from the chipper', I'm not complaining. It's a big improvement on when she was moping around obsessing about every detail of her ex-husband and Chloe's new life together. That phase of her mourning almost destroyed her and briefly lost her custody of their son, Sean.
The next stage of grief came after she got Sean back. She spent six months trying to be the perfect mother to him. The poor little lad was on a no-sweets-or-treats, organic-food diet, along with wooden sustainable toys and music classes in the library, until both he and she were worn out. Now she has reverted to TV and chicken nuggets for Sean, much to the child's relief, and she's moved on to online dating.
This last phase of her recovery has been great fun so far…for me anyway. The various specimens she winds up meeting have me regularly in paroxysms of laughter. Like the lad who had a picture of himself on the top of Carrauntoohil, Ireland's highest mountain, and it had been clearly Photoshopped because you could just make out that his elbow was leaning on the edge of a bar and he had a cigarette in his hand. All nineteen stone of him came to meet poor old Shar, and she knew he'd never been up the stairs, let alone a mountain, in his life. The only climbing he was interested in was onto the high stool.
Or the fella who said he was French and a chef and turned out to be from Wexford and on the dole, or the one who winked after every sentence, or the one who explained that he was in fact a warlock on the weekends. He'd been particularly fascinating, and I was dying for her to go on a second date with him out of sheer nosiness, but Sharon said one night in the company of a 'carpenter by day, warlock by night' was quite sufficient. He did claim, presumably in an effort to impress, to have cast a spell on a local man, which brought about the man's demise, but he refused to be drawn on who. To my disappointment, he was dressed normally in the photos she showed me. I'd had some kind of Albus Dumbledore in mind.
'So go on, tell us who it is this time.' I smirk in anticipation as Tatiana places two coffees in front of us in the snug of the Samovar. The little room to the front of the public bar, traditionally used by women, was a great place for a chat without the whole parish being privy to it.
Sharon shoots me a warning glance. She doesn't want anyone in Ballycarrick knowing about the online dating; she doesn't want to be thought desperate.
'Online dating is no good for real men,' Tatiana announces in her loud Russian-accented English, proving yet again that keeping a secret in Ballycarrick is impossible. 'I find out by marrying online husband, Benny. No, best way to find man is to night class.' Tatiana always exudes certainty, as if she never once in her life second-guessed herself. It gives all her pronouncements an air of authority they probably don't deserve. She's also absolutely stunning, with the athletic body of a panther, long dark hair and jade-green eyes under straight dark brows. I'm sure she has no end of admirers, but from afar. In the words of my husband, Kieran, 'A fella would want to have his wits about him if he was to venture into that particular Soviet sphere of influence.' Which was something Tatiana's creepy Irish husband, Benny, found out quick enough.
Benny used to own the pub we're sitting in. He picked up Tatiana online, on RussianBrides.com, and brought her over from Vladivostok, but if Leery Benny thought he was getting a gorgeous but docile woman, grateful for his generosity, he was in for a rude awakening. Whatever went on between him and Tatiana, within weeks he'd left for England, and she now runs the pub. Last I heard he was working in Hyde Park as a maintenance man.
'Do you go to a night class, Tatiana?' I ask, interested.
'Yes, the community school. Every Thursday I do accounting, and there I meet lots of nice men.'
'Accountants?' Sharon is also intrigued.
'Not accountants, of course,' Tatiana says, rolling her eyes as if Sharon is a total eejit. 'If they were already this, they would not be doing course in community school.'
'Right.' Shar casts me a glance, and I focus on stirring milk into my coffee.
'But this men who study is going somewhere, you know? Have plans, have future. That's what you want, someone who can work, not lazy, stupid ones who try to find women online. No good.' She walks off, having issued her decree, and Sharon and I relax again.
'Go on, Shar, show me.'
She sighs deeply. 'I don't know, Mags. I'm giving this dating craic one more go, but then I'm hanging up my mouse for a bit. It's hard, you know?'
For all my joking around, I do know. Not personally, obviously, as there was no such thing as online dating before I met Kieran, and we've been married for, as our daughter Ellie says, eleventy billion years.
'You have to kiss a lot of frogs, I suppose,' I say consolingly.
'You're so lucky, Mags, having Kieran. He's so gorgeous.'
Sharon is always going on about how fanciable Kieran is – not in a creepy way, but in a 'you'd want to keep an eye on him' kind of way. She's scarred after Danny and thinks the world is much more predatory than it really is.
I think of how Kieran made chilli con carne last night, using a jar, mind you, and not one hint of a vegetable, and by the time he was finished, the kitchen looked like a particularly gruesome crime scene, with red sauce everywhere. Or how he never once in fifteen years has put the toilet seat down after himself, or how he insists on giving out about English politics and Brexit and what have you, but then watching English soccer and boring the head off me by explaining how Chelsea has messy defending, which is exactly what Coventry City are expecting, and now their back line is going forward or some other such drivel.
'I'm haunted lucky, Shar, no doubt about it,' I say, with a look that she knows. 'Every time I pick up his jocks and socks off the floor to wash them, I realise how lucky I am.'
We both laugh. We've been best friends since junior infants, and we have that lovely open, honest friendship where there's no point in presenting yourself as anything but what you are because the other person knows it all anyway.
Kieran is lovely, by the way. He's a tall hunky Irishman, once dark, now getting grey. And Kate and Ellie think their dad is the bee's knees. Still, it doesn't mean I don't sometimes envy Sharon the excitement of a date. I know Kieran gets admiring looks from women, but we've been together for years and so sometimes a bit of excitement is attractive, do you know what I mean?
'So tell me, who is it?'
'Don't laugh,' she warns.
'Of course I won't,' I say, preparing to do just that.
'You will, or you'll have something smart to say.'
'I swear, I'll say nothing. I won't react. I'll be delighted for you and wish you well. Now…tell me who it is before I burst.'
She takes a deep breath, blushes a bit and then says, 'It's Trevor Lynch, and we're going on a date tonight.'
My jaw drops, and I'm way too stunned to laugh. 'Tequila Mockingbird Trevor Lynch? The "Larry Mullen of Ballycarrick" Trevor Lynch?'
Larry Mullen is the drummer with U2, in case you didn't know.
'Keep your voice down,' Sharon commands in a hiss as Tatiana glances with raised eyebrows in our direction.
'But you're going out tonight with Trevor Lynch…' I whisper back, incredulous.
'It's just a drink, and nothing might come of it – nothing probably will. But he was on the app, and I was too, and he swiped me, and then, well, then I swiped him.' Sharon colours again, and this in itself is a development, as Sharon isn't one for blushing.
Trevor Lynch is the local rock star. Rumour has it that his band, Tequila Mockingbird, once played support to Coldplay. But it was in Norway and nobody from Ballycarrick can confirm it, so aspersions are cast on the truth of the story. We used to think he looked like Bruce Springsteen when we were younger, and we were all crazy about him, but he was four years ahead of us in school and way too cool for us or Ballycarrick or even Ireland. He left after our last secondary school exam, the Leaving Cert, and went touring all over the world – they were even on Top of the Pops once. He came back about ten years ago and became his mother's carer. She had Alzheimer's, the poor woman, and she died two or three years ago. His father was already dead, and Trevor is an only child. Everyone thought he would be gone again once poor old Mrs Lynch was laid to rest, but instead he re-formed Tequila Mockingbird with some local lads, and they've been playing weddings and twenty-first birthday parties ever since.
Sharon is still pink. 'Look, I know when we were young, he was mad about himself, thinking he was God's gift and all that, but when we were texting today, he seemed nice, funny. I always fancied him when we were kids, and now… Well, I know he looks unusual, but time hasn't been that unkind, has it?'
She is right on both fronts. Trevor is still good-looking – just in a weird late-'80s kind of way. He wears snow-washed denim jeans teamed up with a denim jacket and an Iron Maiden T-shirt, and he has a haircut that can only be described as a mullet. He has hoops in both ears and wears boots that inexplicably have spurs on them, so yes, he is a bit…well, a bit unusual. Unlike Sharon, who is gorgeous but not at all 'unusual', unless it counts as unusual in Ballycarrick to always be perfectly turned out in this week's fashion.
'You think I'm mad,' she says accusingly.
'I don't think you're mad.' I try to come up with something supportive to say. 'He came home to look after his mam, and really took good care of her in her last years, so that's in his favour, isn't it? I'd say he's nice. Give it a go.'
Anyway, I reason to myself, what's so bad about a man who looks like he's just walked out of 1989? There are worse ways to look. Shar's ex, Danny, gets a spray tan every week in the beautician's, where he also gets his back and I dread to think what else waxed, and he goes once every two months to a dentist in Galway who got struck off for inappropriate conduct of an undisclosed nature and who has diversified into Botox injections. Danny looks ridiculous.
Kieran, on the other hand, showers and shaves and gets his hair cut by Lydia. There the grooming begins and ends. Lydia, for the record, arrived in town a few months ago. She took over the old hairdresser's, the one that used to have those big beehive dryers, and she put up a sign saying, 'Lydia, Turkish Barber'. Lydia is neither Turkish nor a barber, but the people of Ballycarrick are not big on details and she is doing great business.
I check the time on my phone and drain my coffee, which is delicious to the last drop. Tatiana is importing it from somewhere, and everyone in town is talking about it. 'I've to go, Shar. The neighbourhood watch are coming in this morning.'
We pay and leave. Outside the pub I give my anxious friend a big hug. 'Enjoy your date with the rock star, and don't forget to memorise every detail to tell me later.'
'I'll be sure to.' She turns bright pink again, laughs and runs off to collect Sean from school for his lunch, and I stroll back to the station.
Chapter 2
The Garda station is looking very nice these days. It has been newly painted inside and out, there are prints on the walls, and a water cooler was added near the front desk. Better still, the women's changing room, which used to be a converted broom cupboard, has finally been upgraded with a shower and everything. I think after I was shot on duty two years ago, my superiors in the Gearóid – especially Detective Inspector Ronan Brady – have been anxious to give me whatever I want or need for my comfort. Ronan blames himself for what happened to me, but he shouldn't worry so much. I have a nasty scar on my chest and my shoulder still hurts from time to time, but generally I'm all right.
I set out some chairs in a side room for the community neighbourhood watch group meeting, which takes place every Tuesday, put the kettle on and get some milk out of the fridge.
Annette Deasy is the first to arrive, and I notice she's limping. She's dressed eccentrically as usual, today in bright-yellow wide-legged pants and a purple velvet hooded top that has bits of mirror sewn into the cuffs and collar. Her long grey hair is loose and thick and lustrous. She told me once she only washes her face and hair in cold rainwater, and there must be something in it because she hasn't a wrinkle; she could be any age really, even though I know she's nearly sixty.
'Are you in trouble, Annette?' I ask, helping her into the meeting room. She always smells pleasantly of sandalwood.
'Ah, no, not really. Just the arthritis is playing up, and the painkillers aren't working as well as they used to. Dr Mulcair is trying to move me up the queue to see a specialist, but since Covid, everything is at a standstill.' She eases into the seat with a wince and a sigh.
She's right – the pandemic of the last two years means all public services are stretched and waiting times are much longer. We are at the end of it now, hopefully, masks and hand sanitiser and all the rest of it, but what a dose it was. One little bat brought the whole world to a standstill. Mad, isn't it?
'You poor thing. Could you go private?'
'No, I've no insurance. I'll just wait my turn. I'm not complaining. Sure there are plenty as bad if not worse than I am.'
'Well, I think you're being very brave.' I make her a coffee. I like Annette a lot. She lives in an old cottage with a couple of acres just outside the village, and she's one of those refreshingly direct people, a rare enough species in Ireland. She makes you feel you could say anything to her. The usual Irish way is frustrating to outsiders, all bluff and bluster and flowery talk with little substance, and people who often don't say what they really mean. We're used to it, but I've seen more than my fair share of bewildered visitors trying to figure out why someone would have told them one thing when the direct opposite was in fact the case.
Let me give you an example.
A pair of Austrian cyclists arrived into the station last week in a terrible panic. An Irish pair, Julie and Brian Magee, met the Austrians on holiday and invited them to stay in Ballycarrick. Julie, the secretary in the primary school, talks conspiratorially through her teeth and so is impossible to understand, and Brian, her husband, is obsessed with cycling, so much so nobody's seen him in anything but Lycra for years. The poor Austrians turned up as planned, and started ringing the doorbell and knocking, but of the pair of Magees, there was no sign, even though their two cars were outside. Eventually, peering through all the doors and windows, the visitors saw a foot sticking out from behind the couch. They arrived to the station in a panic, thinking maybe one or both of the Magees had a heart attack and was lying there dead.
So I rang and Brian answered. Obviously they were grand.
'Just say we're gone somewhere,' hissed Brian. He had no qualms about leaving the poor Austrians with no accommodation, despite them thinking they were going to spend a week or two with their great friends.
'Tell them yourself,' I said, handing the phone to one of the cyclists. An awkward conversation ensued.
So you get the picture. That's kind of the way we are, all welcoming and chat in the moment, but nobody in Ireland thinks anyone means it, only Austrian cyclists and the like.
I hand Annette the coffee, and she crooks her arthritic fingers slowly around the cup. It's painful to watch, but she's a trooper and doesn't let the pain show in her face.
'I was thinking of advertising for someone to help with the vegetable garden in return for bed and board,' she says. 'Bertie the butcher is always saying he could sell ten times the amount of tomatoes I give him, and potatoes and other veg, and Tatiana and Teresa would love more for the pub and the café, but I'm at the pin of my collar to produce what I'm doing now. If I could grow more, I'd make more money definitely, but the blasted arthritis is slowing me down. I can't even dig up the early potatoes I've had in the ground since February.'
'Well, why don't you put an advert in the community section of the Western People? It won't cost you much, and that's where local people will be looking for places to rent.'
Her lovely face creases in a smile. She really does have amazing skin for a woman her age. 'Thanks, Mags, that's a good idea. Ah, look, here come the rest of them now.'
First in is Derry Hartnett. He's the lovely former primary school principal, retired a good few years now, who'd been instructed in no uncertain terms by his wife, Lillian, that he'd better find something to do with himself when he retired, because traipsing around after her all day is not an option. He'd become a community activist and was always the voice of the underdog.
And then there's Oscar O'Leary, a man who'd never put in or out on anyone but has developed what some would say is an unhealthy obsession with religion in recent years. He's very nice but is constantly suggesting vigils and Masses and the like, outside of Father Doyle's timetable. And while people in Ballycarrick are tolerant enough of religion, the days of that level of dogged devotion are gone, but nobody has had the heart to tell poor old Oscar.
Father Doyle used to come to the neighbourhood watch meetings, but he's ducking Oscar these days because Oscar keeps banging on about how there isn't enough being done to bring people back to the Church. Poor old Father Doyle is a nice fella, but he is almost eighty and badly in need of a rest. In the absence of recruits to the clergy, he's stuck baptising and marrying and burying, day in, day out, and he confided to me one morning in weary exhaustion that he needs Oscar's religious fervour like a hole in the head.
As the last two members of the committee filter into the room, my heart sinks. Olive Moran, a tiny bird of a woman who had her house featured in the interior magazine of the Western People about ten years ago and has been dining out on it since, and Joanna Burke, the doctor's receptionist, an absolute busybody who has Olive under her thumb, are exchanging theatrically furtive glances. I can tell something is brewing.
At first it all goes smoothly enough. We discuss the community awards night, the plans to petition the council for a pedestrian crossing between the new estate and the primary school, and yet more signs urging people to pick up their dog poop.
There is discussion about lighting for the walkway beside the old castle, and how some members of the committee, Olive and Joanna, needless to mention, think the Gardaí need to sit and wait in the old ruin to catch the underage drinkers who have been congregating there since I was a child. I say the usual, that we patrol regularly, but honestly, you'd swear it was our job to parent the teenagers of the town as well as everything else.
'So if that's everything…' I begin to wrap the meeting up.
Joanna and Olive share a glance once more, and Joanna Burke nods. Joanna knows what side her bread is buttered and won't voice a controversial opinion in a public forum like this one.
'Well, there was one other thing, and I – well, we – thought we might discuss it here…' Olive begins, with another slightly helpless look at Joanna.
'Go ahead,' I say, remaining standing.
'Well, it's just that St Colm's is so marvellous for sports as well as having outstanding exam results…'
Olive is speaking in a particularly irritating, saccharin, wheedling voice, and I'm immediately opposed to whatever it is that she's about to suggest. Isn't that desperate? I'm supposed to be an impartial custodian of the law, the voice of reason, and here I am making my mind up before Olive even says what's on her mind. But she's so annoying, perching her Prada handbag on the table instead of at her feet like a normal person, and saying how the 'powder' in St Moritz is so wonderful for skiing. She's a show-off and a snob, and I can't bear her. There, I've said it.
'It's such a marvellous school, and an asset to the town,' she goes on. 'And it has such a wonderful Catholic ethos. The boys come out as strong in their faith as they are in mind and body.'
Oscar pricks up his ears at that, but Derry is starting to look annoyed. The truth is that St Colm's is a private, elitist boys' school, and teachers like Derry don't approve of private schools when there is a perfectly good co-ed secondary school in the town that's free. Around here, sending your son to St Colm's is as much of a status symbol as owning a skiing chalet in the Swiss Alps. Detective Sergeant Duckie Cassidy had a good old crow at me last year when his son got into St Colm's, while we send Ellie to the Ballycarrick Community School. As if I would be impressed by that. He and Olive are cut from the same cloth. Notions of upperosity.
Olive is still talking in that sugary voice. 'And they really stand a shot at the Connaught Cup next year. They have a wonderful senior team with a professional coach…'
Yes, yes, Olive, we know your son, Raymond, is captain of the school team. I doubt there's a sentient being from here to Dublin who doesn't know of the prowess of Raymond Moran in every single thing in life. She reminds me of my mother-in-law, Nora, who thinks the sun, moon and stars shine out of her kids. Like, I adore my girls. They are smashing and exactly as I'd want them to be, but they are normal kids with all the faults and failings of normal people. I don't understand mothers who talk their kids up to the skies. Kieran told me he used to be disgraced as a young fella when Nora would start blowing about him and his siblings – not that she blows about Kieran any more – and poor old Raymond is probably the same.
'So they really could do with some extra space –'
'But what has all this to do with the neighbourhood watch?' Annette interrupts mildly.
'Well…' Olive looks pointedly at her partner in crime, Joanna, who is suddenly fascinated by the fake woodchip grain on the table. 'There is a suggestion that St Colm's could buy, with the community's support, of course, some more land, and then their sports pitches could be extended and they could put in an open-air swimming pool, which would be a wonderful amenity for the entire community. We would have the use of it out of term time in return for our fundraising –'
'I still don't see what that has to do with the neighbourhood watch,' says Annette. 'And why would a community fundraise for a private business? Surely if the community were to get behind any school, it would be the local free ones that the vast majority of local kids attend? Bad enough the taxpayer already pays the teachers' salaries for the private schools.'
'Hear, hear,' murmurs Derry.
I try to look impartial, but I must say I agree. It's a bit of a bugbear of mine as well. We have some flaws as a country, no doubt about it, but we have a wonderful education system. Free and excellent quality. I've no issue with someone sending their kids to another school, a private one, if that's what they want to do for whatever reason, but I do object to paying for it as a taxpayer when the local schools are good enough for my own kids.
Olive glares at Derry while still speaking in her 'sweet' voice. 'Well, you see, Annette, it's just that if we could get community support for the purchase of the land, a plot just to the east of the school…'
The penny drops, and I realise now what she's getting at. It's not just about the school after all. 'You want to move the Travellers,' I say flatly.
The McGovern Traveller family have been part of the fabric of Ballycarrick for longer back than anyone can remember. Mam says they were definitely around when she was a little girl, and she remembers her mother mentioning them being there when she was young, so we're talking years, generations. Then the council back in the '90s decided that allowing the Travellers to line the roads and have their animals graze the long acre, as the grass verges were called, was unseemly; it didn't fit with the image we had of ourselves, and they wanted tourists to just see the pretty bits of the country. So they built halting sites, supposedly for the betterment of Travellers but in reality to hide them away from view. The McGoverns' halting site is at Drumlish, on the far side of the St Colm's sports fields.
'No, well, not move them so much as relocate them to a more suitable place, somewhere better for them to be…' She shoots a pleading look at Joanna, who is letting her down badly by studying her fingernails now. Joanna Burke is behind this, undoubtedly, but she's allowing Olive to take the heat, although I imagine it was easy enough to get Olive on board. I can just imagine the Olives of this world being horrified that the precious princes of the wealthy have to pass the halting site to get to their posh school.
'That's Galway County Council land,' I say coldly. 'But more importantly, the McGoverns have been part of this town for over 100 years. They are a well-respected family, and one of them, as you know, is a serving member of the Garda stationed here in this station. So I'd suggest if St Colm's have any queries regarding land acquisition, they should raise them with the council. As Annette says, this is a neighbourhood watch committee, and it has no role in planning applications.'
'Yes, but in all fairness, if the local sergeant and the community group such as ourselves were to support the repurposing of the land, then…' Olive looks like a Pekingese dog, all tiny and barky, and she isn't going to give up.
'Olive.' I hear the disdain in my voice and try to correct it. 'As I said, that is entirely outside the remit of the Gardaí. It is also outside the remit of any individual, or committee. So best allow the school and the council to deal with it, if there is anything to be dealt with.' I stand up and open the door.
I'm fuming inside, but I won't let Olive see it. She is only the monkey; Joanna Burke is the organ grinder. Joanna's kids are grown up and gone, and anyway they were girls so didn't even go to St Colm's. But she hates the Travellers, always did. She is always the one behind shutting the shops and pubs on the day of a Traveller funeral so Ballycarrick looks like a ghost town.
Annette rises to her feet, and Derry and Oscar do the same.
Olive opens her mouth to protest but Joanna shoots her a warning glance, and they both pass me out the door with a bare nod. Derry gives me a wink – he was always in favour of getting the Traveller kids to stay in school and worked hard to make it happen – and Oscar gives me a prayer card, which I put in my pocket with a word of thanks. Annette is the last to leave.
'Good woman yourself, Mags,' she murmurs as she passes me. 'That pair needed putting in their place. Might be no harm to warn the McGoverns, though.'
I nod, my faith in the people of this place restored somewhat.
We hope you are enjoying the book so far. To continue reading...
Growing Wild in the Shade
Jean Grainger
Copyright © 2023 All Rights Reserved