Book info
Sample
Audiobook
Media
Author updates
Lists
Synopsis
Hollis Shaw's life is turned upside-down when her heart-surgeon husband Matthew is killed in a car accident following a heated argument, and the cracks in Hollis's perfect life - her strained marriage and her complicated relationship with her daughter - grow deeper. So when Hollis hears about something called a 'Five-Star Weekend' - one woman organises a trip for her best friend from each phase of her life: her teenage years, her 20s, her 30s, and midlife - she decides to host her own Five-Star Weekend on Nantucket. But the weekend doesn't turn out to be a joyful Hallmark movie. Hollis and her friends' choices bring up old loves, terse friendships, a career on the line, and collapsing marriages. And then there's Gigi, a stranger to everyone (including Hollis) who reached out to her through her blog. Gigi embodies an unusual grace and, as it happens, has many secrets . . .
Release date: June 13, 2023
Publisher: Little, Brown and Company
Print pages: 400
* BingeBooks earns revenue from qualifying purchases as an Amazon Associate as well as from other retail partners.
Listen to a sample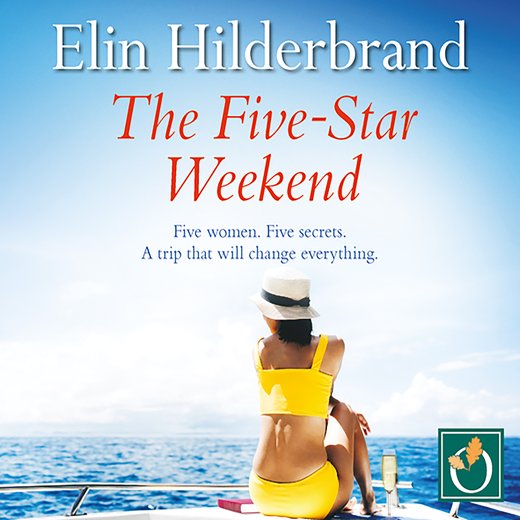 13:38:34
374.73 MB
9781399710015
June 13, 2023
Oakhill Publishing
2023
The Five-Star Weekend
Elin Hilderbrand
It's early morning on December 15; Hollis Shaw is in the kitchen of her Wellesley home prepping the dough for cheddar tartlets. Her husband, Dr. Matthew Madden, has a ten o'clock flight to Germany—he's presenting a paper at a cardiology conference in Leipzig and will be gone for five days.

This opening scene, should Hollis show a video of it, would seem to be one of domestic bliss. Hollis wears a pair of tailored red-plaid pajamas; her hair is held back in a clip. She has a footed bowl of café au lait steaming next to the slab of cool, gray-veined marble where she's rolling out her pastry dough. Carols play over the sound system; "The Holly and the Ivy" is Hollis's favorite and she sings along in a faux-operatic voice. Hollis's kitchen is all decked out for the holidays: spruce garlands encircle the weathered wooden beams, and her collection of copper pots gleam like new pennies on her open shelves. She's trimmed a "kitchen tree" with culinary ornaments: a tiny metal whisk, a wooden rolling pin, a bone-china box of doughnuts. Hollis has also hung miniature wreaths on all her glass-fronted cabinets. (Her daughter, Caroline, would probably declare the wreaths—as well as the apothecary jars filled with ribbon candy and gumdrops—"too much.") The picture window above the sink where Hollis does dishes looks over the mature oaks and evergreens of her side yard. The view offers a pleasant distraction, especially this morning as snowflakes as big and fluffy as cotton balls float to the ground. Hollis loves nothing more than snow during the holidays.

Her timer chimes, and Hollis pulls a tray of crispy bacon from the oven. Like magic, her Serbian sheepdog, Henrietta, jingles into the kitchen (Hollis has put bells on her collar) and raises her furry face.

"Fine," Hollis says, and she gives the old girl a piece. She drains the rest on a paper towel next to the red-pepper-and-smoked-Gouda quiche she made earlier that morning. She cuts a wedge of quiche and arranges it on a plate with a few slices of bacon and sections of a Cara Cara orange, which are a delightful and surprising pink.

When she hears Matthew's footsteps on the stairs, she closes her eyes and takes a sustaining breath.

Don't bring it up, she tells herself. Let him go graciously.

But the truth is, this trip to Leipzig bothers Hollis; she was up half the night fretting about it. Matthew will present his paper tomorrow morning, so he could easily leave Germany tomorrow afternoon and make it home in time for their annual holiday party on Saturday. Hollis and Matthew have hosted a holiday gathering every year since they moved to Wellesley, and it's always the third Saturday in December. Matthew claimed he "thought it was later," so he made plans to stay at the conference until the end and then travel to Berlin to visit his mentor Dr. Emanuel Schrader, who was just diagnosed with Parkinson's and can no longer practice surgery.

"But you can't miss our party!" Hollis said when he told her.

Matthew had chuckled. "We can both agree this is your party, sweet-love. With all the Swellesley glitterati in attendance, you won't even notice I'm not there."

His tone had been light, playful even—but Hollis was still hurt. She did throw the party pretty much single-handedly every year. She made all the food—the cheddar tartlets, the tenderloin sandwiches, the tiny potatoes topped with caviar—she buffed the champagne flutes, lined the luminaires along the driveway, stuffed gift bags with her homemade toffee for guests to take home. She sent the invitations, and her list was longer every December (except for the year when Hollis broke up with Electra Undergrove and her crew).

Despite this, Hollis can't imagine standing in the doorway to greet everyone without Matthew at her side. It's literally unthinkable.

But apparently not for him.

Now Matthew walks into the kitchen. He always wears a suit when he flies, and today he has on the red Vineyard Vines tie printed with Santas in speedboats—the very tie Hollis purchased for him to wear to the party! He hums along to the carol currently playing—"Once in Royal David's City"—and holds his right wrist out so that Hollis can help him with his cuff link, which is a silver reindeer. He's certainly in the holiday spirit.

Hollis inhales the scent of his Kiehl's shaving lotion. She loves the smell; it reminds her of date night and of the (increasingly rare) mornings when she wakes up in his arms.

She can't believe he's leaving.

She wills herself to say, Here's breakfast, or Let me get your coffee—Matthew takes his coffee black and scalding hot, and she doesn't pour it until he's standing right in front of her. But instead what comes out of her mouth is "I really wish you'd change your plans."

After Matthew leaves for the airport—far later than he wanted to—Hollis gathers the pastry dough into a ball, wraps it in plastic, and sets it in the fridge. She no longer feels like cooking. Matthew's breakfast is untouched, but instead of covering the plate with foil and saving it for later—she deplores waste, one product of being Tom Shaw's daughter—she scrapes the food into Henny's dog bowl. Then she rips a paper towel from the roll and wipes at her eyes. She can't believe how quickly their conversation escalated into a fight.

"Lately, you've been making anything but me a priority," she said. "Work, travel, and now Dr. Schrader."

"The man was my mentor, Hollis. Berlin is a two-hour drive from Leipzig. It would be egregious not to visit him, considering the circumstances."

Instead of conceding this point, Hollis launched into her graver concerns. She had felt them drifting apart ever since Caroline left for college. Hollis had always dreamed of a marriage just like Matthew's parents had—they were romantic and devoted to each other to the very end.

But when, Hollis wondered, was the last time their marriage had felt romantic? It would be romantic if Matthew canceled this trip, but that wasn't going to happen. She could tell simply by the set of his shoulders, his jaw; he was eager to get out the door.

"Sometimes it feels like we're nothing more than roommates," Hollis said. She was tempted to mention how long it had been since they'd had sex, but that was as much her fault as his. During the day, she was busy, busy, busy and she fell into bed exhausted every night.

Matthew did his doctor's trick of appearing to listen but not, which was how Hollis knew he wasn't engaged; he was just waiting for her to be done, which was equal parts infuriating and disheartening. Matthew cleared his throat and checked his watch. Hollis wiped away her gathering tears as he pulled on his trench coat and his leather driving gloves. Matthew crouched down to rub Henny's face, then gave Hollis a fierce squeeze—she felt something, at least, in his touch.

Just before he left, he turned around. "You've changed," he said, then sighed. "And we've changed." He stepped out into the snow, closing the door behind him.

Now the words ring in Hollis's ears. You've changed. And we've changed. She would like to say she has no idea what he means—but she fears she does. Since Hollis's website took off and the opportunities to exploit her new popularity arose, she's become a different person, one who has a hard time experiencing a moment without wanting to document it for her newsletter subscribers. She is always, now, on a screen—her phone, her laptop, or both. She has changed, and by extension, she supposes, they've changed. But surely Matthew understands that, after twenty years of being a wife and mother, Hollis is excited about building something of her own?

She picks up the phone and calls him, ready to apologize for being a bull in an emotional china shop, but she's shuttled to Matthew's voice mail. She calls right back—again, voice mail. She waits for the beep, then says, "My love for you hasn't changed."

In case Matthew doesn't listen to his voice mail (does anyone listen to voice mail anymore?), she sends a text: I love you, Dr. M. You're important to me. We are important to me.

She waits a few moments, but there's no response. It seems suddenly urgent that she convey this message to him, that he hear her say the words I love you. You are important. She tries calling again, and again, she gets voice mail.

Fine, she thinks. He needs time to simmer down. She'll try him again once she's sure he's settled in the Lufthansa lounge. But the phrase And we've changed concerns her. What was he trying to say?

She feels herself growing melodramatic, which is very unlike her. Everything will be fine. Matthew will miss their party, yes, but he'll be home in plenty of time for their family Christmas. Dr. Schrader has Parkinson's. Of course Matthew should visit him.

Hollis sits down at her laptop and decides to make a dinner reservation for two at Mistral on New Year's Eve. She and Matthew will Uber into the city so they can drink as much champagne as they want; Hollis will buy a new dress, something black and flirty. Next, Hollis intends to check her website—her followers are waiting for the cheddar-tartlet recipe—but instead, she logs onto Facebook. After a few pointless seconds of trying to resist her worst impulses, she ends up at the profile page of Jack Finigan, her high-school boyfriend. There are no new posts; Jack posts only two or three times a year. The last time was in the fall: a photo of Jack standing at the edge of a lake somewhere in Western Massachusetts, holding up a trout. He hasn't posted any pictures of Mindy, his longtime girlfriend, since the summer before last. Hollis has done the predictable thing and tried to look at Mindy's profile, but Mindy has privacy settings in place so all Hollis can see is her background photo, which is a quilt, presumably one she made herself. Hollis knows she's stalking, but it's innocent; she would never reach out to him. She wonders if Jack—or Mindy—has heard about the Hungry with Hollis blog.

The knock at the front door startles Hollis; she feels caught. She clicks out of Facebook and hurries down the hall. Blue and red lights reflect off the snow in her front yard.

"Mrs. Madden?" the police officer says. He's young, maybe only a few years older than Caroline, and Hollis can't imagine what he's doing there. It's so early; she's still in her pajamas. She nearly corrects him: Her last name is Shaw, not Madden. But in that instant, she realizes he must be here because of Matthew—something about Matthew?

"Yes?" she says.

The precise words are lost but somehow Hollis understands that there was an accident, something involving deer, a mama and baby, the officer says. Matthew's car spun out of control and flipped over on Dover Street.

Dover Street? Hollis thinks. They drive it all the time, every day; they've been doing that for years, decades. And yes, there are always deer running across Dover, especially during hunting season.

"Is he hurt?" Hollis says, her voice still sort of normal-sounding despite the panic that enfolds her. She peeks around the officer's shoulder to his cruiser. Is Matthew in the back? Was he… taken to the hospital? Then she meets the officer's eyes. "Is he okay?"

"He's dead, ma'am," the officer says.

Suddenly Hollis is on the floor, screaming, wailing; she doesn't care that a stranger is watching. Henny comes jingling in and starts licking Hollis's face. Hollis hears the strains of a song playing in the kitchen—"Ding Dong, Merrily on High"—and she covers her ears. The officer asks if there's anyone she would like him to call.

"My husband! Call my husband!" she screams. In that moment, this still seems like a possibility. Matthew is a doctor, a fixer; he'll make this better. He's the only one who can.

Instead of a holiday party, there's a funeral. They bury Matthew next to his parents in the cemetery at St. Andrew's. Afterward, Hollis faces a house filled with people—their Wellesley neighbors, doctors and nurses from the hospital, the women from Hollis's barre class, and her longtime mom-friends, including Brooke Kirtley, who ordered platters of sandwiches from the Linden Store and who stays late to clean up. The only person Hollis cares about is her daughter, Caroline, but things with her are strained. Caroline is poised—at the service she reads "Nothing Gold Can Stay" without faltering—and polite to Hollis in public, but in private, Caroline pushes her mother away. She steps on Hollis's words to correct her memories; she questions Hollis's decision to hold a reception at their house afterward. "Dad is dead and you're throwing a party."

"It's a reception, not a party," Hollis says. "It's what people do." She knows this is, heartbreakingly, Caroline's first funeral.

"It's what you do," Caroline says bitterly. "I heard you asking Brooke to get ten pounds of ice. My father is dead and all you care about is ice!"

Hollis is sure things will get better as soon as everyone leaves, once she and Caroline are alone and they can really talk. She envisions the two of them spending entire days hunkered down in the family room, Henny stretched out at their feet, looking through photo albums, crying together, maybe even laughing.

But things only get worse. Caroline barricades herself in her room; she goes out at night with her friend Cygnet and comes home loudly, sloppily drunk, staggering past Hollis, who sits at the kitchen table, listlessly paging through old issues of Bon Appétit and Food and Wine as a distraction. She can't possibly go to bed until Caroline is home safe, and she wouldn't sleep anyway.

"Did you have fun, darling?" Hollis asks on one such night.

"Fun?" Caroline sneers. "No, I did not have fun, Mother." And she stomps upstairs with Henrietta following faithfully behind.

On one of the first days of the new year—after Hollis has cleared the half-eaten casseroles out of the fridge, after she has taken down the Christmas decorations and packed them away in boxes—Hollis sorts through Matthew's things: his bespoke suits, his eyeglasses, his pile of pristine concert T-shirts (Hootie and the Blowfish, Social Distortion, Dave Matthews).

She's interrupted in this task by Caroline, who demands to know why Hollis feels the need to purge her father's belongings.

Hollis stares at her daughter. "I just want to—"

"Be rid of him? Yes, that much is obvious. You must need more room in the closet for your signature blouses. And—what, you were just going to do this without me?"

"I thought it might be too difficult for you," Hollis says. "I was trying to protect you."

Caroline picks up the Hootie T-shirt. "You're giving this away? Dad loved this T-shirt."

Hollis opens her mouth to defend herself but before she can speak, Caroline goes on a rampage, accusing Hollis of not loving Matthew enough, not grieving him correctly: "You weren't even related to him! You'll find another husband but I will never, ever have another father."

"I know you're hurting, darling," Hollis says, but according to Caroline, Hollis does not know. She doesn't know anything. Caroline paces the master bedroom like a wild animal in a cage, saying hideous things—everything short of I wish it had been you instead—but underneath the livid facade, Hollis can see glimpses of a little girl whose world has been broken. Hollis sits on the bed, thinking, I will wait her rage out. I am the adult, the mother, it's my job to take this punishment. Matthew and Caroline were close; they had a special bond. Matthew was Caroline's favorite parent.

Hollis says, "I'm sorry, darling. It's difficult for me to sleep in a room full of Dad's things… to look at this shirt and know he's never going to wear it again." She holds Caroline's gaze. "I'm doing the best I can not to fall completely to pieces."

She expects these words will make Caroline collapse in her arms and apologize—but Hollis is so very wrong. Caroline storms from the room with the parting shot "It's always all about you!" She books herself on the Acela back to New York City three days earlier than planned, leaving Hollis stunned and alone.

The Wellesley police send Hollis an e-mail with the official accident report attached, but Hollis can't bear to read it. She doesn't want the details of how fast Matthew was driving or where on Dover Street he lost control or how many times the car spun before it flipped over. (The car did flip over, she knows; the young officer told her this. That's the only detail she has retained other than the deer, mama and baby, that Matthew swerved to avoid and yet ended up killing anyway.) Hollis yearns to delete the e-mail, then delete it permanently from the deleted-files folder—Matthew is gone, the details don't matter—but instead, she moves it to a folder labeled MM, where she's keeping all of the correspondence related to Matthew's death.

She no longer cooks; she barely eats. Her doctor, Karen Lindstrom, offers to prescribe some Ativan for daytime anxiety, Ambien for sleep. But Hollis doesn't relish the idea of pills; every once in a while, she'll pour herself a glass of Sancerre, but this leads her right to places she wants to avoid: the smell of Matthew's shaving lotion; You've changed. And we've changed; the knock on the door.

Friends and neighbors check in. What can they do? "Nothing" is the answer—but they offer her advice anyway: yoga, self-guided meditation, grief counseling, essential oils, travel, an ashram, a psychic, knitting.

Knitting? Hollis thinks.

Hollis puts her new cookware line on hold, ditto her plans for a cookbook, her show. What does any of it matter now?

She wonders how her father coped when her mother died so suddenly. She supposes he focused on taking care of Hollis, going to work; in all the years Hollis knew him, he was stoic and steadfast. He didn't have the luxury of falling apart.

Hollis reaches out to Caroline every few days, but her calls are summarily declined and her texts always garner the same response: OK. Or worse: K. It's just enough to let Hollis know Caroline's alive and breathing. Hollis consults Grown and Flown, her favorite website for parenting older children, as she tries to figure out what to do. Should she take the train down to New York and confront Caroline? Should she stop calling and texting? (This feels so cruel—the girl just lost her father.) Should she stop paying Caroline's credit card? (That would get her attention.) Hollis knows that children are narcissistic, and she understands that the prefrontal cortex doesn't fully develop until age twenty-five. Caroline can't be blamed; she's still growing. But Hollis wants to cry out: You're hurting me. This will be easier to get through if we bond together!

Hollis has been trained not to Like or comment on any of Caroline's Instagram posts, though Hollis checks her daughter's account several times a day. There's been only one new post since Matthew died—Caroline wishing her best friend, Cygnet, a happy birthday in Stories. Hollis clicks through it several times, because Caroline has posted pictures of herself and Cygnet as little girls growing up in Wellesley: the two of them in a tent in the backyard, their young faces illuminated by flashlights; the two of them holding the pancake pops that Caroline requested for her tenth birthday. Hollis presses her finger to her phone screen so the picture stays put. I want to go back, she thinks. Back to the days of sleepovers and fancy birthday breakfasts.

Hollis feels like she's lost not only her husband, but her daughter as well.

The only time Hollis finds even a modicum of relief from her mourning is when she's texting with a woman who'd reached out to her on her website several months ago—someone Hollis has never met but did not exactly pick out at random either. The direct message from Gigi Ling, Atlanta, Georgia, caught Hollis's eye. Gigi was the one who told Hollis about the hidden spots along the Buford Highway that serve the best dim sum, bulgogi, and tacos in the entire South. She also recommended Laurie Colwin's books Home Cooking and More Home Cooking, which Hollis just adores. (How had she not known about them? Hollis immediately reviewed them on the website and provided a link to buy through Bookshop.org.)

Yes, Gigi Ling is Hollis's favorite person in the Hungry with Hollis community, though she supposes she shouldn't have favorites. (A ridiculous notion—everyone has favorites; it's part of being human.)

A week after Matthew died, Gigi sent her a DM with one simple sentence: I'm here to listen. Hollis had grabbed those words like a life preserver; she realized she'd been waiting to hear from Gigi since she'd posted the news.

From that moment on, they have texted several times a week; Hollis would be happy to text her every day but she doesn't want to be a burden. Gigi normally checks in on Tuesdays, Fridays, the occasional Sunday evening: Tell me about your day. How goes it? I'm here, I'm here, I'm here. Initially it feels odd texting with a complete stranger, but, Hollis reasons, people do it all the time on dating apps—Tinder, Bumble, Hinge. Soon it feels more liberating than odd. The stakes are low. It's almost easier to confide in a stranger.

Hollis starts sharing details that are very personal. Things between Matthew and me were… unsettled when he died.

Unsettled how? Gigi texts back.

Hollis describes the ways that she and Matthew had grown distant. Part of it was the usual empty-nest stuff, she says. Caroline wasn't home to keep them united as a family. Part of it was the world discovering Hollis's website.

Gigi texts, He must have been threatened by your sudden success.

Had Matthew been threatened? Hollis wonders. Threatened isn't the right word—they were, after all, talking about the revered Dr. Madden—but for some reason, Matthew hadn't fully embraced or supported Hollis's good fortune. He had been… bemused by it. And, at times, annoyed. He and Caroline made fun of the unbridled adoration of her blog's fans. Had Matthew ever said he was proud of what she'd done with the website? He had not.

Over the next few months, Hollis and Gigi's intimacy deepens to the point where, one day in mid-June, Hollis feels safe telling Gigi about the morning Matthew died—the conference in Leipzig, Dr. Schrader's Parkinson's, the holiday party.

I confronted him about my unhappiness as he was walking out the door, Hollis writes. I made his missing our holiday party into a bigger deal than it needed to be. He responded by saying that I'd changed, that we'd changed. I didn't think this at the time, but I do now, and it haunts me: He was going to leave me. I called him to apologize but he didn't answer. I left a message and then sent a text saying I loved him. I have no idea if he listened to the message or read the text. I want to believe that he did, but how can I be sure? What I do know is that I made him late. He was speeding on Dover Street because he had a flight to catch. I feel guilty. I feel… responsible.

When she hits Send, she immediately feels unburdened. But she also feels implicated. She has set the thought loose in the universe: She contributed in some small way—or maybe a big way—to Matthew's death. She's grateful—oh so grateful—that she didn't tell Gigi that, only moments before the police knocked on her door, she'd been creeping around Jack Finigan's Facebook page. She will never tell Gigi this. She will never tell anyone this.

She waits for Gigi to respond to her text with something like Don't be silly, Hollis, it isn't your fault. It was an accident. The road was slick; it was snowing; the deer appeared out of nowhere. But Gigi doesn't say this, nor does she send the predictable reassurances: I'm sure he listened to your voice mail, played your text over the car's sound system. For one day, then two, there's no response, not even three dots in a bubble indicating that Gigi is carefully selecting her words.

Hollis is stung. She crafts half a dozen texts asking what's wrong, is Gigi okay, has this admission horrified Gigi, does Gigi feel like she's in too deep? But in the end, Hollis sends nothing. Probably Gigi is just busy. She has a life, after all—though what, really, does Hollis know about her? She's ten years younger than Hollis, forty-three; she's single with no children; she has a cat named Mabel; she lives in the Buckhead section of Atlanta; she's a pilot with Delta Air Lines; she's not on social media; she heard about Hungry with Hollis from some of her flight attendants, who said it would be worth her time—and it has been, Gigi said. Those are the things Gigi has told Hollis. The things Hollis has gathered are that Gigi reads a lot; she cooks at home and also appreciates fine restaurants; she's educated, cultured, discerning. But all of their text conversations have been focused on Hollis. No wonder Gigi is ghosting her; she's probably weary of the one-way friendship.

A week passes without any word from Gigi. Hollis actually goes onto the Hungry with Hollis website to see if there are any Kitchen Lights on in Atlanta. Yes, there are many, but it's impossible to tell if any of the lights belong to Gigi. Next Hollis checks to see if Gigi has unsubscribed from the blog's newsletter—but her e-mail is still there, thank God. She probably just has a busy flight schedule or she dropped her phone in the pool or she's in a new relationship or her cat Mabel died or her father, who lives in Singapore, fell ill. (Gigi mentioned that her mother died when she was young, something else they have in common.)

Hollis tells herself it doesn't matter, that if it's meant to be, she'll come back, or whatever that saying is.

But with Gigi's absence, Hollis's mental state deteriorates—and it doesn't help when she gets a text from Caroline saying: By the way, I'm NOT coming to Nantucket for the summer. I got the internship with Isaac Opoku so I'll be staying in New York. I'm subletting on East 82nd, it's $1,800 a month. Thx.

Hollis immediately calls Caroline but is flung right to her voice mail. She leaves a babbling message that she knows Caroline will never listen to: "So proud of you, darling, all your hard work on that essay, your grades—your father would be over the moon! Brava!" Caroline has been scheming to get this particular internship since the fall, and over a thousand aspiring filmmakers applied for this opportunity with Isaac Opoku. But it's unpaid, so the subtext on the sublet is that Hollis will be paying the rent.

Selfishly, Hollis wants to have Caroline around for the summer so they can heal things between them, but Hollis reminds herself the internship is a big deal and is probably what Caroline needs after losing her dad.

On June 21, the first day of summer, Hollis leaves for Nantucket, her actual home-home. Wellesley is Matthew's place, and although Hollis has adopted it, she's certain that once she's back at the house on Squam Road, things will get better. The change of scenery, the change of season, and the ocean out her back door will help. She won't mind that Gigi has vanished, that she and Caroline are dangerously close to becoming estranged.

But being back on Nantucket doesn't help, because, on Nantucket, there's another version of Matthew to mourn, a more relaxed, summertime Matthew.

It's their second summer in the house, which is so thoughtfully designed, so soundly built, that Hollis can't believe it's hers. This is the kind of house she used to dream of having when she and her father were living in their tiny five-room cottage, one Hollis feared would be lifted right off the ground during a nor'easter, like something from The Wizard of Oz. That cottage was heated by a woodstove. Hollis and her father ate meals at the round kitchen table from which they could see the TV in the living room. They shared a bathroom and had one phone. All winter, Hollis hunkered beneath the covers of her bed wearing an Irish fisherman's sweater and a pair of wool socks. It took the shower a full five minutes to heat up, during which time Tom Shaw could be counted on to clear his throat from outside the door, meaning Hollis should jump in, like it or not.

Hollis used to babysit for the Gasperson family down the road. Their house had nineteen rooms, some of them with individual decks and balconies that overlooked the ocean; there was a room lined with matching bunks in the basement and a screened-in sleeping porch on the third floor. The Gaspersons didn't have a television. When the Gasperson parents and grandparents went out for dinner at the Chanticleer in Sconset, the Gasperson children played cards or board games or curated their collections of shells and sea glass, and they liked Hollis to tell them ghost stories by candlelight. Hollis would have worked for the Gaspersons for free. She wanted to blend into their big family. Her dream was to live on Squam Road only in the summer.

This dream has now come true.

Hollis and Matthew turn onto Squam Road, which is thick with Spanish olives and rugosa roses; on the fences are posted hand-painted signs: SLOW DOWN! PEDESTRIANS! When Hollis was growing up, this road was so rutted and potholed that it was impossible to drive faster than ten miles an ho
We hope you are enjoying the book so far. To continue reading...
The Five-Star Weekend
Elin Hilderbrand
Copyright © 2023 All Rights Reserved