Book info
Sample
Audiobook
Media
Author updates
Lists
Synopsis
The incredible final book in the word of mouth phenomenon fantasy series that began with Senlin Ascends. "The "Books of Babel" are something you hope to see perhaps once a decade — future classics, which may be remembered long after the series concludes." (Los Angeles Times) 
As Marat's siege engine bores through the Tower, erupting inside ringdoms and leaving chaos in its wake, Senlin can do nothing but observe the mayhem from inside the belly of the beast. Caught in a charade, Senlin desperately tries to sabotage the rampaging Hod King, even as Marat's objective grows increasingly clear. The leader of the zealots is bound for the Sphinx's lair and the unimaginable power it contains. In the city under glass at the Tower's summit, Adam discovers a utopia where everyone inexplicably knows the details of his past. As Adam unravels the mystery of his fame, he soon discovers the crowning ringdom conceals a much darker secret.Aboard the State of Art, Edith and her crew adjust to the reality that Voleta has awoken from death changed. She seems to share more in common with the Red Hand now than her former self. While Edith wars for the soul of the young woman, a greater crisis looms: They will have to face Marat on unequal footing and with Senlin caught in the crossfire. And when the Bridge of Babel is finally opened, and the Brick Layer's true ambition revealed, neither they nor the Tower will ever be the same again.
Also by Josiah Bancroft:
The Books of Babel
Senlin Ascends
Arm of the Sphinx
The Hod King
The Fall of Babel
Release date: November 9, 2021
Publisher: Orbit
Print pages: 384
* BingeBooks earns revenue from qualifying purchases as an Amazon Associate as well as from other retail partners.
Listen to a sample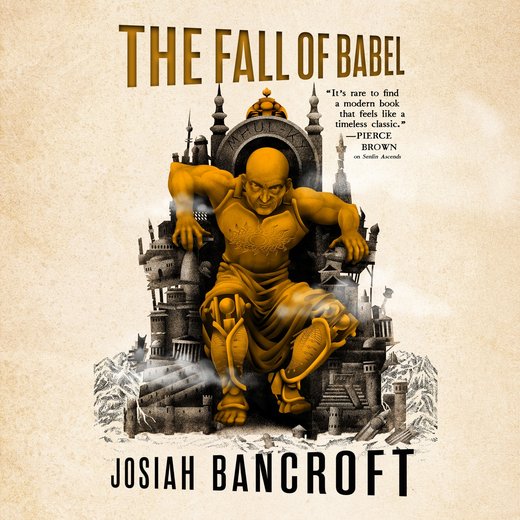 24:55:20
684.53 MB
9781549112409
November 9, 2021
Blackstone HBG
The Fall of Babel
Josiah Bancroft
Courage circulates like a melody sung in a round. It is an infinite canon, an infectious and intoxicating performance.

—from the diary of Joram Brahe, captain of the Natchez King

The lightning seeded the fog with a fire that churned like a restless embryo.

The rubber-clad soldiers hurled another volley of blue bolts into the mist, staining Adam's vision with jagged fissures of white. Inside the burning cloud, a dozen voices first bellowed, then pitched toward a hopeless animal plea. Their screams concluded at a stroke when the hull of their silkless ship crashed upon the silver plateau that crowned the Tower of Babel.

Furnace coals and gunpowder mingled amid the wreckage. The explosion arrived in waves: first flash, then warmth, and finally wind. Adam heard ejecta kick across the ground and turned his back to the coming spray of splinters, glass, and nails. He was sure he would've been grievously injured had not one of the vulcanized soldiers moved to shield him from the shrapnel.

The ground beneath Adam rang with a solemn note that seemed to peal from the mouth of a mountainous bell. The wind shifted again. Smoke darkened the fog, replacing the sweet, metallic scent of electricity with the stink of sulfur, burnt silk, and death.

A flaming cocked hat tumbled past Adam's foot.

He thought of Senlin. What would he make of all of this? Before Adam could explore the thought further, the soldier who had a moment before sheltered him gave his shoulder an ungentle push. The troop resumed its march into the mist.

The murk had robbed him of a sense of time, but he supposed it had been about two hours since Mister Winters had left his side, two hours since the youthful soldiers had quit bickering, screwed their ghoulish helmets back on, and gone to war with the clouds. They had not spoken to him since, only smirked like fishhooks. Between their tar-black armor and red-copper visors, Adam could not tell one from the next. They shoved him when they wished him to go, bumped him when they wanted him to stop, and fired over his head when something in the fog required it. The sparking men's eyes telescoped and twisted like a chameleon's, often in contrary directions. Though it seemed one eye or another was always on him, huddled like a calf inside their herd.

Adam wasn't sure whether he was a captive or a guest, but since he was unarmed and outnumbered ten to one, he chose to treat them as his generous hosts until they corrected him with a pillory, a prison, or a firing squad.

Whenever there was a calm between clashes, Adam tried to ingratiate himself to his hosts. He complimented them on their weapons, their discipline, their fierce masks and imposing suits. These overtures passed without remark. The sparking men continued to stalk the mist and fire on unseen enemies. Cannons boomed in the scud above them, and rifles cracked. Occasionally, an errant ball pelted near enough for Adam to hear it ricochet, but a second shot never followed the first. The invaders appeared to be firing blindly. The sparking men, meanwhile, aimed the forked prongs of their tethered wands, tracked their quarries, and shot confidently into the wool. They did not appear to ever miss. The mist glowed with burning ships.

They came to a towering sculpture of a kneeling woman, plated in lineated wootz steel. Her hair hung straight as a scarf. Her figure was maternal, her robes modest. She sat rocked back on her heels, eyes lidded, jaw slack, palms raised in worship or perhaps beggary. The extreme angle made her expression difficult to read.

The troop halted beside her knee, and Adam thought perhaps it was to allow him a moment to appreciate the apparent artistry that had gone into fashioning such a thing. He praised the monument's beauty, the whimsical striped steel, and her ambiguous posture, which seemed at once noble and humble. Then the towering woman turned her head, the movement smooth and nearly lifelike. She vomited a ball of lightning into the cluttered air.

The clouds swallowed the crackling missile.

In the distance, an explosion rumbled like thunder.

One of the sparking men raised a finger to his lopsided grin. Adam shut his hanging mouth.

Adam had learned long ago that the quality most essential to surviving the Tower was not luck, nor strength, nor wisdom. Even experience was not without disadvantage because as complacency dulled one's vigilance, longevity inflated one's sense of permanence. The Tower loathed nothing more than a smug survivor.

No, the true patron of old fools and street urchins was elasticity. To survive, one had to be flexible.

Flattery had not softened the sparking men, so Adam abandoned the strategy. It was just as well: The fawning toady was an unpleasant disguise. He needed to light upon a new tactic, and quickly, before he met the soldiers' superiors and the game began in earnest.

The trouble was, Adam had spent recent months suppressing his devious instincts in an effort to conform to the noble ideals his captain espoused. It had not escaped Adam's notice that Senlin's principles came at the expense of his plasticity. Senlin had been half a pirate, half a thief, and half a killer because he was, at his core, unbending. He could change his sails, but not his course; he could swap his suit, but not his heart.

Adam doubted he could afford to pursue such rigid principles here and on his own. Besides, he had come with the intent of burgling heaven. Such an undertaking was far from virtuous. He could only hope that the conniving, wiling part of him had not dulled from disuse.

All the flash, fog, and jostling had distracted Adam from something he should've recognized from the start: He was walking into some sort of grift. The fact that the sparking men knew a few details of his life signaled either a cold reading or a confidence game, and he had seen enough of both in his time. New Babel had a robust population of clairvoyants, each of whom claimed to commune with the dead, though all they really did was interrogate the living. Then there were the mind readers, who could open the human psyche as easily as a billfold. You couldn't walk a single block in New Babel without being accosted by a shell game operator who would demonstrate the fairness of his game by feeding winnings to a planted player who invariably took the good luck with him when he left.

The locals of New Babel had learned the obvious lesson: Leave the soothsayers and game runners to the tourists. But Adam had learned a more subtle moral: Sometimes hucksters make easy marks.

A compelling ruse took an awful lot of concentration to perform. The more a charlatan thought of another man's wallet, the less he attended his own.

Before he was banned by New Babel's Guild of Cups and Mystics, Adam had slipped the rings from the hands of a dozen palm readers; he had picked the pockets of the pickpockets who wove through the crowds of the telepaths; and he had convinced the shell game operators to hire him as a stooge, only to evaporate with the exemplary loot. Naturally, he had made one or two (or three or four) enemies along the way, but as an employee of Finn Goll, who sponged up most of his ill-gotten gains, Adam had enjoyed the protection of Iren and the port guard.

Which of course would not be the case here. If these rubber golems turned out to be cannibals, no one would rush in to pull him from the pot.

The bleak thought was strangely exhilarating. For the first time in a very long while, he was responsible for no one but himself.

Obviously, the rubber knights were trying to fool him by pretending to be familiar with his past. Adam didn't know why they were doing it or how they had discovered the personal details they knew, but neither mystery mattered. Let them play their game while he played his.

Adam was so taken with his own thoughts that he hardly noticed that the battle had ended until one of the guards halted and twisted his visor free of its collar. It was the same soldier who'd first recognized him and called him by name. The soldier's blond hair and beard were as yellow as pollen. His features were angular, his brow as jutting and sharp as the eaves of a roof. He might've been imposing were it not for his eyes, which gleamed with a sort of doglike eagerness. He said, "You're not a tenor at all. You're a baritone, like me. I'm not surprised, of course. In fact, I knew it. Oh, I can't wait to see the look on Piotr's face when he hears you. This has been a wonderful morning. First a conflagration, now a vindication!" He hiked an arm in squeaking triumph.

Adam had no idea how to respond, so he said, "Who were you shooting at? Pirates?"

"No, a navy. Mundy Crete's navy, to be exact. They're a bunch of idiots. You could set your watch by their invasions: first Monday every July. Every year they send more ships, and we make more ashes. I wish we could just convince them to burn their summer fleet while they were still anchored in port and save us both the trouble." He tossed his hair, heavy with sweat, and smiled at Adam, who felt a little towered over. The guard was at least a head taller than him. "But who cares about all that? What's left of them will be swept up and gone before tomorrow. Tell me, what have you been up to, Adamos? Pinching purses? Impersonating tour guides? Getting Voleta out of jams?"

This sudden topical shift, peppered with personal details, was unsettling. Adam dug his hands into his pockets to affect a casual air. He felt reassured by the book he found there. It was the diary of Captain Brahe, which he'd rescued from the derelict Natchez King down in the Silk Gardens where the spider-eaters wallowed. It had become something of a talisman for this whole ill-advised adventure, and its presence settled his nerves as readily as the hand of a friend. He responded to the question with a breezy sigh. "Oh, you know. I've been doing this and that, going here and there."

The soldier gave him a sidelong look that contained a certain amount of amusement if not satisfaction. But if this man's curiosity was all that was keeping him alive, Adam wasn't ready to surrender all of his mysteries just yet.

"Well, it's a lucky thing you clawed your way up during my patrol. I admit: I'm something of an admirer of yours. If you'd come by ship, I would've finished you off and never realized it." The sentry cocked his head to one side, his lower lip jutting out from under his mustache. "I wonder if I've killed a lot of famous people."

"You've brought down a great many ships, I suppose?" Adam made the remark as if he were alluding to a pastime and not the fate of many souls.

"Oh, hundreds! I've wrecked pirate ships, colonist scouts, royal envoys, naturalist expeditions, tour boats, racing yachts, and a barge full of orphans." He made a constrained, snuffling sort of sound. It was a laugh that would've been well suited to a formal tea and an absolute liability in a public house. Adam smiled at what he hoped was a joke.

One of the other guards removed her helmet. It was the woman who had previously informed him that Adam absolutely did not tell jokes. Based upon her expression, it didn't seem she enjoyed hearing them much either. She said, "And as I recall, Elrin, you've shot a thief or two."

"It's Sergeant Allod to you, Corporal! And Adam is more than a thief!" The soldier's cheeks flushed with exasperation. "He is a phenomenon! He's a bird of paradise. You don't shoot a bird of paradise when it lands in your backyard."

"But a barge full of orphans…" She stuck out her hand and rocked it—an equivocating gesture.

"You know I was joking."

"Perhaps we should amend our oath." She held her hands out, palms up, the same pleading pose of the titanic sculpture who'd spat a ball of lightning. "'I shall defend our gates and gardens from waste, war, and trespass unless the interloper is particularly famous or interesting or attractive or—'"

"You know what, Runa, if you want to shoot him so badly, go right ahead. Roast his bones!" The blond sergeant pointed at her. "But you have to explain to everyone why you shot Adamos Boreas while he was coming along peaceably, and you have to tell Mother."

Discovering the two were siblings explained their bickering habit and also why a sergeant would endure such a back and forth from a subordinate. Though if Adam had learned anything in recent years, it was that orders delivered by one sibling to another were seldom welcome or followed.

The woman the sergeant had called Runa rolled her eyes and dropped her arms. "I'm not saying we should shoot him, Elrin."

"Oh! Well, then." Her brother's voice took on a condescending quaver. "I suppose we could take him in and call an accord and share this judgment with our countrymen as is our custom and law." He touched his forehead, mimicking the arrival of a revelation. "Wait a moment! Is that exactly what I was doing? Are you telling me, your superior officer, to do exactly what I was doing?"

"For god's sake, Elrin, don't be such a—"

"Shut up, Corporal. That's an order. God, Runa, you're insufferable. And do you honestly not want to know what happened to Voleta? Because I certainly do. Here, let's just take a quick poll." Elrin turned to the rest of his troop. "Any of you lot curious to know what happened to the little acrobat? Is Voleta happy? Is she whole? Is she coming up next? Well? What say you?"

A lump gathered in Adam's throat as one by one each of the lizard-headed soldiers raised a rubber hand.

Those who claim to be "ready for anything" are overpacked and invariably unprepared for the one obstacle every adventurer must eventually face—disappointment.

—from the diary of Joram Brahe, captain of the Natchez King

Adam had the distinct impression that they were walking in a circle. At first, he thought it was a trick of the fog, but they had covered enough ground to have traversed the entire, and much broader, foot of the Tower more than once. For all their trekking, the landscape had remained relatively barren. They had come upon one or two tall poles that were forked like roasting spits, a few active pyres of burning wreckage, several charred bodies that were narrowly identifiable as human, and a single monument that had a mortar for a mouth. If they were not walking in a circle, then the Tower's penthouse was lamentably unfurnished.

In his diary, Captain Brahe had alluded to rivers of gold and trees of silver, which Adam supposed might describe the present landscape. Gold plates cut across portions of the steely floor in a manner that might be said to evoke a river or stream to a sufficiently dreamy or nearsighted person. The branching silver aerials were vaguely treelike, and perhaps would appear more so to a native of the Tower who hadn't much experience with forests or lumber or picture books.

But Brahe had also referred to something grander, a larger object, a more splendid structure buried deep inside the mist. The captain of the Natchez King admitted to having glimpsed the mysterious feature for scarcely a moment, and then only through a heavy veil of mist, before being driven back by a barrage of lightning. And yet the impression had been an indelible one. Brahe called the anomaly an "ethereal terrarium." While in the Sphinx's home, Adam had looked up both words in the dictionary, and still the description made little sense to him.

But the fact remained: They had to be circling something.

"I can't remember the last time the lumenguard took a prisoner. It was well before my time, I'm sure. You're going to be quite a surprise for Captain Dyre." Elrin nudged Adam in the ribs with a round, squeaking elbow. "I hope you don't mind my calling you a prisoner."

"Oh, please, I'm used to it," Adam said, swatting the air with a dismissive scoff. "I'm something of an authority on jails, prisons, dungeons, that sort of thing. I should write a reference book. Something like, An Insider's Guide to the Inside."

"I like that!" Elrin smiled broadly enough to expose a row of large and crooked teeth tucked beneath the lovelier coverlet of his mustache.

Runa squinted at Adam's attempt at humor. Her eyes were pronounced and close set, which, in combination with her upturned nose, made her look a little as if she had just suffered some minor surprise. And yet, for all of that, her expression was alert and probing.

She said, "What was that message for Voleta about the owls and your birthday? Some sort of code?"

Adam contrived a yawn to hide his surprise at her well-aimed guess. "Oh, that. My sister forgot my birthday once. I've never let her live it down. You know how siblings are: always teasing each other."

Elrin's pinched laughter sounded like a man trying to discreetly blow his nose. "That is true!"

"It may be true," Runa said, fixing Adam with a penetrating stare. "But it's not the truth."

The silver-plated plateau seemed unending, the fog inexhaustible. Adam began to suspect Elrin intended to march them around in a circle forever. But then the bank of clouds turned colorful. Green and gold blotches grew larger, clearer, nearer. Something immense loomed before them behind the thinning shroud. The others stopped, but Adam hardly noticed. He felt compelled to huddle closer, drawn by a mounting sense of wonder. At last, he would see with his own eye what so many aeronauts had attempted to conjure with song, rumor, and rum. How many had died while groping after this view? Here at last was an end to the Tower and the limit of humanity's reach.

The city seemed to materialize before him as if called forth by magic.

The bards had not gotten it quite right—not because their similes were overwrought, but because their imaginations had been insufficiently bold, their dreams too pedestrian.

The city's skyline was like a signature: a scrawl of unlike shapes that somehow strung together to form something organic, exquisite, and unique. Each wall, roof, dome, and spire was plated in gold that glittered softly in the thin sunlight. The city seemed to roil like a mirage. Adam could not imagine how many mountains the Brick Layer must've squeezed to milk such riches from the earth.

As arresting as the gilded edifices were, to Adam's surprise, it was the vegetation that stole his breath. At first glance, he mistook the greenery for paint or tapestry, because everything green inside the Tower was dyed. But no, verges of real grass grew between yellow lanes. The fat canopies of fruit trees peeked over rows of golden igloos, the foundations of which were encircled with budding bushes, full as the frill of a dress. Adam felt giddy at the sight of so much blooming life inside a city of treasures.

He was still smiling like a child when he walked face-first into an invisible wall.

The collision brought tears to his eye. He backed away, clutching his nose and hissing.

Elrin laughed like a kitten sneezes—with delicate, nasally puffs. He clapped Adam on the back unhelpfully. "Oh, tears are appropriate. You're the first outsider to set eyes on Nebos in a very long time."

It was a moment before the watery cataracts cleared from Adam's eye. When they did, he saw the oily imprint of his mashed face upon the crystal wall. He made a fist and gave it a speculative knock. It made no sound at all.

"The Brick Layer called it diamond cob. It's eighteen inches thick. Believe me: You'll need a much harder knuckle to make it ring," Elrin said, tugging Adam along. "But come on. No reason to dally now. You are about to enter the prettiest prison you will ever see!"

They skirted the barrier for a short distance before arriving at a steel gatehouse that jutted from the diamond bubble. The walls of the outcropping bulged with an intricate system of plumbing and tanks. Elrin called it a windstile. Through the fog, Adam could just make out two more of the kneeling monuments, with upturned hands and gaping mouths, set out on either side of the gatehouse.

The windstile's hatch was composed of the thickest slab of steel Adam had ever seen. It resembled a dam hung upon a hinge. When it closed behind them, it appeared to do so of its own volition. The door sealed so gently it sounded like a book falling shut.

The inside of the gatehouse was spacious but charmless: an empty metal box containing air and little else. After glimpsing the green-and-golden city through the crystal bubble, the windstile seemed a sort of obscenity, like a tin can in a flower bed. Elrin's troop scarcely began to fill the space, and yet everyone huddled expectantly about the inner door. An older man's face peered through a small porthole in the colossal hatch. His features were distorted by the thick pane of glass, and yet Adam marked the moment that his gaze fell upon him. Surprise widened his eyes just as quickly as displeasure narrowed them again.

Elrin depressed a rubber button under a caged box beside the inner door. "Hullo, Captain Dyre! Look who I found."

Captain Dyre's voice emerged from the box as if carried on the backs of buzzing flies. "Sergeant Allod, what have you done?"

"It's Adamos Boreas, Captain! You know, from the scintillation. He's my prisoner." Elrin looked over his shoulder at Adam and winked.

The captain's magnified lips turned pale as he studied Adam, who did his best to look harmless. "Prepare for cycle," Dyre said at last.

Elrin released the button with a happy sigh. "That's the first hurdle cleared," Elrin said as he bundled his long hair into his helmet and prepared to reseat it.

"Will he be all right?" Runa asked as she held her own visor above her head. "Doesn't he need a suit?"

Elrin scowled. "I don't think so. Half of protocol just exists to give the old dogs something to bark about. He'll be fine." Elrin rolled his eyes upward, searchingly, speculatively. "Well, probably fine." He shrugged and hid his face behind his smirking mask.

Runa looked at Adam with an expression approaching concern. Adam felt almost flattered, then she shook her head as if to dispel a bad idea and seated her helmet back in its collar.

A clang as loud as a railroad switch rattled the chamber. A violent wind sucked at Adam's clothes and hair, causing both to twist and thrash wildly. It felt like the follicles were being pulled one by one from his head. His skin pimpled against the abrupt and heightening cold, a cold that was as sharp as a mountain pass, and soon much sharper. Adam shivered and jammed his hands into his armpits. Just as he began to wonder how long the frozen cyclone could possibly last, the scourging wind quit.

He had never known that silence could be a felt sensation, but the stillness that followed was like a tangible, forceful calm.

Then he realized he could not draw a breath. He was being strangled by empty space. His gaping mouth worked like a fish on a pier. The saliva on his tongue began to sizzle. His lungs felt like clenched fists inside his chest. He swayed on his feet, which felt small and far away. The tears in his cloudy eye began to boil. He cinched it shut. It made no difference.

His legs buckled. Strong arms caught him, though awkwardly—by his forearm, around his waist, cupping his chin.

The air returned, but not as fiercely as it had departed. It washed over his shoulders and flowed down his back.

He gasped and choked upon the returning breath, swinging his arms until he was free of the hands that held him. Feeling caught, suffocated, caged, he pushed through the black rubber bodies and crashed upon the inner door. He pounded upon it, the smack of his fist hardly louder than a pat. He might as well have beaten upon a mountainside.

The birds do not dwell upon the miracle of the air, nor do the fish marvel at the currents that carry them. I suspect such is the case for the lords and ladies of the Tower. For them, gold has become the invisible medium of life.

—from the diary of Joram Brahe, captain of the Natchez King

Her helmet wrenched free, Runa gathered Adam by the hands. His wrists were bruised by his attack upon the hatch, and her grip felt, for a moment, like further confinement. He tried to twist away from her, but she resisted. She brought her face near his. Her eyes were as blue as a midday moon. Their close proximity stalled his panic. She told him to breathe with her. He breathed. And while his heart rediscovered its former rhythm, the great gate to the treasured city puffed and swung open.

The fecund scent of turned soil, geraniums, and grass flooded the vault. The perfume assisted his revival. The air was much richer and sweeter here. Adam had sucked in so many lungfuls of thin atmosphere aboard the Stone Cloud he'd forgotten what the good air that hugged the earth tasted like. He smiled like a drunk. Runa released his hands as abruptly as she'd taken them up.

Elrin yanked the helm from his head, shook out his sweaty locks, and said, "Very dramatic! But we'd expect nothing less of you! And see, Captain, it really is him. It's Adamos Boreas!"

The captain wore a gleaming white jumpsuit that was piped in canary yellow and padded at the shoulder. The soldiers who milled about the gatehouse were similarly attired, though with fewer golden laces. Captain Dyre had a lantern jaw and combed-over hair that was so pale as to be almost indistinguishable from his broad pate. He had the look of a man who enjoyed scowling at babies and crossing his arms at fine art.

"What are you looking at?" the captain asked.

Adam shook his head. "Nothing. I… well, I mean…" He made an expansive gesture. "Also, everything." He turned to let a soldier pass, and as he did, his gaze roved up a gold-plated path as it wound between a low flowering hedge, seething with bees, and ran on toward a row of domed houses, each with a trim lawn, a furnished porch, and flower boxes beneath the windows. "This is all very strange," he said, feeling not so much recovered from the trauma of the windstile as distracted from it.

"Yes, it is," Captain Dyre said. The other soldiers in Elrin's troop—Runa among them—filed toward a squat structure, partly veiled by a wall of climbing peas. They stripped off their lightning packs and helmets as they went. The muffled hiss of showers sounded as the soldiers disappeared inside. The captain turned again to face the sergeant. "As I recall, you took an oath, Allod. Perhaps you could remind me of it."

Drawing himself to attention, Elrin held out his palms and said, "I shall defend our gates and gardens from waste, war, and trespass until the Tower quails and the sky fails!"

Dyre spoke with a crisp precision, each syllable sharp as the hammer of a typewriter. "So, it's not your memory that's lacking. It must be your judgment, then, because you appear to have brought a foreigner into Nebos."

Though he kept his chin raised, Elrin's expression was as abashed as a scolded dog. "Yes, sir. I just thought—"

The captain cut him off: "You thought your mother would want to meet him."

Elrin's eyelids fluttered in surprise. "I… I thought we all would, sir."

The captain asked for the details of the encounter, and Elrin described discovering a pair of climbers near the southern border. He summarized the ensuing argument and his decision to let the one-armed woman go and to bring Adam in, describing it as "extraordinary circumstances."

The captain pounced upon the phrase. "Surely, there is no circumstance more extraordinary than our own. We serve the legacy of the Brick Layer inside the crowning city of the Tower of Babel. Or do you really think all of this"—the captain paused to wave his arm from the crystal horizon to the verdant, gilded skyline—"is inferior to a muddy pickpocket?"

"No, sir," Elrin said, his chin dropping at last. Adam wondered how he could possibly burgle a city full of people who considered him a thief.

The captain waved a dawdling butterfly from his face. "Have you let climbers go before?" Elrin insisted that he had not. In fact, he had killed hundreds of climbers over the course of his career. "What a glorious streak to have ruined," the captain said, turning toward a short column that resembled a hitching post, though there were no signs of horses anywhere. Dyre opened an ornate plate in the pillar's capital and turned the key encased within. A run of musical notes, dulcet as a harp, reverberated through the city. It was the gentlest alarm Adam had ever heard, but even so, it made him shiver.

Dyre stepped nearly upon Elrin's toes, and though he was a hand shorter than him, the captain seemed to menace the tall sergeant well enough when he said, "You will explain yourself for the accord. You will go directly to the assembly. You will not seek out your mother first. You will bear your punishment with dignity and will embarrass the institution of the lumenguard no further."

"Yes, sir," Elrin said.

"It's unfortunate that you had to mar what would otherwise have been a triumphant day. You're a keen marksman, Allod, and you've been a fine leader until now, but we'll have to review your rank and future in the guard once this is settled. Until then, the prisoner is under your charge."

The captain called for a set of "bonded bands," and a private quickly returned with a pair of bracelets, each about the width of a shirt cuff. Composed of some black metal, the bands were featureless except for a small depression, no larger than
We hope you are enjoying the book so far. To continue reading...
The Fall of Babel
Josiah Bancroft
Copyright © 2022 All Rights Reserved