Book info
Sample
Audiobook
Media
Author updates
Lists
Synopsis
Wagon trains carrying immigrants along the Oregon Trail are falling prey to outlaws. Most families surrender their valuables and goods peacefully, but anybody brave enough to resist gets a bullet. The gang's latest victim was a wagon master who sought to protect his charges only to die in the dust. With the blood of good men being spilled and families being terrorized, Preacher and Jamie MacCallister volunteer to escort the next wagon train.



Preacher travels with the settlers while MacCallister trails along at a distance, scouting for trouble. Their odyssey across the unforgiving territory takes them through violent storms and into the sights of hostile Indians. Battered and weary, the travelers are no match for the blood-lusting, trigger-happy gang—and Preacher is unprepared to meet the one outlaw he never expected to see again . . .
Release date: April 26, 2022
Publisher: Pinnacle Books
Print pages: 352
* BingeBooks earns revenue from qualifying purchases as an Amazon Associate as well as from other retail partners.
Listen to a sample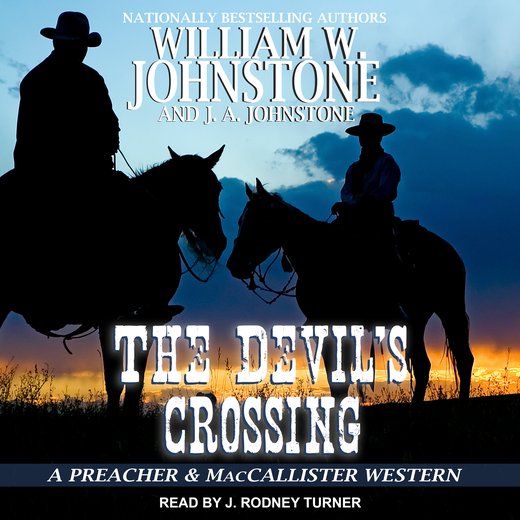 08:50:46
242.98 MB
April 26, 2022
Tantor Audio
2022
The Devil's Crossing
William W. Johnstone
Ethan Prescott hipped around in the saddle, raised his hand in a signal, and bellowed, "Hold it! Hold it! Stop where you are!"

The lead wagon was about twenty yards behind him. The driver, Frank DeVries, who was the captain of this wagon train, hauled back on the reins and brought the big, canvas-covered Conestoga to a halt. The trail was fairly narrow here, with thick brush on both sides, so the drivers of the other wagons stretched out in a line behind him had no choice but to halt as well. One by one, they lurched to a stop.

Prescott turned to the young man riding beside him and said, "Go down the line and tell the leaders I want to see them up front."

"Yes, sir," Tom Linford said. He was in his early twenties, lean, bronzed, at home in the saddle, and proud of his job as a scout for this wagon train. Prouder still to be working for the well-known wagon-master Ethan Prescott. He nudged his heels against his mount's flanks and headed along the line of wagons, pausing to speak to several of the men who had been elected to form a council that advised Prescott and DeVries.

He also slowed just long enough to trade a quick smile with Alma Stockton as he passed the wagon belonging to her family. She was beside her father on the seat, her sun bonnet shading her face but failing to hide the sparkle in her eyes or the blond curls that peeked out from under the bonnet. She was the prettiest girl Tom had ever seen, and she had consented to let him come courting of an evening.

Tom delivered Prescott's message to the half dozen members of the council. Some of them grumbled as they climbed down from their wagons and began trudging along the trail to join Prescott and DeVries by the lead wagon. Figuring that he needed to know what was going on, too, Tom rode back up there, drawing glares from the men on foot as he passed them.

This was the first wagon train he had helped guide along the Oregon Trail, so he wanted to learn as much as he could from Ethan Prescott, who was an old hand at these journeys. Prescott's first trip over this long trail had been more than ten years earlier. He was one of the most experienced wagon-masters in the business, so there was no one better to teach Tom Linford what he needed to know.

Frank DeVries passed around a jug when all the men had gathered. The whiskey had been brought along mostly for medicinal purposes, and as captain, DeVries kept their entire store of it in his wagon and doled it out only as needed, or for quick nips like these when serious talking had to be done.

Tom held the reins of both his and Prescott's mounts as the wagon-master pointed along the Sweetwater River. The stream lay just ahead of them, its water sparkling in the sun.

"That's the Sweetwater," he said. "We'll follow it for quite a ways. But to do that, we have to go through there."

His finger moved, sweeping along the river's course to where it flowed through a range of rugged hills.

"You can't see it from here," Prescott continued, "but where the river cuts through those hills, the terrain gets pretty rough. Most of the way, the trail's only wide enough for one wagon at a time."

DeVries said, "I don't see why that's a problem. We normally travel in single file, don't we?"

"Yeah, but we can swing the wagons out and form up into a circle if we need to, even when the brush kind of hems us in like it has been for the last few miles. Up there in the Narrows, we won't have that option most of the time. We'll have the river on one side of us, granite bluffs on the other, and like I said, just enough room for one wagon. No place to go if there's any trouble."

"The Narrows," repeated one of the men. "That's what people call it?"

"Some do," Prescott replied with a shrug. "Some call it Three Crossings, or the Triple Crossing, because we'll have to ford the river at least three times to get through there." He paused. "And here lately, some folks have taken to calling it the Devil's Crossing."

DeVries laughed and said, "That certainly sounds ominous. Is it really that bad, Ethan?"

"The crossings themselves can be pretty difficult, depending on how high the river is and how fast it's flowing. On some trips, when there's been a lot of rain upstream, the wagons have had to stop and wait for the water to go down."

"We don't want to do that," spoke up Jethro Calhoun, a weedy pilgrim whose beard and mustache always seemed to have bare patches. "We got good land waitin' for us in Oregon, and we need to get there and start workin' it. If we can get a crop of some kind in before next winter, even a small one, it'll sure help us get through."

"I know that," Prescott said, nodding. "All those difficulties are just the regular ones, though, that hundreds of wagon trains have faced coming through here in the past. What's changed lately is that rumors have started circulating of an outlaw gang operating in these parts."

"Outlaws!" Frank DeVries exclaimed. "All the way out here in the middle of nowhere?"

"We may be a long way from civilization, but that doesn't mean this is unspoiled wilderness. I reckon there'll always be predators, no matter where you go, and a group like yours . . . well, you make pretty tempting prey."

Prescott looked around at the circle of dismayed faces and went on, "Think about it. Not only are you carrying plenty of supplies that can be stolen and sold or traded elsewhere, but some of you also brought along all the cash you could gather up in order to help you get started in your new homes. Add everything together, and there's a considerable amount of loot to be had here."

"So you believe these bandits are going to attack us?" asked DeVries.

With a grim look on his ruddy, white-mustached face, Prescott said, "I just don't know, Frank. I looked into it before we started, because I knew our route would take us through here. They're not hitting every train, only some of them. But is there a chance we'd be one of the unlucky bunches? Sure there is."

The members of the council looked solemn and downright scared, Tom Linford thought as he glanced around at them. He didn't blame them; Mr. Prescott's words were mighty worrisome. He thought about what might happen to Alma Stockton if bloodthirsty desperadoes attacked the wagons, and the possibility was like a cold fist closing uncomfortably on his belly.

DeVries said, "From the sound of it, those hills up there and that narrow passage would be a good place for outlaws to lie in wait, sure enough. But what are our options? Is there another route we can take?"

Prescott nodded and swept a hand toward the south. "There is. We can swing that way and go around the hills. It's farther, and that's not the only problem. People call it the Deep Sand Route, for a good reason. There are miles of soft, sandy ground that we'd have to cross. Your mules and oxen will wear themselves down to a nub pulling those heavy wagons. They'll be so worn out by the time you get around the hills that you'll have to stop for a while and let them rest and recover before you can go on. You should be safe from outlaws, though. It's open country all around, without any really good places for an ambush."

"But if it's farther that way to start with," said Calhoun, "you throw in the sand slowin' down the livestock and then the need for them to rest . . . just how long will it delay us if we follow that so-called Deep Sand Route?"

"Two weeks," Prescott said heavily. "At least. Maybe longer."

Calhoun shook his head. "Then I vote no, if it's a vote that we're takin'. We got to get to Oregon, dadblast it! Like I said, we got land to work."

"Now, hold on, Jethro," said DeVries. "If it's too dangerous to go through this . . . this Devil's Crossing, maybe we'd be better off in the long run going around it. If we all get killed by outlaws, we'll never get to Oregon!"

"You heard what Prescott said," Calhoun argued. "There ain't no way of knowin' if those bandits are even around here. We could make it through just fine and save two weeks. That's two more weeks to get a crop in."

One of the other men asked, "How does the river look, Mr. Prescott? Do you think it would give us any trouble if we followed it? Would we be able to ford it all right?"

"From what I've seen of it, the teams and the wagons can handle the crossings themselves without any more trouble than normal. Which, I'll remind you, can be pretty tricky at times."

"But you've taken wagon trains through there before, right?"

Prescott nodded and said, "Dozens of times."

"Have you ever lost any wagons?"

"As a matter of fact, I haven't. Not to the Narrows. But there can always be a first time," the wagon-master added.

DeVries looked at the other men and asked, "What do you think, fellas? Should we risk it?"

"What do you think, Frank?" another man said. "We elected you to be captain. You're the most levelheaded of the bunch."

DeVries rubbed his chin and frowned. He and Prescott had become friends during the journey, so he used the wagon-master's given name as he asked, "Are you saying you won't take us through this Devil's Crossing, Ethan?"

"Not at all," Prescott replied without hesitation. "Part of my job is to make decisions, sure, but where something like this is concerned, the whole group ought to be in agreement, at least within reason. There's just no way of knowing how much of a risk it would be, so I'll abide by whatever you decide."

"Go on through," Calhoun said with a curt gesture toward the hills. "It'd take too blasted long to go around."

One of the men said, "If the other route is as hard on the livestock as Mr. Prescott says, we might actually lose some of them by going that way."

He looked at Prescott for confirmation. The wagon-master nodded and said, "Could happen."

"I agree with Jethro," the man said. A couple more nodded, and another said, "So do I. That's too much of a delay."

Frank DeVries nodded slowly and said, "I'll go along with the others. I think we want to risk following the river and going on straight through the hills."

"That's what we'll do, then," said Prescott. "You fellas can go back to your wagons. We'll rest the stock for a few more minutes, water them at the river, and then move out. We can put a few more miles behind us today and start through the hills fresh tomorrow."

The other men talked a few moments among themselves, then started back to their vehicles. DeVries said, "I hope we made the right decision, Ethan."

"So do I, Frank. So do I."

Prescott jerked his head to Tom Linford and walked toward the river. Linford followed, leading the two saddle horses.

As the animals drank, Prescott stood hipshot, gazing toward the hills. Linford hesitated for a moment, then said, "I notice that we didn't get a vote back there, Mr. Prescott."

The older man chuckled. "That's because you and I are just hired hands, Tom. Those men back there are wagering everything they have, including their families, on this new start they intend to make in Oregon. The two of us, we don't really have any stake in this."

"No, sir," said Linford. "I suppose not."

Only our lives, he thought.

A half hour later, the wagons once again began their slow, rocking, lurching journey westward, now rolling along the southern bank of the Sweetwater River toward the hills. While they were stopped, resting and watering the stock, Tom Linford had taken advantage of the opportunity to talk to Alma Stockton.

"You and the other men seemed to be having such a serious discussion," she said. She was shy and didn't look directly at him as she spoke. "What were you talking about?"

"Oh, Mr. Prescott was just telling us about a couple of different ways we can go from here." He didn't explain that he had just stood there listening. He hadn't actually discussed anything.

"What did you decide?"

He hadn't decided anything, either. As he had said to Prescott, they didn't get a vote. But he didn't want to get into that with Alma, so he just said, "We're going to follow the river."

"Well, that seems reasonable to me. Rivers are usually the best routes, aren't they?"

"Usually," Linford agreed.

He debated with himself whether to tell her what Prescott had said about the threat of outlaws. Before their meeting broke up, the members of the council had decided not to spread the word among the others, for fear of starting a potentially needless panic. Linford wasn't bound by that decision, though. If he didn't get any voice in the way they did things, he wasn't going to worry too much about abiding by their rules.

When you came down to it, though, he didn't want to worry Alma for no reason, so he said, "Your pa knows to keep his eyes open all the time, doesn't he?"

Alma looked at him now, a tiny frown prettily creasing her forehead. "Of course. Mr. Prescott and Mr. DeVries always tell everybody to be watchful."

"Good."

"Why did you ask that, Tom?"

"No particular reason," he lied. "I just figured it's a good idea. The train's been lucky so far, but you never know when trouble might crop up."

"No, I suppose not." She started to turn away, then paused. "Tom . . . why don't you come to our wagon for supper tonight? We have beans soaking, and Mama made fresh bread this morning."

He smiled and said, "That sounds good. And I'd sure enjoy the company."

She looked down again. "So . . . so would I."

She sure was shy. He had a sudden urge to lean down and kiss her on the cheek, but he kept a tight rein on the impulse. If he did that, he'd probably startle her so bad that she'd bolt like a runaway mule.

Although that wasn't a good way to think of it, he told himself as Alma moved off to help her ma with something. She wasn't anything like a mule. More likely she'd fly away like a pretty bird . . .

"What have you got on your mind?"

Ethan Prescott's deep voice cut into the young man's thoughts and scattered them. He shook his head and said, "Oh, nothing important."

Prescott grunted. "Yeah, I'll bet. I've seen looks like that on the faces of young men before. You're sweet on one of the girls in this wagon train. You'd better be careful or her pa will dust the seat of your britches with buckshot, and I won't do a blasted thing about it except stand there and laugh at your little predicament."

"I'm not going to do anything to make somebody come after me with a shotgun."

"You'd better remember that. And there's a preacher among those pilgrims, too, if there's any marrying to be done. You'd best not be forgetting about that."

Linford felt his face burning. "Won't need no preacher," he said shortly.

"Good. Now ride on ahead and see how the river looks."

Linford swung up into the saddle and heeled his horse into motion. He followed the Sweetwater, his mount loping along until the wagons were almost out of sight behind him. His head moved almost constantly as he swung his gaze from side to side, searching intently all around for any signs of potential trouble. As he had told Alma, they had been lucky so far, but vigilance went hand in hand with luck.

Nobody was going to sneak up on them as long as he was scout and had anything to say about it.

They drew the wagons into a circle and made camp that evening while they were still out on the plains, a few miles short of the hills. Tom Linford had supper with the Stockton family—Alma, her ma and pa, and her two little brothers. The fare was the same as always, beans cooked in an iron pot, bacon fried up in a big pan, bread that had been baked that morning in a Dutch oven, all washed down with strong black coffee, even for the kids. There was one extra treat, some dried fruit. Linford didn't know if that was on account of him being a guest, but he enjoyed it.

The whole evening was enjoyable. He and Alma were never alone, but they were able to sit next to each other on the lowered tailgate of the wagon and converse in low tones. Neither said anything of any consequence, just idle talk about the journey so far and the family's plans for their new farm in Oregon, but it was the intimacy that counted. Linford curled up in his bedroll that night with thoughts of blue eyes and blond curls filling his head.

All that was forgotten early the next morning, when Linford was up before the sun, getting his horse ready to ride. Ethan Prescott was up even earlier, though. Nobody beat the wagon-master when it came to working hard. First to start and last to quit, that was Prescott.

The wagon train reached the hills in late morning. During a pause before they started following the winding trail, Prescott told Frank DeVries that he hoped to get through the challenging passage and make camp that evening on the far side of it.

"Can we do that?" asked DeVries.

"If nothing happens to delay us." Prescott's mouth tightened. "I'd just as soon not have to stop where we're stretched out with no place to go. Just in case."

He didn't have to say in case of what, thought Linford. He knew what Prescott meant. That would make them an even more tempting target for bandits.

As he and Prescott rode a short distance in front of the wagons, the young man kept his eye on the beetling brow of the hillside. It kept looming closer and closer to the trail, the farther into the hills they penetrated.

Another couple of miles fell behind them, then Prescott reined in and nodded toward the trail in front of them. A hundred yards ahead, it petered out into the steep, rocky hillside.

"This is as far as we go on this side," Prescott announced. "The wagons will have to ford the river."

He pointed, and Linford looked across the stream. There was room on the other side for the wagons to travel.

"How far does the trail run over there?"

"A couple of miles," said Prescott. "Then we'll have to cross back to the south bank. There'll be one more ford after that, which will leave us on the north bank. We can go on from there without any more crossings, unless things have changed since the last time I came through here."

"It doesn't seem that bad so far," Linford commented.

"We're just getting started," Prescott said. He turned in the saddle to wave at Frank DeVries, who had already halted his wagon without being told to. "It's close enough to midday that we'll stop here for a little while to let folks eat and rest the livestock."

"You want me to pass the word?"

"Sure, go ahead. Thanks, son."

It made Linford feel good to have Ethan Prescott call him son.

The women in the wagon train were in the habit of saving back some of the food from breakfast so it could be eaten cold for the midday meal. If there was time, they brewed coffee to go with it. In this case, though, there was plenty of good river water right there a few steps away, so the pilgrims filled their tin cups and drank it down. Even though it was summer, these streams that flowed down from the mountains still ran clear and cold, fed as they were by snow melt.

Linford would have sought out Alma Stockton to spend a few minutes with her, but Prescott called to him and motioned for him to follow. The two men rode into the river, letting their horses pick their path, feeling out the bottom as they went along.

"Feels pretty solid right here," Prescott opined. "And the water'll only come up to the wheel hubs, so there shouldn't be any trouble with wagons starting to drift. Plenty have crossed here in the past."

"You must know just about everything there is to know about this part of the country," said Linford.

Prescott snorted. "Not hardly. There are other wagon-masters who've been at it even longer than I have, like my friend Simon Lash, and before them, other men were out here. I'm talking about the fur trappers, the mountain men. They were the first white men to explore these parts. Fellas like John Colter, Jim Bridger, Kit Carson." Prescott grinned. "You ever hear tell of a man called Preacher?"

"Preacher," repeated Linford. "Yes, I think so."

"Preacher's been over every foot of ground west of the Mississippi, they say, and probably knows it better than any other man alive. I've crossed trails with him a few times, and it was a real honor every time I did."

Linford had trouble comprehending that a veteran frontiersman such as Ethan Prescott would feel in awe of any other man, but he could tell that Prescott was sincere.

"Maybe I'll run into this Preacher sometime," he said. "Is he an actual minister?"

Prescott threw back his head and laughed. "Not hardly. But you can ask him to tell you the story of how he came to be called that. It's a pretty famous tale out here."

"Yeah, I reckon I'll do that," Linford said. He had the feeling there was more to it than what Prescott had told him, but he didn't press the wagon-master for details.

Satisfied that this was a good place to ford the Sweetwater, Prescott turned back to the wagons after telling Linford to go on ahead and take a look around on the other side of the river. Linford did so, riding along the trail until he was out of sight of the ford. It began to narrow down again, just as it had done on the south side, and as he rode around a bend, he saw a sheer, towering granite bluff crowding close to the water. The trail was still wide enough for a single wagon, and it ran fairly straight for as far as Linford could see, which was a little unusual in this country where most paths twisted and turned quite a bit.

He saw something else that made his eyes widen. The face of that granite bluff was covered with names. Hundreds, maybe thousands of names. Some written with hunks of charcoal, others daubed in axle grease. They ranged from crude, barely legible printing in block letters to elaborate, flowing script. Covering the rock wall for a hundred yards or more, they were crowded onto the rock from the ground up to as high as a tall man could reach while standing on a wagon seat. Some were faded with time, while many others looked relatively fresh and new.

Linford knew he was looking at a record of the thousands of immigrants who had passed along here, bound for Oregon. He had seen similar places, back along the trail, where names were scrawled on rocks, but this was the most impressive such display he had come across so far on the journey. There was no way of knowing who had first given in to the impulse and written his or her name here, but others had seen it and thought it was a good idea. Time had passed, and the river of immigrants had flowed on, much like the Sweetwater, only in the opposite direction.

As Linford stared at the names, he wondered how many of those people had made it to their destinations . . . and how many were lying alongside the trail in graves with markers that would collapse and decay and vanish, just as the graves themselves would flatten and new grass would grow, and flowers would bloom on them in the spring so that no one would ever know someone with dreams and hopes and passions lay there, slumbering forever alone and forgotten . . .

Linford took a deep breath as he shook himself out of his reverie. Maybe Mr. Prescott would allow the wagons to stop here long enough for folks to add their names to the bluff. He thought about Alma writing her name on there, and if she did, he intended to add his right underneath it, so that from now on, anybody who passed along here might see the names and think that they were linked.

That put a smile on his face, and he was still smiling when he heard three shots fired one right after the other, the reports echoing along the canyon between the hills in the universal signal for trouble.

The trail beside the name-covered bluff was plenty wide enough for a horse to turn ar. . .
We hope you are enjoying the book so far. To continue reading...
The Devil's Crossing
William W. Johnstone
Copyright © 2023 All Rights Reserved
Also in this series
Also by this author