The Dark Shah
A deadly provocation of the United States . . . A drone attack on the Secretary of State near Tel Aviv.
Book info
Sample
Audiobook
Media
Author updates
Lists
Synopsis
Defending the West . . . Is a deadly drone attack on the US Secretary of State in Tel Aviv a deliberate provocation? A covert meeting with an Iranian nuclear chief in Vienna goes disastrously wrong . . . And who is the hitman with intelligence operative Jayne Robinson in his crosshairs?
Robinson is sent by the CIA to find out who left the Secretary of State fighting for his life in Israel and why.
However, the Israeli intelligence service, the Mossad, has the same agenda.
Given their history, can she trust them?
As her investigation progresses, Jayne finds she needs all her skills and know-how if she is to avoid the same fate as her much-loved father—blown up more than twenty years earlier in a mystery attack by pro-Iranian Hezbollah terrorists in London.
But why is Jayne being targeted now, and what is the hidden high-stakes agenda that's driving it?
The Dark Shah, book number two in the new Jayne Robinson series, is a gripping modern spy thriller with unexpected twists that will be difficult to put down.
Release date: September 28, 2021
Publisher: The Write Direction Publishing
Print pages: 450
* BingeBooks earns revenue from qualifying purchases as an Amazon Associate as well as from other retail partners.
Listen to a sample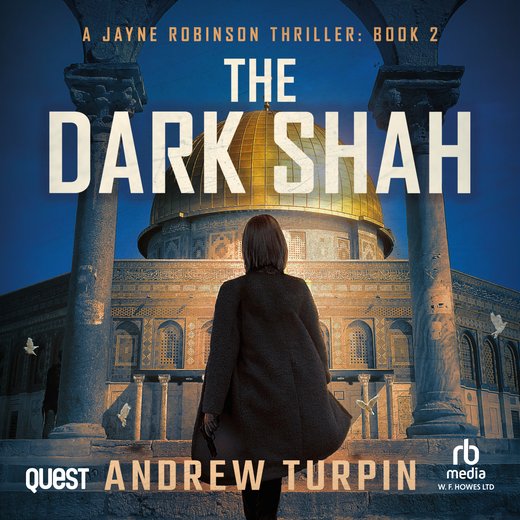 12:53:47
354.23 MB
May 18, 2023
W. F. Howes
2021
The Dark Shah
Andrew Turpin
Prologue
Monday, April 4, 2016
Samar gas platform, offshore from Tel Aviv, Israel
The US secretary of state, Paul Farrar, pushed his plastic protective glasses up his nose and climbed up onto the long speaker's soapbox that stood on the metal deck of the gas production platform, high above the sea.
He squinted a little in the bright sunshine, tugged his white safety helmet farther down over his eyes to ward off the glare, and glanced toward the Israeli coast, located seventeen miles to the east across the inky Mediterranean Sea.
A huge blue and white Star of David flag flapped gently in the sea breeze from its moorings on the tangled steel pipework behind him.
An even bigger flag had been stretched out across the helicopter landing pad as part of the welcome he and the Israeli foreign minister, Moshe Cohen, had received when they touched down.
Farrar waited until Cohen and Alexander Lowman, the chief executive of the US-Israeli company Frontier Energy, which owned the platform, had joined him on the soapbox. All of them wore the obligatory personal protective gear required on the gas platform, as did the crowd of gas company executives, engineers, and managers in front of him. There were safety helmets and ubiquitous orange or navy-blue protective overalls everywhere he looked.
A few yards to Farrar's right stood two of his dark-suited Diplomatic Security Service officers. Another officer was behind the assembled gathering, while Cohen's bodyguard stood to the left.
Two TV cameramen, using handheld units, and two photographers stood near the security officers to the right, recording the proceedings. Behind them a small phalanx of selected journalists scribbled in their notebooks and tapped away on their phones.
Tucked away at the rear were two men who wore dark glasses and were doing their best to melt into the background. Farrar and Cohen knew who they were, but few others did. One was Eli Elazar, the director, or ramsad, of the Mossad, Israel's foreign intelligence service. The other was Elazar's guest, Mark Nicklin-Donovan, director of operations and deputy chief at Britain's Secret Intelligence Service, otherwise known as MI6, who was in Israel for a series of meetings.
The visit to Israel and the Samar gas platform was of great significance for Farrar. After all, Frontier Energy was a US-controlled business that deserved some recognition from the government for its achievement in building one of the largest symbols of American enterprise and investment in the region. The enormous structure on which he now stood, which soared 180 feet above the sea, had been largely built in Texas, then floated across the Atlantic on a huge barge.
This trip, postponed on several occasions, had been in Farrar's calendar for several months without ever being confirmed.
But then in December, Israel's near neighbor and archenemy, Iran, had at last signed an international deal to halt work to build nuclear weapons. Under the deal, Iran had committed to ensuring its nuclear development program was focused only on electricity production—not on nuclear weapons. It promised to produce only low-grade uranium of around 4 percent purity in its enrichment program, not the 90 percent or more required for nuclear weapons.
Only at that point was it perceived that the threat to Israel from Iran and its proxy militant arm, Hezbollah, had diminished sufficiently to give the trip the green light.
High overhead, two Israeli Air Force fighter aircraft circled the platform at a distance that ensured the gathering wouldn't be disrupted by the noise from their jet engines. Three navy patrol boats were also carrying out what was a clearly choreographed set of maneuvers in the surrounding waters. The Israelis, hit hard and often during their ongoing conflicts with neighboring states, were taking no chances, despite the agreement with Iran.
Apart from the gas platform trip, Farrar had more formal meetings with Cohen scheduled for later that day once they had returned to Tel Aviv, followed by a dinner in Jerusalem in the evening.
Cohen, a slim, wiry man in his fifties, whose hooked nose and gimlet eyes were just as hawkish as his political views toward Israel's enemies, stepped to a microphone on the platform, and the crowd in front of him became silent.
"This is a historic day, and I'm very pleased to be here to meet you all," Cohen said, his voice booming from loudspeakers. "As an Israeli, I had always felt that Moses did a poor job when he dragged our ancestors for forty years through the desert, only to bring us to the one place in the Middle East that had no oil or gas. Or so we—"
He stopped because his joke was greeted with loud laughter and applause by the engineers standing in front of him. Farrar joined in, although it certainly wasn't a quip he would have dared to make as an outsider.
"Or so we thought," Cohen continued. "No gas, that is, until Frontier Energy arrived on the scene. We have watched Frontier develop its plans, carry out exploratory drilling work, strike gas in rock and sand at an incredible five thousand meters below sea level, and then build this highly complex production platform to deliver that gas to the people of Israel. I'm proud that the fuel is now flowing through these pipes behind me, and as you know, it will power our homes and businesses for decades to come. I would like to congratulate Alexander and all of you for your monumental achievement."
Cohen went on to talk about the political, technical, and financial challenges that had been overcome and then invited Farrar to say a few words.
"Yours must be the most closely guarded gas molecules in the world," Farrar began, indicating upward to the fighter aircraft. To his relief, the audience laughed again, breaking the ice and allowing him to relax. Despite years of making speeches and presentations, he always felt slightly tense at the beginning.
"I am proud that the United States can stand alongside its long-term ally Israel and help achieve something quite remarkable. The story of gas production here is one of perseverance and persistence over many years in the face of seemingly insurmountable problems—a bit like the story of Moses." There was more applause and laughter from the audience.
"The people of Israel know what it means to be a free people—just as we do in the United States—and self-reliance in terms of energy supplies is an important part of that."
Farrar wound up his short talk with a few more serious comments about his hopes for peace in the Middle East and the importance of the nuclear deal with Iran. Although those issues were not directly related to the gas platform development, he felt it was important to make his point about the wider political context while the television cameras were on him and journalists were paying attention.
"We all know that in the past, Iran has sworn to wipe both Israel and the United States from the face of the earth," Farrar said. "Let's hope that attitude is now something that remains firmly in the past."
He gave way to Lowman, who made a short speech thanking his colleagues for their hard work and the government of Israel for its support and help before surrendering the stage back to Cohen to conclude the event.
Twenty minutes later, waiters began to serve glasses of chilled orange juice, because the platform was an alcohol-free environment on the platform, and everyone began to relax. A number of the engineers came up to shake Farrar's hand, some of them commenting that it was a rare opportunity for them to speak to such a senior US cabinet member.
At the back, the two intelligence chiefs, Elazar and Nicklin-Donovan, were engaged in an intense discussion. Neither had taken a drink from the waiters.
Farrar noticed the head of his security detail talking animatedly into his cell phone. One of his colleagues was also in a vigorous discussion with Cohen's bodyguard. Farrar's attention sharpened.
Seconds later, Farrar heard the sound of running footsteps behind him on the metal platform. He turned to see four of the gas company's security guards bearing down on the platform where he, Cohen, and Lowman still stood.
At the same time, Farrar noticed that one of the Israeli fighter aircraft, which had been circling high above them, had gone into a steep dive and was approaching the platform at a much lower altitude.
What the hell is going on? Farrar thought.
The guards arrived, the man in the lead clearly stressed. As he approached Lowman, a loud siren suddenly blasted out from nearby, causing Farrar to jump slightly. Then the unmistakable chatter of machine gun fire erupted from somewhere over on the western side of the platform.
Farrar caught sight of the fighter aircraft again, now flying horizontally and very low on that side of the platform.
A jolt ran through the secretary of state, flipping his stomach over.
"Sir," the guard said, raising his voice above the siren. "You all need to go inside to the security room. Now. Come this way, all of you, quick as you can."
The guard beckoned them toward a steel staircase between two sets of pipework that ran vertically through the platform.
Cohen and Lowman reacted first and Farrar followed immediately.
He had taken no more than two steps after them when there was a whooshing sound to his right on the western side of the platform, then a metallic bang, followed by an enormous explosion that threw him instantly onto his back.
Farrar's head hit the metal decking of the gas platform, and he felt a sharp pain in his right shoulder, where he had been struck hard by a fast-moving object.
After becoming vaguely aware of debris and bodies flying past him, accompanied by shouts and screams, he put his left hand to his right shoulder, where his suit and shirt were torn and from which the pain had now become unbearable. He raised his hand to see it was covered in blood.
A few feet to his left, Farrar saw the head of his security detail lying on his front, trying to raise his head, also clearly injured. Just beyond him, the prone figure of the Israeli defense minister lay next to a metal safety railing.
"Are you all right, sir?" the security guard gasped.
Black smoke was now billowing from the side of the gas platform, no more than twenty yards away.
Farrar attempted to raise himself a little on his uninjured left elbow but struggled to do so. He tried to speak in answer to his security chief's question but couldn't. He then tried to shake his head but again found it difficult to make his body do as he wished.
There came another enormous explosion from somewhere ahead of him that threw his raised head backward, and once again, it struck the metal walkway.
Somehow he managed to roll over onto his stomach, from where he raised himself into a crawling position, his damaged right shoulder screaming at him in agony.
Then Farrar blacked out.
Chapter ONE
Monday, April 4, 2016
Jerusalem
The pine trees and the tall, shuttered houses built from large limestone blocks that stood on both sides of Negba Street in central Jerusalem reminded Jayne Robinson of the elegant Roman towns in southern France that she had often visited in her youth.
But as she gazed down the narrow lane from her vantage point beneath an awning on an expansive fourth-floor terrace, the differences between here and Provence were clear. Most notably, here metal bars covering triple-glazed, supposedly bomb-proof glass in most of the windows.
Her host, Avi Shiloah, who sat next to her, crushed the remains of his Camel cigarette in a terracotta ashtray that was full of stubs. Most of them had been smoked right down to the filter. He pushed his black-rimmed sunglasses up onto his slightly receding mat of neatly cropped, wiry, graying black hair.
"Coffee or a glass of wine?" Shiloah asked in his thickly accented English. "I can't drink, as I have to go back to the office. But feel free to have a glass."
"I'll have a coffee," Jayne said. "But tell me, what reds would you recommend? I'd like to buy a couple of bottles."
Shiloah spread his hands wide. "Jezreel Valley and Tabor are excellent. Try the Golan Heights Winery. Their cabernet sauvignon. I think it's called Yarden, if you can find a bottle."
He then picked up a cafetière, filled Jayne's cup with a thick, dark coffee, and pushed the pot across the table toward Jayne's partner, Joe Johnson, who sat on the other side of the table with the fourth person present, the shaven-headed David Zahavi, who was hiding impassively behind his shades.
"You two can serve yourselves," Shiloah said. "Unless you'd like wine, Joe?"
Joe shook his head. "I need some caffeine."
The temperature had climbed into the mid-seventies, and the sun was beating down from a cloudless spring sky. A pair of olive trees in large pots next to the awning provided additional shade.
"Good to see you two have gotten back together," Shiloah growled in a low baritone, glancing first at Joe, then at Jayne. "What took you so long? David and I thought it would happen—eventually. I remember thinking it during that operation in Buenos Aires. I believe it was 1996."
Jayne noticed he was looking her up and down, a faint smile on his face.
"I hadn't been there long," she said. "Joe turned up looking for some Nazi officer. There was nothing going on between us then—Joe was happily married."
She remembered the meeting well. At the time, Jayne had been in the Argentine capital at the start of a four-year posting for MI6. Meanwhile Joe, who had left the CIA and was working for the Office of Special Investigations—a Nazi-hunting unit within the US Department of Justice—had visited briefly on a work trip.
They had both met in Buenos Aires for a drink with Shiloah, who was then still a fairly junior officer with the Mossad, and his colleague Zahavi. It was something of a reunion for the four of them, who had first gotten to know each other in 1988 when they were all working in Islamabad for their respective intelligence agencies.
Jayne had last seen Shiloah just over five years earlier in London, by which stage he had clawed his way up the ladder to become the Mossad's head of operations.
Since then, he had gone even further. While keeping his role as head of operations, he had also been elevated to be one of two deputy directors of the entire service: joint number two to the ramsad. Zahavi was his right-hand man and deputy head of operations. It was a meteoric rise for both of them.
Meanwhile, both Jayne and Johnson were self-employed investigators who had worked together for the past several years. A couple of years earlier, and almost a decade after Joe's wife had died of cancer, they had become more than just work colleagues when they finally rekindled the affair they once briefly enjoyed in Islamabad in the late 1980s.
"I wish I had time to offer you lunch," Shiloah said, glancing at his watch, "but David and I have an Iran strategy group meeting this afternoon. We have just had the all clear from the PM for a couple of operations and the office is busy, partly because we have so many honored guests in town."
They had just been discussing the VIP list for a trip organized by Israel's foreign ministry that was taking place on the flagship Samar offshore gas platform. The US secretary of state, Paul Farrar, was a guest of Moshe Cohen, the Israeli foreign minister. And none other than Jayne's former boss at Britain's MI6, Mark Nicklin-Donovan, had been invited for discussions about the Middle East security situation by the Mossad's director, Eli Elazar, who was Shiloah's boss.
"They'll all be back in the city this afternoon," Shiloah continued. "They've indicated they don't want any briefings from us, but I had better be in the office just in case they change their minds."
"Don't worry about lunch," Jayne said. "You're a busy man."
Shiloah had invited Jayne and Joe to his home in Jerusalem rather than the Mossad offices in Tel Aviv because he and Zahavi had been in the capital for a meeting with the Israeli prime minister, Yitzhak Katz. The PM's official residence, at Beit Aghion, on Smolenskin Street, was less than a mile away. He had carried out the daily intelligence briefing in place of Elazar, who was away on the gas platform.
Shiloah turned to Joe. "I will be raising a glass tonight to my father—he would have been ninety today. I will drink a toast to your mother as well. They were both heroes."
He and Joe had formed a bond in Islamabad after they had discovered that Shiloah's father and Joe's mother, a Polish Jew, had been incarcerated by Hitler's Nazis in the same concentration camp at Gross-Rosen during the Second World War. Both had somehow survived despite illness, severe malnutrition, and torture, and both had ended up living to a good age.
"I will do the same," Joe said.
"They somehow got through the first Holocaust, unlike many," Shiloah said. "It is our job to make sure there is not a second. On the surface, relations with Iran may seem to be a little better than they were. But underneath? Not so much. It's our main focus, make no mistake."
"I'm speaking about the Holocaust tonight," Joe said. He was due to give a lecture at the American embassy to an audience comprising academic researchers, which was the reason he and Jayne had come to Israel. The plan was to take a few days after the lecture to explore Jerusalem and then head north to the region around the Sea of Galilee.
"Perhaps the Iranians are finally accepting that blowing your country off the face of the earth with nukes might not be very productive," Joe continued.
Shiloah shook his head. "I doubt it. You can tell your audience not to sleep too comfortably in their beds. It will always be their goal to destroy us, no matter what deals they sign. My gut tells me they are still refining weapons-grade uranium at some hidden sites. Maybe it's going slower, but it's still happening. It's my job to find them."
There was a downbeat, weary note to his final sentence that caused Jayne to look across at him.
"I'm surprised you sleep comfortably in your bed," Jayne said.
Shiloah gave a thin smile. "Sleep is not something I have a problem with. It's a temporary escape from reality—from the threat of nuclear obliteration."
A tough reality, Jayne thought to herself. Israel was indeed a small country under serious threat from all sides.
Shiloah paused. "Anyway, I have peace of mind from knowing that we have right on our side."
Jayne decided that now was not the time to have a debate about the rights of Palestinians whose territories Israel had occupied in 1967 and had not relinquished.
"Aren't the nuclear inspectors getting better access now?" Jayne asked. The International Atomic Energy Agency, based in Vienna, had been allowed to regularly monitor all Iran's nuclear facilities under the deal signed in December.
"In theory, yes. But they are nuclear experts, not intelligence officers. We, in our circles, hear a different story. However, proving it is difficult. We need to keep at it—we can't rely on the IAEA inspectors."
Jayne sipped her coffee and looked over the red tiled rooftops, many of them with elevated balconies and decks like Shiloah's, invariably decorated with vines, creepers, and potted trees to provide shade. It seemed so idyllic and peaceful that she had to remind herself that Jerusalem's troubled Old City lay only a mile and a half away. Although beautiful and historic, a UNESCO World Heritage Site, it also remained the focus of intense religious, political, and military conflict between Israel and its neighbors.
Shiloah drained his coffee and picked up his cigarette lighter and pack of Camels from the table, then stood and put on a black leather jacket. "David, ready?"
His phone pinged loudly as a message arrived, and he removed it from his pocket to study the screen.
"Shit," Shiloah hissed. His genial expression had vanished.
He froze, staring at his phone, then burst into rapid Hebrew that was too fast for Jayne to understand. Zahavi replied, also in Hebrew, at a similar machine gun pace.
It was obvious that something serious had happened.
"What?" Jayne asked.
"The gas platform," Shiloah replied, switching back to English, his head shaking slowly. "Drone attack. They've blown the thing up. With all of them on it."
Jayne felt her stomach turn over. "Bloody hell. Who?"
"Most likely Hezbollah," Zahavi said. "How the hell did they get a drone through? There were extra air and sea patrols out there today. Anti-missile systems were all fully operational. It's a hell of a long flight there from the Lebanon border and even farther from Iran."
"Casualties?" Joe asked.
"Sounds like a lot, yes." Shiloah tipped his head back and closed his eyes momentarily. "My office is trying to get details."
Shiloah's phone pinged again, twice in succession. Zahavi was tapping on his phone, which had also pinged a couple of times.
Zahavi tapped at the screen. There was a pause as he frantically scrolled down the messages he had just received, shaking his head.
"Holy shit. Moshe Cohen's dead. So is Eli. My God."
Jayne felt a jolt run right up her spine and her scalp tighten.
Mark?
It was as if Shiloah had read her mind. He glanced up at Jayne. "Your guy, Mark. He's badly injured. So is Paul Farrar. They're helicoptering them to Tel Aviv."
Shiloah tapped rapidly on his screen, dialing a number, then placed the device to his ear as he strode rapidly across the terrace toward the stairs, Zahavi a couple of paces behind him.
"Get me the prime minister's office," he snapped when the call was answered.
***
Monday, April 4, 2016
El Arish, Sinai Peninsula, Egypt
The Toyota truck left a trail of dust flying high into the air as it rounded a group of trees and bounced down the steep hillside track toward a group of flat-roofed concrete warehouses at the rear of an industrial unit. From the back of the truck, which was covered by a taut waterproof canvas, came the persistent sound of metal poles rattling and clanging.
The bearded driver, Emad Madani, rubbed his hand across the top of his shaven head. He could hear cursing from the three men sitting in the back as they tried in vain to stop the poles from making such a noise.
Eventually, he reached the bottom of the hill and accelerated toward the farthest building. On arrival, he clicked a remote-control button in his cab that opened a heavy steel shutter door. Once the door had clanked open, he steered the truck inside, pulled up the handbrake, and turned off the engine.
"You can come out now," Emad called as he pressed the button on the remote control again, causing the shutter door to begin sliding down. He jumped out of the cab onto the cement floor of the warehouse, landing athletically on the balls of his feet. Once the door had closed again, he fastened two large padlocks to its base, one on each side, just to be sure.
The men in the back unzipped the cover and jumped to the ground.
"Get that launcher kit out and let's get it back in the cache," Emad said. He was slightly concerned that although the Egyptian security forces based in the area were chaotically organized and generally ineffective, they were unfortunately improving. It was possible they might turn up and carry out a random search of the buildings if he was extremely unlucky. They were highly unlikely to find his cache, though.
The three men began to carry what looked at first glance like a bunch of scaffolding poles from the back of the truck. They placed them at the rear of the building next to a rectangular metal drain cover that hid a concealed underground dugout.
They weren't scaffolding poles but rather the components of a launcher frame for Ababil drones, one of which he and his men had dispatched from the northern Sinai coast in the direction of the Samar gas platform an hour or so earlier.
They had launched it from a deserted piece of ground just west of the coastal city of El Arish. It had then flown ninety kilometers across the southeastern corner of the Mediterranean to the Samar gas platform, offshore from the Israeli coast.
Easy to assemble and take apart, the frame was about three meters long, similar to the drone itself. Emad had propelled it into the air using a simple single-use booster rocket that fell to earth once its fuel was used up. Once the drone was airborne, its own piston engine and twin-bladed rear propeller had taken it onward at about 270 kilometers an hour to its target, guided flawlessly by a GPS system.
Half an hour earlier, Emad had received a one-word text message from a burner cell phone inside Israel that confirmed the drone had successfully completed its journey.
Online news reports that Emad read on his cell phone told him the same. The explosion appeared to have caused huge damage and multiple casualties, although no more details were available yet.
The only disappointment was that the impact had apparently not caused the entire platform to explode as he had hoped. It must somehow have failed to fracture the gas supply pipelines that ran through it.
Never mind—the operation had largely succeeded. His fear had been that Israeli radar and missile detection systems would have spotted the drone and shot it down. That hadn't happened. With any luck, the Israeli foreign minister and the US secretary of state, who were both visiting the platform, would not have survived. That should soon become clear.
The payment that would now arrive in his bank account was the equivalent of several years' salary for most of his countrymen.
The operation had been made easier to execute by the state of chaos that existed on the Sinai Peninsula. After the Egyptian coup of 2011, in which President Hosni Mubarak had been overthrown, security on the peninsula had been appalling for some considerable time. The intelligence services had been driven out, and the Egyptian military units stationed there were often unenthusiastic. As a result, Islamic militants, including al-Qaeda and Hamas terrorists, who entered Sinai via tunnels from the Gaza Strip, had used the territory as a base from which to launch attacks on neighboring Israel, particularly the Red Sea holiday resorts around Eilat.
Although in recent times there had been a lot more cooperation between Israeli intelligence and security forces and their Egyptian counterparts, there remained little serious threat to Emad and his men. They were not militants like the others but rather professional assassins, paid by the job rather than driven by ideology or politics. They had added an expertise with drones to their list of options for potential employers in the past couple of years—and they were very careful not to be compromised. Security was tight.
As soon as they had finished here, the four of them would travel back to Cairo, their main base. If they needed to leave the country, it would be done using scheduled airline flights and fake Egyptian passports.
They would likely be back for another operation within weeks, Emad guessed. He had three more drones hidden in a larger underground cellar in the neighboring building. It was a perfect base for strikes at Israel, and they had the option of moving into the Gaza Strip to carry them out, as the border and the tunnels into Gaza were less than forty-five kilometers away.
He took out his burner phone and tapped in a single short message in English: Job completed. Leaving soon.
Then he dispatched the message, removed the SIM card and battery from the phone, and put them in his backpack. It was time to leave as quickly as possible.
Chapter TWO
Monday, April 4, 2016
Tel Aviv
Six hours after she and Joe had left Avi Shiloah's house, the full extent of the disaster caused by the attack on the Samar offshore gas platform had become clear to Jayne.
When the news initially hit, Shiloah and Zahavi had driven off at speed, headed back to Mossad headquarters. Meanwhile Jayne and Joe had taken a cab from Jerusalem to their hotel, the Sheraton in Tel Aviv, where they had a seventh-floor room overlooking the beach across the street.
Looking out to sea to the west, Jayne could make out a long plume of black smoke on the horizon where the gas platform continued to burn.
She watched as a stream of military helicopters clattered overhead to and from the stricken facility. A gaggle of television news crews, presenters, and cameramen had congregated along the beach and were using the distant trail of smoke as a backdrop for their reports.
Police and security patrols now seemed to be on every street corner.
Israel was once again back to its default state of red alert.
Joe's lecture at the US embassy, a seven-minute walk farther south along the seafront, had been predictably cancelled. Staff there had gone into meltdown following the injuries to Paul Farrar.
At the British embassy in Hayarkon Street, also on Tel Aviv's seafront and a short walk north of the Sheraton, it was a similar story. Jayne tried several times to call the MI6 station there to get an update on Nicklin-Donovan's condition, but without success.
She and Nicklin-Donovan went back a long way. She had first worked closely with him in the early 2000s when they were both based in the Balkans for MI6. Their task was to collect information to prosecute war criminals across the former Yugoslavia. It had come to an end when both of their covers had been blown by a leak to local media in 2004.
Jayne and Nicklin-Donovan had exchanged a couple of messages over recent days after they both realized they would be in Israel at the same time, but her former boss's schedule was too busy for him to find time to meet up.
Both Jayne and Joe felt reluctant to call Shiloah or Zahavi at the Mossad, knowing the likely chaotic scenario there, given that the spy agency's director, Eli Elazar, was dead. They were therefore left temporarily reliant on news reports.
After the Israeli Air Force had managed to land a helicopter on the platform's helipad, which had suffered only minor damage, it had emerged that there were at least twenty-seven dead and around thirty people injured.
TV news reports stated that Secretary of State Farrar had been seriously injured after being hit by a piece of flying metal and was in critical condition in a Tel Aviv hospital.
Moshe Cohen had been thrown against a steel railing and died minutes after emergency crews reached him.
There was no specific news about Elazar and nothing about Nicklin-Donovan, although Jayne had not expected there to be, given the secretive nature of their roles.
The gas company chief executive, Alexander Lowman, had also survived and was also in the hospital. The dead included some of the guests and three journalists.
According to the TV reports, the death toll would have been much higher had the drone, laden with explosives, directly struck any of the pipes or vessels that contained gas. Rather, it had hit the living quarters, which accommodated up to fifty workers but were largely empty because most employees were out on the decks taking part in the ceremony.
Miraculously, the impact and explosion had not ignited any of the gas that was flowing through the platform via pipelines from five subsea wells located about ninety miles farther north, offshore from the Port of Haifa. The gas flows had also shut down automatically after the incident, which had helped reduce the likelihood of any further explosions. Otherwise, it was almost certain that the platform would have been completely destroyed.
All in all, it was one of the worst massacres suffered by Israel since the country was founded in 1948 following the separation of Palestine into Arab and Jewish territories. The most comparable previous incident was the Passover massacre of 2002, in which Hamas killed 30 and injured 140.
"Do you think it was Hezbollah, as David suggested?" Jayne asked, as she sat on the sofa in their hotel room. There had been speculation from commentators on TV, but no organization had claimed responsibility.
"Most likely," Joe said. "Got to be the Iranians or their proxies."
"I do recall Hezbollah previously claimed that those gas fields belong to Lebanon," Jayne said. She ran a hand through her short dark hair. "They've threatened several times to attack them. But Hezbollah is usually quick to claim responsibility if they've done something like this."
She got to her feet again and strode to the window. The sun had descended rapidly toward the western horizon, casting a broad strip of gold over the sea. A few people were still lying on the beach, ignoring the TV crews behind them.
"Hezbollah will likely get the blame whether they've done it or not," Joe said. "The Israelis will say it's them—with the Iranians pulling the strings. You heard what Avi said."
"They're already going ballistic," Jayne said. She turned and indicated toward the TV, where the Israeli defense minister was being interviewed outside his high-rise ministry headquarters building in Tel Aviv. He was gesticulating vigorously. "I wouldn't be surprised if they end up bombing the shit out of Hezbollah areas of Lebanon, maybe even Iran."
"They'll need to be careful," Joe said. "The Iranians are likely still developing nuclear weapons, despite that deal. I wouldn't like to be in Avi's shoes. The Mossad's going to get the blame for not knowing this was coming."
Jayne leaned back against the window ledge, arms folded. "Langley's also going to be in the firing line. They gave this trip the green light. Vic is going to be tearing his hair out—the White House and State Department will be on the warpath. They'll want to blame someone."
"I told Vic we were here. I'd like to call and ask how he's doing," Joe said. "But I'd never get through. He and Veltman are going to be crazy busy."
Vic Walter was director of the Central Intelligence Agency's National Clandestine Service, generally known as the Directorate of Operations. He was also number two in the organization, based in Langley, Virginia, just outside Washington, DC, and was a firm ally of the overall CIA director, Arthur Veltman. Vic was one of Joe's longest-standing friends, having been based with him in the same Islamabad CIA station in the late 1980s.
Like Jayne for the SIS and Shiloah for the Mossad, Vic and Joe had at that time been focused on arming the Afghan mujahideen in their battles with the occupying Soviets. Their shared experiences had created a lifelong bond.
Over the past few years, Vic had increasingly used Joe and Jayne on an informal, deniable basis to carry out various investigations and operations on behalf of the Agency. He trusted them like few others.
Jayne sat next to Joe on the sofa and took out her phone. "I don't want to call Avi, but I'll message him and ask if there is news of Paul Farrar and Mark."
"Securely?" Joe asked, glancing sideways at her.
"Of course. We have each other's keys."
Joe raised an eyebrow. "Since when?"
"Since about five years ago. He was visiting London when I was still at MI6."
She tapped out a short message, which she sent using the secure link she still had for Shiloah.
A few minutes later a reply came back.
Farrar and Mark N-D both in ICU at Sourasky Medical Center. Don't know much more yet. Need to talk to you both. 22:30. My house in Jerusalem. Get a cab. You can both stay overnight.
Jayne read out the message. "I'd like to go visit Mark."
Joe nodded. "Let's ask Avi tonight. Security will be tight at the hospital. We can't just turn up."
Sourasky Medical Center was Tel Aviv's main hospital, located a mile and a half east of the Sheraton. Jayne had earlier seen rescue helicopters from the gas platform flying to and from the landing pad on its roof.
Jayne replied to Shiloah to confirm the arrangement.
As she hit the send button, the anchor on the i24 News channel they were watching interrupted an interview to say the Israeli government had announced that fragments of the drone that struck the gas platform had been recovered and would be analyzed overnight. It was hoped they would show the source of the attack.
Jayne grimaced. "If it's Iran, we could be sitting in the middle of a war zone by this time tomorrow."
"Probably right," Joe said. He placed his hand on Jayne's thigh and squeezed gently.
She draped her left arm around Joe's shoulder and lightly stroked his neck with her forefinger. "We've got an hour before dinner, and two hours before we need to get a cab," she said, lowering her voice to a murmur. "Better to make love, not war, don't you agree?"
Joe grinned and slid his hand slowly farther up her thigh. "I've heard worse ideas."
"I do need some exercise. So it's either bed or I go for a run. You choose."
Joe leaned over and began to kiss her.
***
Monday, April 4, 2016
Jerusalem
"The good news is, I've arranged for you both to go see Mark at the hospital tomorrow morning," Shiloah said, clasping a tumbler of whisky between his plate-size hands. "But I have to warn you, like Paul Farrar, he's not conscious, and not in a good way."
He sat on the edge of his armchair, still wearing his trademark black leather jacket over his open-necked blue work shirt. Jayne, who had opted for shiraz rather than Scotch, took a sip from her glass and glanced around Shiloah's wood-paneled lounge. A floor lamp cast half of the Israeli spy chief's face in a dark shadow.
"Thank you," Jayne said. "What's the outlook for him and Farrar?"
Shiloah shook his head. "The doctors are planning surgery for each of them. You can ask the details when you get there. The ICU is heavily guarded, so my secretary will email you the visitors security clearances."
On the sofa beside her, Joe leaned forward. "What did the PM say?" he asked. Shiloah had come directly from a meeting at the prime minister's residence.
"He wants to put us on a war footing. He's fuming. He wants to hit Tehran."
"You don't have any proof that the Iranians did this," Joe said.
Shiloah reached for his black briefcase, from which he withdrew a slim folder. He removed four A4-size photographs and spread them on the coffee table between him and the sofa where Jayne and Joe were sitting.
"I shouldn't be showing these to you," Shiloah said. "They came from the gas platform this afternoon."
Jayne peered at the photos. They showed what appeared to be the broken fragments of a missile, including a gray-painted nose cone and tail unit. However, the shape of the tail fragments told her this wasn't just a missile.
"Drone casings?" Jayne asked.
"Correct. It's from an Ababil-3 drone. That's Iranian. Probably had a forty- or fifty-kilogram warhead, conventional explosives."
"Any markings on the casing to identify it?" Joe asked.
"They don't leave signatures. But computer modeling has given us the shape. It's fairly unique. A twin-tail variant. It's a basic drone—cheap but effective."
"So that's what's convinced the PM the Iranians carried out the attack?" Jayne said.
"Yes."
She thought about that for a moment. "It may be an Iranian drone, but that doesn't mean they fired it."
"True," Shiloah said. "But on balance of probability, it was them."
Jayne pursed her lips. "And when you say he wants to hit Tehran, what with?"
"Rockets. And he also wants to launch strikes at Hezbollah bases in Lebanon."
This was serious. Jayne knew that apart from a few minor skirmishes, the last serious conflict between Israel and Hezbollah had been in 2006. She had been involved in endless meetings about it at MI6. About 1,200 Lebanese and 160 Israelis had died in the fighting.
"What was your advice to him?" she asked.
Shiloah gave a short, sardonic laugh. "Not to do it. We should let the dust settle and wait until we're sure it's them. And make sure any revenge is carried out when and where they are least expecting it. I can't get this wrong. I'd get the blame now."
"You'd get the blame?" Jayne asked.
"Yes. He's just appointed me acting ramsad."
"You're the new boss?" Joe asked.
"Acting boss," Shiloah said. "Only until he can decide on what to do."
Jayne nodded. "Well, congratulations."
"It's hardly the situation to celebrate. I was close to Eli for a long time. It hurts like hell."
"I'm sure it does," Jayne said. "But I think your advice to the PM was correct. As you say, revenge is a dish best served cold."
"The PM thinks differently. He's calling a meeting of the Security Cabinet for tomorrow morning to discuss next steps. He wants me to attend."
This information was dynamite. The State Security Cabinet was a small group of senior ministers within the wider cabinet that determined and implemented Israel's foreign and defense policy. They called in other relevant officials as required.
One thing was certain: the Israeli PM's stance wouldn't go down well with US president Stephen Ferguson, despite the injuries sustained by his secretary of state, nor with the British prime minister, Daniel Parker, and his cabinet in London.
"But you've said it yourself: Iran could be near to having nuclear weapons, despite that agreement," Jayne said. "You know they've probably continued development work, somewhere deep underground, hidden underneath an aircraft hangar or an industrial factory, or in tunnels beneath a mountain. Attacking them could lead to real trouble."
Although Iran had signed the international Nuclear Non-Proliferation Treaty in 1970, barring it from developing nuclear weapons, it hadn't stopped work. Almost ever since, it had a long track record of deception and underhandedness about the extent to which enrichment of uranium to levels above 90 percent had been carried out, which would enable it to develop nuclear warheads.
Nor had Iran been honest about the number and quality of centrifuges it possessed—the key piece of equipment necessary to facilitate enrichment—and the technology it had to develop more.
It seemed unlikely the new deal would guarantee a change in behavior.
Shiloah spread his hands wide. "I've told him they could retaliate hard."
"That could end up wiping your country off the face of the earth. Even if it didn't, it would cause political and economic chaos. Oil prices would rocket. They're already up sharply."
It was true. TV news had reported that oil prices had risen from $48 a barrel to $60 after the attack.
"Yes," Shiloah said. "But remember, our late foreign minister was one of the PM's longest-standing friends. The gas platform is now out of action, and it supplies a large chunk of Israel's energy. He's not going to let this lie."
Jayne refrained from rolling her eyes in dismay. "There is, of course, the question of how the Iranians knew your foreign minister and the secretary of state would be on the platform."
"A good question," Shiloah said. "It was kept extremely tight. Nobody knew, apart from a compartmented group in the CIA and the Mossad. Not even the gas platform engineering team knew until the chopper landed. The journalists thought they'd been invited to a briefing onshore."
"Do you have a mole?"
"If we do, we'll find out who it is," Shiloah said, his tone grim.
Jayne paused, feeling slightly hesitant to be poking her nose into Mossad business, but then decided she needed to at least offer assistance. After all, she had known Shiloah for a long time.
"Can we be of help?" she offered.
Shiloah stroked his chin with his left hand. "Possibly. There is something I wanted to discuss with you. The physical evidence, the type of drone, the target, the timing—all points to Hezbollah operating on behalf of the Iranians."
"But?"
Shiloah finally leaned back in his chair, his right elbow propped on the armrest, his whisky held in midair. "But there is the issue of where this drone originated. It didn't come from the east or the north, which is why our radar batteries, our Iron Dome, our missile detection systems, our air force and naval patrols, didn't pick it up until too late in its flight. It wasn't coming from Lebanon or from Iran itself. No. It came across the sea from the southwest at low altitude."
"From a ship?"
"We think from Egypt, the Sinai Peninsula."
Jayne let out a short whistle. "Could the Iranians have run a covert operation from the Sinai?"
"Our sources say that's a possibility, yes," Shiloah said. "As you know, Hezbollah can strike at us from anywhere. There have been rumors of a planned hit from the sea for some time, for example. Remember that Egypt has been in shambles ever since Mubarak was overthrown five years ago. Their security is poor, but Sinai is particularly bad, despite our efforts to help the Egyptians. All kinds of militants operate there, including Hezbollah."
"So if Hezbollah wanted to lay a smoke screen and create doubt about who did it for whatever reason, launching a drone from there would be a smart move," Joe said.
"It's possible. That is what we need to check out," Shiloah said. "I don't have long. The PM is not a patient man. And for us, poking our nose into Iran to do some checking would be difficult right now." He glanced at Joe. "For you Americans too, it is difficult, given the enmity between your countries."
Joe nodded. "I'm sure you know already that Vic finds it very difficult to get accurate information out of Iran."
That's for sure, Jayne thought.
It was the tough sanctions regimen, driven by Washington, that had caused considerable isolation and deprivation among the Iranian population, had triggered protests and unrest, and had pushed Iran's Supreme Leader, Ali Hashemi, into signing the nuclear deal. There was no diplomatic relationship between Iran and either Israel or the US.
"How is Vic?" asked Shiloah. "I saw him last year, but we haven't spoken much since."
Vic Walter and Shiloah, counterparts at the top of their respective intelligence services, also knew each other from 1980s Islamabad. They had gotten along well, although Jayne knew their respective countries' differences on many international issues challenged their relationship—as did their surveillance of each other's operatives.
"I told him we planned to see you," Joe said. "He sends his regards. Today's events won't help his peace of mind."
"We have that in common, Vic and I," Shiloah said.
The Mossad chief turned and fixed his gaze on Jayne. "However, what I wanted to move on to was the fact that relations between Iran and the British are a little better. You are soon to reopen your embassy in Tehran, and they to reopen theirs in London. And you speak Persian, as I recall?"
Jayne immediately shook her head. She did speak Persian, or Farsi as it was often known, which was Iran's most common language, but she could now see where Shiloah was trying to take this conversation. It took her by surprise.
"Let me stop you there, Avi," she said. "I'd like to help you here informally if I can, but I do mean here. I'm not getting involved in an operation inside Iran—it's too dangerous right now. In any case, I'm already doing work for Vic and for MI6. It would be tricky to serve three masters."
Shiloah's face remained expressionless. "I hear what you're saying." He took a sip of his whisky. "That's a pity because I could use some help, Jayne. At least think about it."
***
We hope you are enjoying the book so far. To continue reading...
The Dark Shah
Andrew Turpin
Copyright © 2023 All Rights Reserved