Book info
Sample
Audiobook
Media
Author updates
Lists
Synopsis
A Most Anticipated Novel by PopSugar * Crime Reads * Goodreads *

A true crime blogger gets more than she bargained for while interviewing the woman acquitted of two cold case slayings in this chilling new novel from the New York Times bestselling author of The Sun Down Motel.

In 1977, Claire Lake, Oregon, was shaken by the Lady Killer Murders: Two men, seemingly randomly, were murdered with the same gun, with strange notes left behind. Beth Greer was the perfect suspect—a rich, eccentric twenty-three-year-old woman, seen fleeing one of the crimes. But she was acquitted, and she retreated to the isolation of her mansion.
 
Oregon, 2017. Shea Collins is a receptionist, but by night, she runs a true crime website, the Book of Cold Cases—a passion fueled by the attempted abduction she escaped as a child. When she meets Beth by chance, Shea asks her for an interview. To Shea's surprise, Beth says yes.
 
They meet regularly at Beth's mansion, though Shea is never comfortable there. Items move when she's not looking, and she could swear she's seen a girl outside the window. The allure of learning the truth about the case from the smart, charming Beth is too much to resist, but even as they grow closer, Shea senses something isn't right. Is she making friends with a manipulative murderer, or are there other dangers lurking in the darkness of the Greer house?
Release date: March 15, 2022
Publisher: Berkley
Print pages: 352
* BingeBooks earns revenue from qualifying purchases as an Amazon Associate as well as from other retail partners.
Listen to a sample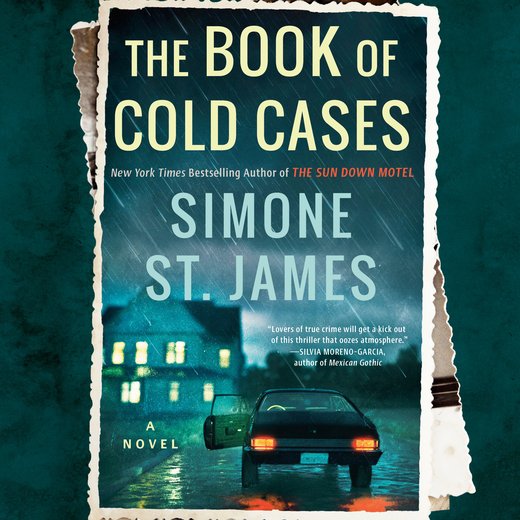 10:44:42
295.14 MB
9780593553695
March 15, 2022
Penguin Random House
The Book of Cold Cases
Simone St. James
CHAPTER ONE
Claire Lake, Oregon
The Greer mansion sat high on a hill, overlooking the town and the ocean. To get to it from downtown, you had to leave the pretty shops and the creaking seaside piers and drive a road that wound upward, toward the cliffs. You passed the heart of Claire Lake, the part of town where the locals lived and the tourists didn't usually go. You passed a grid of shops and low apartment blocks, local diners and hair salons. On the outskirts of town, you passed newer developments, built between the foot of the cliffs and the flat land on the edge of the inland lake that gave the town its name.
The land was too wet and rocky to keep building, so the newer developments tapered off into woods and two-lane roads. Along the west edge of the lake were homes built in the seventies, squat shapes in brown brick and cream siding, the gardens neatly kept for over forty years by people who had never moved away. Past those houses, around the other edges of the lake, there was nothing but back roads, used only by hikers, hunters, fishermen, and teenage kids looking for trouble. In the seventies, the houses along the lake were for the up-and-coming ones, the people with good jobs. Everyone else lived in town. And if you were rich, you lived on the hill.
The road climbed on the north side of the lake. The houses were set far apart here for privacy, and the roads were kept narrow and uneven, as if trying to keep outsiders away. The wealthy had come to Claire Lake in the twenties, when the town was first created, looking for a place that was scenic, secluded, and cheap to build big houses. They brought their money from Portland and California and settled in. Some of the houses sat empty after the stock market crash, but they filled up again during the boom after World War II. The people who lived here called the neighborhood Arlen Heights.
The Greer mansion was one of the original houses in Arlen Heights. It was an ugly Frankenstein of a house even when it was built—a pseudo-Victorian style of slanted roofs and spires, though the walls were of butter yellow brick. And when Julian Greer bought it in 1950 with his newly inherited pharmaceutical fortune, he made it worse. He remodeled the lower floor to be more modern, with straight lines and dark brown wood. He also put in a bank of windows along the back wall to open up the house's dark, gloomy interior. The windows looked out to the house's back lawn and its drop-off to the ocean beyond.
The effect was supposed to be sweeping, breathtaking, but like most of Julian's life, it didn't work out as planned. The windows fogged, and the view was bleak. The lawn was flat and dead, and the ocean beyond the cliff was choppy and cold. Julian had done the renovations in hopes of pleasing his new wife, Mariana, but instead the relentless view from the windows unsettled her, and she kept the curtains closed. She decorated the rest of the house dutifully but listlessly, which was a harbinger of their marriage. Something about the Greer mansion stifled laughter and killed happiness. It might sound dramatic, but anyone who had lived there knew it was true.
By 1975, both Julian and Mariana were dead, Julian with his blood all over the kitchen floor, Mariana in the twisted wreck of a car crash. The house watched all of it happen, indifferent.
Tonight it was raining, a cold, hard downpour that came in from the ocean. Arlen Heights was quiet, and the Greer mansion was dark. The rain spattered hard on the panes of glass, tracing lines down the large windows overlooking the lawn. The dark skeletons of the trees on either side of the house bowed back and forth in the wind, the branches scraping the roof. Drops pocked the empty driveway. The house was still and silent, stoic under the wind and the water.
On the lawn, something moved across the surface of the grass. The touch of a footprint. Inside the house, one of the cupboard doors opened in the dark kitchen, groaning softly into the silence.
In a bedroom window a shape appeared, shadowy and indistinct. The blur, perhaps, of a face. A handprint touched the bedroom window, the palm pressing into the glass. For a second, it was there, pale and white, though there was no one to see.
The wind groaned in the eaves. The handprint faded. The figure moved back into the darkness. And the house was still once more.
CHAPTER TWO
September 2017
SHEA
The day before I met Beth Greer was a Tuesday, with a gray sky overhead and a thin drizzle that wet my face and beaded in my hair as I waited at the bus stop. It was unseasonably warm, and the concrete gave off that rainy scent it sometimes has, rising up from beneath my ballet flats. There was a man standing next to me, wearing an overcoat and scrolling through his phone with an exhausted look on his face. On my other side was a worried-looking woman who was frantically texting. I closed my eyes, inhaling the scent of the rain laced with a thread of cologne from the man next to me, overlaid with gasoline and diesel fumes from the street. This was my life.
It wasn't a bad one. I was twenty-nine and divorced. I lived in a small complex of low-rise condos on a tangle of curved streets with the aspirational name of Saddle Estates. In my mind I called it Singles Estates, because it was almost exclusively populated with romantic failures like me, people who needed somewhere to live when they sold off their married house and took their half of the money. The man in the overcoat was divorced, guaranteed, and I'd bet money the woman was texting a kid who was in school while spending a court-designated week with his father.
My divorce was still new. I had no kids. My place was small, smelled of paint, and only contained the bare necessities of furniture. But it wasn't the worst life I could have. I'd known since I was nine that I was lucky to have any life at all.
On the bus, I pulled out my phone, put my earbuds in my ears, and played the audiobook I was in the middle of listening to. A thriller: a woman in danger, most of the characters possibly lying, everything not quite as it seemed. A twist somewhere near the end that would either shock me or wouldn't. There were dozens of books just like it, hundreds maybe, and they were the soundtrack of my life. The woman's voice in my earbuds told me about death, murder, deep family secrets, people who shouldn't be trusted, lies that cost lives. But a novel always ends, the lies come to the surface, and the deaths are explained. Maybe one of the bad characters gets away with something—that's fashionable right now—but you are still left with a sense that things are balanced, that dark things come to light, and that the bad person will, at least, most likely be miserable.
It was dark comfort, but it was still comfort. I knew my own tally by heart: My would-be killer had been in prison for nineteen years, seven months, and twenty-six days. His parole hearing was in six months.
Work was a doctor's office in downtown Claire Lake. I was a receptionist, taking calls, filing charts, making appointments. As I came through the door, I pulled the earbuds from my ears and gave my coworkers a smile, shaking off all of the darkness and death.
"Busy day," Karen, the other receptionist, said, glancing at me, then away again. "We open in twenty."
We weren't bosom friends, my coworkers and I, even though I had worked here for five years. The other women here were married with kids, which meant we had nothing much in common since my divorce. I hadn't talked to any of them about the divorce, except to say it had happened. And I couldn't add to the conversations about daycares and swimming programs. The doctors didn't socialize with any of us—they came and went, expecting the mechanism of the office to work without much of their input.
I took off my jacket and put on my navy blue scrub top, shoving my phone and purse under the desk. I could probably make friends here if I tried. I was attractive enough, with long dark hair that I kept tied back, an oval face, and dark eyes. At the same time, I didn't have the kind of good looks that threaten other women. I was standoffish—I knew that. It was an inescapable part of my personality, a tendency I couldn't turn off no matter how much therapy I did. I didn't like people too close, and I was terrible at small talk. My therapists called it a defense mechanism; I only knew it was me, like my height or the shape of my chin.
But my lack of gregariousness wasn't the only reason my coworkers gave me a wide berth. Though they didn't say anything to me, a rumor had gotten out in my first week; they all knew who I was, what I had escaped. And they all knew what I did in the evenings, the side project that consumed all of my off-hours. My obsession, really.
They probably all thought it wasn't healthy.
But I've always believed that murder is the healthiest obsession of all.
---
"Don't tell me," my sister, Esther, said on the phone. "You're hibernating again."
"I'm fine," I said. It was after work, and I was at my local grocery store, the Safeway in the plaza within walking distance to Singles Estates. I put cereal in my cart as I shoulder-pinned the phone to my ear. "I'm grabbing some groceries and going home."
"I told you to come over for dinner. Will and I want to see you."
"It's raining."
"This is Claire Lake. It's always raining."
I looked at a carton of almond milk, wondering what it tasted like. "I know you worry about me, but I'm fine. I just have work to do."
"You already have a job. The website isn't paid work."
"It pays enough."
My big sister sighed, and the sound gave me a twinge of sadness. I really did want to see her, along with her husband, Will, a lawyer who I liked quite a lot. Esther was one of the only people who really mattered to me, and even though she gave me grief, I knew she tried hard to understand me. She'd had her own guilt and trauma over what had happened to me. She had her own reasons to be paranoid—to hibernate, as she put it. The difference was, Esther didn't hibernate. She had a husband and a house and a good job, a career.
"Just tell me you're trying," Esther said. "Trying to get out, trying to do something, trying to meet new people."
"Sure," I said. "Today I met a man who has a hernia and a woman who would only say she has a 'uterus problem.' " I put the almond milk down. "I'm not sure what a 'uterus problem' is, and I don't think I'm curious."
"If you wanted to know, you could look in her file and find out."
"I never look in patients' files," I told her. "You know that. I answer phones and deal with appointment times, not diagnoses. Looking in a patient file could get me fired."
"You make no sense, Shea. You won't look at patients' medical files, but you'll talk about murders and dead bodies on the internet."
I paused, unpinning my phone from my shoulder. "Okay, that's actually a good point. I get that. But does it mean that in order to be consistent, I should be more nosy or less?"
"It means you live too much inside your own head, overthinking everything," Esther said. "It means you need to meet people who aren't patients, real people who aren't murder victims on a page. Make friends. Find a man to date."
"Not yet for the dating thing," I told her. "Maybe soon."
"The divorce was a year ago."
"Eleven months." I dodged a woman coming the opposite way up my aisle, then moved around a couple pondering the cracker selection. "I'm not opposed to finding someone. It's dating itself that freaks me out. I mean, you meet a stranger, and that's it? He could be anyone, hiding anything."
"Shea."
"Do you know how many serial killers dated lonely women in their everyday lives? Some divorcée who just wants companionship from a nice man? She thinks she's won the dating lottery, and meanwhile he's out there on a Sunday afternoon, dumping bodies. And now we're supposed to use internet apps, where someone's picture might not even be real. People are lying about their faces."
"Okay, okay. No dating apps. No dating at all yet. I get it. But make some friends, Shea. Join a book club or a bowling league or something."
My cart was full. I paused by the plate glass windows at the front of the store, letting my gaze travel over the parking lot. "I'll think about it."
"That means no," Esther said.
"It means I'll think about it." The parking lot looked like any normal parking lot during after-work hours, with cars pulling in and out. I watched for a moment, letting my eyes scan the cars and the people. An old habit. I couldn't have told you what I was looking for, only that I'd know it when I saw it. "Thanks, sis. I'll talk to you later."
I bought my groceries and put them in the cloth bags I'd brought with me. I slung the bags over my shoulders and started the walk home in the rain, my coat hood pulled up over my head, my feet trying to avoid the puddles. The walk toward Singles Estates took me down a busy road, with cars rushing by me, splashing water and giving me a face full of fumes. Not the most pleasant walk in the world, but I put my earbuds in and put one foot in front of the other. Esther had long ago given up on telling me to get a car. It would never happen.
Besides, I got home before nightfall, so I didn't have to walk alone in the dark. I called that a win.
CHAPTER THREE
September 2017
SHEA
At home in my little condo, I changed into dry clothes, made myself a tuna salad sandwich, and powered up my laptop.
Despite the stress, the gnawing uncertainty, the expense, and—yes—the heartbreak, this was the upside of getting divorced: I had the freedom to sit in my underfurnished living room in pajama pants and a T-shirt, eating mayonnaise-drenched tuna and working uninterrupted for the rest of my evening. The project I was working on, the obsession of my off-hours, was my website, the Book of Cold Cases.
It wasn't an actual book. It was a collection of posts and articles written by me about unsolved crimes, the famous and the not so famous. The site included a private message board where people as obsessed as I was could post their theories or the new facts they'd found. I'd started the site nearly a decade ago as a personal blog, a place where I could post in near obscurity about the things that fascinated me. But over the years, it had started to take on a life of its own, and now the site had nearly two thousand members, all of whom paid a small yearly fee. I sold ads on the site sometimes, too. The money wasn't nearly enough to live on, but it was enough for me to pay for upgraded servers, occasional professional webmaster work, and—most importantly—research help.
I logged on and scrolled through the new messages on the message board. There was a lively conversation going on about the disappearance of a little girl in Tennessee, and another one about a woman in Michigan who claimed she was abducted but could provide no evidence of it. Someone had revived an old thread about the Zodiac Killer because of a recent podcast they'd heard, and someone else had posted a link to a new theory about the JonBenét Ramsey case. I read through everything and added my own comments, looking out for messages that were inflammatory or insulting. Even in a closed group, the internet was the perfect place for people who wanted to call each other names, and it required constant moderation. People could get as angry about a twenty-year-old murder as they could about modern-day politics.
When I was finished, I clicked over to the article I was currently working on, about a woman in Connecticut who had left her house and disappeared, leaving her two-year-old daughter alone in her playpen. Security footage showed her walking past a mall three miles away, but how had she gotten there, and why? She'd left her car in the driveway. Cell phone records showed a single phone call from the woman's phone to 911 four hours after she disappeared. The call had disconnected as soon as the operator answered. Did that mean the woman was still alive then, trying to call for help? Or had someone else used her phone? These were the kinds of questions that could send me straight down the rabbit hole for days on end.
I picked up my phone and called Michael De Vos, the private detective who worked for me sometimes. Being a layperson had its limits when you wrote crime stories, and Michael was a help when I needed expert analysis. He used to be a cop in the Claire Lake PD. He picked up right away.
"Shea. You're home?" he said. Michael knew a lot about my paranoia, though he didn't know the reason. He didn't seem to find it strange; he often checked that I was home safe when we talked.
"I made it," I said. "Where are you?" Michael was usually somewhere interesting. As a private detective, he lived the kind of life that would be way too much for my anxiety to handle.
"Right now I'm in a parked car," he said, "waiting for someone. Where I've been since noon."
He did, in fact, sound bored. "Waiting for who?"
"You know that's classified."
I felt myself smiling. Everything Michael did was classified, according to him. At least the interesting stuff was. "If you're doing a boring stakeout," I said, "then you had time to read the article I sent."
"I did." I heard him sip something. I pictured him in a car parked at the side of a road somewhere, the misty rain dripping down the windows. Maybe he was waiting for a cheating spouse or an embezzler. In my mind, the car was a big, boxy seventies thing, even though it was 2017. Michael gave off that old-school vibe.
Not that he was old. As far as I knew, he was somewhere in the second half of his thirties, with dark brown hair and brown eyes. Good-looking, most women would think. Women who weren't closed off like me. I'd only ever seen a photograph of him, which he'd sent me early on; we'd never met in person.
I wasn't very good with meeting strange men in person.
"What did you think?" I asked him.
"If you want to know what I think about the article, it was excellent. If you want to know what I think about the case, then the husband did it. With the father's help."
"There's no evidence," I said.
"When they find her, there will be. Because she's definitely dead."
Something inside me that had been coiled tight loosened for the first time all day. I loved Esther, but she didn't really get me. Our parents lived in Florida, and they definitely didn't get me. My coworkers didn't get me. My ex-husband didn't get me.
Michael got me. I didn't know how or why. He just did.
No one in my life wanted to talk about this stuff except him.
"What about the mall footage?" I asked him.
"Inconclusive. My guess is it isn't her. The killers caught a lucky break with that."
"The husband and the father working together is unusual."
"Unusual, but not unheard of. It's going to be difficult for them to maintain. One of them will probably make a deal, giving up the other one."
"But the husband, really? Everyone says they were a loving couple."
"Everyone always says that, and everyone is always wrong."
"You're a cynic," I said, scrolling through the article again, looking for typos. "That's a good quality to have."
"My ex-wife would not agree."
I paused. He hadn't mentioned an ex-wife before; we didn't usually get personal. "Then she can call my ex-husband," I said, trying it out. "It sounds like they have a lot in common."
"They'd probably get along just fine." He paused. "I think I see some movement. I have to go. Put the article up. It's good."
"Thank you," I said. "Good luck."
When we hung up, I put my phone down and did a circuit of my place, checking that the doors were locked, the windows fastened. Singles Estates had a security guard at the entrance to the complex, but that didn't mean much to me. Anyone on foot who was determined to get in could find a way. I was on the third floor—no way was I taking a ground-floor apartment—and I had a security system just in case. Locks on the windows, no fire escape, no easy-to-pop screens. One of the few things I missed about marriage was the everyday presence of a man in the house, keeping the bad things away without even knowing it.
But I didn't have that anymore, so I had to be careful.
Everything was in place. When I was finished, I sat down in front of my computer again. I tapped it awake and logged in to the Book of Cold Cases. And I started tonight's journey into the darkness.
CHAPTER FOUR
September 2017
SHEA
I was tired at work the next day, because I'd stayed up later than I should have, working on the Book of Cold Cases. The bus had been ten minutes late, I'd dropped my bus pass, and I'd gotten to work out of sorts. I was on autopilot.
Our office was in downtown Claire Lake, and our patients were mostly rich, or at least well-to-do—Claire Lake on the whole was well-to-do, a town of chic kitchen specialty stores and French bistros laid out along the ocean shore. The spectacle I saw from the safety behind my Plexiglas was never that of people digging their nails in for survival, doing their best to get through every day. Instead it was often the foibles of the rich, the ones who had the money to make their aches and pains go away.
For a few minutes, I thought the woman who walked in might be someone famous. Her face was familiar in a way I couldn't quite place. She was an actress, maybe, one who had been on TV several decades ago. She was tall and stately, likely over sixty. Her skin was nearly flawless, with creases around the eyes and the mouth to give her character. Her hair was fashionably cut, with long bangs sweeping to her eyebrows and layers falling to her shoulders in light and dark shades of gray. She wore a black turtleneck sweater and sleek black pants under a trench coat. To me, the glamour wafting off her was worthy of Isabella Rossellini or Helen Mirren, though the woman seemed unaware of it. She looked distracted, and after slipping her ID beneath the Plexiglas to Karen, she took a seat, pulled out a pair of stylish reading glasses, and started reading a dog-eared novel.
"What?" Karen said to me as she wheeled her office chair back to the shelf and looked for the woman's file.
"I know her from somewhere," I said. There was a brief lull in which the phone wasn't ringing, and I sipped my coffee and tried to be discreet as I looked at the woman again. She flipped a page in her book, oblivious. I couldn't read the title from here, but I could see a cover of deep blue with slashes of jarring yellow lettering, ...
We hope you are enjoying the book so far. To continue reading...
The Book of Cold Cases
Simone St. James
Copyright © 2023 All Rights Reserved