Book info
Sample
Audiobook
Media
Author updates
Lists
Synopsis
Michael Merrick is used to pressure. He's the only parent his three brothers have had for years. His power to control Earth could kill someone if he miscalculates. Now an Elemental Guide has it out for his family, and he's all that stands in the way.



Michael's girlfriend, Hannah, gets that. She's got a kid of her own and a job as a firefighter that could end her life without a moment's notice.



But there are people who have had enough of Michael's defiance. Before he knows it, Michael's enemies have turned into the Merricks' enemies, and they're armed for war. They're not interested in surrender. But Michael isn't the white flag type anyway. There will be blood on the ground tonight . . .
Release date: September 30, 2014
Publisher: Kensington Books
Print pages: 336
* BingeBooks earns revenue from qualifying purchases as an Amazon Associate as well as from other retail partners.
Listen to a sample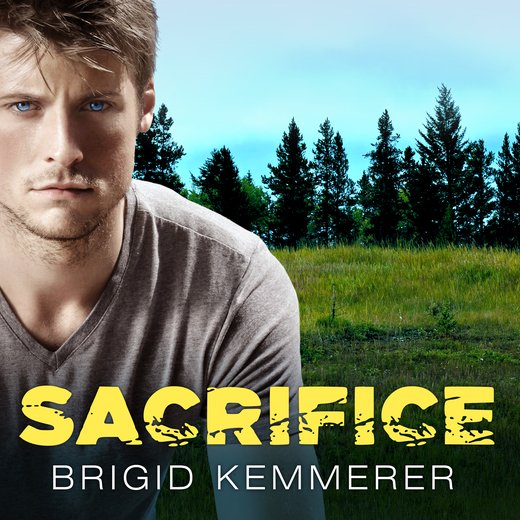 07:44:16
212.53 MB
June 9, 2015
Tantor Audio
2015
Sacrifice
Brigid Kemmerer
Michael Merrick stepped off the porch, put his bare feet in the grass, and waited for a bullet.

He'd done this every night for a week.

The air held still, waiting with him, cloaking the yard in darkness. Breath eased from his lips, fogging in the early November chill. He wished he'd thought to grab a fleece pullover, but he'd barely paused to yank a T-shirt over his head.

Someone was out here. He knew it.

He'd known it for the last six nights.

Dried grass wove between his toes, but the earth carried no warning. Just the awareness that someone moved through the trees.

The first night he'd sensed something, terror had clung to his back, sending him bolting from room to room, slapping light switches and creating so much racket it was a miracle he hadn't woken the neighbors too. His brothers and Hunter had gathered on the porch, their breath shaking in the night air. They'd been ready to fight. They'd been ready for war against the Guides who hunted them.

It never came.

But every night since, Michael had felt . . . something.

Or maybe not. Maybe this was 3 AM stress and paranoia setting up shop in his brain. His fear from the first night had morphed and taken new shape, turning into something more akin to fury.

He didn't know who was out here, but he wanted to kill them for threatening his family.

"A rookie sniper could take you out without a scope."

Michael jumped and swore and spun, pulling strength from the ground without thought. He choked on his breath. A sniper wouldn't even need a bullet; a heart attack would do the job.

Hunter Garrity stood on the deck, his feet also bare, though he'd had the good sense to grab a sweatshirt. Moonlight glinted off the piercings in his brow. Casper, his German shepherd, was alert by his side.

"Sorry," Hunter said softly. "Thought you heard me."

"What are you doing out here?" Michael snapped, keeping his voice as quiet as possible. "Go back to bed."

Hunter ignored that and joined him by the steps, putting his own feet in the grass. The dog stopped by his side and whined. "Someone's in the woods."

Of course Hunter would sense it, too. He was a Fifth, which gave him a connection to all the elements. He would have been a Guide, too, if he'd followed in his father's footsteps. Fate hadn't worked out that way.

Hunter glanced over when Michael didn't answer. "You should wake Nick. He could divert a bullet."

Michael studied the line of trees. He didn't want to wake everyone again. His brothers already spent each day riding a blade of tension; he didn't need to fill their nights with panic.

He hated this. It reminded him too much of the nights he'd spent awake after his parents died, trying to figure out how to keep his brothers safe. Then, he'd been worried about money and the other Elementals in town, the ones who'd sworn to leave his family alone. Now he was worried someone would shoot them all before he could get out a warning.

"Go inside, Hunter."

Hunter turned his attention back to the trees, probably giving each individual leaf a militaristic assessment. "It's only one guy. Maybe two. We could circle around—"

"At ease, soldier. I told you to go inside."

Hunter shut his mouth, but he didn't move. He was worried, though—worried and furious, the way Michael was.

He'd never admit it, of course. But Michael could feel his unease through the ground. Hunter hung close like a child who wouldn't venture too far from a parent in an unfamiliar situation. I can face this as long as I'm not alone.

Hunter hadn't been like that at first. He'd been reckless and impulsive and unsure where he fit in this world. When Hunter's grandfather had thrown him out of the house, Michael had just offered the kid a place to crash. He hadn't realized he'd be inheriting another brother to take care of, a sixteen-year-old who could handle himself like a Special Forces soldier but trusted people about as much as a beaten dog.

Hunter trusted him now, though. He'd never say as much, but the proof was in the way he stood here, following Michael's lead.

Michael's senses pricked. Whoever was in the woods had moved closer. He—they?—was being stealthy, picking through the underbrush.

"Could it be Calla?" said Hunter, voice softer than thought.

"I doubt it." Calla Dean was the only person in town who wanted this war against the Guides. For years, Michael had assumed he and his brothers were the only full Elementals in town. They'd lived in fear that the Guides would discover their existence and send someone to kill them. They'd taken great care to hide their abilities and live in secrecy.

Then Calla Dean had come along.

Like Hunter, she was sixteen years old and a junior in high school. Unlike Hunter, she was a Fire Elemental with a psychotic streak. She didn't want to hide. She wanted the Guides to come—and she'd done everything she could to get their attention. Innocent people had already died because of Calla's obsession with this war.

She wouldn't be sneaking through the trees. She'd be lighting them all on fire.

Maybe he should wake Nick. His brother would be able to read the air and tell them what he sensed.

No. His brothers were safer inside the house, asleep and oblivious.

Maybe if he kept telling himself that, he'd eventually believe it.

"What do you feel?" he asked Hunter.

Silence for a moment. "Not danger. They're just . . . there." Hunter glanced over again. "Is Hannah here?"

"Why would Hannah be here?"

Hunter gave him a look. "To spend the night?"

"No, she did not spend the night."

Hunter shrugged and looked at the woods again. "Gabriel thought you were sneaking her in since we hadn't seen her around lately."

Typical Gabriel. "For god's sake. She's been busy. Would you just go back in the house?"

Hunter stayed right where he was. "Whatever. She's your girlfriend."

Yeah, and Michael had been avoiding her since the first night he'd sensed someone in the woods. Hannah was smart and fierce and had the uncanny ability to look right through him.

He wasn't ready to share his secrets. Not yet. Not ever, if spilling the beans meant putting Hannah and her son in harm's way.

She wasn't stupid. She knew something was up.

She wasn't happy either, considering she hadn't responded to either of his texts earlier this evening.

A branch snapped, and Michael froze. Casper growled.

A shadow slid between the trees. Hunter shifted forward, his stance getting lower. He put a hand on Casper's collar.

"Take it easy," Michael said, his voice as low as he could make it. "Just wait."

Hunter didn't say anything, but metal clicked.

Michael looked down. A gun had appeared in Hunter's hands.

Michael caught his wrist, keeping the weapon pointed at the ground. "What the hell do you think 'take it easy' means?"

The shadow in the trees stopped short.

"If it's a Guide, they'll be armed," Hunter hissed. "Don't be stupid."

They stared at each other for a long moment. Michael wasn't sure he wanted Hunter to put the gun away. He could feel his heart in his throat. Hunter's breath was shaking, just a bit.

The woods hung still now, no sense of motion at all.

Then that shadow bolted. Casper barked and ran.

Hunter jerked his arm free and took off after them both.

Michael swore and followed.

This immediately felt wrong. He didn't want to leave his brothers vulnerable—and that's what sleep felt like now. Vulnerability.

Why the hell hadn't he woken them up?

"Stop!" he yelled, hoping his brothers would somehow hear him. "Hunter, damn it, stop!"

Then he shut his mouth. He shouldn't yell—not unless he wanted to wake the whole street. This war made everyone in the neighborhood a liability. A risk. A threat. The last thing he needed was some middle-aged dad stumbling into the line of fire in his boxer shorts.

Besides which, he was terrified Hunter was going to pull that trigger and shoot some moron hiding a few joints in his pocket.

But Hunter hadn't fired, and Michael could see him slipping between the trees about twenty feet ahead. He hardly needed the visual: at this distance the earth could feed their path to him. They'd never lose him on foot. The underbrush helped, too. Rocks and branches shifted out of the way of his bare feet, letting him gain ground.

The earth couldn't offer the nuances of emotion, but it knew enough to recognize a panicked run. Whoever they were chasing was terrified of getting caught.

Not a Guide, then.

Hunter's breath echoed over the crunch of his feet through underbrush. Their quarry was quick—he'd gained ground—but this kind of desperate running would burn him out fast.

"Hunter! I said stop." Michael was fast. He could almost grab the back of Hunter's sweatshirt now, but he didn't. "He didn't attack us. We're chasing him."

That made Hunter draw up short, sliding to a stop in the dirt, breathing hard. "Casper! Hier!" The dog barked again, somewhere in the distance, but he returned to his master's side.

Hunter pushed hair off his face and swore. The gun was still in his hand, pointed at the ground. "You don't know this isn't Calla."

True, he didn't know this wasn't Calla. She was violent and unpredictable and refused to discuss anything that had to do with avoiding a war. Michael hadn't heard from her since last week, since he'd told her his priority was to protect his family—not to start a war with the Guides.

Regardless, he wasn't a big fan of shooting blindly into the woods. "What if this has nothing to do with us, and you shoot some unarmed kid?"

Hunter slid the gun into his waistband at the small of his back. He was scowling. "I'm not reckless."

Branches snapped in the distance. Michael felt every step as the runner drew farther away.

"See?" he said, catching his breath. "A Guide would know we could follow him."

Then they heard a splash, and Michael lost any sense of their target.

Hunter took off again. "Why would some unarmed kid jump into the creek in November?" he called.

Michael ran after him. "Maybe he fell."

But he'd felt the instant the runner's feet left the earth. Running to the water had been deliberate. Whoever this was had known Michael could follow him on land.

Maybe he didn't know Hunter would be able to follow him in the water.

Stoney Creek wasn't really a creek at all. It stretched half a mile across, the towns on either side connected by a drawbridge. Farther south, there was a stretch of beach, but here, at the edge of their neighborhood, the woods ended at a sheer drop into water. By the time they reached the bank, Hunter had lost his sweatshirt. He didn't even pause: he leapt into the quickly moving current, jeans and all. Michael dove in beside him.

The sudden cold caught him in a vise grip. For an instant, he couldn't think. He couldn't breathe.

But then his body kicked into action, sending his heart pounding with adrenaline. Forget Nick. Michael should have woken Chris. His youngest brother wouldn't need to chase this guy. Chris could probably convince the current to drag him back to shore.

Too late now. Icy water attacked with the sting of a thousand needles, protesting his presence. He fought to make his arms drive through the water, but the current churned thick with power, fighting his every stroke. Michael kicked and the water dragged him under. Those pinpricks of cold turned to full-size nails hammered into his skin.

Power.

Maybe jumping into the creek wasn't about avoiding anyone's abilities at all. Maybe this guy was a frigging Water Elemental.

Brackish water fought its way into Michael's mouth. He tried to force it out, but the current was a living thing, prying open his lips, burning into his nostrils. His lungs begged for air and water surged down his throat. Instinct forced him to inhale, allowing more water to knife its way into his chest. He tried to cough but inhaled more liquid.

The water dragged at his body, pulling him deeper. The pressure on his chest increased. Bitterness clawed at the back of his tongue, more water trying to force its way into his lungs. His legs couldn't kick. He'd been so worried about a bullet, and now he was drowning.

No, not drowning. Sleeping. He didn't need to fight anymore. He could sleep, right here.

Sleep.

He'd never warned his brothers. They'd be asleep in their beds, easy victims.

His body touched the bottom, and the sand whispered to him, scraping his skin, offering power. Michael couldn't make sense of it. He was too tired.

Something caught hold of his arm. Should he fight?

That struck him as funny, in a very distant way. He couldn't even move.

Or was this Hunter? Was this a rescue? Maybe they'd be dragged to shore and then shot.

Maybe he imagined the grip on his arm. Maybe the current had him, and he'd float to the bay. Maybe he'd finally see the ocean.

He seemed to float forever.

His face broke the surface, but his lungs didn't try to inhale. November air slapped his cheeks, but he didn't care. A moment later, his back hit the sand. Then his head did.

Suddenly everything hurt. His lungs burned with cold. He wanted to fight but nothing would work. He couldn't see stars or sky or anything.

Maybe he wasn't really out of the water. Maybe this was true death.

Fear ripped through him, offering some clarity. He could feel everything. The cold bit down to his bones. His muscles could only offer aching pain. He was definitely on shore—the sand beneath his body pulsed with power. Michael's fingers moved against his will, digging into the sand, feeling each grain drive under his fingernails.

Something heavy hit his chest. And again, this time using force to lift his shoulders and slam him back into the earth.

Then a third time. Michael jerked and coughed, and water poured out of his mouth. He choked and tried to breathe. More water. More coughing. His eyes still wouldn't focus.

And then they did.

Chris crouched over him, barely recognizable in the darkness with water dripping through his hair and off his cheeks. His eyes were furious instead of worried. He punched Michael in the chest again, but this time it had nothing to do with revival. "You idiot, I could have killed you."

"Chris—what—" Michael couldn't get his voice to work. "Where—Hunter?"

"Right here," his voice called from a short distance away, just as rough and broken as Michael's. Fabric shifted through sand as he tried to stand. He must have found his footing, because bare feet slapped against the beach. Michael struggled to sit up.

Chris got out of his way, moving to sit closer to the water. He swiped sandy hands against his jeans and turned his glare on Hunter. "I guess you survived."

"Yeah," Hunter rasped. He dropped to his knees beside Chris, and Michael thought he was going to collapse there in the sand.

But he didn't. Hunter raised his hand and put the barrel of his gun in Chris's face. "I survived. So you'd better start talking."

Michael couldn't wrap his head around this. His youngest brother had been in the woods? Had been running? They'd been standing behind the porch sensing Chris?

What do you feel?

Not danger.

It hadn't been Chris every night. Michael was sure of it.

Mostly sure.

No, he couldn't be sure at all. It hadn't been Chris the first night, but Michael didn't go around checking beds every night. His brothers were sixteen and seventeen years old. They knew better than to sneak out of the house, especially now.

Yet he was staring down at his little brother while someone else held him at gunpoint.

"Hunter," Michael said slowly. "Put the gun away."

"Not until he gives us a good answer." Hunter cocked the gun.

Chris threw himself at Hunter, driving the other boy to the ground, slamming his wrist into the wet sand. Something heavy skittered along the beach until Michael lost track of the gun in the darkness. Hunter swore and tried to swing a fist, but the trip underwater must have taken something out of him, too. Chris was on top and had leverage—not to mention power. Water crawled up the sand to flow around them, then retreated.

Casper barked and whined, prancing in the surf, waiting for a command.

Chris braced an arm against Hunter's neck and leaned in. His voice was low and lethal. "Don't you ever put a gun in my face again."

"Hey," said Michael. The water flowing around his knees was ice cold. "Stop. Chris, let him go."

Hunter's voice was strained and breathy. "Aw. Poor Chris. Scared?"

"Fuck you."

"Fuck you." Hunter struggled to get an arm free. "You're the one turning on your family."

Chris lifted Hunter to slam him back against the beach. "The only person who ever turned on my family is you—"

Casper barked and surged forward.

"Hey." Michael grabbed the dog's collar. He needed to defuse this. Soon, before Chris lost control of his power and the water posed a threat again. The earth was feeding him strength now, so he put a hand against brother's shoulder and kept his voice low. "Hey. Come on. Chill out. Let him up."

Chris hesitated, his breathing rough and rapid over the slow roll of the waves. Michael waited. The twins, Nick and Gabriel, had always had each other, but when Chris was younger, he'd looked up to Michael. Some of that closeness had faded since their parents had died, leaving Michael riding that fine line between brother and parent, but Chris would listen to him.

Usually.

Hunter's eyes shone darkly in the starlight. He didn't move, but Michael could feel his tension through the sand.

After an eternal moment, Chris's arm shifted. He eased the weight against Hunter's neck. Michael let out a breath.

Then Hunter jerked free, swung a fist, and punched Chris right in the throat.

Chris collapsed in the water—but it was his element, and it fed him strength immediately. Hunter tackled him, but Chris was ready. He let Hunter's momentum carry them into deeper water.

And then they were fighting in earnest.

Michael sighed. Casper whined.

When they got going, sometimes Michael just wanted to say fuck it and walk away. He was tempted to do that now. His joints ached and his lungs burned. He hadn't slept in days.

Wind blew in from the water to make the trees rustle, bringing the scent of saltwater from the bay. He gave the dog's collar a tug. "Come on, Casper."

Michael went for the weapon first—because he didn't want to take the chance of Hunter getting his hands on it. He asked the sand for the location and found the gun a short distance down the beach.

When he looked back, Chris had Hunter pinned in the surf. The waves had turned more aggressive, crashing into them both. It wasn't quite deep enough to hold Hunter's face underwater, but close.

"Come on," said Michael. "Both of you." His voice hadn't lost the rough edge, and he didn't bother hiding his irritation. "Using abilities out in the open is reckless." The Guides didn't need much evidence to justify killing a full Elemental.

Chris was breathing hard. "I let him up once already."

Michael smacked him on the side of the head. "Well, let him up again! Jesus, it's three o'clock in the morning and we're half a mile from home! Knock it off and start walking or you can both spend the night stuck in the sand."

Chris didn't move. His jaw was set.

Hunter snorted and shook water off his face. "Whatever."

Michael dropped to a knee in the sand and leaned down close. "Try me."

Hunter glared back, but Michael didn't look away. He had a limit. They'd found it.

Chris broke first. He let Hunter go with a shove and a curse, turning his back on them both to head for the house.

Michael straightened and put out a hand to pull Hunter to his feet.

After a moment, Hunter took it. When he was on his feet, he pushed wet hair out of his eyes and turned to follow Chris. Somewhere in the distance, a siren kicked up, and Michael hoped a well-meaning neighbor hadn't called the cops about all the crashing around in the woods.

He caught Hunter's arm. "What's up with you two?"

The response was clipped. "Ask Chris. He's the one running around in the woods when we're all waiting for a war to start."

"I'm asking you."

Hunter jerked free. "What, he gets a free pass for being shady, and you're going to come down on me?"

Michael didn't have an answer for that.

Hunter scoffed and stormed into the woods, his dog by his side. Another siren joined the first. Then a third. They sounded closer.

"Christ," Michael muttered. This was all he needed. He had no idea how he'd explain what they'd been doing out in the water. Another gust of wind pulled at his damp clothes, making him shiver.

Then he caught the glow of something red, far ahead between the trees.

A lot of red. Michael stopped short.

Chris reappeared, crashing through the underbrush. His eyes were wide and panicked. "Mike," he gasped. "Fire. There's a fire—the houses—"

Michael stopped listening.

And started running.

Hannah rocked with the motion of the fire truck and rubbed her forehead, trying to scrape off a layer of sweat or soot or whatever was caked under the edge of the helmet.

Three calls back to back, and she was ready to return to the firehouse so she could lose the gear, take a shower, and go home. Her twelve-hour shift had ended at midnight, yet here she was, still riding the truck at 3 AM.

But they'd gotten yet another call while packing up from the MVC on Solley Road, and Chief Kidder had fired up the sirens without asking her opinion.

A week ago, an accidental all-night shift would've meant she could look forward to an early-morning cup of coffee with her boyfriend, Michael Merrick.

Then again, a week ago Michael hadn't been giving her the cold shoulder. Lately, he was always too busy to do so much as talk on the phone.

Fine. Whatever. Like she had time in her life to deal with relationship drama. This was why she didn't date. She had one male in her life who really mattered, and he was five years old and called her Mommy.

The sirens screamed overhead, and she wished they could ride without them for once. Her head was killing her.

Kidder tapped at the dashboard computer in the front compartment, then turned around to talk over his shoulder through the window. "Dispatch has called for three additional alarms on this one. Apparently we've got more than one house on fire."

Great.

Normally the thought of a massive job helped her focus. She could turn off her emotions and put the task at the forefront of her mind.

Tonight she was just tired.

Irish spoke from across the compartment, his voice a low rasp that didn't get a lot of use. "How many houses?"

Kidder checked his computer. "Five. Single-family. Sounds like a whole cul-de-sac."

Irish gave a low whistle, but didn't say anything else.

But she agreed with his assessment. Hannah glanced across at him, found him studying her, and quickly looked away. He smiled, a flash of white in his dusky face. "Looking tired, Blondie."

Hannah rolled her eyes, then realized it made her look like a petulant sixteen-year-old. She pulled her helmet firmly down on her head and studied the window really hard.

She still couldn't decide if she liked him. His name wasn't really Irish, of course, any more than hers was Blondie. He'd joined the station a month ago, showing up three days later than expected because of some paperwork mix-up. His real name—Ronan O'Connor—had been on his locker, and she and the rest of the company had expected a red-haired, freckled kid with an Irish accent, fresh out of fire school.

They hadn't expected a twenty-six-year-old seasoned firefighter.

They also hadn't expected a black guy. Not unheard of, but it made him the only one in the firehouse. Jerry Crondall, one of the older guys who killed off his brain cells with cigarettes and liquor, had taken one look at Ronan O'Connor and said, "Hey, kid, are you what they call Black Irish?"

The new guy had sighed and started unloading his gear. "No, man, I'm just Irish."

And that had stuck.

He was still looking at her. Hannah glanced over. "What's your problem?"

Her words were harsher than he deserved, especially since his brown eyes weren't mocking, just assessing. But she'd learned pretty quick that she needed to take the offensive or risk becoming the station doormat. It didn't matter that she could run lines or carry O2 tanks or break down a door like the rest of them. Without a penis, she had half the guys in this company thinking she was inferior. Being a sweet little thang would just reinforce it.

She already had to deal with the nickname Blondie.

"Seriously," Irish said, his voice low. "You look tired."

Like he knew her at all. "We're all tired."

He leaned sideways to call over her shoulder. "Chief. I think Blondie—"

Hannah kicked him right in the shin. "Don't you dare," she hissed.

If he said she couldn't handle another call, she would pull the Halligan bar off the side of the truck and introduce it to his skull.

Irish smiled and held her eyes. "I think Blondie and I should be on search and rescue."

Chief didn't even look over his shoulder. "You got it."

Hannah didn't say anything. Search and rescue could be easy—if people had gotten the hell out of their houses—or it could be horrible. Like if she had to drag some obese guy down a flight of stairs.

She didn't know whether to hug Irish for confirming she had another call in her, or to smack him for being such a cocky shit in the first place. He was telling the chief what their assignment should be? What next, running the department?

Just when she was about to zing him with a comeback, she realized they'd turned onto Magothy Beach Road. She could see flames through the trees up ahead, toward the water.

Five houses. Single family. Sounds like the whole cul-de-sac.

Her heart stuttered to a stop.

Then it kicked into action again.

She caught sight of the street sign. Chautauga Court.

"Shit," she whispered.

Michael.

Michael stopped at the tree line and stared. Chris and Hunter were breathing hard beside him.

Five houses sat around the court. All blazed with fire—except the Merrick house, where no flames were visible, but smoke seemed to seep through the roof. At the others, smoke poured through roofs and flames shot high against the sky. Discordant smoke detectors screeched from each. The sirens coming up from Magothy Beach Road were louder.

Compared to the others, the Merrick house sat like an afterthought in the midst of this inferno. No motion, complete darkness.

Michael couldn't remember if he'd turned on a light.

He couldn't move. He couldn't think. Smoke burned his already abused lungs, but he couldn't cough. The heat was blistering, even from this distance.

His brain was frozen on his thought from fifteen minutes ago, when he'd been standing right here with Hunter.

His brothers were safer inside the house, asleep and oblivious.

But the Merrick house wasn't actively burning. Good? Or very bad?

Michael swept his eyes along the tree line behind the houses, looking for any sign of his brothers.

"Gabriel!" he yelled, sending power into the ground, seeking . . . anything. "Nick!"

Nothing.

He tried again, louder, spinning in a circle, as if his brothers would come sprinting out of the woods with a crazy story about what had happened.

Nothing.

Michael only spotted two people: the Hensons. They stood in the backyard next door, silhouetted by the flames. The woman clutched at her husband—whether in panic or from injury, Michael couldn't tell. They were an older couple with a yellow lab and too many grandkids to keep track of. Mrs. Henson had dropped off dinners almost every night for a month after Michael's parents had died. Michael mowed their lawn every week through the summer and plowed their driveway in the winter.

Flames poured through their upstairs windows. Their siding was buckling from the heat. Mrs. Henson was clutching at her husband in the backyard and screaming for Charlie.

Their dog. Trapped.

"Our house is smoking," said Hunter. His voice was shaking. "I can't sense anyone inside."

Michael looked at him. That statement could mean two things.

"Where are they?" said Chris. At some point he'd grabbed Michael's arm. His breath was shaking, his eyes a little too wide. The earlier indignant fury was gone from his expression, and now he just looked young. And frightened.

In a flash, Michael remembered Chris five years ago, flames reflected in his eyes exactly like this. Then, Michael had dragged his youngest brother out of a burning house much like this one. Chris had been choking, gasping for air.

Then, he'd been punching Michael, crying, yelling, his voice breaking. "Go get them! Get them!"

Their parents.

Red and white lights strobed between the houses, underscored by the sound of hydraulic brakes and sirens cutting out. The sound should have been reassuring, but it wasn't.

Michael didn't want to believe Calla was behind this—but five houses. Five points on a pentagram—a symbol typically used to call the Guides. She wanted a war. This couldn't be a coincidence.

Or it might not be
We hope you are enjoying the book so far. To continue reading...
Sacrifice
Brigid Kemmerer
Copyright © 2022 All Rights Reserved
Also in this series
Also by this author