Book info
Sample
Audiobook
Media
Author updates
Lists
Synopsis
EVERY OPERATIVE KNOWS THE RULES. The mission comes first. You are a deniable asset. Betrayal is punished by death. 'A writer of almost cinematic talent' DAILY EXPRESS Alex Reeve was Operative 66. A former special ops soldier and one of the UK's deadliest weapons, he was a member of the secretive SC9 - an elite security service with a remit to neutralise the country's most dangerous enemies. Falsely accused of treason, Reeve was forced to hide in the shadows as the brutal assassins he once trained alongside sought to eliminate the 'rogue asset' at any cost. But tricked into revealing himself, Reeve is suddenly dragged into a lethal conspiracy involving the British state, shadowy Russian agents...and his own father. If there's one man who can survive...it is Operative 66. From the internationally bestselling author of the Wilde & Chase series comes an explosive new thriller - the perfect pulse-racing read for fans of LEE CHILD, VINCE FLYNN and GREGG HURWITZ.
Release date: July 8, 2021
Publisher: Headline
Print pages: 352
* BingeBooks earns revenue from qualifying purchases as an Amazon Associate as well as from other retail partners.
Listen to a sample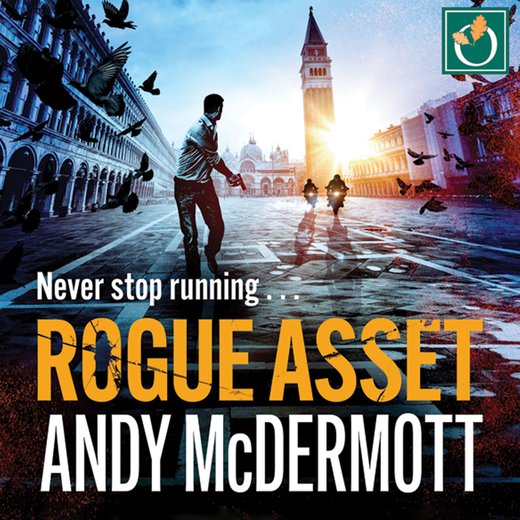 11:01:38
302.89 MB
9781472263810
August 1, 2021
Oakhill Publishing
Rogue Asset
Andy McDermott
CHAPTER 1

Konstantin Nesterov didn't spot his killers until it was too late.

Walking his dog was one of the Russian's few opportunities for tranquillity. Today was especially peaceful. The damp ground in the thick woods smothered noise. The constant rumble of London-bound traffic was barely audible.

London. His shoulders sagged at the thought of the city. It had once been a prime diplomatic posting; glamorous, cultured, exciting. But things had changed. Relations between Russia and Britain, frosty at best, had tipped towards hostility. And since Brexit, the capital itself felt distinctly unfriendly to foreigners. He was looking forward to returning home.

Not least because if the British knew his real job, they wouldn't let him leave. That was, not until the next exchange of spies between London and Moscow.

Nesterov was no James Bond, he readily admitted. In his fifties, overweight, divorced, he was hardly the physical type. But his purpose was still espionage. Officially he was a member of the Trade Delegation of the Russian Federation. Which was true. But he had another mission beyond expediting business deals and smoothing import-export paperwork. His speciality was finding the weak links in corporate chains. People who might be persuaded to put their own interests above company, and country. Their interests being best served by aligning with Russia's.

Such people were generally easy to deal with, once identified. Flatter and befriend – then bribe and, if necessary, blackmail. But that last was rarely needed. People could be surprisingly easy to buy. One of Nesterov's best contacts willingly leaked critical financial secrets in exchange for Wimbledon tickets. The information he and others gave benefited Russian businesses internationally, at the expense of British ones.

In the UK, Nesterov's actions were considered a crime. One for which he didn't have the shield of diplomatic immunity. He'd always been careful; he wouldn't have lasted this long otherwise. But . . .

Things were changing in Britain. Not for the better. Since the collateral nerve-agent poisoning of civilians in Salisbury, Russians were under increased scrutiny. It was the kind of attention Nesterov could do without. He was almost certainly on MI5, GCHQ and Special Branch's watch lists. Every move had to be made with increased caution.

But something else was going on. What had started as rumours months earlier was now an open secret. Several Russians attached to the diplomatic service in the UK had met with accidents. Or 'accidents'. Falls, car crashes, fires, drug overdoses. Bad luck and coincidence perhaps, but so many, so close together? It wasn't the usual British way of playing the spy game – which made Nesterov nervous. Either someone else was involved, or the Brits were dropping their traditional cautiousness. Both possibilities were unnerving. Another good reason to return home . . .

A bark brought him back to the moment. Mischa, his Labrador, had been twenty metres ahead, exploring the trees. The reddish-brown dog was now stationary, looking off to one side. Nesterov followed her gaze. Someone else was in the woods. A man, approaching through the morning mist.

The figure called out. 'Jimbo! Come!'

Nesterov halted, listening. No sounds of another dog nearby. Mischa barked again. 'Here, girl,' he said. She trotted obediently back to him.

The man shouted again. Still no response. He continued towards Nesterov.

The Russian took him in as he neared. Late thirties, black hair, tall. Something about his bearing suggested a military background: a confident authority. He smiled as he approached, giving Mischa an admiring look.

'I say, beautiful dog,' said the new arrival. His voice was smooth, well-educated.

'Thank you,' Nesterov replied.

'I seem to have misplaced my own. You haven't seen a collie, have you? He ran off after a squirrel a few minutes ago.'

'I'm afraid not.'

The man sighed. 'Looks like I'll have to resort to bribery to bring him back.' He dug into a coat pocket, producing a large bag of dog treats. 'Jimbo! Here!' He shook the bag, rustling its contents. Mischa sat in anticipation, wagging her tail. He leaned towards her, then paused. 'You don't mind, do you?'

'No. It is fine.'

'Always polite to check.' He tossed the Labrador a treat. She snapped it out of the air. 'Good – boy or girl?'

'Girl.'

'Good girl.' He shook the bag again, keeping Mischa's attention. 'Hopefully mine will—' He turned his head. 'Oh, there he is.'

Nesterov looked for himself. No sign of any dog through the trees—

A noise behind, quiet footfalls – and a shard of fire tore upwards into his back.

The black-haired man, John Blake, watched dispassionately as his partner stabbed Nesterov from behind. Harrison Locke had slipped stealthily closer while Blake kept their target distracted. In his former life, Locke had been a military surgeon. He was also, Blake had come to realise, a cold-blooded psychopath. His black carbon-fibre blade struck with unerring precision, puncturing the liver.

The dog reacted in alarm. She barked at Locke, teeth bared. Blake was prepared. 'Hey, hey!' he called, shaking out the bag. Meaty treats scattered across the ground. The Lab was torn between protecting her master and the prospect of food.

By now, Locke had clamped a gloved hand over Nesterov's mouth, choking off his scream. He twisted his knife before withdrawing the weapon. Blood sluiced down the Russian's coat. Another couple of jabs, catching Nesterov's flailing arm. These were as carefully aimed as the first. They would create the impression of defensive wounds. The attack couldn't appear too one-sided. The assassination had to look like a mugging gone wrong.

The dog kept barking, but was too afraid to attack. Locke maintained his hold as Nesterov's movements weakened. He stabbed the other man again, this time in the side. The strike was almost half-hearted. All part of the show. The precise, lethal wound would be surrounded by ones that appeared amateurish.

Finally, Nesterov slumped. Locke released his grip. His victim crumpled to the damp ground. Blake surveyed their surroundings, opening his coat to access the gun inside. If another dog-walker had heard the commotion, they would have to die too . . .

But there was nobody in sight.

'Get his phone and wallet,' said Blake over the dog's distressed barks.

Locke gave him an icy look. 'I do remember the plan, John.' He crouched beside the twitching body. The Labrador made a move towards him. He snapped up the knife as if about to stab it.

'Hey,' said Blake as the dog flinched back. 'No need to be cruel.'

'Very amusing,' Locke replied, without the slightest hint of a smile. He rooted through Nesterov's belongings, pocketing his wallet and phone. 'Got them.'

Blake made another check of the woods. Still clear. He moved to examine the corpse.

'I assure you, he's quite dead,' said Locke.

'Just confirming the kill.' Satisfied, he stepped back. One benefit of operating on home soil was that less clean-up was needed. Arrangements could be made for DNA or other forensic evidence to be contaminated, or 'lost'. Both men were Operatives, members of an elite British covert intelligence agency: SC9. Officially, it did not exist. Outside SC9, only a handful of highly placed people knew of it. Despite this, it wielded subtle, yet powerful influence within the apparatus of state security. Its purpose, however, was blunt.

Eliminate enemies of the British state. By any means necessary.

Even knowing they would be protected, the Operatives wanted to avoid needless errors. Once Locke had cleaned and sheathed the murder weapon, they both checked the scene. Anything that might incriminate them would be microscopic in nature. All they'd left were footprints. No matter: their shoes were brand-new, bought the previous day. Before the end of this one, they would be incinerated. 'We're clean,' Blake finally announced. 'Let's go.'

Locke stared at the barking dog. 'It's a witness. We should eliminate it.'

'You know they can't talk, right?' Blake kicked a couple of treats towards the animal before walking off. 'That's a nice dog, actually. Fox red.'

'Ironic.' Again, there was no trace of humour behind Locke's reply.

Blake nodded. 'Yeah.' A brief smile. Fox Red was the SC9 code for an internal threat: a traitor. The agency's head was also a breeder of pedigree Labradors. He had very strong negative views about the lineage and worth of 'fox red' dogs.

The smile vanished. Anyone declared Fox Red by SC9 was to be killed, immediately. But one traitor had escaped his death sentence. Even after a year and a half, the thought still rankled Blake. Alex Reeve's survival was almost a personal insult. 'Another spy down, then. Maybe the Russians will finally get the message. Hit at SC9, we hit back ten times harder.'

The two Operatives disappeared into the mist, leaving the dog to cry over her owner.

CHAPTER 2

Alex Reeve was living his third life.

In his first, he was Dominic Finch. The son of a violent father – the man who murdered his mother. After his father was imprisoned, he was alone. He drifted through foster homes before eventually joining the army. That finally gave the young man a goal: to be the best.

It was a goal he pursued arduously. And he succeeded. His single-minded focus, determination and skill drew the attention of the special forces. He was recruited into the elite Special Reconnaissance Regiment. His task: work undercover to protect the realm. He mostly operated alone, adopting new roles, new identities. Despite the danger, he'd enjoyed it. The more time he spent as someone else, the less he had to be himself.

His second life began when he was recruited by a higher elite. SC9 took only the best of the best. Then made them even better. He adopted another new identity. Dominic Finch was gone; Alex Reeve was born. His old life was abandoned, and he was more than happy to let it go.

SC9 was the very tip of the nation's spear. Britain's enemies, at home and abroad, were not bound by the law. So neither were SC9's members – the Operatives. They fought fire with fire, taking any actions required, up to and including assassination. Such acts were necessary to protect the country.

Or so Reeve had been told.

It was all a lie.

He'd completed his training, become an Operative – then been immediately targeted for elimination. By his own side. SC9 had declared him Fox Red: a traitor. But Reeve was innocent. Why had he been marked for death? He didn't know. So he used all his skills to survive, escape – and run.

Alone, hunted by his former colleagues, he nevertheless eventually uncovered the truth. Another Operative, Craig Parker, had framed him to cover his own treachery. Reeve confronted him to learn why. Both Parker's parents had died; his mother in an underfunded hospital, his father in prison. The British state was, he insisted, culpable in their deaths. So he was taking his revenge by attacking it from within. Reeve had been framed simply because he was the most convenient patsy.

While SC9 hunted Reeve, Parker was free to embark on his own plan. He had been ordered to eliminate a progressive politician whom SC9's boss considered troublesome. The intent of the assignment was subtlety: to arrange an 'accident'. Parker, however, planned a very public murder. After which he would expose SC9 to the world's media. The agency had killed civilians and officials in friendly nations as well as hostile ones. It would be a diplomatic catastrophe, making Britain a pariah, tearing apart alliances. The damage to the country would be incalculable.

Reeve had stopped him, killing Parker in the process. But his own death sentence had not been lifted. All he could do was run again, and hide.

Which was where his third life began.

He still thought of himself as Alex Reeve. Officially, though, he was now Angelo Moretti. That was the name on his fake IDs. They'd cost him thousands of euros. Money well spent; they'd held up to scrutiny. SC9 hadn't found him, and nobody else had questioned his identity.

Now he lived in Italy. And he was no longer alone. He had Connie.

Connie . . .

Just the thought of her made him smile. He'd met her by fluke while on the run. Wounded, desperate, he reached a London hospital with the intention of stealing medical supplies. Instead, he found her. A nurse, she had helped him recover, given him shelter.

Why, was a question he'd asked her more than once. She'd had nothing to gain by taking an injured stranger into her home. 'Because I'm a nurse, and it's my job to help people,' was her stock answer. But she had once given him a more personal reason. Waifs and strays, as she put it. As a child, she had often brought home lost or hurt animals. Selfless caring was ingrained in her. She was a healer, kind and gentle, compassionate, open.

The diametric opposite of the man Alex Reeve had once been. Yet now they were together. And he couldn't imagine being without her.

He heard the car outside and went to meet her. The heat of late summer swaddled him as he left the apartment. Rolling green and yellow hills spread to the horizon all around. The Villa di Luna, a farmhouse converted into holiday flats, was in western Umbria. In the four months they had been here, Reeve had never stopped admiring his surroundings. He'd grown up in an impoverished part of Manchester. Beauty was hard to find there. Yet here, it was inescapable.

Feeling the sun on his face, he descended the slope at the building's side. Their old Fiat Panda stopped on the gravel drive behind it. The boxy little car was dented, green paint faded. Reeve had chosen it for several reasons, though. Both model and colour were common in rural Italy; it was anonymous. It was cheap to run, reliable enough, and easy to maintain with basic tools. And it had four-wheel drive. Many local roads, whatever online maps claimed, were little more than farm tracks. Even the relatively well-maintained route past the villa was unsurfaced. Approaching vehicles announced themselves with dusty rooster-tails long before becoming visible.

Connie smiled at him as she got out. 'Hi,' he said. 'Good day?'

'Pretty good,' she replied. 'I'm glad to be back, though. A lot of running around today.' Her qualifications had found her work at a nursing home. The job in turn had helped her hugely improve her Italian.

'Well, you can relax now. I've made pansotti for dinner. And there's still a bottle of wine in the fridge.'

She wrapped her arms around his waist. Summer in Italy had been good for her. She was tanned, long brown hair lightened by the sun. 'Aren't you just the perfect man?'

'I try.' They kissed. 'Let's go in.'

They headed back up around the farmhouse. As they reached their apartment, the door of another opened. 'Oh hi, there you are,' said Gina Trentini, in Italian. Their landlady owned the villa. She and her late husband had renovated and divided it into flats. It was currently in a rare lull, the three people the only residents. Reeve and Connie were in the smallest flat. In exchange for a reduced cash rent, Reeve acted as handyman. Manual labour in summer had been hard work, but he'd found it surprisingly engaging.

'Hi, Gina,' Connie answered. 'How are you?'

'Good, thank you. And you? How was work? It's definitely helping you improve your Italian.'

'Yes, it's much better than when I first arrived. I only had to repeat myself once today.'

'You'll get there. Your Italian is far better than my English!' Gina turned to Reeve. 'Angelo, I'm buying the bricks for the new wall tomorrow morning. Can you help me with them?'

Reeve glanced towards his most recent handiwork. He'd laid flagstones for a sun porch. Making room for it had required him to dig out part of a sloping lawn. The exposed bare earth needed to be bricked in before the autumn rains arrived. 'Yeah, of course,' he replied. 'What time do you want to go?' He was fluent in Italian, one of the languages learned during his SC9 training.

'The place opens at nine, so eight-thirty?'

'That's fine.'

'And could you start building it tomorrow as well?'

Connie pursed her lips. 'Oh. I have the day off tomorrow. I was hoping to spend it with him.'

'I promised Gina I'd do it,' Reeve reminded her.

A faint sigh. 'You did, didn't you?'

'I won't be working on it all day,' he said. 'All I can do tomorrow is finish the foundation trench, then pour the concrete. Should be done by lunchtime. We'll still have the afternoon.'

'I suppose,' she said, in English. He could tell she was disappointed.

'I'll make it up to you,' Gina assured her. 'I can do more pansotti, if you like the first batch.'

Connie gave Reeve a quizzical look. 'I'm sure we will,' he said. 'That'd be great, thanks.'

'See you tomorrow morning, then. Ciao!' The Italian returned to her flat.

Reeve and Connie went to their own. 'So,' she said, 'I thought you made dinner?'

'I chopped the onions. That's the hard part. It counts.'

'Yeah, right.' She gave him a smile, but it was only thin.

Until he met Connie, Reeve had kept his emotional shields permanently raised. As a result, he wasn't skilled at reading the feelings of others. But after nine months together, he could tell something was troubling her. 'What's wrong? You're not mad I agreed to help Gina tomorrow, are you?'

'No, it's not that,' she said. 'I'm fine. Just a bit . . . homesick.'

'You're homesick?' The admission surprised him.

'One of my residents lived in London in the eighties. We got chatting about it.' She sat heavily on the sofa. 'It made me realise how much I missed it.'

'I thought you hated your flat.'

'I don't mean the flat, Alex. I mean London, in general. England. I was born there, I grew up there. I might have an Italian passport now, but it still feels like a foreign country.' Connie's mother had been Italian, granting her dual nationality. 'I don't know the politics, the social quirks, the . . . backstory. I don't have much common ground when I'm talking to people. I miss that.'

'You want to go back to London?'

She shook her head. 'Not really. But I feel . . . cut off, if that makes sense?'

'We are a bit isolated out here.' The nearest town was Castiglione del Lago, almost ten kilometres away.

'Yeah. And I'm a city girl! I love it here, it's beautiful. But I feel like I'm missing out on things I used to take for granted.'

'Like what?'

'Silly stuff. Going out to a club. Music, meeting friends, bitching about politics. Just . . . gossip, you know? Finding out what's going on.'

'Right.' Reeve nodded in what he hoped seemed like understanding agreement. He didn't miss the social banalities at all.

She saw right through him, he realised. But she didn't hold it against him, or try to score points. 'I know, that's not your thing,' Connie said instead. 'It'd just be nice to do something a bit more lively.'

'We could go to Venice,' he suggested. 'We've been talking about it for ages. We should actually do it.'

The idea visibly perked her up. 'Really?'

'It's, what, four hundred kilometres away? We could drive there in a morning. Or get the train. There must be a connection to Venice from Florence.'

'There is. I looked it up a while ago.'

'You did?'

She gave him a small, sly smile. 'Might have looked up places to visit as well.'

'Advance recon, eh? You've learned something from me.'

A flicker of emotion in her eyes, quickly covered. He had turned his back on SC9, but she still knew its purpose. 'Just basic Girl Guides stuff,' she said. 'Be prepared.'

'I always am.' Both their gazes went to something near the front door: the 'bug-out bag'. It contained everything they might need if they had to leave in a hurry. The pack had been their constant companion for nine months. The first five, travelling through France and Italy, it had rarely left Reeve's side. He'd gradually relaxed as it became clear SC9's Operatives weren't right behind them. Lately, he'd even started going out without it. Was he getting lax – or just feeling secure? He'd chided himself over it, but . . .

Well, he did feel secure. He'd successfully evaded his pursuers for almost eighteen months. And the last person he'd seen from SC9 had let him go. As thanks for stopping Parker, Reeve's former mentor Tony Maxwell gave him a head start. Only three minutes, but that was enough to disappear into London.

After that, he recovered, regrouped, re-equipped. He'd already acquired money from a drug dealer stupid enough to tangle with him. That let him buy new identities. He'd burned one of them to leave the country; it was too risky to use again. But he had others in the bag, if needed.

Which hopefully they now wouldn't be. Eighteen months. SC9 hadn't caught him in that time, with almost limitless resources. The agency could call upon all of British Intelligence – MI5, MI6, GCHQ and more. If they hadn't found him by now, they probably never would. As long as he kept his head down.

Reeve certainly wasn't planning to raise it. His new life made him happy. Connie made him happy.

And he wanted to make her happy in return. 'Maybe we could go next week,' he said. 'If you can take a few days off?'

'I'm sure I can,' Connie replied. 'Okay, then. It's set. We're going to Venice!' Her smile returned, wider. 'I'll check for hotels after dinner.'

'Nothing too fancy,' he jokingly cautioned. 'We don't want to blow all our money.'

'Aw. I had my heart set on the penthouse at the Gritti Palace.'

Reeve laughed, then started to cook dinner.

CHAPTER 3

The reddening sun lay fat on the western horizon. Reeve ran towards it, eyes narrowed against the glare.

Gina's pansotti had been as delicious as he'd hoped. Connie was now relaxing with a glass of post-dinner wine. Reeve, though, had headed out on a 5K run. It was probably too soon after eating. But he might not have time next morning – and he'd also been slacking.

A run had long been part of his daily routine. But as with the bug-out bag, recently he'd started letting it slide. He needed to watch that. Just because he'd found a comfortable life didn't mean he could turn into a blob . . .

His route took him on a loop. It wasn't a precise five thousand metres, but he could live with it. He would once have been far more anal about the discrepancy, he thought with amusement. Out from the villa, up into the village of Sanfatucchio. Past the second church, back downhill to the hamlet of Bracacci. West along the track, cut up through the fields, then back on the unpaved road.

From here, the only house ahead was the villa. There was another landmark, though: the haystack. It wasn't like the little rotund ones of childhood stories, however. This was larger than some of the area's farmhouses. Forklift-equipped tractors had built it up over summer, bale by hulking bale. He'd occasionally seen local kids climbing on top of it.

Reeve ran past it, descending back towards the villa. A car was heading towards him from Sanfatucchio, a pale cloud swirling behind. He wouldn't reach home before it passed. A faceful of dust awaited. Still, he needed a shower anyway.

Round the next bend, the hill steepening. The track to the villa branched off a hairpin. As he'd expected, the car, a Volkswagen, came around it first. He moved to let it pass. He'd seen the Golf before, but still checked the driver as it approached. Car and face – an overweight Italian man in his fifties – matched in his mental database. Definitely not Operative material. He waited for the dust to subside, then ran again.

The last leg was down a rutted track. It weaved through trees to Bracacci, but his destination was only a hundred metres on. He turned up the villa's drive, rounding the farmhouse to reach the flat.

He checked his time. Just over twenty-five minutes. Far from his best, but he hadn't been pushing. He stood in the golden sunlight to regain his breath, then went inside.

Reeve knew at once that something was wrong. Connie was on their laptop, hurriedly looking around as he entered. Her expression was . . . guilty? No, worried, as if she'd seen something she shouldn't. 'Alex. Oh. Hi.'

He went to her. 'You okay?'

'Yeah, I'm fine.' She wasn't.

He glanced at the computer. An English newspaper's website. 'So what's the matter?'

'I, ah . . .' She hesitated. Reeve grew concerned himself. Had she done something to give them away? He doubted it – she knew the dangers, the precautions they had to take. The laptop was as secure as he could make it, microphone and camera removed. It also ran a security-enhanced Linux operating system to restrict hacks and malware. Their online footprints were as light as they could be. So what was troubling her?

'I was looking at the news from home,' she continued. 'All kinds of stuff, just catching up. There was a story about Elektra Curtis.' Connie admired the young progressive politician – who had been Parker's assassination target.

'Something's happened to her?' said Reeve, alarmed.

'No, she's fine. But – well, I'll show you.' She clicked back to the previous page. An image of Curtis appeared. She looked older, more serious, than when she and Reeve had briefly locked eyes. Her political star had risen; she was now Shadow Minister for Security. 'There was one of those "also in the news" sidebars. And I saw . . . this.'

She indicated the link. Reeve looked more closely.

And froze.

It was a picture of his father.

Like Curtis, he looked older. Understandable; Reeve hadn't seen him since childhood. But his expression wasn't the cruel anger he remembered. He was smiling: a smug smirk of triumph.

The accompanying headline explained why. Wrongfully convicted man freed after 16 years.

'I saw his name,' Connie went on. 'Jude Finch. I remembered you'd said that was your dad's name. So I checked the story, and . . . it's him. They let him go.'

'They . . .' A feeling from the past rose inside Reeve, one he'd hoped would never return. A cold, paralysing fear, gripping his heart. He forcefully overcame it. 'Let me see.'

Connie moved so he could sit at the laptop. He read on. Jude Finch released after son's testimony revealed as lie.

He clicked the link. The page Connie had been reading reloaded. Murder sentence quashed. He speed-read the story. Anger grew alongside the inner chill.

His father had indeed been released from his life sentence. The reason was Reeve himself. His own testimony, key to the conviction, had been struck down. Without it, only circumstantial evidence remained – Jude Finch had carefully covered his tracks. That had not been enough to keep him in prison.

But the story had a frustrating lack of detail. The newspaper was a tabloid, dealing in short sentences and snappy soundbites. The human-interest summary was all its journalists cared about. 'It took a long time, but justice was finally done,' said Finch. What will he do first now he's free? 'I'm going to the pub!'

The story had a final, brief paragraph. Finch's son, Dominic (29), is wanted for questioning on perjury charges. His whereabouts are unknown.

Reeve stared at the words, then called up a search engine. 'What are you doing?' asked Connie.

'I need to know more,' was his brusque reply. He typed in search terms: jude finch released. Links appeared. He clicked on one. Another picture of his father, triumphant. Reeve's anger surged again.

The new story had more details. Not only had his father been released; he'd received compensation for wrongful conviction. That in itself confirmed a dawning suspicion. When it came to paying for its mistakes, the British government never moved quickly. Yet Finch had got his money immediately. 'It's them,' he growled as he clicked back. 'SC9.'

Connie stiffened in alarm. 'What do you mean?'

'They got him out.' The next story told him his father had returned to his home city of Manchester. 'They're using him to find me.' Another shock on the following link: a picture of himself. The mugshot was a few years old, from his military ID. Liar: Dominic Finch was dishonourably discharged from the Army, read the caption. 'It's an excuse for them to put my face all over the news. If anyone sees me, SC9 can send Operatives after me again.'

'But that'll only work back in England,' said Connie. 'Nobody'll see it in Italy. And besides, this was eight months ago.' She indicated the story's dateline.

In his rush to read the facts, he hadn't noticed. He checked the other stories. All were months old. 'You see?' she said. 'If anyone had seen you, they would have come looking by now.'

She was probably right. But the sickening sense of fear wasn't subsiding. He realised why as he looked at the screen again. Jude Finch smirked back at him. The man who had beaten him as a child. Murdered his mother. The person he hated most in all the world.

And now he was free.

'They let him
We hope you are enjoying the book so far. To continue reading...
Rogue Asset
Andy McDermott
Copyright © 2021 All Rights Reserved