Remembering a Witch
She's dreamed of him for years.
Book info
Sample
Audiobook
Media
Author updates
Lists
Synopsis
COLORADO BOOK AWARDS Finalist

She's dreamed of him for years...

Fenella found Graham, the man she's destined to love. Literally. They're both reincarnations of a centuries-old match. Problem is, Fenella's gift of Sight only lets her see glimpses of the long-dead couple and never past a certain point. What happened to the original lovers? Did they meet an untimely end? And if so, are Fenella and Graham headed for the same fate?

To get answers, Fenella must give herself over to powers she tries to ignore and reveal her witchy-heritage to the man she's falling for.

But can it be considered true love if the feelings first belonged to someone else?

REMEMBERING A WITCH is a 16,000 word paranormal romance novelette perfect for people who like pumpkins, pit bulls, and professors with sexy ginger hair! This story is inspired by the autumn equinox and is just the thing to welcome in the colder seasons.
Release date: September 16, 2019
Print pages: 74
* BingeBooks earns revenue from qualifying purchases as an Amazon Associate as well as from other retail partners.
Listen to a sample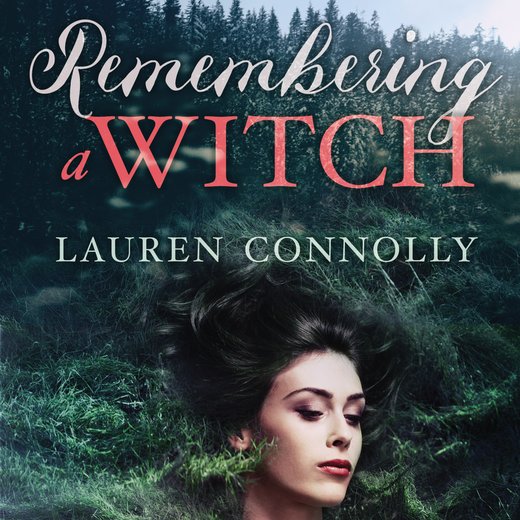 02:09:41
59.37 MB
9781949794052
April 7, 2020
Lauren Connolly
Behind the book
Remembering a Witch is a 16,000 word paranormal romance novelette perfect for people who like pumpkins, pit bulls, and professors with sexy ginger hair! This story is inspired by the autumn equinox and is just the thing to welcome in the colder seasons.
Author updates
Remembering a Witch
Lauren Connolly
Chapter OneFenella
When the deep rumble of a man's chuckle brushes past my ears, ducking behind the nearest large object isn't even a conscious decision.
I don't normally take cover at the sound of laughter. Only I've never heard this particular laugh anywhere other than my dreams. The familiar sound fills my mind with memories that don't belong to me.
As I press my back against the rough bark, I am transported away from the pristine university campus, finding myself surrounded by untamed woods.
Sunlight barely reaches the forest floor, filtering through the tall canopy, stingy about which surfaces the rays illuminate. Small bugs flit about, sparkling when they pass through the light. They add a soft hum to the whistle of the breeze between branches. But all these sights and sounds fall away, overshadowed by the man standing across the clearing from me.
His hair, the vibrant color of a ripe pumpkin, shimmers as if the strands were aflame. A friendly grin shows off a set of charmingly crooked teeth, which parts to let out another roll of chuckles.
I've always loved making Henry laugh.
No, not me, I remind myself.
Marbella made Henry laugh.
I am not Marbella. Henry is not the man I just heard.
They both died long ago.
I press my fingers against my closed eyelids as if that'll clear the phantom image from my mind. After a moment, the wild forest and the handsome man drift away. As the vision dissipates, I drag in a deep breath to calm my racing pulse.
This is what happens when I break with my routine.
I blink my eyes open and find everything is as it should be. The well-manicured, grassy expanse of lawn in the middle of the local university campus stretches out before me. Stray students meander along neatly paved sidewalks, many in shorts and tank tops on this beautiful, sunny day.
Unfortunately, I remain pressed against the tree.
"So, the man sounded like him," I mutter to myself. "That doesn't mean anything."
As I converse with myself, Daisy sits on her haunches, staring up at me. My surprise vision has interrupted her walk, but she is kind enough to wait patiently as I work through my shock.
I pull in another fortifying breath, planning to take a confident step away from my hiding place, spine straight, head held high.
My body betrays me. Instead, I end up pulling the brim of my floppy hat low over my face and peeking around the trunk.
The owner of the laughter is not hard to find. His flaming hair is a beacon, bright and familiar as Henry's.
I retreat. "By all the gods and goddesses, this can't be real. This can't be happening."
Twigs pluck at the back of my long floral dress as I crouch, as if making myself smaller might somehow lessen the magnitude of this situation. Breathing becomes difficult, air stuttering in and out of my lungs, my body forgetting exactly how to absorb oxygen. My mind, despite being well tuned into the magical currents of the world, never expected to meet Henry anywhere other than in my dreams.
He's not Henry, I remind myself.
Not any more than I'm Marbella.
Another memory rises to the surface, this one my own.
"You are the spitting image of her." My mother holds up a centuries-old painting beside my face, eyes flitting between the image and my teenage scowl with wonder in her expression.
The heirloom is barely larger than my palm. A portrait of my ancestor, Marbella Henwood. The strongest witch our family has ever laid claim to. A woman who died three hundred years ago.
Discovering I was the reincarnation of a long-ago dead woman has never sat well with me. What is a reincarnation anyway? My mother couldn't give me a good answer. Could never say with utter confidence that I was my own person rather than a copy of one from the past.
I've done my best to forget my odd heritage as I live my life how I see fit.
But my magic doesn't want me to ignore anything. The Henwoods are seers. Prone to visions. A pesky skill that showed up the same time I started using tampons. Dizzy spells would hit me hard moments before my mind fell back hundreds of years to watch short scenes from my ancestor's life.
So, Mom taught me to brew a tea filled with a particular combination of herbs that helped suppress unwanted magical interventions.
But at night, with my mind relaxed in sleep, every so often, Marbella's memories will slip into my dreams. Memories of Henry, the ginger-haired horse breeder she fell in love with.
A man who, it seems, has also been reincarnated.
Mom would claim his appearing here, on a campus in Roanoke, Virginia, where I just happened to be walking my dog, was an act of fate. She has always assured me that, with witches, there's no such thing as coincidences.
But what am I supposed to do with this knowledge?
Even growing up in a household filled with magic, I rejected the idea of my doppelgänger status.
Am I supposed to walk up to this stranger, stick out my hand, and say, "Hello. I'm Fenella Henwood. I've dreamed of you since I was a child. Probably because I'm descended from a line of witches, and I believe that you are the reincarnation of my ancestor's lover"?
In that moment, Daisy's patience runs out. Taking advantage of my distraction, she gives a quick tug, and the leash is out of my hands.
"No! Daisy, come!" My whispered command rushes out low and furious.
She ignores it, dancing away.
"Traitor!"
She wags her tail.
Unlike most dogs, who would use their newfound freedom to bolt, my dog sets out at an almost mockingly slow trot. I could catch up to her easily.
If only I left my hiding spot.
Dread settles in my chest as my furry companion heads straight for the Henry look-alike.
I groan, considering abandoning her out of spite.
If only I didn't love the silly pit bull so much.
One more breath, deep and centering, and I follow her.
I have to clutch my skirt, holding it up so the fabric won't tangle my legs, as I sprint after my dog. With my other hand pressing my hat to my head, I'm sure I look ridiculous. As if sensing my approach, Daisy picks up her pace, beelining for a pair of people, the not-Henry one of them.
The familiar man stands next to a blonde woman who spots Daisy trotting toward them. She lets out a squeak before attempting to hide behind not-Henry in the same way as I just used the tree.
I try not to roll my eyes. With Daisy's cropped ears and muscular body, I know most of the world sees her as the embodiment of aggression. But her lack of a killer instinct is the whole reason she got abandoned.
When I found Daisy in the animal shelter, I knew I couldn't leave without her. There was a force, a push and pull, that existed beyond my physical body. She sat still that day as I lay my palm on her soft head. The expression in her liquid brown eyes was more intelligent than I'd ever expected from any animal.
Finally, you found me, she seemed to say.
And I knew, beyond a doubt, she was my familiar. An animal companion brought to my side by the subtle hint of magic in my veins.
"I'm sorry! She's friendly!" I call out. The classic words of an irresponsible dog owner, but at least I didn't mean to let Daisy run loose.
To my surprise, the ginger-haired man crouches low and holds out a hand, inviting Daisy to sidle straight up to him. Happiness flutters through my chest at the sight, leaving me more breathless than my short sprint.
When I reach them, I'm panting. Unfortunately, with the familiar stranger crouching on the ground, I can't even use the wide brim of my hat to hide my face from him.
"I wasn't paying attention, and she pulled the leash out of my hand. I'm sorry," I breathe the words out with my exhale, watching the top of the man's head as he grins down at my dog.
"Don't worry about it. I …" Whatever he was about to say trails off as he glances up and meets my gaze, surprise slackening his jaw.
Does he feel it too? A strange sense of knowing?
This close, I can see he has the same faded blue irises as Henry. But I also pick up the slight differences between the man of Marbella's memories and this flesh-and-blood figure before me. Not-Henry's carrot hair barely brushes the tops of his ears while original Henry let his locks fall to his shoulders. Not-Henry sports a tame beard, compared to the full growth of original Henry.
Still, underneath it all, the face is the same sharply angled shape.
"I'll see you at the faculty meeting tomorrow." The woman who hid from Daisy practically power-walks away, throwing nervous glances over her shoulder.
Not that my dog has any interest in giving chase. She's too busy getting her belly scratched.
Which brings my gaze to his hands. Long fingers, but this set seems almost soft without the scars of hard work Henry sported. I've stumbled upon an academic, clearly.
And I don't approve of the way my heart beats heavy in my rib cage as I watch not-Henry love on my dog.
The woman had the right idea. It's time to flee.
"Daisy, come here. Leave the nice man alone." I give a gentle tug on the leash, and my familiar lets out a pathetic groan.
"Have we met before?" Even as the man rises from his crouch, his eyes never leave my face.
Not sure exactly what the truth is, I offer a vague answer. "I'm not a student here. Just enjoy visiting the campus on nice days."
His head tilts, and some phantom pull in my chest begs me to step closer.
But I am my own person, and I shouldn't have to listen to magical urges if I don't want to.
Problem is, I'm too overwhelmed to sift out exactly which wants are mine and which belong to Marbella.
Distance. I need distance.
This time, when I give the leash a firmer tug, Daisy grunts and rolls to her feet, falling in step beside me as I do my best not to look like I'm running away.
"Wait!"
My body listens to him, even as my mind doubts that I should. There's a set of heavy footfalls, and the overwhelming presence of him comes up beside me.
"Do you mind if I walk with you?"
I waver, struggling to come up with a reason to say no, even as I fight the urge to agree to any time I can claim from him. "You don't have somewhere to be?"
A shift at my side draws my eye in time to see him shrug while he smiles down at me. "I might. But, honestly, I can't remember."
For a moment, I'm caught in that murky blue of his irises. There's humor lurking there. So much that it makes me wonder when the last time was that I let myself relax enough to laugh. I'm always worried that letting my guard down means giving my magic a chance to topple me over. But at this moment, there's nothing I want more than to be in on the joke. His joke.
"I'm Graham, by the way. Graham Reid." He extends his hand.
"Fenella Henwood." I hesitate a second before returning the gesture, bracing myself for the contact.
I'm not sure what I expected.
Sparks? A clap of thunder? A vision?
None of those things occur. Nothing magical at all in fact.
Still, I find myself not wanting to let go. My dreams—Marbella's memories—consist of sights and sounds. Never touch. His warm skin against mine belongs solely to Graham, no memories of another man overlaying the experience.
We both slacken our grips, but the release is full of hesitation, turning the retreat into an almost-sensual slide of fingers.
We meander side by side, Daisy taking the lead. I study him in my periphery and catch him doing the same. Instead of feeling unnerved, I am fascinated. This casual strolling, under the shade of large oak trees, carries a sense of familiarity. Memories of Marbella and Henry walking together through wilder woods are delicate pencil sketches on tracing paper. If laid over the vivid picture of me next to Graham, the lines match up, but this moment is full of color while the other is pale and insubstantial.
"Do you live here? In Roanoke?" Graham's body holds a thrumming energy that makes me think he's not as comfortable with silence as I am. But I find I don't mind the soothing cadence of his deep, curious voice.
"Yes. I'm a veterinarian at a local clinic." I glance toward Daisy, who has found a beautiful, blooming bush to pee on. My profession is the reason I found her. I happened to be volunteering at the shelter where she was dropped off.
Another not-coincidence.
"A vet," he murmurs. "I have to say, the idea of adopting a pet has never seemed more appealing." He beams down at me.
Warmth pools in my cheeks, and I'm horrified to realize I'm blushing. I never blush. I'm too practical to blush. And a man's teasing has never appealed to me before.
"Why are you here?" The question tumbles out of my mouth, born of my confusion and discomfort. And I'm not even sure what I mean by here.
Here in this time?
Here in my life?
Here, beside me?
"Well, I work here." Graham continues to watch me instead of the ground in front of his feet. But he doesn't trip or stumble. And his humor doesn't dissipate at my odd question.
"That … makes sense."
"Does it? Do I look like a professor? Sometimes, I think I should've chosen a more adventurous career. Like a mountain climber. Or a cowboy." Graham grins wide, inviting me to laugh with him. But as his lips part, I see a familiar, slightly crooked set of teeth.
A sliver of my heart aches in recognition, which is tinged with sadness. I rub my chest, soothing the little piece of me that knows this man. Or some version of him at least.
Despite the press of my fingers and a few deep breaths, a surge of magic rushes through my head, and my inner balance tilts. I miss a step, stumbling as I focus inward, pushing away the fragmented visions that threaten to cloud my consciousness.
Damn it. I need my tea.
A sturdy hand cups my elbow while another presses into my lower back. Suddenly, I'm no longer fighting my magic but instead doing a poor job at stifling a pleasurable shiver skittering over my skin.
"You okay, Fenella?"
Say my name again, I want to whisper.
But I don't.
"Long skirt." I shake out the material as if it had tangled around my legs and caused the stumble. Changing the subject and acting in self-preservation, I force myself to put distance between us. "My car is just up here."
We've reached the edge of a visitor parking lot. The smart thing would be to wave and walk away. Instead, I turn to face Graham.
He watches me with eyes that see too much and yet nothing of the truth.
What am I supposed to do with this man?
Can I keep him?
"Would you want to get coffee sometime? I just moved here at the beginning of this semester. I've been looking for someone to show me around." Graham offers an entreating smile, even as his cheeks go ruddy. He's an appealing mixture of confidence and chagrin.
Whatever the universe's plans are for the two of us, I'm losing the battle against them.
"All right. I'll give you my number." I hold my hand out for his phone.
He pats his pockets and then searches through his bag. His hands come up empty. "Damn. Must've left it in my office. Let me just …" Another dive of his fingers retrieves a pen, but then he resumes frantic searching. "I know I have something to write on. It can't all be student papers," he mutters to himself and then clamps the pen in his teeth in order to use both hands to search.
The whole display makes me want to laugh. Instead, I step in close enough to make him pause, slide the pen from his mouth, and reach down to clasp one of his hands. The ink shows up beautifully against his pale skin. I use slow strokes to write out my name and phone number. Then, not quite ready to let go, I trace a simple vine around my contact information.
Realizing what I've done, I drop his hand and offer the pen back.
Graham accepts it, letting the tip of his thumb brush mine.
"I'll call you, Fenella." He stares down at me with an excited smile, as if I'm somehow fascinating to him.
I'm certain this brief interaction has turned my orderly life upside down, and I can feel the pressure of a denied vision building up in the back of my skull. I need to get away.
Even if standing here holds a sense of contentment I never expected.
"Good-bye, Graham."
The second I say the words, my heart crushes under the weight of a mysterious sorrow.
We hope you are enjoying the book so far. To continue reading...
Remembering a Witch
Lauren Connolly
Copyright © 2021 All Rights Reserved