Book info
Sample
Audiobook
Media
Author updates
Lists
Synopsis
Danielle Parker is a gold-medal mom—the kind who volunteers in her children's classrooms, shuttles them between activities, throws legendary birthday parties, and has a remedy on hand for any emergency. Whatever her husband, Jeff, and their children need, Dani is there, always. Except for one day.



On that day—the day that Dani reluctantly takes some "me time" while her mom and Jeff drive the children to the park—the unthinkable happens. The car crash leaves no survivors. Somehow, Dani gets through the funerals and visits, accepting neighbors' sympathy and dropped-off meals. All the while, guilt and grief make her wish the accident had claimed her life too. Then a call comes from Lydia Schlabach, an Amish woman Dani befriended in childhood. In addition to condolences, Lydia offers Dani something more: a place to escape to.



In Pennsylvania's Amish country, Dani's days take on a new rhythm, marked by the clip-clop of buggies and the bustle of chores. Lydia gives Dani space to mourn, to think, and to realize how long it's been since she felt like a person in her own right. And with the help of friendships old and new, Dani learns about the ways life continues to surprise us—even after the deepest loss—with joy, love, and second chances . . .
Release date: July 28, 2020
Publisher: Kensington
Print pages: 320
* BingeBooks earns revenue from qualifying purchases as an Amazon Associate as well as from other retail partners.
Listen to a sample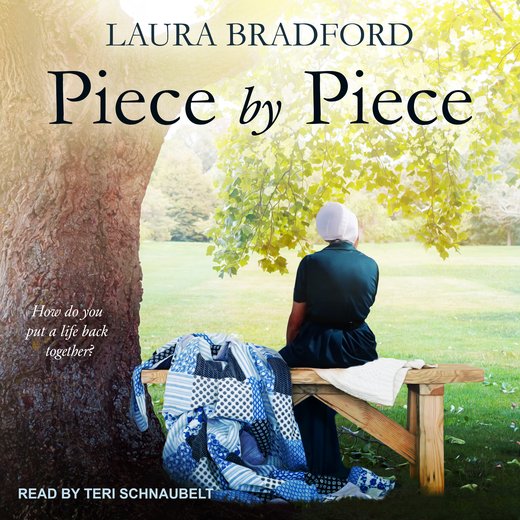 07:54:58
217.44 MB
July 28, 2020
Tantor Audio
2020
Piece by Piece
Laura Bradford
Setting the final thank-you note atop the stack at her elbow, Danielle Parker glanced up at the clock above her kitchen desk, its gentle yet ceaseless ticking drowning out her usual sense of accomplishment in the wake of a completed task.

Twenty minutes to the exit ...

A minute or so to park the van . . .

Ten minutes to climb across every rock between the parking lot and the playground . . .

Twenty minutes of swinging and sliding . . .

Ten minutes for snack . . .

Her gaze jumped to the freshly wiped counter on the opposite side of the kitchen while her mind's eye began a mental inventory of the tote bag her mother had all but snatched out of her hands mid-protest.

Pretzel sticks for Ava.

Veggie straws for Maggie.

Spencer's favorite rainbow-colored—

She pulled in a breath. Had she even gotten the cracker box out of the pantry, let alone sealed them in a baggie and added them to the tote? Pushing back her chair, Dani crossed to the notebook she kept beside the toaster and ran her finger down the list she'd made just that morning—a list she knew by heart but still wrote, item by item, every time a trip to the park was on the day's schedule. Or, in today's case: not on the schedule but insisted upon by one's visiting-from-out-of-town and refused-to-take-no-for-an-answer mother.

Bubbles.

Frisbee.

Butterfly net.

Picnic blanket.

Ava's snack.

Maggie's snack.

Spencer's snack.

Sure enough, the day's green checkmark was present beside the five-year-old's name just as it was next to every other item on the list. Sinking against the side of the refrigerator, Dani waited for her heart rate to normalize as her focus traveled across the center island to the hardcover book marking her spot at the kitchen table and, finally, onto the list she'd temporarily abandoned in order to—

Sliding her view back to the oak table and the book she hadn't noticed until that moment, she parted company with the magnetized pictures at her shoulder and made her way around the island, her eyes playing across the unfamiliar cover. Intrigued, she fingered the embossed envelope, followed the long black dashes denoting a breeze, and noted the whimsically inviting harborside village at the base of a hill, the muted glow of light from a single window both calming and alluring all at the same time.

Below the cover art and positioned across the book's title was a blue sticky note with her mother's bold handwriting:

"A promise made under duress, I might remind you," Dani murmured.

And it was true. She didn't need Dani time; she had Dani time every day. She had it in the mornings when she was making breakfast for Jeff and the kids, she had it in the car while singing along with the kids to whatever song came on their favorite kid-friendly station, she had it when she was sewing on Maggie's latest scout patch, she had it when she was running to the food booth on the other side of the field to cover whichever teammate of Spencer's had failed to bring a snack to practice that week, she had it when she was playing in the rec center pool with Ava while waiting for toddler swim to start, and she had it at night after the kids were in bed and she was helping Jeff brainstorm his latest client pitch.

That was the Dani time she wanted, the Dani time she craved regardless of what her mother believed. She didn't need to go off on girls-only trips like Roberta, or join book clubs or card groups to fill some sort of inner well. She was a wife; she was a mother. She didn't need time away to discover herself. She didn't need to sit in a circle with other women and search for the meaning of life inside the pages of a book when her help was needed in Maggie's or Spencer's classroom. She didn't need to enroll Ava in a kids' day out class so she could go shopping "in peace" as her friends were fond of saying. And she most certainly didn't want her kids to come home to a babysitter the way she, herself, had while growing up.

No. Jeff and the kids were her inner well. They filled her up just fine all on their own . . .

Reaching out, she peeled off the note, crumpled it inside her hand, and then flipped the novel over, the summary's promise of adventure and self-discovery for thirty-four-year-old Amanda Frawlings sliding Dani's gaze back to the clock and then below it to the day's list and the next few items awaiting her attention.

Tomorrow's list needed to be written . . .

Tuesday night's baked ziti and Thursday night's chicken and dumplings needed to be prepped and frozen . . .

She still needed to find the perfect snack recipe for—

A gurgled reminder of her propensity for skipping meals derailed her thoughts and pulled them back to the book and the bowl of fresh fruit just beyond it in the center of the table. Again, her eyes swept back to the clock.

Five minutes of Maggie jumping rope . . .

Ten minutes of Spencer chasing bugs around the picnic area with his net . . .

Five minutes—tops—of Ava blowing bubbles alone . . .

Ten minutes of Spencer and Ava running around trying to catch the bubbles Maggie blew . . .

Ten, maybe fifteen minutes of all three playing hide-and-seek —

A quick vibration against her hip rerouted her hand from the fruit bowl to her pocket and the thumbnail image now illuminated on her phone's screen. Opening the message, Dani smiled down at the picture she'd all but demanded her mother send if Dani was going to heed the whole stay-home-and-take-a-little-time-for-yourself thing. In the captured moment, Maggie was trying desperately to blow a bubble but was having difficulty on account of the laugh she was clearly sharing with her brother and sister. In the background, behind Ava, Jeff, too, was laughing. Beneath the picture, a trio of moving dots let Dani know her mother was typing some accompanying commentary.

Sure enough, less than a minute later, her phone vibrated inside her hand with the arrival of another text, this one containing only words.

Kids loved the bubbles but now moving on to hide-and-seek. After that, Jeff mentioned feeding goats (?!?) and maybe making a quick stop at his office before heading home. Can't wait to hear what you think of the book.

She looked again at the picture, ran her finger across the faces of her children and husband, and swapped the phone for an apple.

Five-minute walk to petting zoo on southern edge of park . . .

Ten minutes of rooting around for quarters, inserting them into the feed machine, filling up three tiny hands, and then nonstop giggles over the feel of goat tongues . . .

Five minutes back to the parking lot . . .

Five minutes of bathroom trips . . .

Ten minutes to the office . . .

A few minutes to grab whatever Jeff forgot on Friday . . .

Ten minutes to get home . . .

Satisfied she had plenty of time to eat an apple and still make a sizeable dent on the rest of her to-do list, Dani opened the book and began to read. Page by page, and bite by bite, she made her way through chapter 1, and then chapter 2, the author's writing style sucking Dani into the main character's plight so fully she barely caught the dribble of juice from her apple before it dropped from her chin to her shirt. As she wiped it away with her thumb, the ever-increasing rumble in her stomach sent her to the pantry for a handful of pretzels and a chocolate-chip cookie she carried, along with the book, into the living room.

Chapter 3.

Chapter 4.

Chapter 5.

She stretched, pulled the meticulously folded afghan off the back of the couch and onto her shoulders, and then tucked her feet into the space between the armrest and the edge of her cushion . . .

Chapter 6.

Spurred on by the description of the coffeehouse in which Amanda now found herself looking up at a handsome stranger with ocean-blue eyes and a smile capable of powering the quaint riverside town, Dani returned to the kitchen for her own cup of coffee. With barely so much as a glance upward, she plucked a mug from the cabinet, turned on the kettle, rifled through the assorted instant coffees, settled on a packet of hot cocoa mix instead, and waited for the water to boil . . .

Chapter 7.

She poured the steaming liquid into her waiting cup, stirred, set the spoon beside the mug, and reached for the light switch . . .

Chapter 8.

Chapter 9.

She carried the now-empty mug to the sink, set it inside, and filled it with water to soak. Slowly, deliberately, she moved her head—if not her eyes—left and then right, the movement welcomed by her neck and shoulders . . .

Chapter 10.

The bounce of a car's head lamps across her book temporarily hijacked her attention first toward the stainless-steel refrigerator and then the window and its view of the driveway. She felt the pull of curiosity as to why Jeff hadn't pulled into the garage, but it didn't last as she quickly calculated how long it would take her to read the last two pages in the chapter before the door opened . . .

She dropped her eyes back down to the book and continued reading, a smile spreading across her lips as Amanda walked into the middle of a field of wildflowers, spread her arms wide, and—

A loud knock pulled Dani back into the moment, her smile morphing into a frown as the front porch light, set to come on somewhere between five and seven o'clock depending on the season, showed two adult-sized figures waiting on the other side of the door's stained-glass insert. Sighing, she set the book on the center island and hurried across the room, her mind's eye mentally inventorying the dinner she'd planned and whether there was enough for whatever unexpected guest Jeff had extended an invite to while at the park with the—

She looked from the porch light to the darkness beyond and then to the digital clock on the built-in microwave.

6:45.

"Six forty-five," she echoed aloud. "How on earth did it get to be six—"

Wrapping her hand around the muted copper knob, she yanked open the door. "So much for a quick stop at the office, mister—"

Her words bowed to a gasp as her gaze fell on the pair of state troopers standing, shoulder to shoulder, on the welcome mat, the porch light illuminating their drawn faces and hooded eyes. Confused, she looked past them to the driveway and the police car parked where her minivan usually sat.

"Danielle Parker?"

She leaned forward, craning her head just enough to afford a view of the rest of the driveway. Nothing . . .

"Ma'am?"

She abandoned her fruitless inspection and drew her attention back to the man on the left, his large dark eyes fixed on hers. The second man—his hair cut close against his ears—shifted his weight across his thick legs. "Yes . . . I'm Danielle Parker. Is there something—" Stopping mid-sentence, she looked outside a second time, her gaze drifting from her next-door neighbor's darkened windows to the troopers. "It's Roberta next door, isn't it? Something happened on her girls' trip to the city? Is-is she okay?"

The men exchanged glances.

"Oh no . . . Does Doug know yet?" she managed past the lump rising inside her throat.

Reaching up, the first trooper grabbed hold of his hat and pulled it from his head, revealing a mop of dark blond hair in the process. "Could we come inside?" he asked.

"Come inside?" she echoed. "But . . . Yes, yes, of course. I'm sorry. I don't know where my manners are. I've been waiting for my husband and my mom to get back from the park with my kids and it seems I'm not the only one who has lost track of the time somehow."

She waited for them to step all the way in and then, after glancing down the road in the direction Jeff would surely come, she closed the door. The quieter cop's eyes dove to the floor, the tip of his tongue gliding across what she guessed to be dry lips.

"Can I get you something to drink?" she offered, gesturing toward the kitchen.

Shaking his head, the hat-holding trooper cleared his throat, his eyes leaving hers and traveling toward the kitchen table. "Perhaps you'd like to sit?"

"Right . . . Sure . . . Okay." She stopped halfway to the table and turned back to the men, the beat of her heart audible inside her ears. "Did Doug take the kids to his parents' house? Do you know? Because if not, I can take them for a while if he wants. Or my husband or I can drive them wherever they need to go."

The trooper looked quickly at his partner, cleared his throat a second time. "Ma'am, we're not here about your neighbor. "

She pulled back. "You're not?"

" No. "

"Then . . ." The question died on her lips as the trooper stepped forward, his Adam's apple rising and falling with a hard swallow.

"Ma'am, there's been an accident."

It was as if she'd put up a sign outside each of the first-floor rooms, separating the various parts of her life into neat and manageable chunks. In the study, scattered about in twos and threes, were Jeff's business partners and employees, the rise and fall of their strident voices reminiscent of every summer gathering and holiday party she'd hosted for the company. Yet even amid the dull roar that had accompanied her every thought, her every move, since Sunday evening, the differences called out to her like flashing neon lights, searing themselves into the one part of her brain she couldn't seem to shut off.

Now the occasional slap of a hand on one another's shoulders lingered longer. Throats weren't cleared to gain attention, but rather to get a word or a thought past a rush of emotion. Eye contact bowed to glances at the floor, the ceiling, the smattering of plaques and framed awards lining the walls of the richly paneled room, and, of course, to Danielle herself.

She drew in a breath and forced herself to move on to the next group, to listen politely to stories about her husband, to field the sympathetic pecks on her ice-cold cheek, and to return the earnest embraces from those who had become treasured friends over the years.

Friends like Wayne Rodgers, Jeff's go-to guy for all things financial . . .

"One time, I literally used a bag of M&M's you sent in with Jeff for Valentine's Day one year to help him grasp a numbers thing he wasn't getting."

Oh yes, she remembered that Valentine's Day. She'd left bags of his favorite candy in his car, in his briefcase, in his gym bag, under his pillow, wedged inside his coffee mug, and even inside his slippers. She remembered, too, his "found another one" call after each discovery.

Friends like Kelly Collins, Jeff's assistant and second mom as he was prone to call her . . .

"Did you know he deliberately hung a picture of you and the children on the wall opposite his desk so that if he was on a call with a particularly trying client he could look at the four of you and breathe his way through it?"

Of course she'd known that. She'd been the one to track down his favorite picture, to purchase a frame that complemented the others in his office, and to move it "an inch to the left" and "a half inch higher" until he'd been completely satisfied with its placement.

Friends like Marty Jones, the once-homeless guy from the mailroom who was so grateful to Jeff for having given him a hand up in life . . .

"I will always wonder why me? Why was I the one fortunate enough to cross paths with someone so kind and so giving?"

Oh how she remembered that day. The gorgeous blue sky. The warmish temperatures. The smell of pizza and corn dogs and hot pretzels dotting the air. The way they'd wandered the city streets, slipping in and out of boutiques and pocket parks, talking about everything and anything like the newly in love. The fact that they had two under the age of five and another on the way just made the envious looks on the faces they passed all the more fun. And then, just as they were heading back to the car, they'd spotted Marty, sitting on the steps of a church, his clothes tired and ratty but his shoes spit-shined to perfection. It was those shoes that had led her to whisper, "Let's talk to him," in Jeff's ear.

And friends like Tom Gavigan, Jeff's best friend from college and his partner at the marketing firm . . .

"I never could have made this place the success it is without Jeff. Clients took to him right off the bat, you know?"

Yes, actually, she did know. Because she, too, had taken to Jeff like "Pooh Bear to honey," as she loved to tell the kids whenever they asked about the moment she'd met their dad. Something about his strength—wrapped around an almost boyishly innocent optimism—had let her know before their first official date was even completely over that he was the man she would one day marry.

Friends like—

"Dani?"

Pausing, mid-step, she turned back to Tom in time to see him glance at the floor and swallow. "I don't know what we'll do without you, Dani; I really don't. Your encouragement of Jeff and the company as a whole has been a light for all of us at Parker & Gavigan. And your Friday cookie plates? Your holiday parties? Your gentle touch with the new spouses? Your charm with the prospective clients? The way you did all of those things while somehow still keeping up with everything here at the house, and with your volunteering, and, of course, with—"

She felt his fingers release her arm in favor of an awkward sweeping gesture, but when her gaze followed she saw only the empty glass in Marty's hand that needed to be filled, the used napkin Kelly was awkwardly holding, the fingerprints being left on Jeff's many plaques, and the discarded plate atop his desk . . .

"The kids." Tom slipped his hands into the front pockets of his suit pants, his shoulders hunched forward. "You handled everything so perfectly all the time."

She looked again at Marty's glass, Kelly's napkin, the smudged nameplates on the bottoms of the plaques, and the abandoned plate on her husband's desk, and gave in to the mirthless laugh bubbling its way up from deep inside her chest. "Do you see that glass in Marty's hand?" she asked, pointing Tom's attention, and that of everyone else who was trying so hard not to eavesdrop, toward the beloved mailroom employee. "If I really handled everything perfectly, as you say, his glass wouldn't be empty. And that plate"—she gestured toward the desk she'd skimped and saved to get Jeff for his fortieth birthday—"would be in the dishwasher, instead of sitting there like the eyesore it is."

Tom drew back, the pain he'd worn just seconds earlier replaced first with discomfort and then, when Kelly scurried over like the mother hen she was, relief as he quietly stepped away.

"Danielle, sweetie, do you want me to take you upstairs so you can lie down for a little while? A little alone time might do you some good. I can handle things down here while everyone finishes and—"

"No. I've got it." Again, her gaze returned to Marty only to find him no longer holding his glass. Likewise, when she glanced at the desk, the plate was gone, as well. Stepping back, she mentally inventoried the faces and, when she was satisfied she'd spoken with everyone from the firm, wiped her sweaty palms down the sides of her simple black dress and hooked her thumb in the direction of the hallway. "I really need to check in on everyone else, make sure everyone has had enough to eat, and to thank them for coming."

Kelly stopped Dani's forward movement with a gentle hand to the arm. "Your friends from the neighborhood have everything under control with the food, and everyone will understand if you need to rest for a while."

There was something about the woman's words and the way everyone in the room kept looking at her even when they were pretending not to that was making it difficult to breathe. She could see some of their mouths moving, knew they were talking about Jeff, about her, about the—

Murmuring something she hoped fell somewhere on the spectrum between polite and coherent, Dani strode out of the room and into the hallway, the need to be somewhere, anywhere, else giving her feet purpose if not a clear-cut destination.

Breathe in . . .

Breathe out . . .

Breathe in—

From behind her she heard Tom's voice . . . A quick laugh . . . A weighted silence . . . Conversations resuming . . . Sounds that propelled her farther and farther away from the study, down the same hardwood floor she'd walked a million times with forgotten shoes, extra pairs of socks, baskets of laundry, grocery bags, and sleeping children.

Her sleeping children.

Squeezing her eyes closed until the image had passed, she willed herself to keep breathing, to keep moving, past the laundry room, past the guest bathroom, past the door to the mudroom and the garage, until finally, mercifully, the dull roar in her head parted in favor of the dishwasher's steady yet oddly comforting hum. Soon, it was joined by the whump whump of the pantry door hinge as it opened and then closed . . .

"Every single time I hear that awful sound, I'm reminded of how badly I . . .
We hope you are enjoying the book so far. To continue reading...
Piece by Piece
Laura Bradford
Copyright © 2022 All Rights Reserved