Book info
Sample
Audiobook
Media
Author updates
Lists
Synopsis
Entrepreneur Emma Westlake discovers that friendship can be murder in this exciting new mystery series from USA Today bestselling author Laura Bradford.

Emma Westlake has always wanted to be her own boss. But after sinking all her cash into a business that went belly-up, Emma finds herself in a penniless pickle. Dottie Adler, Emma's elderly teatime companion, suggests she try to get paid for doing something she's really good at—being a friend. Emma thinks it's a crazy idea until requests start pouring in. Big Max, an eccentric local, wants her to act as his wingwoman at the local senior center's upcoming dance, nurse practitioner Stephanie needs a workout partner, and writer Brian Hill asks Emma to be his cheering section at an open mic night.

Brian will be reading from his latest work and wants to know someone will clap for him when he's done. He tells Emma that the room will be filled with people he's invited—four of whom would like to kill him. Emma is confident he's joking, but when Brian steps up to the mic and promptly drops dead, she's not so sure anymore. As one of the last people to see him alive, Emma finds herself on a handsome cop's radar. Now she'll have to cozy up to a killer to save her skin and her brand-new career.
Release date: December 7, 2021
Publisher: Berkley
Print pages: 304
* BingeBooks earns revenue from qualifying purchases as an Amazon Associate as well as from other retail partners.
Listen to a sample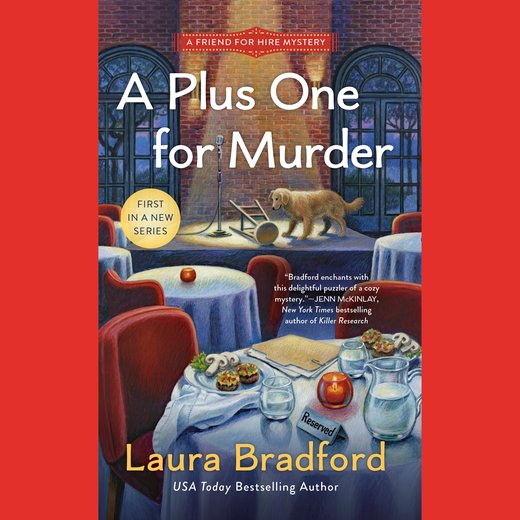 08:35:42
236.08 MB
9780593560426
December 7, 2021
Penguin Random House
A Plus One for Murder
Laura Bradford
Chapter One
Like the well-oiled machine she'd become, Emma Westlake wrapped her hand around the Limoges teapot and counted down silently in her head.
Ten . . .
Nine . . .
Eight . . .
Seven . . .
Six . . .
Five . . .
Four . . .
Three . . .
Two . . .
"Your tea, Dottie."
At the single nod she earned in return, Emma filled the matching cup atop the matching saucer to within exactly a quarter inch of its gold-trimmed lip and followed it up with a single splash of cream and two pinches of sugar.
She waited exactly three beats for the Lovely, dear that always followed, and then made her way around the linen-topped table to her own seat and her own cup. "Biscuit?" she asked, even as her mind filled in the answer she knew she'd get-the same answer she got every Tuesday at three o'clock . . .
"Why, yes, I think I will."
She held the basket out as the octogenarian helped herself to one, kept it hovering in place just north of the table's center point for the three-Mississippi-seconds' worth of hemming and hawing that invariably followed, and then firmed up her hold as the woman's frail hand reached inside for the I really shouldn't second biscuit.
"Thank you, Emma."
"Thank you, Dottie." Retrieving her napkin from the table, Emma unfolded it across her lap and smiled at the wheelchair-bound woman she'd grown to love in spite-or maybe because-of the weekly ritual.
The fact that the weekly ritual came with a steady paycheck was simply the unnecessary but always appreciated cherry on top of the cake. Especially now that-
"Aren't you going to have a biscuit, dear?"
Like clockwork, she swallowed back the instinctual urge to retch and, instead, nodded as she'd promised Dottie's husband she would during his deathbed phone call eighteen months earlier. After all, as per the unwritten script that never varied, never faltered, there would be a moment-fleeting, certainly, but still a moment-when the elderly woman would close her eyes in memory of dear old Alfred. And when that happened, the tail-wagging garbage disposal Emma had added to the weekly get-together six months earlier would be ready and eager to help bury the proverbial cardboard-flavored treat.
Leaning back in her chair just enough to afford herself a view of the golden retriever sitting faithfully beside her feet, Emma dropped her hand to her lap and flashed the get-ready signal she'd taught him. Sure enough, Dottie lifted her cup, glanced at the ceiling, murmured her husband's name, and then closed her eyes. In a flash, Emma snatched her lone biscuit from her dessert plate, pulled it down beneath the table's edge, and handed it off to-
"He doesn't like them, either, dear."
Emma sat up tall, her eyes meeting and then abandoning Dottie's. "Them?"
"Don't play dumb," Dottie said on the heels of a snort. "I may be old, and I may be confined to this cumbersome chair with wheels, but I'm not stupid. And that dog of yours is nothing if not consistent, as evidenced by the pile of twenty-three now-stale biscuits my cleaning lady found in the corner of Alfred's study."
Clamping back the urge to question the use of the word now in relation to stale, Emma hung her head in shame and-"Wait!" She snapped her full attention back to Dottie. "You said twenty-three?"
"Today's would've made twenty-four."
"But . . ." The rest of her protest faded away as the adding and multiplying part of her brain kicked into high gear. "I've been bringing Scout with me for the last six months now. Every Tuesday. Making this tea his"-she pulled up the edge of the tablecloth for an uninhibited view of her dog-"twenty-fourth and . . . Scout, you traitor! You didn't even eat one!"
"Now, dear, don't scold Scout for being the only honest one of the three of us."
She felt her mouth gape, rushed to close it, and then let it gape again, unchallenged. "The three of us?"
"Yes, three. You. Scout." Dottie pointed at each of them before landing her finger on herself. "And me."
"You?"
Dottie said nothing.
"Wait. You're telling me, after all this time-"
"Eighteen months," Dottie interjected.
Emma paused. Regrouped. "You're telling me, after eighteen months, that you don't like these biscuits?"
"They're dreadful."
"Dreadful?" Emma echoed. "But Alfred instructed me to buy them. To make sure to have them in that exact basket each week. And to offer you one-and then another-after I was seated with my own tea!"
"That was his part of the tradition. The tea part was mine. Tuesday at three o'clock sharp was ours."
She tried to make sense of what she was hearing, but it was difficult to hold a thought, let alone process it. "But you eat them every week," Emma argued.
"I do. For Alfred. It's the least I can do after he moved heaven and earth to make sure I still have my Tuesday afternoon tea by hiring you."
"Wow. I don't know what to . . ." Emma sat up tall. "Wait. Did Alfred know you didn't like them?"
Dottie took another, longer sip of her tea and then lowered her cup onto its saucer. "No. But that was okay. It mattered to him, just as the tea mattered to me. He knew that, which is why you're here. And as for the biscuits, there is no one else I would eat cardboard for every week."
It was Emma's turn to snort. "Two pieces, no less!"
The elderly woman's answering smile, along with the hint of tears that accompanied it, disappeared as quickly as it came, replaced instead by an eye roll to end all eye rolls. "It's clear I need a new housekeeper."
"Why is that?" Emma asked, draining away the rest of her own tea.
"Six months to find a growing pile of biscuits? You tell me . . ."
"Oh. Right." Flopping back against her chair, Emma fiddled with her spoon, her empty cup, her-
"Out with it, Emma."
She pushed her empty cup into the center of the table and then pulled it back again. "Out with what?"
"You're drooping on the inside."
"I'm . . ." Too tired to protest, she simply gave up. "It doesn't matter. I'll figure it out. Today is about you. The way I promised Alfred it would be."
Dottie waved at Emma's words with her age-spotted hand. "The reason Alfred asked you-as opposed to one of our good-for-nothing children-is because we grew to care about you during all those nightly walks that took us past your great-aunt's old place. He liked watching you transform her weed-infested flower beds under his tutelage, and I liked picking you apart all the way back to the house."
"Picking me apart?" she parroted.
"In a caring way, of course."
Emma laughed. "Right. Of course."
"I suspect Alfred thought I could help you navigate life, and that you could-I don't know . . . Be something for me to look forward to, I suppose?"
"You look forward to our teas?"
"I look forward to my tea," Dottie corrected. "I look forward to your company, pathetic and otherwise."
"Pathetic?"
"Yes. You look like someone took your favorite toy."
"How? I smiled when I walked in . . . I smiled through every correction you made of my place setting . . . I smiled when I poured your tea . . . I smiled when you suggested I take a biscuit even though the very thought of those things makes me nauseous."
"Your mouth may have been smiling, dear, but your eyes weren't. And they haven't been for a while now."
Like a balloon on the receiving end of a pin stick, Emma deflated against her chair. "I . . . I don't know what to say except I'm sorry."
"For what? Being sad? Being worried? Please . . ." Dottie shifted in her wheelchair. "Save the martyr stuff and just tell me what's bothering you."
Glancing down at her lap, Emma drew in a breath and released it slowly. "It's really not a big deal. Nothing you need to be worrying about. I'll figure it out. Really. Somehow."
"You're fired."
Her head snapped up. "What did you say?"
"You're fired."
"But . . ." Emma stopped, gathered her breath again. "Please, Dottie, my company is in its death throes and-and I need that weekly check from Alfred's estate more than ever right now. Especially until I figure out what on earth I'm going to do next."
Dottie smiled triumphantly. "Now we're getting somewhere . . . You're not really fired, dear. I just needed you to cut to the chase so we can get to the business of fixing it."
"I'm not sure it is fixable. Not in the way I want it to be, anyway."
"Try me."
"The last of my corporate clients have finally pulled all of their travel bookings in-house. I knew it was inevitable-they've been dropping like flies for the past few years-but I really thought the last two were going to hold solid and . . ." She propped her elbows on the table in very un-tea-like style and dropped her head into her hands. "Yeah, I haven't booked a trip for anyone in months. Zip. Nada."
"So do something else."
She didn't mean to laugh, but she couldn't exactly stop herself, either. "Now you sound like my parents."
"Oh?"
"They want me to give in. They want me to sell the house and come back to New York. They want me to run one of their tutoring centers like my sister Trina does. But I don't want to step into their dream, Dottie. I want my own. I want to be my own boss in a business that I built from the ground up."
"You did that. With your travel business."
"My travel business that ultimately failed, sure. But just because it did doesn't mean I'm ready to give up on myself or this place yet. I love my little house. It really feels like mine now instead of just some place I inherited from my great-aunt. And Scout loves it there, too. It's our home."
"So what now?"
"That is the million-dollar question," Emma said, popping up her head. "I'm thirty-four, Dottie. I have no desire-and absolutely no money-to go back to school to learn something new. And while my family thinks the world starts and ends with the border of New York, I-I just can't go back there with my tail between my legs. I won't."
Dottie took another sip of her tea, another nibble-albeit pained-of her biscuit. "Who said you have to learn something new?"
"My phone line that never rings, and my checking account that has a higher number after the decimal point, that's who." A bark from underneath the table sent her head back onto her hands with an accompanying groan. "And, apparently, my dog."
"Why can't you just do more of this?"
"Trust me, I'm doing way more whining when I'm home. Ask Scout. He'll tell you."
It was Dottie's turn to groan. Only hers was accompanied by a hooked finger and a not-so-gentle shove upward of Emma's chin. "I'm not talking about this"-Dottie swept a dismissive hand at Emma and then widened the gesture to include the table and the teacups. "I'm talking about this."
"I don't get it."
"I'm talking about you being my friend."
Emma stared at the woman, waiting. When no further explanation was forthcoming, she pushed back her chair and stood. "Being a friend is not a business, Dottie."
"Do you not get paid to be here every Tuesday afternoon?"
"I do. But the friend part? That's just happened. Over time."
"Talk around it all you want, dear. But the simple fact is that you receive payment to be my friend each week."
With hands that knew the drill by heart, Emma stacked the saucers on top of the dessert plates and draped the linen napkins across her arm. "I don't really like the way that sounds. It sounds . . ." She cast about for the right word. "Fake. And there's nothing fake about this. Not for me, anyway. Not after all this time."
"That's why you should do this-because you're good at it, and you look the part."
"I look the part?"
"With that long brown hair you insist on parting in the middle, your cute, perky little nose, and those big brown doe eyes, you've got the whole girl-next-door thing down perfectly."
"Girl next door?"
"In other words, you'll make the perfect sidekick for others just like you do for me."
"Sidekick?" She was starting to sound like a parrot even to her own ears. "Oh, no. No, no, no. I'm not your sidekick. It's more like you're mine. Every Tuesday. Three o'clock sharp."
"It's my house, my teatime. You're the sidekick, dear." Dottie released the brake on her wheelchair and followed Emma down the hall and into the kitchen, Scout close on her wheels. When the plates and cups were in the dishwasher and the napkins in the laundry room hamper, the woman stopped all further movement with a splayed hand. "Anyway, back to my point. I'm not the only person who lives alone, Emma. Look at you!"
Craning her neck so as to catch a glimpse of herself in the antique mirror above the wall-mounted telephone, Emma took in her poker-straight hair . . . her lightly freckled nose . . . her plain-Jane-albeit thickly lashed-eyes and then spun around to find Dottie smiling smugly. "I can't hire myself, Dottie. I'm broke."
"My point is that lonely people come in all shapes, sizes, and ages. Some are doing fine in the friend department, I'm sure. But some, like me, just need someone every once in a while."
"That's what social media and dogs are for," Emma quipped, ducking her way around the woman and the wheelchair and heading back toward the living room.
Dottie followed. "There's a time and place for that kind of interaction, sure. Just as there's a time, a place, and a need for human interaction once in a while, as well. Focus on the latter. You'll make a killing."
"By being a hired friend?" Emma pulled the tablecloth off and balled it up in her arm. "That sounds awful."
"I think it sounds rather profitable to me."
"Who is going to hire me to be their friend?"
"I can think of someone off the top of my head right now." Dottie backed her chair up enough to clear the table and then wheeled herself over to her old-fashioned rolltop desk. "Maybe even two people."
We hope you are enjoying the book so far. To continue reading...
A Plus One for Murder
Laura Bradford
Copyright © 2022 All Rights Reserved