Book info
Sample
Audiobook
Media
Author updates
Lists
Synopsis
Enter an addictive world of sizzlingly hot paranormal romance . . .

'Great characters, drama, suspense and a big helping of steamy romance'
⭐ ⭐ ⭐ ⭐ ⭐ reader review

..................

She's the one thing he can't control . . .

Since Keenan's traumatic childhood he's made sure he's always in control. Of himself, and of the world around him. But Khloe drives him crazy. She's an imp, so getting under people's skin is basically her job description, but Khloe makes him - and his body - respond in ways he's never known.

Keenan is the mistake Khloe knows she shouldn't make. As an incubus, he's got an inside track into everything that makes her tick, and even though she's immune to his supernatural sex appeal, that doesn't stop her body - and her demon - craving him.

After a bet escalates the simmering tension between them it's finally game on . . . and then the game turns deadly serious. When a danger appears that could threaten the whole lair, Keenan's desperate to protect Khloe any way he can - but will she accept his claim, and can he accept the power she has over him?

What readers are saying about Suzanne:

'The chemistry sizzles off the page' Netgalley review

'Hot as hell . . . explosive' Netgalley review

'It's been two minutes since my last fix and I need Suzanne Wright to give me more' Edgy Reviews

'No words to describe how much I ADORE this extraordinary and magical read!!!' Gi's Spot Reviews on Burn

'Sarcastic banter, a sexy alpha demon and his smart-mouthed heroine, an intense, highly passionate romance . . . I devoured this book from start to finish!' The Escapist Book Blog on Burn

'Unique, original and very entertaining' Ramblings from this Chick

If you love this book, make sure you check out the rest of The Dark In You series - discover how this sizzling hot story began . . .

BURN
BLAZE
ASHES
EMBERS
SHADOWS
OMENS
FALLEN
REAPER
HUNTED
Release date: July 28, 2020
Publisher: Little, Brown Book Group
Print pages: 368
* BingeBooks earns revenue from qualifying purchases as an Amazon Associate as well as from other retail partners.
Listen to a sample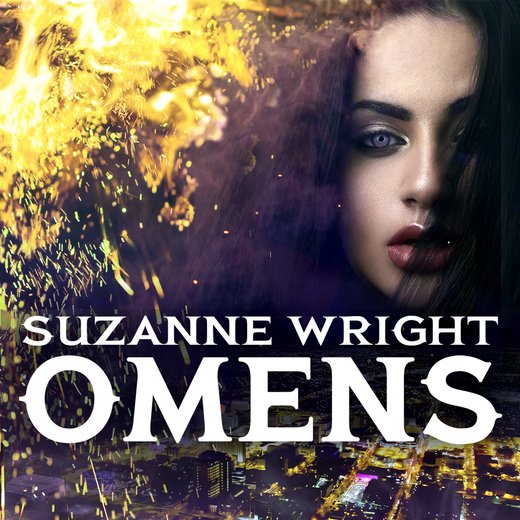 12:31:22
343.96 MB
July 28, 2020
Little, Brown
2020
Omens
Suzanne Wright
Khloé Wallis downed her shot and then slammed her glass on the table. "All I'm saying is, Jack and Jill's parents were plain mean to send the kids up a hill to get a tub of water."

"A pail," said Raini, her amber eyes a little glassy.

Khloé frowned at the succubus. "What?"

"A pail of water."

"What's a pail?"

"Duh. A pan."

Awkwardly adjusting her impressive cleavage, Devon shook her head. "No, it's a bucket. I think. Could be a vase. I like vases. They're pretty. Sometimes."

Khloé lazily flicked her hand at the hellcat. "Whatever. The point is … if Jack's parents had gotten up off their lazy asses, he wouldn't have broken his leg."

"Crown," said Raini.

Khloé blinked. "What?"

"Jack broke his crown, not his leg."

"Semantics, dude, semantics." Khloé bopped her head to the music, feeling all warm and fuzzy and tingly. Maybe some wouldn't go on a girls' night out if they had to work the next morning, but demons didn't require much sleep. In fact, they could go days without it. Which was super, because she loved hitting the Xpress bar with her girls. They always had a blast.

It was an upscale hotspot within the Las Vegas Underground, which was a subterranean, demonic playground of sorts. It had everything—bars, clubs, rodeo, casinos, racing stadiums, the whole shebang. And as her cousin, Harper, was mated to the billionaire who owned it, they all had VIP access to their favorite spots—including the Xpress bar.

Happy freaking days.

Having grown up in the same lair, the four women had been close friends since they were kids. That was probably why they worked so well together. Their tattoo studio had become even more popular since they'd relocated to the Underground.

Of course, part of the studio's appeal was Harper. People wanted to say they'd been tattooed by the powerful Prime. She and Knox were the only mated Primes in the world—demons didn't like to share power.

Khloé wasn't artistic like her girls, so she left the tattoos and piercings to them. She was happy working as their receptionist, and she was damn good at her position, even if she did say so herself.

It wasn't a typical job for a demon, considering they tended to seek out positions that provided them with control, power, challenges, and respect. Many were lawyers, entrepreneurs, stockbrokers, politicians, bankers, police officers, surgeons, people in the media, or CE-fucking-Os.

Khloé liked power as much as the next demon, but she didn't crave it. She liked "the smaller things in life." The strange.
The quirky. The fun. Which was why … "God, I badly want a bullshit."

Harper slanted her head, making her sleek dark hair tumble over her shoulder. "What?"

"A dog that's half bulldog, half Shih Tzu. I'd call it Winnie."

"Why Winnie?"

"Because then I could sing 'Winnie the Bullshit' to him."

Devon's face went all soft and she put a hand to her chest. "Aw, that would be so cute. I can just imagine little Winnie, barking and running and giving us his paw, like a good little bullshit. I think Tanner would love one," she added, referring to her mate.

Weaving slightly in her seat, Harper snickered at Khloé. "You're too OCD to cope with a dog peeing and shitting and shedding hairs all over your house."

"We've been over this," said Khloé. "I'm not OCD. I just value order and precipitation."

"Precision."

"That, too." Khloé frowned at her glass. "Who the hell drank my drink?"

"You did, dufus," said Devon.

Khloé felt her nose wrinkle. "You sure? My mind says no." Raini leaned forward, making her striking blonde hair fall around her face like a curtain; the dusky pink highlights glimmered under the lighting. "Hey, want to know a secret?"

Devon's cat-green eyes gleamed. "Always."

"You didn't hear this from me," began Raini, "but I think we're smashed."

"Really? Damn. I just wanted to get buzzed," said Devon. "I like being buzzed. But I don't like buzzing sounds. Makes me think of bees. Bees sting you. That's just mean and—hey, Raini, you're not listening to me. You gotta listen, because I don't know sign language. Ooh, we should all learn sign language!"

Harper's eyes widened. "I'm totally up for that."

"And we should get more shots," said Khloé. "I want shots. Anyone else want shots? Okay, shots it is." She went to stand, but Harper grabbed her arm.

"No more shots for you, missy," said the sphinx. "You're already blitzed. No, don't tell me you're not. You're so gone, you didn't even notice that Keenan's been glaring at you for the past half hour—he's standing at the other end of the VIP section with Knox, Tanner, and Levi."

Oh, Khloé had noticed. She always noticed Keenan Ripley. It was hard to miss over six feet of sculpted muscle, sinful hotness, and uber-masculinity. Especially when it was usually glowering at you. What fun.

As an incubus, sex appeal was literally encoded in his freaking DNA. His compelling, hooded eyes were a striking shade of blue that made Khloé think of shimmering steel. They commanded your attention. Snared your focus. Made all your senses zing to life. And, for most people, they sent a powerful need rushing through your body with the force of a storm.

Hypersexual beings with insatiable appetites, incubi radiated a preternatural allure that enchanted humans and demons alike. That allure drew their "prey" closer. It assailed their bodies with molten lust, muddied their thoughts, and subtly lifted their inhibitions.

She'd always been resistant to preternatural allure, so his mojo didn't work on her. But that wasn't to say that he didn't make all her feminine parts do a mighty cheer. Everything about him was inviting—his perfectly symmetrical face, his carnal mouth, and his short blond hair that glistened like flecks of gold. His smooth, sleepy, post-orgasm voice felt like fingertips teasingly trailing over her skin.

His crooked, boyish "you can trust me" smile could loosen any girl's panty-elastic, but it didn't give him an approachable vibe. Not when he had "bad boy" stamped all over him. Yeah, Keenan was by no means harmless. He was a cunning, ruthless, cynical motherfucker who had an incredibly short fuse.

He was also packing some serious heat in his jeans. She'd gotten a glimpse of his disproportionately large Johnson during one of her drunken mishaps.

She wanted to dislike him. Wanted to dislike that cocky "I know who I am and where I fit in the world" swagger. Wanted to find that blatant danger he oozed a complete turn-off. Wanted to be immune to the alpha-male confidence that seemed ingrained in his very being.

There was no such luck, apparently.

Her demon liked him. Liked that he was a guy who never gave ground, never sought anyone's approval, or ever showed weakness—that kind of strength and personal power was an aphrodisiac for her demon. It wanted to get all up in his business.

Every breed of demon had a dualism to the soul. There was nothing easy about sharing your soul with a psychopathic predator that felt no empathy, remorse, guilt, or love. Especially when said predator could take control of your body whenever it pleased, making your eyes bleed to black. Thankfully, for the most part, Khloé was pretty in sync with her demon.

Feeling the weight of Keenan's gaze, she flicked him a haughty look that made his eyes blaze. Ha. She did like to prick at that volatile temper of his. Well, if she couldn't fuck him, she could certainly fuck with him.

"Oh yeah, Keenan's throwing you glowers from hell, all right," said Devon, gathering her long, ultraviolet curls in one hand so she could fan her nape.

"In my humble opinion, Khlo," Raini began, "the dude likes you. And I mean, likes you likes you. But I don't think he likes that he likes you likes you. And I don't like that he doesn't like that he likes you likes you."

Devon raised her glass to Raini. "Couldn't have said it better myself."

"Seriously, what do you think his deal is?" asked Raini. "It'd better not be that he looks down on your family, Khloé."

"He wouldn't be the only one," Khloé pointed out. Her family was notorious for being what her grandmother and Prime, Jolene, liked to call "multi-talented." Which, roughly translated, meant they were masters at all kinds of illegal shit—particularly forgery, embezzlement, and hacking into bank accounts. And they were utterly unashamed about it.

"I don't think it's that," said Harper. "I mean, I was a Wallis before I mated Knox. Keenan never made any shitty remarks about our family to me."

"Doesn't matter either way," said Khloé. He might be a decadent, drool-worthy enticement, but … "I already have one alcoholic in my life—I don't need another."

Demons were predisposed to developing addictions, so Khloé knew plenty of compulsive gamblers, drug addicts, adrenaline junkies, and alcoholics. Sadly, her mother was one of the latter.

Penelope drank to cope, to destress, to relax, to sleep, to calm down, to perk up, to pretty much anything. She hadn't always been that way. It wasn't until Khloé and her twin brother, Ciaran, were teenagers that it all went to shit.

Harper nudged her with her elbow. "Knox says he's sure that Keenan could easily give up drinking if he really wanted."

Khloé sighed. "Yeah, yeah, so you've said before. But no one carries around a flask of vodka if they're not dependent on alcohol, so I ain't buying his denials. I will, however, buy us shots. Seriously, we need shots. I'll go get—Oh, I love this song! Girls, this is our jam! We gotta dance."

"Not on the table, Khloé, not on the table!"

*

"You're sure you don't want to hear what Thea has to say?" Knox asked Keenan, watching him with that piercing gaze. "Not that I believe you should. I was glad when you cut all ties with her, you know that. She's not a bad person, but she's never been a healthy presence in your life. I just want to be sure that you won't second-guess your decision later. I don't want this playing on your conscience."

Keenan almost snorted. "My conscience isn't that well developed," he pointed out. "I don't know why she'd suddenly reach out to me via you, and I can honestly say I'm not the least bit curious about it. That won't change. She's walked in and out of my life too many times, always giving me the same spiel, never meaning a fucking word of it. I'm done listening to it. I told her that the last time she came knocking at my door." That had been six years ago, and the memory made his demon clench its fists.

Keenan had first met Thea after he'd been dumped at Ramsbrook House, a home for orphaned demonic children. Knox and the other sentinels had also resided there throughout most of their childhood.

Keenan had grown to care for her and, looking back, he could see that he'd felt challenged by her sky-high mental walls; he'd wanted to smash through them. When they'd all left Ramsbrook as adults, Keenan had asked her to come with him. But scarred from her own experiences with lairs, Thea had refused, intent on flitting from place to place, irrespective of the dangers that came with being a stray demon.

She'd reappeared in his life every now and then, but she never stuck around for longer than a few weeks, despite whatever promises she made. She also never told him when she was leaving. She'd quite simply disappear, like he wasn't even worthy of a goodbye.

"She evidently heard you loud and clear when you said you were done, because she didn't try to contact you directly this time," said Levi, a reaper who was not only a sentinel but Knox's bodyguard.

"Smart move on her part."

"I don't think she ever wanted to hurt you, Keenan," added Levi. "I think she was just too messed up by her past to put down roots. She needed to feel free—especially after being stuck in the orphanage for so long."

It was true that such an upbringing could leave a person with plenty of issues. Keenan couldn't say he'd walked out of Ramsbrook a well-adjusted person. The militant, tyrannical staff there had thoroughly enjoyed throwing their weight around. They'd punished the slightest indiscretion, and those punishments had been harsh.

They'd been so domineering in their efforts to control the children that they'd pushed for mental submission—something Keenan had refused to give them, so his time there hadn't been plain sailing.

He didn't allow his past to massively affect his present, though. Nor did he dwell on his childhood much—after all, his life would be very different now if he hadn't met Knox and the other sentinels.

"It's sad that she didn't get her shit together until it was too late," said Tanner, a hellhound and fellow sentinel.

"Things turned out well for her in the end," Keenan reminded him. "She has a mate and son now."

"I poked into her life when I heard she wanted to speak with you," said Levi. "She recently split with her mate. He cheated on her. I'd feel bad for her if she hadn't betrayed your trust countless times. Karma comes for us all, I guess."

"In that case, each of us is fucked," quipped Keenan.

Tanner let out a soft snicker. "You're not wrong there."

"You're certain you don't wish to speak with her, Keenan?" Knox asked.

"I'm certain," replied Keenan. "She has nothing to say that I could want to hear." She was part of his past, and he intended for her to remain there.

"All right," said Knox. "I'll be sure to communicate that to her."

Satisfied, Keenan nodded.

Knox's gaze flitted to the table at which his mate sat. His lips thinned. "I think it's safe to say that Harper's going to crash pretty heavily when she gets home."

Keenan glanced her way, but his eyes unerringly slid to the female imp on her left. His body tightened. His hands fisted. His cock stirred—it always did around Khloé Wallis.

She wasn't conventionally beautiful, but there was something very bewitching about her. It was in the way she spoke, laughed, walked, and embraced life so fully. As sparkly and bubbly as a chute of champagne, Khloé was her very own party.

Her eyes were as gray and mysterious as smoke, and there was an ever-present glint of mischief in their depths. She was small and slender and had the smoothest-looking olive skin. He often found his gaze dropping to those perky breasts that made him think of apples, just as he often found himself watching that tight little ass as she walked.

His gut clenched whenever her bow-shaped mouth curled into a lazy, devilish, "I know something you don't" smile. It made you want to be in on the secret; made you want to smile back. Made you want to feast on that mouth while tangling your fingers in the sleek, midnight-black hair she often tied in a high, unruly swirl.

If anyone could write a handbook on not giving a single rat's ass, it would be Khloé. She had her own special brand of logic, was a magnet for trouble, had no sense of self-preservation, and could stir shit in an empty room.

Technically, she should annoy the fuck out of him. Particularly since she seemed to have made it her life's mission to be a pain in his ass. She teased him, prodded him, riled him—all of which she seemed to take delight in doing.

And yet, he liked the fucking nutcase. More, he wanted her. He'd wanted her for years. He'd told himself over and over that it was best to keep his distance; that she wasn't for him; that it would make him an asshole to run the risk of hurting her. All the while, he could feel himself weakening.

He never would have thought he could be so drawn to someone like her. But she fascinated him. Beckoned him. Made him laugh when little else did anymore.

"You gonna glare at Khloé all night?" asked Levi, his voice laced with amusement.

"I'm not glaring at her, I'm watching her … because it's only a matter of time before she does something stupid, and then I'll have to wade in."

"What's wrong with her having a good time?"

"Nothing, if she didn't always do crazy shit when smashed. The last time I gave her drunken ass a ride home, she wanted to go skinny dipping. I said no. Then she wanted to go to church. I said no. Then she wanted to break into the zoo to 'see some fucking penguins.' Again, I said no. What else would I say?"

Tanner chuckled. "In case you've forgotten, she's an imp. They specialize in irritating people. But I don't think you'd get half so frustrated with Khloé if you weren't fighting how much you want her. All that pent-up sexual need must be messing with your head."

It was messing with everything—his concentration, his dreams, his resolve to not give into it. Still, he said, "I don't get involved with women who mean something to the people in my life—you know that. Khloé is the cousin of one of my Primes. It's not wise to shit where you eat." Which was why Keenan also never got involved with women from his lair.

"You think we can't sense how close you are to breaking that rule for her?" asked Tanner. "What's holding you back? Does your demon dislike her?"

Keenan snorted inwardly. The dark entity within him was cold to the bone and had time for very few people, but it wanted to outright own Khloé Wallis. It wanted to collect this bold, vibrant creature—there was simply no one like her. Who didn't like to collect the unusual?

"My demon likes her just fine," said Keenan.

"If you're worried that things might be awkward between you afterward, there's no need," Knox cut in. "As my mate says, Khloé doesn't do 'awkward.' And she's not likely to want more than sex. She doesn't seem to be looking for a relationship any more than you are. In fact, she seems to quickly tire of any guy she dates."

Yeah, Keenan had noticed that. He couldn't deny that it pleased him. He could be a selfish, possessive fucker when it came to her.

"Seriously, what's really holding you back?" pushed Tanner.

Keenan rubbed a hand over his jaw. "You know what powers I have as an incubus, right?"

The hellhound nodded. "You can infuse lust into people, implant thoughts and images into their minds, and incite sexual desires that only you can satisfy. You're in total control of their lust and pleasure, which means you can heighten and prolong orgasms while feeding on their sexual energy."

"Right," said Keenan. "I'm also in complete control of my own lust and arousal, so I don't get hard unless I want to … or, at least, I didn't until she came along."

Tanner's brows shot up, and Levi let out a low whistle.

"You're saying you can't control how your body reacts to her?" asked Knox.

"That's exactly what I'm saying." Keenan had heard of such a thing happening to other incubi, but it was a rare phenomenon—one he hadn't thought he'd experience. "It's like she's living, breathing Viagra to me."

Not once in all Keenan's centuries of existence had he ever felt so … aware of another person. Whenever Khloé's attention settled over him, it was like an electric shock to his senses. The sexual chemistry that pulsed between them was as dizzying as it was intoxicating, and it never failed to make his dick jerk to life.

"Surely it's refreshing to naturally experience a normal bodily reaction," said Levi.

Yes, it was, but … "I don't trust it. Not even a little bit."

"And you don't like that she makes your infamous self-discipline go right out the window," Knox guessed.

"No, I don't," Keenan admitted. He liked to be in control of his world. Liked consistency, certainty, and predictability—things he'd lacked as a young child when he'd lived on the streets with his mother; things he'd continued to lack during the years he'd spent in Ramsbrook House.

On leaving the shithole, he'd sworn that no one would have that level of control over him again. He obeyed his Primes, but he didn't follow them blindly. He was very much his own man. But Khloé … yeah, she had power over him.

It felt alien. Wrong. Uncomfortable. It felt as if she'd turned his own body against him; as if she'd stripped aspects of his gift from him. "At first, I thought she was doing it on purpose. I thought she had an ability that allowed her to overpower mine. But it's clear that she has no idea she's doing … whatever it is she's doing."

"Maybe she's not doing anything," suggested Levi. "Maybe this is just as much out of her control as it is yours."

Possibly. Although it spooked the absolute shit out of Keenan on a number of levels that he couldn't control his body around her, he could admit that he was beyond curious to know what it would be like to have sex while not in complete control of his body. He'd never had that. But tumbling Khloé into bed would be no easy thing anyway. She was attracted to him, but she was also convinced he was an alcoholic and, as such, wanted nothing to do with him.

"Let's not pretend you won't pursue her sooner or later," said Tanner. "It's going to happen. Just go with it. Enjoy it. There's no need to overthink—"

"Not on the table, Khloé, not on the table!"

Hearing Harper's shout, Keenan looked to see the little imp jump onto the table with a whoop of sheer joy. Then she was all sexual confidence and erotic power—fluidly swaying, dipping, and working her hips like a fucking lap dancer. And his dick went hard.

Where the hell had she learned to move like that?

A group of men circled the table, cheering her on and whistling—much like Devon and Raini were doing. Keenan was pretty sure his blood pressure soared.

"Let me ask you one question," said Knox. "If Khloé crossed the 'casual' line with a guy, how would you feel about it?"

Anger flared through him so hot and fast, Keenan ground his teeth. "It would be her business."

"Yeah, it would. But can you be sure you'd let that guy live?"

Keenan didn't speak. The honest to God's truth? No, he couldn't be sure. Which must have been apparent on his face, because Knox gave him a knowing look.

"Then maybe you should shove all your reservations aside and act before you miss your chance," suggested Knox. "I'm not saying you should dive into a relationship. Take it slow, if that's what you think both of you need. If you go too fast, you'll spook her anyway."

Hearing more loud whistles, Keenan looked back at the table on which she was dancing. Oh, she'd gathered quite a crowd. And now he needed to end this shit fast.

Keenan made his way across the large space, never once moving his eyes from her. He couldn't move his eyes from her. Every captivating twitch of her hips and delightful jiggle of her breasts was like a stroke to his cock. And probably to the dick of every man watching her – the very thought made a vein in his temple throb.

He shouldered his way through the catcalling crowd and moved to stand in front of her table. It took her a few moments to notice him. Did she stop dancing? No. She flashed him a sultry, wicked smile that he felt in his balls.

"Don Juan, how's it going?"

Don Juan? Keenan sighed. "Come on, time for you to go home."

"But I'm getting jiggy with—Hey!" Khloé pouted when he lifted and set her on the floor. "Dude, you are such a Debbie Downer. I was—"

"Seconds away from stripping off your clothes," he finished. "No, don't even deny it."

"Why? You deny you're an alcoholic with a gargantuan dick."

He briefly closed his eyes. He wouldn't lose it. He wouldn't. "Just get your purse so we can leave."

It should have been simple for him, Knox, and the other sentinels to move along four drunk women. It wasn't. Harper and Khloé fled to the restroom, saying they were desperate to pee. Devon started frantically searching for her jacket, despite Tanner's insistence that she hadn't brought one. Raini asked them to leave her to sleep in the booth, claiming she'd only "slow them down."

Finally, they all got the fuck out of the bar and headed down the "strip." Most of the bars, clubs, casinos, and restaurants had no front wall, allowing people to see what was going on inside the venues. There was mostly a lot of drinking, dancing, eating, and brawling.

A quick upward elevator ride later, they'd ascended to the basement of a popular nightclub that Knox had built to disguise the entrance of the Underground from humans.

Outside, Levi escorted Knox and Harper to their Bentley while Tanner took Devon—who was barely awake—straight to his Audi.

Keenan ushered Khloé and Raini toward his car. The women lived reasonably close to each other, so it made sense for him to give them both a ride. Taking a drunk Khloé anywhere was never an easy feat, but he liked to be sure she got home safely.

Having ushered the two females into the vehicle, he closed the rear passenger door, hopped into the front seat, and drove to north Las Vegas. That was when Khloé's idea of "fun" began.

She drew satanic-looking symbols on Raini's face with red lipstick. She sang Afroman's "Because I Got High" in a Smurf-like voice. She asked Keenan to take her to an Amish community so she could "see some Amish dudes—they might be cute." When he refused, she proclaimed him an Amish cockblocker.

He growled. "Have you lost your mind?"

"Long ago." Khloé tilted her head. "I miss it sometimes."

Certifiable. The woman was a certifiable nutcase.

Finally, they arrived at Raini's house. Only when the succubus was safely inside with the front door locked behind her did Keenan then drive Khloé home.

As he steered her up the path with his hand on her back, he sighed. "Could you stop singing 'Amish Paradise'?"

"You gotta love Weird Al Yankovic," she said. "Hey, why do you think humans sterilize lethal injections?"

"I don't know." He plucked her keys out of her clutch, unlocked the front door, and then shepherded her inside.

"Farewell, Don Juan." She mule-kicked the door, almost slamming it in his face. He whipped up his hand, caught it before it could close, and shoved it open.

"You forgot this." Returning her keys to her clutch, he tossed it at her feet just as she sat on the hallway bench. "Lock up behind me."

She didn't respond, preoccupied with trying to remove her shoes. Honestly, it hurt to watch her awkwardly fumble with the ankle straps. Sighing, Keenan stepped inside and closed the door. He crouched in front of her and gently batted her hands away. "I'll do it."

This close, he had no choice but to breathe in her scent. She smelled like marshmallows and honeysuckle, edible and far too fucking tempting.

He carefully worked to undo the left shoe-strap. His fingers grazed her warm, petal-soft skin, and he almost pulled back as a shot of static electricity surged through him. It was sudden. Irrepressible. Jarring.

Being so near to her was a sweet agony. His palms itched to stroke and explore and bite her smooth skin. His demon urged him to spread both her legs wide and taste—

Keenan cursed silently. Refusing to be a slave to the sexual connection that seemed determined to bind them, he forced his mind back to the task at hand. He removed her shoe, set it aside, and moved on to the next.

"Your schlong went hard when you saw me dancing, didn't it?"

And his fingers slipped right off the strap.

She laughed, low and smoky, not in the least bit daunted by the glare he shot her. "Oh, come on, I'm just messing with ya, Keenan. I know incubi only get a hard-on if they want to."

He could only shake his head. She had no idea what she did to him. No idea that she seemed to have more control over his body than he did. He slipped off her second shoe, tossed it aside, and then stood.

"On a serious note, though," she began, rising to her feet, "does it hurt to walk when you're hard? Because that monster in your jeans has to weigh a few pounds."

His patience gone, Keenan went nose to nose with her. "Swear to Christ, Khloé, if you mention my cock one more time, I'm going to thrust it inside you and fuck you so hard you'll be screaming."

*

Goosebumps swept across Khloé's skin as the atmosphere snapped taut. She stared at him, at a loss for words – a rare occurrence in her world.

Her body, well, it just lit up. Tingled and buzzed and hummed. Her mouth went dry. Her pulse skittered. Need pooled low in her stomach, raw and wicked.

Yeah, the gorgeous bastard rang every sexual bell she had.

The eyes boldly holding her own smoldered with something dark and hot. It was a stare that said, "I could pound into you all night and ruin you for other men."

Hell, she didn't doubt it. If he could reduce her brain to mush with just the heat and intensity of his stare, he'd most definitely be a goddamn rock star in bed.

Finally, his eyes released hers. They dropped to her mouth, and he swallowed hard. Then that broody gaze drifted lower and lower, peeling off her clothing, tracing every line and curve, stripping her of her defenses, making pure heat ripple through her body.

Hell, she'd just gotten laid by his eyes. It was a rush and a tease.

He needed to say something. Or she did. The tension just kept on
We hope you are enjoying the book so far. To continue reading...
Omens
Suzanne Wright
Copyright © 2023 All Rights Reserved
Also in this series
Also by this author